Husband Approved Carnitas creates authentic tender and crispy pulled pork that is full of flavor. Pork is cooked in a slow cooker with citrus and Mexican spices and then lightly fried. This recipe works extremely well for tacos and is always husband approved.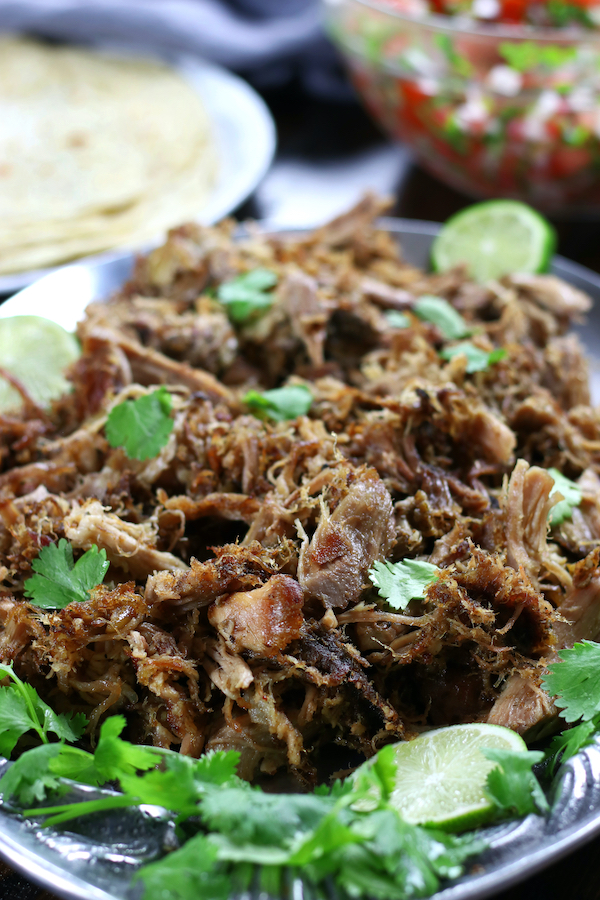 This post may contain affiliate links which I earn a small portion in sales if a purchase is made. Rest assured though, it is never at any additional cost to you.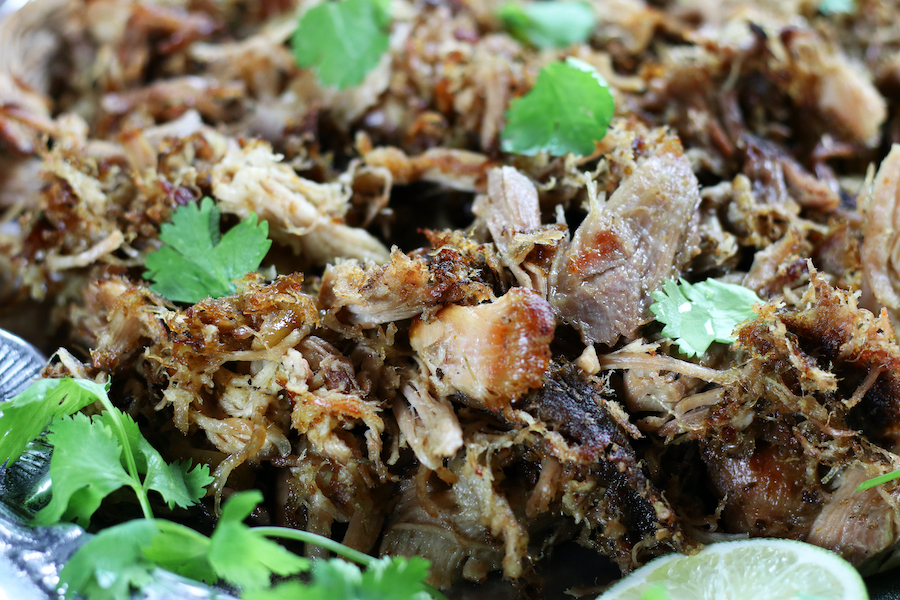 If there is one meal that makes me husband go crazy with excitement, it is this Slow Cooker Pork Carnitas Recipe.
When I first told him that I was going to name this recipe Husband Approved Carnitas he thought I was off my rocker.
This is how the conversation went.
"But you've already named a recipe Husband Approved!" (Husband Approved Dry Rub and it was named that because he ADORES that rub.)
"I know but we named that dry rub because you loved it so much."
"But you shouldn't have two Husband Approved named recipes."
"Well, they both fall in line with recipes you love."
"Ok, you're the boss, but you shouldn't probably have two with that name."
"Paul, are these Carnitas not your absolute favorite that you adore more than your favorite restaurant's version of Carnitas? Also, do you not go crazy for them every time I make them?"
"HECK YEAH!"
"Well, that is why I named them Husband Approved Carnitas."
"Ok!"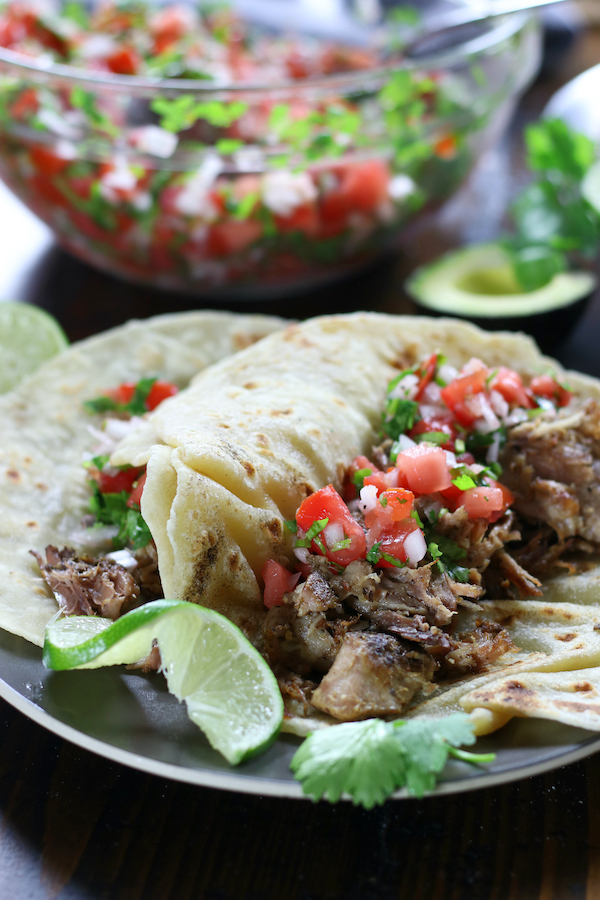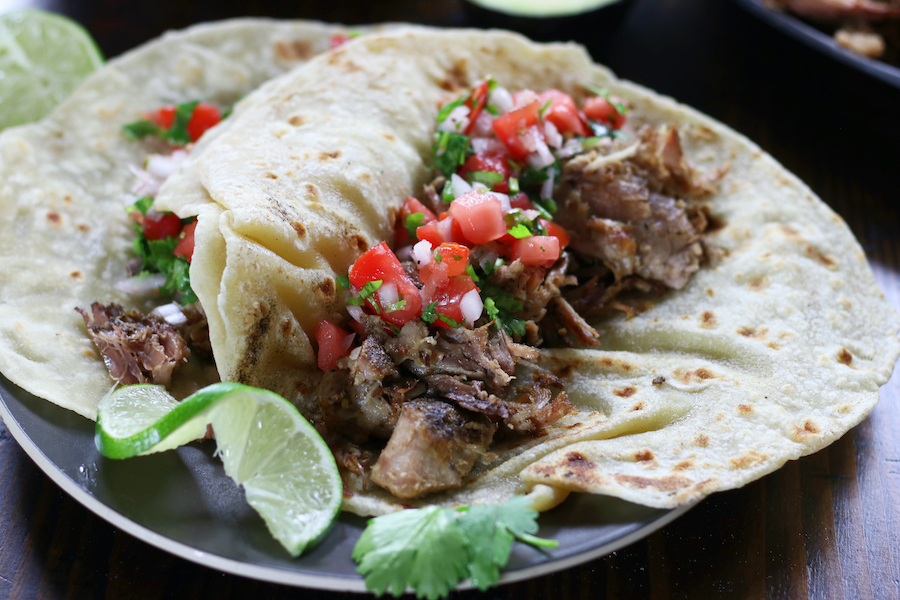 Best Cut of Meat for Pork Carnitas
The best cut of meat for Carnitas is either pork shoulder or pork butt (either bone-in or no bone), which is generally the same cut of meat. The reasons this cut of pork works so well is:
It has adequate fat marbling that flavors the meat.
Pork shoulder or pork butt does low and slow cooking extremely well which allows the flavors to permeate the meat.
Also, this cut shreds very easily with the low and slow cooking.
Carnitas Seasoning and Flavors
For extra flavorful Carnitas meat we have found that using onion, fresh jalapeño pepper (seeds remove for less heat), plenty of garlic, lime juice, orange juice and the combination of spices listed below to do the trick.
Oregano (either Mexican or Mediterranean version)
Sea salt or Pink Himalayan Salt
Black Pepper
Note: Chili Powder usually denotes a combination of spices such as oregano, cumin and ground chili pepper, whereas Chile Powder is pure ground chilis. However, the link above for Chile Powder does not reflect this. If purchasing this product in the store, it is best to read the label to know for certain which option is being offered. Additionally, be cautious of the heat level of Chile Powder for anyone for anyone who is more sensitive to spice.
Additional Flavor Options
Additional flavors that can be substituted or added are lemon juice, cayenne pepper and/or chipotle powder. Also, either crushed pineapple, whole pineapple chunks and/or pineapple juice can replace the orange juice.
How To Make Healthier Slow Cooker Carnitas
Whether Pork Carnitas can be labeled as a healthy meal is rather subjective to opinion. Here are my best suggestions to making healthier Pork Carnitas.
Start with quality pork and buy the best you can afford. Here is a helpful breakdown on the types of labels given to pork to help you in your purchases. However, the highest quality pork you can purchase will be pasture raised by farmers you know and trust.
If you sear the meat, either before slow cooking or after, use a quality high heat and non inflammatory oil. This is my favorite oil to use. However, just know that it is more affordable at Costco's that carry this brand.
Additionally, making the accompanying tortillas from scratch and using organic ingredients is a way to lower preservatives and/or chemicals in your final product.
Cooking Pork Carnitas in the Oven
Cooking the pork roast on a low and slow setting yields the most amazing results and that is exactly what the slow cooker (aka crockpot) can do. However, if you don't own a slow cooker similar results can be achieved from the oven. To cook the meat in the oven you will place all the ingredients into at least a 7 quart enameled dutch oven. To emulate the low setting of a slow cooker, cook the meat in the Dutch oven with the lid attached at 190-200℉ for 9-10 hours or at 300℉ for 5 1/2- 6 hours. Proceed with the directions in the recipe card for the remainder of the recipe.
What To Serve Carnitas With
Tender and flavorful Carnitas meat goes extremely well with tacos. However, it also is a great companion with eggs, rice, fried potatoes, coleslaw and in a salad with a flavorful dressing. Here are some additional recipes to use if making Carnitas Tacos:
More Popular Pork Recipes
Best Dry Rubbed Ribs of Your Life
Country Style Pork Spare Ribs and Sauerkraut
If you enjoyed this Carnitas recipe please let me know by leaving a comment and review below. Doing so helps to encourage others to make the recipe also. Thank you!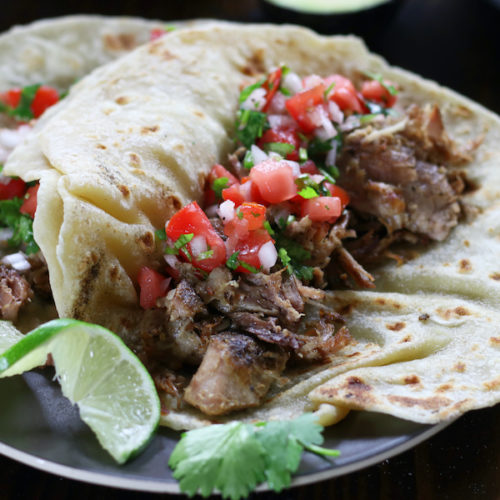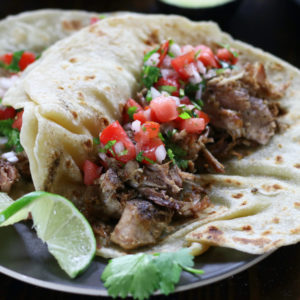 Ingredients
3 1/2-4

lb

pork shoulder

*or pork butt roast

1

lg

brown onion

*roughly chopped

8

cloves

garlic

*crushed

1

jalapeño

*chopped (deseed for less heat)

1

lg

orange

*juiced

2

limes

*juiced
Rub
2

tsp

sea salt

1

tsp

black pepper

2

tbsp

dried oregano

2

tsp

cumin

2

tsp

coriander

1

tsp

chile powder
Crisping the Pork
1/4

cup

high heat oil

*such as avocado
Garnish
fresh squeezed lime juice from lime wedges
Instructions
Remove pork from packaging and dry with paper towels.

Mix together ingredients for the rub in a small bowl.

Rub spices on all sides of pork and place in slow cooker liner with the fat cap facing up.

Add to the pork the onion, garlic and jalapeño.

Cook on low for 9-10 hours or on high for 5-6 hours (pork is done when it very easily shreds.)
Crisping Cook Pork
Once pork has cooked remove roast from slow cooker and place onto platter.

Using two forks shred meat into large chunks.

Heat half of oil (about 2 tbsp, see notes below) in a large frying pan over medium high heat. Add half of the meat, spread evenly in pan. Let meat brown without stirring for approximately 2-3 mins. Flip meat over and repeat on other side. (This stage is meant to just crisp the edges of the meat and not actually brown.)

Remove pork from frying pan and repeat with second half of shredded pork.

Serve meat inside of a tortilla and sprinkle meat with juice from lime wedges. Top with favorite toppings.
Notes
Please use as many organic ingredients as possible. 
Recipe Notes
Traditional authentic Mexican Carnitas are seared in lard. If preparing the traditional way, simply substitute the same quantity of avocado oil for a good quality of lard. Note: Primal Pastures offers a high quality lard. 
Depending on the type of frying pan used for searing the carnitas additional oil may be needed. Example: Nonstick pans will only need a 1/4 cup of oil total where as stainless steel may require up to 1/2 cup oil. 
If possible, use a 12-14 inch frying pan to sear meat. If using a smaller frying pan, up to 4 batches may be required for searing. 
Calories for this recipe do not include tortillas and toppings. 
Nutrition
Calories:
206
kcal
|
Carbohydrates:
3
g
|
Protein:
19
g
|
Fat:
13
g
|
Saturated Fat:
3
g
|
Cholesterol:
65
mg
|
Sodium:
544
mg
|
Potassium:
383
mg
|
Fiber:
1
g
|
Sugar:
1
g
|
Vitamin A:
116
IU
|
Vitamin C:
8
mg
|
Calcium:
44
mg
|
Iron:
2
mg