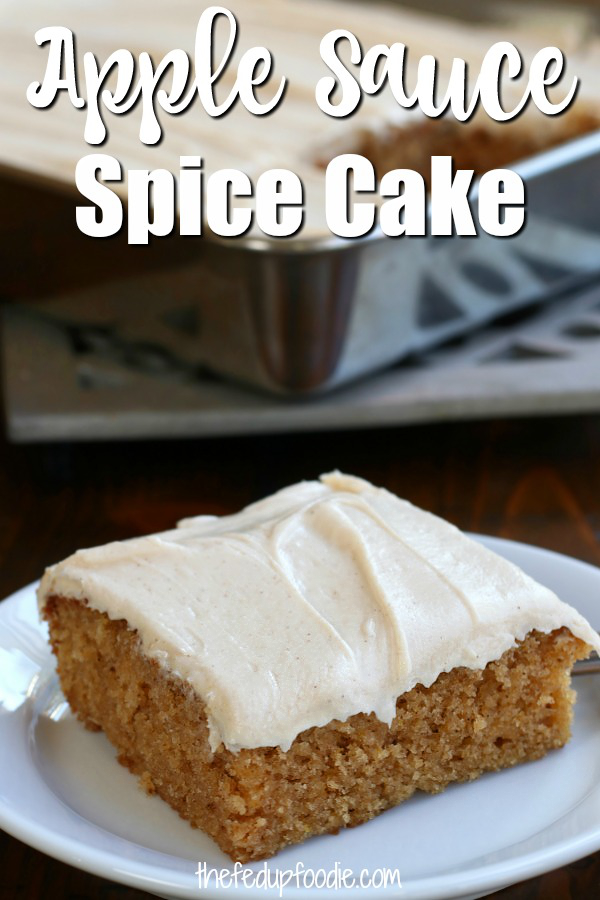 Fluffy and moist, this Apple Sauce Spice Cake is an old fashioned cake recipe that is extremely easy to make. Topped with a cinnamon cream cheese icing, this from-scratch recipe is packed with Autumn spices that makes a perfect Fall desert.
This post may contain affiliate links which I earn a small portion in sales if a purchase is made. Rest assured though, it is never at any additional cost to you.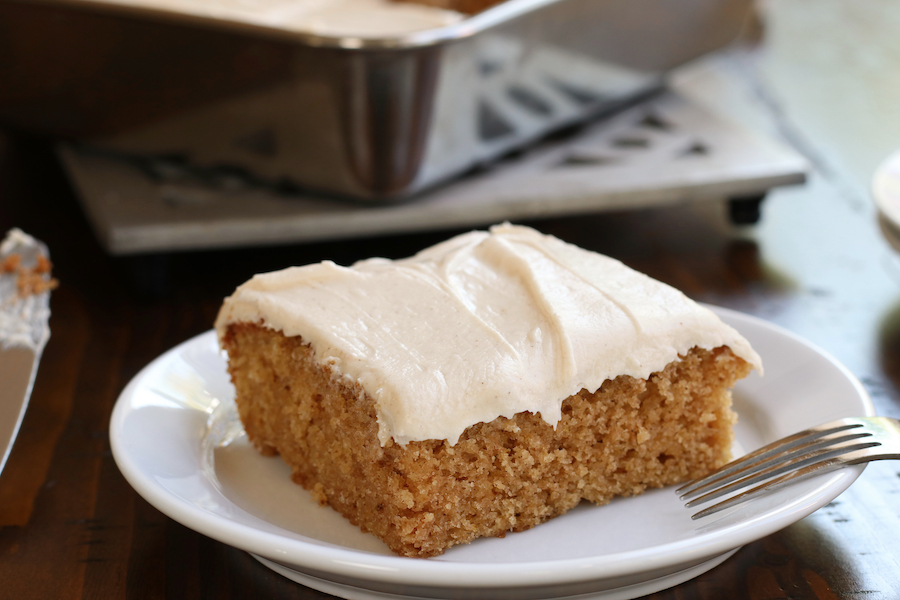 Apple Spice Cake- A Family Recipe
Yesterday I shared on Instagram that my site is becoming a love letter to my mom and I love it!
In a few weeks it will be 9 years since her passing and I am finally getting around to more consistently sharing my parents treasure trove of family recipes.
In complete honesty, there are stacks and stacks of recipes to filter through because my Mom loved to cook.
Some of them I have literally screamed with delight when I found them like Mom's Old Fashioned Swedish Apple Cake, Mom's Walnut Balls and Mom's Family Style Sweet and Sour Chicken. Why did I scream with delight? Because we loved these recipes so much I was beyond thrilled that I didn't loose them.
Other recipes like Mom's Chicken Gumbo Soup, Mom's Classic Meatloaf and her Country Style Spare Ribs and Sauerkraut were so familiar to me that I didn't need the handwritten recipe.
However, a few of the recipes I have found I have had no memory of or very limited memories (not surprising because there are so many of them). The good news though, they have been out of this world amazing like my Mom's Witches Brew, Broonie and this Apple Sauce Spice Cake.
I am so excited to continue sharing these recipes with you also. These beautiful family treasures are making this extremely challenging year just a little brighter.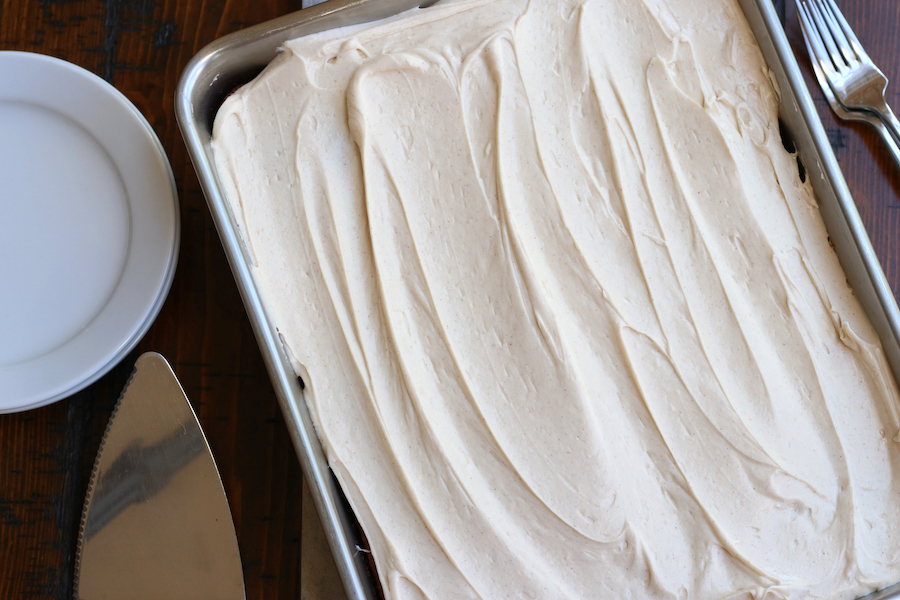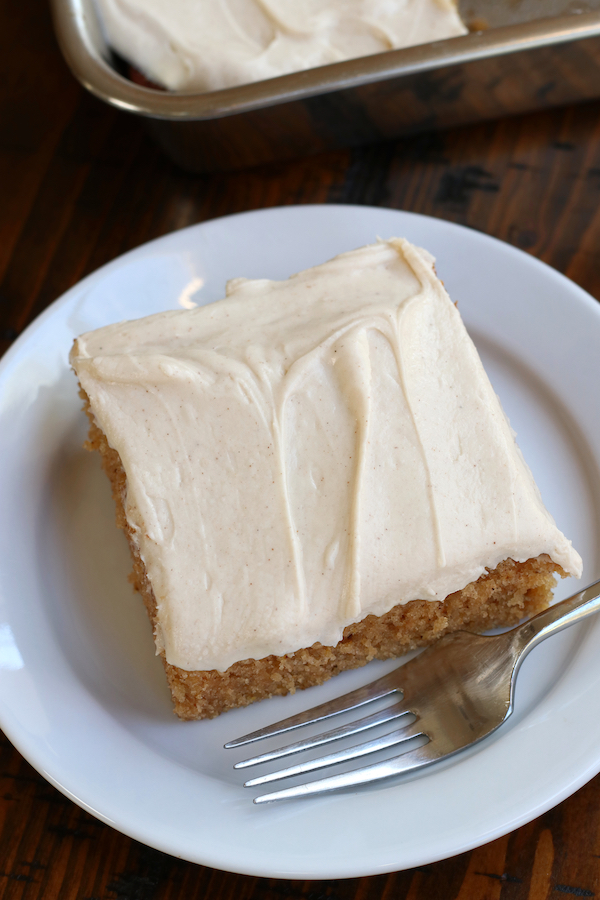 Baking With Apple Sauce
Often apple sauce will be seen as a replacement for butter or oil in baking and in some recipes it can be used as a replacement for eggs. However, in recipes like this Apple Sauce Cake it is the star of the show. Use a high quality organic applesauce to ensure the most flavorful results.
Homemade Buttermilk
One of the more frustrating experiences in baking is only needing a 1/4 cup of buttermilk. Most containers in grocery store are 1 quart in size. Unless you are planning on making Buttermilk Chicken with the leftover buttermilk, most of it will go to waste. An easy alternative is to make homemade buttermilk. For this cake recipe pour a heaping teaspoon of lemon juice or vinegar in the bottom of a glass measuring cup and add regular milk measuring to 1/4 cup. Stir and let sit for about 10 mins before adding to the cake mixture.
Softening Butter and Cream Cheese Quickly
When making any baked goods that require softened butter and/or cream cheese, I will usually place them on the counter early in the day to soften to room temperature. However, for the times that I forget to leave butter and cream cheese out, this is how I softened them quickly. Remove them from their wrappers and place on a small microwave safe plate with room between the two. Heat for 20-30 seconds on power level 2. Often I will have to repeat this step 2-3 times to achieve the softened texture needed.
Pro Tip: Using a lower power level multiple times helps to not melt both the butter and cream cheese. This has been the closest method to softening on the counter I have found.
Spices For Apple Sauce Cake
In addittion to the applesauce, the spices used in this recipe make this a luxurious autumn cake. However, you probably know by now that quality of spices are a big deal to me. Here are my favorite that produces awesome results.
Cinnamon Cream Cheese Icing
The addittion of ground cinnamon to the cream cheese frosting adds a comforting layer of fall flavor. This frosting can be made without the cinnamon. However, it tastes amazing with it. Here are a few tips to making silky smooth cinnamon frosting.
Make sure to soften both the butter and cream cheese to room temperature.
Use "true cinnamon" for the best cinnamon flavor.
Only add just enough half & half to create a smooth and luxurious texture.
Once all the ingredients are mixed, blend on high speed for a full two minutes. Doing this creates a silky smooth fluffy texture.
Wait to make the frosting until the cake as cooled completely. Frost the cake immediately.
When To Make This Apple Sauce Spice Cake
This Apple Sauce sheet cake is a perfect dessert for family dinners during the fall and winter months. It is incredibly easy to make, however the only thing to keep in mind is the time needed for baking and cooling. As long as you have about 2 hours before dessert is served and have all the ingredients, this cake is a great way to go.
If you enjoyed this Apple Sauce Spice Cake please let me know by leaving a comment and review below. Doing so helps to encourage others to make the recipe also. Thank you!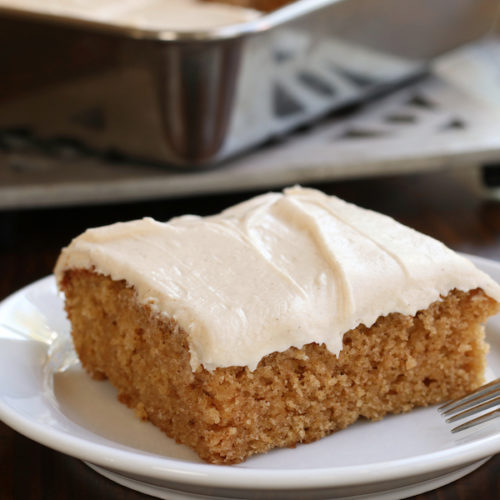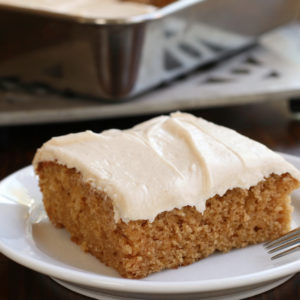 Ingredients
Apple Sauce Spice Cake
2

cups

all-purpose flour

1

tsp

baking powder

1

tsp

baking soda

1

tsp

ground cinnamon

1/4

tsp

ground nutmeg

1/4

tsp

ground cloves

1/4

tsp

ground ginger

1/2

cup

unsalted butter

*softened to room temperature

1 1/2

cups

sugar

1

cup

unsweetened apple sauce

1/4

cup

buttermilk

1/2

tsp

vanilla extract

3

lg

eggs
Cinnamon Cream Cheese Frosting
2

tbsp

butter

*softened to room temperature

4

oz

cream cheese

*softened to room temperature

1

tsp

vanilla extract

1/4

tsp

ground cinnamon

2 1/2

cups

powdered sugar

1-2

tbsp

half & half

*or whole milk
Instructions
Apple Sauce Spice Cake
Preheat oven to 350℉ and lightly grease a 9 1/2 x 12 rectangle pan.

In a large bowl sift together dry ingredients (first seven ingredients). Stir well making sure all spices are incorporated. Set aside.

In a stand mixer or a large bowl with an electic mixer, cream together butter and sugar until light and fluffy. Beat in apple sauce and then add buttermilk, vanilla and eggs. Beat for 2 mins.

To the wet ingredients add half of the flour mixture and mix until just incorporated. Scrape down sides of bowl and repeat with second half of flour mixture making sure to not over mix.

Pour batter into prepared baking pan and and bake in center of oven for 30-35 mins or until cake tester inserted into center of cake comes out clean and cake bounces back when lightly touched. Let cool completely before making frosting.
Cinnamon Cream Cheese Frosting
In a stand mixer or large bowl with an electric mixer, beat butter and cream cheese.

Add powder sugar 1 cup at a time and beat on slow speed until incorporated.

At the halfway point add vanilla and cinnamon. If frosting becomes too thick, add in half & half 1 tbsp at a time until correct consistency is achieved.

Beat for 2 full mins on high speed and then frost cake. Store leftover cake covered in refrigerator.
Notes
*Please use as many organic ingredients as possible.
Nutrition
Calories:
306
kcal
|
Carbohydrates:
44
g
|
Protein:
3
g
|
Fat:
13
g
|
Saturated Fat:
8
g
|
Cholesterol:
38
mg
|
Sodium:
201
mg
|
Potassium:
57
mg
|
Fiber:
1
g
|
Sugar:
28
g
|
Vitamin A:
441
IU
|
Vitamin C:
1
mg
|
Calcium:
46
mg
|
Iron:
1
mg