Fresh and delectable, this Lemon Dill Hummus is so easy to make in just about 10 minutes. Works beautifully as a healthy snack, appetizer or condiment. Naturally gluten free and one of my favorite recipes to keep on hand during summer months.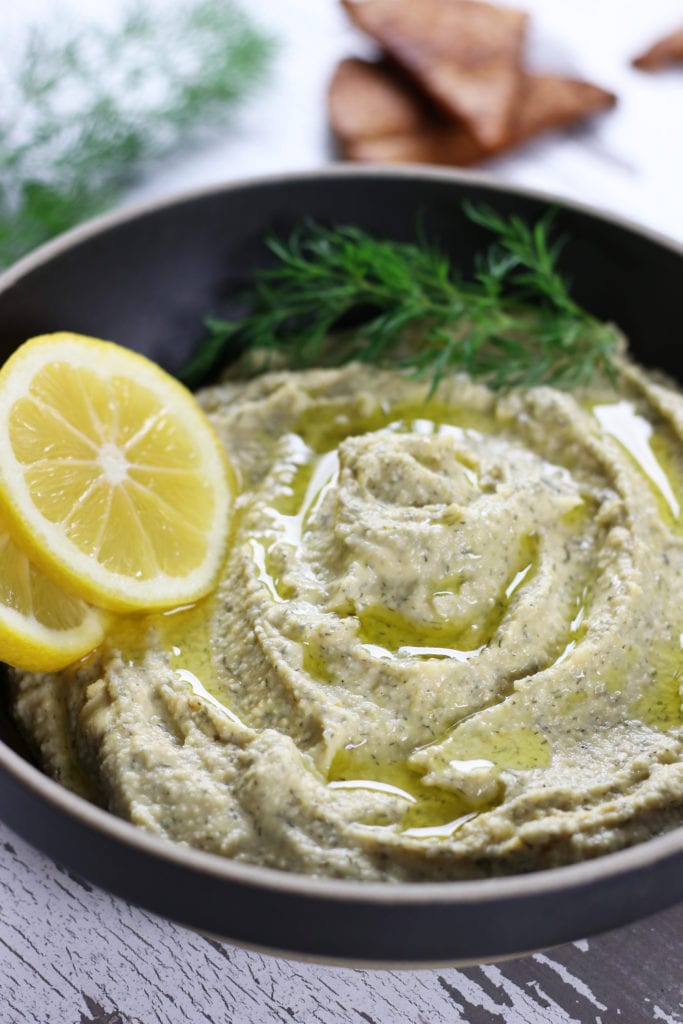 This post may contain affiliate links which I earn a small portion in sales if a purchase is made. Rest assured though, it is never at any additional cost to you.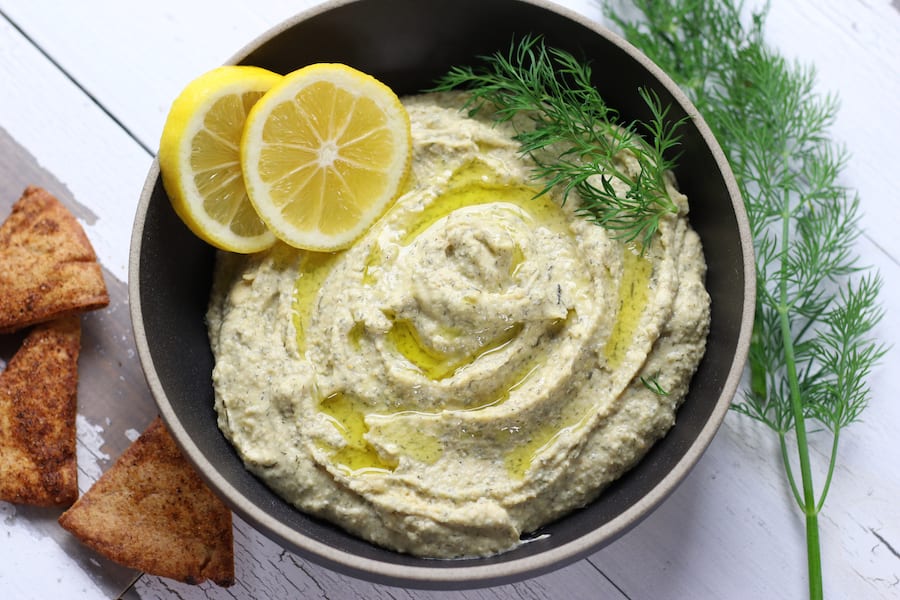 Yesterday was the annual mark of Spring for me.
Not the official start of Spring but my start.
Why you ask?
I officially zested about 40 homegrown lemons and stuffed two large bottles of vodka with that lemon zest to make my Homemade Limoncello.
You all know that I am a hard core lemon lover and having this liquor icy cold and ready to go in freezer eases the pain of heat during the hot summer months.
Let me tell you though, smelling that luscious zest yesterday made me beyond excited for the 75 days to pass for the limoncello to be done brewing.
In the meantime, recipes like this Lemon Dill Hummus, Lemon Chicken Soup and Lemon Garlic Pasta will hopefully carry me through.
If not, I always have my all-time favorite salad dressing, Simple Herbed Lemon Vinaigrette.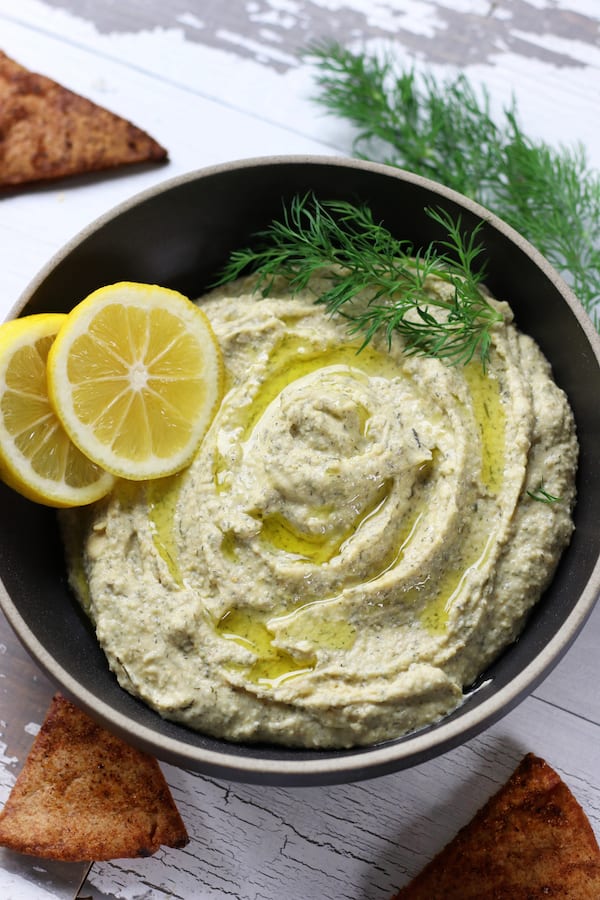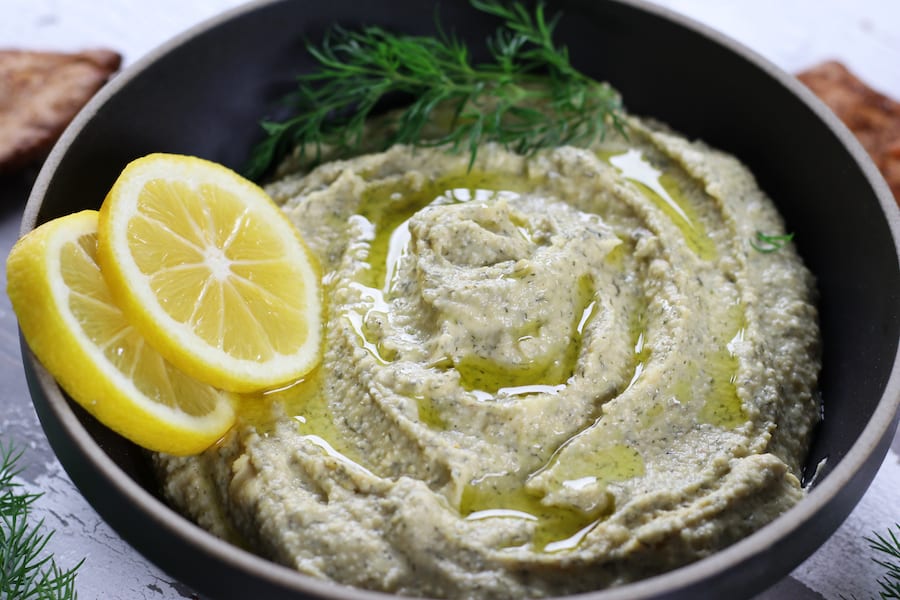 How To Make Homemade Hummus Taste Amazing
The key to making any recipe homemade absolutely amazing starts with its flavor profile. Homemade hummus is no different. If you don't love the flavors being added, there is a slim chance that you will fall in love with the final product. This Lemon Dill Hummus recipe utilizes a more intense flavor palate of lemon, garlic and dill because I personally adore these flavors. For those who enjoy these flavors but are not as passionately in love with them like me, lower the lemon juice to 1/4 cup and raise the olive oil to 1/2 cup. Also, lower the garlic cloves down to 2 and dill to 1/2 tbsp.
For other recipes here are a few tips that can help you fall in love with homemade hummus.
Use flavored oils.
Try roasting your garlic.
Use your favorite herbs or try combinations that may sound crazy but actually are phenomenal together. An example, cilantro and mint used together sounds nuts but was so HEAVENLY in this recipe.
Punch up the heat using this.
Try adding in toasted nuts.
Finish with your favorite toppings like roasted red peppers, oils, pepitas, toasted nuts, herbs and/or my favorite lemon juice.
Uses For Lemon Hummus
Homemade hummus that is packed with flavors you love can be a great way to get family members to eat a little better. Here are some of my favorite uses.
Used on both slices of bread to replace mayonnaise.
Mixed with tuna, egg or chicken for salad sandwiches.
As a dip with cut veggies like celery, broccoli or carrots.
Eaten with healthy chips.
Spread on a tortilla and then wrapped up with chicken lettuce, tomato, pickles and sprouts for lunch.
Inside your favorite gyro.
Benefits of Hummus
In spite of the fact that I am not a nutritionist, I still love science of nutrition and what eating wholesome foods can do for the body. This Lemon Hummus is packed with loads of healthy fiber, heart healthy fats, vitamins and phytonutrients. Need more inspiration to start making hummus, check this out.
Lemon Hummus Calories
1/4 cup of this Lemon Dill Hummus has approximately 118 calories. Eaten with cut veggies, this is a perfect low calorie snack when focusing on weight loss.
Commonly Asked Questions About Lemon Dill Hummus
Are chickpeas and garbanzo beans the same thing?
Yes, chickpeas and garbanzo beans are the same bean. There are variations of chickpeas but this really is a nonissue for most home cooks.
Can I make this with Lemon Dill Hummus with white beans?
Yea and no. White beans tend to be softer so you will end up with a looser hummus. My suggestion instead is to make this Simple White Bean Dip.
How long does homemade hummus last?
Safely, 3-4 days in an airtight container.
What does hummus taste like?
A basic hummus taste like beans and sesame. Adding in different flavors, hummus can be a smooth and savory condiment or appetizer. See How To Make a Homemade Hummus Taste Amazing section above.
What is the best food processor for making hummus?
I personally love this processor.
Can this hummus be made in a blender?
With a powerful blender like this, yes absolutely.
Where can I find good quality olive oil?
This olive oil is highly regarded in the health community.
More Flavorful and Healthy Appetizers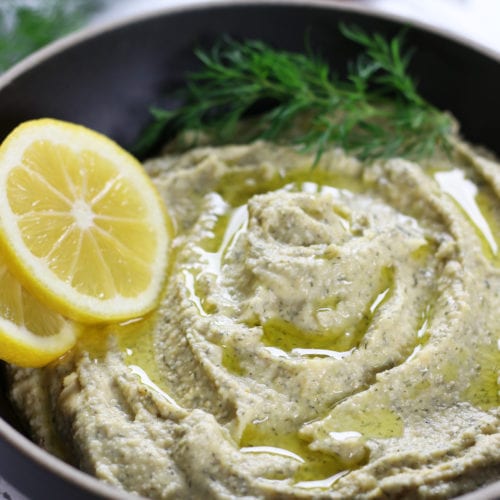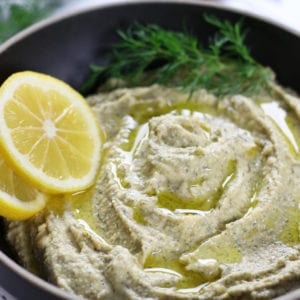 Lemon Dill Hummus
So fresh and delicious! This Mediterranean Lemon Hummus is perfect as an appetizer with veggies, pita chips or your favorite healthy chip. My family adores eating this in sandwiches too.
Print
Pin
Rate
Ingredients
1

15 oz can

chickpeas

*drained and rinsed

1/4

cup

extra virgin olive oil

4

cloves

garlic

2

tbsp

tahini

zest of 1 lemon

1/2

cup

lemon juice

1/2

tsp

sea salt

1

tbsp

dried dill
Instructions
Add first 5 ingredients to a food processor and process for about 1 min.

Using the pouring spout of the food processor drizzle in lemon juice while processor in running.

Sprinkle in salt and dill and process until smooth.
Notes
*Please use as many organic ingredients as possible.
Nutrition
Calories:
118
kcal
|
Carbohydrates:
3
g
|
Protein:
1
g
|
Fat:
11
g
|
Saturated Fat:
1
g
|
Sodium:
197
mg
|
Potassium:
69
mg
|
Vitamin A:
30
IU
|
Vitamin C:
9
mg
|
Calcium:
20
mg
|
Iron:
0.6
mg