Creamy and refreshing, Tzatziki Sauce is the perfect Greek condiment with many types of meats or just simply as a dip.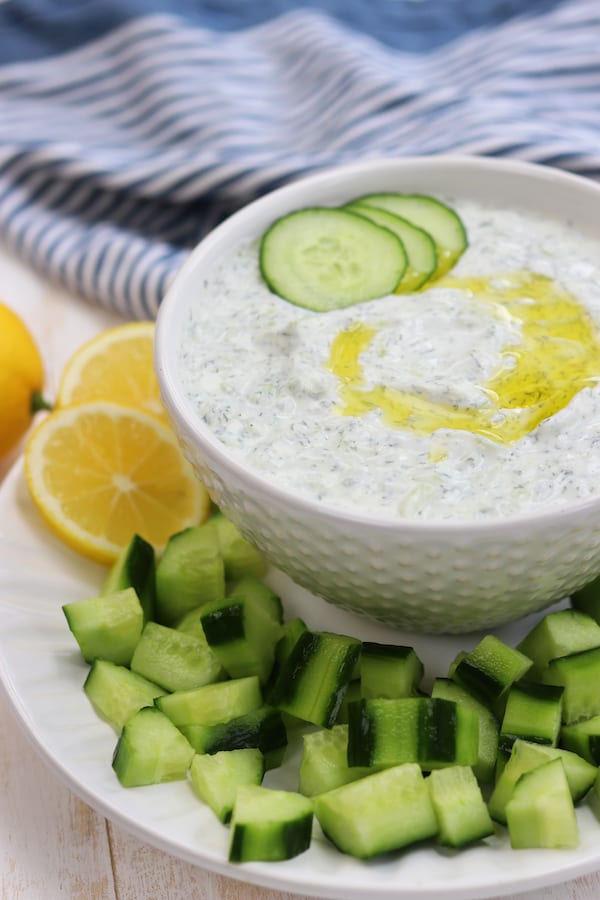 This post may contain affiliate links which I earn a small portion in sales if a purchase is made. Rest assured though, it is never at any additional cost to you.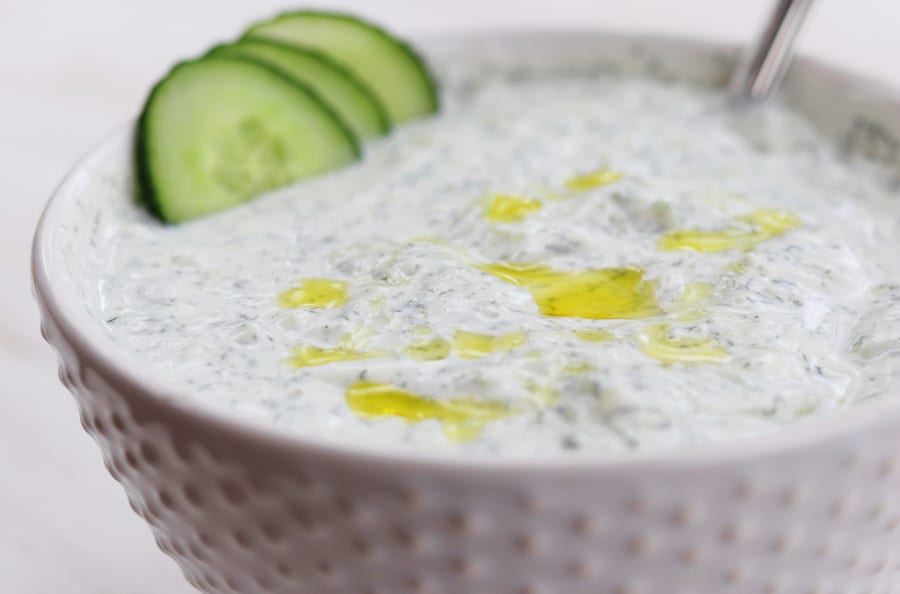 I wish I was a gardener, like an Ina Garten kind of gardener. You know the kind I mean, with the perfect rows of herbs. Her garden always looks so beautiful and oh, the luxury of walking out to the back yard and picking some fresh dill for recipes like this Tzatziki Sauce. It makes perfect sense that gardening and cooking should go hand and hand, right? Wrong!!! When God handed me the whole cooking talent and photography talent he left out the growing anything in dirt talent. I mean I can not grow anything in dirt. I kill cactus, the one thing that is supposed to be super easy to keep alive…hahahahaha… Not only do I kill everything that grows in dirt but I have a severe aversion to the creepy, crawling things living in that dirt. If only I had the same powers to not keep them alive. And don't get me started on all the things buzzing around my head. I look like a crazed person to the tune of "GET IT OFF OF ME…GET IT OFF OF ME!!!" if even one of those flying creatures comes within a foot of me. Needless to say, I love dried herbs especially Simply Organic Dill. It is the freshest tasting dill that I have found next to going out in the back yard and cutting it fresh. So the beautiful rows of neatly organized herbs will have to stay in my dreams for now. (affiliate)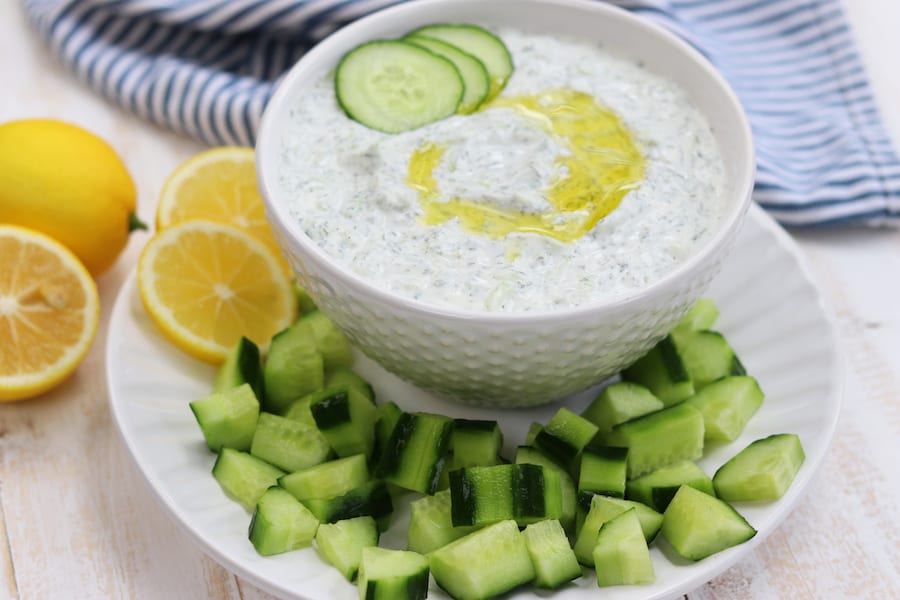 Tips about Tzatziki Sauce:
I love garlic so when I say 1-2 cloves that means I am using the biggest, fattest garlic cloves I can find. Adjust your garlic amount according to your taste preferences.
I also love dill so I use a lot. If you prefer your Tzatziki Sauce a little less dilly than only use a 1/2 tbsp.
Greek yogurt is really important for this recipe. For extra creamy choose the full fat version.
Peel the cucumber, deseed it, grate it and then squeeze any excess water out before adding to the yogurt. This will help keep sauce nice and thick.
I eat this Tzatziki Sauce with tortillas chips, pita chips, multitude of Greek dishes or my Greek Turkey Burger Sliders.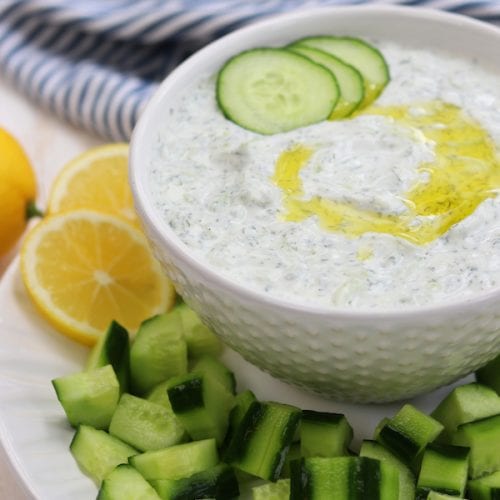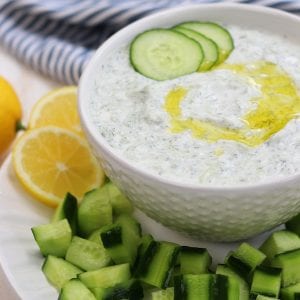 Ingredients
2

cups

plain Greek yogurt

*fat % of choice

1

lg

English cucumber

1

tbsp

dill weed

1-2

garlic cloves

*minced or crushed

1/2

tsp

sea salt

1/8

tsp

black pepper

1

tbsp

lemon juice

*about 1/2 of a lemon

drizzle with olive oil

*optional
Instructions
Peel, deseed, grate cucumber. Squeeze excess moisture from cucumber and add to a medium mixing bowl along will all other ingredients. Mix well and refrigerate until ready to serve.
Notes
*Please use as many organic ingredients as possible.*
Nutrition
Calories:
31
kcal
|
Carbohydrates:
2
g
|
Protein:
5
g
|
Fat:
1
g
|
Saturated Fat:
1
g
|
Cholesterol:
3
mg
|
Sodium:
163
mg
|
Potassium:
71
mg
|
Sugar:
2
g
|
Vitamin C:
1
mg
|
Calcium:
55
mg
|
Iron:
1
mg
This recipe is part of Meal Plan Monday.