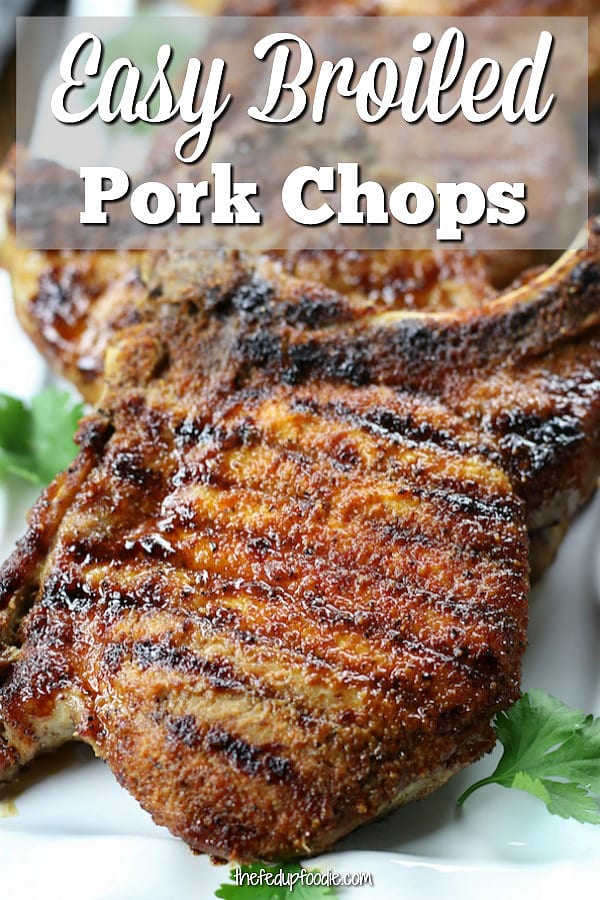 Easy Broiled Pork Chops recipe creates the most tender, juicy and delicious chops. An incredibly simple recipe that the whole family loves.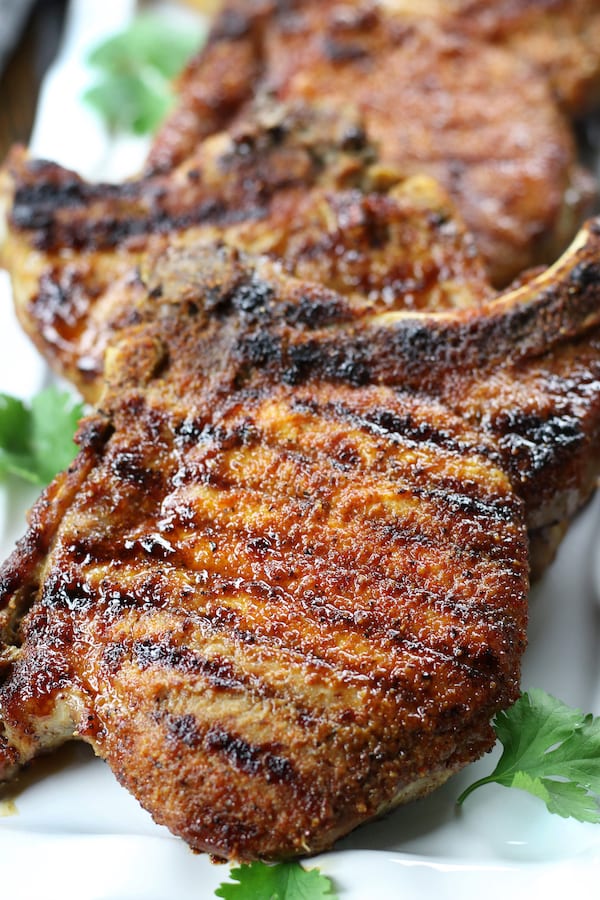 This post may contain affiliate links which I earn a small portion in sales if a purchase is made. Rest assured though, it is never at any additional cost to you.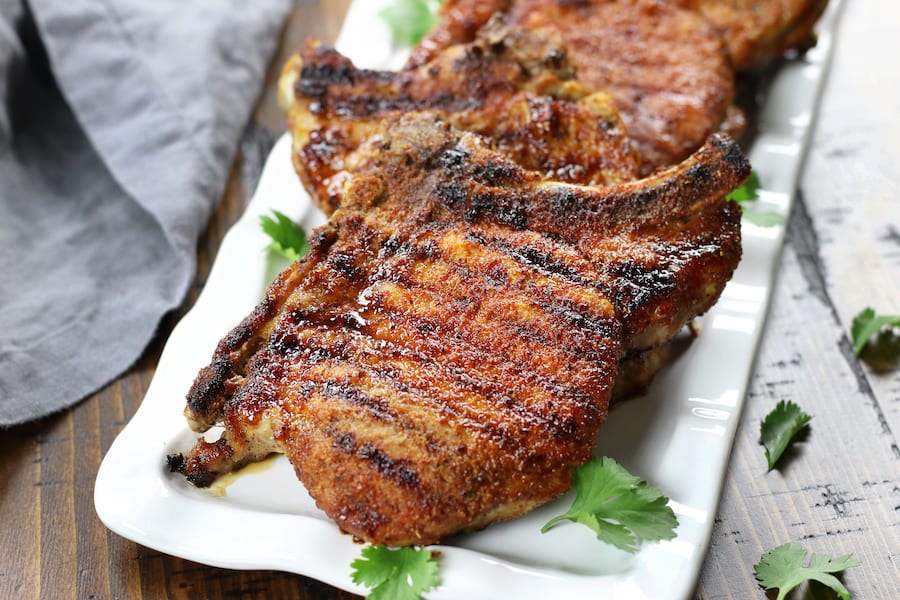 Do you have a family member who isn't on board with healthy eating?
Maybe they think it sounds like a great idea, but when push comes to shove they turn their nose up at the mention of recipes like Kale and Brussel Sprouts Salad, Spaghetti Squash Greek Bowls and Mediterranean Veggie Sandwich.
You are not alone my friend!
This is such a common challenge for so many and truly, there are no easy answers.
However, there are two approaches that I have seen be a help.
In my years of supporting clients with weight loss goals I often noticed that sometimes people just needed a little time to wrap their heads around what healthy eating looks like.
Often, the healthy eating approach would have to start slow with a trial and error of what foods they like and could hang with for the long term.
That just took time, patience and diligence.
The second approach that I have seen really help in getting reluctant family members on board with healthy eating is disguising healthier foods as a comfort meal.
These Easy Broiled Pork Chops are exactly that.
They are succulent and flavorful!
Use a high quality pork chop along with a fiber rich side salad and veggies and chances are those reluctant family members will be one step closer to committing to healthy eating.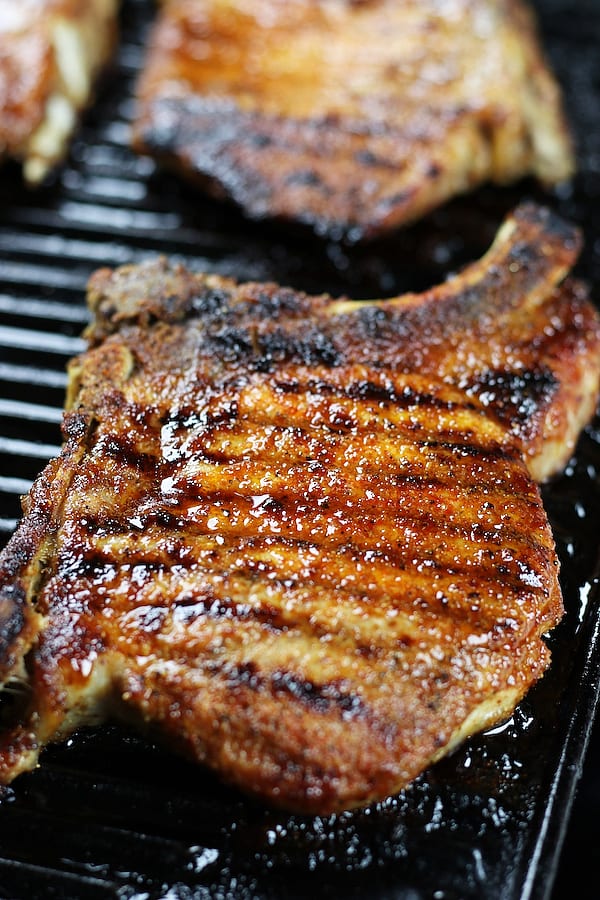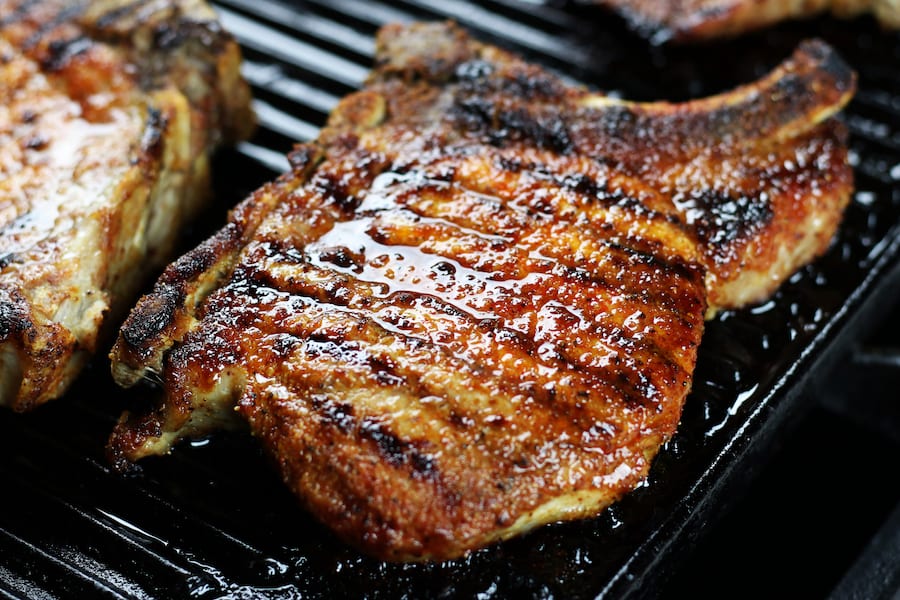 How To Broil Pork Chops
Oven Broiled Pork Chops are beyond mouthwatering in addition to being incredibly easy to make when following these steps.
Preheat oven to broil.
Prepare seasoning.
Lightly oil Grill Pan and place in oven for 5 minutes to preheat. (Love this Grill Pan but this one is even better for family portions.)
Remove excess moisture from chops using paper towels.
Sprinkle both sides of each chop with seasoning.
Using long handled tongs, carefully place chops onto grill pan.
Turn halfway through cooking to grill opposite side of chops.
Remove chops from oven and transfer onto a platter. Let rest for 5 minutes.
Cooking Thick Pork Chops
The ultimate goal of cooking thick pork chops is to have the internal temperature reach 145℉. Whether broiling smaller boneless chops or thicker ones, the approach is the same. The timing is what differs.
Broiling Times
Smaller chops approximately 4-5 minutes per side.
3/4 inch chops approximately 7-8 minutes per side.
1 inch chops approximately 9-10 minutes per side.
Pork Seasoning
Hands down, my entire family's favorite Pork Seasoning is this blend. It really is the Ultimate Dry Rub as we have used it on chicken, ribs, wings, steaks… You name, it makes everything taste amazing.
How To Reheat Pork Chops
Here are a few options for reheating pork chops
Microwave- Reheat on power level 8 for 1 1/2 mins. Work in 30 second increments to add more time if needed.
Oven- Preheat oven to 350℉. Place chops on a small roasting pan covered with aluminum foil. Bake for 10 to 15 minutes or until heated through.
Stovetop- This method for reheating is not advisable.
More Mouthwatering Pork Recipes
Best Dry Rubbed Ribs of Your Life
Country Style Pork Spare Ribs and Sauerkraut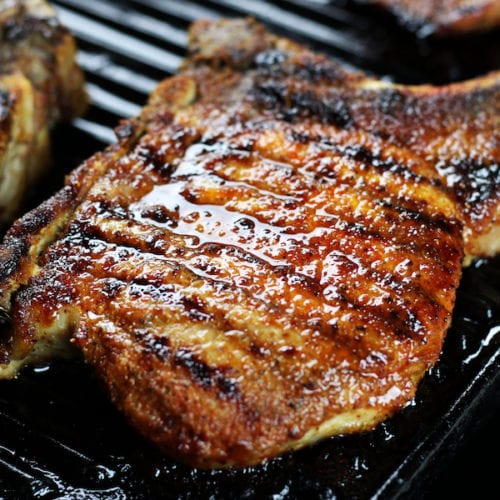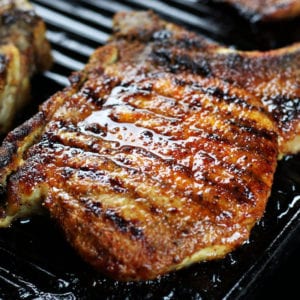 Easy Broiled Pork Chops
Easy Broiled Pork Chops recipe creates tender, succulent and incredibly flavorful broiled chops. Always a hit no matter the time of year.
Print
Pin
Rate
Instructions
Meanwhile mix together dry rub.

Lightly oil grill pan and preheat in oven for 5 mins.

While pan is heating pat dry pork chops using paper towels. Sprinkle both sides of chops with dry rub using 1 tbsp per chop.

Place chops on heated pan and broil 7-8 mins per side.

Once cooked, remove from oven and place chops on a platter to rest for 5 mins.
Notes
*Please use as many organic ingredients as possible. 
Nutrition
Calories:
253
kcal
|
Carbohydrates:
3
g
|
Protein:
24
g
|
Fat:
16
g
|
Saturated Fat:
5
g
|
Cholesterol:
70
mg
|
Sodium:
1
mg
|
Potassium:
27
mg
|
Fiber:
1
g
|
Sugar:
1
g
|
Vitamin A:
105
IU
|
Vitamin C:
1
mg
|
Calcium:
40
mg
|
Iron:
1
mg