Italian Beef Stew recipe has melt in your mouth tender beef, a rich sauce with the tastes of Italy, tender gnocchi and hearty veggies. The best comfort meal on chilly days and a favorite for family meals.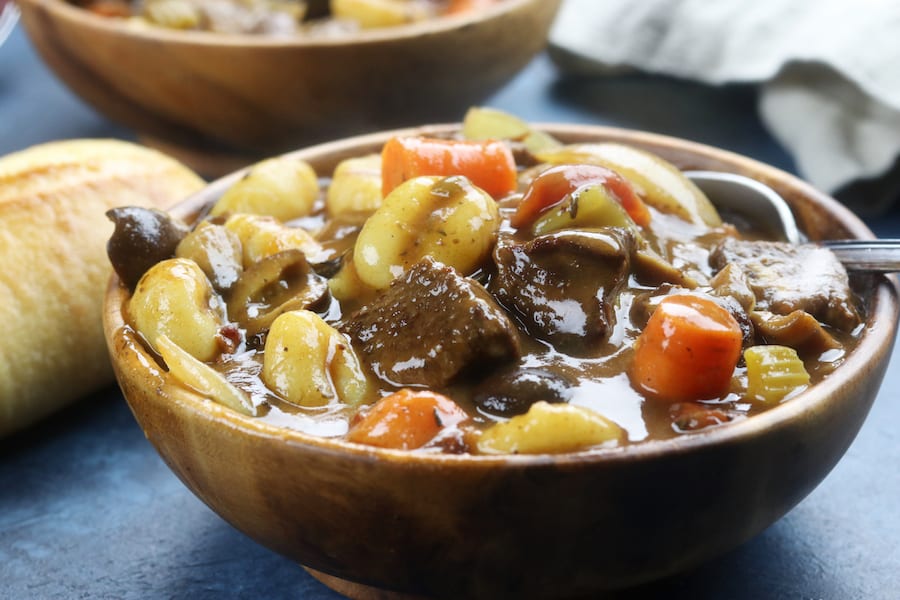 This post may contain affiliate links which I earn a small portion in sales if a purchase is made. Rest assured though, it is never at any additional cost to you.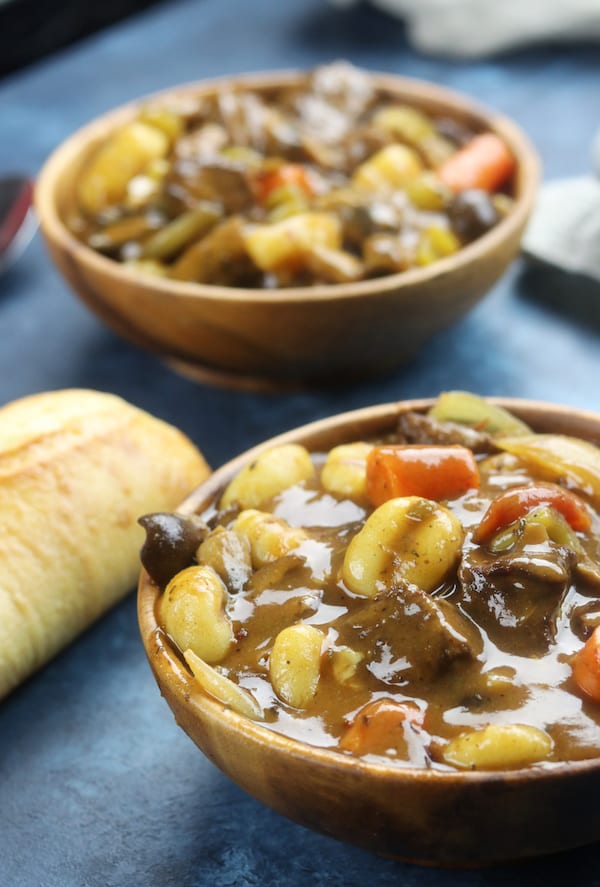 I talk with my hands…
I can have a fiery hot temper at times although that one has caught more people by surprise in my life than I can keep track of.
I also LOVE pasta and my heart would literally break if I had to give it up.
Can you guess what heritage I fit into?
Yes I am Italian! I also have some Irish and Scottish mixed in as well.
There was a time in my life where I wanted nothing to do with my Italian roots (that story is for another day and time).
As an adult though, I adore almost all things Italian.
It comes as no surprise that I must take a classic and turn it into an Italian feast.
When I say feast, I really mean feast.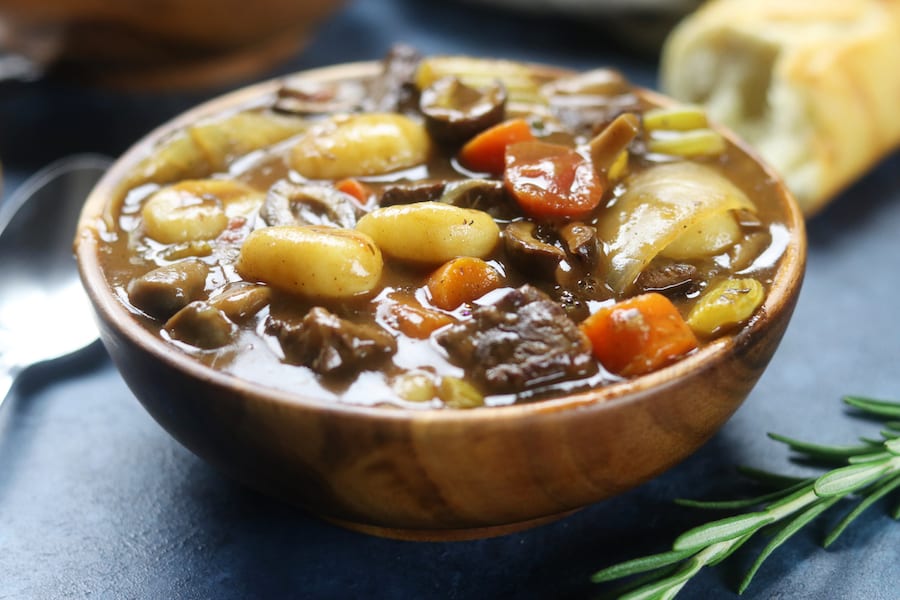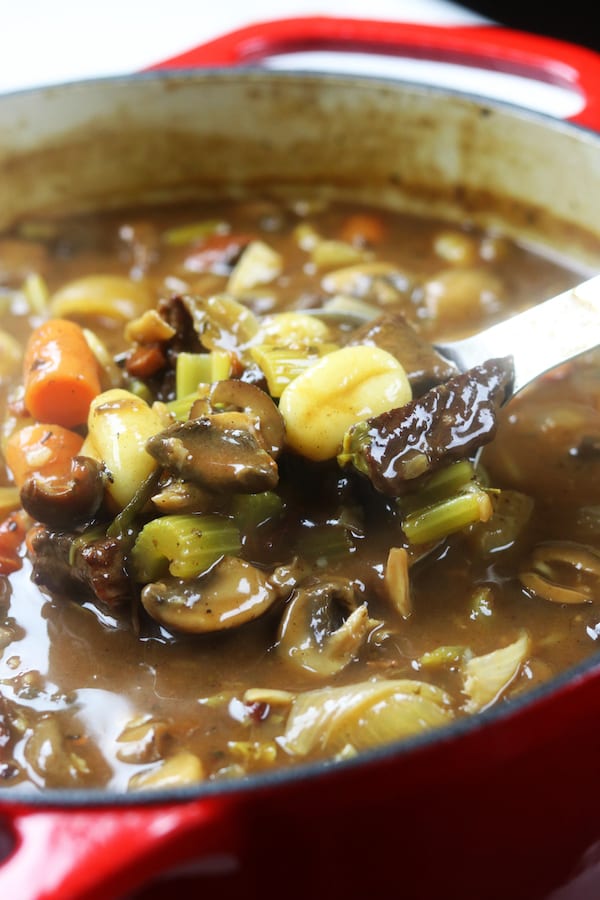 Difference between soups and stews:
Soups and stews can at times seem very similar to one another because both hold many of the same ingredients. The main differences though are that stews are thicker with larger chunks of ingredients and are generally cooked for longer periods of time over low heat. Soups on the other hand have more liquid with smaller cut ingredients. Also soups can range in time preparation from under a half an hour to several hours.
Secrets to a great beef stew:
Brown your meat. This adds such a wonderful depth of flavor. I can't not emphasis not skipping this step enough. If you want a rich, luxurious stew that makes your taste buds dance then you must not skip this step.
Brown your meat in batches. In other words, do overload the pan. For this Italian Beef Stew recipe I browned the beef chunks in two batches. Also, make sure your pan is good and hot. You want to hear a sizzle when the beef hits the pan. This will create a wonderful sear. Once you start searing the meat just leave it be for a few minutes until it no longer sticks to the bottom of the pan. By then it should have a good sear on it and be ready to be stirred.
Choose your cut of meat wisely. Generally beef stews work best using a chuck roast however there are always exceptions to the rules. For this Italian Beef Stew recipe I wanted the underlying tastes of pancetta but didn't want to overload the recipe with fat. Because of this I choose top sirloin and it worked beautifully.
Some ingredients are added in stages. This isn't always the case but generally there will always be some ingredients added towards the end. For this recipe it is the gnocchi and olives. Other recipes it may be delicate fresh herbs.
Layer your flavors. To really make your stew over the top delicious layer your flavors. For beef stews it is generally the wine, garlic and herbs that do the trick. You will generally see the addition of Worcester sauce and for this Italian Beef Stew is it balsamic vinegar that gives it more Italian flair.
Tips about Italian Beef Stew:
If cooking this on the stovetop it will take about 20 mins to cut and sear the meat and prepare the veggies, 2- 2 1/2 hours to simmer and an additional 20 mins to cook the gnocchi. Just make sure to stir often.
If cooking in a crockpot or slow-cooker the preparation time will remain the same at 20 mins. The simmering time will be about 3-3 1/2 hours on high or 7 hours on low. The gnocchi will take about 40 mins on high and a little over an hour on low.
If you love the looks of Le Creuset dutch ovens but are not ready to make that investment then this Lodge Enameled Dutch Oven works beautifully and is much more affordable. (affiliate)
As far as crock-pots go I tend to still lean towards the simple and old fashioned 3 setting oval shaped crock-pot. I prefer oval shaped because you can do both soup/stews or roasts and chicken much easier. (affiliate)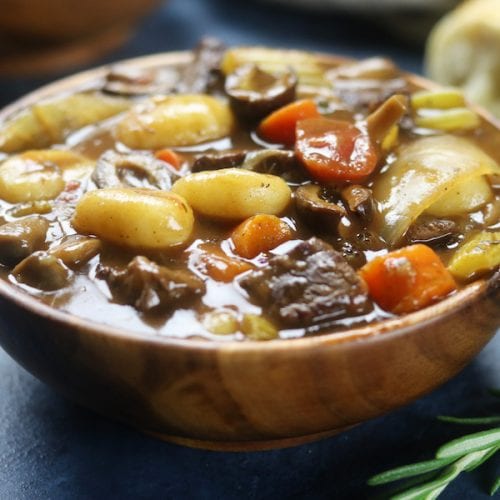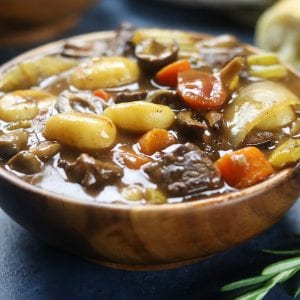 Italian Beef Stew
A warm and hearty Italian feast.
Print
Pin
Rate
Ingredients
2

oz

pancetta

*diced

2

tbsp

olive oil

1 1/2- 1 3/4

lbs

top sirloin

*cubed

1

tsp

salt

1/4

tsp

pepper

1/4

cup

balsamic vinegar

1/2

cup

red wine

4

cups

beef broth

1/2

cup

flour

1

tbsp

tomato paste

1

14.5 can

diced tomatoes

1

tsp

thyme

1

tsp

basil

1/2

tsp

oregano

4

lg cloves

garlic

*about 2 tbsp minced or crushed

24

oz

button mushrooms

*roughly cut

3

sm

brown onions

*cut into wedges

3-4

sm

carrots

*roughly cut

3-4

celery stalks

*roughly cut

1

fresh

rosemary sprig

1

bay leaf

1

lb

gnocchi

1

can

black olives

*cut in halves
Instructions
Cut top sirloin into cubes and salt and pepper. Set aside.

Heat a dutch oven over medium-high heat. Add pancetta and cook stirring occasionally until browned, about 4 mins. Remove from pan and set aside. Add 1 tbsp oil and half of beef to pancetta drippings. Cook over same heat until browned, stirring occasionally. Remove from pan and repeat with second half of beef. Remove beef and set aside.

In the same heated pan add balsamic, wine and 2 cups of beef broth. Bring to a simmer and stir in flour. Cook for about 3 mins stirring consistently until thickened. Stir in tomato paste, canned tomatoes, thyme, basil, oregano and garlic. Add browned pancetta and beef. Stir in mushrooms, onions, carrots, celery, remaining broth, rosemary and bay leaf.

Cover and lower heat to medium-low. Simmer, stirring occasionally for 2 hours or until veggies and meat are tender but still whole.

Add in olives and gnocchi and cook for an additional 20 mins covered, over same heat, stirring occasionally.
Notes
 *Please use as many organic ingredients as possible.
Nutrition
Calories:
589
kcal
|
Carbohydrates:
45
g
|
Protein:
33
g
|
Fat:
29
g
|
Saturated Fat:
7
g
|
Cholesterol:
152
mg
|
Sodium:
2153
mg
|
Potassium:
1458
mg
|
Fiber:
5
g
|
Sugar:
5
g
|
Vitamin A:
406
IU
|
Vitamin C:
3
mg
|
Calcium:
119
mg
|
Iron:
9
mg
Follow along on Facebook and Pinterest for more savory inspirations.
If you love savory soups and stews then check out these recipes: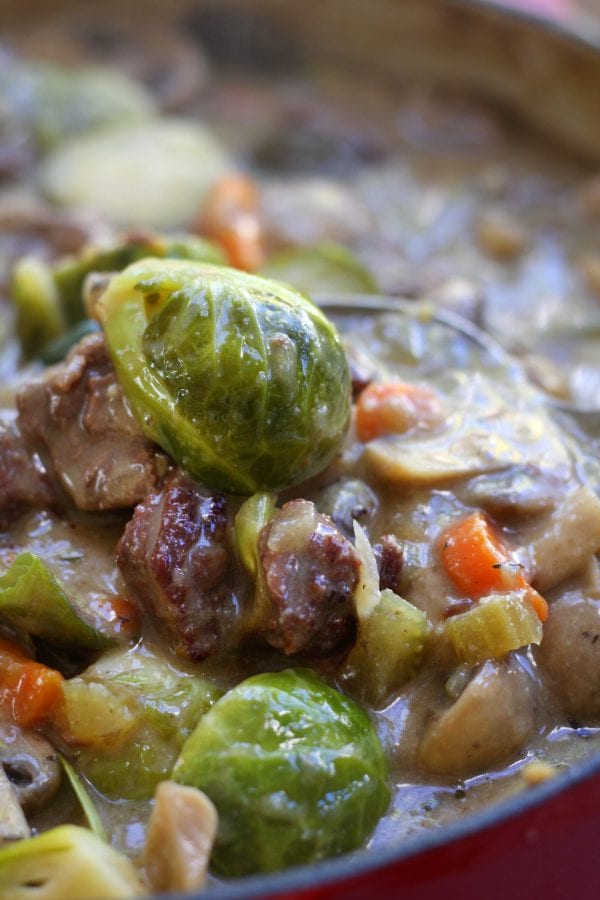 Beef and Brussels Sprouts Stew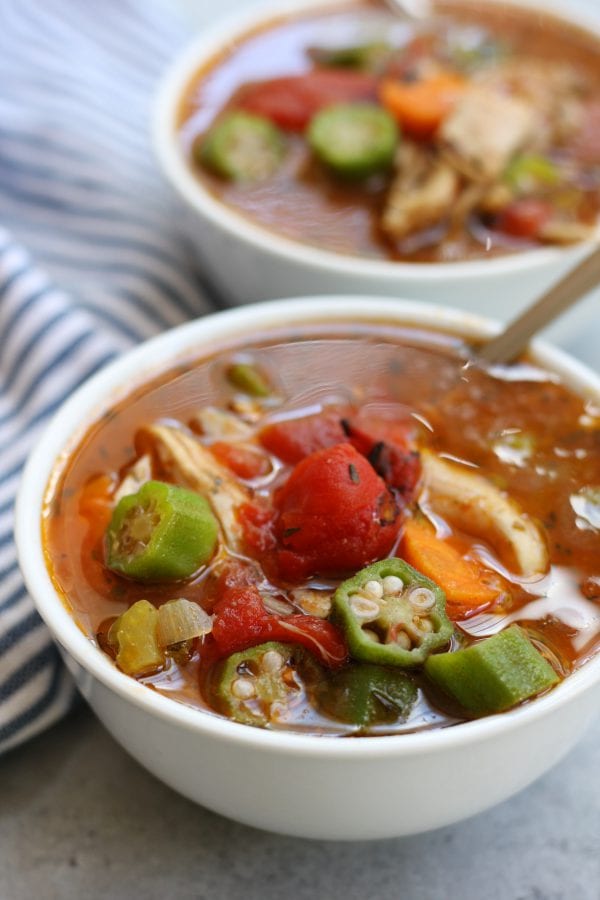 Mom's Chicken Gumbo Soup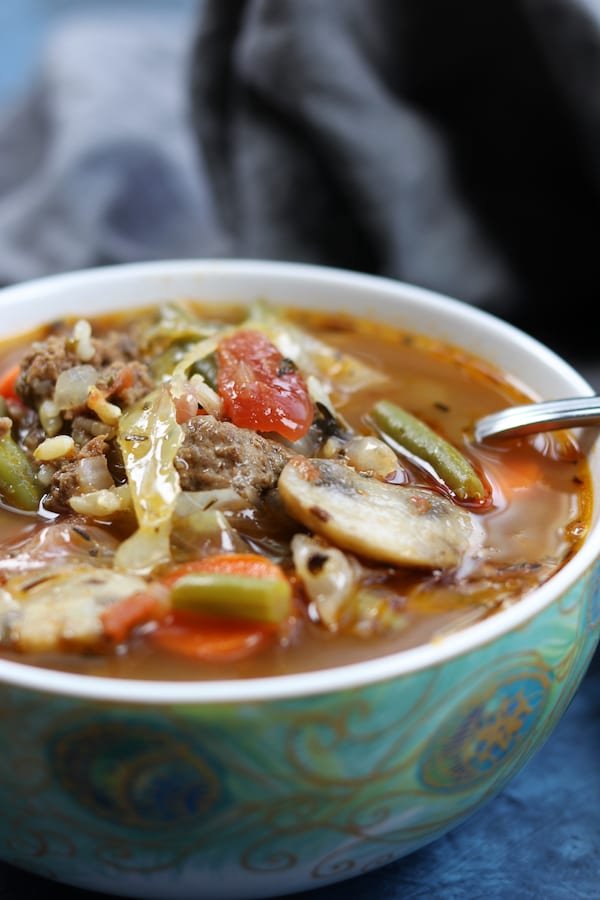 Hamburger Veggie Soup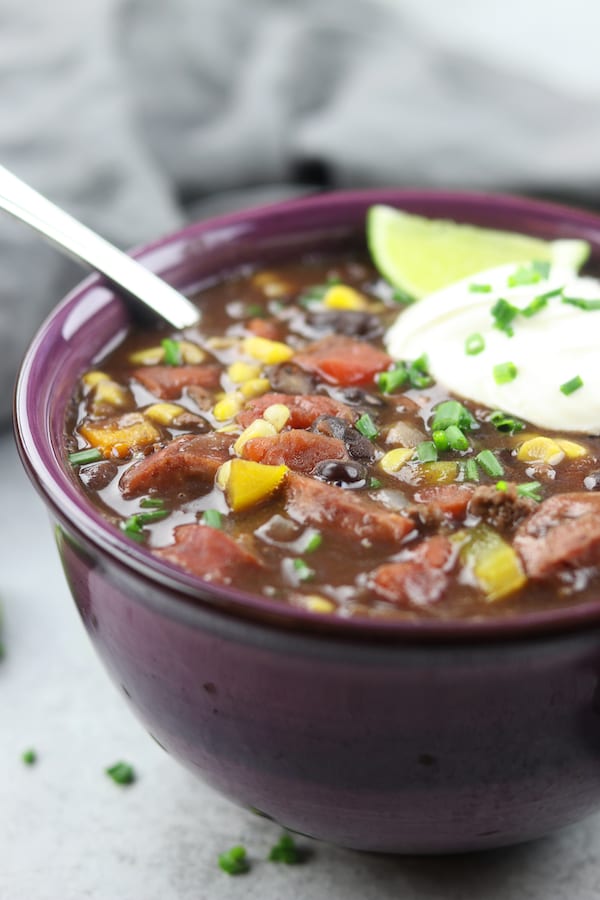 Black Bean Soup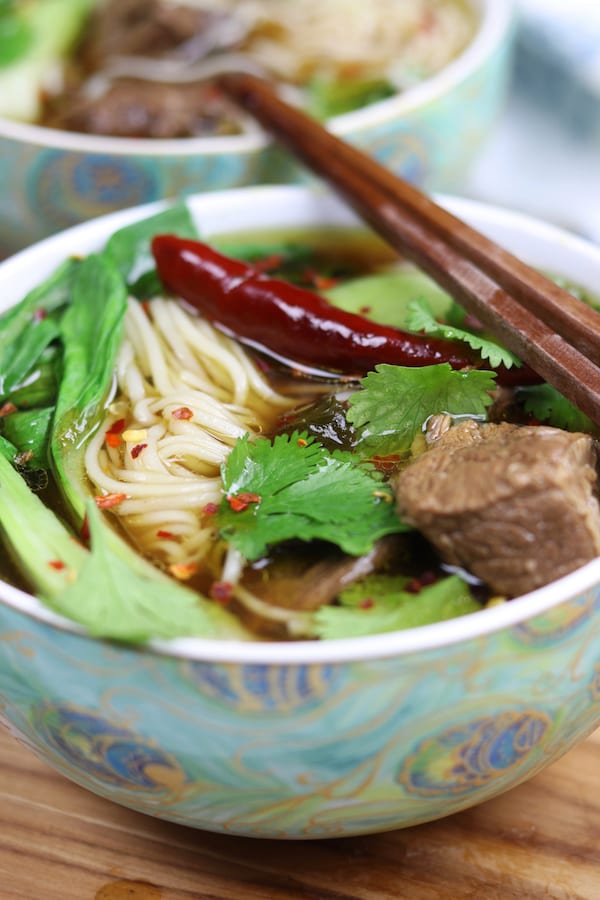 Beef Asian Noodle Soup