Warm and satisfying, Hamburger Vegetable Soup is full of good for you veggies and comes together in a little over 30 minutes.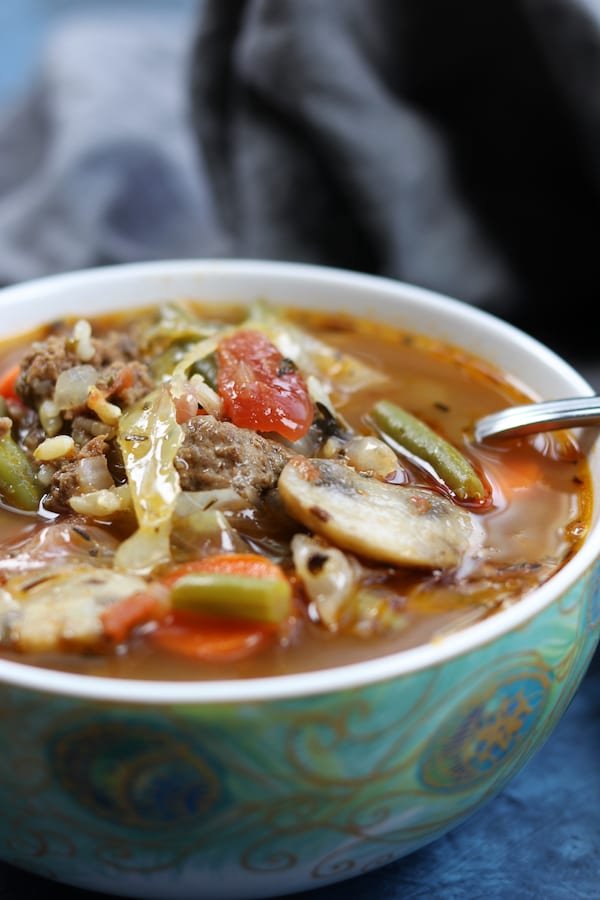 This post may contain affiliate links which I earn a small portion in sales if a purchase is made. Rest assured though, it is never at any additional cost to you.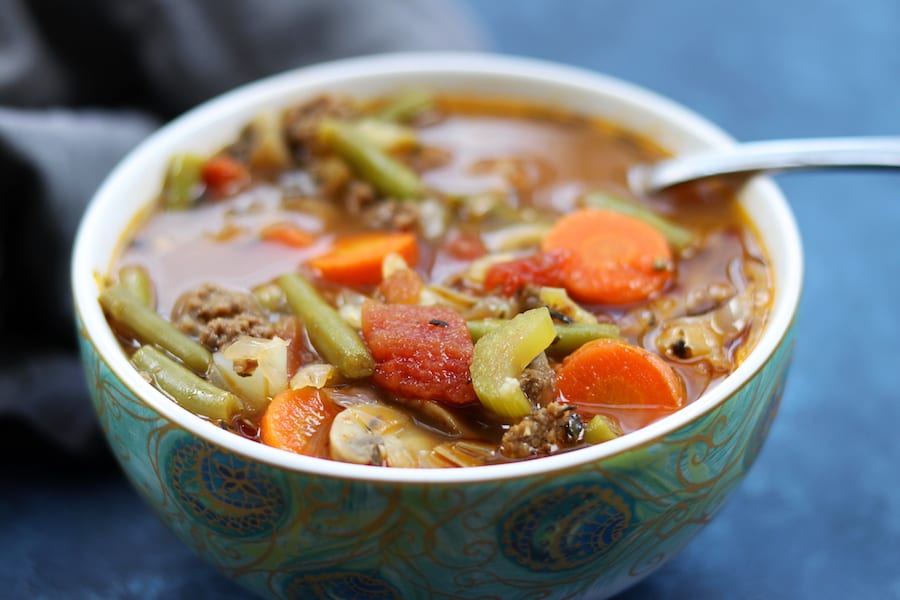 It's chilly people, and you want to know the most ridiculous thing?
I am in Southern California where I do not know what it is like to really be cold.
I have never had to fight snow, drive in snow or shovel a driveway. Heck, I was in my 30's before I saw snow for the first time.
None the less, it's chilly here and we have been fighting the sniffles for the last two weeks.
Easy and heartwarming meals have been an absolute necessity. I made a huge pot of this Hamburger Vegetable Soup and I am so glad I did.
It has made wonderful lunches and dinners when I was just too tired to cook but also hit the spot when we needed a bowl of heartwarming comfort to soothe the the agony of common cold.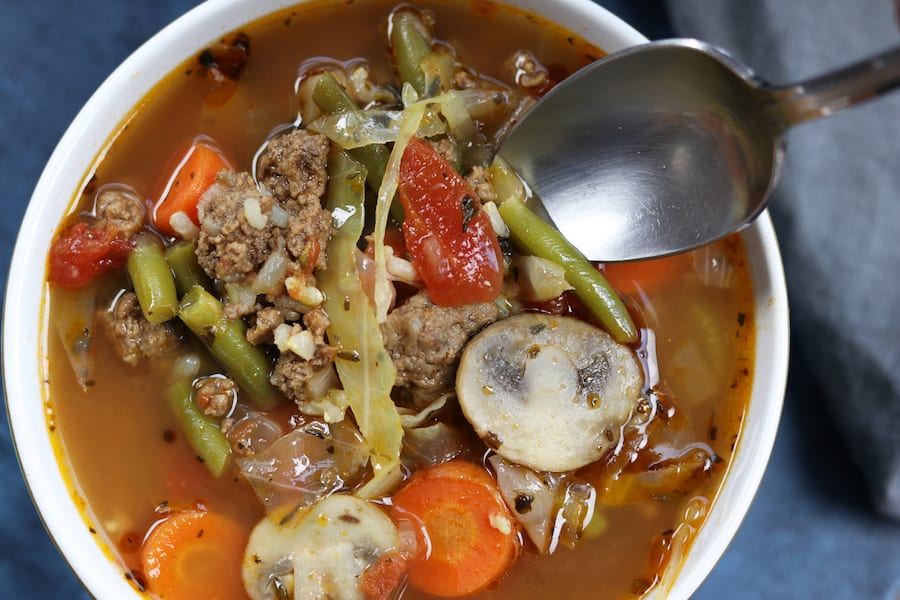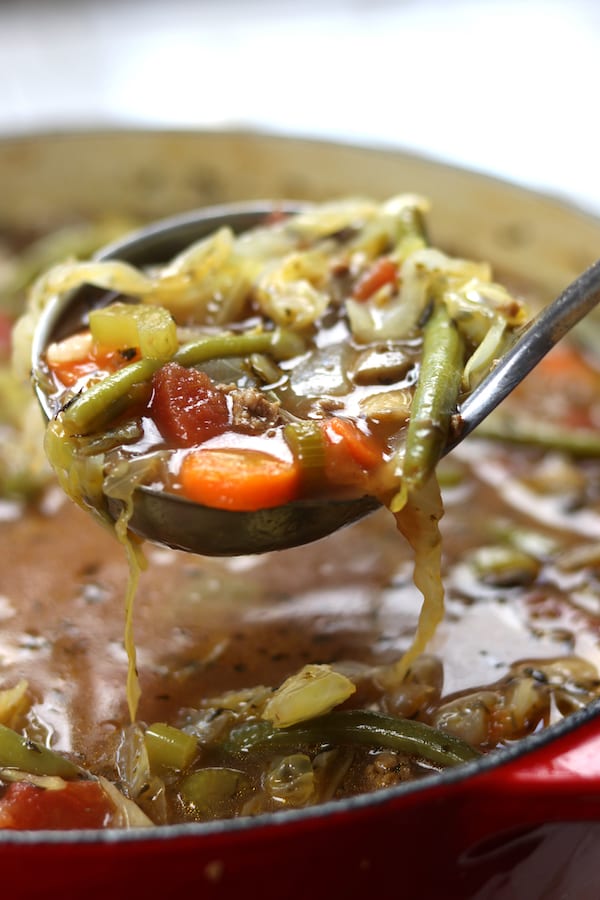 Tips about Hamburger Vegetable Soup:
Use good quality hamburger, preferably grass-fed. For more information on why eat grass-fed meat check out this article .
The herb marjoram has lost popularity in the states and that is completely baffling to me. Next to thyme, it one of the most versatile herbs around tasting wonderful with poultry, pork and beef. (affiliate)
This is my favorite basil and bay leaves. (affiliate)
To cut down on cooking time use precooked brown rice. I used 1/2 of a bag of Trader Joe's frozen precooked organic brown rice.
Add the whole can of diced tomatoes including the juice.
For even more healthy veggies add either a cut up zucchini or yellow crookneck squash.
If you would love a stockpot as beautiful as Le Crusette but not willing to spend a small fortune then this is the stockpot for you. (affiliate)
If you are using a crock-pot or slow cooker follow step 1 according to the recipe. Add carrots, celery, tomatoes and beef broth and cook on high until carrots are tender, about 4 hours. Add remaining ingredients and cook for 1 additional hour on high. (affiliate)
Leftovers- Like many soups, this one tastes even better the next day. Store any leftovers in the fridge, and reheat for a quick, delicious meal.
Adding a bit of tomato paste along with the canned tomatoes gives the soup more body.
Use low-sodium beef broth to control the saltiness.
Great Toppings
Enhance your soup with these delightful toppings:
Freshly Grated Parmesan Cheese- Adds a salty and nutty kick to the soup.
Croutons- For a satisfying crunch and extra texture.
Freshly Chopped Parsley or Cilantro- A burst of fresh flavor that brightens up the dish.
A Dollop of Sour Cream- Creamy and cooling, it complements the savory soup.
Crushed Red Pepper Flakes- Adds a hint of spice if you like a kick.
Lemon Zest- A touch of citrus zest for a refreshing twist.
Sliced Avocado- Creamy, buttery avocado slices for a creamy finish.
 

Variations of the Recipe
Italian Meatball Soup- Shape the hamburger into small meatballs and cook them before adding to the soup for an Italian-inspired twist.
Potato Lover's Soup- Add cubed potatoes for a heartier and creamier texture.
Tex-Mex Soup- Spice it up with chili powder, cumin, and a touch of cayenne for a Southwestern flavor.
Lentil and Vegetable Soup- Substitute the hamburger with lentils for a protein-packed vegetarian version.
Creamy Hamburger Soup- Stir in a cup of heavy cream or half-and-half for a creamy and indulgent experience.
Asian Fusion Soup- Incorporate soy sauce, ginger, and sliced bok choy for an Asian-inspired twist.
Quinoa and Vegetable Soup- Swap brown rice for quinoa for a different grain and extra protein.
Frequently Asked Questions
Can I use ground turkey or chicken instead of hamburger?
 Ground turkey or chicken can be a great alternative if you're looking for a leaner option. The flavor profile may vary slightly, but it's equally delicious.
Can I use fresh tomatoes instead of canned ones?
  If you have fresh tomatoes on hand, feel free to dice them and use them in place of canned diced tomatoes. It will add a lovely, vibrant freshness to the soup.
Can I make this soup vegetarian?
Yes, you can easily make this soup vegetarian by omitting the hamburger and using vegetable broth instead of beef broth. Consider adding extra beans or tofu for protein.
What kind of herbs can I use?
The original recipe calls for thyme, basil, marjoram, and bay leaf. But feel free to experiment with any herbs you have on hand. Rosemary, oregano, and sage would all be delicious.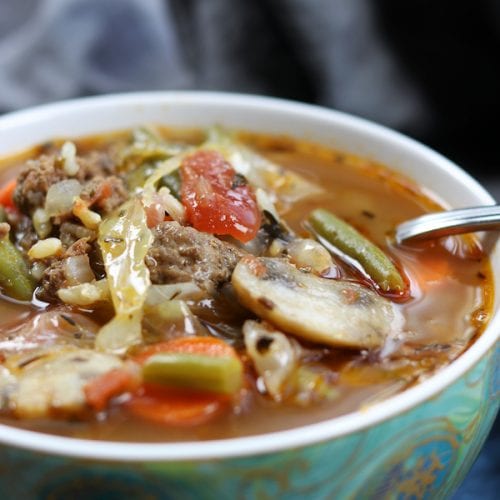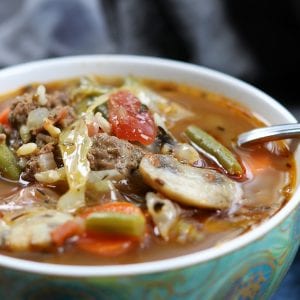 Hamburger Vegetable Soup
A heartwarming and satisfying meal packed full of good for you veggies.
Print
Pin
Rate
Ingredients
2

tbsp

olive oil

1-1 1/2

lbs

hamburger

1

lg

brown onion

*about 2 cups roughly diced

4

garlic cloves

*minced or crushed

2

tsp

thyme

2

tsp

basil

1

tsp

marjoram

1

bay leaf

4

small

carrots

*about 1 1/2 cups diced

3

stalks celery

*about 1 1/2 cups diced

16

oz

sliced mushrooms

28

oz

can diced tomatoes in juice

1

cup

precooked brown rice

1

lb

frozen green beans

64

oz

beef broth

1/2

small

cabbage

*about 4 cups shredded

salt & pepper to taste
Instructions
Heat a dutch oven over med/high heat. Add oil & hamburger. Once hamburger is almost fully browned add onion, garlic & herbs-stir well. Simmer for 2 mins or until onions just start to become translucent.

Add carrots & celery and simmer for about 4-5 mins. Add mushrooms, stir well and simmer for about 2 mins. Add tomatoes & cooked brown rice- stir well. Add green beans & stir. Add broth & bay leaf. Bring to a boil for about 10 mins. Add cabbage and simmer until cabbage is cooked, about 7-8 mins.
Notes
*Please use as many organic ingredients as possible.*
Recipe Notes
Calories are based on 90% lean ground beef.
Nutrition
Calories:
245
kcal
|
Carbohydrates:
21
g
|
Protein:
19
g
|
Fat:
11
g
|
Saturated Fat:
3
g
|
Cholesterol:
37
mg
|
Sodium:
1056
mg
|
Potassium:
972
mg
|
Fiber:
5
g
|
Sugar:
8
g
|
Vitamin A:
4770
IU
|
Vitamin C:
36
mg
|
Calcium:
100
mg
|
Iron:
4
mg
Follow along on Facebook and Pinterest for more savory inspirations.
For other comfort filled soups check out these recipes: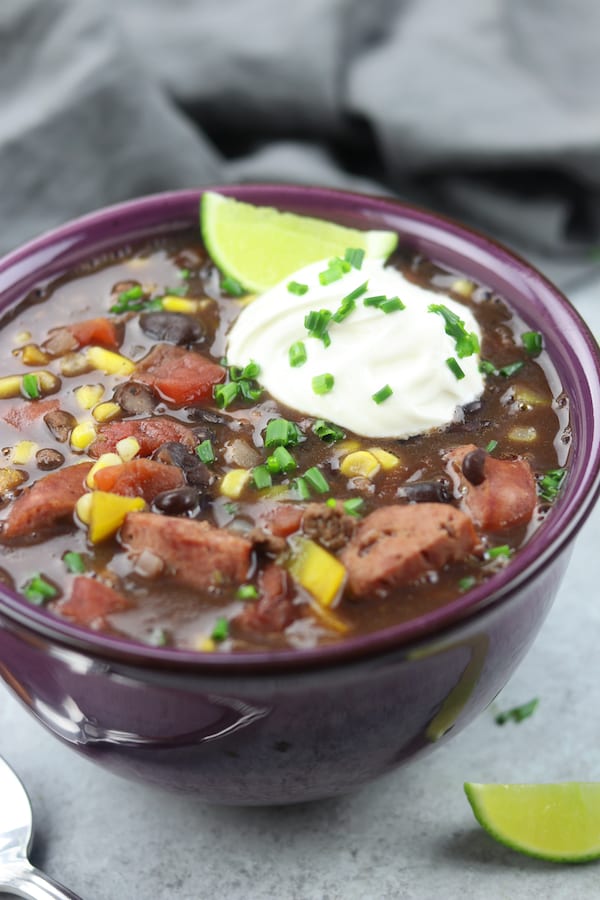 Black Bean Soup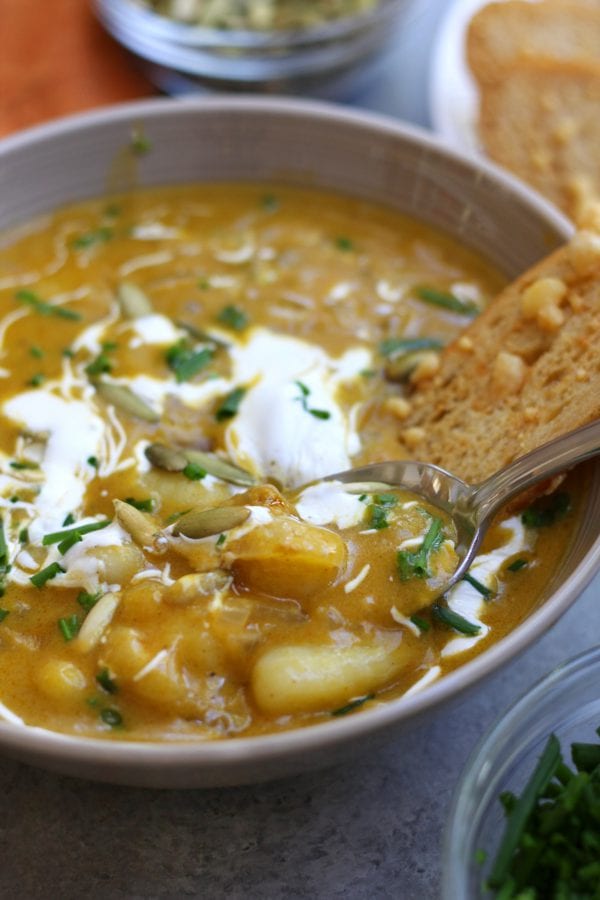 Pumpkin Gnocchi Soup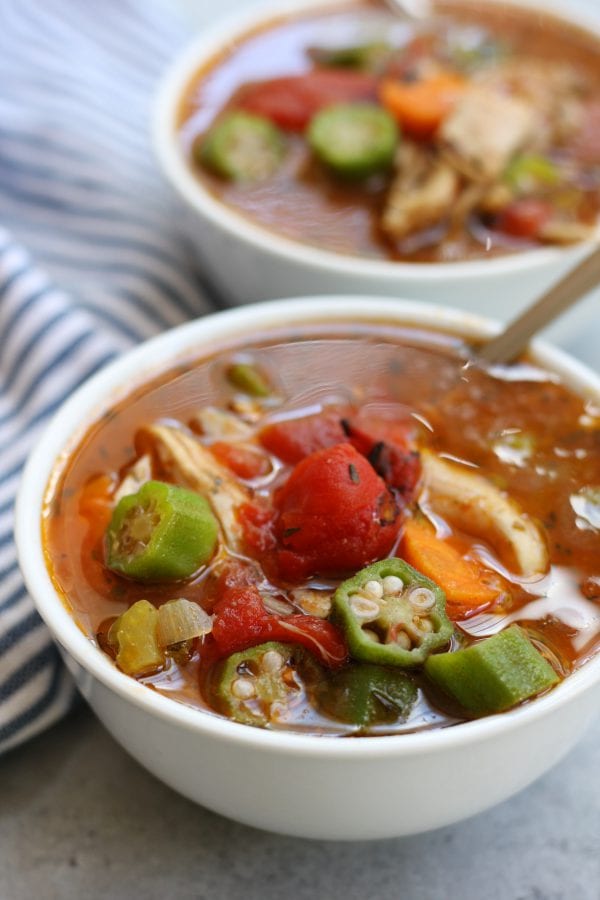 Mom's Chicken Gumbo Soup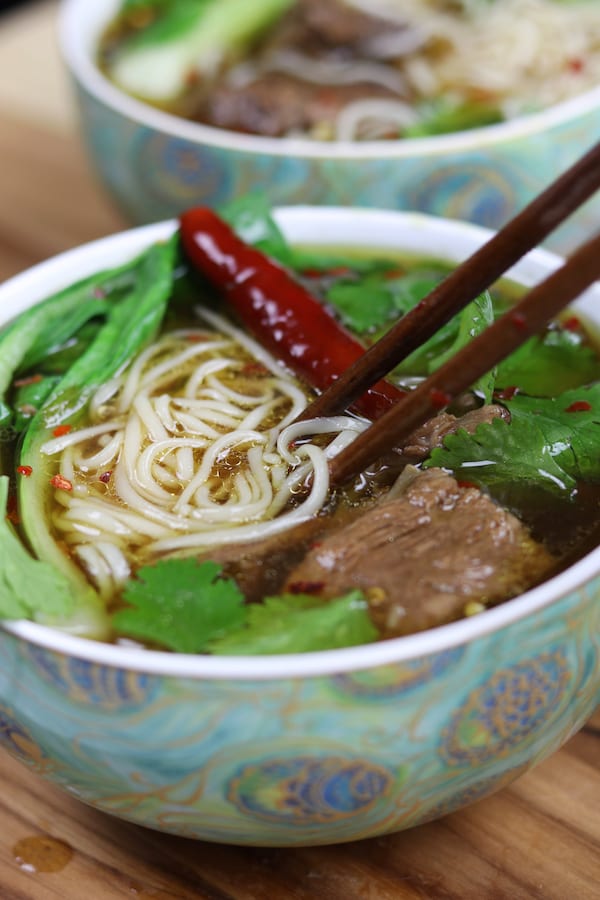 Beef Asian Noodle Soup