Pumpkin Gnocchi Soup is creamy and comforting with flavors of nutmeg, cinnamon and chipotle. This flavorful soup is bound to become a Fall favorite.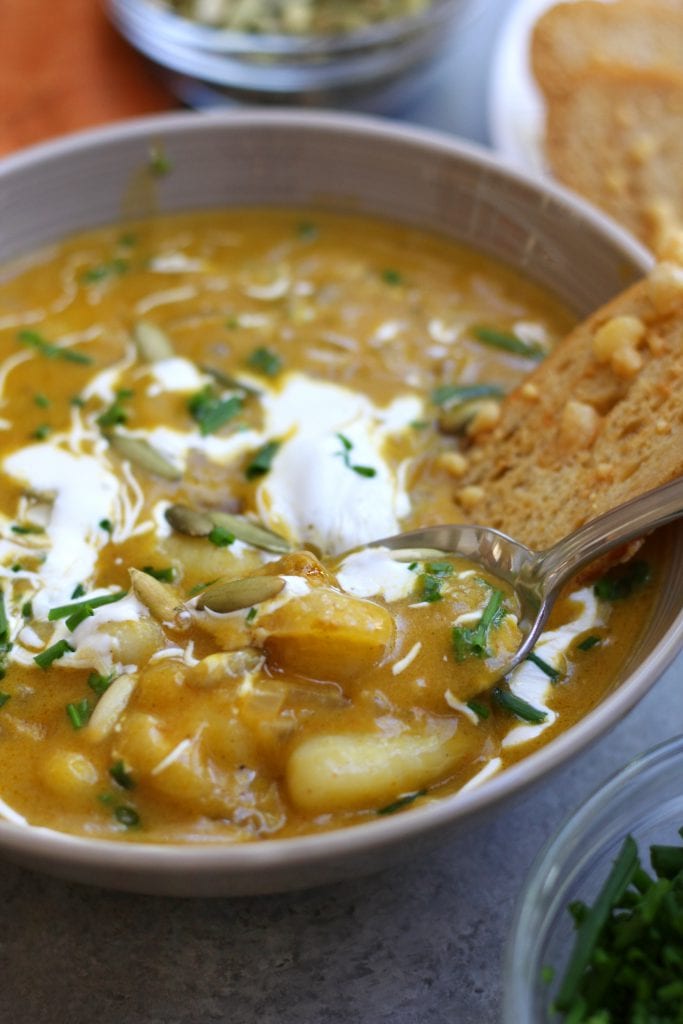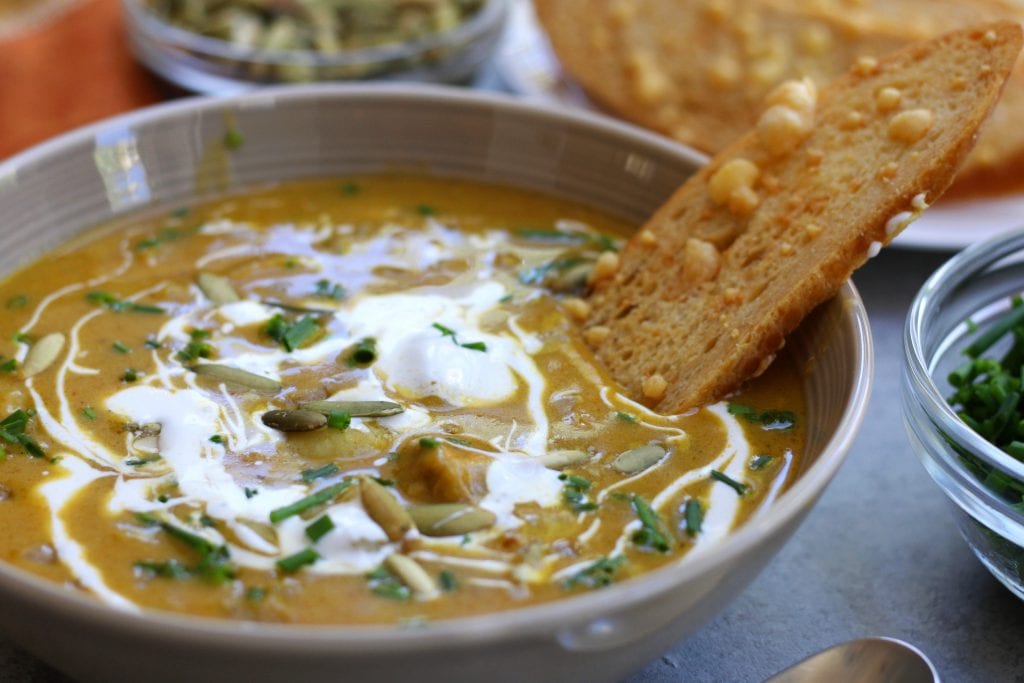 I have recently fallen in love with doing short videos about my recipes. The only reason I started doing them is that they help grow engagement on my Facebook fan page. What started out as reluctance of having to keep up with the times is turning into something I really do enjoy. The kicker of this is that I am shooting these videos with my iPhone because my Canon is older and doesn't have video capabilities. What started out as just shooting the preparation of the recipe is turning into a narrative along side the recipe prep, as you will see with the video about this Pumpkin Gnocchi Soup. The iPhone is perfect for capturing narrative because it goes where I go. I start the video off with a messy bed head describing how "I am not a pumpkin lover". This is so true, I really am not. I don't get excited when pumpkin season shows up and I definitely do not stock my refrigerator and cupboards with everything pumpkin. Usually one piece of pumpkin pie at Thanksgiving and I am good to go until next year. Interestingly enough, the pumpkin recipes that I and my family have created for The Fed Up Foodie blog, I love. Believe me, you will fall in love with them too. This Pumpkin Gnocchi Soup is creamy, savory and is bursting with the comfort element of gnocchi. The absolute best part is that it is incredibly easy to make, I mean INCREDIBLY EASY.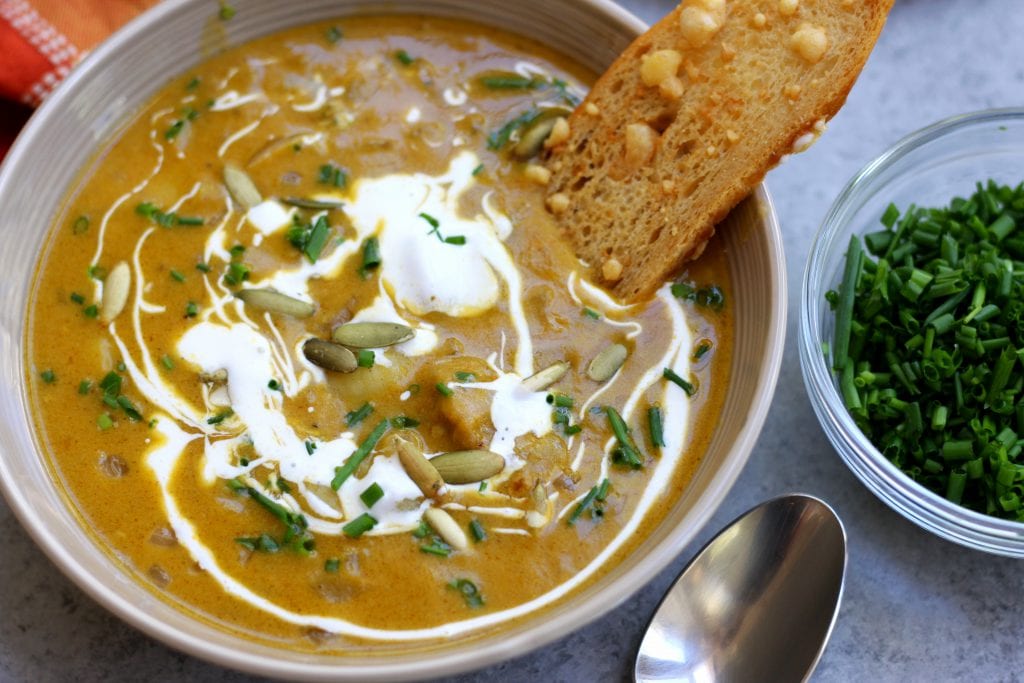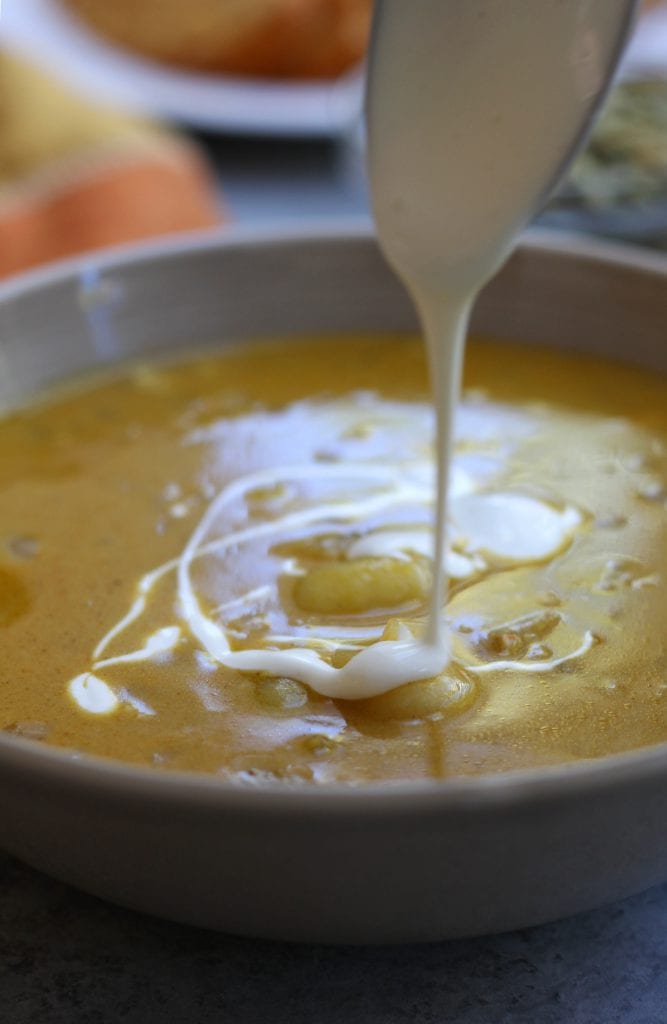 Tips about Pumpkin Gnocchi Soup:
I can not emphasis this enough, don't skip the chipotle powder. The majority of your pumpkin soup recipes will have the combo of nutmeg and sage. These soups are all still very delicious, but to me they always felt like they were missing something. The chipotle powder is that something. It rounds out the flavors so beautifully. (affiliate)
Using butter along with olive oil adds a wonderful flavor and extra creaminess. My all time favorite butter is Organic Valley's Pasture Raised Butter. I love that it has higher omega-3 and CLA levels than your standard butter. Check out Organic Valley to find where they sell this heavenly butter near you.
Chives, pepitas and creme fraiche are all optional garnishes but I have to say it was a big part of me adoring this Pumpkin Gnocchi Soup. I am sure you are asking, what is creme fraiche? Creme fraiche is like a glorified sour cream that adds a wonderful depth of flavor. Table cream, sour cream or plain yogurt could be substituted also. (affiliate)
This recipe is phenomenal without any meat, but if desired, add a couple of ounces of chicken breast.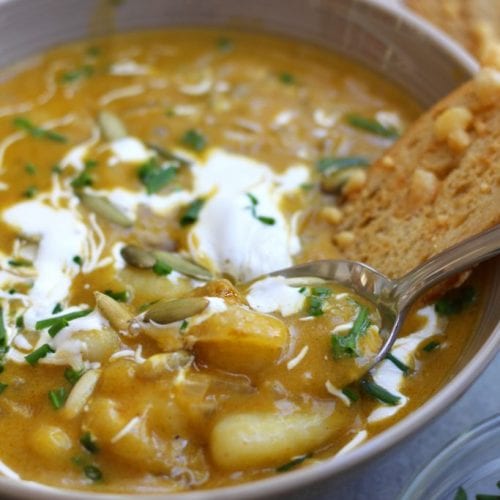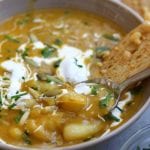 Pumpkin Gnocchi Soup
A savory and comforting Fall soup.
Ingredients
2

tbsp

olive oil

2

tbsp

butter

1

med brown onion *diced

heaping cup when diced

3-4

garlic cloves *minced or crushed

1/2

tsp

sage

1/2

tsp

cinnamon

1/2

tsp

nutmeg

1/4

tsp

chipotle powder

2

cups

canned pumpkin

4

cups

chicken broth

1

cup

whole milk

1

lb

gnocchi

salt & pepper to taste

For the Garnish

chives *optional

pepitas *optional

creme fraiche *optional
Instructions
In a dutch oven over med/high heat melt butter with olive oil. Add diced onions and sauté until almost translucent- about 3 to 4 mins. Add garlic and continue sautéing for another 2 mins. Add spices. Continue sautéing for another min, stirring consistently. Add pumpkin- mix until onions & spices are thoroughly incorporated.

Lower to a medium heat. Stir in broth making sure sure broth is thoroughly incorporated into pumpkin. Simmer for approximately 8-10 mins stirring occasionally.

Stir in milk and bring back to a simmer. Add gnocchi and continue simmering for another 5- 6 mins.

Serve garnished with creme fraiche, pepitas and chives.
Recipe Notes
*Please use as many organic ingredients as possible.*
Follow me at Facebook and Pinterest for even more savory inspirations.
If you love Soups then check out these recipes: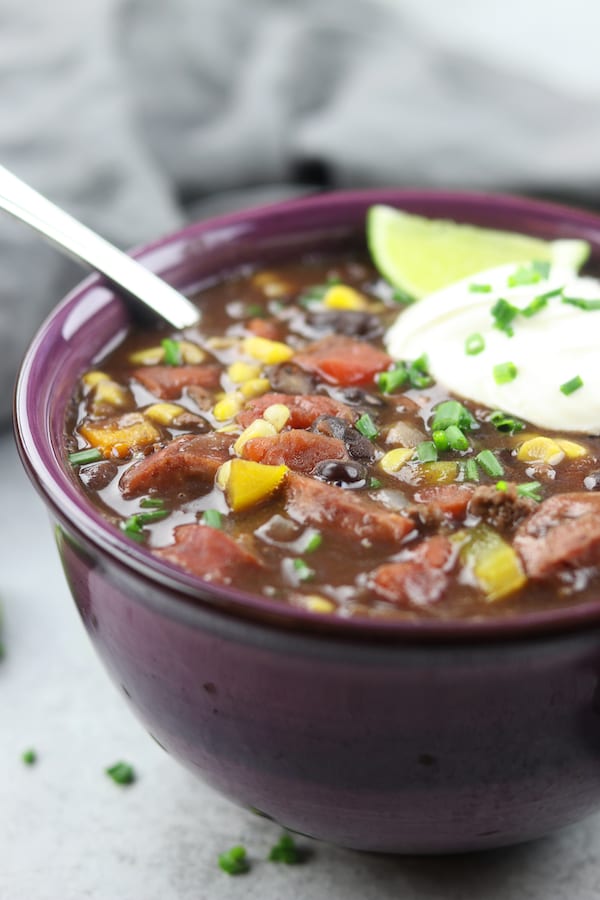 Black Bean Soup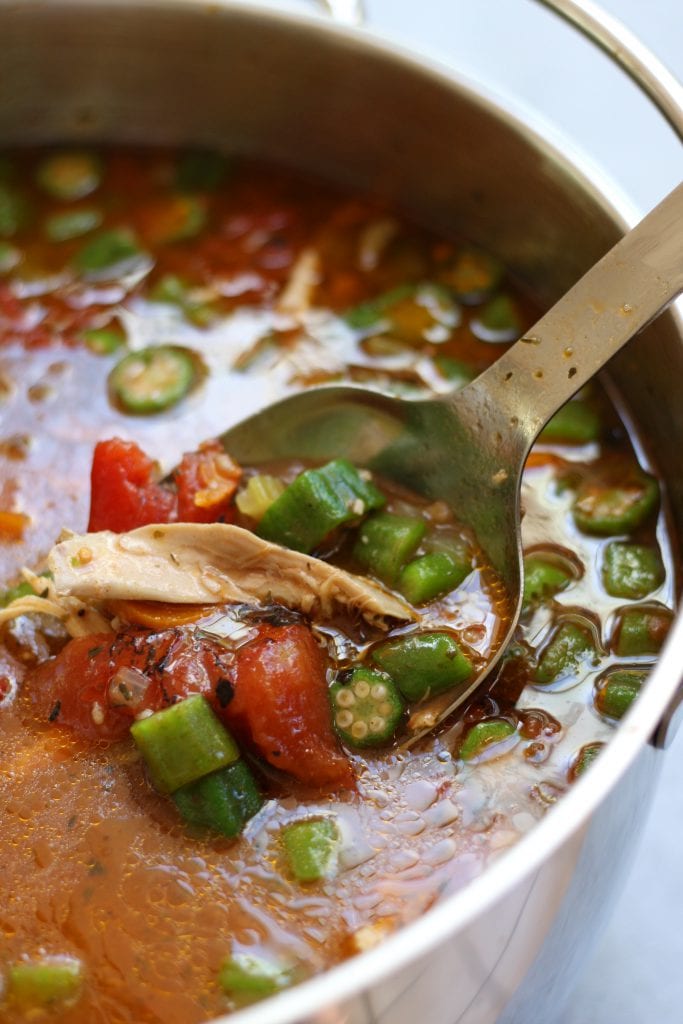 Mom's Chicken Gumbo Soup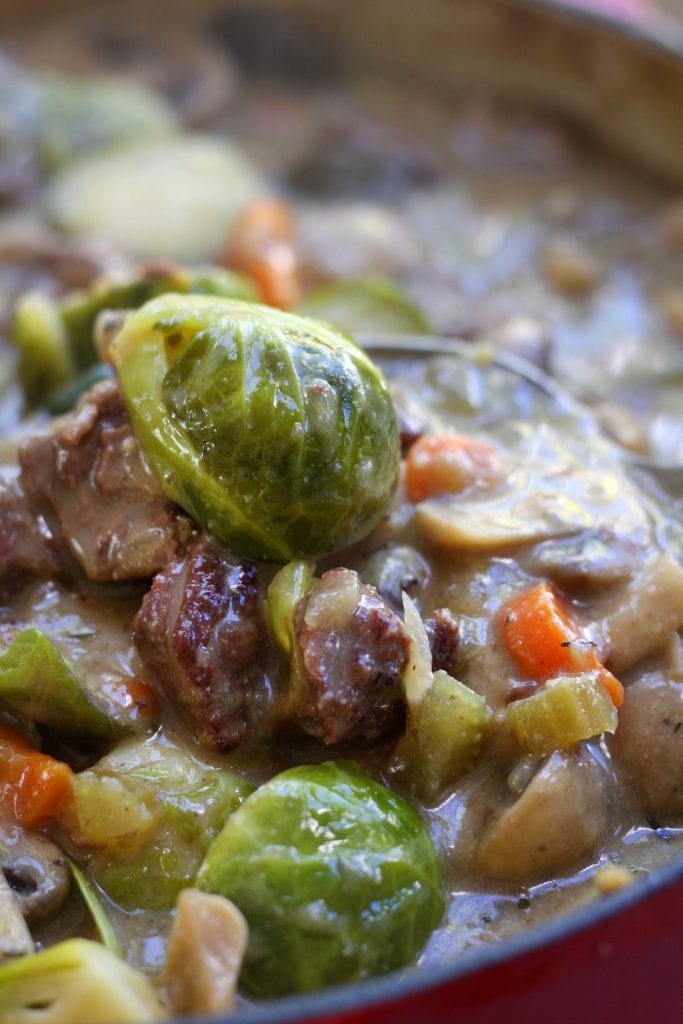 Beef and Brussels Sprouts Stew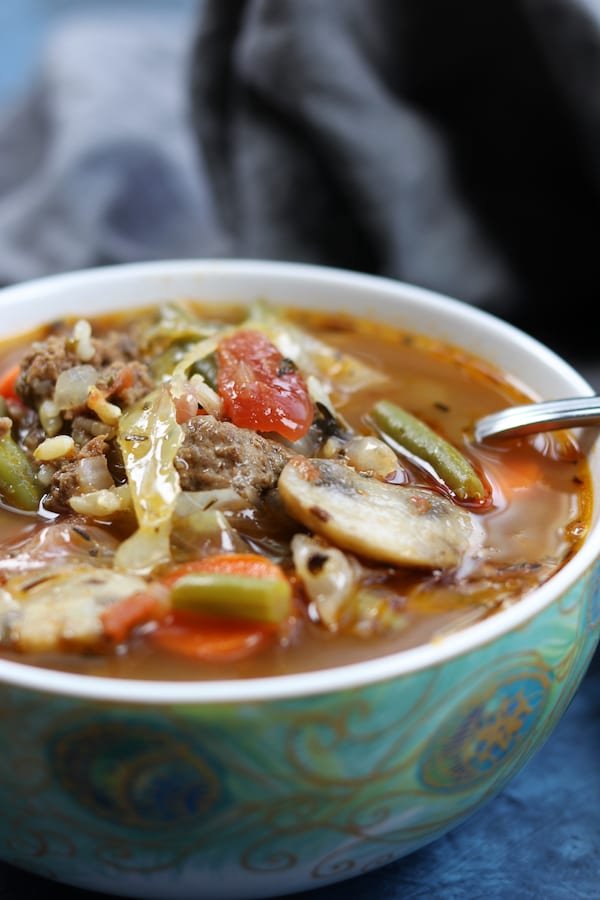 Hamburger Veggie Soup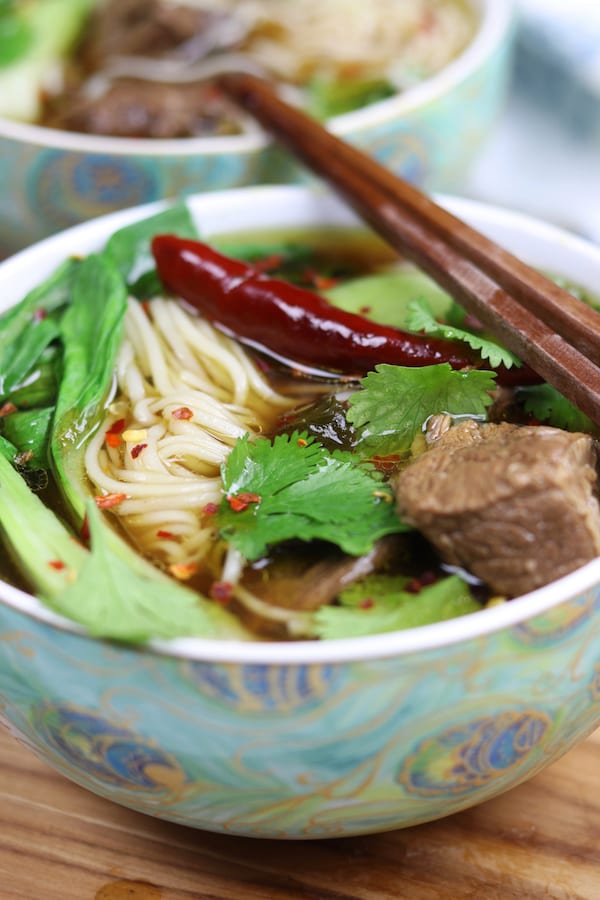 Beef Asian Noodle Soup
This recipe is part of Food Network's Fall Fest recipe round up. For more pumpkin inspiration check out:
The Lemon Bowl: Healthy Pumpkin Bread
Foodtastic Mom: Pumpkin Shepherd's Pie
Creative Culinary: Pumpkin Spice Muffins with Molasses Walnut Crumble
Dishin & Dishes: Overnight Pumpkin French Toast
The Mom 100: Pasta Shells with Pumpkin in a Creamy, Cheesy Sauce
Devour: Give 'Em Pumpkin to Talk About with 4 Instagram-Ready Desserts
A Mind "Full" Mom: 5 Must-Try Pumpkin Recipes That Are Not Pie
Elephants and the Coconut Trees: Eggless Pumpkin Pie
Taste with the Eyes: Fabulous Fall Dessert: Fabulous Fall Dessert: Pumpkin Ricotta Wonton Ravioli
Mom Loves Baking: Pumpkin Chocolate Swirl Bundt Cake
Pinch My Salt: Buttermilk Pumpkin Spice Bread
Swing Eats: Pumpkin Whoopie Pies with Molasses Marshmallows (GF)
Hey Grill Hey: How to Grill Pumpkin
In Jennie's Kitchen: No Bake Pumpkin Cream Pie
FN Dish: 6 Surprising Ways to Use Canned Pumpkin for More Than Pie
This recipe is also part of Meal Plan Monday.