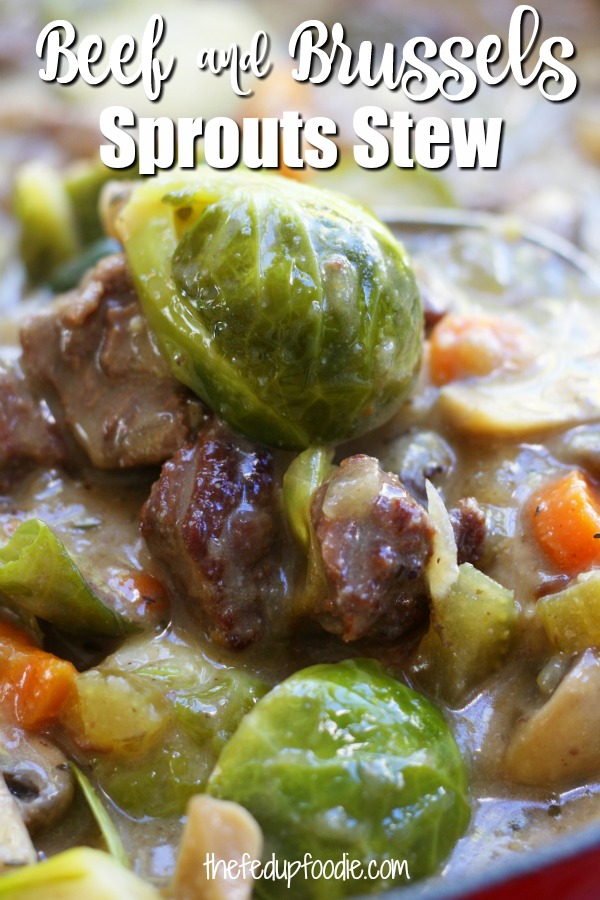 Beef and Brussels Sprouts Stew is a hearty and healthy winter meal. High in fiber, low on the glycemic index and gluten-free, this recipe is perfect for the diabetic or the winter weight watcher but tastes so good everyone will gobble it up.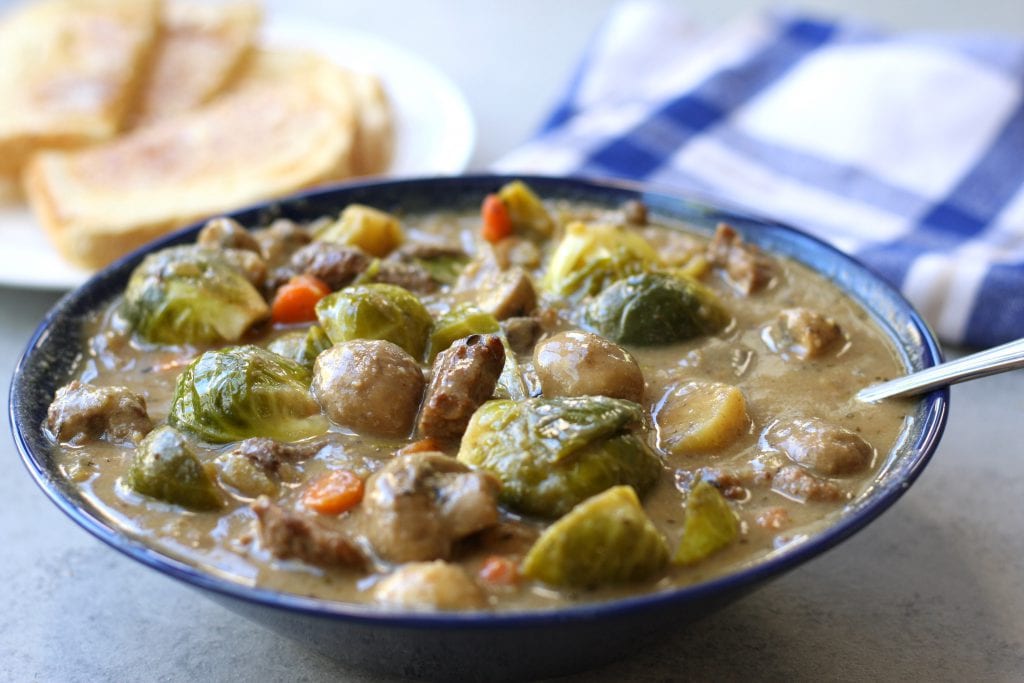 This post may contain affiliate links which I earn a small portion in sales if a purchase is made. Rest assured though, it is never at any additional cost to you.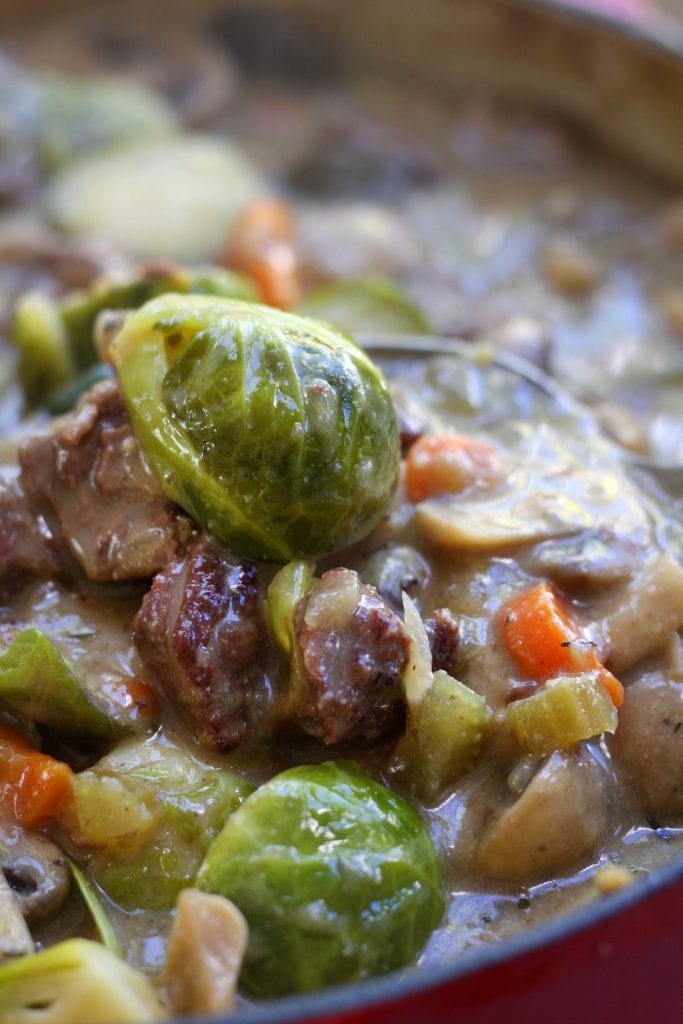 I have shared with my readers that I am not a huge pumpkin lover.
What I haven't shared yet is that I am not wildly in love with potatoes either.
What is so funny, a huge part of my family are big potato lovers.
They will eat a potato in any shape or form. I am a bit pickier.
I do enjoy French fries (that would just be unAmerican not to) and I love a good baked potato with plain Greek yogurt (I use it in place of sour cream) and chives or chopped green onions.
Baked sweet potatoes are wonderful also.
What I am not found of is potatoes in soups or stews.
I have tried so many times over the years to expand my taste buds with this but it just doesn't work.
So this Beef and Brussels Sprouts Stew is in honor of my fellow 'potato in soup' haters.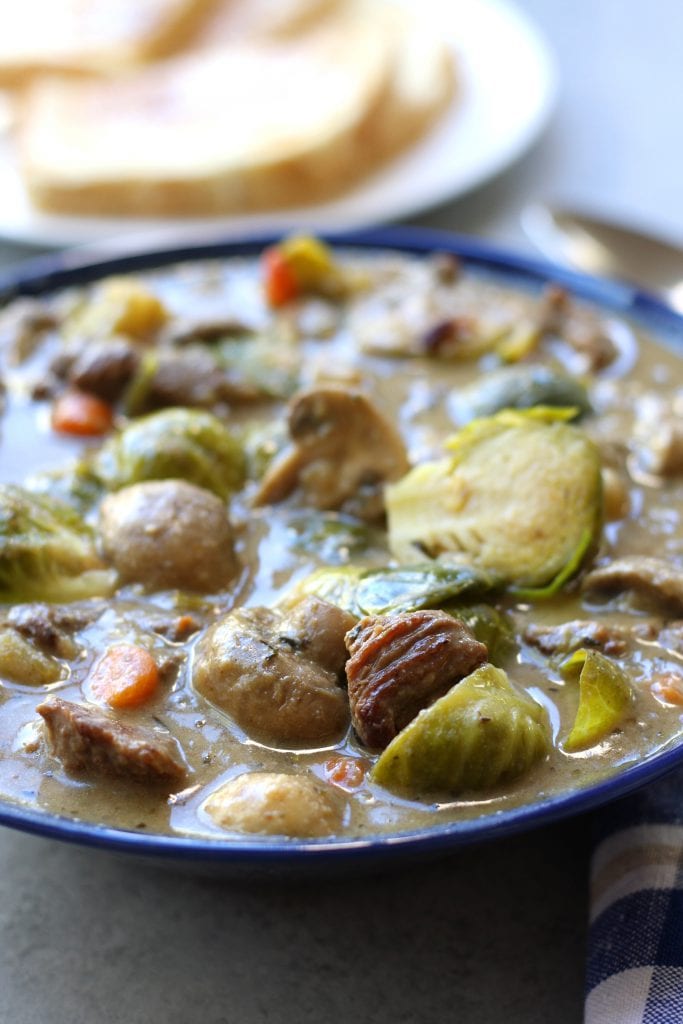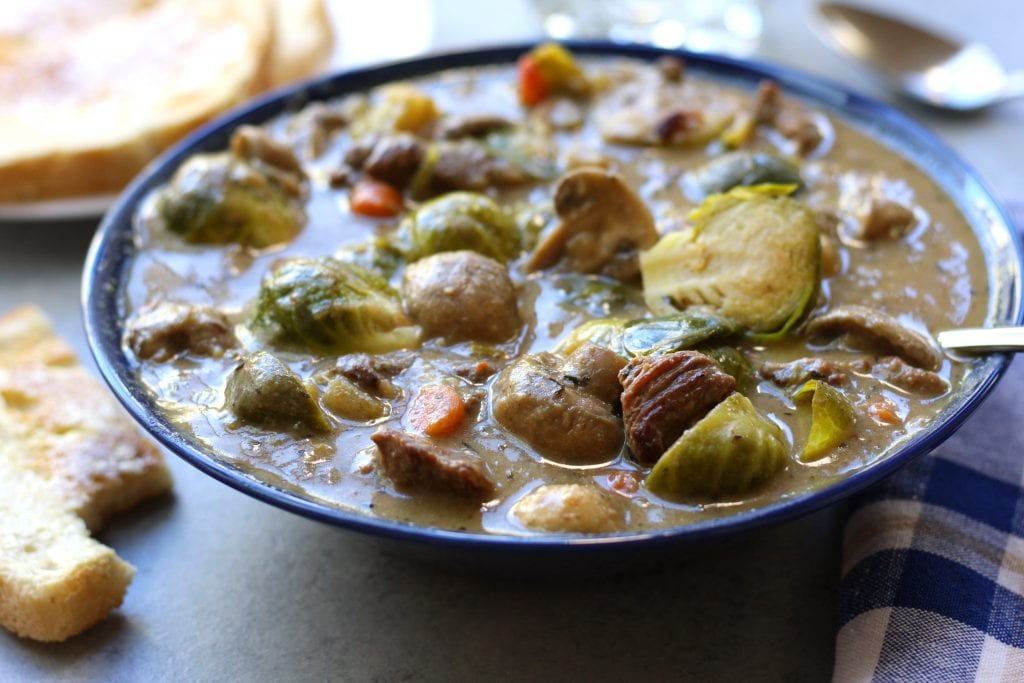 Tips about Beef and Brussels Sprouts Stew:
I know, I know… I hear you scolding me that there are no potatoes in the recipe. Two things in my defense: 1) It really does taste great with out them. 2) Having no potatoes keeps the recipe lower on the glycemic index.
Using a lesser costing cut of beef works perfectly for stew. The connective tissues and fat add a wonderful flavor. My personal preference is chuck roast.
One of the secrets to making this Beef and Brussels Sprouts Stew have the rich depth of flavor is to brown the meat. To do this cut a chuck roast into 1/2 inch squares. Season the meat with about 1 tbsp of salt before frying. You can also use pepper at this time depending on taste preferences. Just know adding pepper at this stage will make the stew a bit spicy. Heat a large frying pan over med/high heat and add a little oil (love this oil). Working in batches(if doubling the recipe), place cubed meat in a single layer in the frying pan making sure not to crowd the meat. At this point just LEAVE IT ALONE for about 4-5 minutes or until the meat easily pulls away from the sides and bottom. This helps the meat to sear, creating that wonderful browned surface that gives the stew so much flavor. Once the undersides are browned go ahead and stir finishing off the searing process. Remove browned cubes and repeat with second batch. (*NOTE: second batch is if doubling recipe.) (affiliate)
Once the meat is fried and removed from the pan, disgaurd excess grease and then deglaze the pan with red wine. Both the red wine and all those wonderful browned bits from searing add that extra depth of flavor.
I have recently fallen in love with chickpea flour, aka garbanzo bean flour. It worked beautifully for thickening this Beef and Brussels Sprouts Stew. Chickpea flour is gluten free and is higher in protein and fiber than regular flour. Click here for an in-depth look at its health benefits. (affiliate)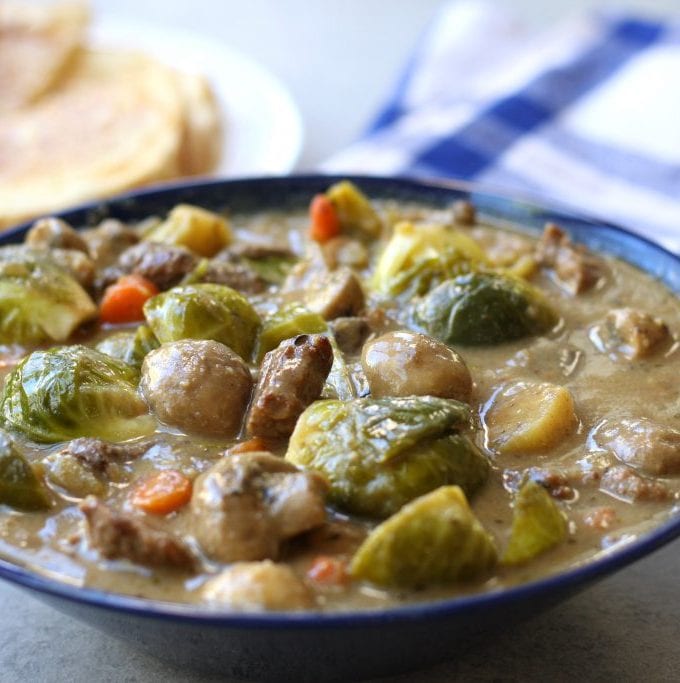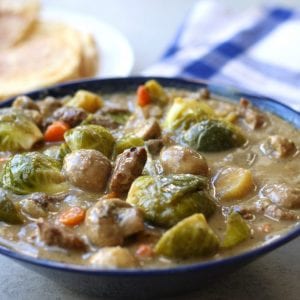 Beef and Brussels Sprouts Stew
A hearty winter meal that is high in fiber, gluten-free and has a low glycemic index.
Print
Pin
Rate
Ingredients
1 1/2

lb

chuck roast

1

tbsp

salt

*for the meat

1

tbsp

oil

1 /4

cup

red wine

1

med brown onion

*diced about 1 cup

4

garlic cloves

*minced or crushed

1

lg. carrot

*diced about 1 cup

2

celery stalks

*diced about 3/4 cup

1

bay leave

2

tsp

thyme

1

tsp

marjoram

1

tbsp

Worcestershire sauce

32

oz

beef broth

12-16

oz

button mushrooms

*cut in half

1

lb

brussels sprouts

*cut in half

1/2

cup

chickpea flour

salt & pepper to taste
Instructions
Cut roast into 1/2 inch squares and generously salt. Heat a large frying pan over medium/high heat for about 4 mins. Add oil, place cubed meat in a single layer and leave alone for 4-5 mins or until meat easily pulls away from sides & bottom. Remove seared meat from pan and into stockpot. Dispose of excess grease and then deglaze frying pan with wine, add to stockpot.

Add onion, carrot, celery, garlic, herbs, Worcestershire sauce and broth to stockpot. Stir well and bring to a boil. Once boiling lower down to a simmer. Simmer for approximately 1 hour or until meat and vegetable are tender making sure to stir occasionally.

Measure chickpea flour into a small mixing bowl and make a slurry by adding a few tbsp at at time of water or broth until a paste is formed minus lumps. Slowly drizzle slurry into pot while stirring stew. Keep at a simmer and add brussels sprouts and mushrooms. Continue simmering, stirring often, for another 20-30 mins or until sprouts and mushrooms are cooked to desired doneness.
Notes
*Please use as many organic ingredients as possible.*
Nutrition
Calories:
378
kcal
|
Carbohydrates:
20
g
|
Protein:
32
g
|
Fat:
17
g
|
Saturated Fat:
6
g
|
Cholesterol:
82
mg
|
Sodium:
894
mg
|
Potassium:
1194
mg
|
Fiber:
5
g
|
Sugar:
6
g
|
Vitamin A:
2296
IU
|
Vitamin C:
69
mg
|
Calcium:
90
mg
|
Iron:
5
mg
If you love winter comfort meals then check out these recipes: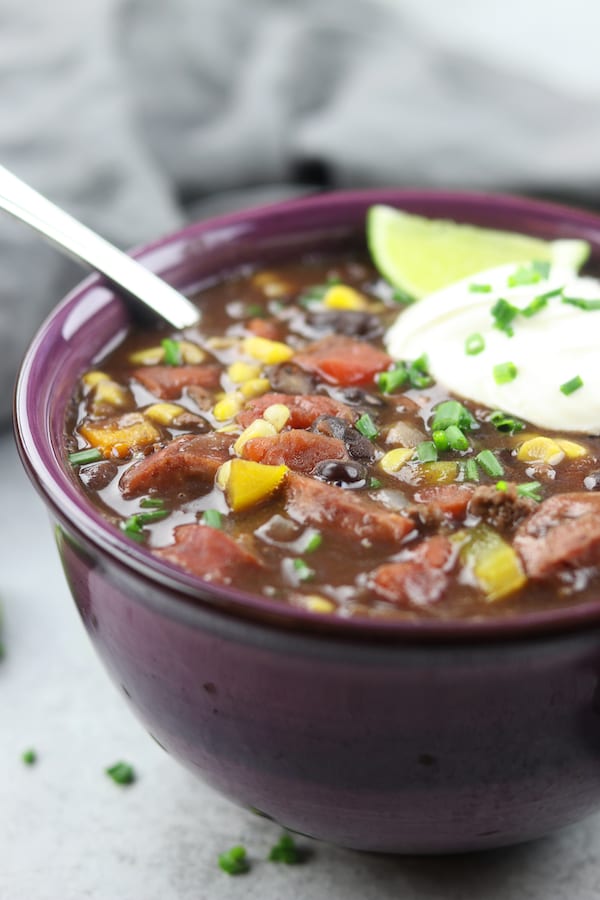 Black Bean Soup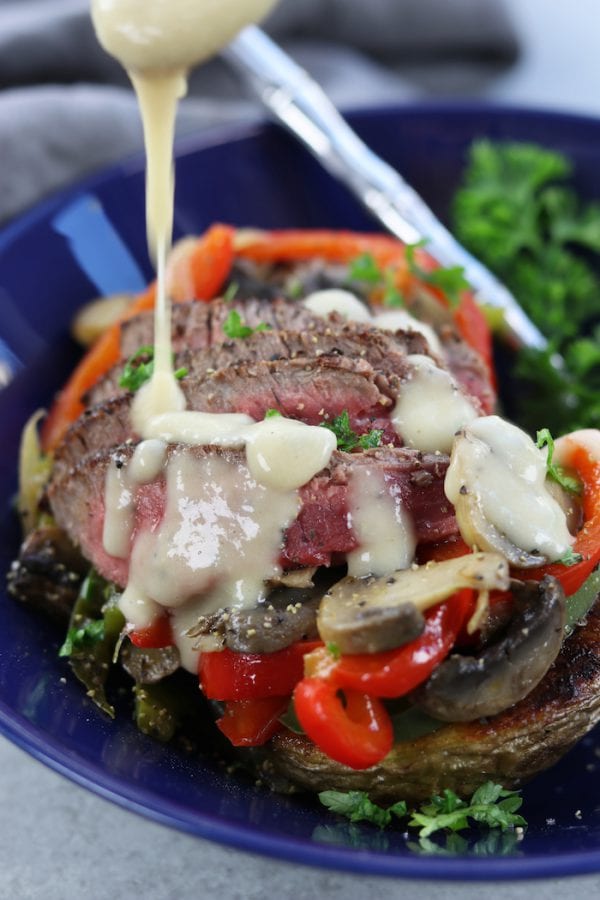 Veggie Cheesesteak Potatoes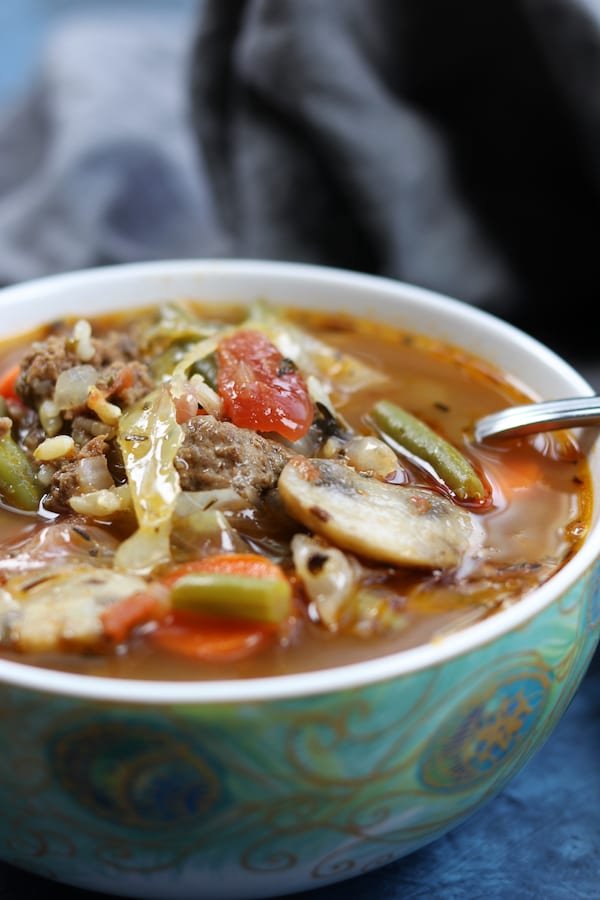 Hamburger Veggie Soup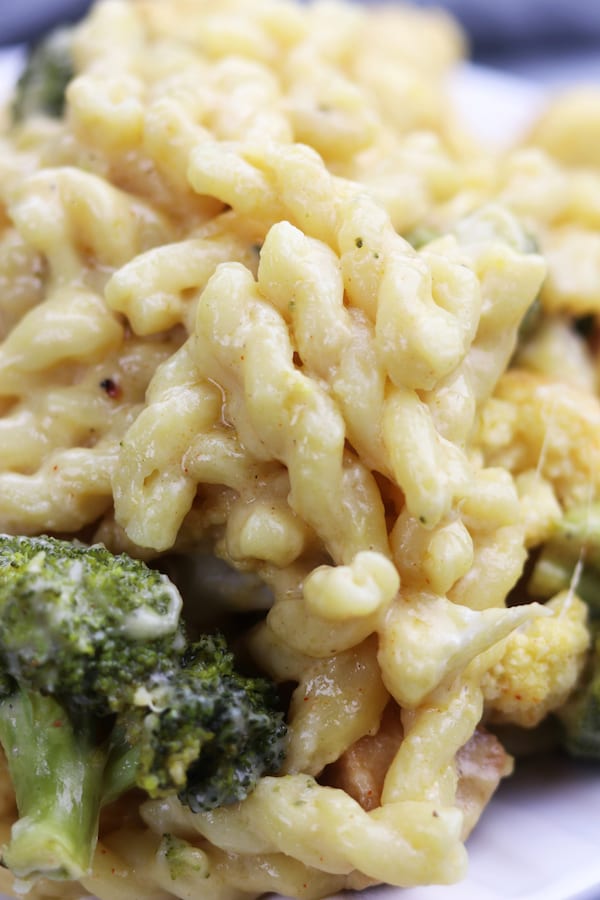 Chicken & Roasted Veggie Mac and Cheese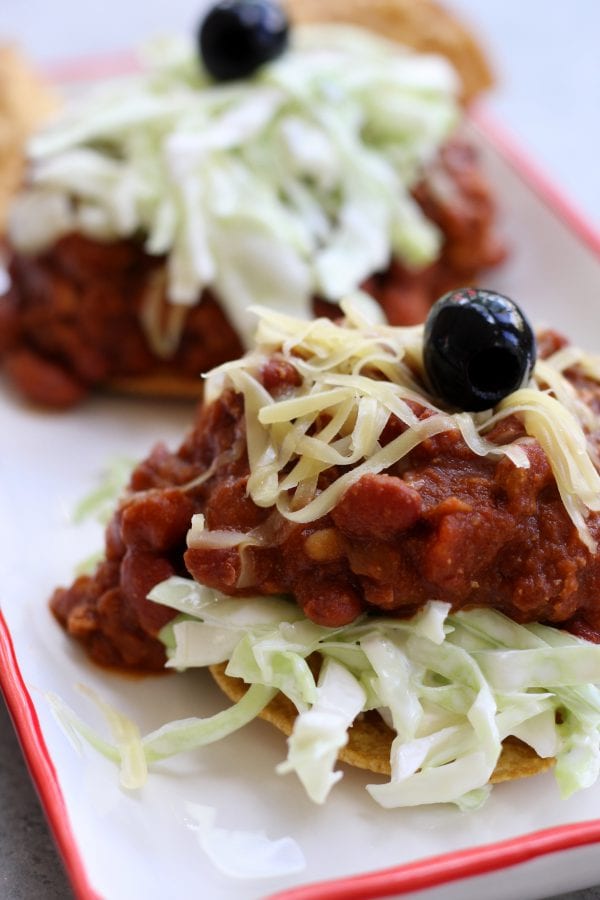 Family Favorite Tortilla and Beans
This recipe is part of Food Network's Fall Fest recipe round up. For brussels sprouts inspiration check out:
Healthy Eats: 5 Healthier Ways to Spruce Up Brussels Sprouts
Creative Culinary: Bowtie Pasta with Bacon and Brussels Sprouts
Hey Grill Hey: Brown Sugar Bacon Brussels Sprout Bites
A Mind "Full" Mom: Brussels Sprouts Caesar Salad
Taste with the Eyes: Roasted Brussels Sprouts, Italian Sausage, Balsamic Syrup
The Mediterranean Dish: Fall Rotini Pasta Salad with Brussels Sprouts and Butternut Squash
The Mom 100: Roasted Cauliflower, Brussels Sprouts and Leeks with Spicy Drizzle
Pinch My Salt: Steamed Brussels Sprouts with Dilly Dip
Devour: Every Day We're Brussels': 4 Craveable Brussels Sprout Salads
Swing Eats: Braised Brussels Sprouts with Bacon, Shallots and Sherry Over Loose Polenta
In Jennie's Kitchen: Pan Seared Cauliflower, Brussels Sprouts, Pear & Walnut Salad
This recipe is also part of Meal Plan Monday.