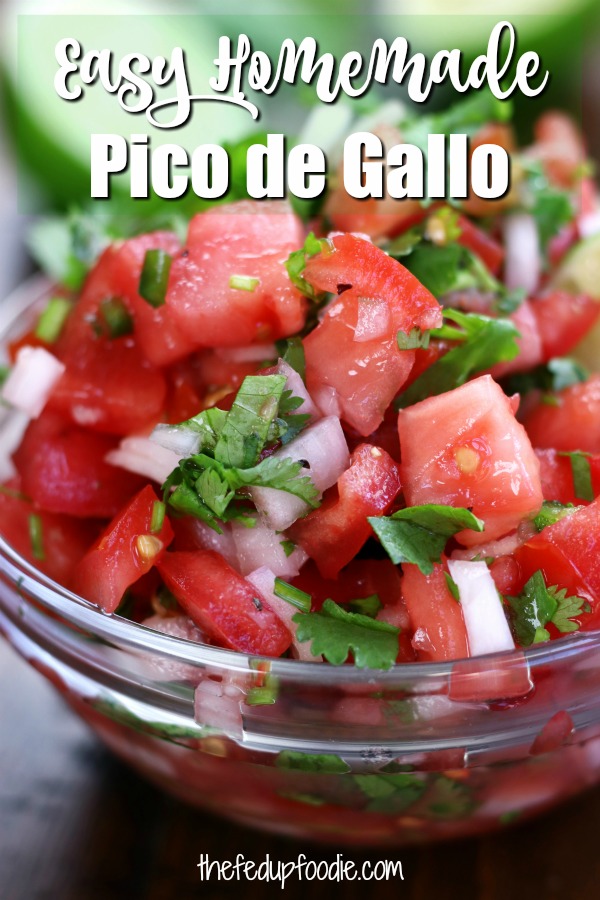 This Pico de Gallo recipe is a fast, fresh and absolutely delicious salsa. Works great as a companion to chips or as a condiment with tacos, burritos or any Mexican cuisine.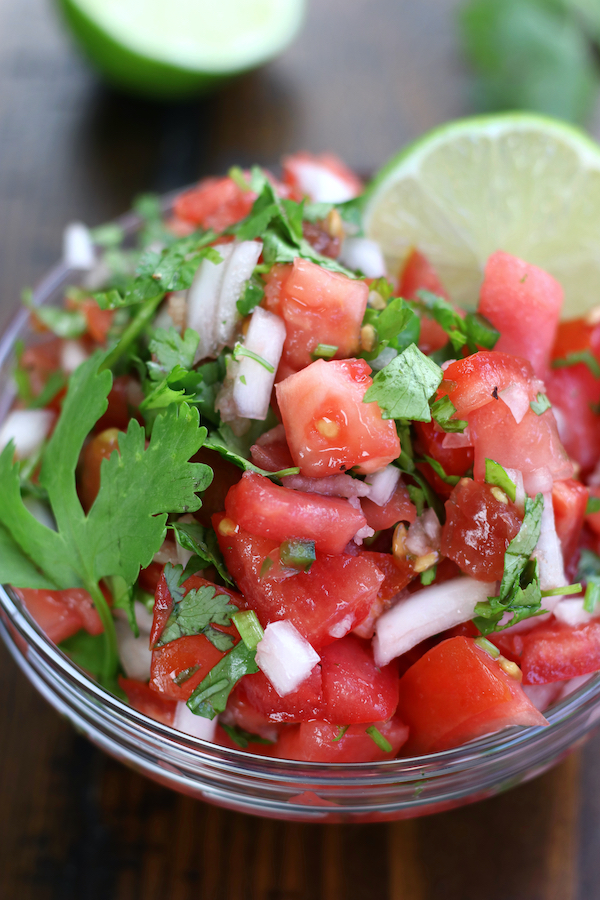 This post may contain affiliate links which I earn a small portion in sales if a purchase is made. Rest assured though, it is never at any additional cost to you.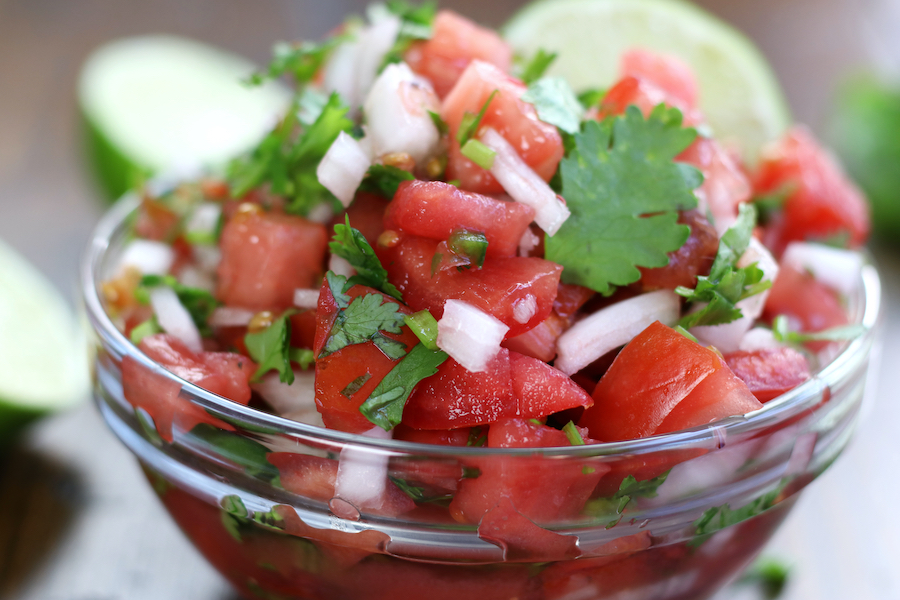 Southern Californians knows Mexican food.
In fact, The southwest in general seems to have a strong hold on the real thing.
Growing up in San Diego I have had some of the best Mexican food there is to have.
Over the years, dear friends have taught me authentic and delicious Mexican meals. The secret with real Mexican food, it is fresh and has a ton of flavor.
Keep in mind that there can be variances in cooking that comes from the different regions of Mexico. One of the variances you will see will come in the form of salsas. There are so many different types of salsa in traditional Mexican cooking. Some of the more common versions are Salsa Roja , Salsa Verde, and this Pico De gallo.
When I told my husband I would be making Carnitas Tacos his eyes lit up and he immediately asked if I would make Pico de Gallo to go with it. I had to pause for a minute and then ask, "You mean salsa, right?"
"No, Pico" was his response. I had to stop and think, what was the difference between the two?
Sadly, I think I may have turned into a Mexican food snob living in Mexican food haven all my life.
We Californians pride ourselves on our beautiful weather and our Mexican food.
You can imagine how humbling it was to have my Indiana raised husband point this out (head hanging in shame).
Well, it is good to be humbled every once in awhile because what I realized, Pico de Gallo is wayyyyyyy faster to make then the traditional salsa I would normally do.
The ingredients between the 2 are very similar but the quantities are a bit different. Some of those differences, many traditional salsas tend to have cooked ingredients where as Pico de Gallo is fresh and I have noticed that Pico de Gallo has a little higher ratio of white onion to tomato with less cilantro than other types of salsas. Also, it is much chunkier than its counter parts.
Healthy Benefits
If you are looking for a way to increase your daily veggie consumption, Pico de Gallo is one incredibly fun and healthy way to do so. For instance, with its antioxidant rich tomatoes 1, immune boosting garlic 2, detoxifying cilantro 3, infection fighting jalapeño 4 and cancer inhibiting onion 5 you will have confidence that Healthy is your middle name.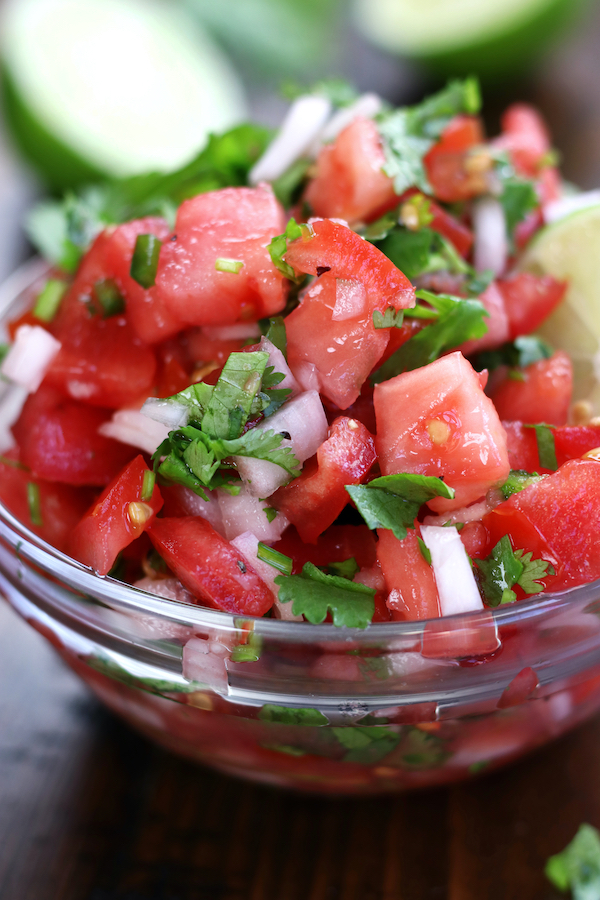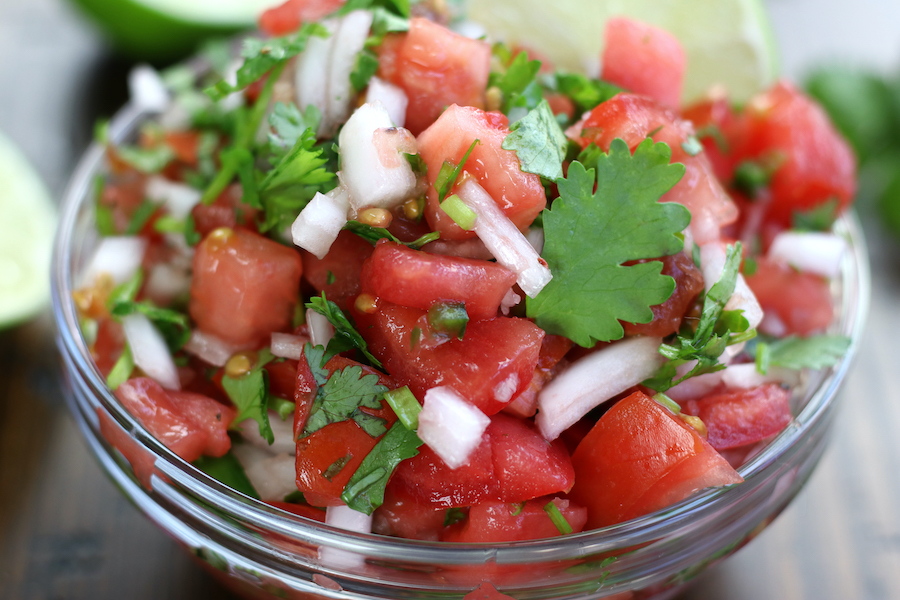 Pico de Gallo in English
Very loosely translated, Pico de Gallo just means fresh salsa. Additionally, it can also be referred to as Salsa Fresca but either way, it is a delicious Mexican condiment using fresh ingredients.
How to Choose the Best Tomatoes
Ideally, homegrown tomatoes are always going to outrank any store bought tomatoes. But how do you know what to look for if you are not a tomato farmer? These tips will help in choosing the best tomatoes for your salsa.
Look for vine ripened tomatoes. They will generally have the most flavor.
The best tomatoes for making salsa will be slightly firm but with a little bit of give.
No soft spots! Or at least use those tomatoes as quickly as possible as they are nearing the end of their life.
Tomatoes with a gorgeous scent generally means they will be much more flavorful.
Additional Add Ins
Here is what is fun about home cooking, you can personalize it to your taste preferences. Basically if you are not a fan of cilantro, use coriander or fresh Italian parsley. Also, if garlic is not your thing, just eliminate it. Additionally, here are a few more possible add ins that are fun and tasty.
Fresh cut mango.
Chunks of avocado.
Crab meat
Bay shrimp or larger chunks of shrimp.
Diced jicama.
Switch out the jalapeño for a wide variety of other peppers such as Serrano, Habanero or Scotch Bonnet. However, proceed with caution if those eating the salsa can not handle spicy.
Uses for Pico de Gallo
More Delicious Mexican Appetizer Recipes
Mexican Shrimp & Crab Cocktail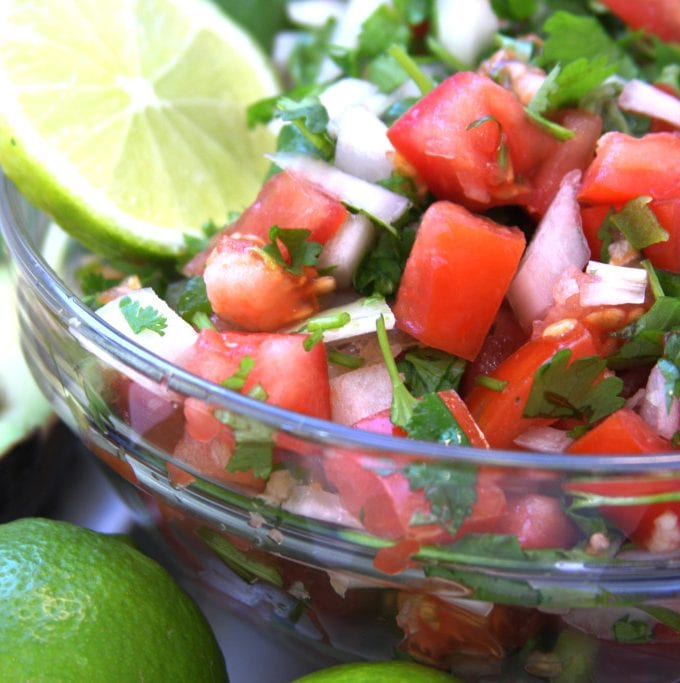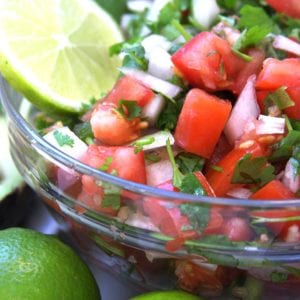 Ingredients
1

med

white onion

3

lg

tomatoes

3

med

garlic cloves

1

sm

bunch cilantro

1

sm

jalapeño

juice of 1 lime

sea salt

*to taste

pepper

*to taste

zest of 1 lime

*optional, see notes below
Instructions
Roughly dice tomatoes, onions and cilantro and add to medium bowl. Finely dice jalapeño removing some seeds to lower heat level, if necessary. Add to bowl. Peel and crush garlic, roughly chop cilantro and add to bowl. Add lime juice. Salt and pepper to desired taste. Refrigerate until ready to serve, at least 1 hour.
Notes
*Please use as many organic ingredients as possible.*
Recipe Notes
The addition of the zest of 1 lime is an optional ingredient. However, it adds a tasty and zippy layer of flavor. Here is the zester featured in the video. 
Nutrition
Calories:
25
kcal
|
Carbohydrates:
5
g
|
Protein:
1
g
|
Fat:
1
g
|
Saturated Fat:
1
g
|
Sodium:
5
mg
|
Potassium:
27
mg
|
Fiber:
1
g
|
Sugar:
25
g
|
Vitamin A:
269
IU
|
Vitamin C:
6
mg
|
Calcium:
7
mg
|
Iron:
1
mg
Here