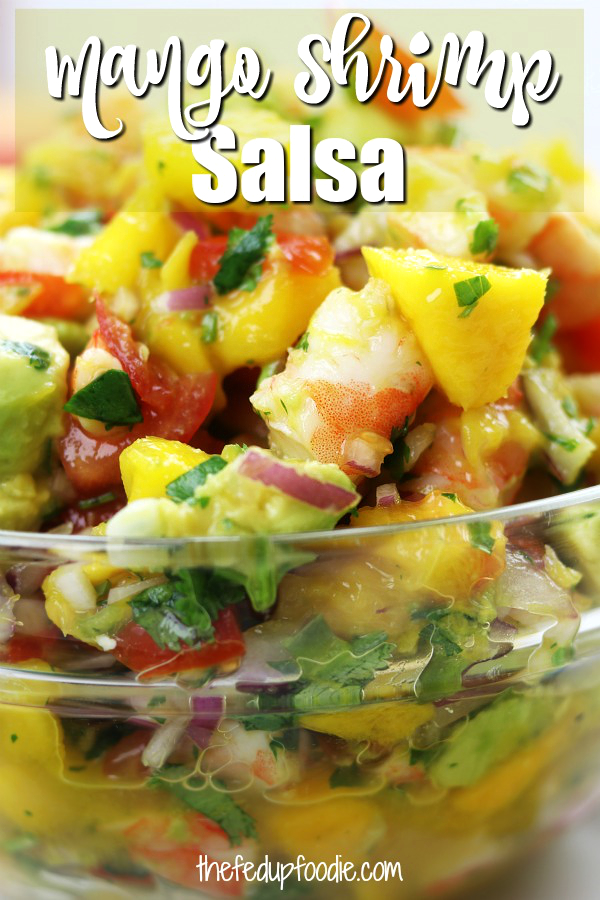 Refreshing and satisfying, Mango Shrimp Salsa is a fruity seafood feast that is perfect for parties or as a meal on hot summer nights.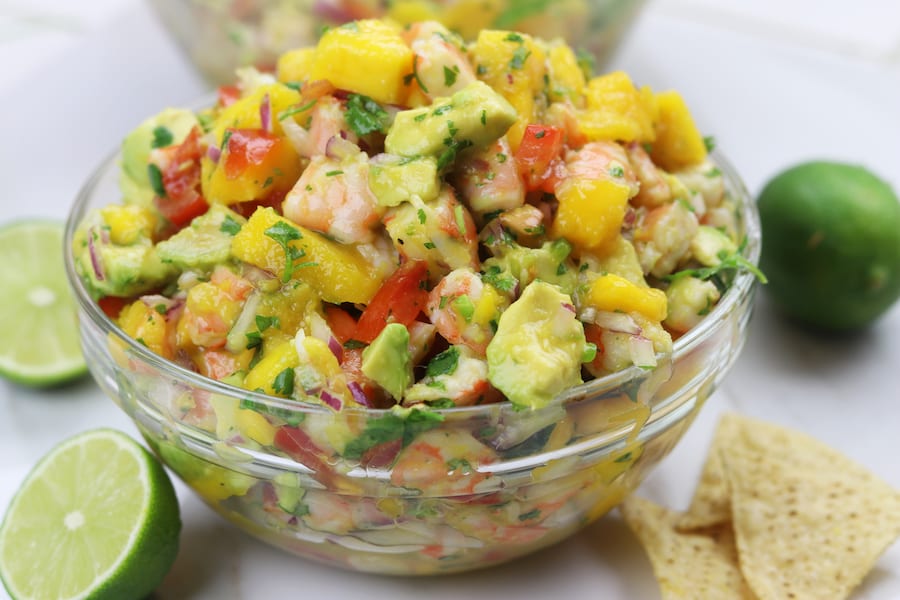 This post may contain affiliate links which I earn a small portion in sales if a purchase is made. Rest assured though, it is never at any additional cost to you.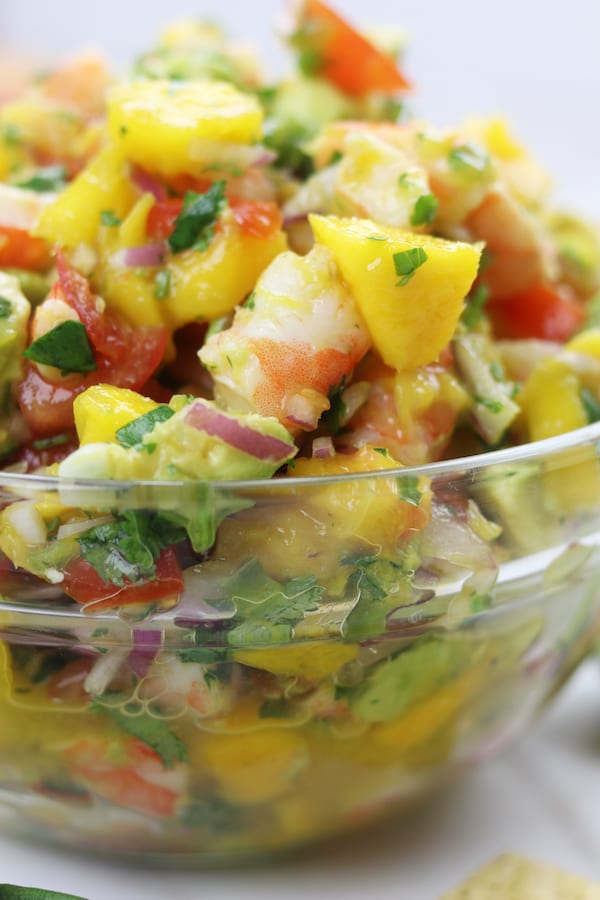 You guys…I made a HUGE mistake last night by watching an extremely SAD movie.
This was a working Memorial Day weekend for both my husband and I but I wanted to throw a little fun into the mix by ending the weekend with a movie.
I have promised myself this summer to branch out to new movies in the hopes of killing the boredom of watching my favorites over and over again.
Manchester by the Sea has caught my eye for awhile and last night I finally sat down to watch it.
The movie was wonderfully written because from the very get go I was curious as to why the main character is the way he is.
So curious I hung in there for over an hour to find out.
Once I did, I was so hooked to find out what comes of this main character that I hung in there through some pretty heart wrenching scenes.
Before I knew it, I was ugly crying.
Probably going to bed immediately after wasn't the best idea because I woke with what felt like a dark cloud over my head still thinking about the movie.
Please, someone tell me that I am not the only one who can be affected by a movie.
In order to shake the BLAHS off of me today I am surrounding myself with joy filled things.
Let me tell you, nothing brings a little sunshine into your life like allowing yourself to eat this Mango Shrimp Salsa with my favorite organic chips for lunch.
Yes, I am being a bit of a rebel eating salsa and chips for lunch but desperate times calls for desperate measures…????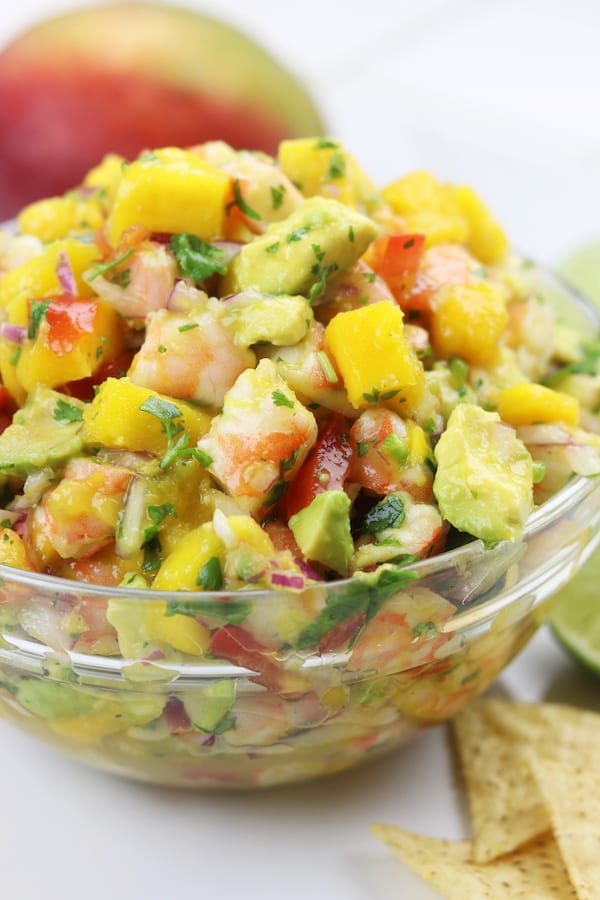 What mango does for the body
Mangos with their gorgeous color and juicy, tropical taste are not only fun to eat but also hold a myriad of health benefits. They are high in antioxidants like quercetin, betacarotene, astragalin and zeaxanthin. Eating a diet high in antioxidants may help to prevent & fight heart disease, cancer and degenerative diseases(1), (2), (3). Mangos are high in fiber, vitamins and minerals, some of which help to aide in lowering blood pressure naturally (4). In addition, mangos have been shown to help lower blood sugar levels (5).
Farm raised shrimp vs wild caught shrimp
In recent years I have had a total conundrum over the type of shrimp to buy. Being the tree hugging hybrid that I am, I wanted to steer clear of farm raised shrimp due to high levels of contamination and antibiotic use. Wild shrimp concerned me because of by-catch, when unwanted fish and other marine life are caught in the nets while fishing for shrimp. Thank goodness for the good people of EatingWell and their article "How to buy the right shrimp (and why it matters)". Pay particular attention to tip #3 as it steers you in the direction of where to buy the best quality shrimp.
Tips about Mango Shrimp Salsa
:
I didn't add garlic to this Mango Shrimp Salsa even though I adore it. I wanted the other ingredients to take center stage. 2 cloves of fresh garlic either minced or crushed should be perfect for those who can't go without it.
I always roast my jalapeño over an open flame because we love the hint of smokey flavor it adds, although this is an optional step. To do so place the pepper over open flame using tongs. Turn once pepper begins to darken and skin begins to pop, making sure to roast all sides. I have found this method to lower the heat level of the pepper, but note that each pepper can vary in heat from each other. Completely remove all seeds before dicing to ensure heat level is palatable for sensitive taste buds.
If using frozen shrimp the best way to defrost is place shrimp in a large bowl. Cover with cold water until defrosted, approximately 15-20 mins and then drain.
The best way to tell if a mango is ripe is it has a slight give when squeezed gently.
This style of citrus juicer makes squeezing lemons and limes so much faster & easier. (affiliate)
I would be lost without my clear glass nesting bowls. I use these for chopping ingredients ahead of time and storing in the refrigerator. They make great servings bowls for everything from condiments to salads and salsa. I have even eating out these bowls. (affiliate)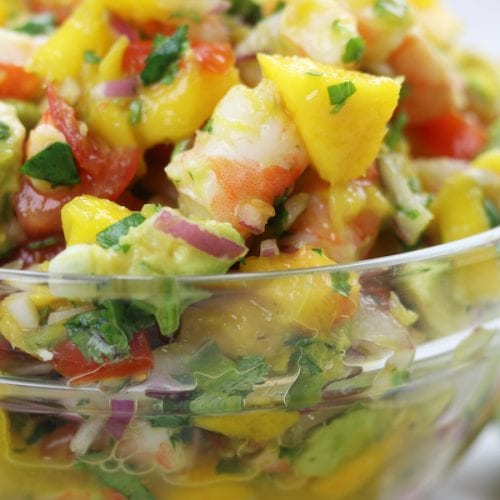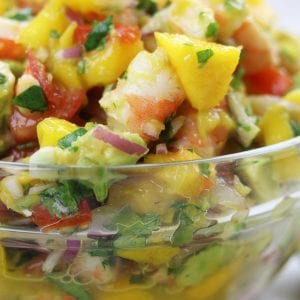 Ingredients
2-3

lg ripe mangos *diced

1

lb

precooked shrimp

31-40 per lb *diced

2

roma tomatoes *diced

1

small bunch cilantro *chopped about 1 cup

1

small jalapeño *finely diced

see tips about for roasting

1/2

med red onion *finely diced

2-3

med ripe avocados *diced

Juice of 2 limes

salt & pepper to taste
Instructions
Prepare first 6 ingredients. Place in a large bowl and mix well. Add avocados, lime juice, salt and pepper. Gently mix until combined. Chill until ready to serve.
Notes
*Please use as many organic ingredients.*
Nutrition
Calories:
232
kcal
|
Carbohydrates:
18
g
|
Protein:
18
g
|
Fat:
11
g
|
Saturated Fat:
2
g
|
Cholesterol:
191
mg
|
Sodium:
594
mg
|
Potassium:
564
mg
|
Fiber:
6
g
|
Sugar:
11
g
|
Vitamin A:
1039
IU
|
Vitamin C:
38
mg
|
Calcium:
129
mg
|
Iron:
2
mg
Follow along on Facebook and Pinterest for other fun and creative recipes.
If you love Mexican food then check out these delicious recipes.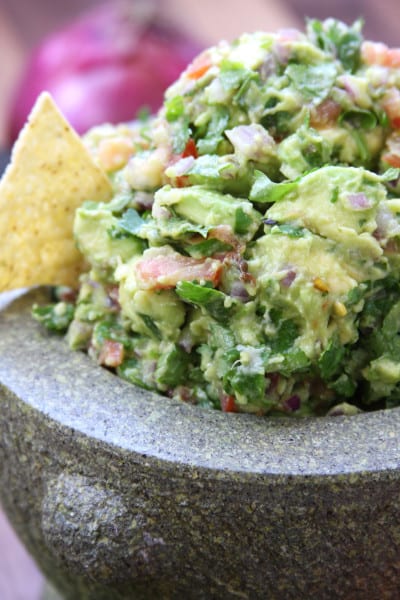 Simple Healthy Guacamole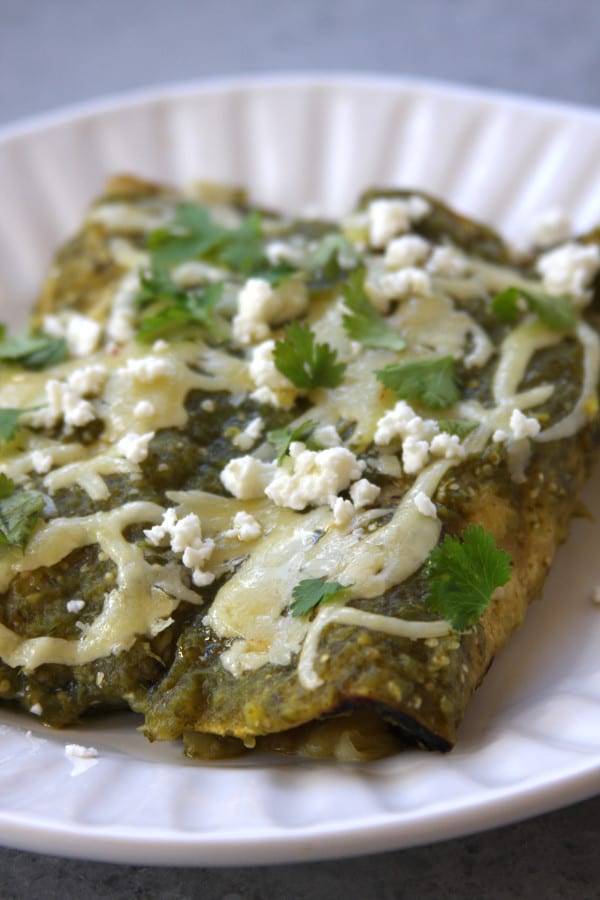 Lightened Up Salsa Verde Chicken Enchiladas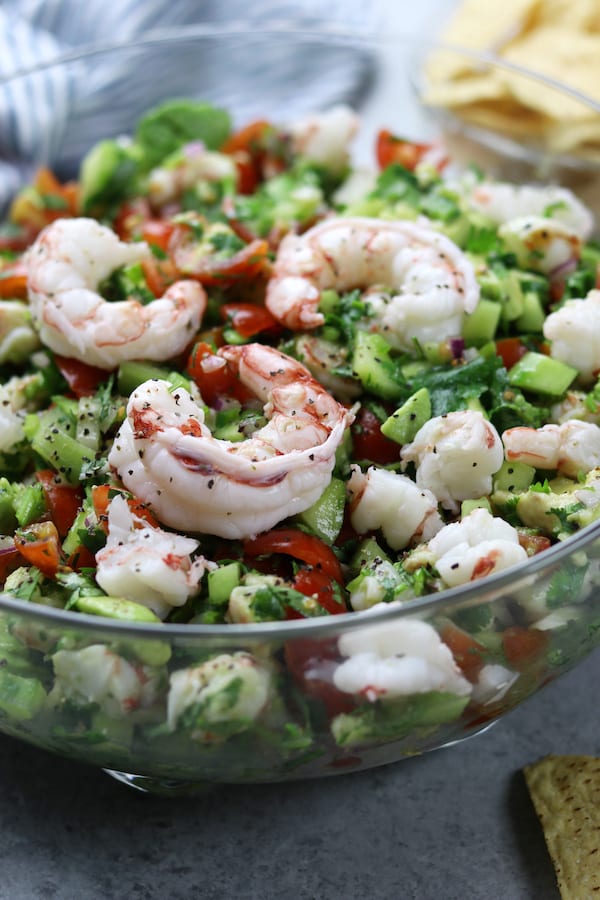 California Shrimp Ceviche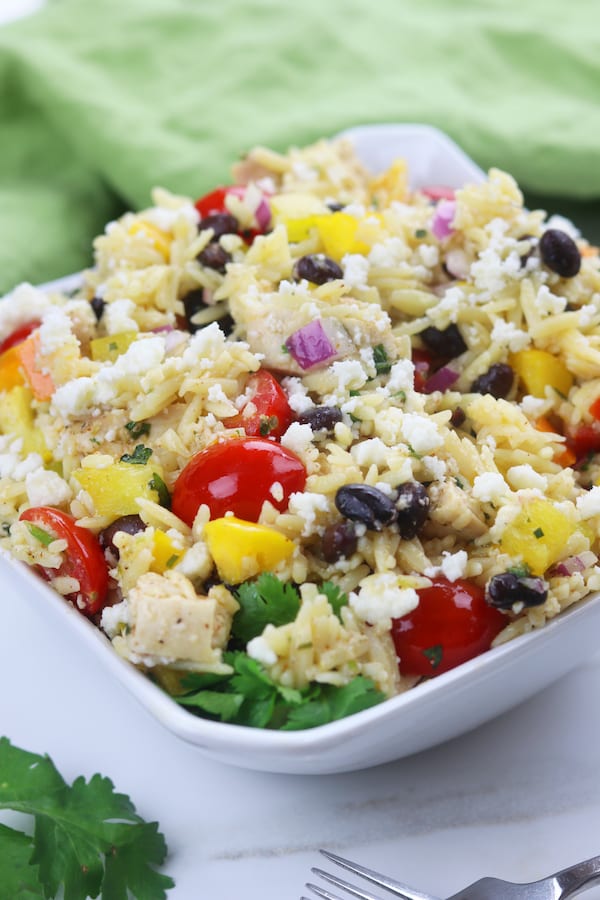 Cilantro Lime Confetti Orzo