Husband Approved Dry Rubbed Chicken recipe makes incredibly juicy and flavor-packed chicken without the use of a grill. BBQ season can be all year now.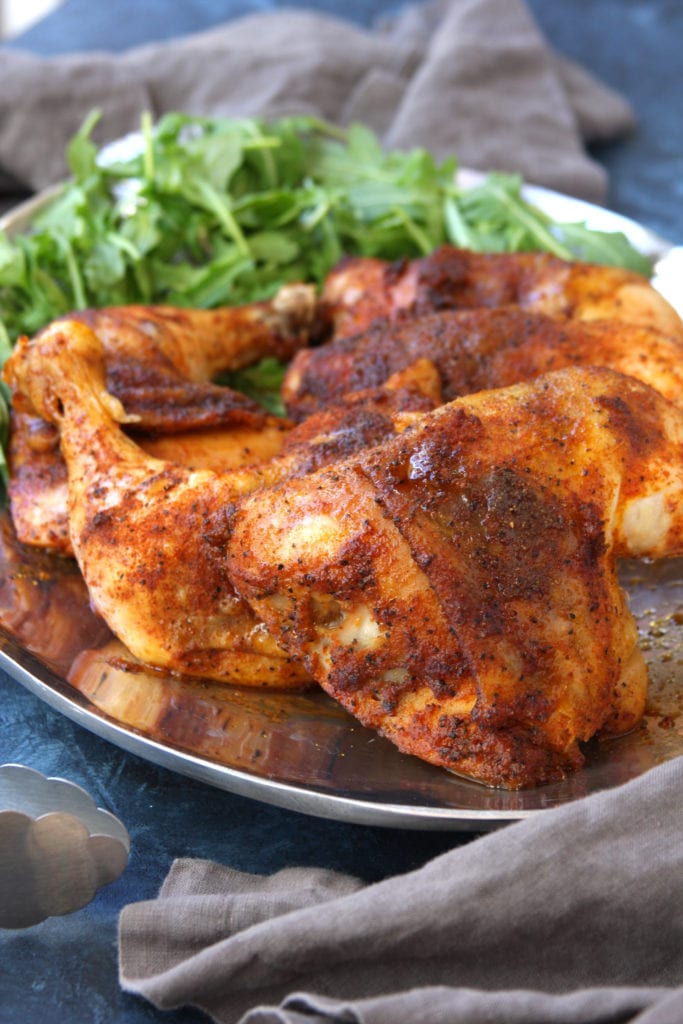 This post may contain affiliate links which I earn a small portion in sales if a purchase is made. Rest assured though, it is never at any additional cost to you.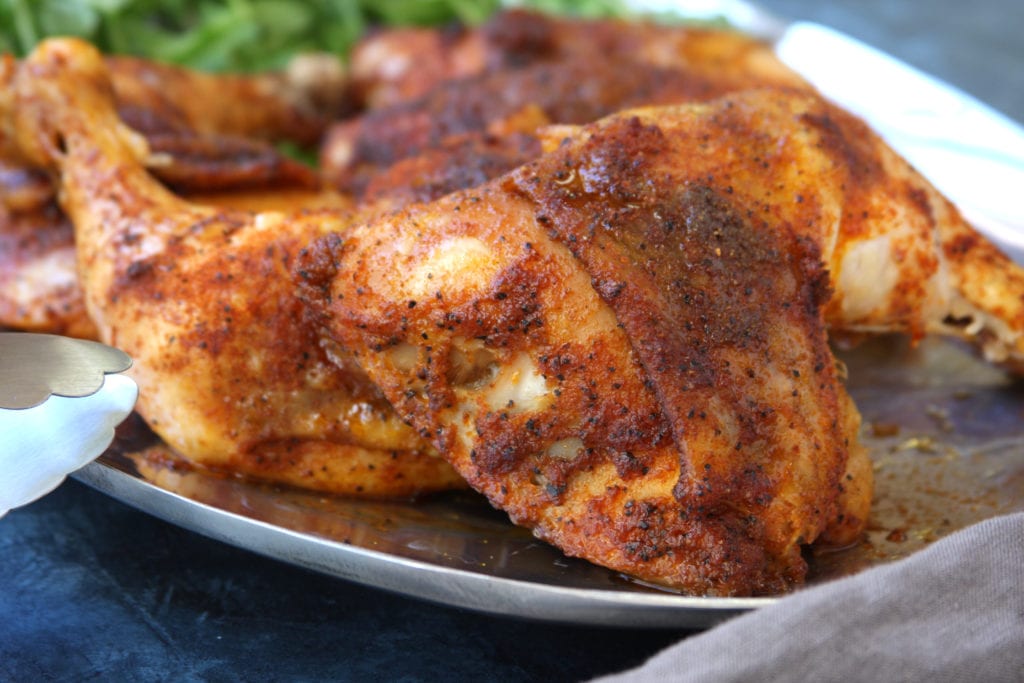 One of the most enjoyable elements of summer is having company over, sharing laughs and great food. When it is hot outside, you don't want to be spending hours prepping, slicing and dicing. That is where this Husband Approved Dry Rubbed Chicken comes in. It is so flavorful, very easy to make and company will love it. Husband Approved Dry Rub recipe is what adds such incredible flavor to the chicken and it goes absolutely beautifully with Best Dry Rubbed Ribs of Your Life. Add in a make ahead pasta or potato salad like my Springtime Pasta Salad or Skinny Red Potato Salad. Don't forget the veggies like my Light and Easy Ratatouille and your meal will be complete. WAIT, you have to have dessert!!! Lusciously Lemon Bars is a phenomenal way to end the get together with its sweet and bold citrus taste (word of warning: these bars are for the true lemon lover, not the kind of sort of lemon liker).
Tips about Husband Approved Dry Rubbed Chicken:
Number one most important element that makes this chicken so incredible is the Husband Approved Dry Rub recipe. This rub has a wonderful balance of sweet, spicy and savory. Recipe includes variations to adjust heat.
The secret to packing in even more flavor, place the rub under the skin of the chicken, on top and cover all sides. You will be amazed at how decadently flavorful your chicken becomes.
If you have kept up with my posts you probably already know what a huge fan I am of pastured raised chicken. I believe pastured raised meats to be far superior to the meat you buy in the grocery store. In addition to how differently these chickens are raised, most chickens from the grocery store are pre-brined. If you decide to jump on board with pastured raised meats, you absolutely need to brine your chicken first before cooking. Brining adds moisture to the meat and another layer of seasoning. Even if you don't use pasture raised chicken, brining the chicken again really makes this recipe wonderful, but it is an optional step.
What makes this recipe so incredibly easy is you slather the chicken in the dry rub (see recipe link above), cover with aluminum foil and bake for approximately an hour at 350℉. If you decide to grill the chicken instead of baking, just remember to cook the chicken skin side up first so that the skin doesn't become removed from the meat. Also, cook on lower temperature until the chicken reaches an internal temp of 165℉.
If you eat this chicken with the Best Dry Rubbed Ribs of Your Life, you will need napkins, napkins and more napkins. But it will be worth getting a little messy. They are that DELICIOUS!
Brining a Chicken
Brining is the process of soaking meat or poultry in a seasoned saltwater solution prior to cooking. It's an important technique for a few key reasons:
Improves Moisture- The salt in the brine helps the meat retain moisture during cooking, resulting in a juicier finished product. This is especially helpful for lean meats like chicken breast.
Enhances Flavor- Not only does brining introduce seasoning flavors that get absorbed into the meat, but the salt also helps enhance and amplify the meat's natural flavors.
Tenderizes Meat- The water penetrates into the muscle fibers which helps break down proteins. This leads to a tenderizing effect, resulting in more tender and less chewy meat.
Easier Seasoning- Since the brine seasons the meat all over, not just the surface, it's a convenient way to infuse flavor that requires less seasoning later.
Retains Shape- For meats cooked in liquid like beef stew or poached salmon, brining first helps the protein retain its shape better when simmered.
Helps Retain Moisture- Brined meats lose less moisture when cooked since the salt helps them retain water better, resulting in a moister finished product.
What Is Dry Rub?
A dry rub is a blend of herbs, spices, and other dried ingredients that is used to season and flavor meat, seafood, or vegetables before cooking.
Some Key Characteristics of Dry Rubs:
Ingredients- Common ingredients include salt, pepper, paprika, garlic powder, onion powder, cumin, chili powder, brown sugar, cayenne, oregano, etc. The combinations are endless.
Texture- As the name implies, a dry rub has a coarse, dry texture almost like a powder. Just a small amount of oil or fat is added so it adheres.

Usage- Dry rubs are applied to meats, seafood or veggies before cooking. The food is first patted dry, then the rub is evenly coated on all surfaces.
Flavor- The rub forms a crust and gets embedded into the food as it cooks, adding lots of spice and herb flavors.
Benefits- Dry rubs allow you to add big flavor without marinating. They provide a flavorful exterior crust while keeping the interior moist.
Cuisine- Dry rubs are popular in many cuisines including Southern barbecue, Jamaican jerk seasoning, Indian tandoori, Mexican adobos, and Cajun blackening spice.
How to Store Leftover Chicken
Proper storage helps retain the chicken's moisture and flavor while preventing spoilage and contamination. Follow these tips to safely enjoy delicious leftovers for days. The brining makes this chicken stay juicier even as leftovers.
Allow the chicken to cool completely first before storing. Don't store warm chicken.
Store in airtight, shallow containers. Glass or plastic food storage containers with tight fitting lids work best. This prevents leaks and keeps out excess air.

Refrigerate promptly. Leftover chicken should be refrigerated within 2 hours of cooking. Bacteria grows quickly at room temperature.

Use within 3-4 days. For optimal freshness and food safety, consume the leftovers within 3-4 days. Discard if older.
Freeze for longer term. Leftover chicken can be frozen for 2-3 months. Let cool completely before freezing in airtight containers or freezer bags.
Reheat thoroughly to 165°F. When reheating leftovers, reheat on the stove, in the oven or microwave until piping hot, at least 165°F internally.

Avoid reheating more than once. Don't keep reheating the same leftovers. Only reheat once for food safety.
Frequently Asked Questions
What kind of chicken should I use?

Chicken leg quarters or your favorite chicken cuts like boneless skinless thighs or drumsticks work well.
What is a dry rub?
A dry rub is a spice mix made from herbs, spices, salt, pepper, etc. It seasons and flavors the chicken.
Do I need to make the dry rub recipe you linked to?

No, you can use a store-bought dry rub if you prefer. But homemade has more flavor.
What does it mean to put the rub under the skin?

This helps the seasoning permeate the meat better and infuse more flavor. Loosen the skin from the meat gently first before rubbing.
How long should I bake the chicken?

Bake for 50-60 minutes or until the internal temperature reaches 165F. Check at 50 mins and continue baking if needed.
Can I grill or pan fry the chicken instead?
Yes, you can definitely use other cooking methods. Adjust cook times as needed. Brining will still help keep it moist.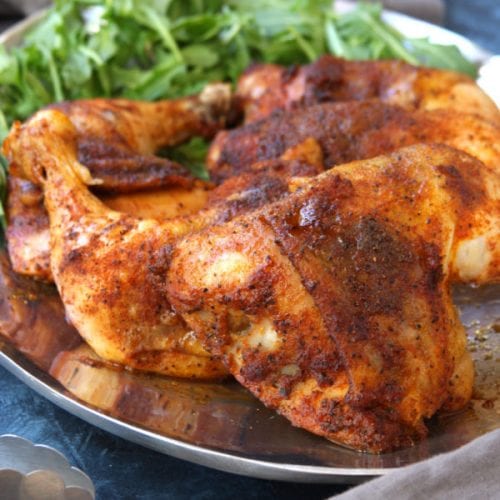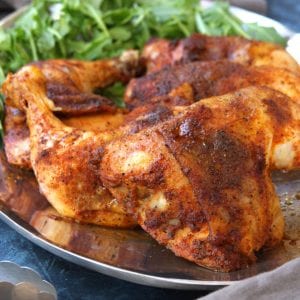 Husband Approved Dry Rubbed Chicken
Incredibly juicy, flavor-packed chicken and no BBQ grill required.
Print
Pin
Rate
Ingredients
For the Brine
4

cups

water

1/2

cup

sea salt

1/3

cup

light or dark brown sugar

2

tbsp

apple cider vinegar
Instructions
Mix all ingredients for brine together. Place chicken and brine in a large ziplock bag and seal tightly. Give bag a good shaking to ensure brine reaches all areas of chicken. Place sealed bag in a baking pan to catch any liquid that may escape and place in refrigerator. Brine for 4-24 hours making sure to turn chicken bag halfway through brining.

Make dry rub recipe- set aside (takes about 5 mins to make).

Once chicken is brined, removed from brine and rinse well under cold water. Pat dry with paper towels.

Preheat oven to 350℉.

Pull the layer of skin back from one side of chicken and place exposed meat directly on dry rub. Replace chicken skin back over meat. Cover all sides of chicken with rub. By placing rub under chicken skin, extra flavor will be infused into meat.

Place rubbed chicken in two baking pans. Cover with aluminum foil. Bake for 50-60 mins or until chicken reaches an internal temperature of 165℉.
Notes
*Please use as many organic ingredients as possible.* Prep time does not include brining time.
Nutrition
Calories:
325
kcal
|
Carbohydrates:
12
g
|
Protein:
21
g
|
Fat:
21
g
|
Saturated Fat:
6
g
|
Cholesterol:
120
mg
|
Sodium:
9552
mg
|
Potassium:
279
mg
|
Sugar:
12
g
|
Vitamin A:
119
IU
|
Vitamin C:
1
mg
|
Calcium:
33
mg
|
Iron:
1
mg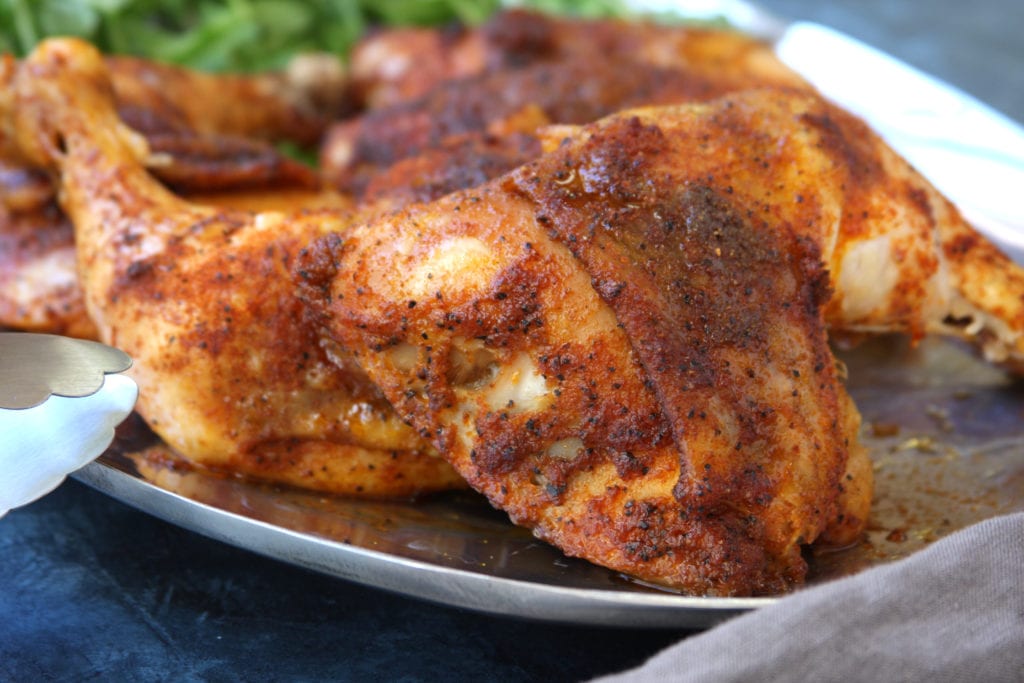 This recipe is part of Meal Plan Monday.