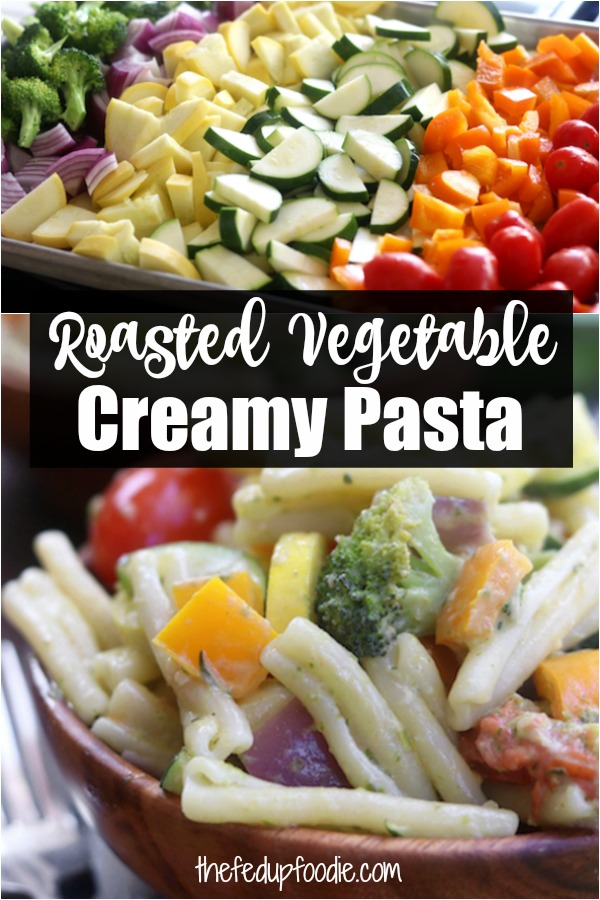 Creamy Pesto Vegetable Pasta recipe is a quick Mediterranean dinner and delicious way to eat veggies that are in season. Made with roasted veggies, pesto and goat cheese, it is a perfect solution for healthy lunch meal prep. My family devoured the first batch and I immediately made more.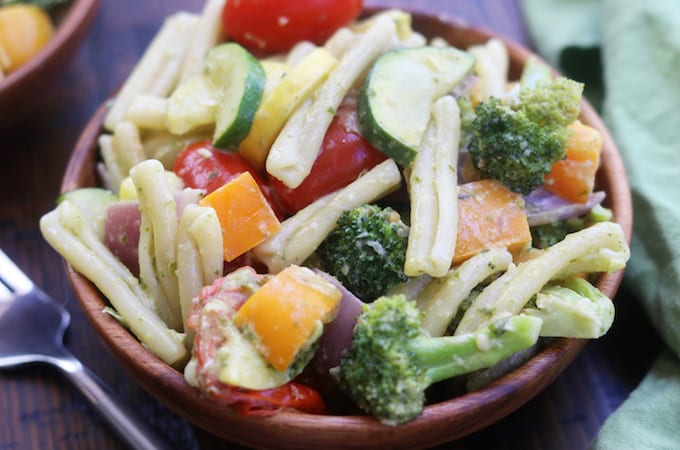 This post may contain affiliate links which I earn a small portion in sales if a purchase is made. Rest assured though, it is never at any additional cost to you.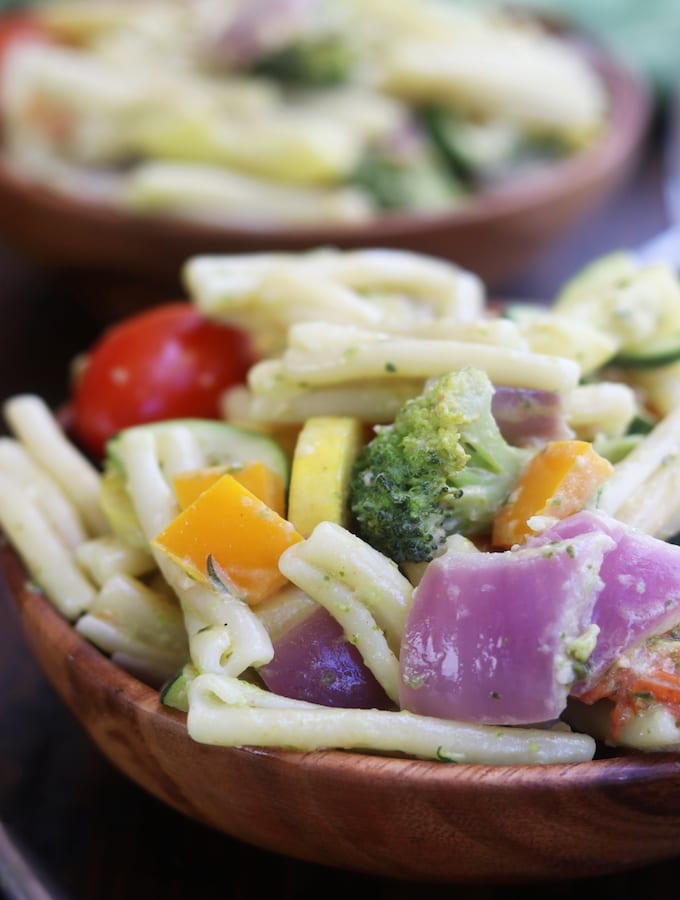 I feel like a very fortunate woman.
After almost 10 years of marriage my husband has come off the road and has been working from home. Can I just say how blessed I feel to have him home every night?
He worked on the road in the music and entertainment business for so long that I knew it was in his blood and I was fully accepting of it. I knew this is who he was.
When he told me he was ready to be home I was like a kid on Christmas day.
My sweet mama told me many times before she passed that there would come a time where being on the road wouldn't feel right and he would long to be home with his family. Well she was right and I am thrilled!!!
Since he has been home one of my bigger goals is to make sure we all are eating plenty of vegetables.
The reason you ask?
No matter what nutritional diet plan you believe in, the one common thread between all of them is an emphasis on the health benefits of eating lots of vegetables.
Making sure my family is eating plenty of fruits and veggies across the rainbow of colors is one way I can ensure that I am doing all I can to help keep then healthy.
So when I saw Ambitious Kitchen's version of this recipe I decided to switch it up with some of our favorite veggies and my Toasted Walnut Pesto as a way for all of us to enjoy this healthy eating approach.
I was only slightly surprised that we devoured the entire bowl and then turned around and made it again the next day.
I say only slightly surprised because this creamy pesto pasta is that amazing and we just flat out LOVE pasta.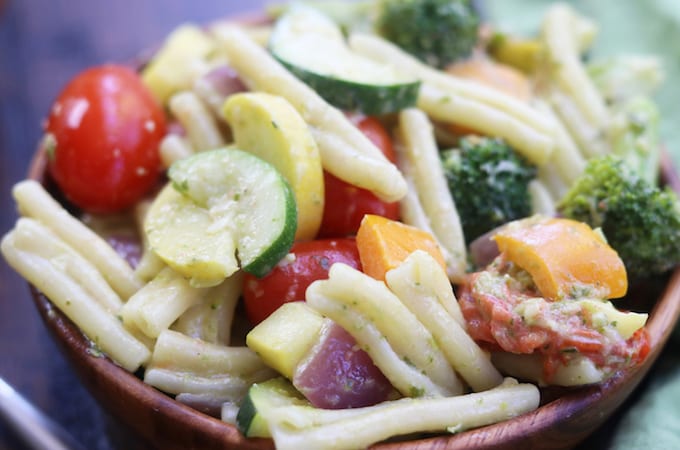 What veggies go well with pesto
Honestly, there aren't many vegetables that I can think of that wouldn't go well with pesto. The only veggie that might not be the greatest that comes to mind would be jicama. Other than that, the produce section is ripe with possibilities that work so well with pesto. My personal favorites have always been grape tomatoes (or sun-dried), broccoli, cauliflower and peas. Let me tell you though, pesto is great on bell peppers, green beans, squashes, mushrooms, carrots, onions, artichokes, corn and even potatoes. The secret with pesto is to not cook the veggies in the pesto. Rather you would want to precook them and then place the pesto on the warm veggies. Pesto comes to life when it is slightly warmed (usually with indirect heat like hot pasta or vegetables) but really is not good at all heated on direct heat.
What to serve with pesto pasta
This Mediterranean Pasta recipe is so good that it can be a meal on its own although it makes a beautiful side dish also. Tender marinated chicken, lamb, beef or even pork would be great companion to this as a meal. We also have forgone the meat altogether and just had a crusty French baguette along side this pesto pasta recipe. Check out these recipe that would pair well: Rosemary Lemon Garlic Chicken, Grilled Rosemary Lamb Chops and Lemon Chicken Breasts.
Tips about Creamy Pesto Vegetable Pasta
If you make your pesto from scratch it will take about 15- 20 mins longer to make this for dinner. One of my all time favorite pestos is my Toasted Walnut Pesto. LOVE, LOVE, LOVE the taste of the toasted walnuts.
It may seem a little weird roasting grape tomatoes but let me reassure you they turn out amazing. There is something about roasting vegetables at a high temperature for a short period of time that intensify their flavor. If by chance the texture of roasted grape tomatoes is bothersome then a 3 oz bag of sun-dried tomatoes would be a great alternative.
This Creamy Pesto Vegetable Pasta works great as a healthy meal prep recipe or healthy lunch meal prep. If you love pasta and pesto then having this for dinner and then lunch for a few days is complete heaven.
To make this pasta with roasted veggies dish you will need 2 large cookie sheets and 1 large bowl to effectively roast the veggies and mix all the ingredients together. CLICK HERE for a great price on healthy non-aluminum cookie sheets. Your best bet for finding an affordable set of mixing bowls will probably be Costco or check out this one from Amazon. (affiliate)
This makes a large bowl of pasta however we had 3 adults eating this and it was gone the next day and then we turned around and made it again.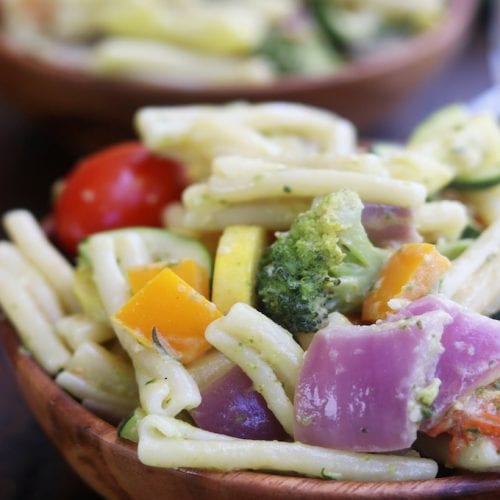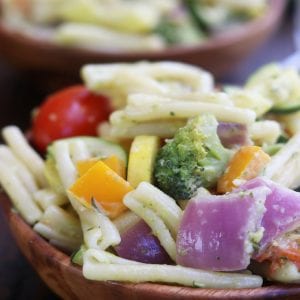 Creamy Pesto Vegetable Pasta
Creamy Pesto Vegetable Pasta recipe is a quick Mediterranean dinner. Made with roasted veggies, pesto and goat cheese, it is a perfect solution for healthy lunch meal prep or easy weeknight dinner.
Print
Pin
Rate
Ingredients
1

large

red onion

*cut into large dices about 2 1/2 cups

1

large

yellow summer squash

*sliced into 1/4 inch about 2 1/2- 3 cups

2

med

zucchinis

*sliced into 1/4 inch about 2 1/2- 3 cups

1

pint

grape tomatoes

1

large

orange bell pepper

*cut into large dices about 1 1/2 cups

3

cups

broccoli florets

1/4

cup

avocado oil

*or healthy high heat cooking oil of choice

2

tsp

salt

+more for pasta water

16

oz package

pasta of choice

5-6

oz

goat cheese (chevre)

*crumbled

3/4

cup

Toasted Walnut Pesto

2-3

tbsp

pasta water
Instructions
Preheat oven to 400℉. Cut and prepare all vegetables.

Divide cut veggies among 2 large cookies sheets. Drizzle half of oil on each cookie sheet and sprinkle with salt. Gently toss to coat veggies with oil. Bake in a preheated oven for 15 mins or until veggies just start to soften (may take up tp 18 mins).

Meanwhile bring a large pot of water to boil. Once boiling heavily salt water with 1/4- 1/2 cup salt (should taste like sea water). Cook pasta to al dente following directions on package making sure to reserve 2-3 tbsp pasta water.

While pasta is cooking add pesto to a large mixing bowl. Crumble in goat cheese. Add roasted veggies, cooked pasta and pasta water to bowl. Stir well and serve warm. Also tastes great cold.
Notes
*Please use as many organic ingredients as possible.* 
Nutrition
Calories:
546
kcal
|
Carbohydrates:
72
g
|
Protein:
15
g
|
Fat:
22
g
|
Saturated Fat:
3
g
|
Cholesterol:
2
mg
|
Sodium:
321
mg
|
Potassium:
895
mg
|
Fiber:
7
g
|
Sugar:
11
g
|
Vitamin A:
2659
IU
|
Vitamin C:
109
mg
|
Calcium:
120
mg
|
Iron:
2
mg
Follow along on Facebook and Pinterest for more savory inspirations.
If you love pasta you will want to check out these recipes: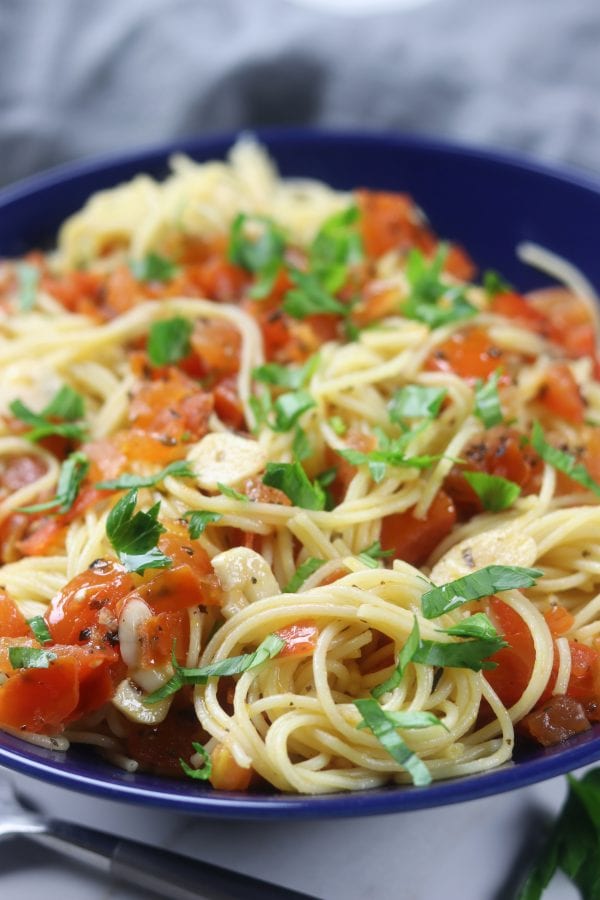 Simple Angel Hair Pasta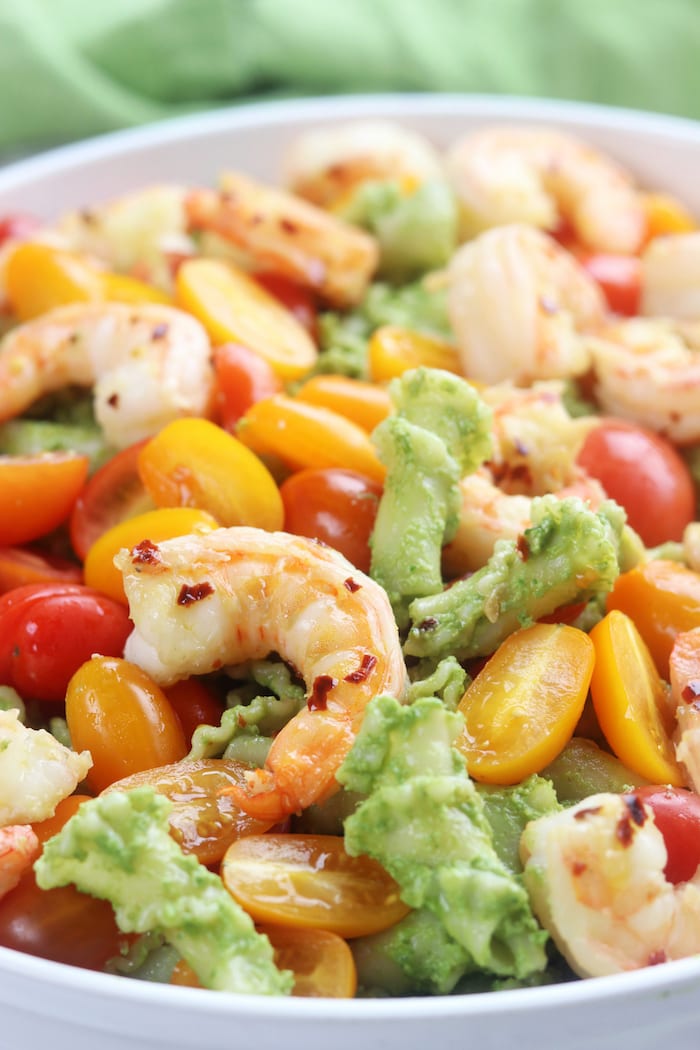 Avocado Pesto Pasta with Garlic Shrimp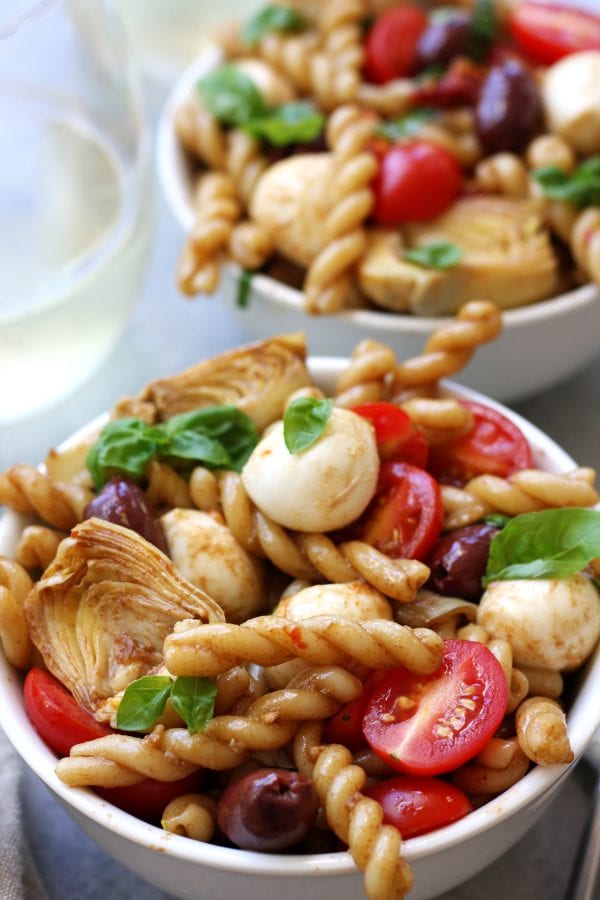 Mediterranean Delight Pasta Salad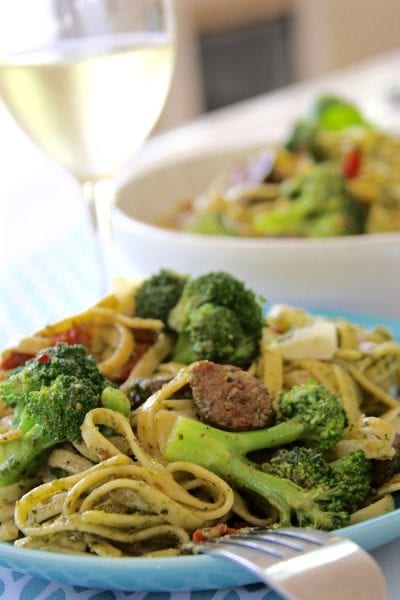 Roman Pesto Pasta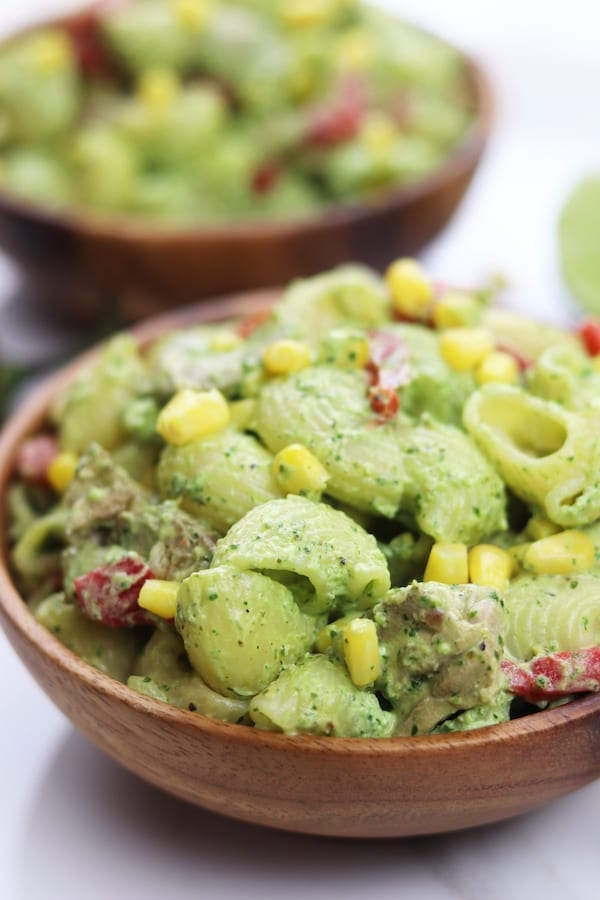 Creamy Roasted Jalapeño Pasta