Super healthy and easy, this Avocado Pesto Pasta with Garlic Shrimp is beyond delicious. Dairy free and packed with good for you fats, this recipe is an absolute healthy comfort meal that is perfect for lunch or dinner.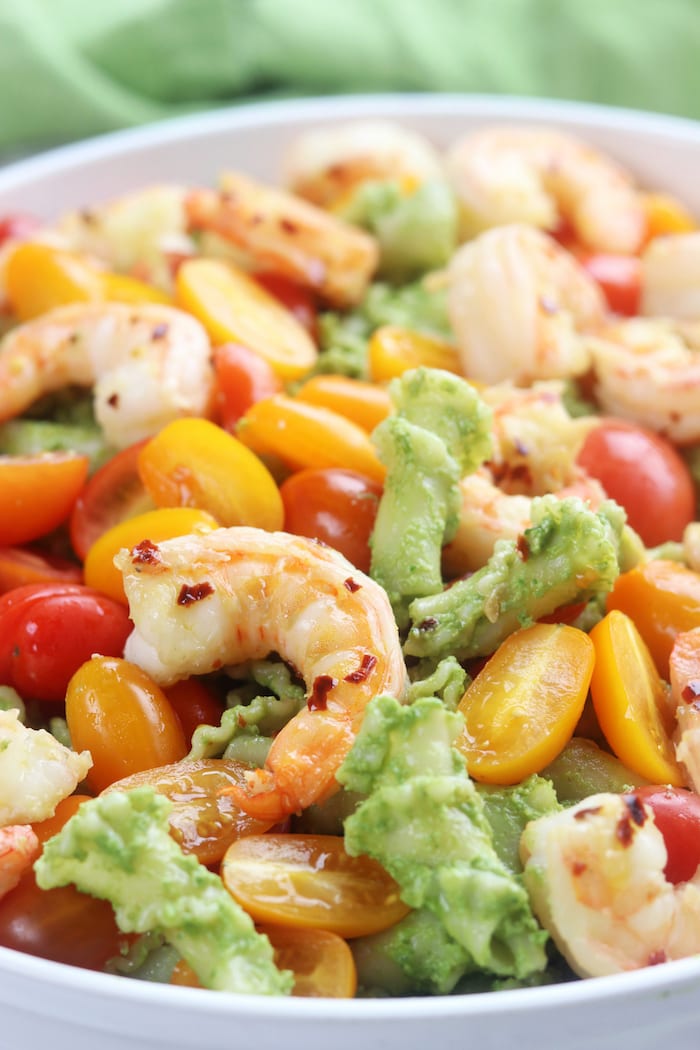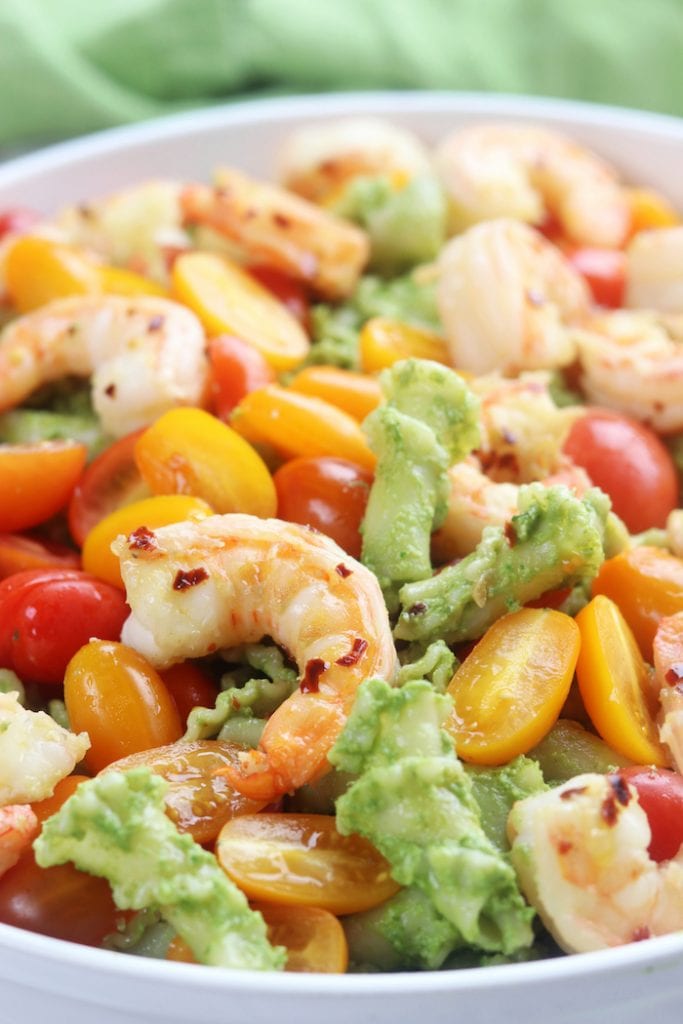 This post may contain affiliate links which I earn a small portion in sales if a purchase is made. Rest assured though, it is never at any additional cost to you.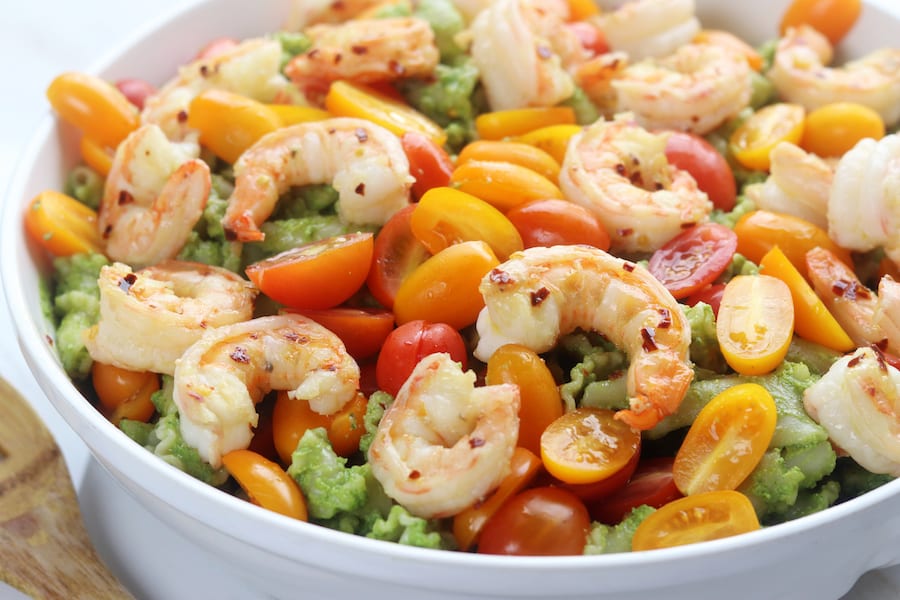 I recently was gifted, from from aunt and uncle, a very large bag of lemons and another large bag of avocados from their back yard. (Got to love living in San Diego!)
Our counters have been full of produce but as you can imagine I was beyond thrilled by this because I ADORE lemons and avocados.
I immediately went to work brewing up a batch of my favorite Homemade Limoncello, making Simple Healthy Guacamole and this incredibly delicious Avocado Pesto Pasta Salad.
My husband and I have been feasting like kings and between the gorgeous sunny days and all the delicious produce, it has felt like Springtime here.
I highly suggest that if it is the dead of Winter where you live, make this pasta salad recipe. Not only is it creamy, it is slightly nutty and with a hint of refreshing lemon. Top it off with the garlic shrimp and it is pure heaven!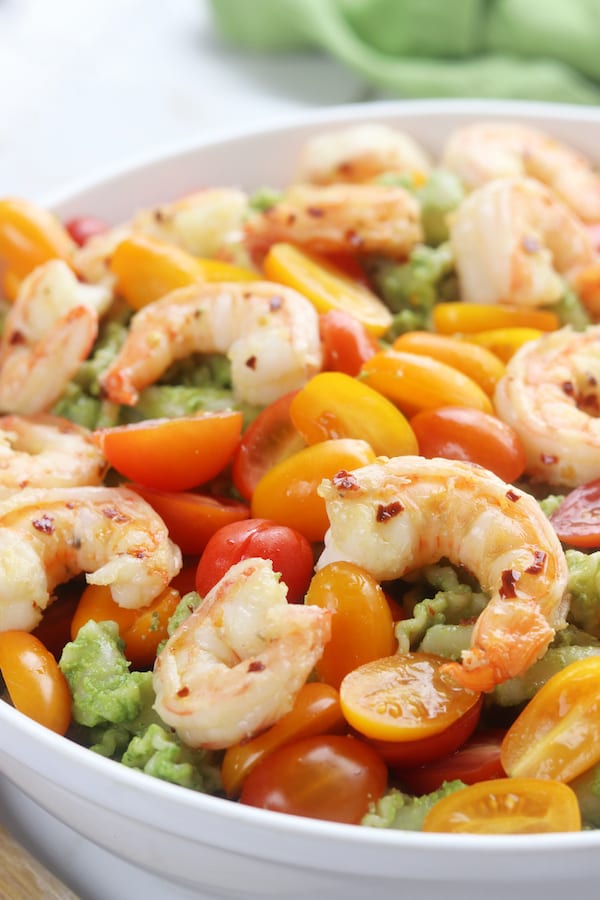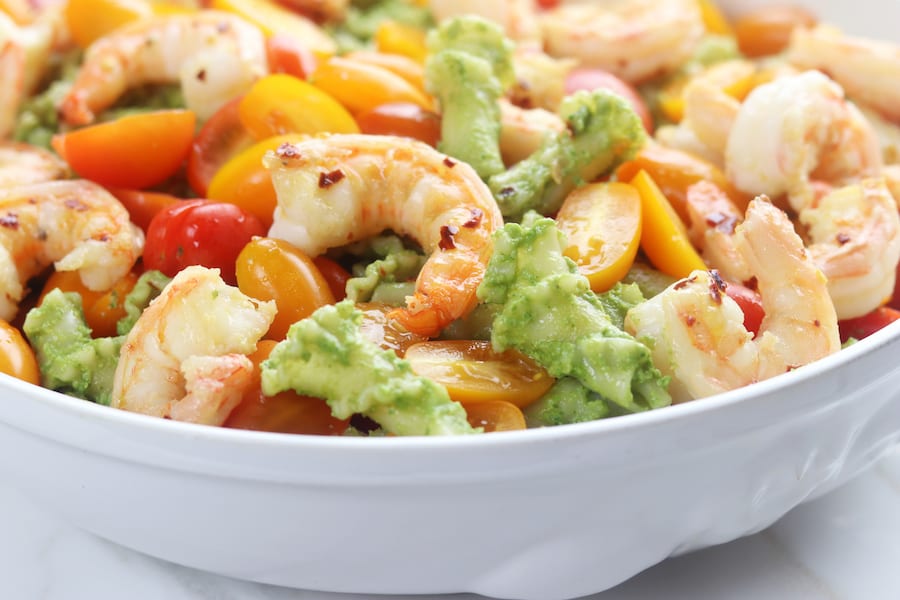 Wild Caught vs Farmed Raised Shrimp
Let me just say that digging deeper into this subject is enough to make your stomach turn. Do just a little research and you quickly find article after article cautioning on eating farmed raised shrimp and sometimes wild caught also, although wild caught is clearly much better. One major issue in trying to find shrimp you feel safe feeding your family is many large grocery chains only carry farmed raised shrimp. Here are a few tips that may help:
Scout out your local health food stores as many of them will carry wild caught shrimp at their seafood counters. Be sure to also ask if the wild caught shrimp is imported. It is best to stick with wild caught shrimp from the United States as Trawls (heavy weighted nest) are not used. Unfortunately imported wild caught shrimp are caught by using these nets and sadly these nets catch other wild life often killing them and are a huge contributing factor to the loss of coral reef.
If you absolutely can not find wild caught shrimp your next best option would be sustainably
raised shrimp grown in the U.S. But here is the catch, don't assume they do not use antibiotics and pesticides. Ask and get to know your farmer.
Purchasing shrimp that was responsibly caught or raised can be a bit more expensive so use shrimp as a once in awhile treat rather than a weekly occurrence.
How to effectively clean shrimp
First off, if your shrimp is frozen the best way to defrost is to soak it in cold water in the refrigerator for about 30 minutes. You may need to change the water a few times. Once defrosted you will want to remove the shell. I have found the easiest way to do this is to use your fingernails. Start at the belly and pull back the shell until it is fully removed. If you choose to remove the tail, gently pull the shrimp meat using one hand while the other hand holds onto the tail. The last step of removing the vein is the most important! I have found the easiest way is to use a small curved paring knife. (affiliate) Using the sharp tip of the knife cut through the curved surface just above the vein making sure not to go too deep. The vein at this point should come out rather easy using your fingers. I always rinse the shrimp one final time after deveining.
How to ripen avocados quickly
Let's be honest here, avocados have a mind of their own. They will ripen at the rate they want to, period. It is very much like dealing with a stubborn teenager. There is one trick though, that I have found to help time and time again. Place about 5- 6 avocados in a large paper bag, add 1 or 2 bananas to hang out with the avocados and make sure to roll the top of the bag shut, similar to closing a lunch bag. Here is a quick explanation as to why this works.
Tips for Avocado Pesto Pasta with Garlic Shrimp: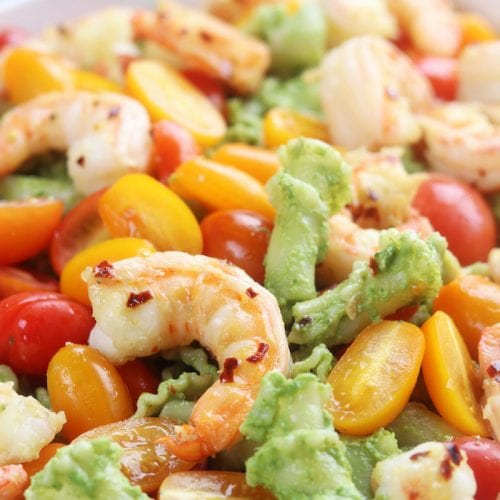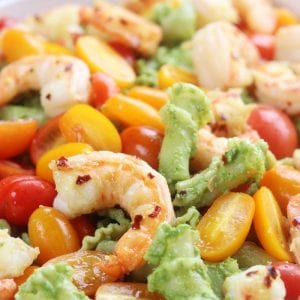 Avocado Pesto Pasta with Garlic Shrimp
Super healthy and easy, this Avocado Pesto Pasta with Garlic Shrimp is beyond delicious. Dairy free and packed with good for you fats, this recipe is an absolute healthy comfort meal that is perfect for lunch or dinner.
Print
Pin
Rate
Ingredients
16

oz

pasta of choice

*cooked in heavily salted water

16

oz

pint cherry tomatoes (favorite colors)

*can use up to 24 oz of tomatoes
For the Avocado Pesto
2

large

ripe avocados

3/4

cup

unsalted cashews

2

handfuls

fresh basil leaves

*stripped from stems

2

tbsp

lemon juice

3-4

cloves

garlic

1/2

tsp

sea salt

1/2

cup

extra virgin olive oil
For the Garlic Shrimp
1

lb

large uncooked shrimp

*see notes above for cleaning

3-4

cloves

garlic

*thinly sliced

1

tsp

red chili pepper flakes

1/4

cup

extra virgin olive oil
Instructions
For the Avocado Pesto
In a food processor add avocados, cashews, basil leaves, lemon juice, garlic cloves and sea salt. Process until chopped and mixed, about 45 seconds. Stream in olive oil and continue processing until a thick paste is formed. Refrigerate until needed.

Bring a large pot of water to a boil. Add a bout 1/4- 1/2 cup sea salt and cook pasta to al dente, following directions on package.

Wash and cut tomatoes. Set aside.
For Garlic Shrimp
Add olive oil, garlic and chili pepper flakes to a medium sized frying pan and heat over low heat until garlic slices begin to bubble and just slightly brown, about 10-12 mins. Add shrimp keeping heat still on low and cook for 2 1/2 mins per side. Remove shrimp from oil and set aside.

Once pasta is al dente strain and add to a large bowl. Stir in avocado pesto, add tomatoes and shrimp.

Enjoy!
Notes
*Please use as many organic ingredients as possible. 
Nutrition
Calories:
651
kcal
|
Carbohydrates:
71
g
|
Protein:
31
g
|
Fat:
28
g
|
Saturated Fat:
4
g
|
Cholesterol:
191
mg
|
Sodium:
801
mg
|
Potassium:
837
mg
|
Fiber:
8
g
|
Sugar:
5
g
|
Vitamin A:
503
IU
|
Vitamin C:
30
mg
|
Calcium:
153
mg
|
Iron:
5
mg
Follow along on Facebook and Pinterest for more savory inspirations.
If you love pasta dishes than you will love these: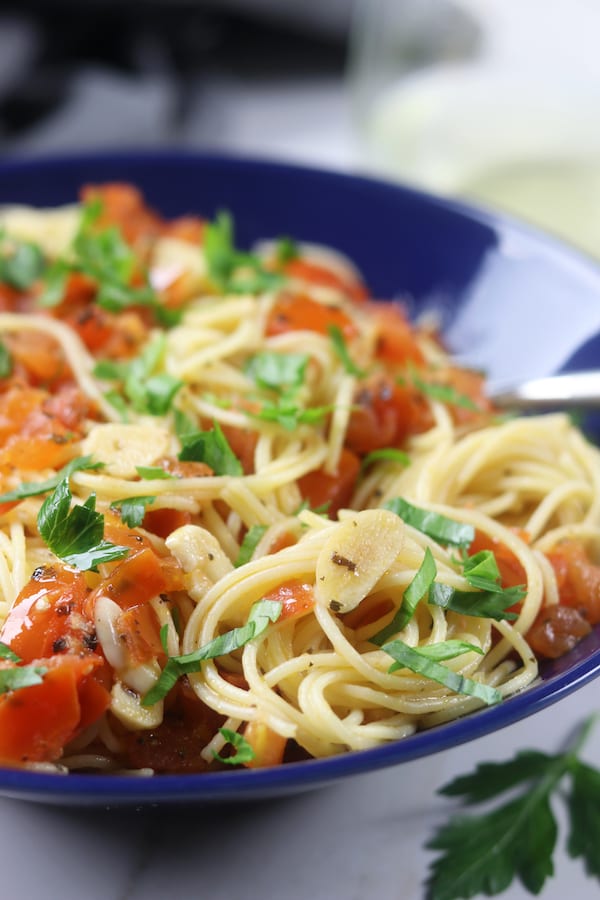 Simple Angel Hair Pasta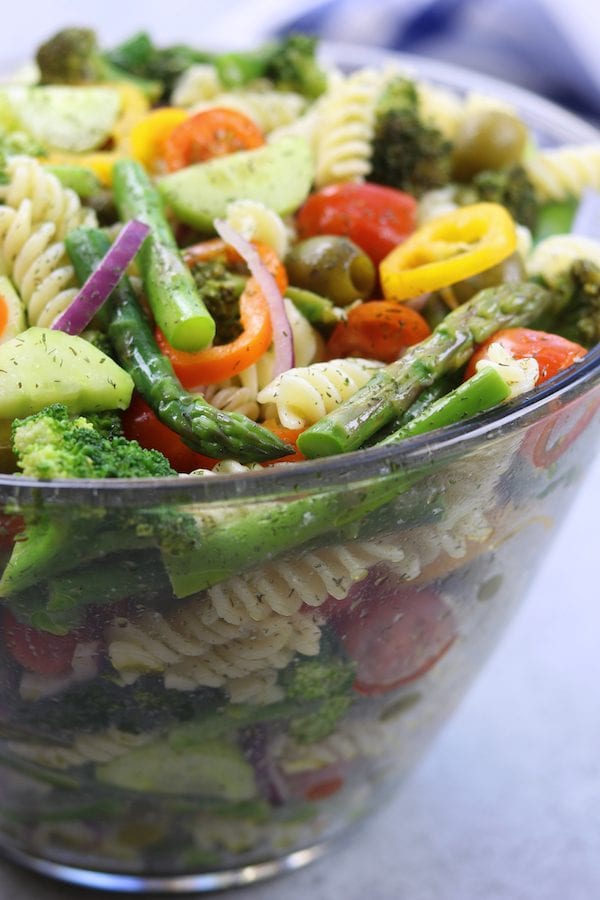 Springtime Pasta Salad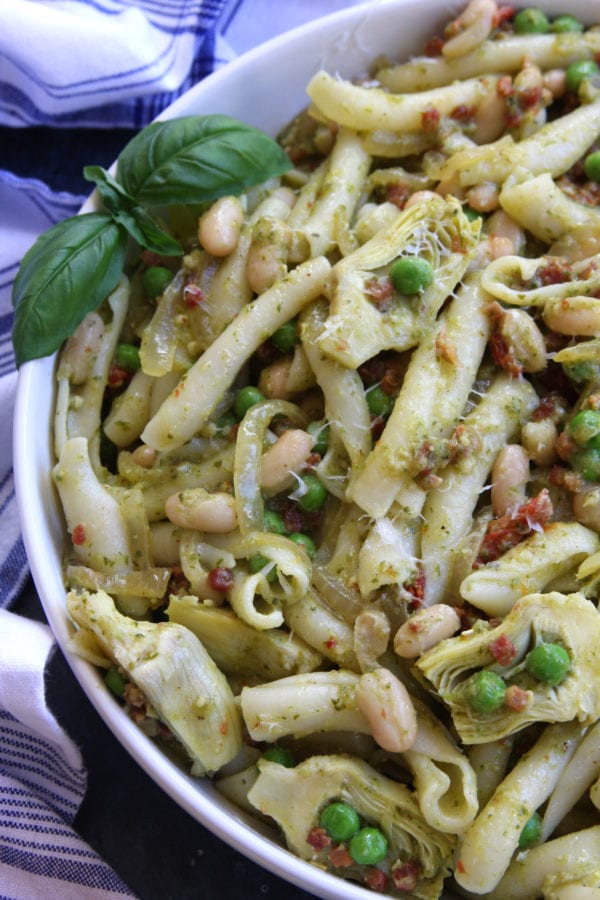 Hearty Tuscan Pasta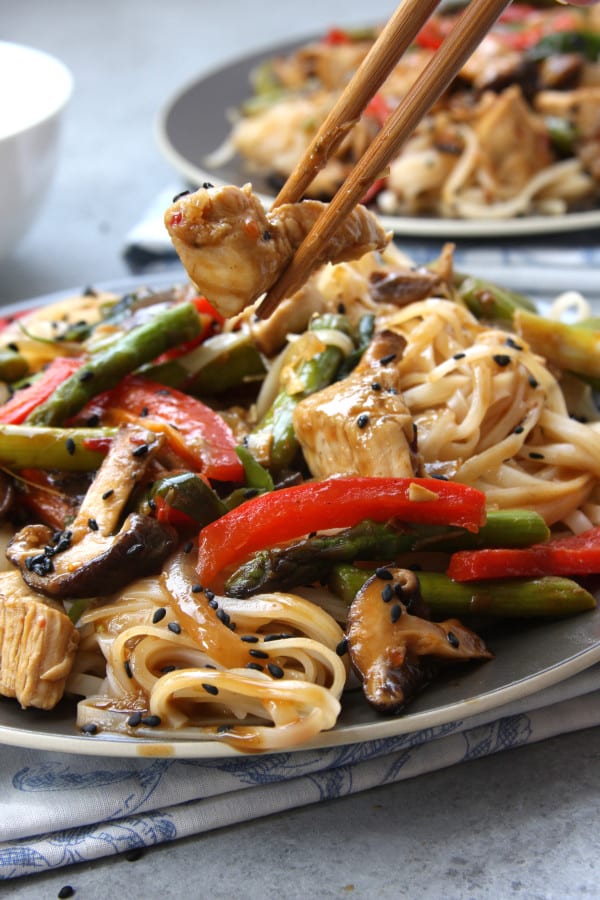 Lemongrass Chicken Noodle Stir Fry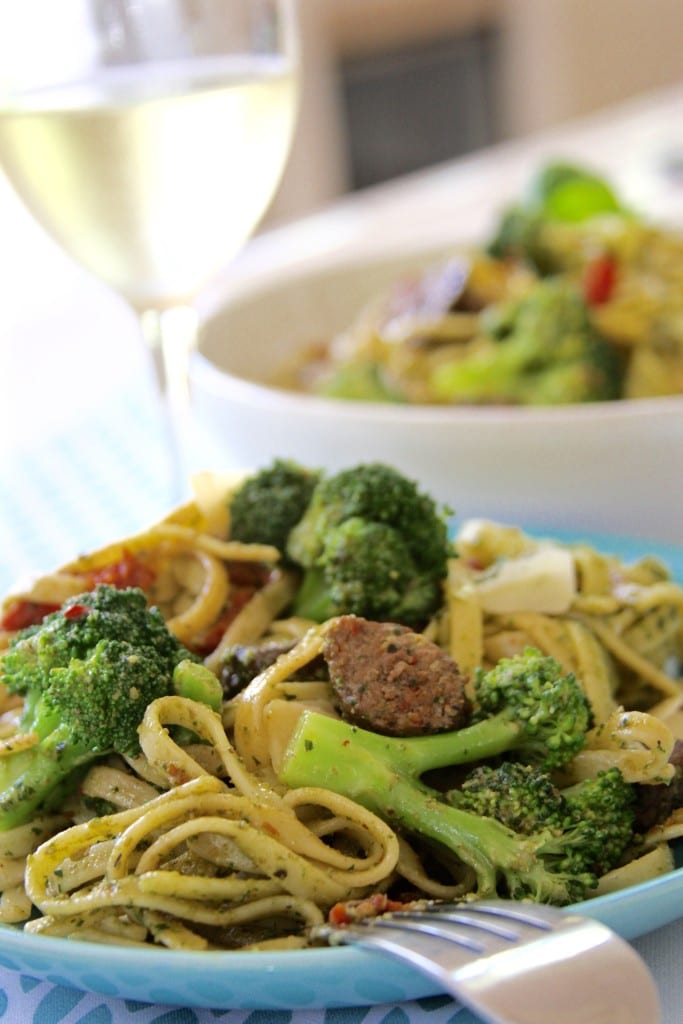 Roman Pesto Pasta