Hearty Tuscan Pasta is the perfect 30 minute meal to throw together for company or if you just are craving a scrumptious Italian meal. This will easily become your new favorite pasta.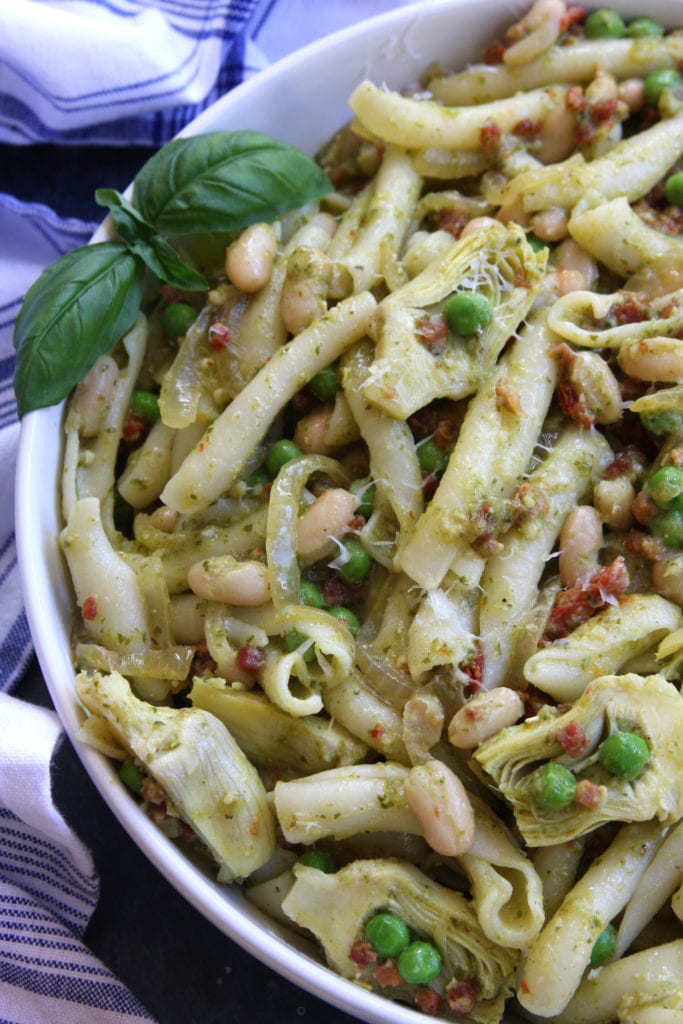 This post may contain affiliate links which I earn a small portion in sales if a purchase is made. Rest assured though, it is never at any additional cost to you.
Why is it that Italian food is so comforting and delicious? Whether it is fish, veggies or pasta, I have yet to eat a true Italian meal that isn't fabulous. Our family loves Italian food so much that it is not uncommon for us to make a big batch of pasta, like this Hearty Tuscan Pasta, that we keep in the refrigerator for quick and easy meals. When life is crazy busy it so nice to whip up a quick salad and heat up a bowl of pasta. Talk about easy. What is even better, this Hearty Tuscan Pasta can literally be thrown together in under a half an hour and no-one will be the wiser. It tastes like it took hours to make with the herby pesto, creamy cannellini beans, crisp pancetta and savory sun-dried tomatoes.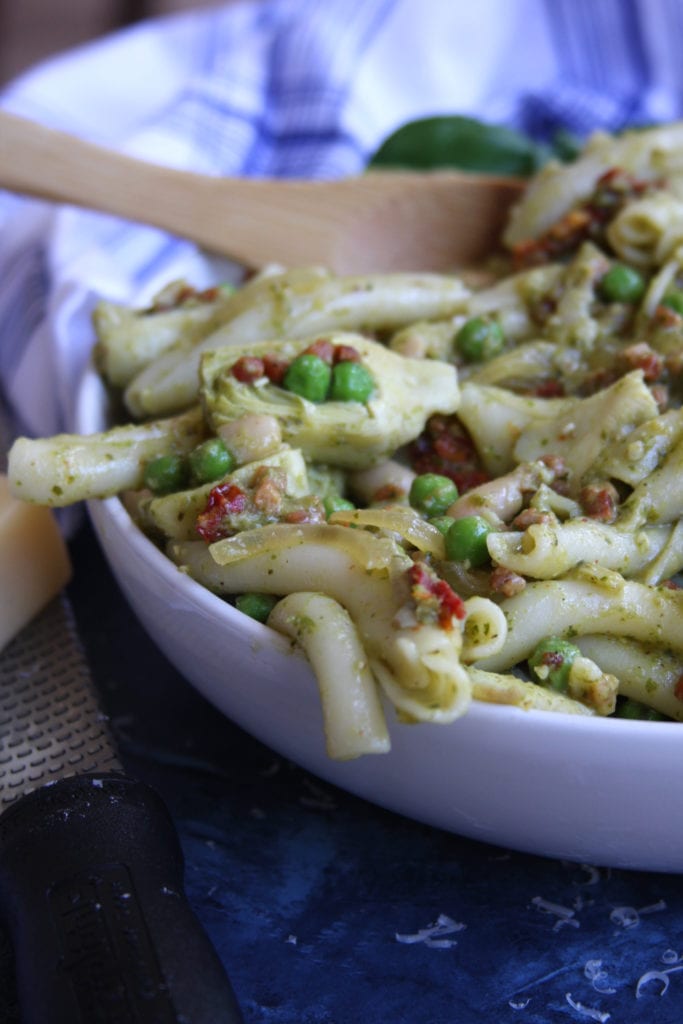 Tips about Hearty Tuscan Pasta:
So I have made this dish with both pancetta and bacon. Here is a secret, I like both very much but I kind of enjoy the bacon just a bit more. I don't know if that is the American coming out in me (shh I don't want the Italian side of me finding out) or because I just really enjoy bacon. If you do decide to use bacon in place of the pancetta, slice it in small strips before cooking. Also, you won't need to coat the pan with olive oil before frying the bacon like you would with pancetta. All other steps are the same.
This is definitely more of a comfort meal with all the luscious cheese, oil from the pesto and pancetta. The beans, artichoke hearts and sun-dried tomatoes help to bump up the nutrient levels. If you really want to make this even more nutritionally dense add some raw spinach at the very end. I personally would add 3-4 cups, working with just one cup at a time. If you do add spinach you may need another 1/4 to 1/2 cup of pasta water.
One word of caution about using the pasta water, go a little easier on salting the water if sodium is of a concern for you or your family. Normally to cook pasta the authentic Italian way you would heavily salt the water. Because 1- 1 1/2 cups of reserved pasta water is used in this recipe it may be bit too much sodium. Lightly salting with 1 tbsp of sea salt would definitely be more appropriate if this is the case. Remember to always boil pasta with plenty of water. Those noodles like their personal space.
Did I mention one other way to bump up the nutrients is to replace the regular basil pesto with a kale pesto. I personally don't think I would love it as much, but sometimes you just need to go with what is more nutritious. If you are more of a traditionalist, then you will love using my Toasted Walnut Pesto in this Hearty Tuscan Pasta.
If the idea of using bacon or pancetta is killing you because of the fat content, then use chicken Italian sausage instead. You will definitely need to add a little more olive oil if you go this route but this is a wonderful way to still have loads of flavor with less fat. Did you know making Italian sausage is so much easier to do then it seems? Check out my recipe Homemade Italian Sausage for details.
One of my favorite tricks to do with frozen veggies is to place them in my stainless steel colander and drain the cooked pasta over them. It cooks veggies like peas and broccoli to the perfect doneness. Doing this with the frozen peas for this Hearty Tuscan Pasta is part of what makes the prep so fast. (affiliate)
If you really want to impress your crowd, serve the pasta in a gorgeous pasta bowl like this one. You will feel like you are dining at an Italian Bistro. (affiliate)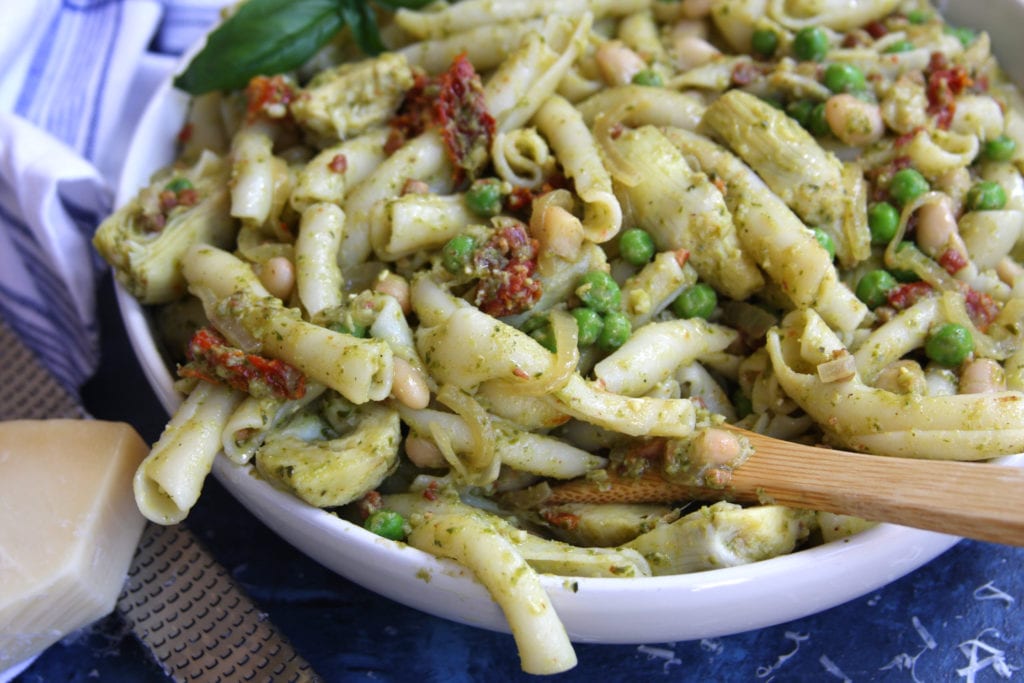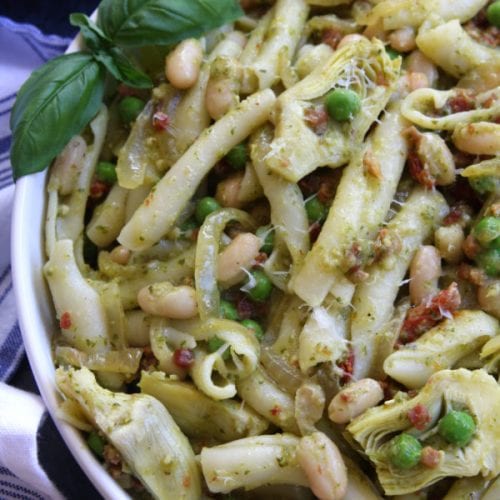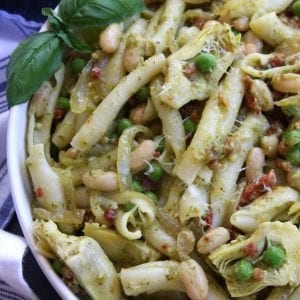 Hearty Tuscan Pasta
A hearty and savory comfort meal that comes together in under 30 mins.
Print
Pin
Rate
Ingredients
16

oz

pasta

*use gluten free for gluten free needs

8

oz

pancetta or bacon

*cut into small pieces

1

tbsp

olive oil if using pancetta

1/2

lg onion

*about 1 cup cut into strips

3

garlic cloves

*minced or crushed

15

oz

can cannellini beans

*rinsed & drained

14

oz

can artichoke hearts

*drained & cut in half

5

tbsp

sun-dried tomatoes

*julienned

1 1/2

cups

frozen peas

1

cup

Toasted Walnut Pesto

1

cup

reserved pasta water

*depending on preferred thickness

Garnish with fresh grated parmesan
Instructions
Cook pasta to al dente in salted water, following instructions on package and making sure to reserve pasta water for sauce. Add frozen peas to colander & drain pasta over top of them for quick prep.

Meanwhile, if using bacon cut into strips and fry in a large frying pan over med heat until crispy- approximately 7 mins. If using pancetta cook with same method but add 1 tbsp olive oil. Once cooked remove with slotted spoon onto paper towels to absorb the extra drippings. Drain pan of all but 1 tbsp drippings.

While the pancetta & pasta are cooking drain and rinse cannellini beans- set aside. Measure and prepare all other veggies.

With the reserved pancetta drippings sauté onions over med heat until slightly translucent- approximately 4-5 mins. If using fresh garlic add the last 2 mins of cooking the onions. Add beans, artichoke hearts, sun-dried tomatoes and pesto. Stir gently. Add reserved pasta water and stir gently until incorporated with pesto. Add pasta, peas and pancetta. Stir until fully incorporates. Garnish with free grated parmesan.
Notes
*Please use as many organic ingredients as possible.*
Nutrition
Calories:
473
kcal
|
Carbohydrates:
50
g
|
Protein:
14
g
|
Fat:
24
g
|
Saturated Fat:
5
g
|
Cholesterol:
17
mg
|
Sodium:
635
mg
|
Potassium:
296
mg
|
Fiber:
6
g
|
Sugar:
5
g
|
Vitamin A:
1093
IU
|
Vitamin C:
19
mg
|
Calcium:
95
mg
|
Iron:
3
mg
This recipe is part of Meal Plan Monday.
Follow along on Facebook and Pinterest for more savory inspirations.
If you love Italian cuisine then check out these recipes: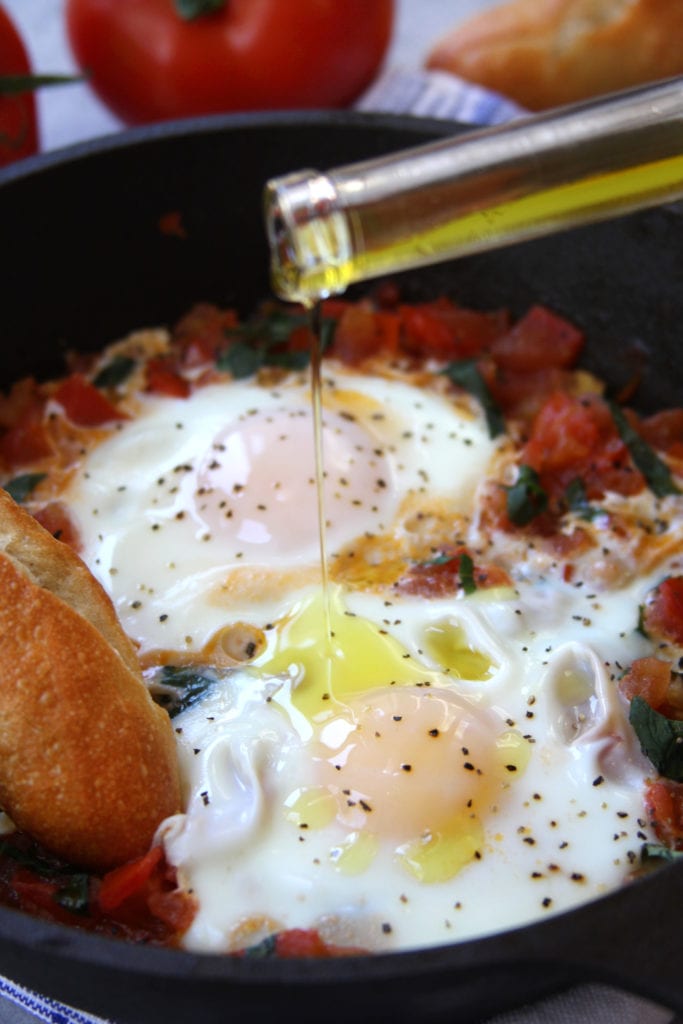 Italian Tomato and Eggs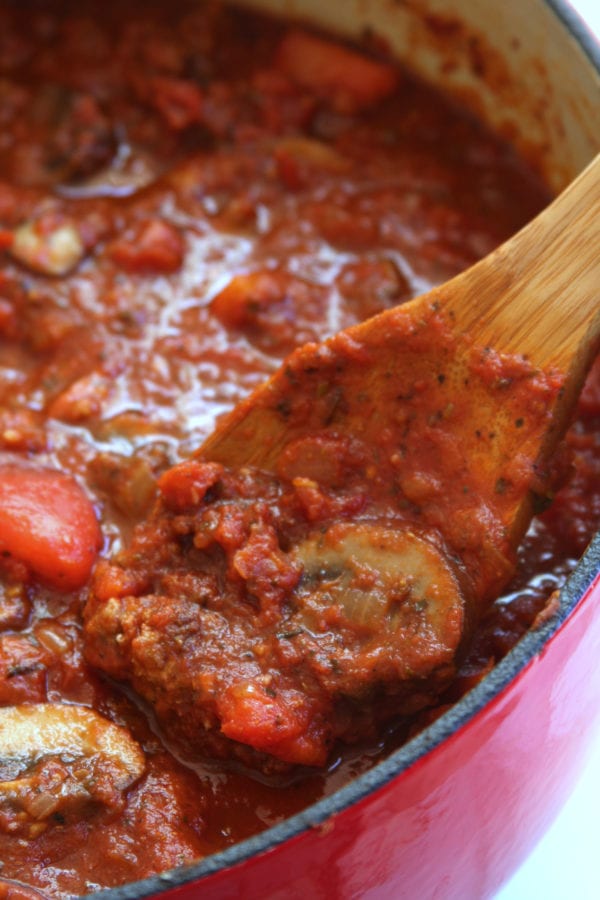 Classic Spaghetti Sauce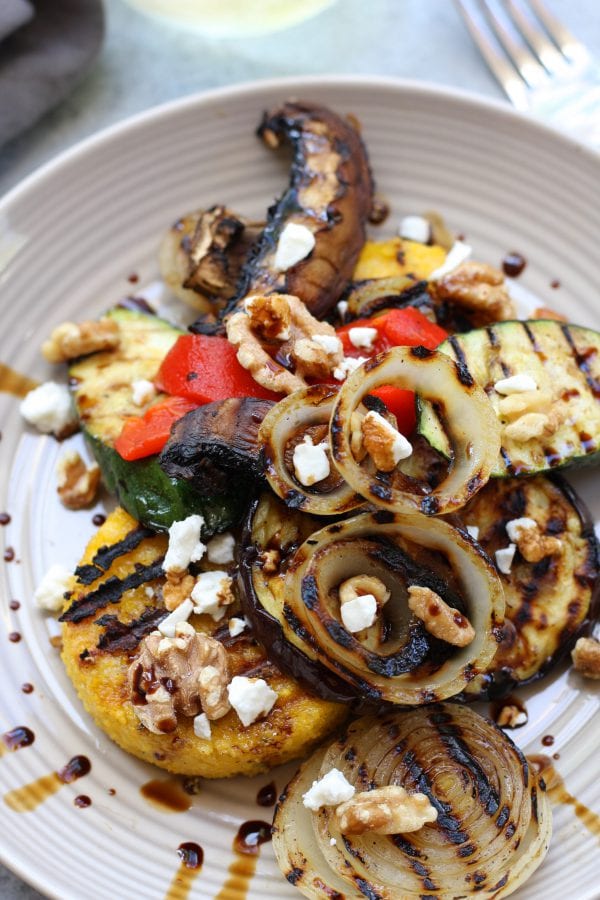 Rustic Italian Grilled Polenta & Vegetables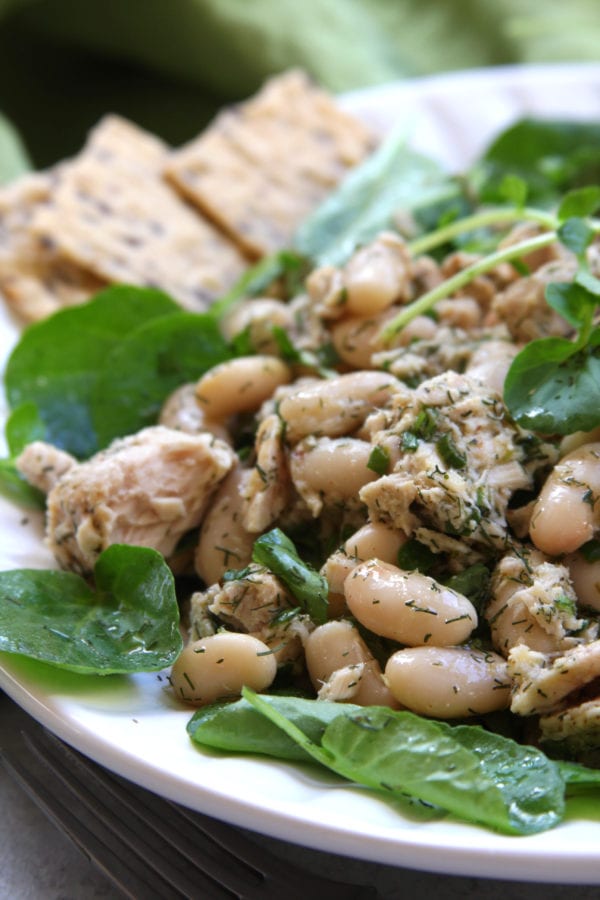 Mediterranean Tuna Salad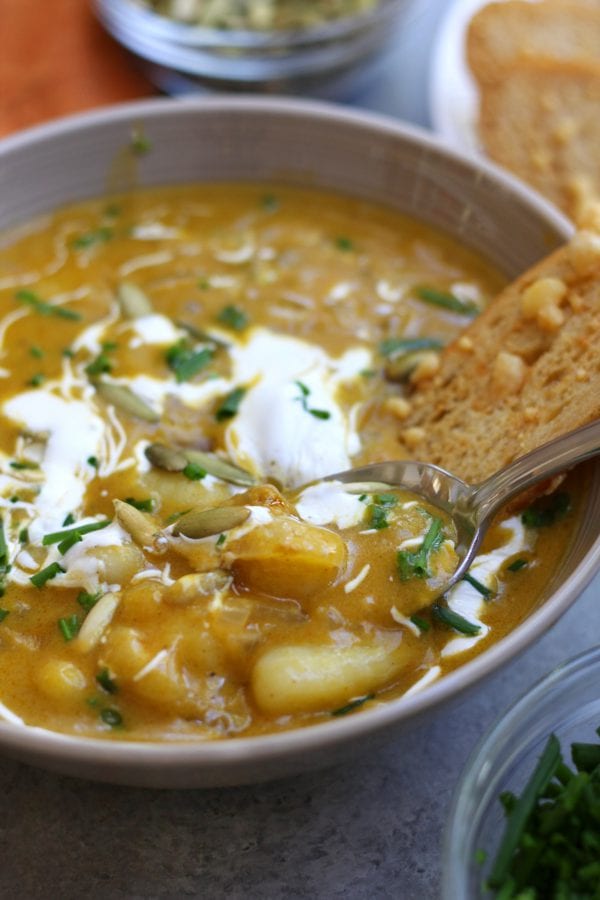 Pumpkin Gnocchi Soup