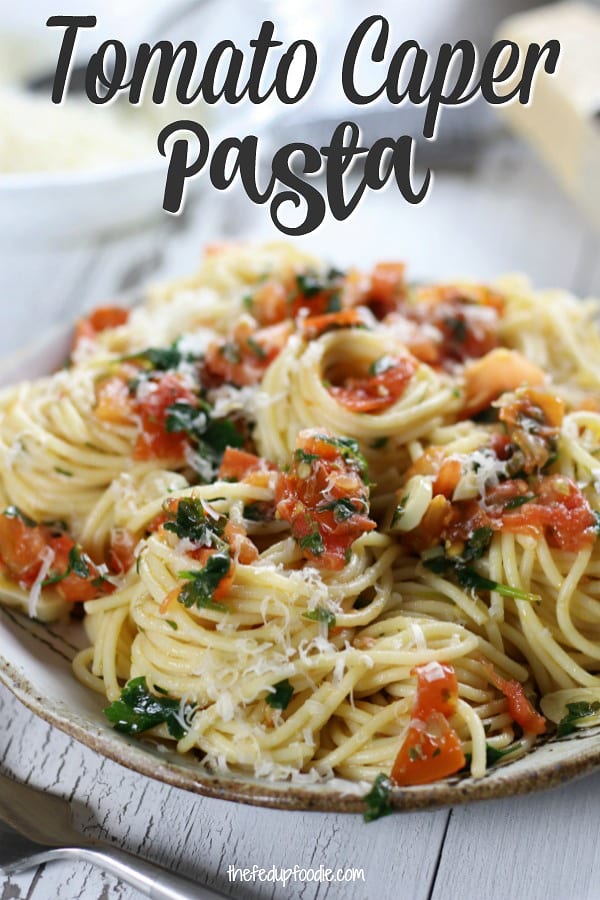 Tomato Caper Pasta is a light and savory dish with capers, thinly sliced garlic and fresh tomatoes. Full of flavor and incredibly simple to make. Have this with a glass of chilled white wine and you will feel carried away to a sidewalk café in Italy.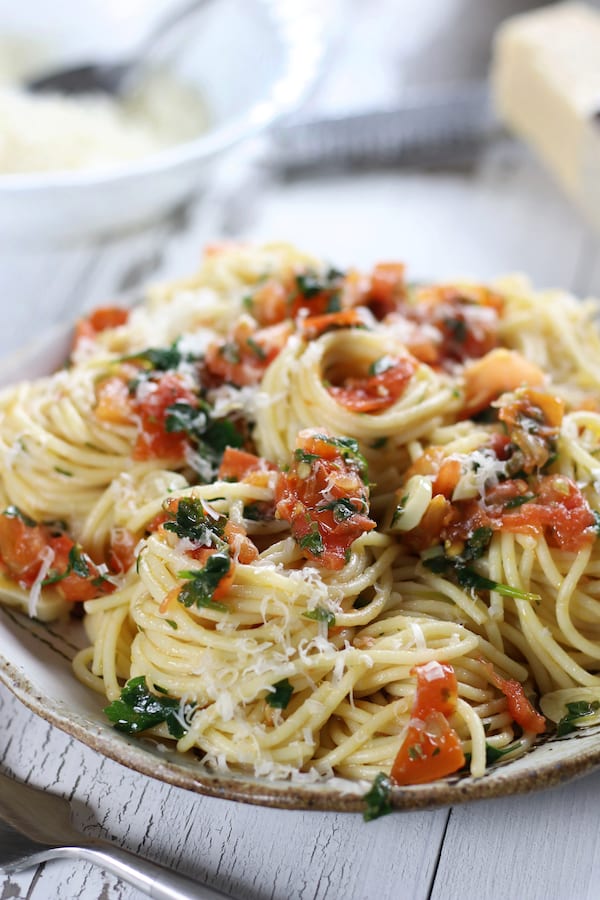 This post may contain affiliate links which I earn a small portion in sales if a purchase is made. Rest assured though, it is never at any additional cost to you.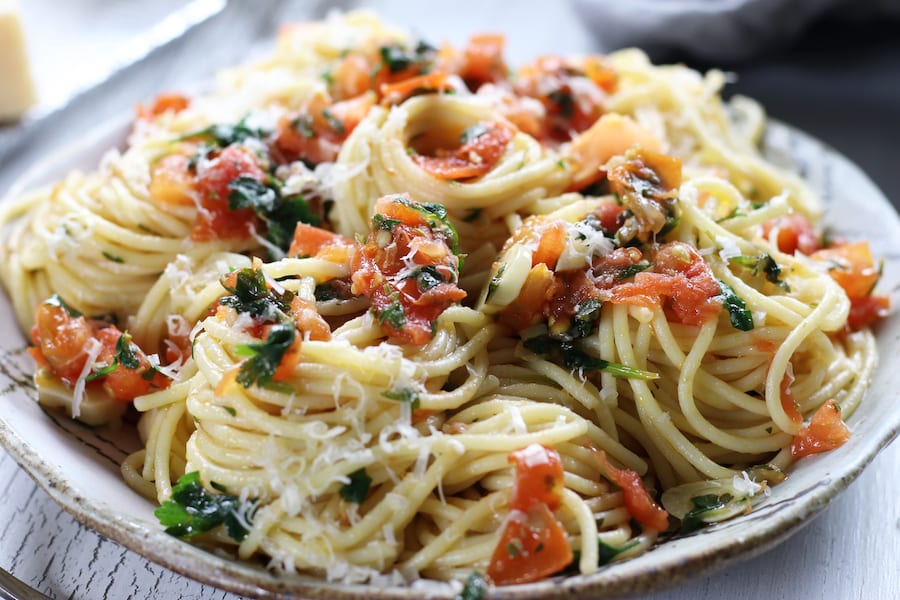 I grew up where creating and preparing new recipes was a cherished way of life.
My parents kitchen was always buzzing with new and tasty dishes like bibimbap (a phenomenal Korean dish), falafel, gumbos, homemade raviolis and pasta dishes.
We loved variety and flavor.
Of all the different types of meals, Italian had a special place in our kitchen.
You see, with my dad being full Italian and my mom absolutely loving Italian food, Italian dishes became a regular at our dinner table.
I was a young tween able to make spaghetti sauce just by taste and boring my friends with lectures of the virtues of al dente pasta.
On my first trip to Italy, I quickly learned there is an American Italian way to cook and a Italian way to cook.
The American Italian way seems to have rich and deep flavors. The Italian way to cook is extremely fresh with lighter, less complex ways of cooking.
Honestly, it took me a little while to adjust to the Italian ways of eating with their extremely long and several course dinners.
Once I did adjust, I fell in love.
This Tomato Caper Pasta with its fresh produce, brings Italy home to me. The only way to improve this dish is to make the noodles from scratch.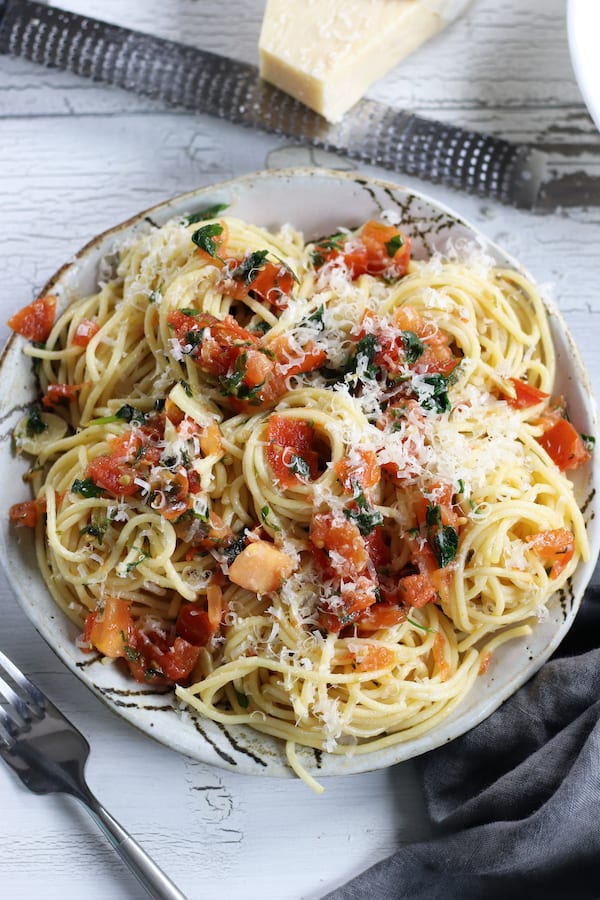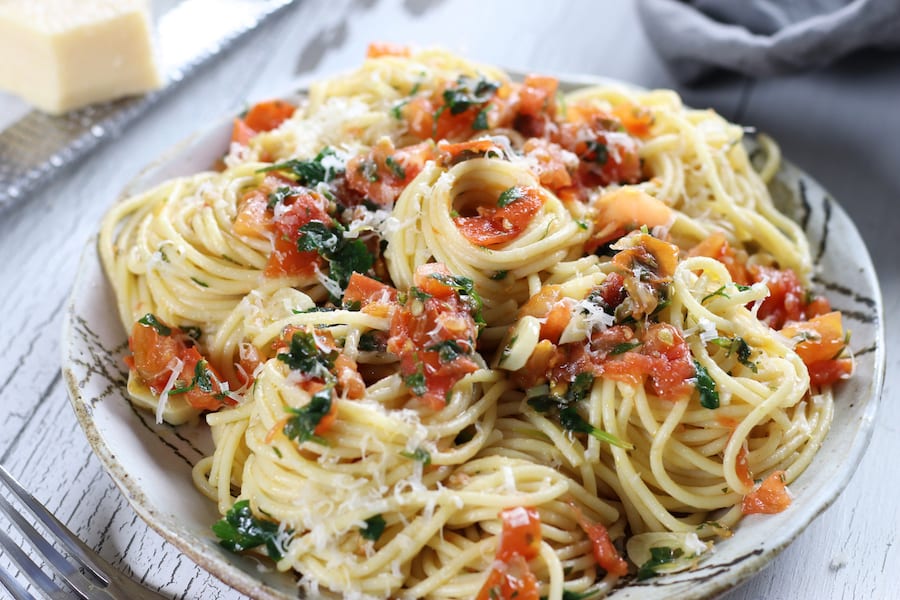 What Are Capers
If you have never had capers you may be asking what on earth they are. Technically they are a bud of a plant that is cured, similar to how olives are cured. They remind me of a cross between little peppercorns and olives. They have a distinct taste that work so well in pasta dishes and are the perfect companion to the tomatoes in this Tomato Caper Pasta dish.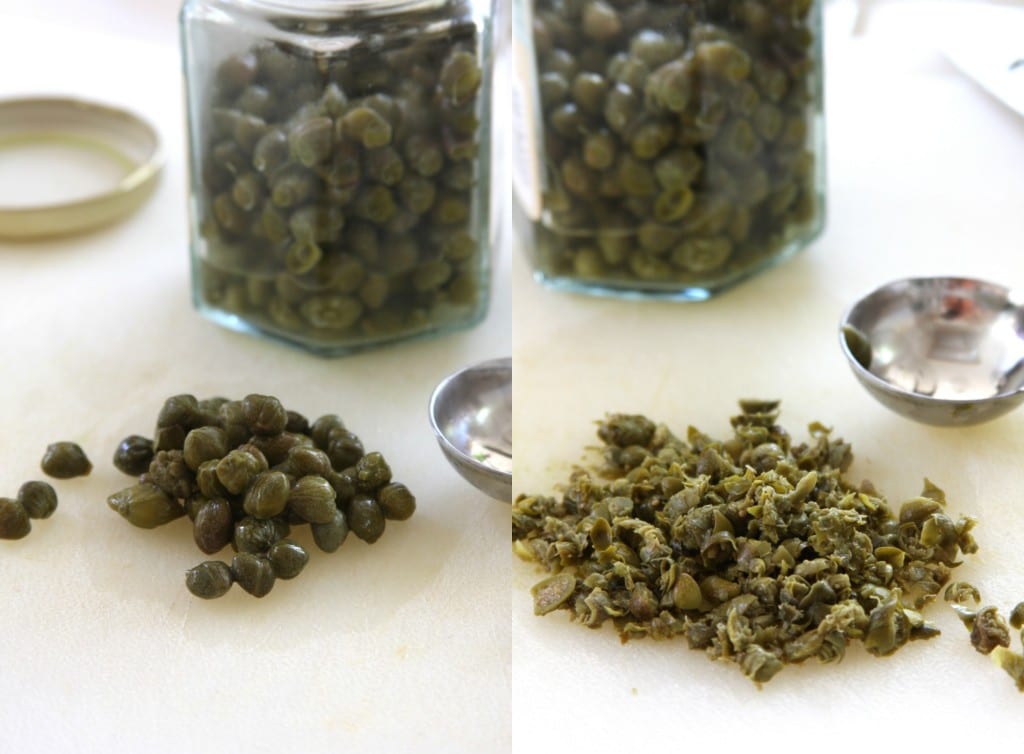 What Is Italian Parsley
Italian parsley, also known as flat leaf parsley, is an herb that adds a robust freshness to the dish. Just as a word of caution, Italian parsley is usually side by side with the cilantro at the grocery store. They can often be confused with one another by appearance but are very different in taste. You will definitely want to make sure that you don't accidentally pick up cilantro.
Italian Parsley Substitute
If fresh Italian parsley is not available here are a few alternatives.
1 bunch fresh basil leaves julienned and added at the very end.
1 tbsp dried basil added to the oil at the same time as the capers.
2 tbsp fresh oregano leaves that have been julienned.
1 1/2 tsp dried oregano add at the same time as the capers.
How To Cook Spaghetti Noodles
Let's talk pasta for a minute. It has become extremely popular to make one-pot pasta dishes. I can understand the appeal with the simplicity of not having to clean multiple pans. I have even contemplated creating one or two of these recipes, however, I just can't bring myself to do it. Every ounce of Italian in me screams "NO, DON"T DO IT!!!". There is nothing like cooking pasta in heavily salted water to al dente (almost done). It brings a layer of flavor to the dish that is just wonderful. Here are some tips with how to cook spaghetti.
Use a large stockpot filled 3/4 of the way full with cold water.
As the water comes to a boil, heavily salt it to taste like sea water.
Add the noodles to the boiling water making sure to stir a few times to prevent the them from sticking together and do not cover while they cook.
Watch the noodles carefully in the last few minutes of cooking to make sure they cook to al dente, with a slight firmness to them (almost done). The best way to do this is to taste test. Trust me on this, your mouth will know.
How To Make Tomato Caper Pasta
While the water is coming to a boil for the pasta, clean and prepare your veggies.
Once the noodles are cooking, heat the olive oil, garlic and rosemary sprig over medium/low to medium heat in a large skillet just until the garlic begins to bubble, about 3-5 mins. This will infuse the oil with the flavors of rosemary and garlic. At this point, add the capers and continue to cook for about another 2 mins. Raise the heat a bit, add the tomatoes and simmer just until they begin to fall apart about 2-3 mins. Add the parsley and cook for another couple of minutes. Toss in cooked al dente noodles.
Once you have your gorgeous al dente pasta swimming in the luscious tomato caper sauce, shred Parmigiana Reggiani over each individual's plate to each person's taste preference. (HMMMM….my mouth is watering just thinking about it.) This Tomato Caper Pasta goes great with a crisp glass of white wine and a side salad.
Helpful Tips For Tomato Caper Pasta
Eating pasta guilt free is absolutely possible with De Boles Organic Pasta.
Serving spaghetti can often be a tricky mess. This tool makes it 1,00% easier.
I am often scolded for the amount of sea salt added to the boiling water for the pasta. Many feel that it is entirely too much salt. The trick to remember is that the pasta should be boiled in plenty of water so that it has room to move while it is boiling. Pasta also should be boiled in water that tastes like sea water and 3-4 tbsp is the amount needed to accomplish that. It helps to impart an extra layer of flavor that makes this pasta dish absolutely delicious.
I am a huge fan of the safety and durability of using stainless steel for cooking may dishes. For many switching from nonstick to stainless steel feels like a daunting and expensive task. This quality set is the perfect solution. It has the basics, is incredibly affordable and come with extremely high ratings.
More Flavorful Italian Recipes
Bruschetta with Balsamic Reduction
Gnocchi Asparagus and Mushroom Skillet
Italian Sweet and Sour Chicken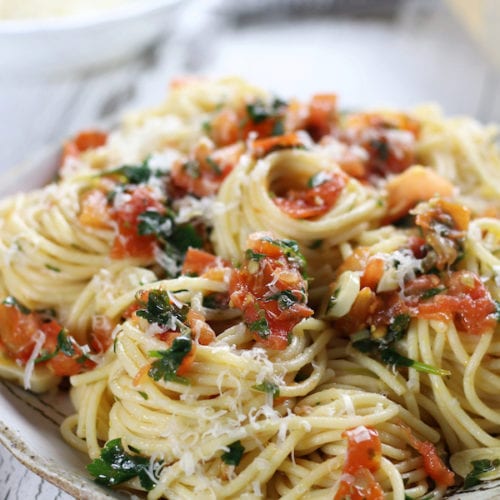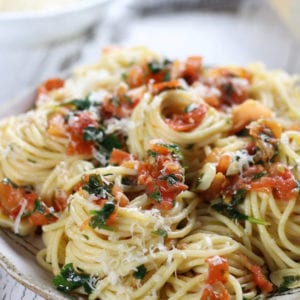 Tomato Caper Pasta
Fresh tomato caper sauce surrounds luscious al dente pasta. A light and savory dish perfect with a chilled glass of white wine.
Print
Pin
Rate
Ingredients
12-13

oz

spaghetti noodles

3-4

tbsp

sea salt

*for pasta water

1/2

cup

extra virgin olive oil

4-5

cloves

garlic

*thinly sliced

1

sprig

rosemary

1

heaping tbsp

capers

*finely chopped

5

med

vine ripened tomatoes

*diced about 2 1/2 cups

1

med bunch

Italian parsley

*finely chopped about 1 1/2 cups

Freshly grated Parmigiana Reggiani cheese *optional
Instructions
Fill a 6 qt stockpot 3/4 of the way full with cold water. Bring to a boil over high heat. Once boiling add enough sea salt to make the water taste like sea water (3-4 tbsp).

Add pasta and bring back to a boil, stirring occasionally to ensure noodles do not stick together. Cook to al dente, with a slight firmness and almost done. Taste testing is the best way to achieve al dente.

Once cooked drain and set aside until tomato caper sauce is complete.

Meanwhile, as the water for the pasta comes to a boil, prep remaining ingredients.

Once the pasta is cooking, place olive oil, garlic and rosemary in a large skillet pan over med/low to med heat. Heat just until garlic begins to bubble, about 3-5 mins.

Add capers and continue to heat for another 2 mins.

Raise the heat a bit, add the tomatoes & simmer just until they begin to fall apart, about 2-3 mins.

Add parsley & cook for another couple of minutes.

Toss in al dente noodles.

Top with freshly grated Parmigiana Reggiani cheese.
Notes
*Please use as many organic ingredients as possible.*
Nutrition
Calories:
377
kcal
|
Carbohydrates:
44
g
|
Protein:
8
g
|
Fat:
19
g
|
Saturated Fat:
3
g
|
Sodium:
3498
mg
|
Potassium:
196
mg
|
Fiber:
2
g
|
Sugar:
2
g
|
Vitamin A:
229
IU
|
Vitamin C:
4
mg
|
Calcium:
20
mg
|
Iron:
1
mg