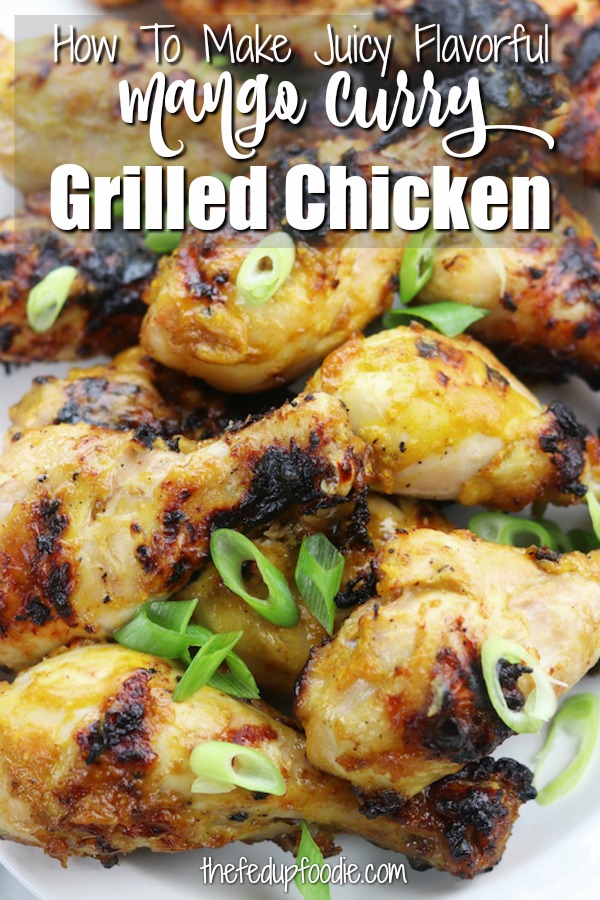 Mango Curry Grilled Chicken recipe creates tender sweet and savory grilled chicken. Simple ingredients are mixed together, poured over the chicken, marinated overnight and then grilled the next day to create the best tasting chicken for anytime of the year. An absolute favorite!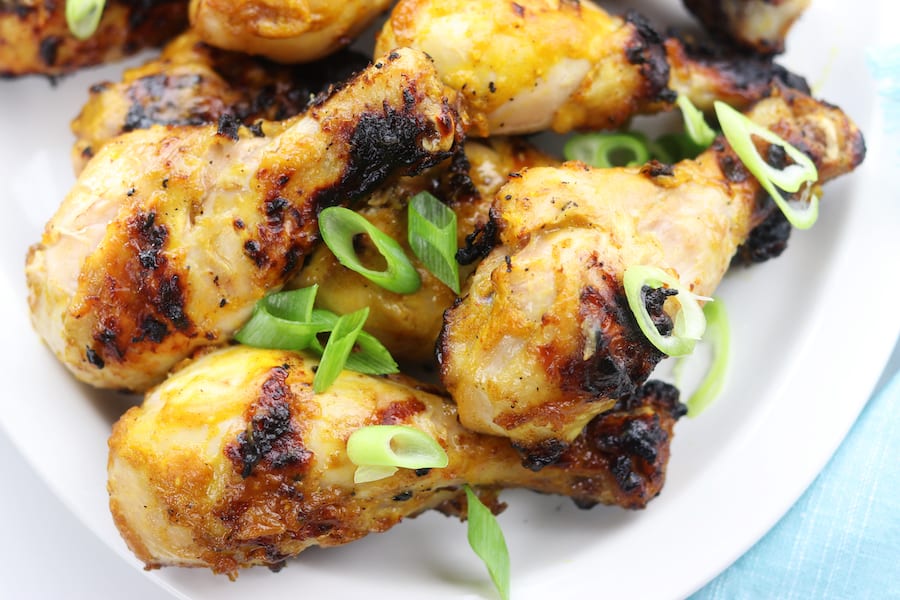 This post may contain affiliate links which I earn a small portion in sales if a purchase is made. Rest assured though, it is never at any additional cost to you.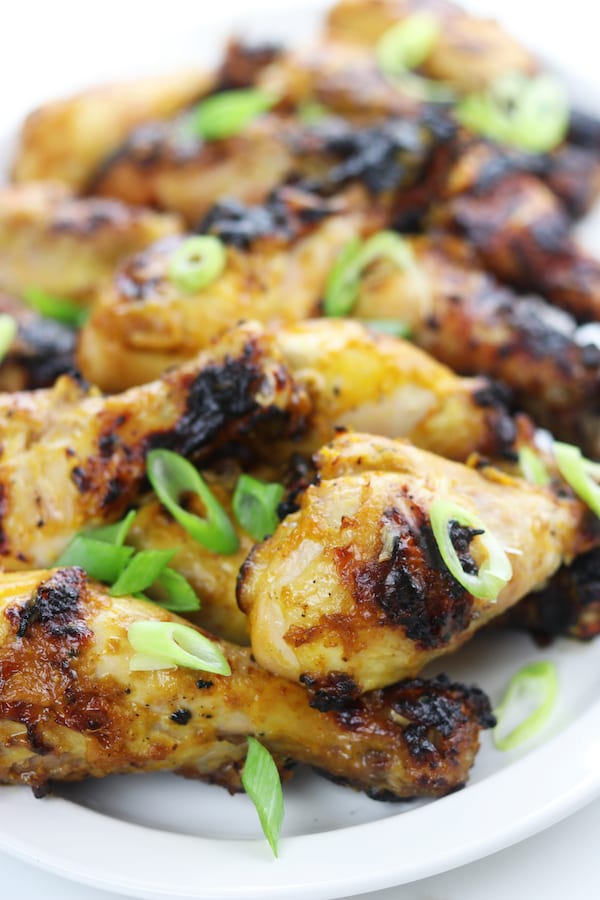 Anyone who knows me or has followed my blog knows what a huge wimp I am when it comes to summer heat. I am not a fan AT ALL! Unless I am lounging by the pool with a drink in hand, I usually am pretty grumpy about humidity and stickiness and bugs.!!!! BLAH!!! And I have to say this whole adulting thing really gets in the way of the whole lounging by the pool thing. In spite of all my summer grumbling, there are a few things I adore about the summer months, like for example, this Mango Curry Grilled Chicken. I have really been in love with mango and curry this summer after creating Mango Shrimp Salsa and Chicken Sweet Potato Curry. Then I watched Guy Fieri's video doing his version of Mango Chicken and it hit me. Marrying mango and curry together would be a dream come true. Here's the thing though, this Mango Curry Grilled Chicken is soooo delicious I can see my family asking for this on Labor Day, Halloween, Christmas, New Years and Super Bowl. If you have any kind of family get together and your family enjoy mango, then you have to give this Mango Curry Grilled Chicken a try. You won't regret it!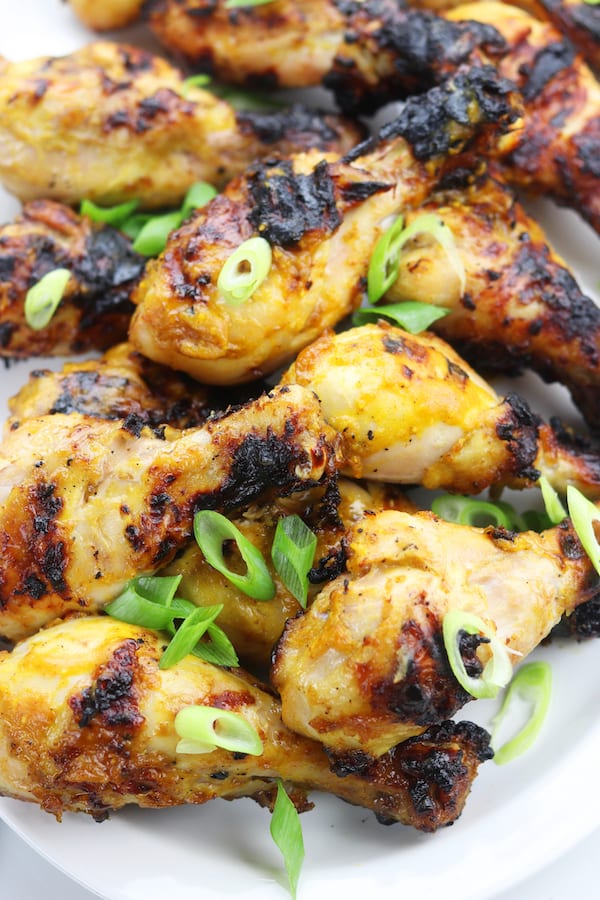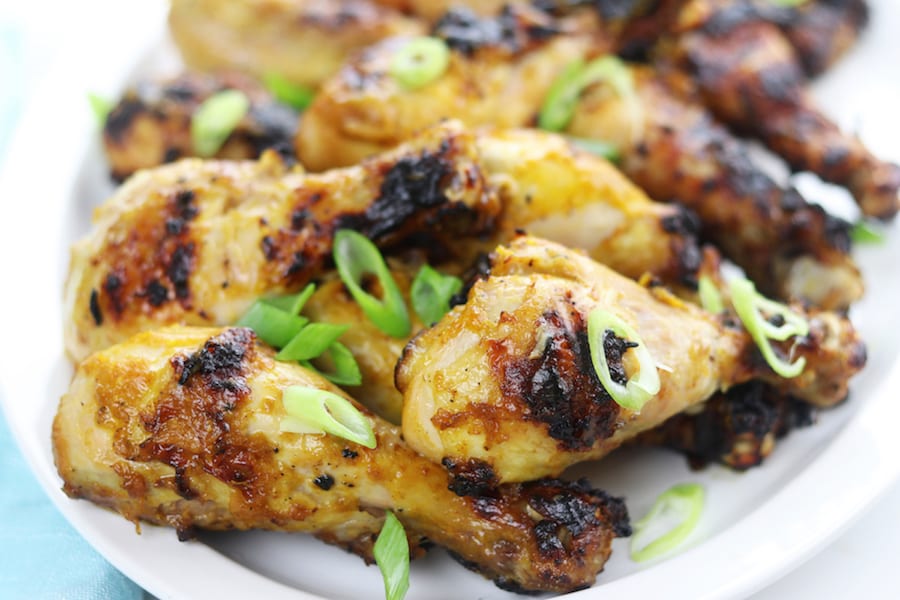 What is Curry Powder?
Curry powder is a mixture of the following dried spices but to varying degrees: turmeric, coriander, cumin, cinnamon, ginger, ground mustard seeds, fenugreek, cardamon, cloves, nutmeg, cayenne pepper and black pepper. With all the spices not only does it have a plethora of health benefits but makes all kinds of dishes taste incredibly flavorful. Something to keep in mind is that some brands can run really spicy and others are mild. My personal favorite is Simply Organic Curry Powder as it has a mild heat to it. (affiliate)
Tips about Mango Curry Grilled Chicken:
If you will have anyone eating this Mango Curry Grilled Chicken that has tender taste buds just remove the jalapeño seeds before blending the sauce to help keep the heat down.
You can use either fresh or frozen mango. I used frozen mango for this recipe by measuring about 3 1/2 cups of frozen mango into a glass measuring cup. Don't worry if the frozen mango is a little over 3 1/2 cups. The sauce will still taste phenomenal. (affiliate)
To blend the sauce you can use either a blender or food processor. I used a food processor and it worked great. (affiliate)
When making this recipe you will have to make the decision if you want your mango curry sauce to be chunky or smooth. I have made the recipe both ways and thoroughly enjoy both. To make the sauce smoother blend the ingredient and then run the sauce through a fine mesh colander. This approach adds an extra 10 minutes onto the preparation time. To do this, place a fine mesh colander over the top of a large glass bowl or large glass measuring cup. Pour blended sauce into colander and using an bowl scraper, scrape down sides of colander forcing smooth part of sauce into bowl. Once this is completed you will have all the pulp left in the strainer and all the smooth part of the sauce in the glass bowl. (affiliate)
Here are some of my favorite additional products that I used for this Mango Curry Grilled Chicken: Organic Rice, Vinegar, Avocado Oil, Smoked Paprika and Organic Tamari. (affiliate)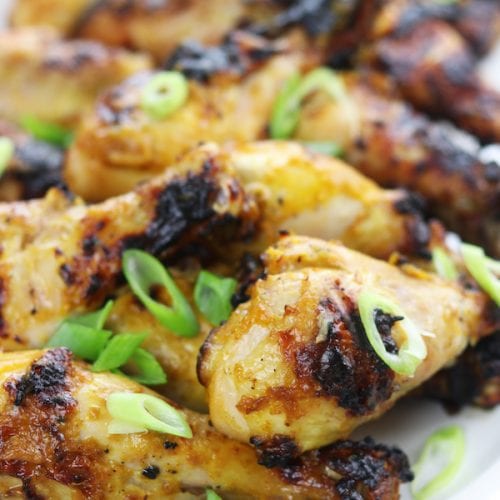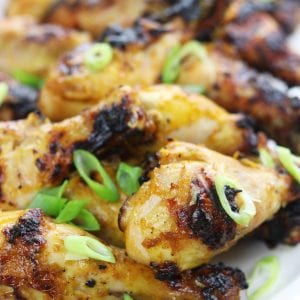 Mango Curry Grilled Chicken
Sweet, savory, tender and juicy grilled chicken.
Print
Pin
Rate
Ingredients
Mango Sauce & Marinade
2 1/2

cups

mango chunks

3 1/2 cups frozen *about 2-3 fresh mangos

1

large jalapeño

6

cloves

garlic *peeled

1

inch

piece fresh ginger *peeled

1

tbsp

rice vinegar

2

tbsp

soy sauce or Tamari

2

tsp

curry powder

1

tsp

smoked paprika

1/2

tsp

salt

1/4

tsp

pepper

1/4

cup

lime juice *about 2 juicy limes

1/4

cup

oil
Chicken
4- 4 1/2

lbs

chicken legs
Instructions
Place all ingredients for sauce in a blender or food processor and blend for 4-5 minutes. (For smooth sauce process through fine mesh colander. See notes above under Tips.)

Place chicken legs in large glass lasagna pan or in ziplock bags and pour sauce over chicken making sure to cover all sides of legs. Marinate in refrigerator over night or up to 24 hours.

Once marinated, pull chicken from sauce and place back in refrigerator until ready to grill. Place sauce in a sauce pan and simmer over medium heat stirring consistently for about 10-12 minutes. Divide half of sauce for basting chicken and other half as a condiment for serving.

Preheat grill over medium-high heat. Turn and baste chicken with sauce every 3 to 4 minutes. Cook until internal temperature reaches 165℉, approximately 20-25 mins. Serve with reserved sauce.
Notes
*Please use as many organic ingredients as possible.*
Nutrition
Calories:
498
kcal
|
Carbohydrates:
13
g
|
Protein:
64
g
|
Fat:
20
g
|
Saturated Fat:
3
g
|
Cholesterol:
233
mg
|
Sodium:
632
mg
|
Potassium:
859
mg
|
Fiber:
2
g
|
Sugar:
10
g
|
Vitamin A:
1081
IU
|
Vitamin C:
39
mg
|
Calcium:
50
mg
|
Iron:
4
mg
Follow along on Facebook and Pinterest for other savory inspirations.
Check out these other incredibly flavorful recipes: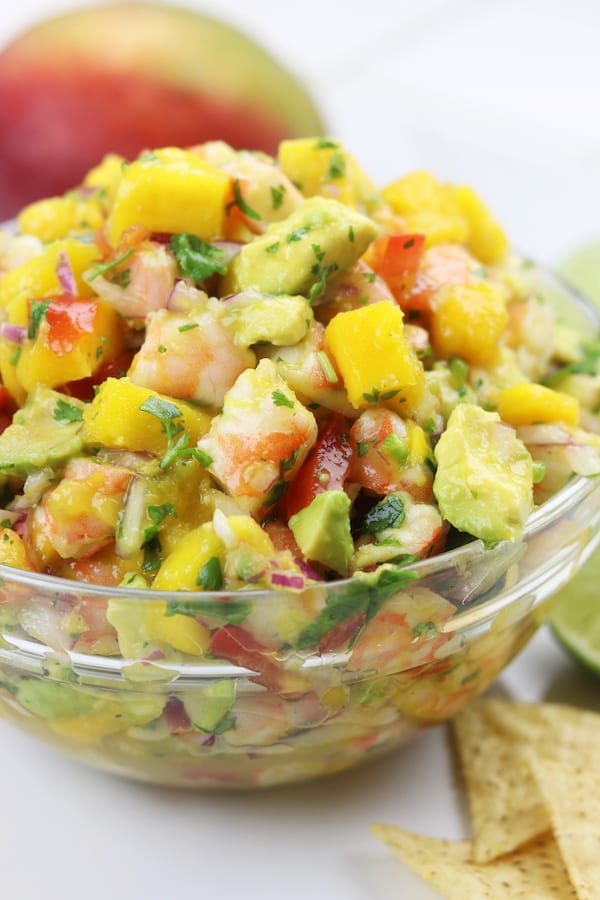 Mango Shrimp Salsa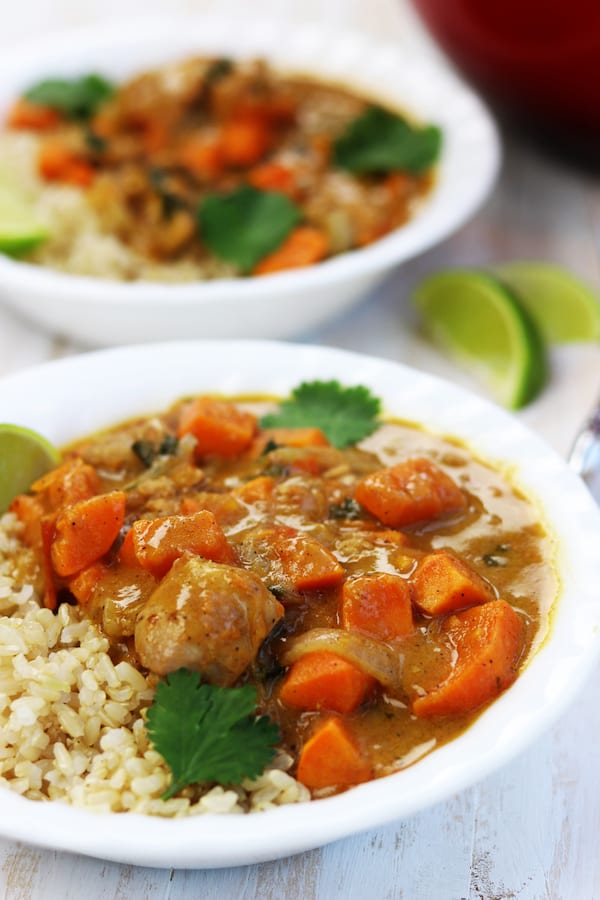 Chicken Sweet Potato Curry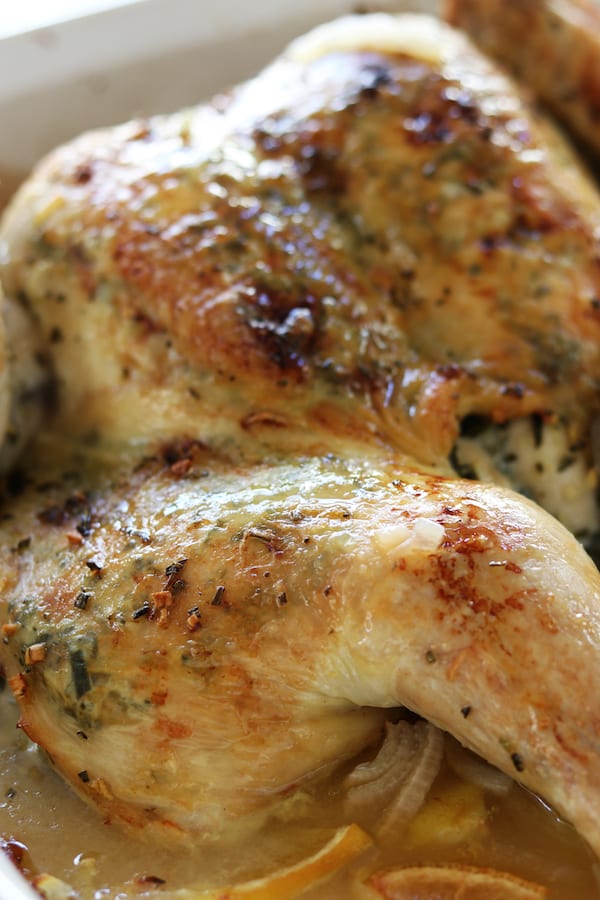 Rosemary Lemon Garlic Chicken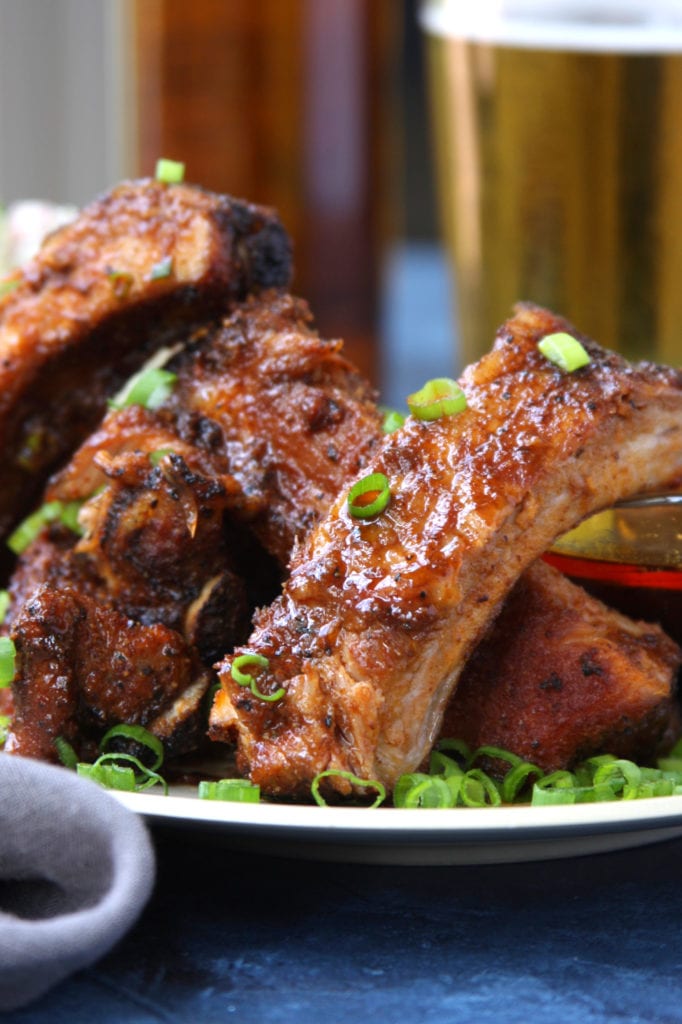 Best Dry Rubbed Ribs of Your Life