This One Pot White Bean Chicken Tomatillo Soup is a hearty and family friendly meal that can be made on the stove top or in the slow cooker. Healthy and delicious, this is an easy comfort food for anytime of year.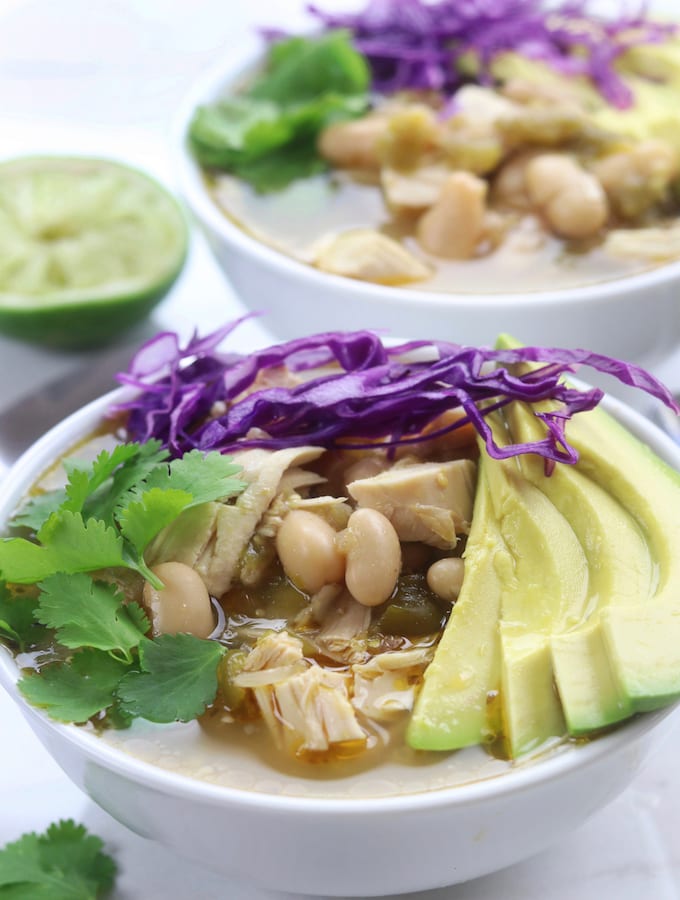 This post may contain affiliate links which I earn a small portion in sales if a purchase is made. Rest assured though, it is never at any additional cost to you.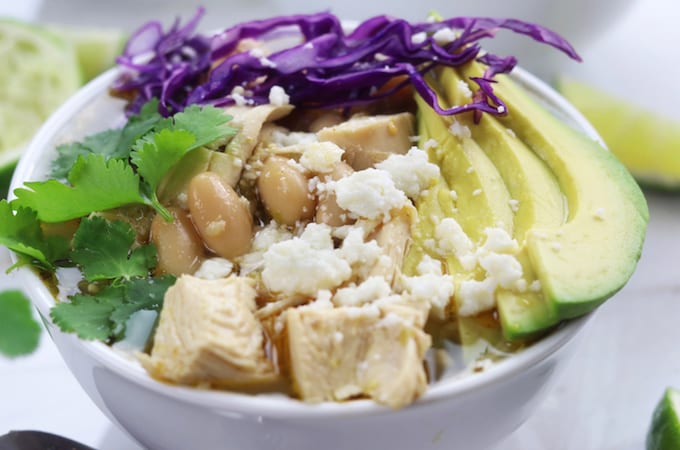 My husband and I have a game that we play almost everyday. Well, I am dead serious every time I ask but it turns into a game.
Towards the end of the day I ask "Where did my day go?"
Inevitably my husband immediately says in his here we go again voice "The same place it always goes."
I carfluffle him out of frustration and then he hugs me, reassuring me that I am working my booty off is why the day seems to fly. I always think, "tomorrow I will get more done".
Funny thing is, tomorrow is always a repeat of the day before. Me feeling like I am chasing my tail and definitely not feeling like I get enough done.
Being a business owner is a tricky thing and sometimes at the end of the day you just need a meal that feels like you are receiving a warm hug. This White Chicken Chili recipe is exactly that.
Not only is this soup wonderfully comforting but the flavor is so incredible because of this classic cooking method, tomatillos, garlic and spices.
Add in the hearty beans, cheese and cabbage and oh my word!!! HEAVEN!!!!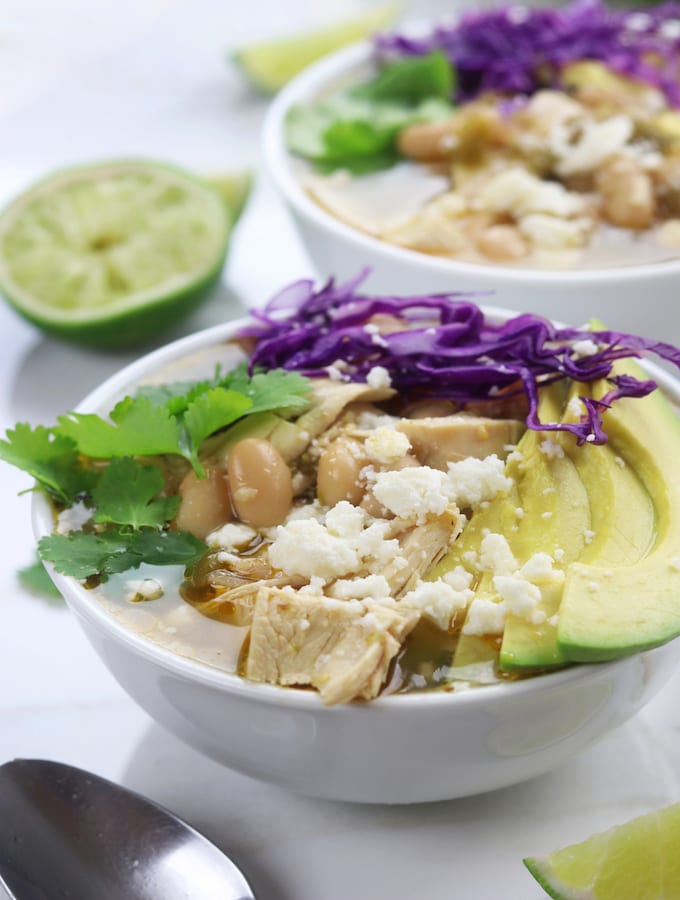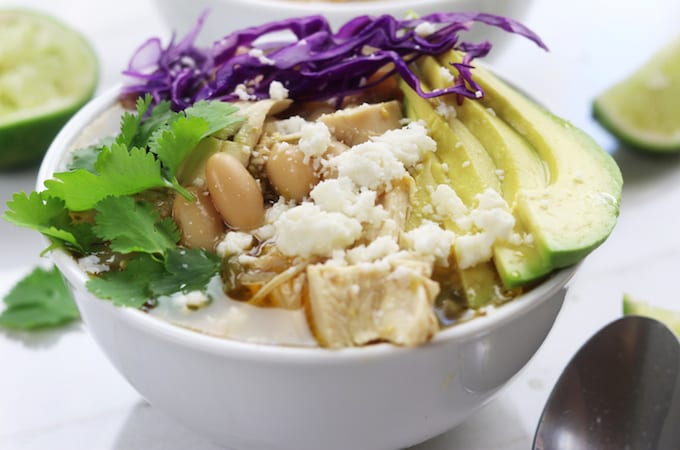 How to make White Bean Chicken Tomatillo Soup in the crockpot
Can I make this soup/chili in the crockpot or slow cooker? Absolutely! Simply sauté onions, jalapeño and spices in oil following the first step of the recipe using a medium sized frying pan. Add whole chicken, garlic, diced tomatillos, broth and contents of the frying pan to the crockpot. Cook on low for 6-8 hours or high for 4-5 hours. Remove chicken and debone following the same steps as recipe. While chicken is cooling add beans to crockpot and turn crockpot to high. Add deboned chicken meat to crockpot and leave on high setting for 30 mins. Salt and pepper to taste and garnish with your favorite toppings.
Why use a whole chicken to make chicken soup from scratch?
Here is the deal. Really good old fashioned chicken soup that is rich and full of flavor is made using a whole chicken that is slowly simmered with the aromatics. (Aromatics are usually herbs, spices, veggies, onions and garlic that gives the soup extra layers of flavor. Check out this great article for more details.) Using this cooking method does a few things. It creates ridiculously tender and juicy chicken pieces that just fall off the bone. The broth ends up being incredibly flavorful not only because of the aromatics, but also because of the chicken skin and bones. Check out my Mom's Chicken Gumbo Soup and Homemade Chicken Noodle Soup using this wonderfully classic cooking method.
Tips for making the best White Chicken Chili recipe using tomatillos
As mentioned above, using a whole chicken creates an absolutely delicious soup but there are a few tricks to removing the cooked chicken before deboning. Usually, by the time the chicken is cooked through, it is so tender it starts to fall off the bone as you are removing it from the pot. You will need a large plate as close to the stockpot as possible in addition to a long handled pair of tongs and a large spoon. The tongs are to grip the chicken and the spoon is to help support the weight as you transfer the chicken. Trust me on this one, you will be glad you used both tongs and a large spoon. (affiliate)
If some of the chicken pieces like wings and legs fall off have no fear. Just carefully spoon them out and debone with the rest of the chicken.
What are tomatillos and do I really need 2 lbs? Tomatillos are like little green Mexican tomatoes that come in a husk and have a mild lime taste. As far as the 2 lbs, YES, YES and YES. If you like salsa verde, you will be so glad that you used this amount. Check out my Homemade Salsa Verde recipe for more tips on tomatillos.
What if I can't find tomatillos at my grocery store? Then adding about 2 cups of your favorite salsa verde at the same time as the beans can do the trick also.
How can I make this soup more or less spicy? If you adore spicy food then you are going to want to add up to 3 jalapeños making sure to add the seeds also. If you are bothered by spicy food just stick to 1 jalapeño and absolutely make sure to remove the seeds before sautéing.
Will this White Bean Chicken Tomatillo Soup taste as good without the garnishes? Yes and no. I know, I know… that sounds like a crazy answer. Here the deal though, this soup is absolutely delicious on its own but add in those toppings and it really becomes heavenly. Because of this I recommend not skipping the garnishes.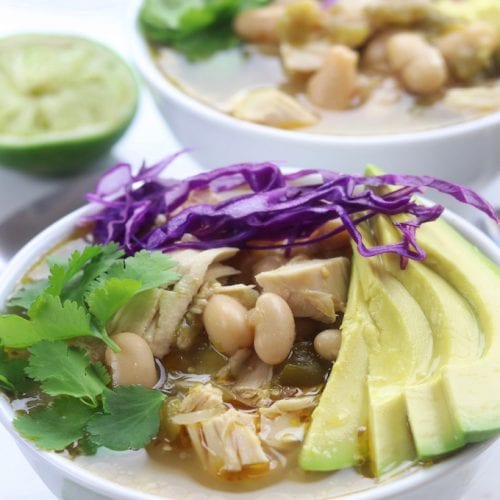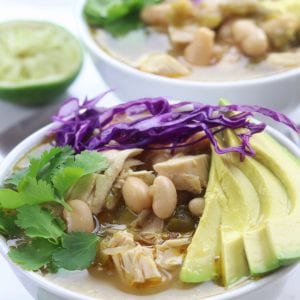 White Bean Chicken Tomatillo Soup
This One Pot White Bean Chicken Tomatillo Soup is a hearty and family friendly meal that can be made on the stovetop or in the slow cooker. Healthy and delicious, this is an easy comfort food for anytime of year.
Print
Pin
Rate
Ingredients
1

5-6 lb

whole chicken

2

tbsp

olive oil

1

large

brown onion

*diced about 2 cups

1

large

jalapeño

*diced (deseed for less heat)

1

tsp

cumin

1

tsp

chili powder

1

tsp

oregano

1 1/2

tsp

coriander

4

large

garlic cloves

*about 2 tbsp minced or crushed

2

lbs

tomatillos (about 10-12 med sized)

*husked, washed & roughly chopped

8 cups (2qts)

chicken broth

2

15.5 oz cans

cannellini beans
For Garnishing
2

cups

thinly sliced red cabbage

12

oz

Queso Fresco

*crumbled

2

avocados

*cut into slices or cubed

1

small bunch

cilantro

2

limes

*cut into wedges

salt & pepper to taste
Instructions
Heat a large stock pot over med/high heat. Add oil and sauté onions until just soft and sweating. Add jalapeño and continue sautéing for another 2 mins. Add spices and sauté for 1 additional min. Turn off heat. Add whole chicken, garlic, chopped tomatillos and broth. Bring to a boil on high heat. Once boiling lower heat, cover and cook on med/low for about 1 hour or until chicken starts to fall off the bone.

Once chicken is cooked turn off heat. Carefully remove chicken from broth and place on a separate plate using long handled tongs and a large spoon. Let chicken cool just long enough to handle safely with hands and then debone.

Place deboned chicken meat back into broth. Open and drain beans. Add to broth. Bring soup back to a simmer over med/high heat.

Once simmering serve individual bowls and salt an pepper to taste. Add your favorite garnishes.
Notes
*Please use as many organic ingredients as possible.* 
Nutrition
Calories:
300
kcal
|
Carbohydrates:
18
g
|
Protein:
11
g
|
Fat:
22
g
|
Saturated Fat:
7
g
|
Cholesterol:
29
mg
|
Sodium:
343
mg
|
Potassium:
728
mg
|
Fiber:
7
g
|
Sugar:
8
g
|
Vitamin A:
995
IU
|
Vitamin C:
41
mg
|
Calcium:
283
mg
|
Iron:
2
mg
Follow along on Facebook and Pinterest for more savory inspirations.
If soup is a comfort food for you then you will love these soups: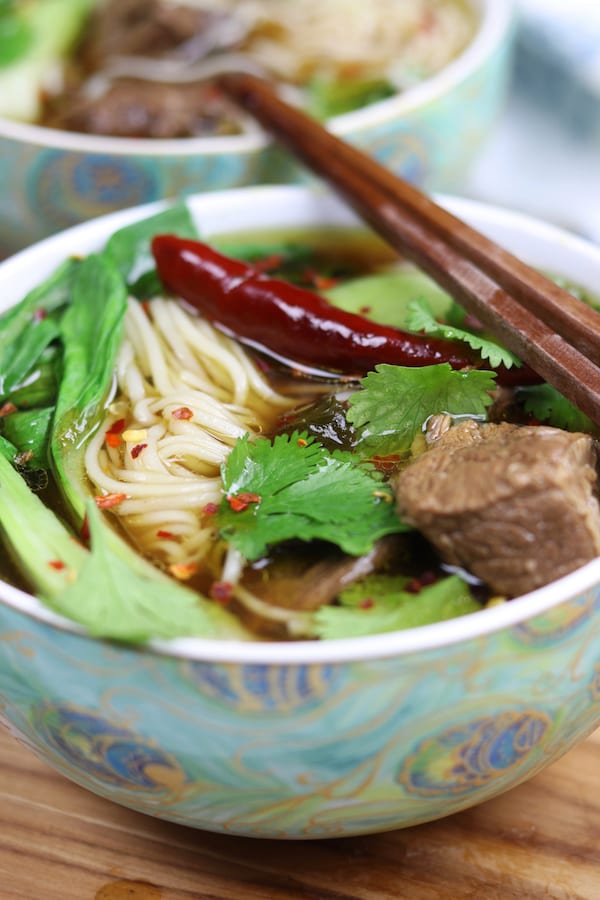 Beef Asian Noodle Soup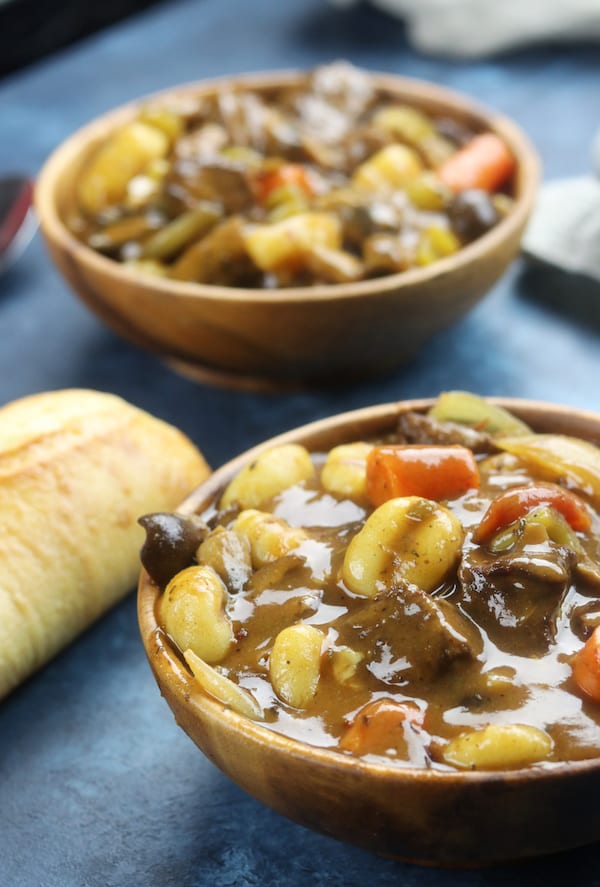 Italian Beef Stew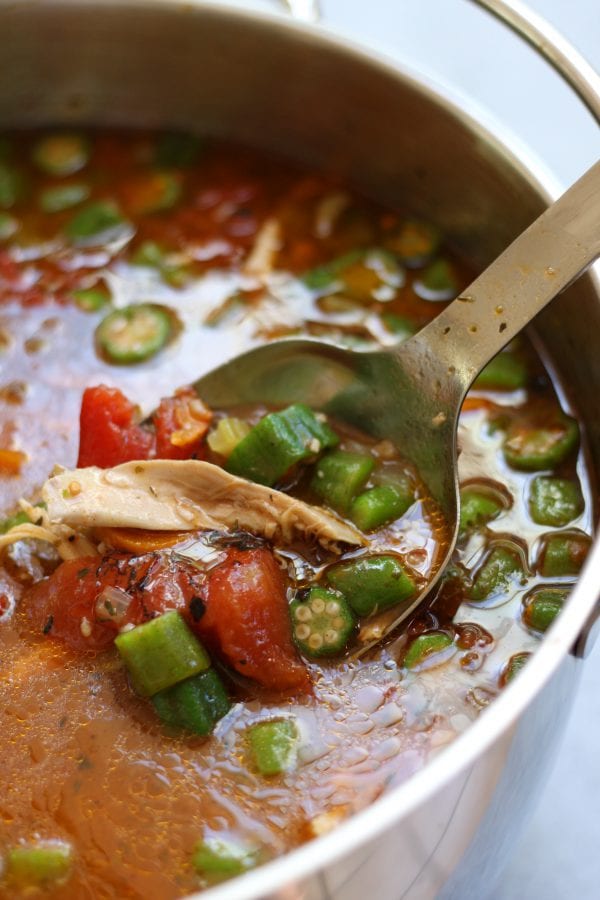 Mom's Chicken Gumbo Soup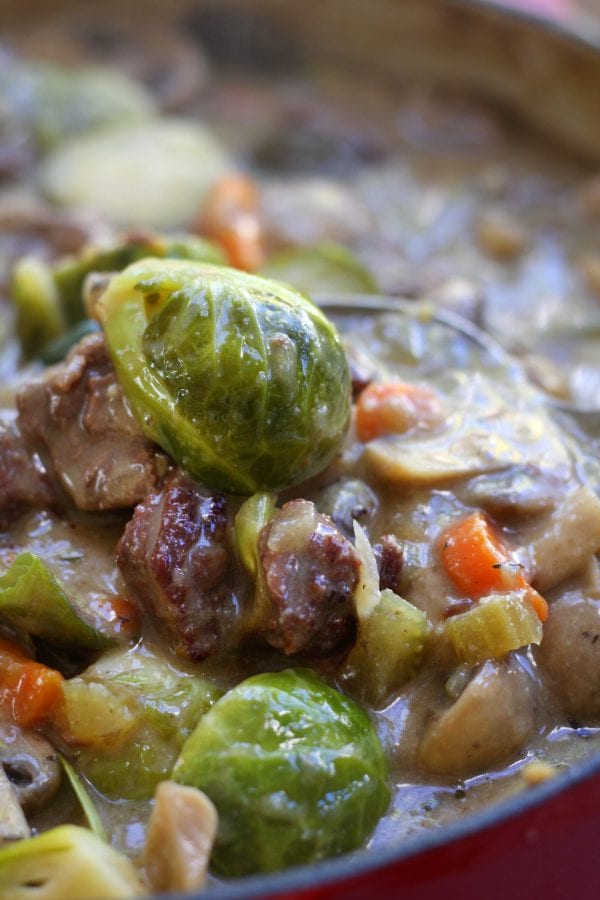 Beef and Brussels Sprouts Stew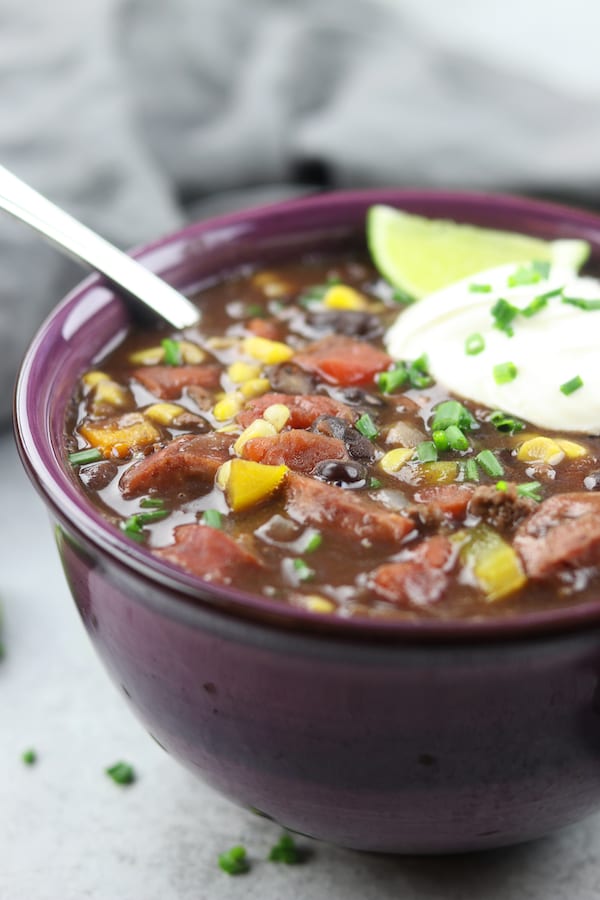 Black Bean Soup