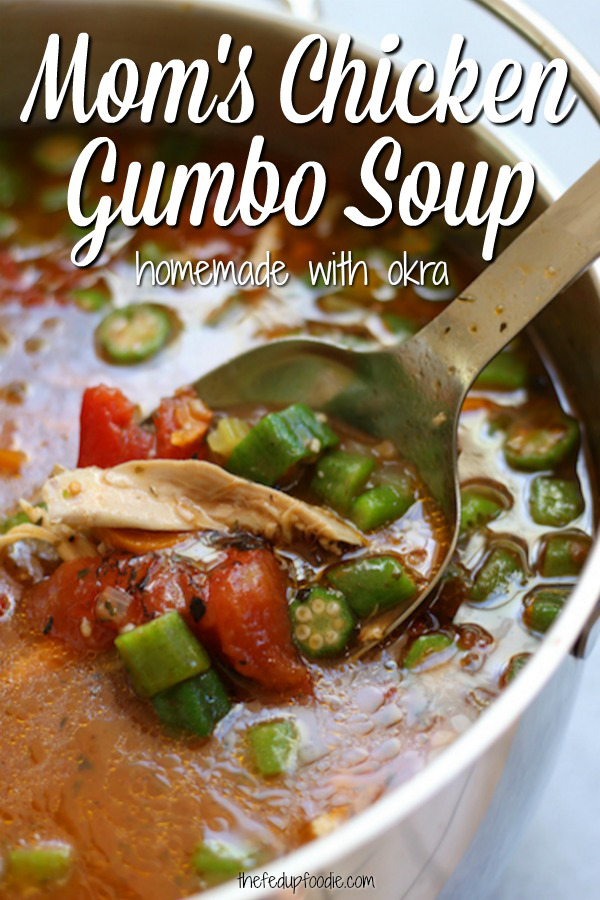 Mom's Chicken Gumbo Soup is a hearty, rich soup that warms you from the inside out while fighting off the winter colds and flu. This soup brings back sweet memories of childhood and is oh so satisfying.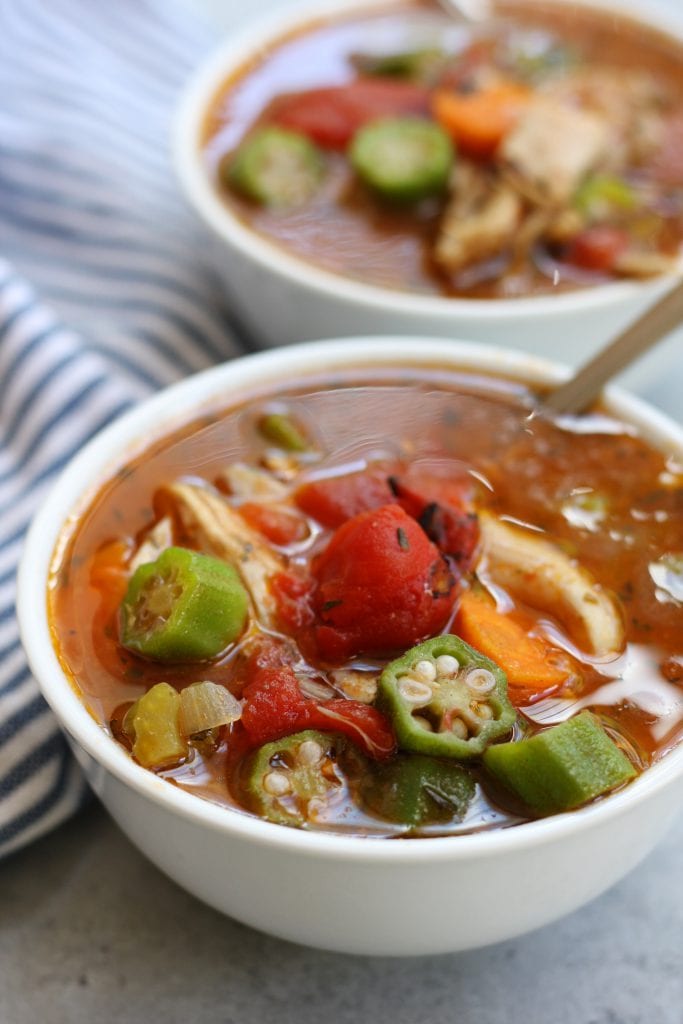 This post may contain affiliate links which I earn a small portion in sales if a purchase is made. Rest assured though, it is never at any additional cost to you.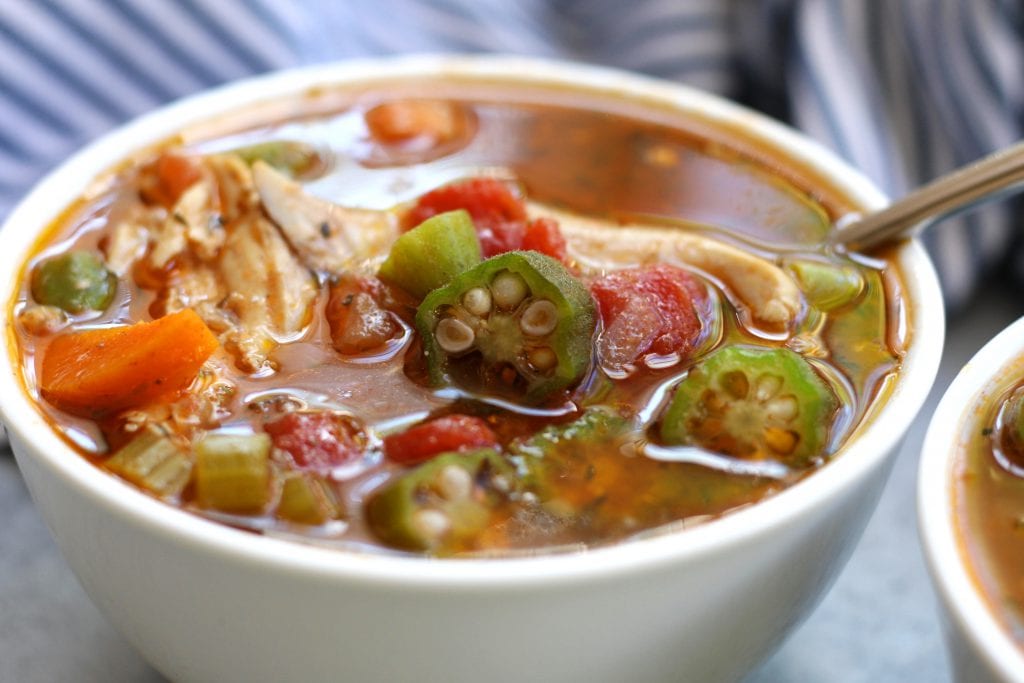 I lose track of time often, which is both a good and bad thing.
I usually always have to ask my husband how old I am because I never remember. That in my book is a very good thing until he tells me my age…
I lose track of how long my husband and I have been married and I lose track of how long it has been since I last saw my sweet mom before she left this world.
While I was making this Mom's Chicken Gumbo Soup recipe I was pondering when the last time I made this soup was and it hit me. The last time was right after her surgery and a few months before she passed.
Then the second realization came, that was 5 years ago. FIVE YEARS…
That amazes me that it has been that long since I held my mom's hand, kissed her cheek and told her how much I love her.
That long since seeing her bunny rabbit nose, her facial expression that symbolized that she loved you. A facial expression that my Grandmother shared that she had done since childhood.
What doesn't surprise me is how quickly my memories of this Mom's Chicken Gumbo Soup recipe came back to me. This soup and how to make it is ingrained in my heart and soul.
This soup is as much part of my family heritage and is part of who I am.
It is the soup that always made any sickness better and it is the soup that sustained us many a winter night.
This recipe is my mom's creation and I thank God that he burned this on my memory because I don't believe this was ever written down. From my family to yours, let the flu fighting begin.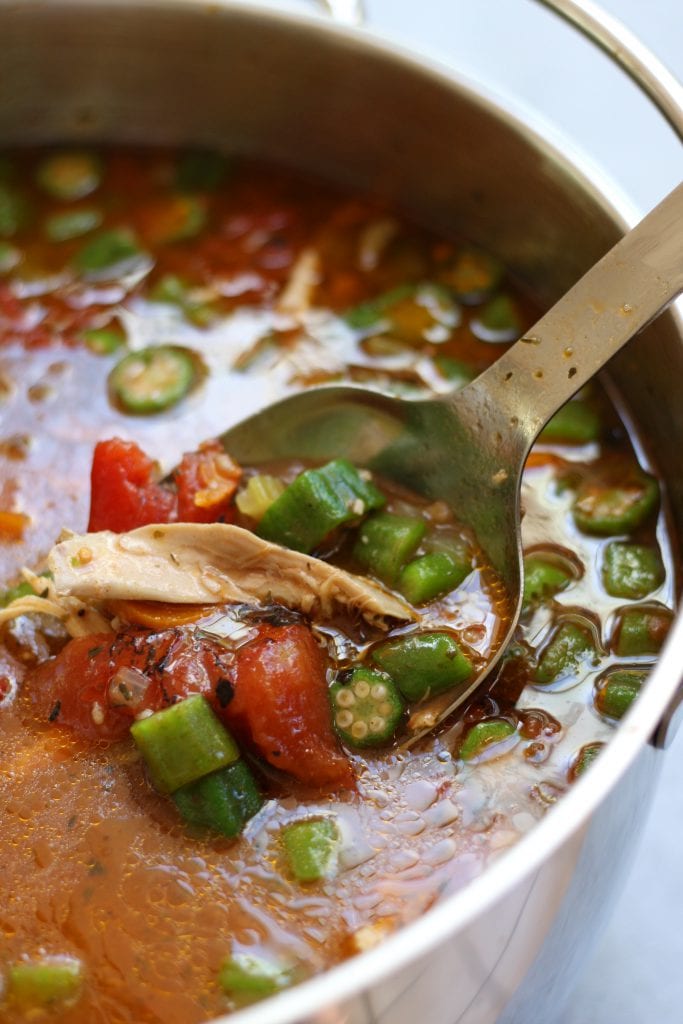 Tips to making Chicken Gumbo Soup that is better than Campbell's:
So what makes this such a flu fighter? There is no scientific evidence showing that this soup fights the flu. All I know is every time I was sick this soup helped me to feel so better. My mom and I always discussed why it was so powerful. We surmised it was the healing benefits of the garlic, onion, chicken broth and the vitamin c from the veggies. Granted, it could have also been my mom's sweet touch that helped also. Personally I think it was all the above.
The amount of garlic & onions may come as a surprise but trust me on this one, it makes this recipe phenomenal.
This soup really is rather easy to make, it just takes a little time. The first step is fill a stockpot with a whole chicken, garlic, onions, carrots, celery, herbs and water. Bring this to a boil and then simmer for about two hours. Pull the whole chicken out and let it cool to the touch, enough to debone the meat.
The second step is to add the rice and tomatoes, cook until rice is tender. Add the okra and bring back to a simmer for 10 mins. Finish off with gumbo filé which is an optional step.
You are probably asking what is gumbo filé? It is a spice that is ground from sassafras leaves and it is the finishing touch to gumbo's. This is an optional step as some love the taste and others are bothered by it. You just have to try it to know how you will feel about this spicy herb. Once the soup is served sprinkled a small amount on individual portions.
This makes a very large portion of soup. I suggest letting it cool in the refrigerator and then freezing half. This will make life so much easier in the holiday months ahead when we all are short on time and energy.
If you don't like okra I am sorry to say, this may not be the soup for you. Often, many people find okra to be slimy but for this Mom's Chicken Gumbo Soup recipe it adds a wonderful hearty thickness.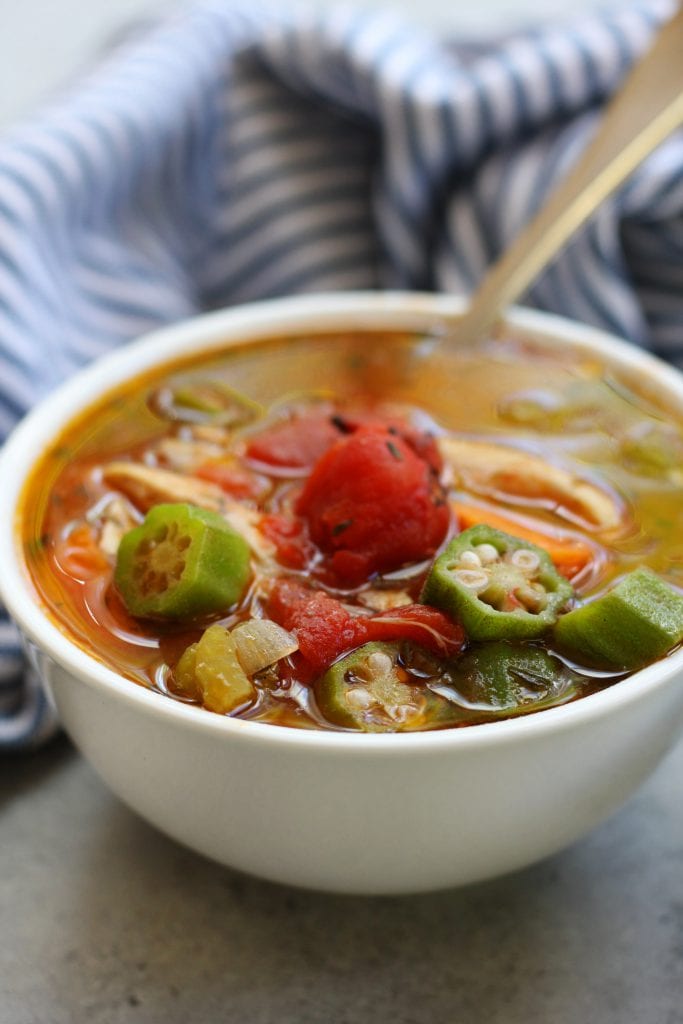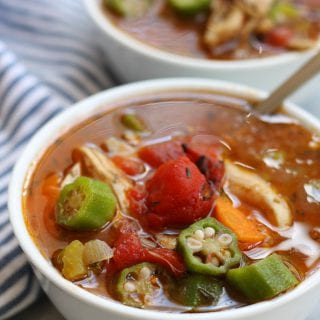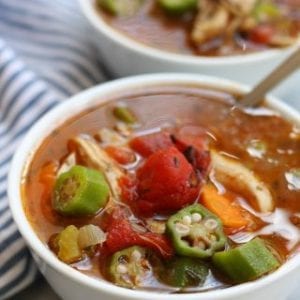 Mom's Chicken Gumbo Soup
A hearty and heart warming soup perfect for fighting off colds and flu.
Print
Pin
Rate
Ingredients
5- 5 1/2

lb

whole chicken

2

med onions *diced about 3 cups

7

garlic cloves *minced or crushed

6

celery stalks *roughly diced about 2 cups

3-4

med sized carrots * diced about 2 cups

2

bay leaves

3

tsp

thyme

2

tsp

marjoram

1 32

oz

container chicken broth

8

cups

water *enough to almost cover chicken fully

2 28

oz

cans whole tomatoes

1/2

cup

short grain brown rice

2

lbs

frozen cut okra

salt & pepper *to taste

gumbo filé *to taste
Instructions
Place the first 10 ingredients in a 12-16 quart stockpot and bring to a boil over high heat. Once boiling lower heat to med/low and simmer for 2 hours or until chicken just begins to fall off the bone.

Using two hands, remove chicken with long handle tongs and a large serving spoon onto a plate to cool. Debone chicken once cool enough to handle, cooling time is about 30 mins. In the meantime rinse rice and add to stockpot along with tomatoes and juice from can. Simmer until rice is tender, approximately 40 mins. Once rice is tender add deboned chicken and okra. Bring back to a slow boil and simmer for about 10 minutes or desired tenderness of okra. Salt and Pepper to taste.

Once served sprinkle on gumbo filé to taste preference. This is an optional step.
Notes
*Please use as many organic ingredients as possible.*
Nutrition
Calories:
302
kcal
|
Carbohydrates:
24
g
|
Protein:
21
g
|
Fat:
4
g
|
Saturated Fat:
1
g
|
Cholesterol:
51
mg
|
Sodium:
549
mg
|
Potassium:
694
mg
|
Fiber:
5
g
|
Sugar:
6
g
|
Vitamin A:
3935
IU
|
Vitamin C:
40
mg
|
Calcium:
137
mg
|
Iron:
4
mg
Follow along on Facebook and Pinterest for more savory inspirations.
If you love soup then check out these recipes: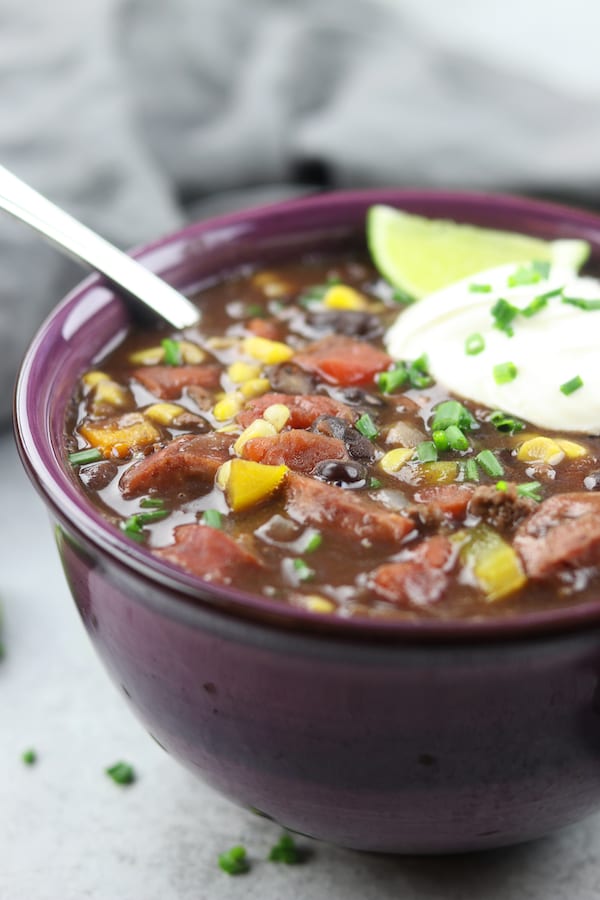 Black Bean Soup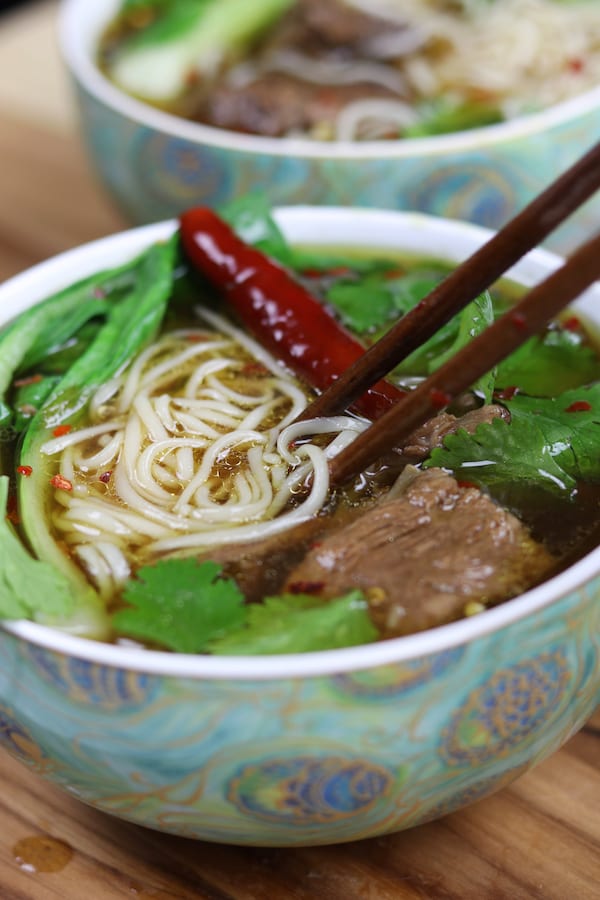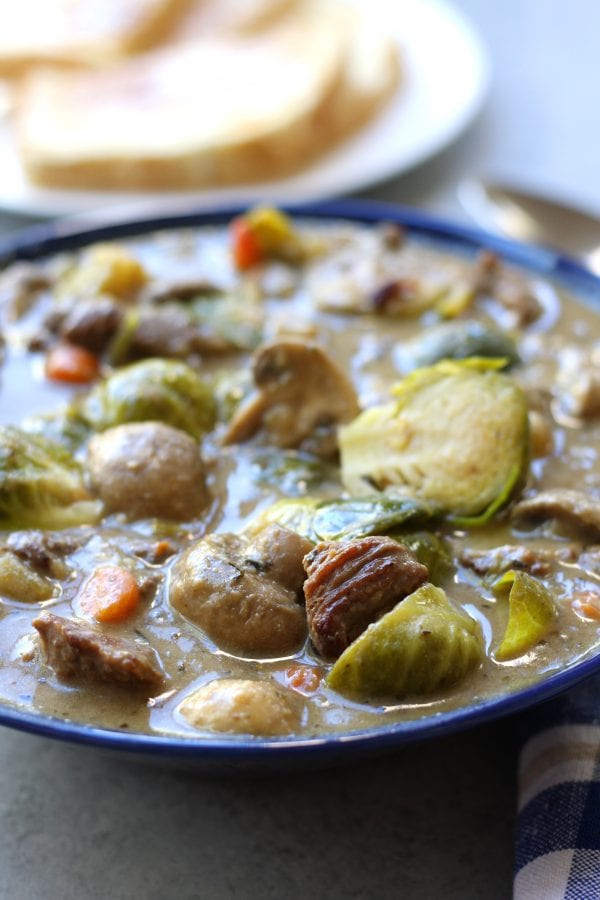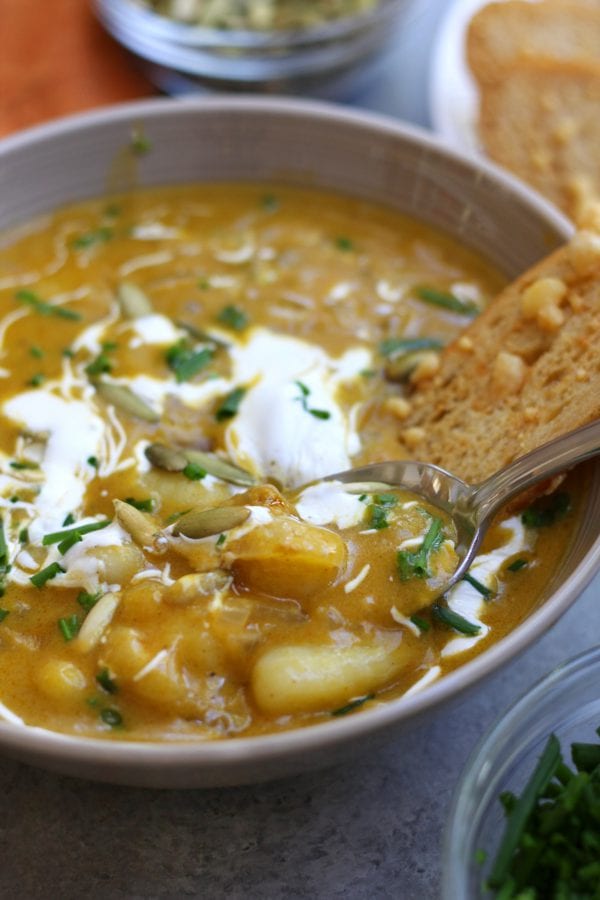 Pumpkin Gnocchi Soup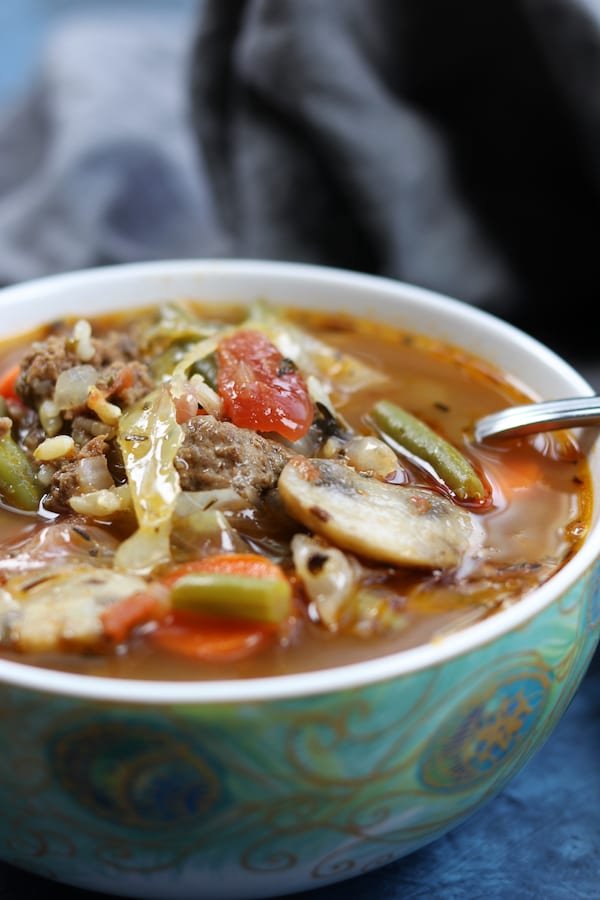 Hamburger Veggie Soup
This recipe is part of Food Network's Fall Fest recipe round up. For more soup inspiration check out:
The Lemon Bowl: Slow Cooker Chicken Pho
A Mind "Full" Mom: Healing Chicken Soup
In Jennie's Kitchen: Roasted Butternut Squash Soup with Coconut & Lime
Foodtastic Mom: Slow-Cooker Squash Soup
Hey Grill Hey: Smoke Roasted Tomato Soup with Basil Cream
Devour: 4 One-Pot Soups, Because Who Has Time to Do the Dishes?
Elephants and the Coconut Trees: Sweet Corn Soup
Creative Culinary: Roasted Poblano Pepper and Corn Soup
Healthy Eats: How to Transform Summer Tomatoes into Comforting Fall Soups
The Mom 100: Thai Chicken Noodle Soup
The Wimpy Vegetarian: Italian Chickpea Stew with Swiss Chard
Taste with the Eyes: Michel Richard's Asian Bistro Soup with Shrimp
FN Dish: The Very First Soup Recipes You Should Be Making This Fall
This recipe is also proudly part of Meal Plan Monday.