Italian White Bean Soup tastes like you slaved over a stove all day but it is an easy soup that comes together in just about 30 minutes. Made with cannellini beans, bacon, rosemary and garlic. This soup is quick, easy and tastes amazing.

This post may contain affiliate links which I earn a small portion in sales if a purchase is made. Rest assured though, it is never at any additional cost to you.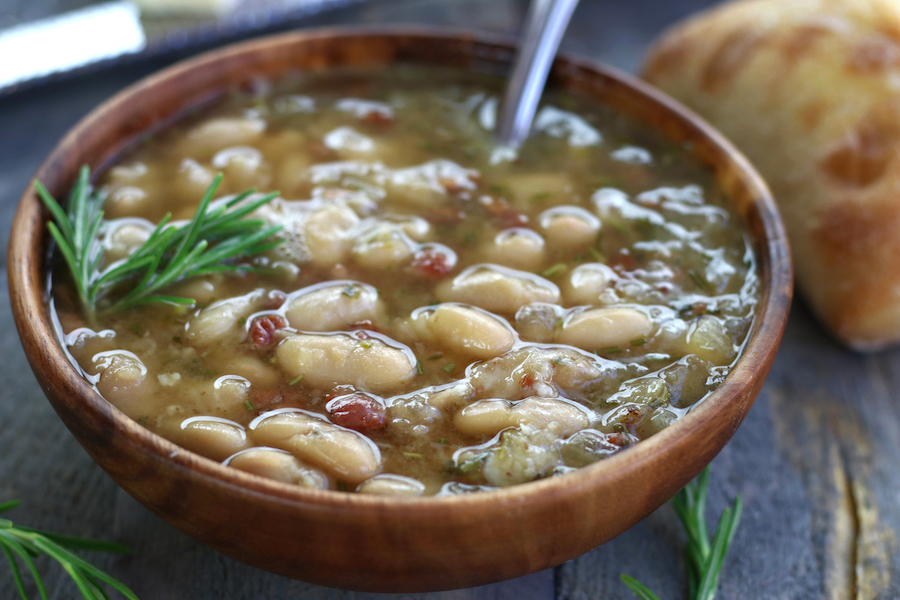 Want to know a secret?
One of my super powers is the ability to make big batches of food.
This skill has served me well anytime I have been in charge of throwing a party. Why? Because we never ran out of food. People could eat for days off of what I planned for the one get together.
Originally, how this super power came about was the direct influence of my mom. She was the oldest of 9 daughters and meals at her house growing up had to always be large enough to feed many.
Once you are used to cooking large portions, it is very challenging to transition to making smaller portions for a smaller family.
This is how I learned to cook.
Today however, it benefits me because I don't have to cook everyday.
The secret to large batch is to make recipes that you love. Additionally, either you make one meal and spread it out over the course of three days or you freeze it in smaller batches for easy meal prep later in the month.
Some of my favorite large batch recipes that I freeze are my Hearty Homemade Chili, Freezer Black Bean Burritos, Black Bean Veggie Burgers and Mom's Chicken Gumbo Soup.
Thankfully though, I have become more skilled at creating smaller recipes that take minimal amount of time and energy to make like this Italian White Bean Soup.
This meal is hearty, tasty and incredibly simple to make.
It is perfect for chilly nights when dinner needs to get on the table quickly.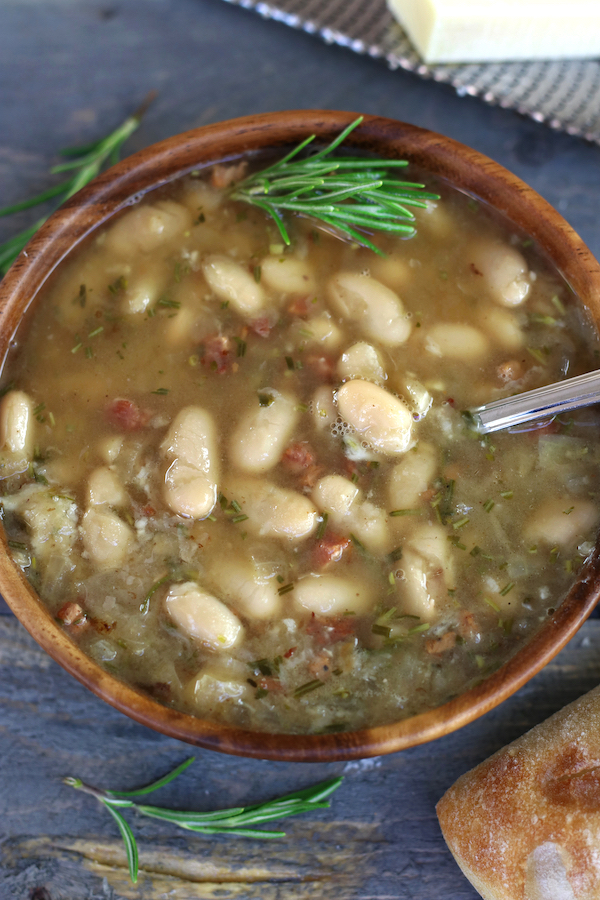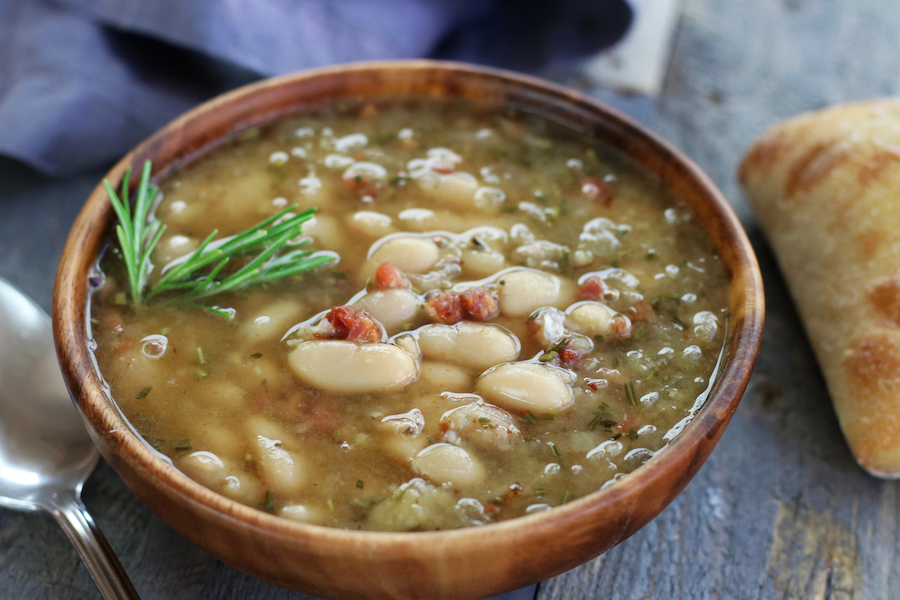 What Are White Beans?
White beans are exactly as they sound, a bean that is white. There are several varieties of white beans however, Navy, Great Northern, Baby Limas and Cannellini are the most common and popular types of white beans.
For this White Bean Soup any of the varities are fine. However, I highly recommend using Cannellini beans as they are tender, hearty and a traditional bean used in Italian cooking.
Canned White Beans
Of all the canned Cannellini Beans, this is my favorite brand. The quality is always extremely high and the beans are cooked to perfection.
Cooking White Beans
If you prefer to limit the amount of processed foods used, cooking dried beans in larger batches and then freezing them is the way to go. To cook dried Cannellini Beans soak 1 lb in cold water over night making sure the water covers the beans by about 6 inches. The next morning drain the beans and add to a large pot. Add 8-10 cups of water or broth to beans and any additional flavorings that are desired (garlic, onion, spices). Bring to a medium boil over medium-high heat and then lower the temperature to medium-low. Cook for about 90 minutes or until the beans are tender. Let cool and the dived into 1 1/2 cup portions to freeze.
Pro Tip: Each 15 oz can of beans holds 1 1/2 cups. Dividing larger batches of beans into these portions and freezing is a wonderful substitution for canned beans. 
Cannellini Beans Nutrition
Not only are Cannellini Beans extremely tasty in many recipes, they also have a good amount of health benefits. Some of the impressive benefits, aiding in weight loss, help in regulating blood sugar and an aid in preventing heart disease. In addition, Cannellini Beans are good sources of fiber, protein, calcium and potassium.
Bacon vs Pancetta
The addition of either bacon or pancetta adds in a delicious salty undertone that helps to marry all the flavors. Either bacon or pancetta is perfectly fine to use. I personally enjoy using pre-diced pancetta from Trader Joes for this recipe because I love the taste and it saves me about 5 mins of prep time.
How To Make Quick and Simple White Bean Soup
Making this soup for busy weeknights is a wonderful way to still have a home cooked meal. Here are the simplified steps to follow:
Drain and rinse beans.
Sauté pancetta until crisp and remove from pan.
Add oil and onions. Sauté for 4-5 mins.
Add garlic and rosemary. Sauté for 1 min and then add broth and bring to a boil.
Put in half of beans to pot and process using this (optional step but makes for delicious texture).
Add remaining beans and  browned pancetta. Simmer covered for 5 mins.
Garnish with parmesan.
Healthy Additional Add Ins
Diced carrot or celery that is sautéed in the pancetta drippings.
6 oz fresh baby spinach that is added at the very end.
Baby kale that is added towards the end of cooking.
1-2 tbsp tomato paste for a deeper richer flavor.
Diced zucchini or yellow squash added in at step #6 from the recipe.
What To Serve With White Bean Soup
Quick & Simple Weeknight Dinners
Panko Crusted Salmon with Dill and Lemon
Easy Weeknight Spinach Pesto Gnocchi
More Delicious & Easy Soups
Green Curry Coconut Chicken Soup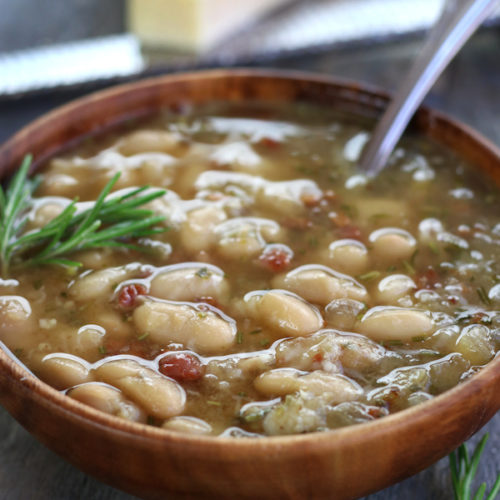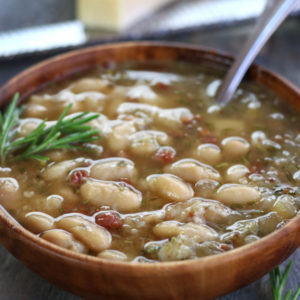 Italian White Bean Soup
Weeknight cooking becomes so much better with this Italian White Bean Soup. Full of Mediterranean flavors and yet so quick and simple to make. This soup is sure to become a family favorite for anyone who loves beans.
Print
Pin
Rate
Ingredients
4

oz

diced pancetta

*or diced bacon

2

tbsp

olive oil

1/2

lg

brown onion

*diced, about 1 cup

4

lg

garlic cloves

*crushed, about 1 heaping tbsp

3

lg

sprigs rosemary

*diced, about 2 tbsp

32

oz

chicken broth

3

15.5 oz cans

cannellini beans

*rinsed, see post for using dried beans

parmesan cheese

*freshly grated as a garnish
Instructions
If using canned beans open cans and rinse beans well. Set aside.

Place pancetta in the bottom of a small stockpot over med/high heat. Cook until browned and crisp stirring often, about 6-8 mins. Remove pancetta from pan and set aside.

Over same heat add olive oil and onions to pancetta pan. Sauté until softened about 4-5 mins.

Add garlic and rosemary. Sauté for 1 additional min.

Add chicken broth and bring to a boil. Once boiling add approximately half of the beans and mash using a potato masher or immersion blender. (This step is optional, however it creates a thicker textured soup.)

Add remaining beans and browned pancetta. Bring to a boil and then lower to a simmer. Simmer covered for 5 mins.

Garnish with freshly grated parmesan.
Notes
*Please use as many organic ingredients as possible. 
Recipe Notes 
If not using fresh rosemary, replace fresh with 1/2 tbsp dried.
Nutrition
Calories:
131
kcal
|
Carbohydrates:
2
g
|
Protein:
3
g
|
Fat:
13
g
|
Saturated Fat:
3
g
|
Cholesterol:
12
mg
|
Sodium:
680
mg
|
Potassium:
158
mg
|
Fiber:
1
g
|
Sugar:
1
g
|
Vitamin A:
16
IU
|
Vitamin C:
11
mg
|
Calcium:
15
mg
|
Iron:
1
mg