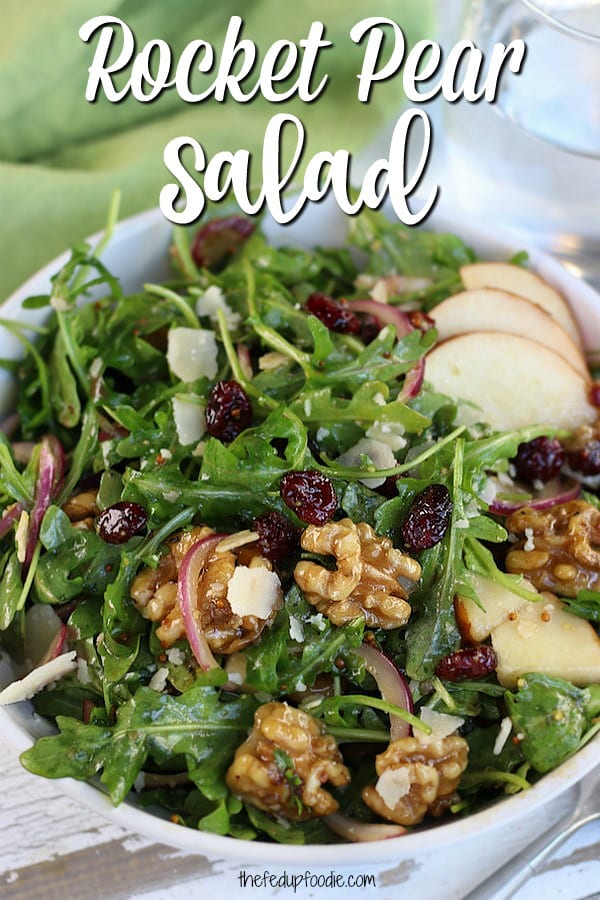 Savory and sweet, this Rocket Pear Salad is a simple and healthy recipe. Perfect as a side dish or light meal with arugula, pear, honey glazed walnuts, parmesan and a balsamic vinaigrette. So delicious and easy, this is sure to become a Fall favorite.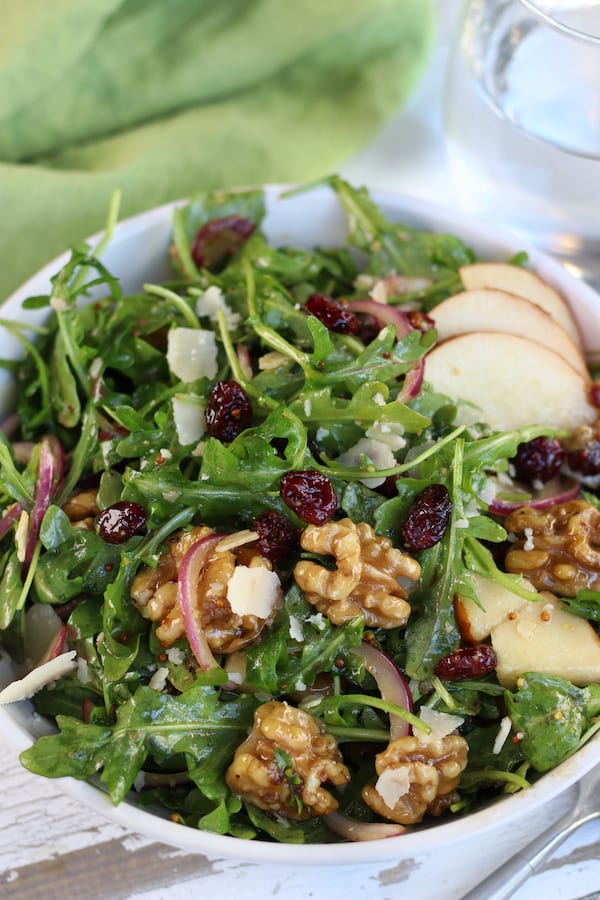 This post may contain affiliate links which I earn a small portion in sales if a purchase is made. Rest assured though, it is never at any additional cost to you.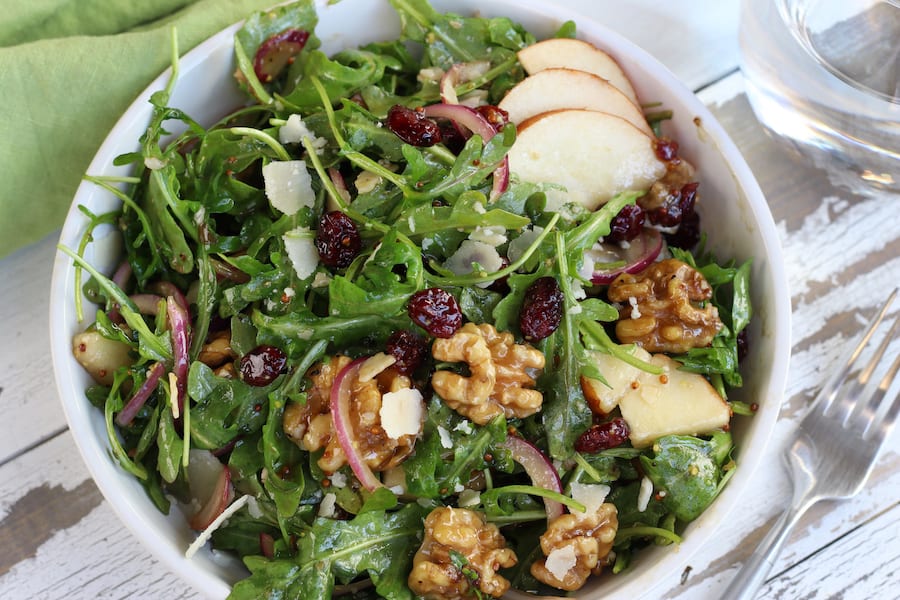 There was a time that I thought eating homemade salads was like eating weeds.
I loved salads, but boy was I a salad snob about making them at home.
That changed in a big way.
Somewhere around the time of being influenced by my friend's salad creations and my commitment to better quality ingredients, I fell in love with my own salads.
I loved all the possible flavor combinations, how satisfying eating a salad for dinner was and how much better I felt.
Fast forward about 15 years and I am still a hard core salad lover.
Honest confession, my biggest obsession and the meal I still eat the most after all these years is a huge salad with my Simple Herbed Lemon Vinaigrette.
It shocks me that I still LOVE eating salads with this dressing so many nights of the week.
However, switching up my selection with delicious recipes like this Rocket Pear Salad helps to keep the boredom from ever setting in.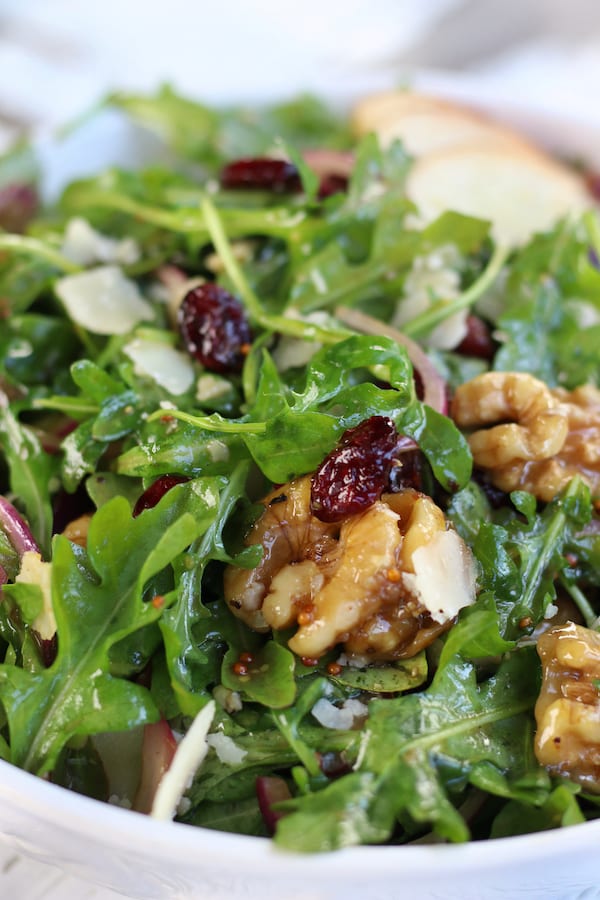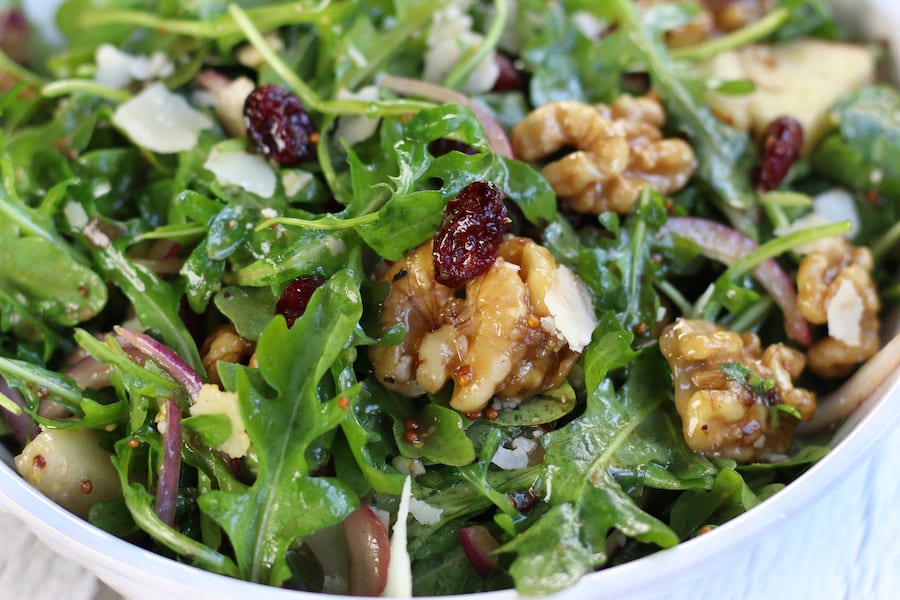 What is Rocket Salad?
Rocket Salad is a salad made of rocket leaves. Rocket Leaves, also know as arugula, are a cruciferous vegetable that works well in all kinds of salads that are dressed with a vinaigrette. The leaves have a peppery and ever so slightly spicy taste, but not worry, they are not hot.
Arugula Nutrition
Arugula leaves are a highly nutritionally dense vegetable packing a punch with calcium, potassium, folate, vitamin C, vitamin K and vitamin A. In addition, arugula has been shown to have many health benefits.
How To Make Rocket Pear Salad
To make this incredibly simple salad, follow these steps:
Whisk together oil, balsamic, dijon, garlic, salt and pepper.
Cut onion and pear.
Add to vinaigrette the arugula, cranberries, parmesan, onion, pear and walnuts
Toss well.
Rocket Salad Ingredients
What makes this salad so incredible is the balance of savory to sweetness and the crisp to buttery textures of ingredients.
coarse dijon mustard
balsamic vinegar
fresh garlic
sea salt
black pepper
red onion
dried sweetened cranberries
arugula leaves
shaved parmesan
Bosc pear
How To Toss a Salad Easily
The easiest way I have found to toss a large salad is to whisk the vinaigrette together in the bottom of a large mixing bowl and then toss using these tongs.
Additional Ingredient Options
Here are some more ideas of other possible flavor combinations.
lemon juice
shallots
dried cherries
green apple
fuji apple
strawberries
feta
goat cheese
bacon
slivered almonds
smoked salmon
What To Serve With Rocket Pear Salad
Lemon Rosemary Chicken and Potatoes
Crispy Baked Rosemary Potatoes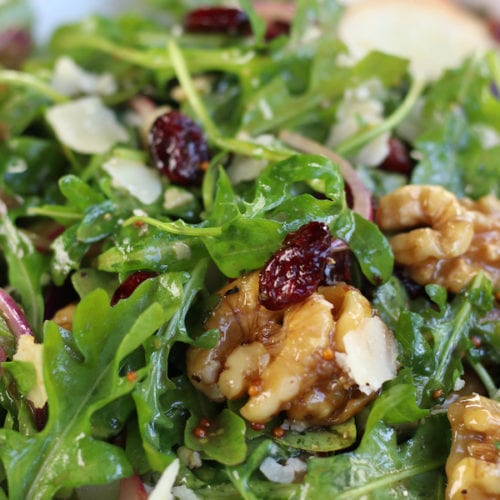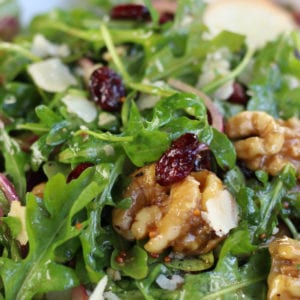 Rocket Pear Salad
Pear, arugula, candied walnuts and a balsamic vinaigrette make for an irresistable side salad or main entree. So good our family can eat this for several nights in a row.
Print
Pin
Rate
Ingredients
Vinaigrette
1/2

cup

extra virgin olive oil

3

tbsp

balsamic vinegar

1

tbsp

coarse grained dijon mustard

1

tbsp

crushed garlic

*about 3 lg garlic cloves

1/2

tsp

sea salt

1/2

tsp

black pepper
For the Salad
1

small

red onion

*cut into thin strips

1/2

cup

dried sweetened cranberries

7

oz bag

arugula leaves

1/2

cup

shaved parmesan

1

lg

bosc pear

*thinly sliced and cut in half

1

cup

Candied Walnuts
Instructions
In a large mixing bowl whisk together olive oil and balsamic and then remaining vinaigrette ingredients.

Add in ingredients for the salad and toss well.
Notes
*Please use as many organic ingredients as possible. 
Recipe Notes
If serving 4, this recipe makes 4 small side salads. 
For those who love salads and are eating this as the main entree, this recipe will serve 1-2 people. 
Nutrition
Calories:
418
kcal
|
Carbohydrates:
23
g
|
Protein:
7
g
|
Fat:
34
g
|
Saturated Fat:
6
g
|
Cholesterol:
9
mg
|
Sodium:
558
mg
|
Potassium:
271
mg
|
Fiber:
3
g
|
Sugar:
18
g
|
Vitamin A:
1290
IU
|
Vitamin C:
10
mg
|
Calcium:
245
mg
|
Iron:
1
mg