This Guacamole Chickpea Salad Sandwich is an extremely tasty and very easy meal that is perfect for lunch or dinner. This recipe can be served on various types of bread, as a salad topping or with chips or crackers.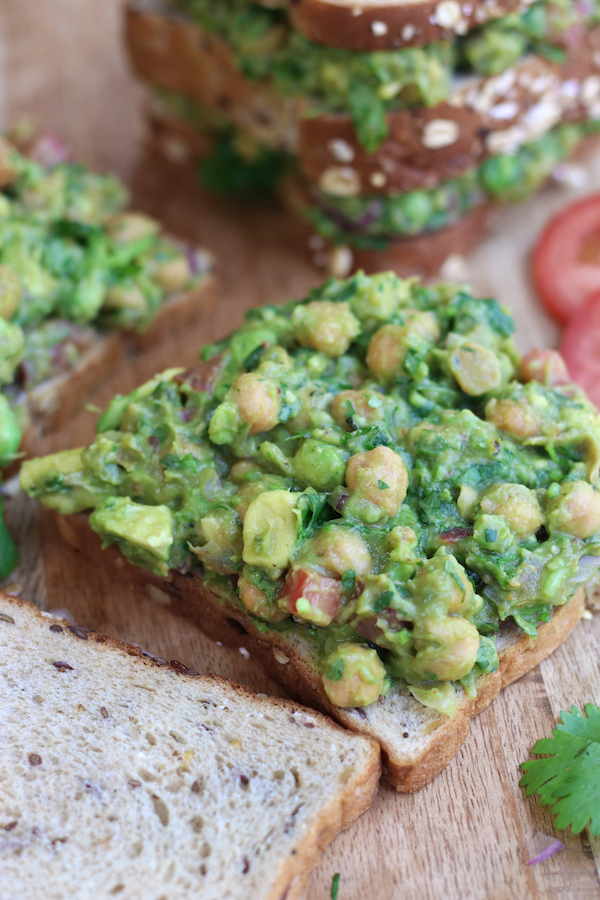 This post may contain affiliate links which I earn a small portion in sales if a purchase is made. Rest assured though, it is never at any additional cost to you.
For many, making sandwiches for dinner can be a simple but rather boring alternative to traditional cooking.
This is so often because it can be so easy to become stuck in the "same old same old" choices.
The beauty though, there are many hearty and extremely delicious sandwich options that can make dinner not only stress-free, but also so much fun to eat.
Some of my favorite sandwich recipes along these lines are Steak Pizzaiola, Grilled Veggie Sandwich, Pecan Cranberry Chicken Salad Sandwiches, Dry Rubbed Grilled Chicken Sandwiches and this Guacamole Chickpea Salad Sandwich.
My family adores eating each of these recipes and honestly, I love that they are a healthy and easy way to get dinner on the table.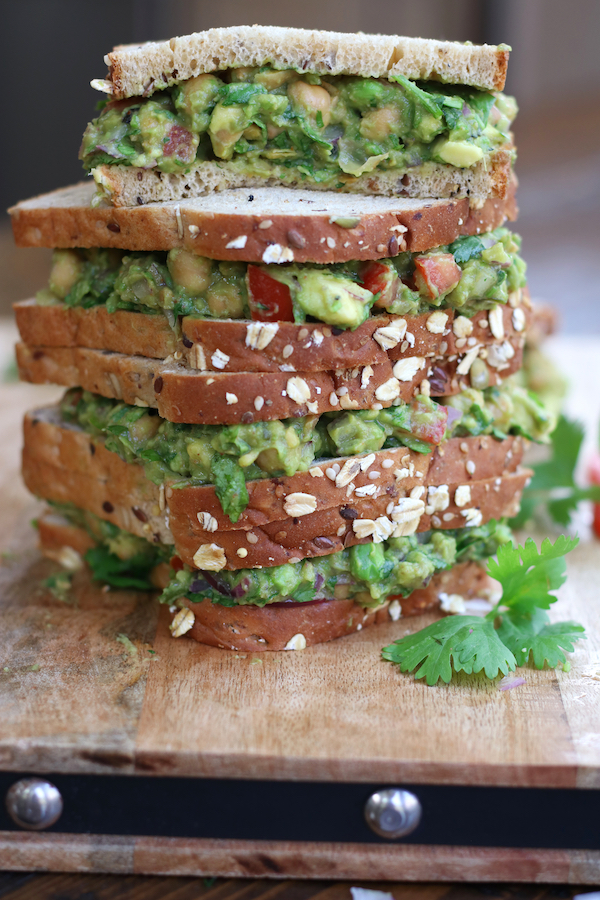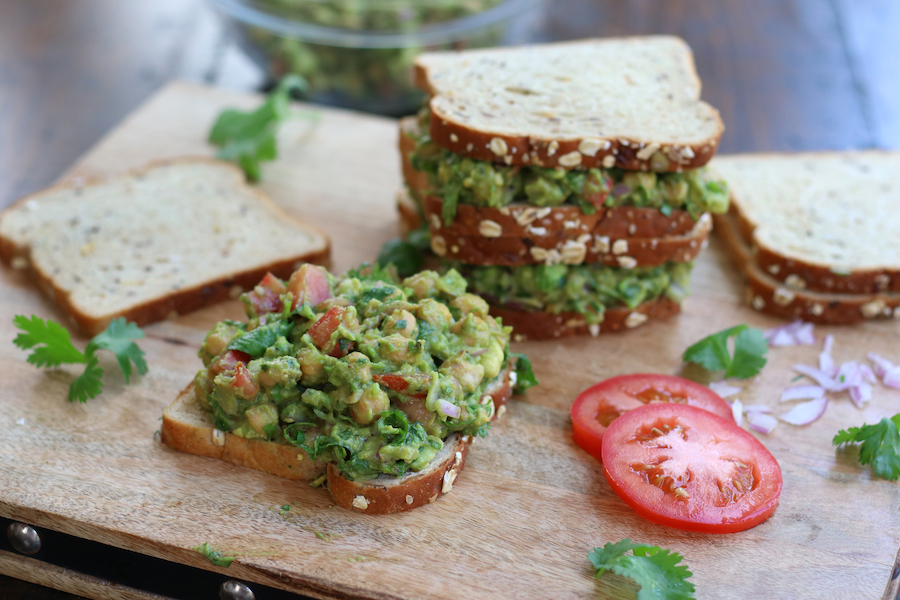 Why Use Chickpeas In a Salad Sandwich
Chickpeas (aka garbanzo beans) can be a healthy and tasty alternative to many protein sources. Of some of the most attractive qualities, they are high in nutrients, very affordable and have a fair amount of health benefits. Additionally, using precooked chickpeas for this recipe makes for a very quick and easy meal.
How To Make The Best Avocado Chickpea Sandwich
Open, drain and rinse chickpeas can using this tool.
Preheat oven to 400℉ and to a medium sized mixing bowl add spices, salt and oil. Toss in chickpeas and stir well.
Transfer chickpeas to a sided cookie sheet and bake in preheated oven for 17- 20 mins. Remove from oven and let cool on cookie sheet. Baking the chickpeas is an optional step. However, it helps to soften the chickpeas and releases the oils in the spices for an even better tasting and textured sandwich.
Meanwhile, wash and roast jalapeño. Using long handled tongs, carefully roast over an open flame until the skin begins to char and blister making sure to roast on all sides. Let cool. Once cooled dice jalapeño making sure to first remove seeds for less spicy heat.
Dice onion, crush garlic, squeeze limes, dice tomato and chop cilantro.
Once chickpeas have cooled to room add all ingredients back into mixing bowl and stir well.
Recommended Ingredients
Here are some of the preferred recommended ingredients based on taste, affordability and quality.
Storing Chickpea Salad Sandwich Mixture
This Avocado Chickpea Sandwich filling can be made ahead of time if stored properly. To help keep the filling fresh and prevent the avocado from turning brown it is best to mix up the filling with only one lime and then spread evenly into a glass storage container. Before applying the lid, squeeze the second lime over the top of the filling and refrigerate. The lime juice will help to keep the oxygen from turning the avocado. Just before making the sandwiches, stir the juice into the mixture.
Additional Toppings/Ingredients
To pack in extra nutrition ingredients such as shredded carrots, sprouts, lettuce leaves, cucumber slices and pumpkin seeds can be added. This salad sandwich mixture works wonderfully with all kinds of bread such as Pita, Naan, Tortillas, Sourdough or Whole Grain. Additionally, it works well as a salad topping, with chips or crackers.
More Vegetarian Meals
If you are looking for recipes to have on meatless Mondays Springtime Pasta Salad is perfect for feeding a crowd. Also, Simple Angel Hair Pasta and Creamy Pesto Vegetable Pasta are family favorites. Italian Tomato and Eggs is a tasty dinner for two.
Looking for Additional Avocado Recipes?
For anyone who love Avocado Sandwiches, they will adore my Mexican Chicken Avocado Sandwich or Avocado Egg Salad recipe. Avocado Pesto Pasta with Garlic Shrimp, Avocado Chicken Salad and Shrimp Avocado Salad are all tasty avocado meals perfect for Spring or Summer weather.
If you enjoyed these Guacamole Chickpea Sandwiches please let me know by leaving a comment and review below. Doing so helps to encourage others to make the recipe also. Thank you!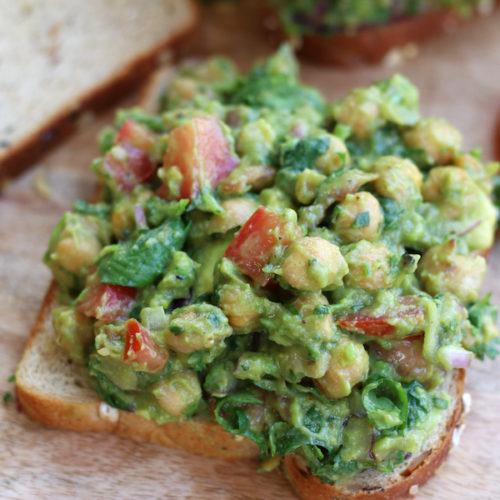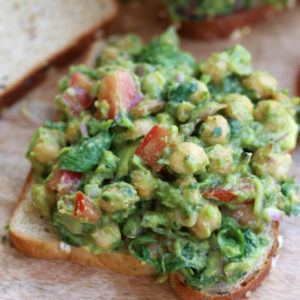 Ingredients
1

15 oz can

chickpeas

rinsed and drained

1

tbsp

oil

1/2

tsp

ground cumin

1

tsp

coriander

1

tsp

chile powder

1/2

tsp

salt

2

ripe Hass Avocados

*diced

2

limes juiced

*about 5 tbsp

1/4

cup

diced red onion

*about 1/4 of small onion

1

jalapeño

1/2

bunch

cilantro

*finely chopped about 3/4 cup

3

cloves

garlic

*crushed

1

lg

roma tomato

*diced, about 1/3 cup

12

slices

favorite bread
Instructions
To a medium sized mixing bowl add first 6 ingredients and mix well. Transfer chickpeas to a sided cookie sheet and bake for 17-20 mins. Remove from oven and let cool to room temperature.

Meanwhile, using long handled tongs carefully roast the jalapeño over the open flame of the stovetop burner until skin of jalapeño begins to char and blister, making sure to roast all sides. Let cool and then dice, removing seeds for less heat.

In the same mixing bowl add remaining ingredients with the exception of the bread and stir well. Spread sandwich mixture evenly onto bread to form sandwiches.
Notes
*Please use as many organic ingredients as possible.
Recipe Notes
Baking the chickpeas is an optional step. However, it helps to soften the chickpeas and releases the oils in the spices for an even better tasting and textured sandwich.
Chickpea mixture will keep for up to two days in covered container with a layer of lime juice (see notes above in post).
Nutrition
Calories:
347
kcal
|
Carbohydrates:
43
g
|
Protein:
13
g
|
Fat:
15
g
|
Saturated Fat:
2
g
|
Cholesterol:
1
mg
|
Sodium:
317
mg
|
Potassium:
644
mg
|
Fiber:
12
g
|
Sugar:
4
g
|
Vitamin A:
267
IU
|
Vitamin C:
14
mg
|
Calcium:
71
mg
|
Iron:
3
mg