This healthy, no-mayo Avocado Egg Salad recipe has the refreshing flavors of dill, chives and lemon while being ketogenic diet and Whole 30 friendly. So delicious and makes such an easy breakfast or lunch.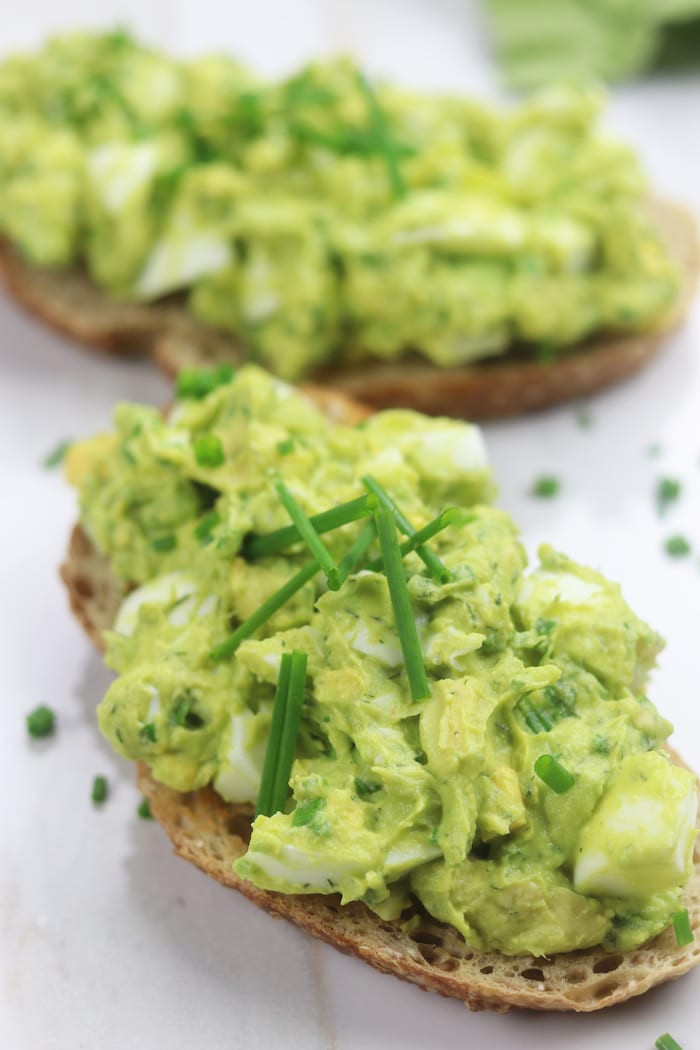 This post may contain affiliate links which I earn a small portion in sales if a purchase is made. Rest assured though, it is never at any additional cost to you.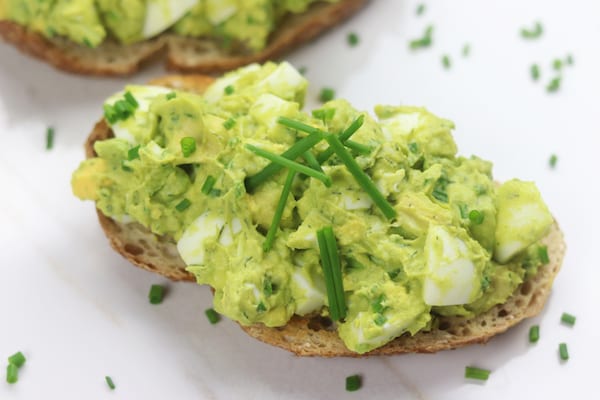 My husband loves Egg Salad Sandwiches.
In fact, I forget how much he loves them until I make some and he oohs and aahs over it for days.
If I was smart, I would remember this and have this be a go-to meal when I am just too tired to cook.
Apparently I didn't wise up until I made this healthy and simple egg salad.
It dawned on me that as long as I have the hard boiled eggs on hand in the refrigerator, dinner would take a whole whopping 5 minutes to make.
Talk about a dream come true especially on hot summer days.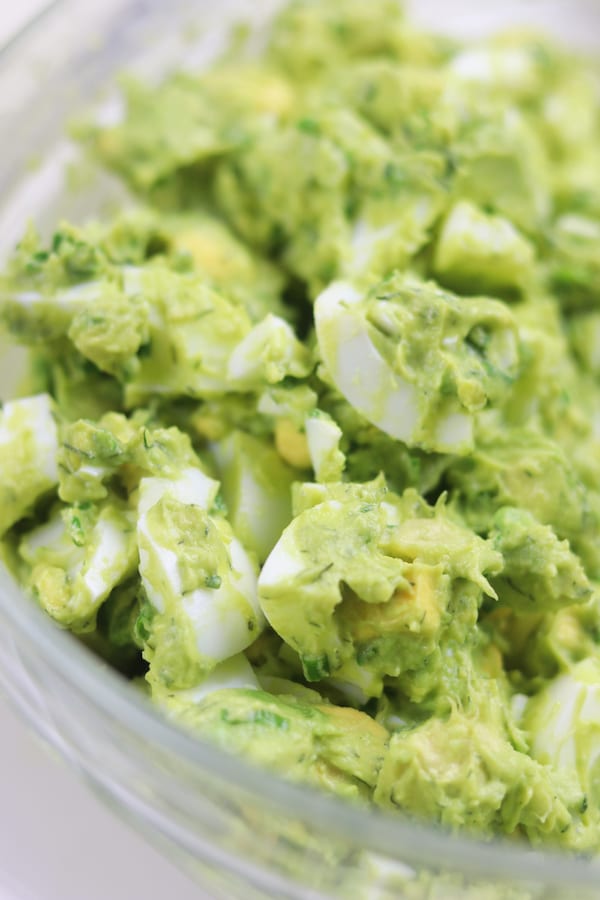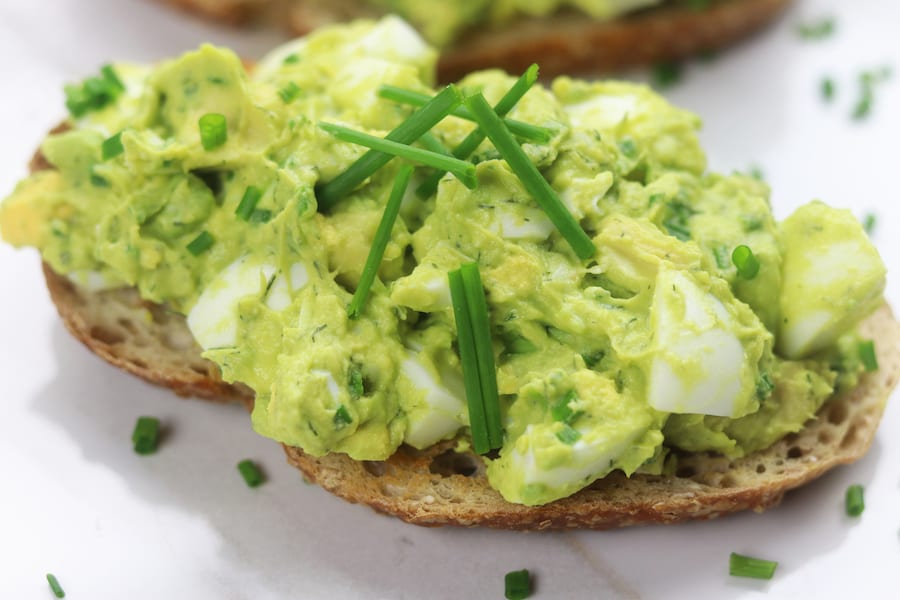 How to make egg salad healthy:
To make egg salad healthy it really does start with quality ingredients. Thankfully the U.S. has left behind the old fallacy that eating eggs raises the risk for cardiovascular disease and we are now advised by many nutritionalists to include eggs into our weekly diet. Unfortunately, not all eggs are packing the same nutritional punch. Rather than listing all the different eggs, let me get right to the heart of the matter. There are many health professionals that believe organic pasture raised eggs is the best egg for providing the highest nutritional density. One look at the nutritional profile and you can see why these eggs are recommended over factory farmed eggs. Here is the problem though, the term "pasture-raised" is an unregulated term meaning there is no set standard for how these eggs are raised. Here is the good news, The Cornucopia Institute has put together this Organic Egg Scoreboard that gives you a breakdown of practices of organic farms across the country and makes finding truly pasture-raised eggs much easier.
To make this easy egg salad recipe even more nutritionally dense avocados are substituted for the the traditional mayonnaise. Don't get me wrong, I still absolutely love and feel highly confident using avocado mayonnaise (affiliate).
Tips for making this the best egg salad recipe:
Chives and dill add an incredible freshness to this quick and healthy meal. This is by far my favorite dill because I very much trust Simply Organic and oh my goodness is this herb amazing tasting. (affiliate)
Using fresh squeezed lemon juice adds an extra layer of brightness that make this salad irresistible. Plus it helps the avocados from turning brown. If you love lemons than this juicer is a must. (affiliate)
Adding just a little bit of mustard helps to round out and marry all the flavors. Annie's Yellow mustard is one of my favorites! (affiliate)
Don't forget to salt and pepper to taste.
How to make this part of the Ketogenic diet? Using cucumber slices instead of bread is a tasty way to keep this on the low carb side. A few other options would be to use homemade Almond crackers or or Low Carb Paleo Tortillas.
Other options to put egg salad on? Good old fashioned whole grain or sourdough bread is absolutely my favorite and honestly it is perfect for breakfast, lunch or dinner like this. Also stuffing a tomato would be an enjoyable lunch to pack for work.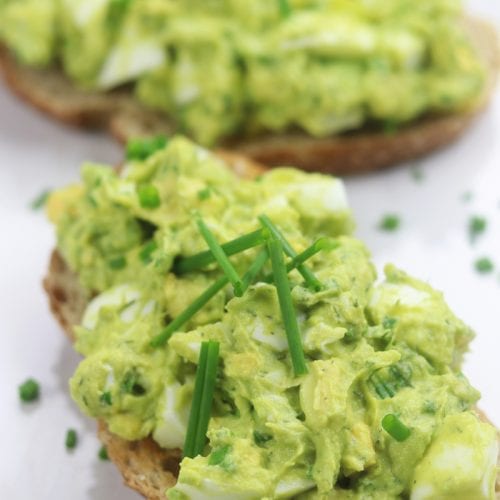 Avocado Egg Salad
This healthy, no-mayo Avocado Egg Salad recipe has the refreshing flavors of dill, chives and lemon while being ketogenic diet and Whole 30 friendly. So delicious and makes such an easy breakfast or lunch.
Print
Pin
Rate
Ingredients
8

large

eggs

*see notes above about type of egg

2

large ripe

avocados

*peeled & cut into chunks

1

tsp

dill

3

tbsp

fresh chives

*chopped

2

tsp

yellow mustard

3

tbsp

lemon juice

salt & pepper

*to taste
Instructions
Place eggs into a medium sized sauce pan and cover with cold water by an inch. Leave uncovered and bring to a rolling boil. Once boiling cover and take off heat. Let sit in hot water for 10 min and then drain. Submerge eggs into ice water. 

When cooled gently crack eggs on countertop and peel. Cut into chunks and place into medium sized mixing bowl.

To the mixing bowl add avocado chunks, dill, chives, mustard, lemon juice, salt and pepper.

Mix well. Store in an air tight container. One additional trick is to cover with a 1/2 tbsp extra lemon juice placed over top of salad to help keep top layer from turning brown and then stir into salad before serving. Will keep for 2 days chilled.
Notes
*Please use as many organic ingredients as possible.*
Nutrition
Calories:
219
kcal
|
Carbohydrates:
7
g
|
Protein:
11
g
|
Fat:
17
g
|
Saturated Fat:
4
g
|
Cholesterol:
281
mg
|
Sodium:
131
mg
|
Potassium:
112
mg
|
Fiber:
4
g
|
Sugar:
1
g
|
Vitamin A:
474
IU
|
Vitamin C:
4
mg
|
Calcium:
42
mg
|
Iron:
1
mg
Follow along on Facebook and Pinterest for more savory inspirations.
For more incredibly delicious quick and healthy recipes check these out: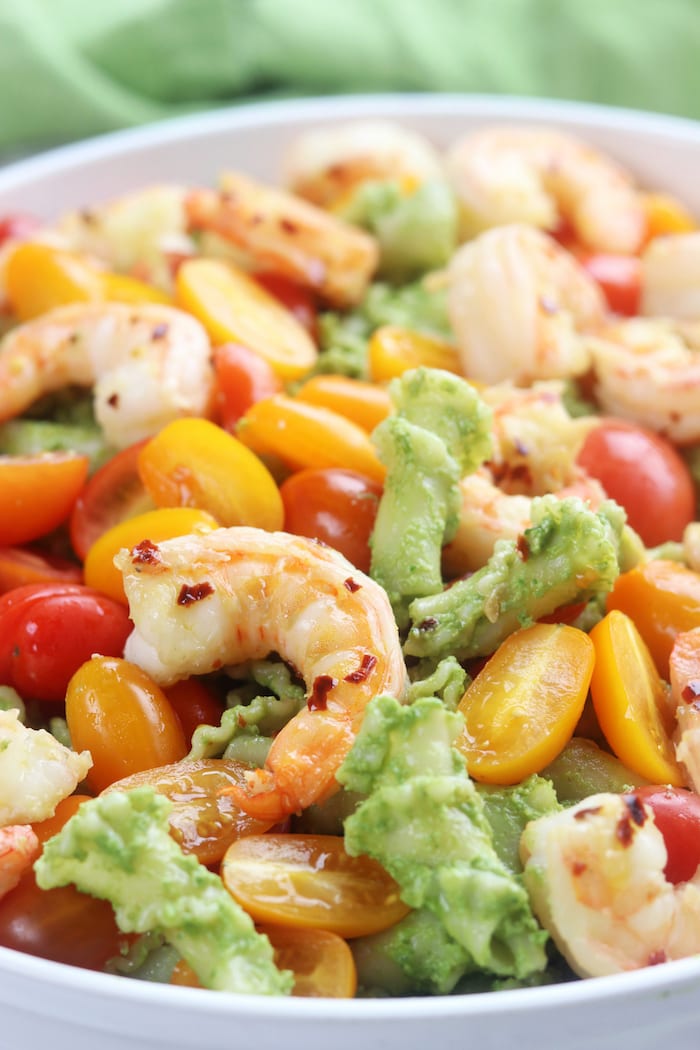 Avocado Pesto Pasta with Garlic Shrimp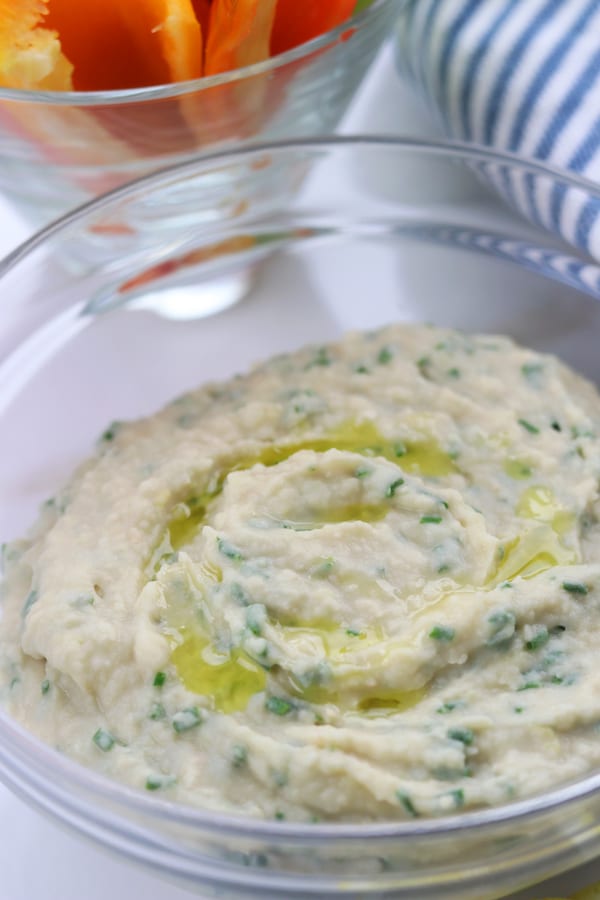 Simple White Bean Dip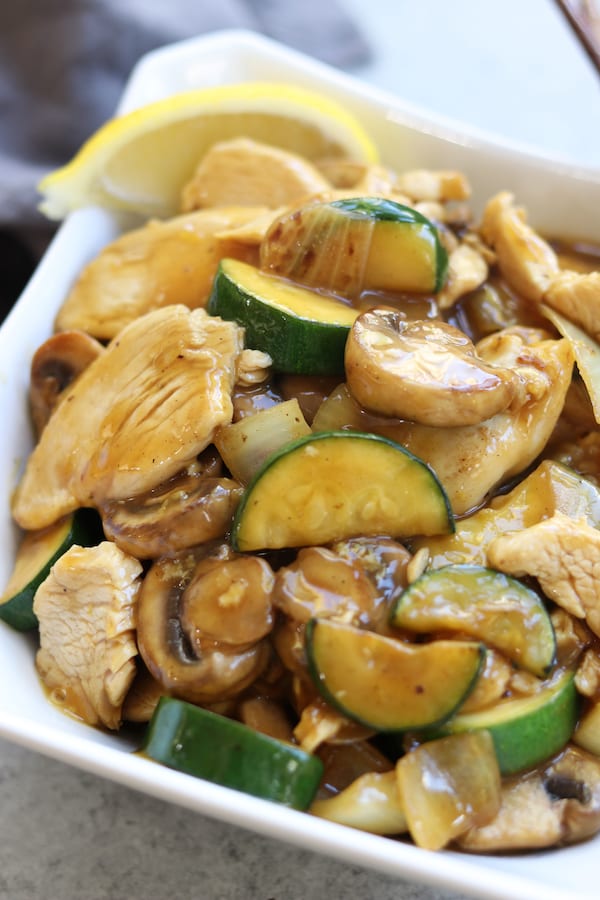 Lemon Chicken Stir Fry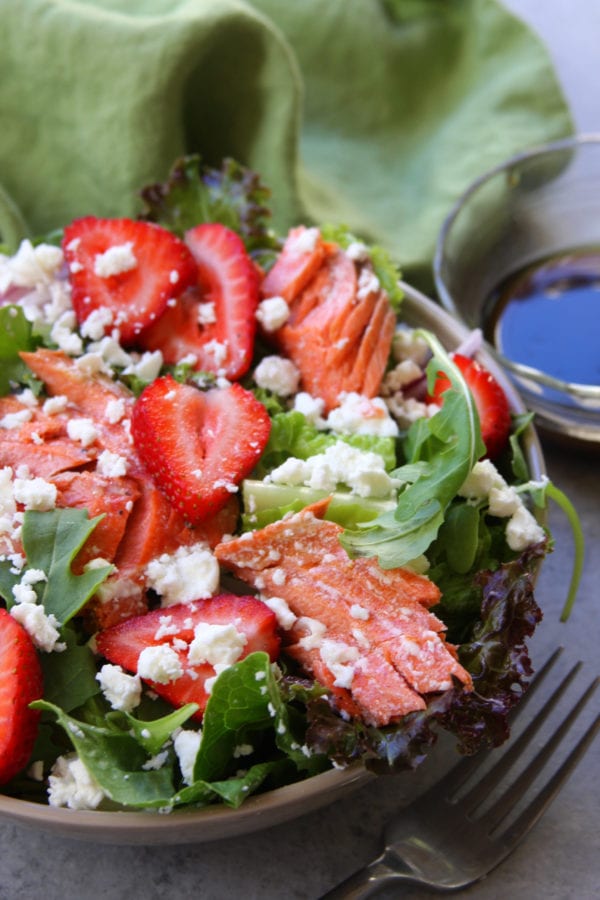 Simple Strawberry Salmon Salad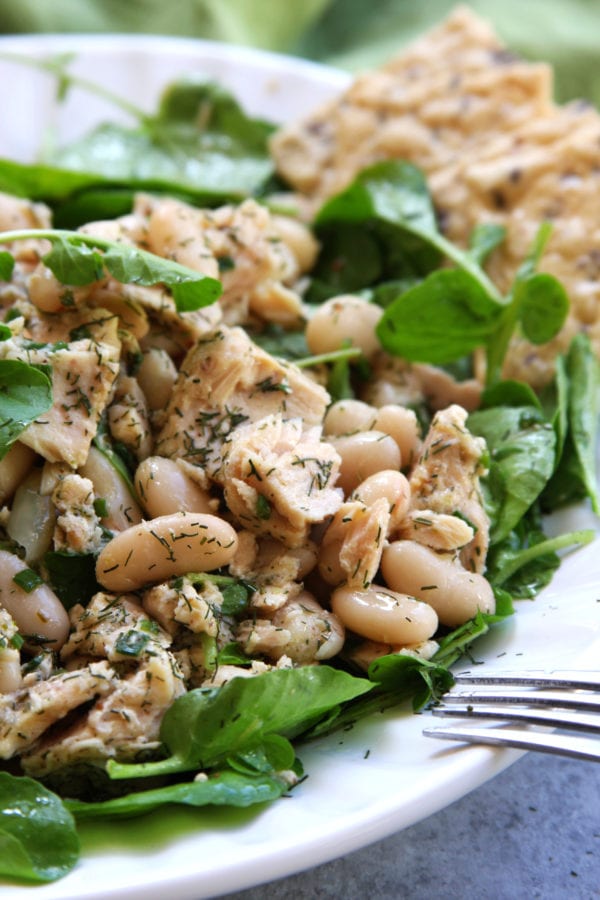 Mediterranean Tuna Salad