With layers of flavors, this Tomato Basil Soup recipe is an easy and comforting dinner. Using both fresh and San Marzano tomatoes creates a naturally thick, healthy and crazy flavorful soup.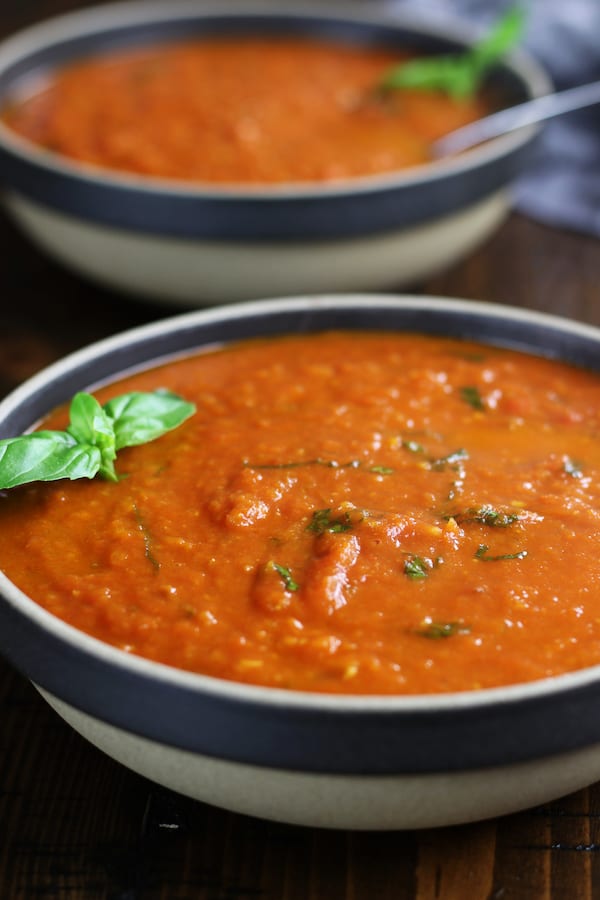 This post may contain affiliate links which I earn a small portion in sales if a purchase is made. Rest assured though, it is never at any additional cost to you.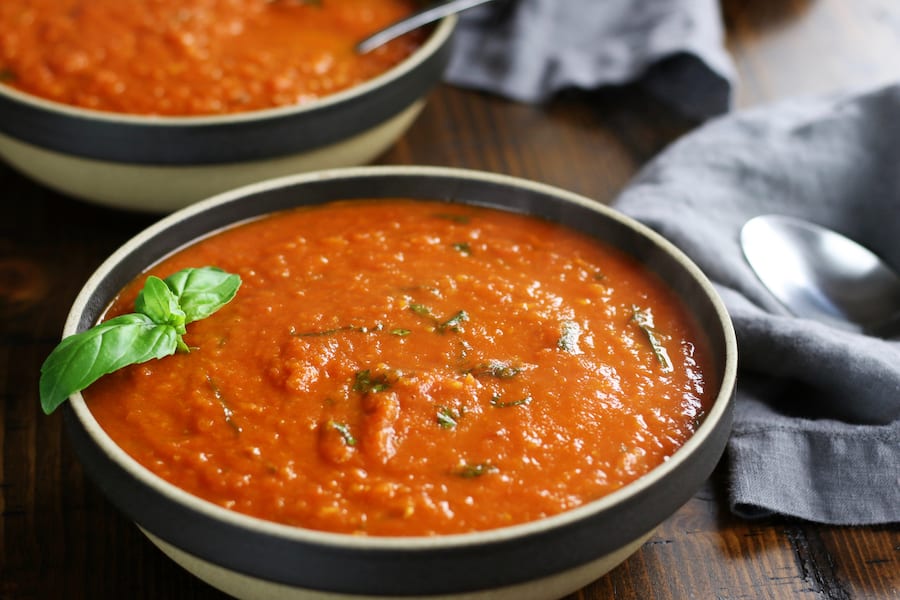 Our home is not insulated well.
That looks like extremely chilly temperatures inside during the winter, even when the beautiful California sun is shining outside.
You will usually find me working in sweats, drinking coffee and craving warm and comforting meals.
Nothing is more satisfying to me when I am cold than homemade soups like my all time favorite Lemon Chicken Soup and this easy Tomato Basil Soup.
How To Make Tomato Basil Soup From Scratch
Ok, here is a confession. This soup is not fully from scratch. To pull that off I would have to start with all fresh tomatoes for all three layers of the tomatoes this recipe calls for, including the tomato paste. That would make for a very complex soup that would take many hours.
This Tomato Basil Soup is the next best thing to making it completely from scratch while still keeping the work load easy. Here are the steps:
Roast the grape tomatoes.
Saute onions to a medium caramelization.
Add garlic, oregano, dried basil and tomato paste. Cook for 1-2 mins.
Stir in San Marzano tomatoes, roasted grape tomatoes, broth and parmesan rind. Simmer for 30 mins.
Remove parmesan rind and blend. (This tool will make your life sooooooo much easier!)
Add in julienned basil and simmer for another 5 mins. Salt and pepper to taste.
Why Use San Marzano Tomatoes
Let me start by saying, it is not absolutely imperative that you use canned San Marzano tomatoes. If you have a brand that produces a quality tomato that has a balance of acidity to sweetness, please feel free to use it. If I don't have San Marzano tomatoes on hand, this is the one I use.
With all that said, if you have never tried San Marzano tomatoes I highly recommend doing so asap! I have cooked with both fresh and canned tomatoes my entire life and can tell you that San Marzano tomatoes are AMAZING! They taste immensely fresh (even the canned version), have a depth of flavor unlike so many modern day tomato variations and the balance of sweetness to acidity is perfect.
The good news is most stores do carry San Marzano tomatoes these days. If you have a difficult time finding them, ask your local store manager to order. Most stores across the country should be able to accommodate this request.
How To Roast Tomatoes for Tomato Basil Soup
Here is the good news, oven roasting tomatoes without oil is an extremely easy process.
Preheat oven to 400℉.
Wash grape tomatoes and place in a sided cookie sheet.
Once oven is heated to temperature cook tomatoes in the oven for approximately 20-30 mins or until tomatoes start to burst.
That is all there is to it.
Pro Tip: Roasting larger tomatoes is done the exact same way with the exception of cutting the tomatoes in half. Oil, garlic and herbs can also be roasted with the tomatoes but were not necessary for this recipe.
Additional Garnishes and Sides For This Soup
Aside from salt and pepper here are some additional garnishes that make this soup even more fun.
Feta Cheese
Pepitas (pumpkin seeds)
Gourmet Croutons
Creme Fraiche
Sour Cream
Old fashioned Grilled Cheese Sandwich
Crusty Baguette
Diced Avocado
Parmesan Cheese (Parmigiano Reggiano)
Commonly Asked Questions About Making Tomato Basil Soup At Home
Why use three forms of tomatoes for this soup?
Here is a trick I learned from my mom who was an incredible cook, layer your flavors wherever possible. This approach doesn't always work for every recipe. For this particular soup having both a roasted fresh tomato, the balanced flavor of San Marzano tomatoes and the depth of flavor from tomato paste helps to create a mouth watering experience for anyone who loves tomatoes.
Why does the recipe call for both fresh and dried basil?
Very similarly to the answer from the above question, having two varieties of basil adds the layering of flavor effect. Dried basil tends to have a more intense flavor when cooking with it, whereas fresh basil adds in a summer like quality to the soup.
What is a nonreactive dutch oven?
A nonreactive dutch oven or cookware is basically any cookware that does not react to the acidity in highly acidic foods like tomatoes. It can change the flavor of the dish dramatically and not in a good way. The tomatoes (or any highly acidic food) can stain cookware that is reactive.
Examples of reactive cookware are aluminum, cast iron and copper. Examples of nonreactive cookware are stainless steel, ceramic coated cast iron and glass. This is my favorite inexpensive yet durable nonreactive dutch oven.
Is Tomato Basil Soup Low Carb/Keto friendly?
Yes, this soup recipe falls into the parameters of what many would consider a low carb meal. However, it does not meet the Ketogenic requirements for carbohydrate consumption.
Is this Tomato Basil Soup gluten free?
Yes, this tomato basil soup is gluten free but always be careful when buying canned and prepackaged products. Reading labels to ensure products are free of ingredients containing gluten is imperative if following a gluten free diet but even more so if you are a celiac.
More Healthy and Comforting Soup Recipes
Beef and Brussels Sprouts Stew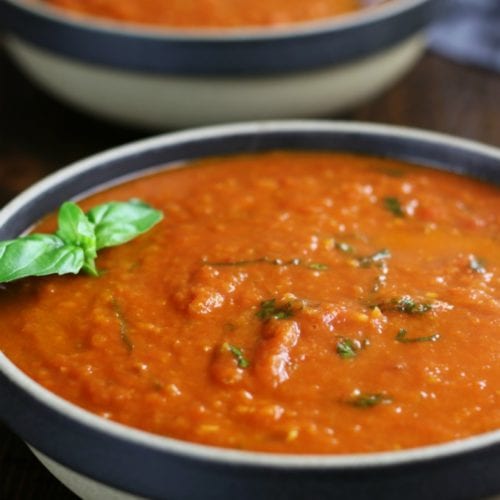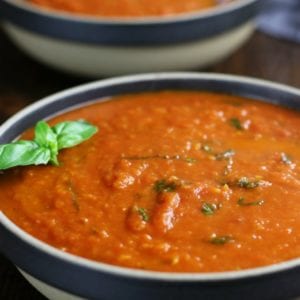 Tomato Basil Soup
With layers of flavors, this Tomato Basil Soup recipe is an easy and comforting dinner. Using both fresh and San Marzano tomatoes creates a naturally thick, healthy and crazy flavorful soup.
Print
Pin
Rate
Ingredients
1

pint

grape tomatoes

1

tbsp

extra virgin olive oil

1

tbsp

butter

1

med

onion

*diced, about 1- 1 1/2 cups

4

large

garlic cloves

*minced

1/2

tbsp

dried oregano

1/2

tbsp

dried basil

*optional

1

tbsp

tomato paste

1

28 oz can

San Marzano tomatoes

4

inch

parmesan rind

32

oz

chicken stock

15-20

leaves

fresh basil

*julienned

salt and peper

to taste
Instructions
Preheat oven to 400℉. Place washed grape tomatoes on a cookie sheet (without oil) and bake until tomatoes start to burst and become slightly roasted, about 20- 30 mins.

Meanwhile heat a coated or non reactive dutch oven over medium/high heat. Once heated turn heat down to medium. Add olive oil, butter and onions and sauté to a medium caramelization, stirring occasionally.

Add garlic, oregano, dried basil and tomato paste to caramelized onions. Cook for another 1-2 mins, stirring well.

Add canned tomatoes, grape tomatoes and broth to dutch oven, stir well. Add in parmesan rind. Bring to a rolling boil over medium/high heat and then lower heat to a simmer for 30 mins.

Once simmered, remove parmesan rind and blend either using an immersion blender or standing blender.

Add julienned basil and simmer for an additional 5 mins. Salt and pepper individual bowls to taste.
Notes
*Please use as many organic ingredients as possible.*
Nutrition
Calories:
281
kcal
|
Carbohydrates:
30
g
|
Protein:
30
g
|
Fat:
41
g
|
Saturated Fat:
5
g
|
Monounsaturated Fat:
1
g
|
Cholesterol:
25
mg
|
Sodium:
614
mg
|
Potassium:
625
mg
|
Fiber:
4
g
|
Sugar:
15
g
|
Vitamin A:
4220
IU
|
Vitamin C:
22.6
mg
|
Calcium:
1427
mg
|
Iron:
1.7
mg