My Absolute favorite soup! Lemon Chicken Soup is a savory and comforting family friendly meal that even picky kiddos love. With orzo and the flavors of Greece, this easy meal will brighten a chilly day.

This post may contain affiliate links which I earn a small portion in sales if a purchase is made. Rest assured though, it is never at any additional cost to you.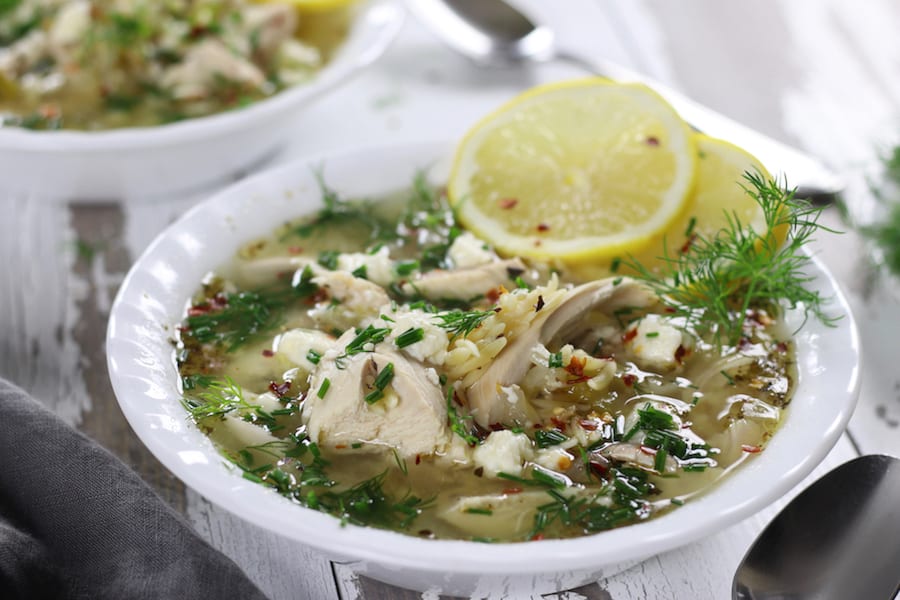 What happens when two of your favorite things come together in one meal? You act like a kid eating their first ice cream cone!!!
That is exactly what happens with this Lemon Chicken Soup. I am complete heaven!!!
I have always been very partial to chicken soups like my Mom's Chicken Gumbo Soup and Homemade Chicken Noodle because they are so comforting in chilly weather and even better when the colds and sniffles happen.
But there is something about this Greek Style Lemon Chicken Soup that takes it to the next level.
It has a rich a savory broth, the perfect amount of lemon zing and biting into the strips of lemon zest is beyond amazing. Finish off the soup with feta, chives and fresh dill and this soup becomes not only a classic but literally my FAVORITE soup!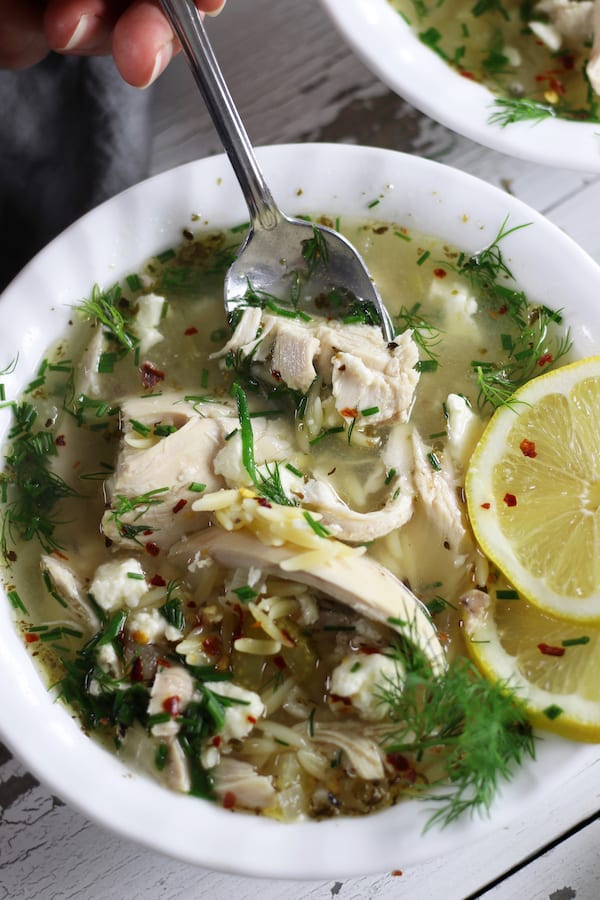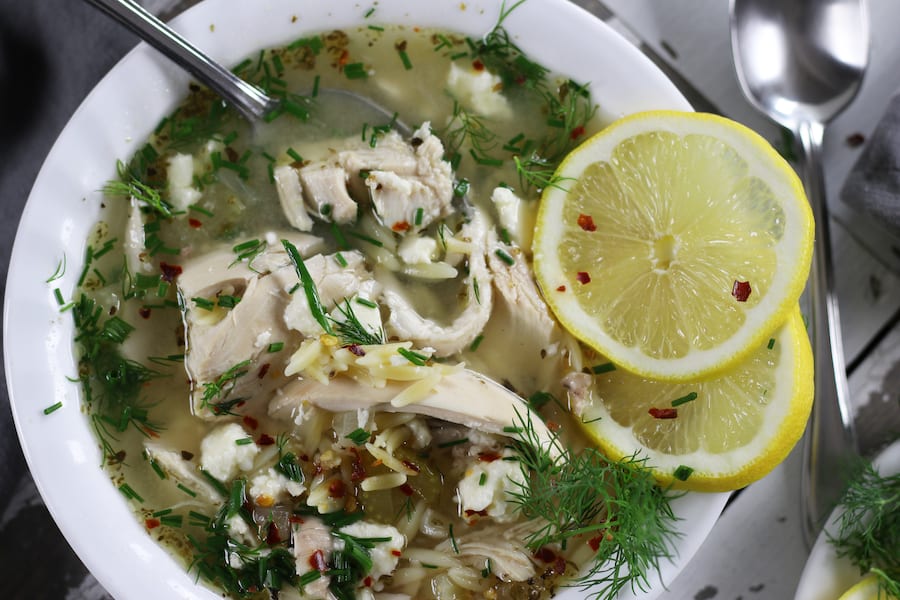 How To Make Whole Chicken Soup
There really is nothing quite like a soup made from a whole chicken. It creates such amazing flavor and richness. My parents were making whole chicken soup since before I was born so it has been a completely natural way for me to make soup. I do realize that it can feel very odd to simmer a whole chicken so here are a few detailed tips to keep in mind. But please do not worry, it really is extremely easy once you are comfortable with the process.
Step One:
Open your whole chicken package in the kitchen sink with a large stockpot right next to you. This will help keep the chicken juices confined to the sink, which will help make sanitizing easier.
Step Two:
Don't worry about rinsing your chicken but DO REMOVE the inners of the chicken. Depending who you buy your chicken from, some chickens will have the neck, gizzard, heart, kidneys and liver inside the cavity of the bird. This little bundle of joy is also called the giblets. I often discard mine when making chicken soup, however they can be simmered in a separate small pan and then the broth added to the base of the soup. Pro Tip: If using the giblets to make a stock do not use the liver as it will add a bitter flavor and make sure to strain the broth created from the giblets.
Step Three:
Transfer your whole chicken to your stockpot and add in the celery, onion, garlic. oregano, lemon zest, lemon juice and broth.
Step Four:
Bring to a boil over high heat or medium/high heat. It will take about 15- 20 minuets to bring the pot to a boil. Once boiling lower the heat down to med/low and cover with a lid. At this point you want a simmer, where the broth still has a low boil but it is definitely not rapidly boiling. If still rapidly boiling lower the heat to low. Now walk away and go do something else. Only check on your chicken a few times to make sure it is not rapidly boiling. For smaller birds, like what is called for in this Lemon Chicken Soup, it will take about 45 minutes for the chicken to cook all the way through. For larger birds, cooking times will go put to 60-70 minutes.
Step Five:
You will know your chicken is done because it will literally start to fall off the bone as you lift the whole chicken out of the pot. Transfer your cooked chicken to a platter carefully. The chicken is usually so tender that the legs and wings will usually fall off, splashing in the hot liquid and possible onto you. This item and this one should help with the removal.
Step Six:
Spread the chicken pieces out on the platter to help cool faster. You will want the chicken cool enough that it doesn't burn your fingers as you debone. This will usually take about 15-20 minutes. Pro Tip: Placing the platter of chicken in the refrigerator for the 10- 15 minutes will help to cool faster.
Step Seven:
With clean hands remove the chicken meat from the bones into large to medium size chunks. As longs as the chicken is cool enough that it doesn't burn you, this step is extremely easy. It helps to have a clean plate to place the chicken chunks onto. Once the meat is off the bone, add back into the soup.
Tips For Making The Best Lemon Chicken Soup
To make a truly fantastic Lemon Chicken Soup there are a few tricks of the trade.
Start with a whole chicken and simmer in chicken stock or broth. See tips above.
Create strips of lemon zest using a vegetable peeler, making sure to only remove the zest and leaving behind the white pith.
Simmering the chicken with aromatics of plenty of garlic, onion, celery and oregano will help to create a rich and flavorful broth.
Once the chicken is fully cooked and removed from the pot, do not discard the lemon zest strips. Leaving these in the soup add an amazing twist. To me biting into the lemon zest was like eating candy. Not literally, but it was such a pleasant surprise.
Garnish with fresh cut dill, chives, crumbled feta and red chili pepper flakes for even more amazing flavor.
Additional Veggies That Can Be Added
The beauty of this soup is that it is fresh, savory and delicious as is If you desire to add more veggies here are a few options that would be very tasty.
Yellow Squash (aka Summer Squash)- Added and cooked at same time as orzo.
Zucchini – Added and cooked at same time as orzo.
Carrots- Best added at the time of cooking the chicken.
Mushrooms – Added and cooked for about 7-10 minuets before orzo.
Green Beans- Added and cooked for about 7-10 minutes before orzo.
Commonly Asked Questions About This Lemon Chicken Soup
How do you make lemon zest?
The act of making lemon zest is done by scraping the outer yellow fragrant skin of the lemon off of the fruit, leaving behind the white pith. This is my favorite tool to zest lemons but for this soup recipe a simple vegetable peeler works best.
Can You buy lemon zest?
Yes, lemon zest can be purchased in dehydrated form. One word of caution though, lemon zest tends to loose the appealing citrus taste and scent when dehydrated. True lemon lovers may be disappointed by its use.
Can you use rice instead of orzo?
Absolutely! Simply replace the orzo with 3/4 cup of rice of your choosing. I would personally suggest using brown rice as it tends to be nuttier tasting and will hold up better in this Chicken Soup than plain white rice.
Pro Tip: If using short grain brown rice, precook to as to save time. This type of rice can take up to 45-60 minutes to cook.
Can you freeze Lemon Chicken Soup?
Absolutely! If you only have a few people eating it is best to place the pot in the refrigerator overnight to chill completely and then to divide into freezer containers. Just know though that if you have complete lemon lovers eating this, you probably won't need to freeze any. I can eat this soup for breakfast, lunch and dinner and then want more the next day.
More Fun and Unique Soup and Stew Recipes
Beef and Brussels Sprouts Stew
Lemon Rosemary Crockpot Potato Soup
Creamy Butternut Tortellini Soup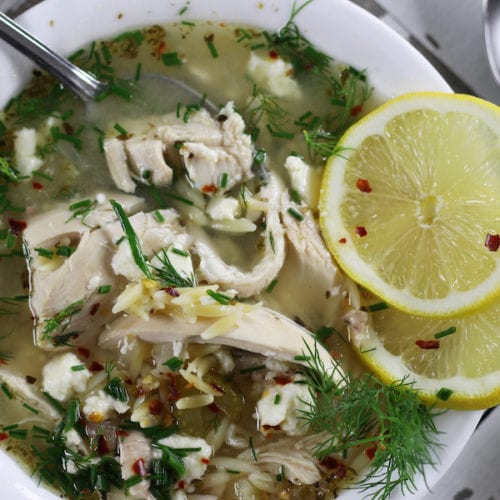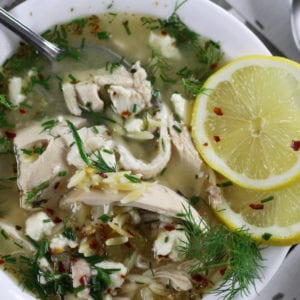 Lemon Chicken Soup
My All-Time FAVORITE soup with a rich and savory broth with a pop of lemon. Add in the garnishes and this soup becomes over the top amazing for anyone who loves lemon.
Print
Pin
Rate
Ingredients
1

small

whole chicken

*3- 3 1/2 lbs

1

large

brown onion

*diced, about 2-3 cups

8

cloves

garlic

*crushed or minced

4

stalks

celery

*diced, about 1 1/2 cups

2

large

lemons

*zested (into strips) & juiced

1

tbsp

dried oregano

3

quarts

chicken broth

3/4

cup

orzo

1

bunch

fresh dill

*chopped as garnish

1

bunch

fresh chives

*chopped as garnish

6

oz

feta

*crumbled as garnish

red chili pepper flakes

*as garnish, optional

salt & pepper to taste
Instructions
Place first 7 ingredients in a large stockpot (16-20 quarts). Bring to a boil over high heat. Once boiling lower to a simmer and cover. Let cook until chicken is cooked through and falling off the bone, about 45 mins.

*See tips about cooking a whole chicken soup for more details.**Use a vegetable peeler to remove the zest on the entire 2 lemons, making sure to leave the white pith behind. See tips above about lemon zest for more details.

While chicken is cooking prepare garnish and refrigerate until needed.

Carefully remove chicken onto a platter and let cool long enough so as not to burn your fingers when deboning, about 15 mins. Keep soup on low.

Once chicken in cooled enough to handle debone into med to larger sized chunks. Add to stockpot in addition to orzo. Cook orzo on low heat until tender, about 10 mins.

Serve individual bowls garnished with chives, dill, feta and red chili pepper flakes. Salt and pepper to taste.
Notes
*Please use as many organic ingredients as possible. 
Nutrition
Calories:
141
kcal
|
Carbohydrates:
16
g
|
Protein:
6
g
|
Fat:
5
g
|
Saturated Fat:
3
g
|
Cholesterol:
19
mg
|
Sodium:
1554
mg
|
Potassium:
419
mg
|
Fiber:
1
g
|
Sugar:
2
g
|
Vitamin A:
220
IU
|
Vitamin C:
28.3
mg
|
Calcium:
147
mg
|
Iron:
1.2
mg