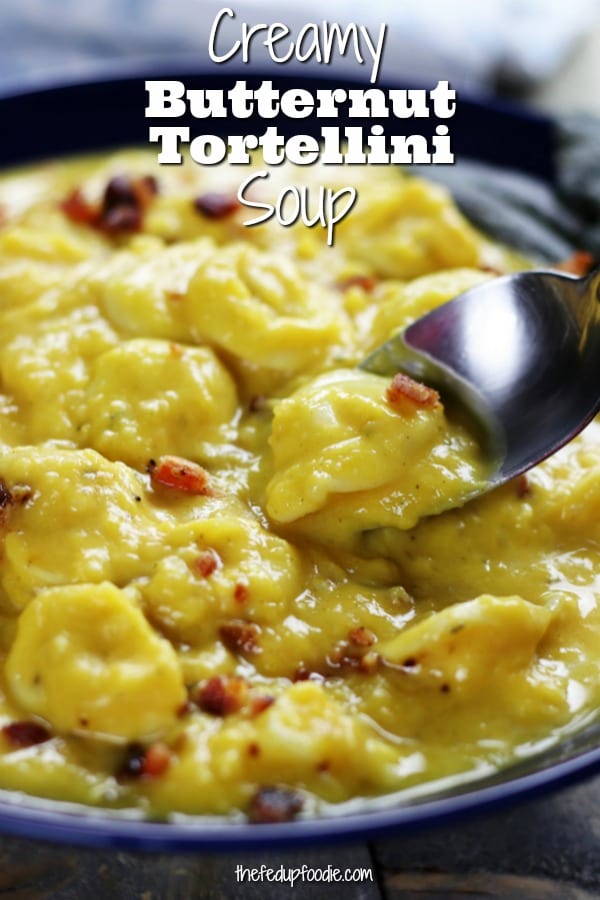 So easy and delicious, Creamy Butternut Tortellini Soup is a classic Fall and Winter soup. Made in the slow cooker with simple ingredients, this is my all-time favorite butternut squash soup.

This post may contain affiliate links which I earn a small portion in sales if a purchase is made. Rest assured though, it is never at any additional cost to you.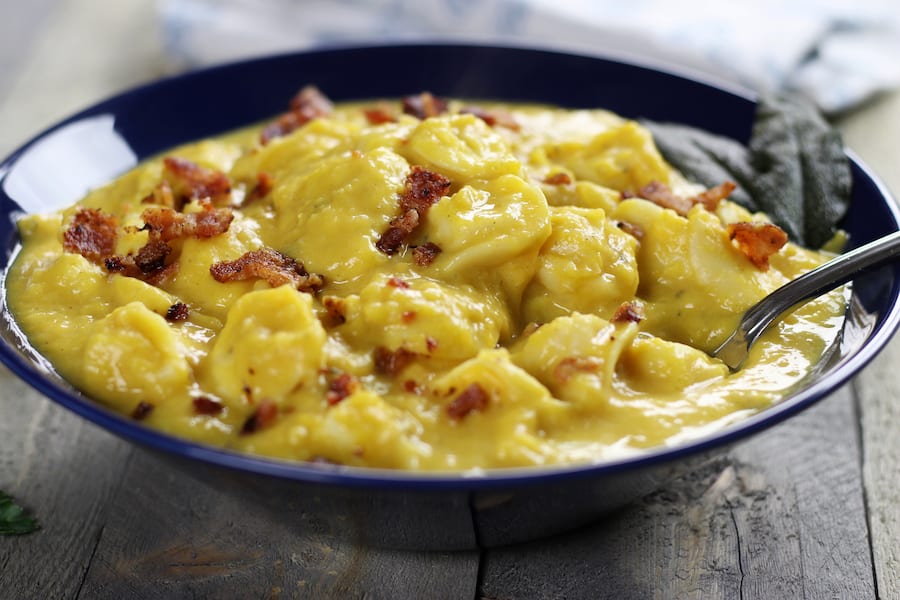 While talking to my friends over the last few weeks a common thread seems to keep popping up.
SIMPLICITY
Friends that don't even know each other are sharing with me that they are craving more simplicity in their lives.
I am not fully sure if it is because of the time of year and all the chaos of the holidays or if it is because of life events. Regardless, we all have our sights set on a streamlined way of living from what is hanging in our closets, to the way we organize, right down to what we are eating.
That is what inspired this Creamy Butternut Tortellini Soup recipe. I wanted a simple yet comforting meal that also had a healthy element to it.
Necessity really is the mother of invention.
Well, necessity and a good support system.
I knew I wanted to make a slow cooker creamy tortellini soup that was healthier and just different than what has currently been done. It was my cousin's incredibly ingenious idea to use butternut squash and sage as the base.
Once she shared that idea with me the rest just fell into place.
This soup has the elements of a butternut squash soup and a creamy tortellini soup, truly the best of both worlds. It is also comforting and incredibly easy to make.
If you love creamy and healthy soups that add more hours into your day, you will adore this easy butternut squash soup.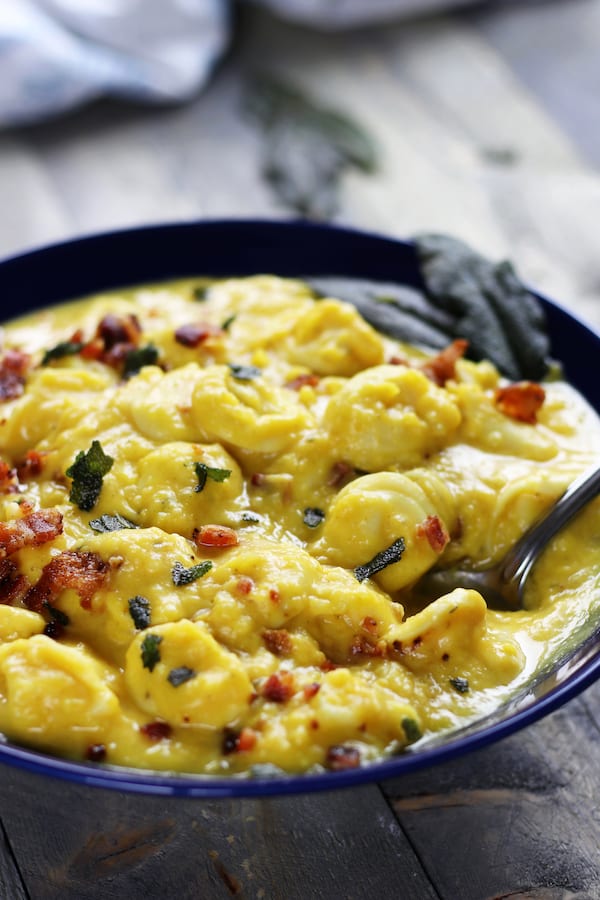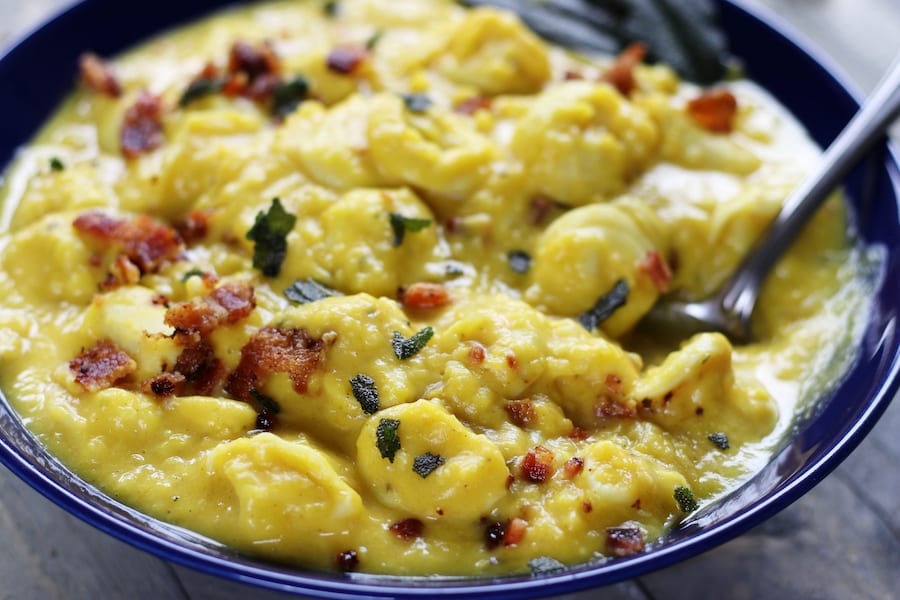 How To Make Slow Cooker Creamy Tortellini Soup with a Butternut Squash Base
Making this crazy good creamy soup from scratch has just a few steps.
Peel and cut butternut squash (see below).
Place cut squash in slow cooker with diced onion, crushed garlic, rosemary, sage and chicken broth and cook on high for 4 1/2 hours or on low for 8-9 hours.
Process soup in a blender or for super easy processing use this.
Place blended soup back in slow cooker on high. Add fresh tortellini and let cook for 10 mins.
In the meantime cook bacon.
Stir in sour cream or yogurt and let cook for an additional 10 mins. Serve and garnish with bacon.
**Pro Tip: The easiest way to add the sour cream or yogurt is to temper it with small amounts of hot soup (about 1/2 cup) until thinned enough to easily mix into crockpot with ease.
What To Serve With Creamy Butternut Tortellini Soup
This soup tastes amazing on it's own but I do recommended to garnish it with crispy bacon because it just simply tastes amazing with it. Here are some additional options:
Garnish with crispy sage leaves (seen in 2 pictures above). To do this heat a small frying pan over med/high with a small amount of oil. Add about 5-6 fresh sage leaves and fry until sage turns a dark green color and becomes crispy. This should only take no longer than about 30 seconds (possibly much less) depending on how hot the frying pan is.
Garnished with freshly grated Parmigiano Reggiano tastes amazing also.
Fluffy french bread, garlic bread or a dinner roll.
Soup and salad is always a great combination. Simple Strawberry Salmon Salad or Rocket Your Mind Salad would both work well.
Commonly Asked Questions About Creamy Butternut Tortellini Soup
How do you peel and cut butternut squash?
One option that can make preparing this soup even easier is to buy the butternut squash precut and peeled. Many stores like Trader Joes do have this available and it is perfect for extremely busy days.
To cut and peel the butternut squash start by laying the squash on its side. Using a good quality knife, carefully cut both ends off of the squash. At this point I leave the squash on its side and using a sharp vegetable peeler carefully peel the skin off pulling in the direction away from the body. Once the squash is peeled, cut across the squash width-wise making rings. Using a large soup spoon scoop out seeds and discard. Lay rings flat on cutting board and cut into 3/4 inch squares.
Does this Butternut Squash Soup need to be thickened?
If using close to 7-8 cups of cut butternut squash, 4 cups of chicken broth and sour cream or yogurt, no thickening is necessary.
Can this creamy soup be frozen?
Yes, ideally frozen in a doubled freezer bag to help prevent freezer burn and then defrosted in the refrigerator for 1 day. To heat place in a sauce pan over medium heat making sure to stir often until heated through.
More Healthy Soups To Try
Winter Vegetable Soup with Split Red lentils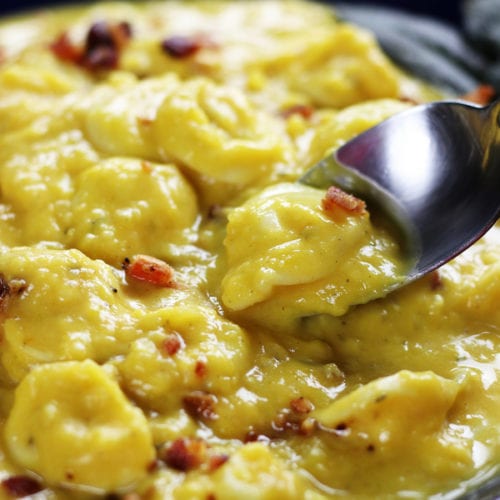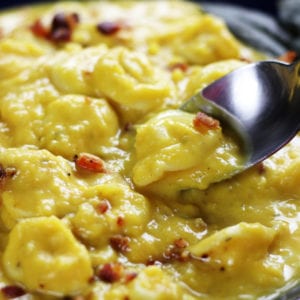 Creamy Butternut Tortellini Soup
Two classics unite with this creamy and delicious soup. Perfect for busy days and chilly nights.
Print
Pin
Rate
Ingredients
1

med

butternut squash (about 2 1/2 lbs)

*peeled, deseeded & cut into 3/4 inch cubes, about 7-8 cups

1

med

brown onion

*diced, about 2 cups

8

cloves

garlic

*crushed or minced, about 2 heaping tbsp

1 1/2

tsp

ground rosemary

*or 2 tbsp fresh, finely diced

1

tsp

ground sage

*or 7-8 fresh leaves

4

cups

chicken broth

20 oz

package

fresh cheese tortellini

*mini sized tortellini works well

1

cup

full fat sour cream

*or plain whole milk yogurt

8

oz

bacon

*cooked, cooled and crumbled
Instructions
Place cubed squash, diced onion, garlic, rosemary, sage and broth into a 6-7 quart slow cooker. Stir well and cook on high for 4 1/2 hours or on low for 8-9 hours.

If using fresh sage, remove leaves. Process soup with an immersion blender or stand blender.

Add soup back to slow cooker and stir in fresh tortellini. Cook on high for an additional 10 mins.

Meanwhile, place bacon strips into a cold frying pan. Cook over med/high heat until golden and crispy, about 5 mins, turning halfway. Place cooked bacon on paper towels and once cooled crumble.

Temper sour cream with about 1/2 cup of liquid from soup. Stir into slow cooker and continue cooking on high for another 5-10 mins.

Garnish with bacon crumbles.
Notes
Please use as many organic ingredients as possible. 
To lower calories use low-fat or fat free plain yogurt and omit the bacon. 
Nutrition
Calories:
314
kcal
|
Carbohydrates:
33
g
|
Protein:
13
g
|
Fat:
14
g
|
Saturated Fat:
6
g
|
Cholesterol:
49
mg
|
Sodium:
904
mg
|
Potassium:
212
mg
|
Fiber:
2
g
|
Sugar:
3
g
|
Vitamin A:
192
IU
|
Vitamin C:
10
mg
|
Calcium:
81
mg
|
Iron:
6
mg