Satisfying and so delicious, Egg Roll In a Bowl has the crunch of an egg roll without the carbs. This recipe is a much easier and healthier version of the classic Chinese appetizer and my all time favorite stir fry.

This post may contain affiliate links which I earn a small portion in sales if a purchase is made. Rest assured though, it is never at any additional cost to you.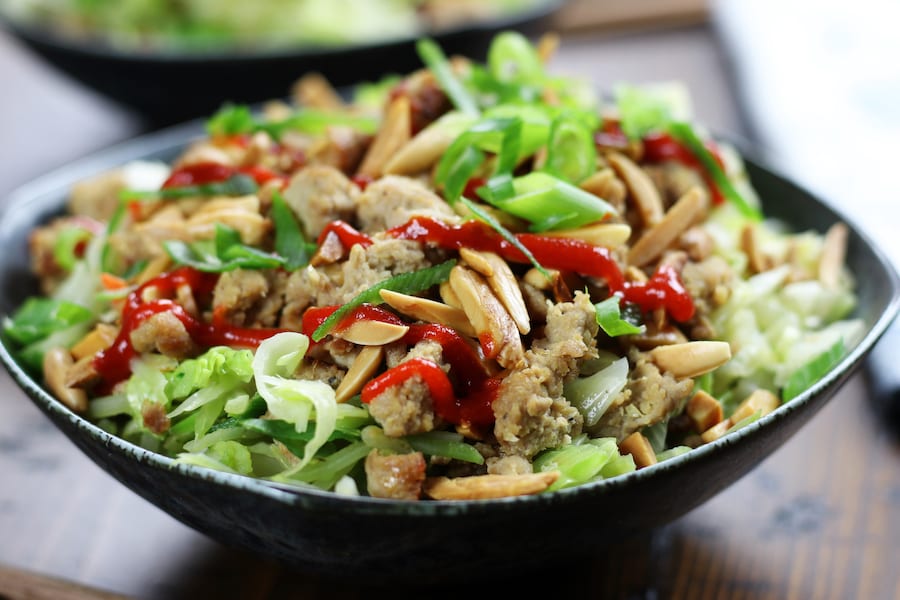 For anyone needing to watch their blood sugar levels, it usually doesn't take long to uncover the virtues of following a low-carb diet that is high in non starchy veggies and fiber.
Generally blood sugars levels start to level out and many find weight loss easier. But, following this style of eating doesn't come without challenges of its own.
The struggle for many is that so many of low-carb recipes lack the comfort that carbs can provide.
In addition, hunger is often fairly common with this eating approach.
When creating this Egg Roll In a Bowl recipe I was determined to conquer the hunger and comfort challenges.
Not only was I successful with that goal but I also created a stir fry recipe that has ended up being my all time favorite.
This Egg Roll In a Bowl is like a stir fried crack slaw, so good it's addicting!!!
I am not the only one who thinks this also. My carb loving husband gobbled his bowl down and literally said, "I could eat this every night!"
If you are looking for a meal that not only tastes amazing, is filling but also has a satisfying texture, this low-carb Egg Roll In a Bowl recipe is for you.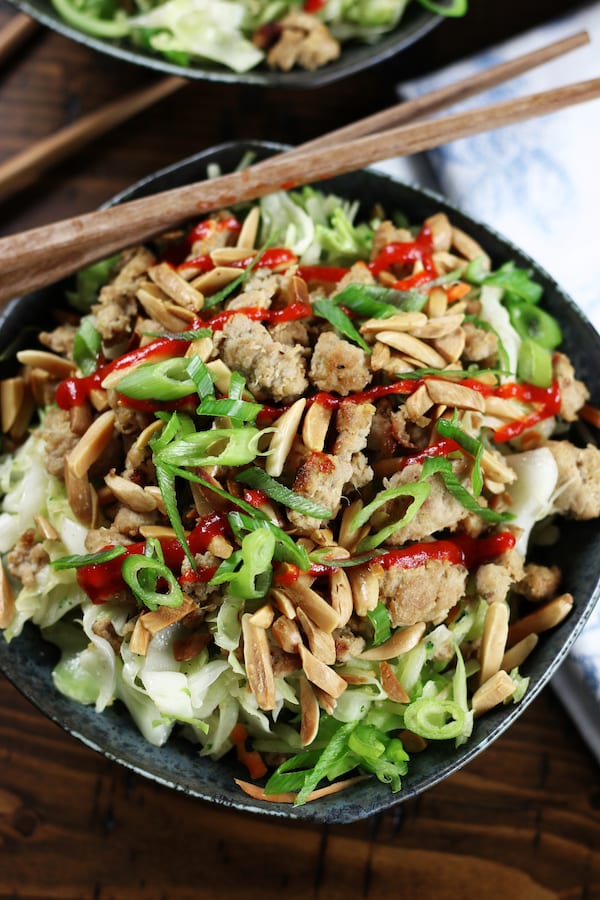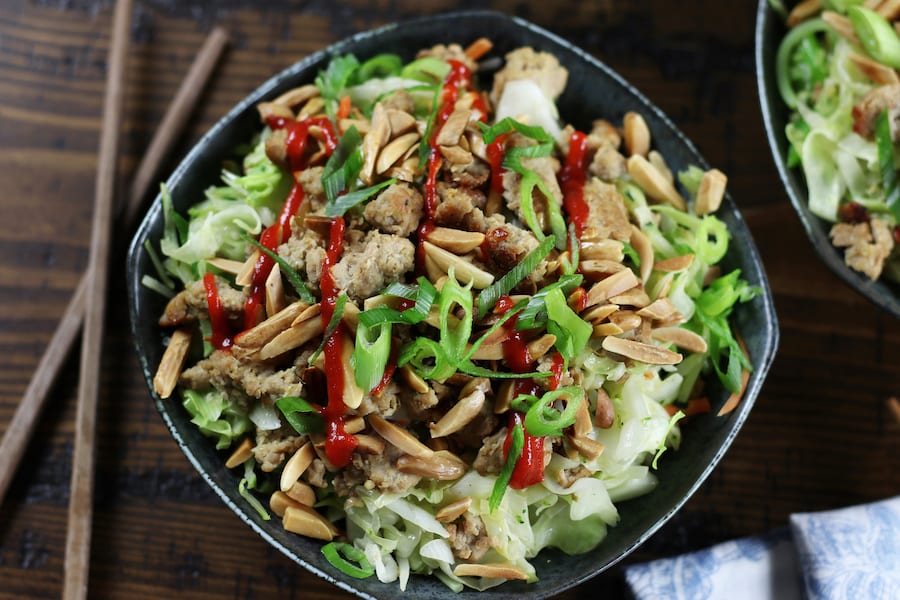 How To Make The Best Egg Roll In a Bowl
This is a perfect meal to make on a busy weeknights or when trying to loose weight. There are 3 main quick and easy steps to getting this stir fry on the table quickly.
Prepare slivered almonds by toasting them in a small amount of sesame oil for about 7 mins.
Add flavor to the meat by mixing in ginger, garlic soy sauce, rice vinegar, salt and pepper. This step can be done a few hours in advance and marinated in the refrigerator until it's time to cook.
The last step is cooking the meat and then the veggies in 2 stages. Cook your meat until it is cooked through and reaches a light golden brown. Transfer to a plate and then cook the veggies. Once veggies are all done mix everything together and garnish with sriracha and green onions.
Commonly Asked Questions About Egg Roll In a Bowl
What Is Egg Roll In a Bowl?
Summarized, it is a really fun name for a quick, healthy and low carb dinner. It has flavors similar to that of the Chinese appetizer egg rolls, but without all the extra fat and carbs. What is different about this particular Egg Roll In a Bowl is that the texture and flavor of the crispy egg roll wrapper is captured with the toasted almonds. Also, the addition of broccoli slaw adds another dimension of texture that cabbage just doesn't have on its own. These two additions completely make this dish amazing!!
How to make this Egg Roll In a Bowl a Paleo Stir Fry?
Since this is basically a turkey or chicken cabbage stir fry, most of the ingredients fall within the paleo guidelines with the exception of three.
Sesame oil is not technically paleo approved, however, many following the paleo approach will still use it in moderation. For this stir fry recipe I do recommend cooking the meat and toasting the almonds with it because is one of the elements that makes this meal taste amazing.
Rice vinegar falls within the same category as sesame oil, not technical paleo approved but still can be used in moderation. Since this recipe uses very little I recommend not substituting with another ingredient.
Soy sauce is not paleo approved but replacing with coconut aminos will keep this recipe within the paleo parameters. I personally feel that coconut aminos taste just a little sweeter than soy sauce or tamari. Because of the sweetness element make sure to use the full amount of garlic and ginger.
Is this recipe Keto friendly?
The good news is yes, this Egg Roll In a Bowl is a Keto stir fry. Generally, it is recommended that while following the Ketogenic diet that the main cooking oils be butter, ghee, avocado, coconut and olive oil. Sesame oil is usually recommended for drizzling but since its smoke point is 410℉ it is still considered to be a safe oil for cooking.
How to make Whole 30 Egg Roll In A Bowl?
There are just a few adaptations to make this a Whole 30 stir fry.
No soy sauce at all should be used and based on the new Whole 3o rules updated in March of 2017, all coconut aminos are Whole 30 compliant.
Sesame oil should be used sparingly on the Whole 30 approach. Because of this, replace at least half of the oil (not all to keep the unique Asian taste) with olive oil.
What type of frying pans should I use?
Guys, honestly I am not a huge fan of nonstick cookware but for certain meals like this roll in a bowl recipe, healthier nonstick cookware works very well because it allows a lower amount of oil to be used without the food sticking.
Pro Tip: Use the largest frying for the stir fry and the smallest for toasting the nuts.
Should I use a wok for this chicken and cabbage stir fry?
Yes, you absolutely can use a wok for this stir fry but it is not necessary. Just remember, most of the cooking will be done over med/high heat and not the traditional high heat that is usually used for wok cooking.
More Delicious and Easy Low-Carb Dinners
Crockpot Beef Asian Lettuce Wraps
Veggie Loaded Low-Carb Taco Casserole
Cauliflower Chicken and Shrimp Fried Rice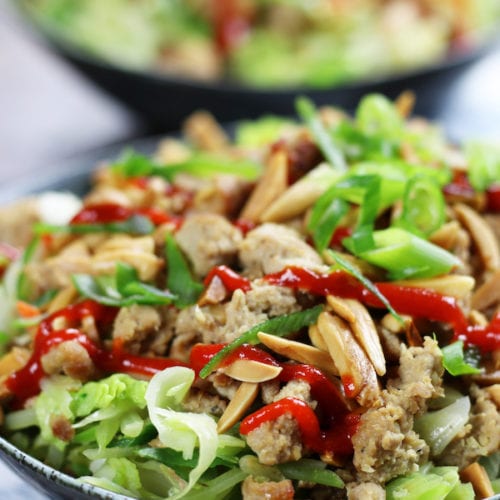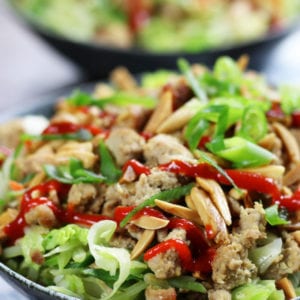 Ingredients
For the Almonds
4

oz

almond slivers

1

tsp

toasted sesame oil
For the Meat
16

oz

ground turkey or chicken

1 1/2

tbsp

soy sauce

*tamari for gluten-free

1/2

tbsp

rice vinegar

6

cloves

garlic

*2 tbsp crushed or minced

2

inch

fresh ginger

*grated

1/2

tsp

sea salt

1/8

tsp

pepper

2

tbsp

toasted sesame oil
For the Veggies
12

oz

broccoli slaw bag

1/2

small

cabbage

*about 4 cups shredded

1/2

bunch

green onions

*diced

1 1/2

tbsp

toasted sesame oil
For Garnish
1/2

bunch

green onions

*diced

Sriracha
Instructions
For the Almonds
Place a small frying pan over med heat with 1 tsp sesame oil and almonds. Stirring occasionally, cook until toasted, about 7-8 mins. Remove from heat and set aside.
For the Meat
Place meat into a medium sized mixing bowl with all the ingredients under meat section with the exception of sesame oil. Mix well.

This can be mixed ahead of time and then refrigerated to marinate for a few hours prior to cooking but is not necessary.

Heat a large frying pan over med/high heat. Add 2 tbsp of sesame oil and meat. Cook, stirring occasionally until lightly golden brown, about 10 mins. Remove from pan.
For the Veggies
Place pan back over med/high heat. Add 1 1/2 tbsp oil and broccoli slaw. Cook for 2 mins stirring often and then add shredded cabbage and 1/2 bunch diced green onions. Cook for another 5 mins continuing to stir often.

Turn off heat and stir in cooked meat and toasted almonds.

Garnish with diced green onions and sriracha.
Notes
Please use as many organic ingredients as possible. 
Nutrition
Calories:
470
kcal
|
Carbohydrates:
19
g
|
Protein:
38
g
|
Fat:
30
g
|
Saturated Fat:
4
g
|
Cholesterol:
62
mg
|
Sodium:
767
mg
|
Potassium:
1009
mg
|
Fiber:
6
g
|
Sugar:
4
g
|
Vitamin A:
516
IU
|
Vitamin C:
114
mg
|
Calcium:
163
mg
|
Iron:
3
mg