Cauliflower Chicken and Shrimp Fried Rice recipe is a delicious and satisfying veggie packed meal that my husband and I adored. Perfect alternative to take-out when eating healthy with Paleo, Whole-30 and Ketogenic approaches.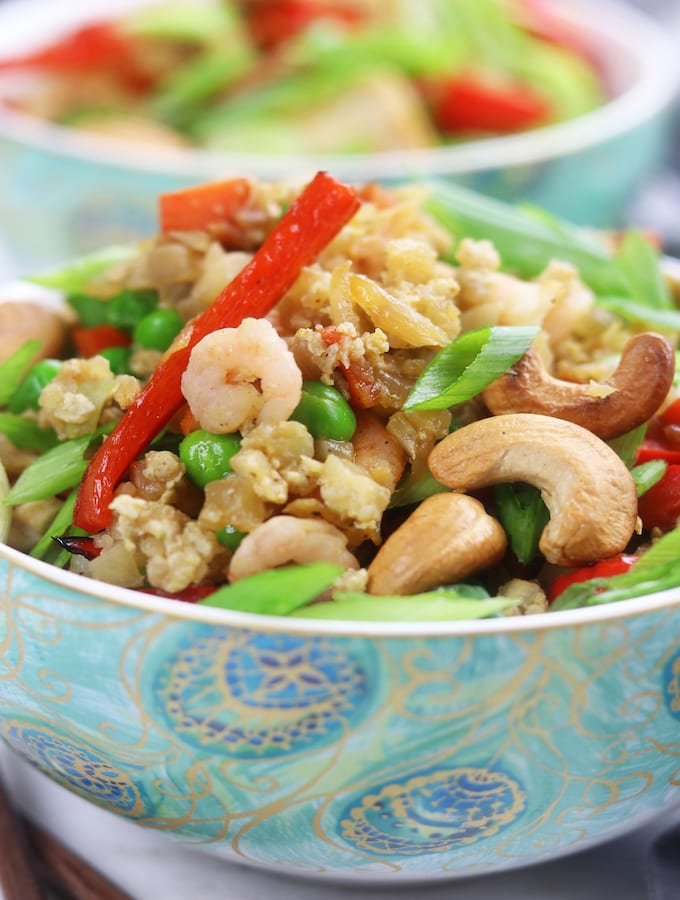 This post may contain affiliate links which I earn a small portion in sales if a purchase is made. Rest assured though, it is never at any additional cost to you.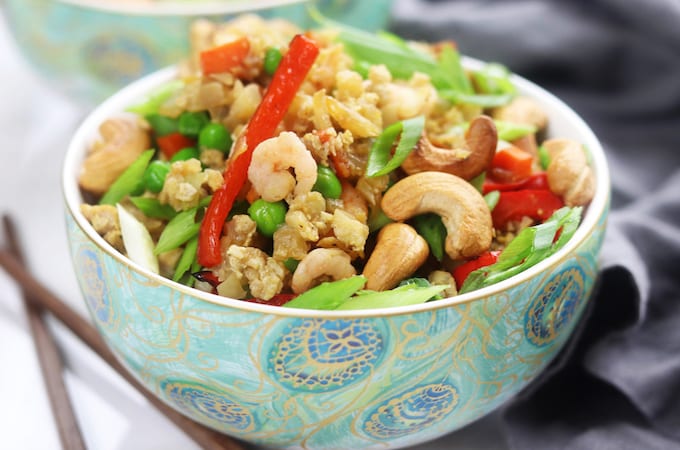 I am not going to lie.
I was a little skeptical about the whole cauliflower craze until I started making this cauliflower rice recipe.
I will also admit, I am a little late to the game.
My hesitancy has stemmed from the fact that although I love eating plenty of healthy veggies everyday, I also am a huge fan of good old fashioned carbs. Rice, whether basmati, Jasmine or brown is just plain heavenly when cook correctly.
The idea of giving up that divine comfort food for a veggie was both appealing and a struggle for me.
To my surprise, both my husband and I fell in love with this healthy cooking approach.
The texture was only slightly different in that it wasn't as starchy and chewy. The taste is great though and the biggest perk was not feeling weighed down after dinner.
We felt satisfied but not lacking the energy that can at times come from eating a big meal.
This cauliflower fried rice recipe is great meal for a low-carb diet with weight loss as the goal.
It also is a wonderful way to easily add extra veggies into your day.
I can see Paul and I eating this meal as a light dinner whenever the need strikes for quite a long time without becoming bored.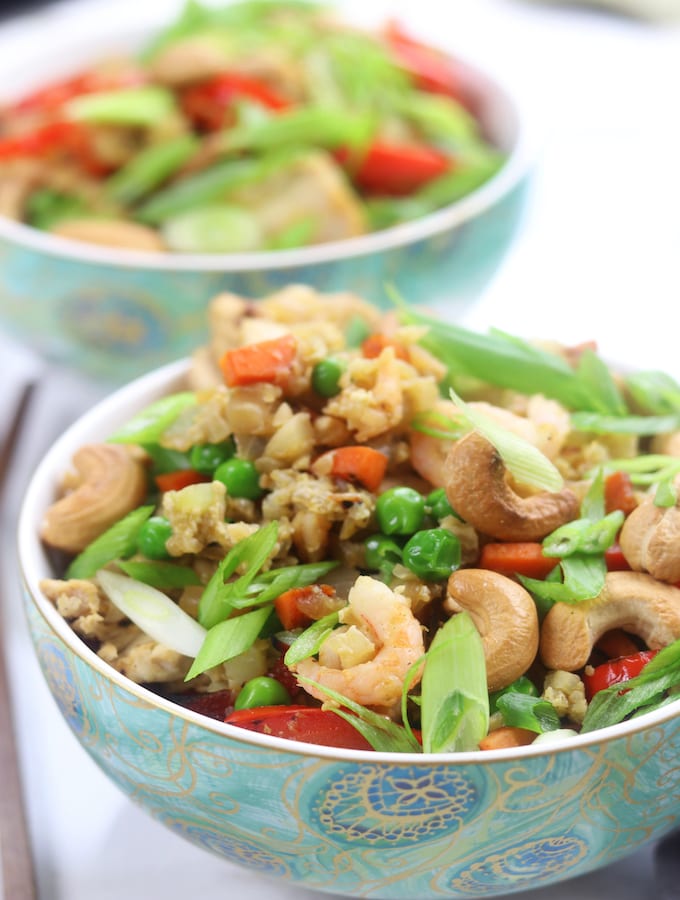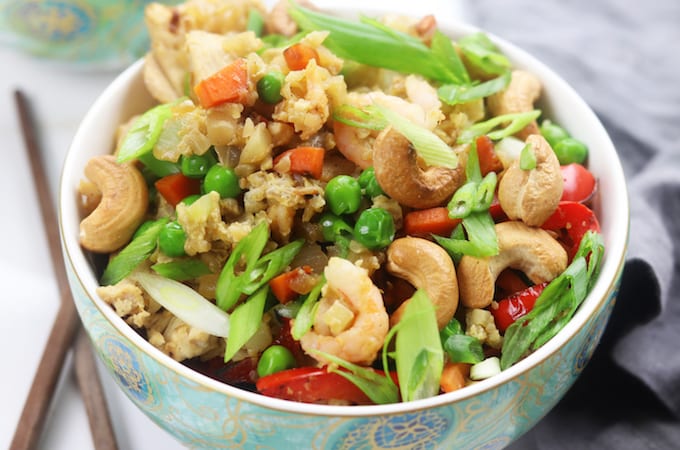 How to Make Cauliflower Rice
There a few different approaches to making riced cauliflower .
Grating Method– With this approach you will want to wash the cauliflower and remove the green stems. Cut the cauliflower into either 1/4's or 1/8's to make it easier to hold onto while grating. Using either a hand held or boxed cheese grater carefully grate until you have pieces the size of rice kernels.Make sure to use the larger holed side traditionally used for grating cheese. (affiliate)
Food Processor Method– Similar to the grating method, cut your cauliflower into smaller pieces. Attach the grating blade and grate until small pieces the size of rice is achieved.
Knife Method– Basically chopping the cauliflower by hand. Since this approach is a little more labor intensive the trick of a really good chef's knife with a weighted handle that makes the job so much easier. (affiliate)
Where to Buy Cauliflower Rice
If the work of making riced cauliflower does not sound very appealing, the good news is most stores now carry either fresh bags of cauliflower rice in their produce department or frozen cauliflower rice in their freezer department. Many Costco's around the country have at least one or the other, if not both. I have also found riced cauliflower at Trader Joe's in a smaller bag for those who prefer not to buy in bulk. Make sure to check out your local store though because many do carry riced cauliflower now due to its popularity.
Easy Diet Swaps
Low Carb– To make this veggie loaded dish even more low carb simply eliminate the peas.
Paleo– The good news is this veggie fried rice recipe is mostly considered paleo but there are a few things to keep in mind. It is always recommended on the paleo diet to lean towards organic whenever possible and pasture raised organic eggs.
Also the use of sesame oil is a bit controversial in the paleo community. It is often recommended to use it in small doses. With this in mind it would be recommended to use a paleo approved oil like coconut or avocado and then drizzle on the toasted sesame oil for taste.
Whole 30– Very similar to Paleo guidelines, eating organic is recommended but not part of the Whole 30 "rules". Also, the use of sesame oil is recommended to be limited. Use coconut, olive oil or avocado oil in preparation and only drizzle on toasted sesame oil if you feel comfortable.
Tips about Cauliflower Chicken and Shrimp Fried Rice
Cutting a chicken breast can be a slippery task at times even for the most experienced chef. Check out these wonderful tips from Serious Eats making the job much easier.
If you choose to rice your cauliflower at home one tip to help lower moisture is to place the chopped cauliflower in a dish towel (or paper towels) and wring out any excess moisture. This will help your final dish from becoming too watery.
In Dr Axe's video he does a superb job of explaining why teflon non stick pans are of particular concern in regards to overall health. Because of this I have faithfully used cast iron and stainless steel up until a few moths ago when I decided to give the Italian made Ballarini ceramic nonstick pans a try. I fell in love with them and let me tell you I am a hard critic when it come to pans. They cook evenly, clean up is a breeze and I am thrilled that they do not contain teflon. In addition I loved using my Ballerina pan for this cauliflower fried rice recipe. (affiliate)
To toast your cashews at home place about 2 cups of raw cashews either on a large cookie sheet or in a frying pan and bake in a preheated 350℉ oven for 10 mins making sure to check for doneness and to stir after 5 mins.
Let's get cooking this Veggie Loaded Cauliflower Rice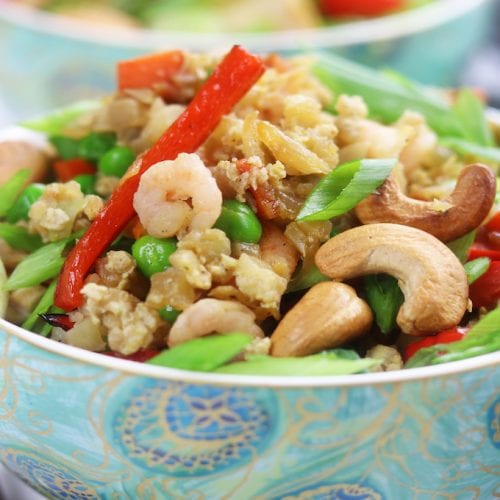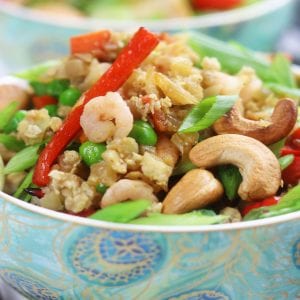 Cauliflower Chicken and Shrimp Fried Rice
Cauliflower Chicken and Shrimp Fried Rice recipe is a delicious and satisfying veggie packed meal. Perfect alternative to take-out and healthy eating approach.
Print
Pin
Rate
Ingredients
2

tbsp

toasted sesame oil

*divided into 4 servings

1/2

large

brown onion

*about 1 cup diced

1

large

boneless skinless chicken breast

*sliced into 1/4 inch slices

2

med

carrots

*about 1 1/2 cups diced

1

large

red bell pepper

*cut into strips

2

cloves

garlic

*about 1/2 tbsp minced or crushed

4- 4 1/2

cups

riced cauliflower

*about 1 1/4 lb whole cauliflower before grating

2

tbsp

soy sauce

*use Tamari for gluten-free

2

med

eggs

*whisked

1

cup

frozen peas

1

cup

frozen baby shrimp

toasted cashews

*for garnish

green onions

*chopped for garnish
Instructions
Prepare and cut all veggies and chicken breast. Set aside keeping cut chicken in refrigerator until needed.

Heat a large frying pan over med/high heat with 1/2 tbsp of oil until just heated. Add onion and sauté until soft, about 3 mins. Add cut chicken and continue sautéing until chicken is cooked through, about 5-6 mins. Remove to a separate plate or bowl.

Place pan back on same med/high heat and add another 1/2 tbsp oil. Add diced carrots and sauté until soft, about 5-6 mins. Remove carrots and add to chicken/onion bowl.

Place pan back on heat. Add another 1/2 tbsp of oil and sauté red bell pepper strips until soft, about 5 mins. Remove to chicken/onion bowl.

Place pan on same heat source and 1/2 tbsp oil and garlic. Sauté for 30 seconds and then add riced cauliflower. Stir Well. Add soy sauce and sauté for approximately 5 mins until cauliflower becomes slightly tender.

Make a well is center of cauliflower pan and add eggs. Cook eggs similar to cooking scrambled eggs, slowly incorporating into cauliflower. Once eggs are cooked add in frozen peas, frozen baby shrimp and chicken veggie mixture. Stir well, cover pan and cook for 4-5 mins.

Serve with toasted cashews and green onions.
Notes
*Please use as many organic ingredients as possible* 
Nutrition
Calories:
316
kcal
|
Carbohydrates:
30
g
|
Protein:
26
g
|
Fat:
12
g
|
Saturated Fat:
2
g
|
Cholesterol:
191
mg
|
Sodium:
947
mg
|
Potassium:
1500
mg
|
Fiber:
11
g
|
Sugar:
13
g
|
Vitamin A:
6790
IU
|
Vitamin C:
236
mg
|
Calcium:
164
mg
|
Iron:
4
mg
Follow along on Facebook and Pinterest for more savory inspirations.
If you love recipes with loads of veggies than you will want to check these out: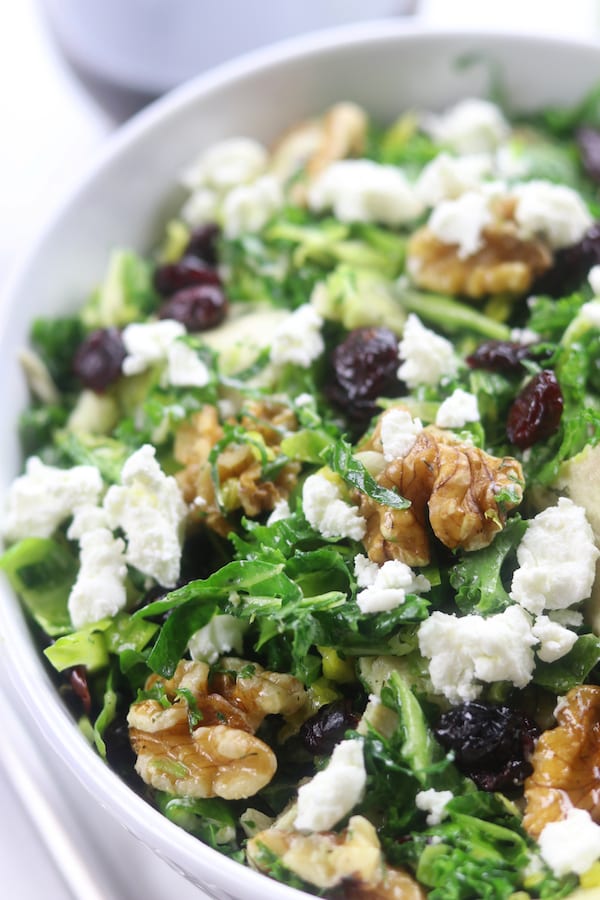 Kale and Brussel Sprouts Salad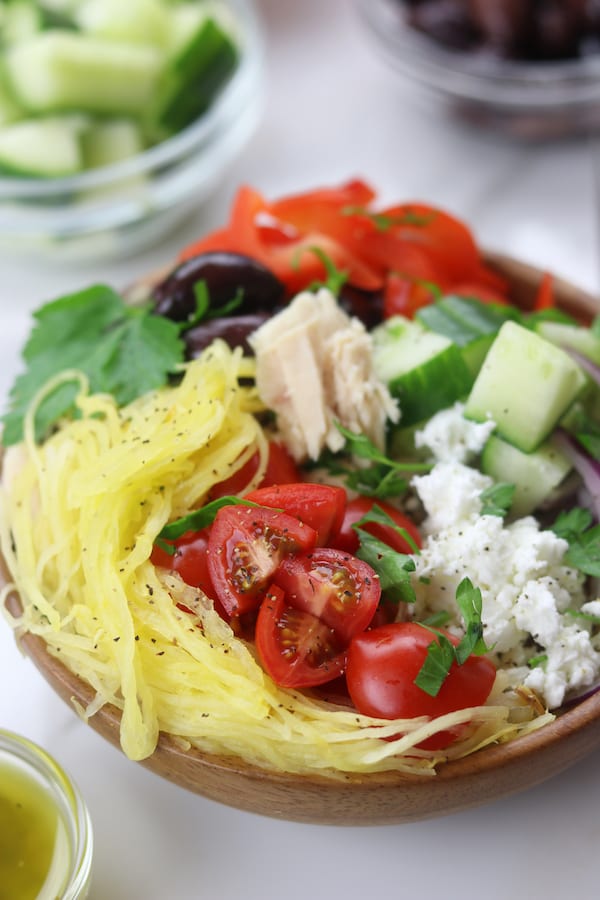 Spaghetti Squash Greek Bowls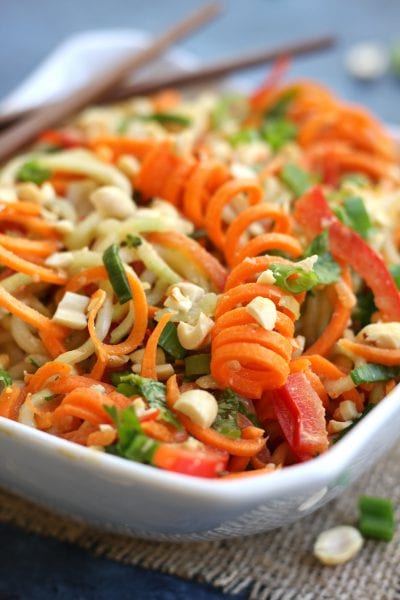 Carrot Cucumber Asian Slaw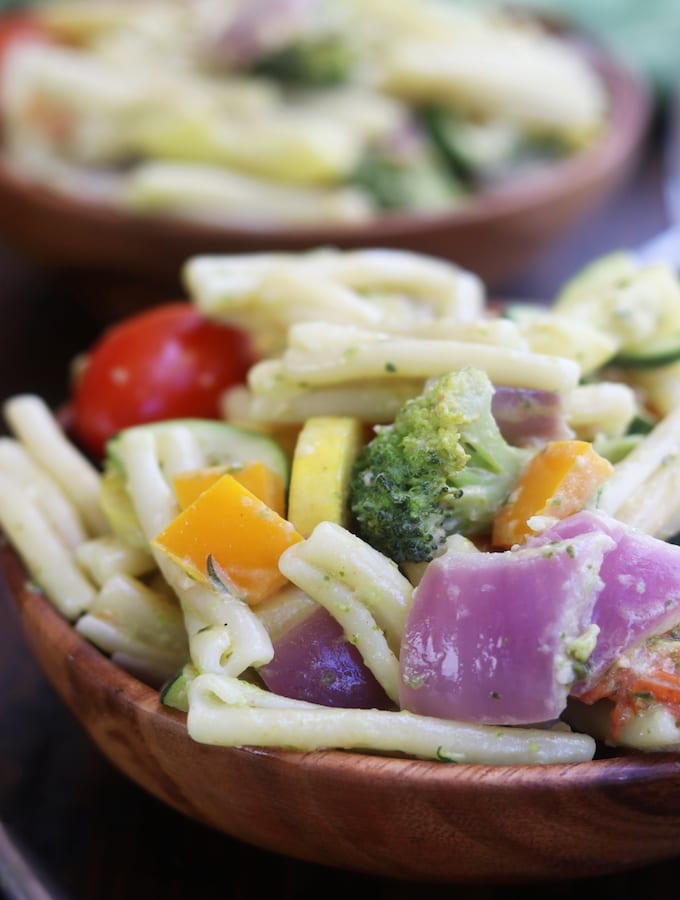 Creamy Pesto Vegetable Pasta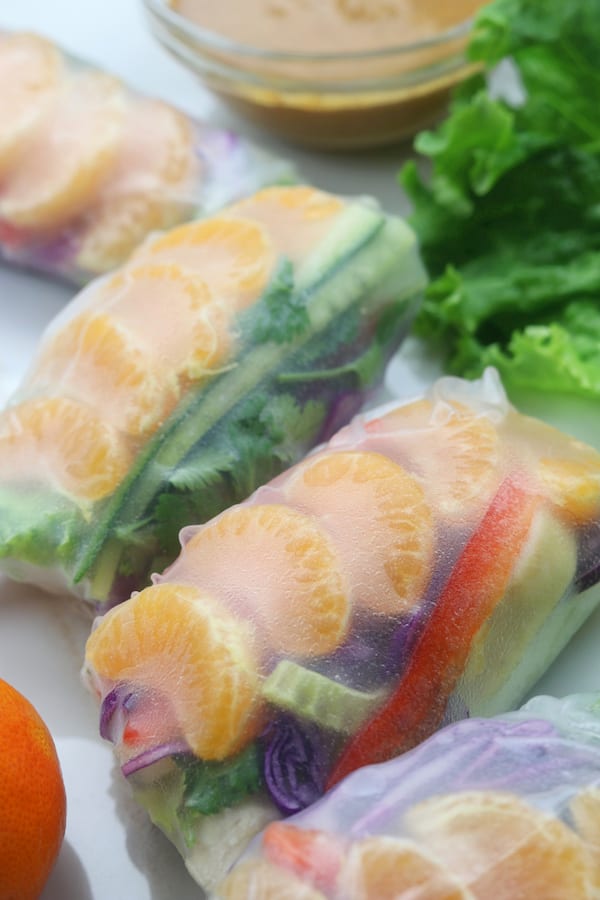 Chinese Chicken Spring Rolls