Elegantly rich and bursting with flavors of creamy chocolate, citrus and cinnamon. Chocolate Pots de Crème is a Holiday dream come true with it being easier than homemade pudding and yet extremely sophisticated.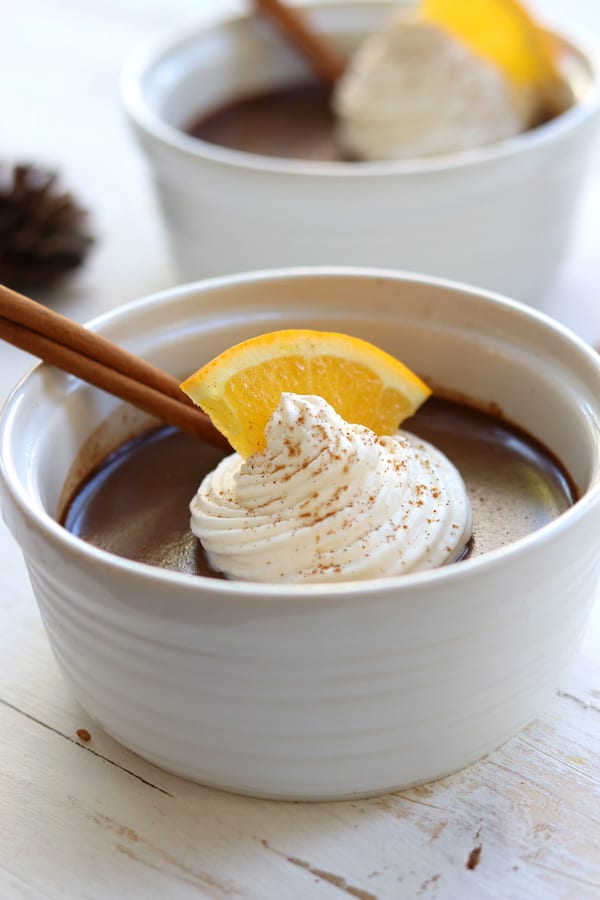 This post may contain affiliate links which I earn a small portion in sales if a purchase is made. Rest assured though, it is never at any additional cost to you.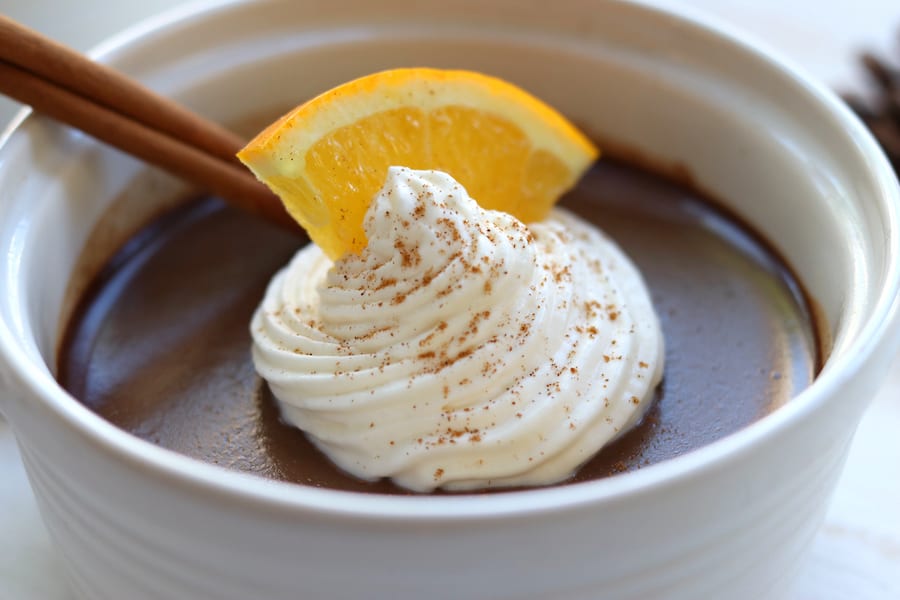 I have always had a soft spot for creamy chocolate desserts so when my brother told me about his idea for this Chocolate Pots de Crème, I knew I had to share it with all of you. Pots de crème is like a grown-up, sophisticated version of pudding but is actually a baked custard. Chocolate flavor would be heavenly on its own, but adding the combination of cinnamon and orange brought this gorgeous dessert to a whole new level. Chocolate Pots de Crème is a creamy and bright dessert with fragrant hints of cinnamon. Garnish with slices of orange and cinnamon sticks and it becomes as appealing for the eyes as the taste buds.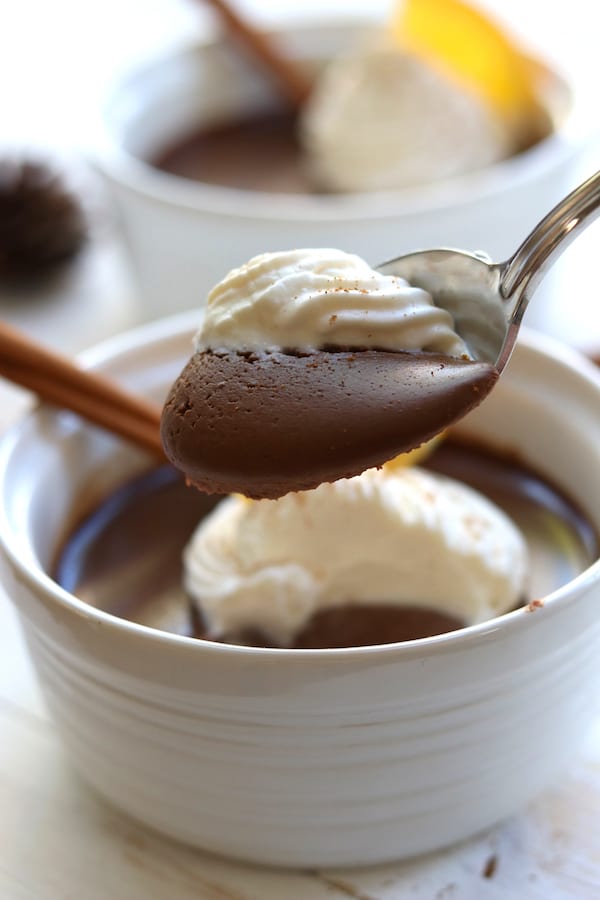 What is Pots de Crème?
Pots de crème is a classic French dessert consisting of a rich custard baked in individual ramekins. Here's an overview of what pots de crème is and its origin:
Pots de crème translates to "pots of cream" in French, describing the cream-based custard filling cooked in small pots or ramekins.

It has a smooth, velvety texture that falls between a pudding and a cream pie filling. The custard is looser than cheesecake but firmer than mousse.

The custard is made from heavy cream, milk or half-and-half, egg yolks, sugar, and flavorings like vanilla, chocolate, or fruit.

It likely originated in France in the 19th century as miniature French custards became popular. Individual sized desserts were fashionable at the time.

It is related to dishes like crème brûlée and crème caramel but pots de crème is cooked and served in ramekins without a brûlée topping or caramel layer.

The individual serving style differentiates it from other baked custard desserts made in larger dishes or pans.

Pots de crème became a staple in French patisseries and restaurants as a delicate, rich dessert. It still remains a menu staple today.

While crème brûlée eventually spread more globally, pots de crème remains associated with classic French cuisine.
In summary, pots de crème is a baked egg custard made in individual ramekins that originated as a popular French dessert in the 1800s and remains a symbol of French pâtisserie tradition.
Tips about Chocolate Pots de C
rème
Use good quality semi-sweet baking chocolate for this Chocolate Pots de C

rème

recipe. I use 60% cocoa. Just know the higher the cocoa % for this recipe, the less sweet it will turn out.
For Holiday baking and candy making I am in love with LorAnn Oils as they are absolutely delicious and very consistent. My hope for the future is that they come out with organic versions. (affiliate)
Make sure to temper your egg yolks, which is basically stirring in a small amount of the hot liquid to the yolks to ensure you do not end up with scrambled eggs. I added about 1 tablespoon, stirred the eggs well and then repeated 2 additional times. Once the eggs yolks were thin enough, I combined them to the chocolate liquid mixture.
You will need 6-8 5 oz ramekins for this recipe. (affiliate)
This Chocolate Pots de C

rème

is incredibly easy, you just need a little extra time to let the hot mixture cool to room temperature before baking. Cooling time takes about 30 mins.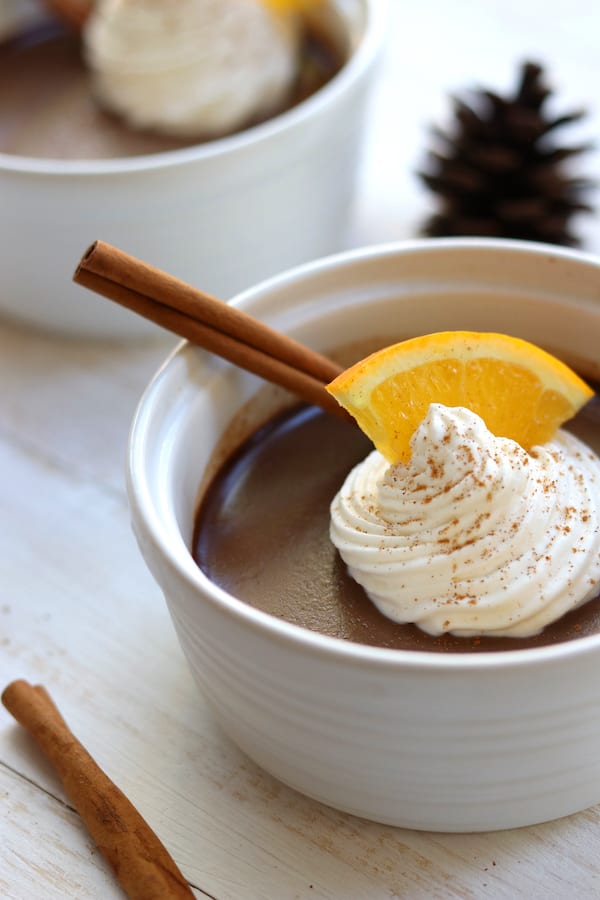 Variations of Chocolate Pots de C
rème
Here are some ideas for tasty variations on classic chocolate pots de crème:
Flavored Custards:
Caramel- Caramelize sugar on the bottom of the ramekins before baking or swirl in caramel sauce.

Coffee- Dissolve espresso powder or instant coffee into the cream/milk for mocha flavor.
Pumpkin Spice- Stir in 1 teaspoon pumpkin spice blend.
Mint Chocolate Chip– Add 1 teaspoon peppermint extract.
Fruit- Flavor with 1 teaspoon cherry, raspberry, orange, strawberry, or coconut extract.
Textural Additions:
Crushed Cookies/Nuts- Press crushed cookies or chopped nuts into the bottom of the ramekins before baking.

Streusel Topping- Sprinkle streusel oat/nut topping on before baking.
Chocolate Shavings- Garnish with dark chocolate shavings.
Fruit compote- Serve with a fresh fruit compote on the side.
Crème Fraîche- Top each custard with a dollop of tangy crème fraîche.
Crunchy Toppings- Add something crunchy like crushed honey graham crackers, shortbread cookies, gingersnaps, or granola.
Creative Serving Styles:
Shooters- Serve the custard in shot glasses for a fun presentation.

Mini Jars- Bake custard in cute mini mason jars or bottles.
Layered Parfaits- Alternate layers of custard and fruit or cake cubes in glasses.
The possibilities are endless! Get creative with flavors, textures and serving styles.
Frequently Asked Questions about Chocolate Pots de C
rème
I don't have ramekins, can I use something else? What could work instead?
Custard cups or small oven-safe bowls– Any small oven-safe bowl or custard cup around 4-6 ounces will work. The custard may take a bit longer to bake.
Muffin tins- Standard muffin cups are a perfect substitution. Grease them well.
Mason jars- Cute 4 oz mason jars make great single serving baking vessels. Just don't use the lids.
Coffee mugs or teacups- These tend to be thicker material and oven-safe. Again avoid any plastic or metal lids during baking.
Ceramic bowls or dishes- Small soufflé dishes, dip bowls, or crucibles work nicely. The most important thing is that the vessels are oven-safe, hold roughly 1/2 cup volume, and offer enough height for the custard to bake up.
Can I make it ahead of time and serve it later?
Yes, you can absolutely make chocolate pots de crème ahead of time and serve them later. Make the recipe 1-2 days before serving. Once baked and cooled, cover each ramekin individually and refrigerate.
How should I store and serve it?
You can store chocolate pots de creme up to 4-5 days. Put each covered ramekin in a zip top freezer bag or airtight container before refrigerating. This prevents it from absorbing fridge odors. When ready to serve, remove from fridge about 30 minutes before to take the chill off. The custard should still be served cold but not ice cold. Spruce them up with toppings right before serving.
What can I use instead of orange oil or extract if I don't have it?
If you don't have orange oil or extract, here are some great substitutes to use instead:
Vanilla Extract- Start with 1-2 tsp of vanilla extract in place of the orange extract. Vanilla is a foolproof flavoring for custards.
Almond Extract- Use 1/2 to 1 tsp almond extract to provide a lovely nutty floral note.
Lemon Extract- Lemon extract will give brightness. Use around 1 tsp.
Orange Zest- For fresh orange flavor, zest the outer peel of an orange and add 1-2 tsp zest.
Mandarin Oranges- You can add 2-3 tbsp of canned mandarin oranges with some of the juice.
Espresso Powder- A teaspoon of instant espresso powder adds mocha flair.
Vanilla Bean- Infuse the dairy with the seeds of 1 vanilla bean while heating it.
Any of these alternatives will deliciously flavor the custard base without needing orange extract on hand. Feel free to play with combining a few as well!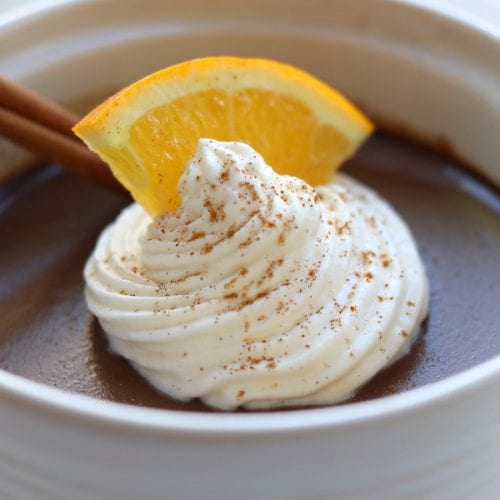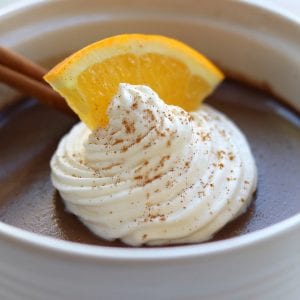 Chocolate Pots de Crème
An easy, sophisticated and rich dessert perfect for the Holidays.
Print
Pin
Rate
Ingredients
1 1/3

cups

heavy cream

1

cup

whole milk

3/4

tsp

cinnamon

7

oz

semi-sweet baking chocolate

*finely chopped

1/2

tsp

orange oil or extract

6

large egg yolks

*room temperature

2

Tbsp

sugar

pinch

of salt

boiling water

6-8 5

oz

ramekins

garnish with whipped cream

cinnamon or orange slices
Instructions
Separate egg yolks from egg whites. Stir in sugar and pinch of salt to egg yolks. Set aside.

In a medium sized sauce pan bring cream, milk, extract (or oil) and cinnamon just to a simmer over medium heat. Take off heat and add chocolate. Thoroughly stir until chocolate is completely melted.

Temper egg yolks by stirring in a small amount of hot chocolate mixture. Repeat a few more times until eggs become thinner in consistency and then mix into remaining chocolate mixture. Strain mixture through a fine-mesh strainer and let cool to room temperature.

Preheat oven to 300℉. Boil water in a stockpot. Meanwhile line a large roasting pan with a folded kitchen towel and arrange ramekins on towel.Once chocolate mixture is cooled to room temperature carefully divide among ramekins. Carefully transfer boiling water to roasting pan making sure water level reaches halfway up ramekin. Cover roasting pan tightly with foil and poke a few holes in top of foil to vent. Carefully transfer pan to middle rack of oven. Bake for 30 mins or until pots de creme are set around edges but slightly wobbly in center. Remove from water onto cooling rack and cool until room temperature.

Once cooled to room temperature cover and chill until cold, about 4 hours. Serve garnished with whipped cream, cinnamon or orange slices.
Notes
*Please use as many organic ingredients as possible.*
Nutrition
Calories:
355
kcal
|
Carbohydrates:
19
g
|
Protein:
5
g
|
Fat:
29
g
|
Saturated Fat:
16
g
|
Cholesterol:
205
mg
|
Sodium:
37
mg
|
Potassium:
225
mg
|
Fiber:
2
g
|
Sugar:
14
g
|
Vitamin A:
840
IU
|
Vitamin C:
1
mg
|
Calcium:
95
mg
|
Iron:
2
mg
If you love creamy Holiday treats then check these recipes out: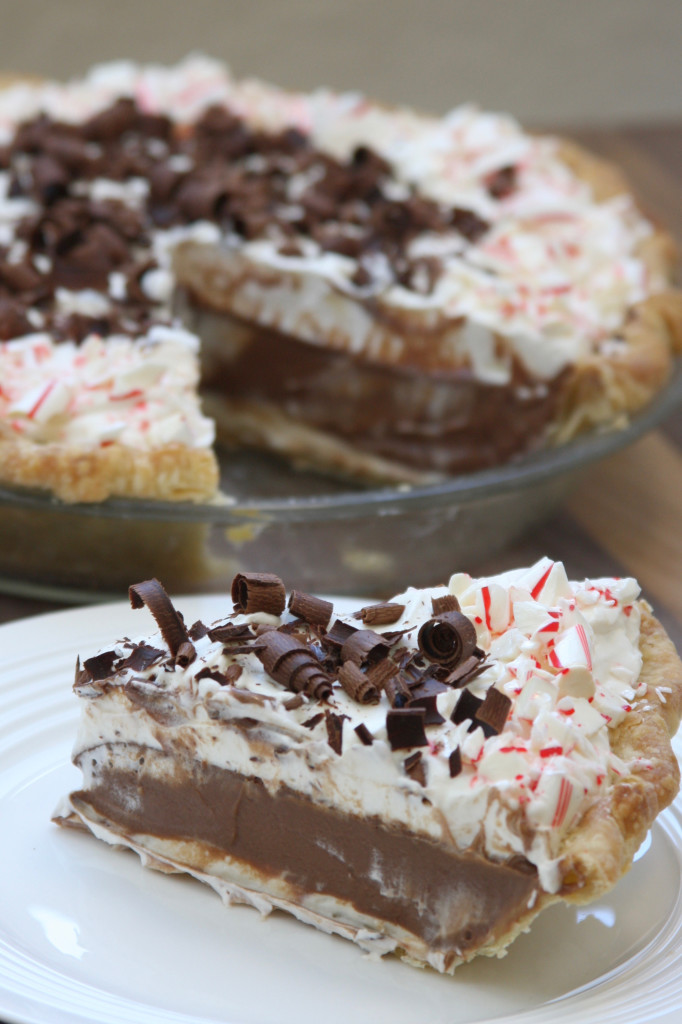 Scrumptious Chocolate Peppermint Pie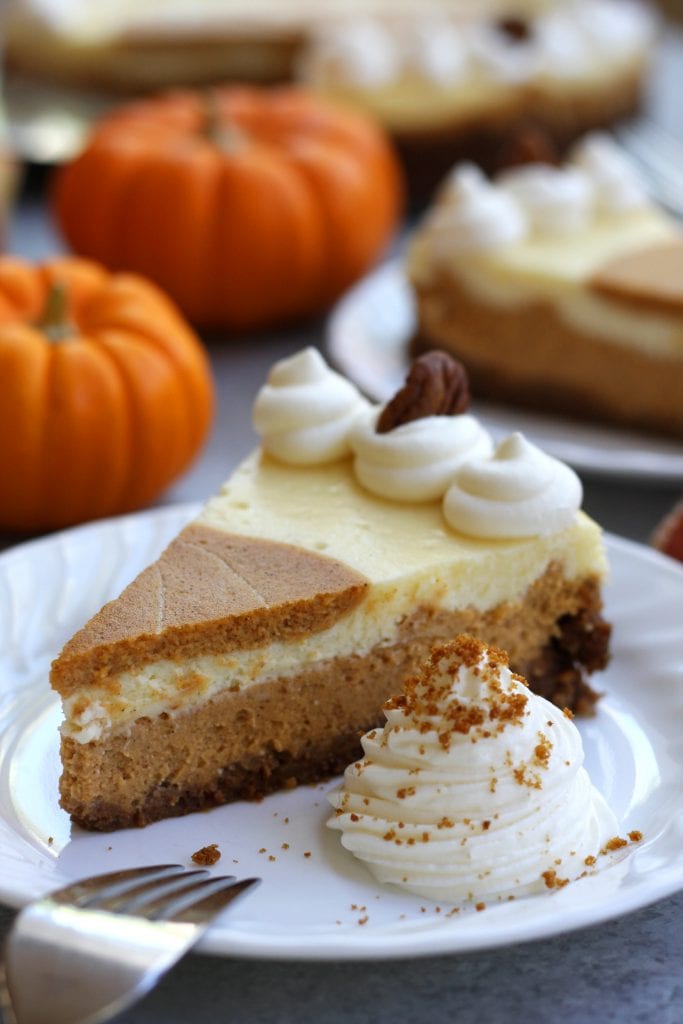 Layered Pumpkin Cheesecake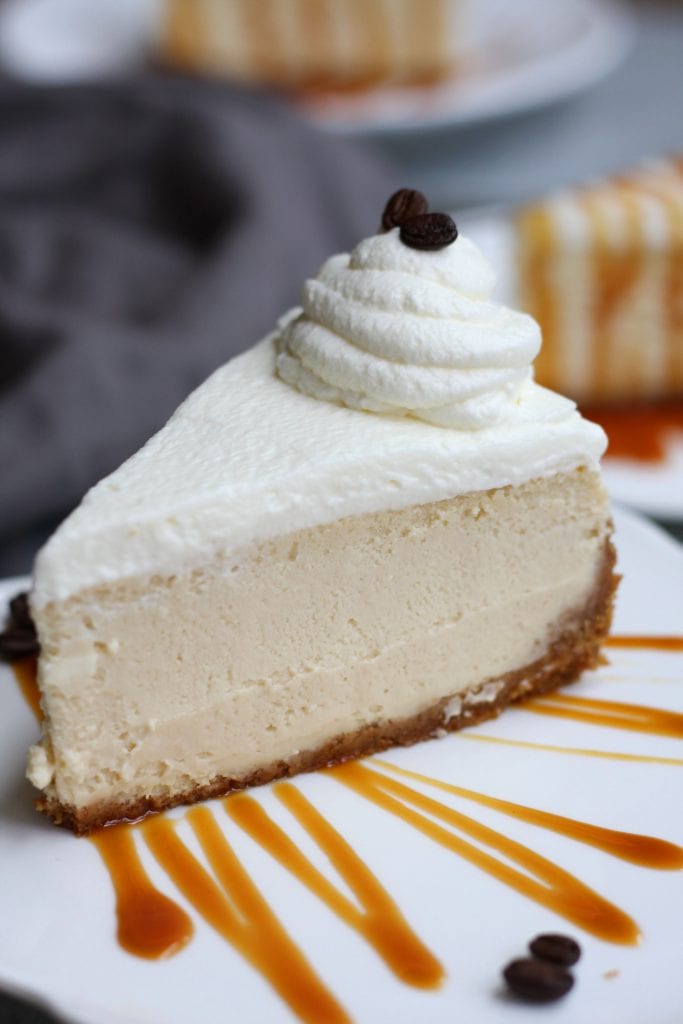 Caramel Macchiato Cheesecake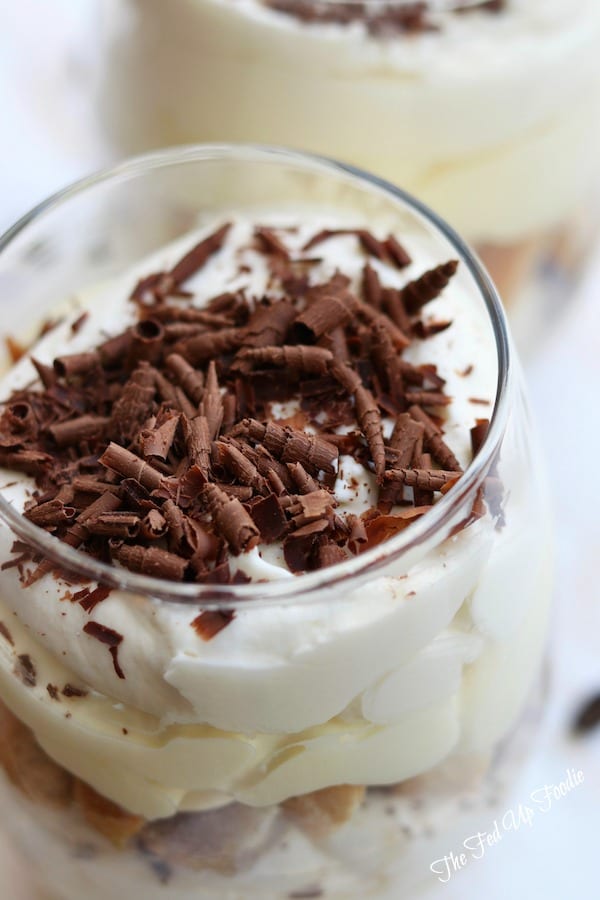 Tiramisu Wine Glass Trifles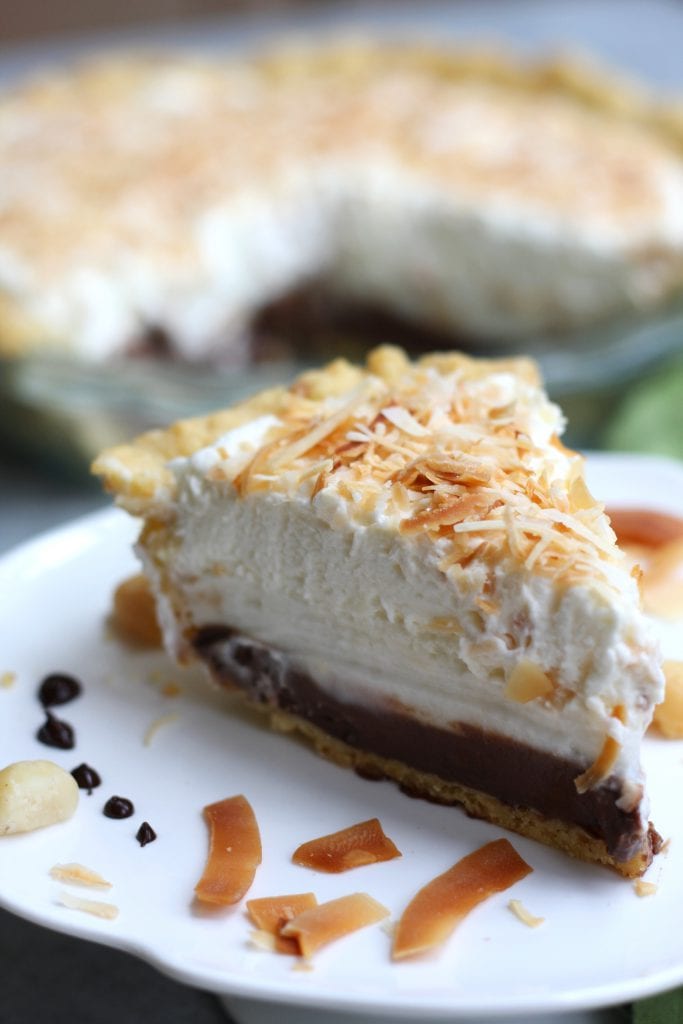 Haupia Pie with Macadamia Crust