Green Curry Coconut Chicken Soup recipe is a quick and healthy comfort food perfect for an easy dinner for two. Aromatic with loads of flavor, this soup is completely addictive.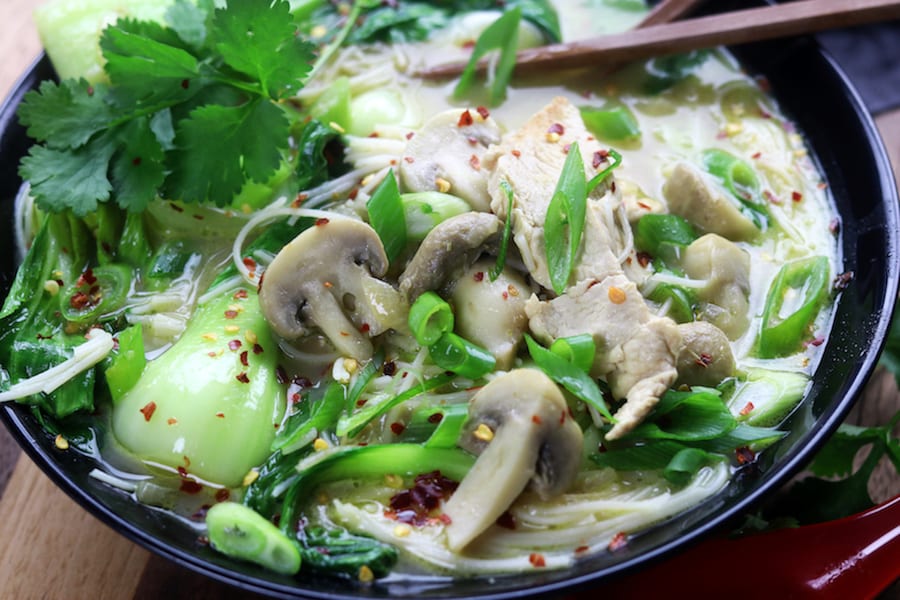 This post may contain affiliate links which I earn a small portion in sales if a purchase is made. Rest assured though, it is never at any additional cost to you.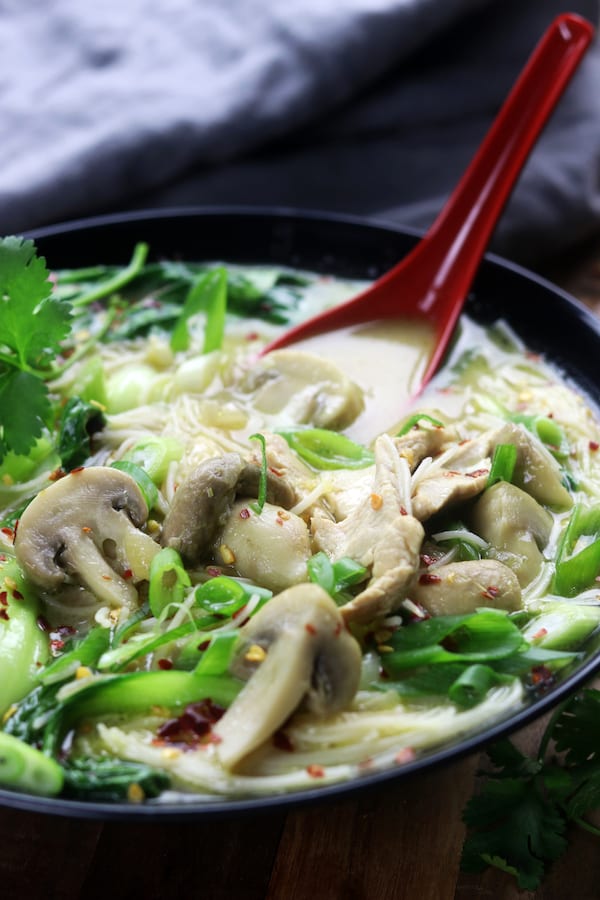 You hear it time and time again from all the well meaning health enthusiasts…"food planning is the way to stay on track with healthier eating".
"Buy in bulk, meal prep, fill half your plate with veggies, blah, blah, blah."
Doesn't all this great advice sometimes make you want to stick your tongue out at them???
To be honest, it really is great advice but here is the thing, life sometimes get's in the way.
I can't tell you how many times at the end of a long hard day I have been met with a fairly empty refrigerator and the ????what the heck are we going to eat for dinner blues????.
Yes, this happens to food bloggers too.
In the past that is normally when the take out menus would come out.
Here is what I have learned, having a couple of go-to recipes in your back pocket, with ingredients on hand usually saves the day.
This Green Curry Coconut Chicken Soup recipe has become one of those Go To recipes for us.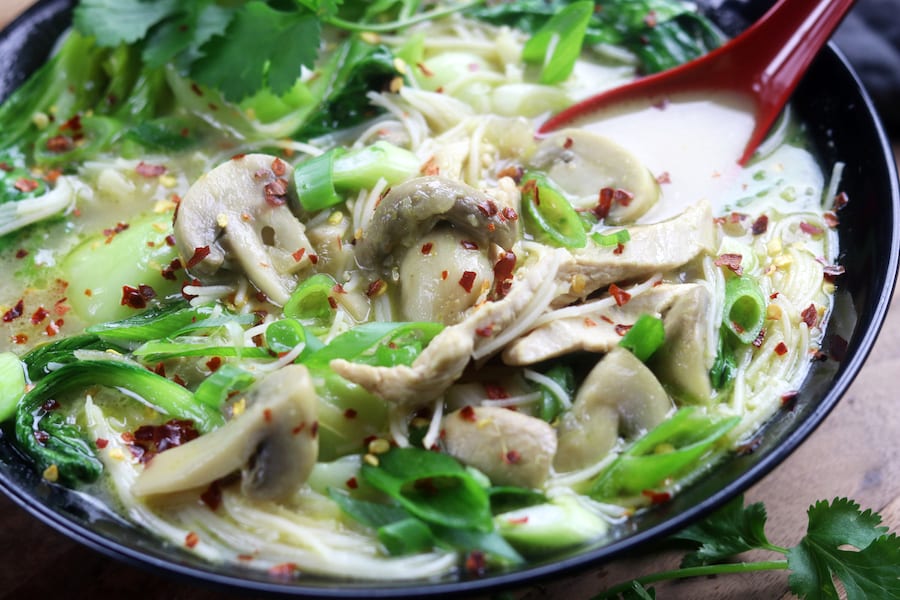 How to make Thai Curry Soup with Coconut Milk a go-to recipe:
My husband and I adore coconut curry soups so it is no surprise that it has become a go-to recipe on very busy days. The beauty of this Green Curry Coconut Chicken Soup is that a majority of the ingredients can be cupboard staples. I will usually keep a couple of jars of green curry paste, cans of coconut milk, containers of chicken broth, a bag of dried Kaffir Lime Leaves and packages of rice noodles on hand in my cupboard. In my refrigerator I try to keep on hand fish sauce and lemongrass paste (from my local grocery store). As far as produce goes, garlic and brown onions are always a must in my kitchen. If I don't have time to swing by the store and purchase bok choy, mushrooms and cilantro, I will instead load the soup up with frozen broccoli and peas. Also, dehydrated shiitake mushrooms can be a nice addition to this curry soup. (affiliate)
Tips about Green Curry Coconut Chicken Soup:
For extra creamy Green Curry Coconut Chicken Soup use coconut cream or to keep it on the lighter side use light coconut milk. (affiliate)
Something to keep in mind is that curry pastes can all vary in flavor and intensity. My suggested 3 tbsp is based Thai Kitchen's Green Curry Paste. You may decide to use more or less depending on your taste preferences. If you are looking for an organic version Mekhala Organic Green Curry paste comes with good reviews but also a warning that it is very spicy. (affiliate)
I can't imagine preparing any kind of Asian dish without a microplane. It make grating the ginger so much easier. (affiliate)
If you prefer to use lemongrass stalks over lemongrass paste than you will want to use about 2-3 stalks. Here is a great explanation of how to use fresh lemongrass or checkout my Lemongrass Chicken noodle Stir Fry.
The beauty of these types of soups is that you can add your favorite veggies to personalize it a bit more. A variety of zucchini, bean sprouts, carrots, red bell pepper, broccoli, sugar snap peas and peas can all be used.
When eating Asian soups it is always fun to have these spoons and chopsticks as an option. (affiliate)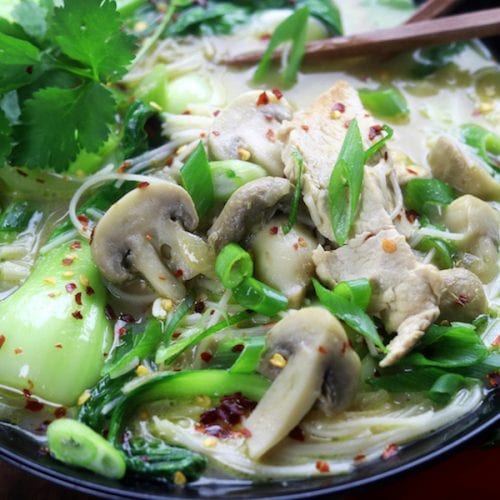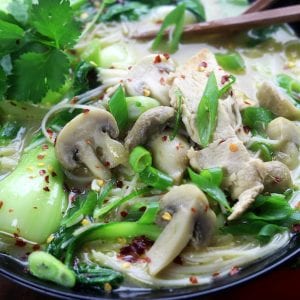 Green Curry Coconut Chicken Soup
Green Curry Coconut Chicken Soup recipe is a quick and healthy comfort food perfect for an easy dinner for two. Aromatic with loads of flavor, this soup is completely addictive.
Print
Pin
Rate
Ingredients
6

oz

rice noodles

1

large

chicken breast (3/4 lb)

*sliced thinly

1/2

medium

brown onion

*cut into thin slices or

2

tbsp

avocado, olive oil or coconut

3 +

tbsp

Green Curry Paste

(see notes above)

1

tbsp

lemongrass paste

*or 3 stalks finely chopped

1

tbsp

grated ginger

*about 1 inch piece

3-4

garlic cloves

*minced or crushed

2

tbsp

fish sauce

2

Kaffir Lime leaves

*optional (see notes above & use is similar to dried by leaf)

8

oz

button mushrooms

*cut in 1/2 or 1/4's

1

can

coconut milk

4

cups

chicken broth

*32 oz container

1

lb

baby bok choy

*ends cut off

1/2

bunch

fresh cilantro

*optional as a garnish

3

stalks

green onions

*diced as a garnish

red chili pepper flakes

*optional garnish
Instructions
Cut and prepare chicken and veggies.

Prepare rice noodles following instructions on package.

Heat a medium sized stockpot over med/high heat. Add oil and sauté onions until sweating and lightly caramelized, about 4-5 mins. Add chicken and continue cooking for another 2-3 mins. In the center of the stockpot add the top layer of solids from the coconut milk with the curry paste, ginger, garlic and lemongrass. Continue cooking and stirring until sauce is bubbly and fragrant, about 2-3 mins. Stir in fish sauce, mushrooms, Kaffir lime leaves, remaining coconut milk and chicken broth. Bring to a boil, stirring often. Cook until mushrooms are desired tenderness. Turn off heat and stir in bok choy. Bok choy will cook quickly with the heat of the soup.

Once bok choy is desired tenderness serve. Garnish with cilantro, green onions and red chili pepper flakes.
Notes
*Please use as many organic ingredients as possible.*
Nutrition
Calories:
432
kcal
|
Carbohydrates:
23
g
|
Protein:
19
g
|
Fat:
30
g
|
Saturated Fat:
20
g
|
Cholesterol:
36
mg
|
Sodium:
1734
mg
|
Potassium:
878
mg
|
Fiber:
3
g
|
Sugar:
4
g
|
Vitamin A:
6992
IU
|
Vitamin C:
75
mg
|
Calcium:
192
mg
|
Iron:
6
mg
Follow along on Facebook and Pinterest for more savory inspirations.
If you love Asian Cuisine than check out these recipes: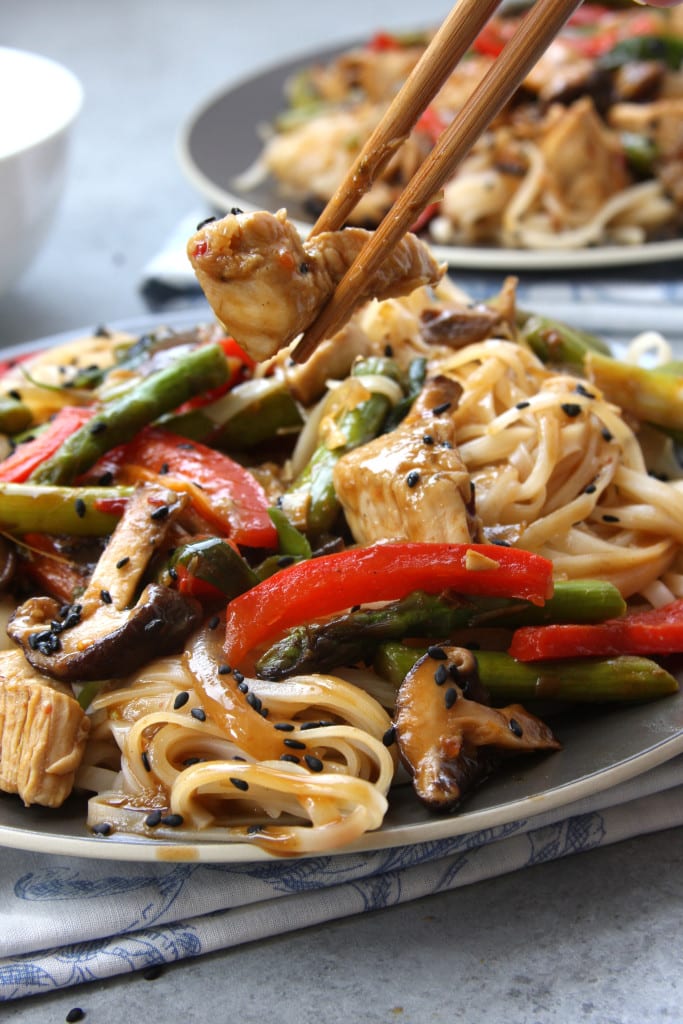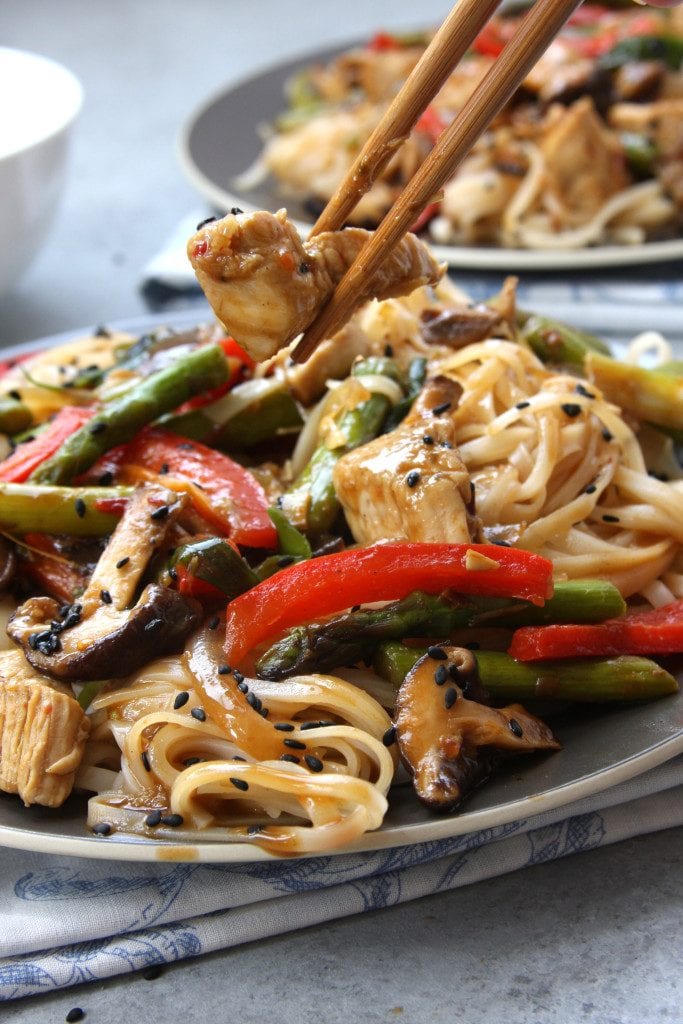 Lemongrass Chicken Noodle Stir Fry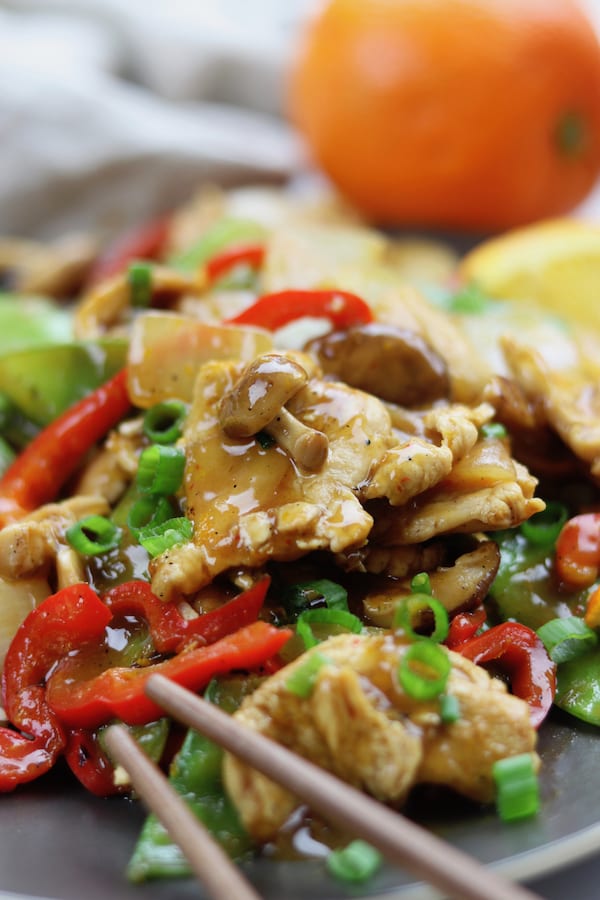 Citrus Chicken Stir Fry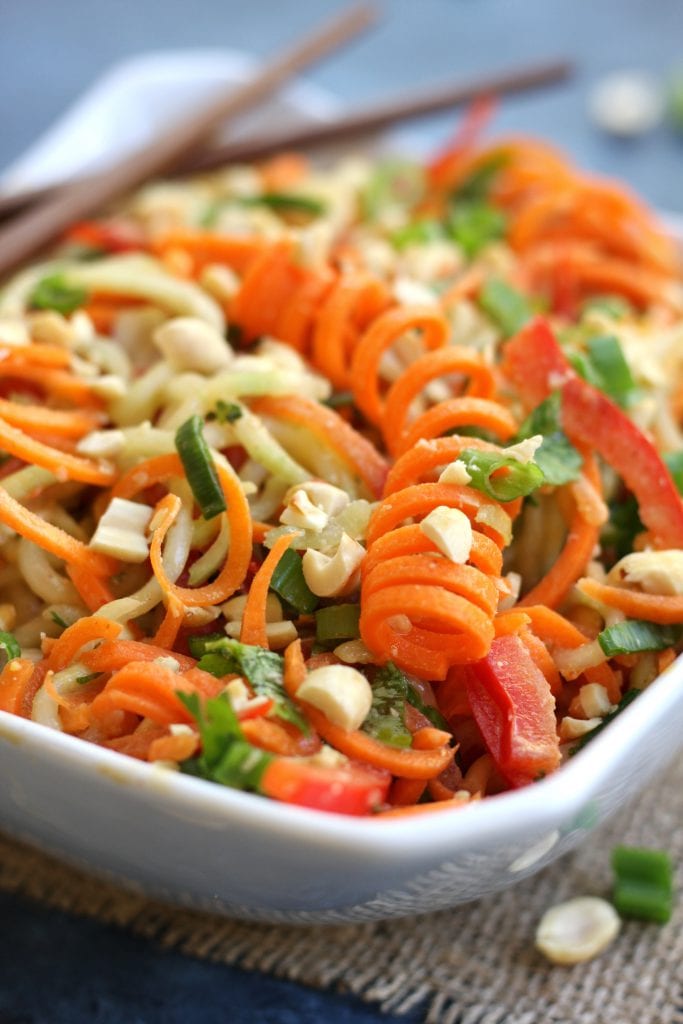 Carrot Cucumber Asian Slaw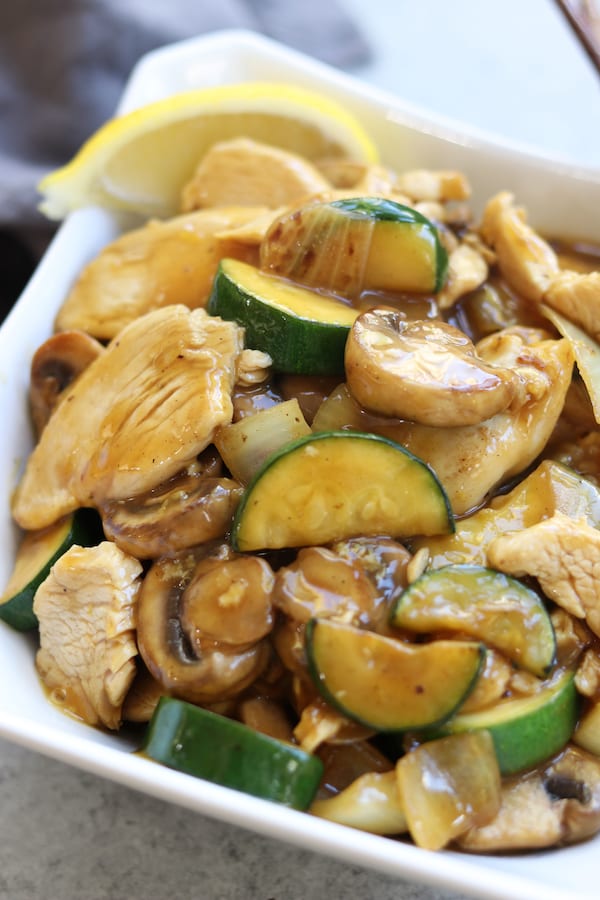 Lemon Chicken Stir Fry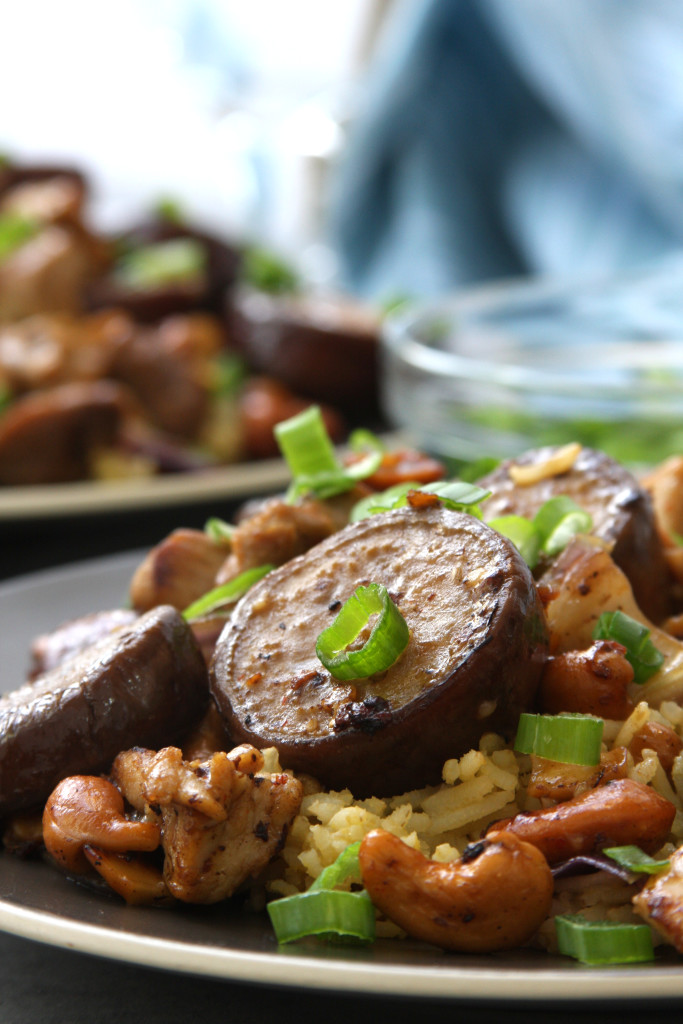 Cashew Eggplant Chicken Stir Fry