Lemon Chicken Quinoa Meatballs have tender and juicy chicken in a luscious lemon sauce that is perfect over brown rice. Quick and healthy, this meal is crazy good and a favorite with lemon lovers.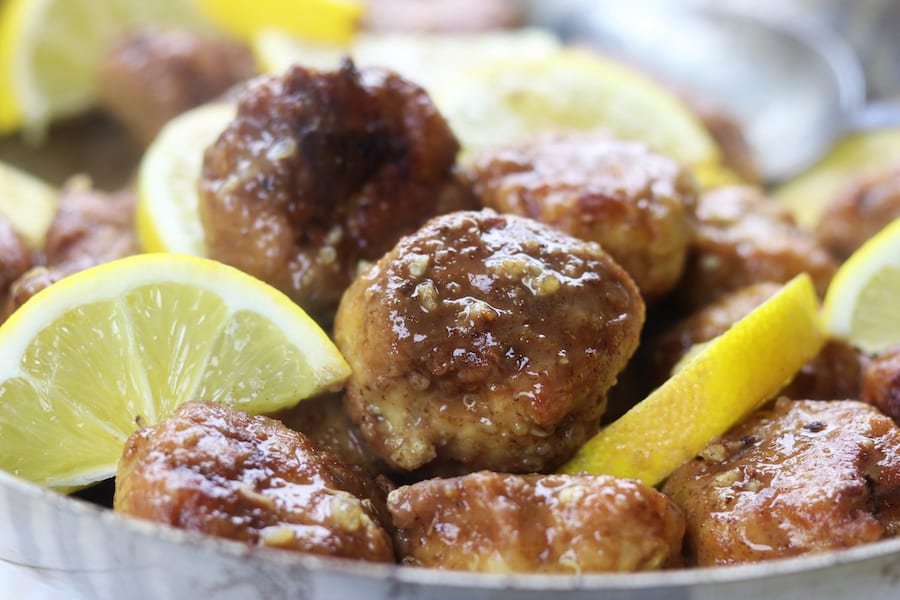 This post may contain affiliate links which I earn a small portion in sales if a purchase is made. Rest assured though, it is never at any additional cost to you.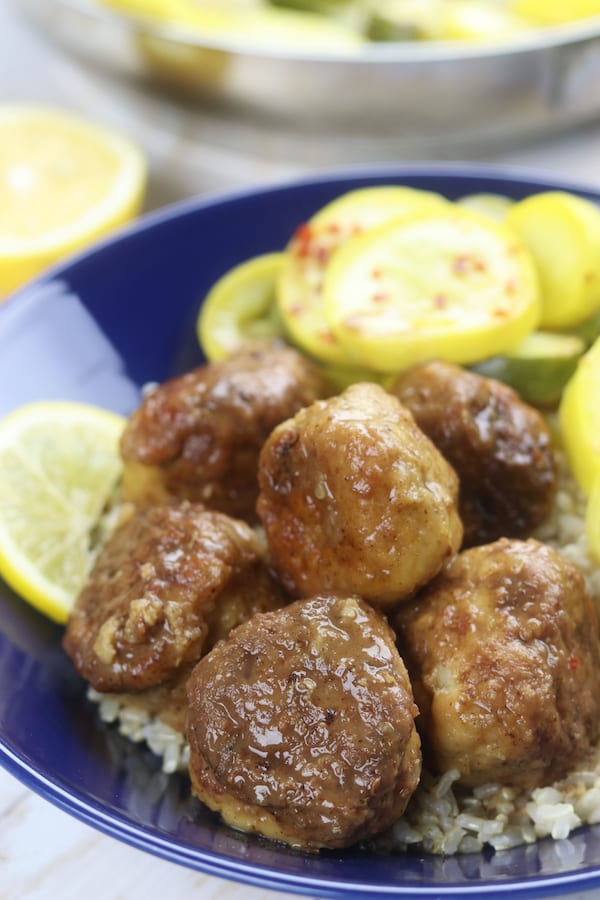 I recently made my husband look at me like I was an alien when I told him that I love New Years Day.
You know the look, scrunched up face with one eyebrow raised.
We spent New Years Day very much like we have in past years, cleaning and organizing. So I can understand why he thought I sounded a wee bit nuts.
Here is the thing though, seeing progress and clearing the decks motivates me.
I also really like New Years because it feels like a fresh start.
I love reflecting back on the year to looks at accomplishments, embrace struggles and feel proud that you survived a little wiser.
I also REALLY love planning!
There was a time with the blog that I felt overwhelmed and didn't know what to focus on first because there was just soooooo much to focus on.
I didn't know where to start.
Well, a little time has passed and with the hard work and perspiration, I finally feel like I have a clear direction.
With all this said, I have a whole slew of quick and healthy recipes up my sleeve like this Lemon Chicken Quinoa Meatballs that I can't wait to share.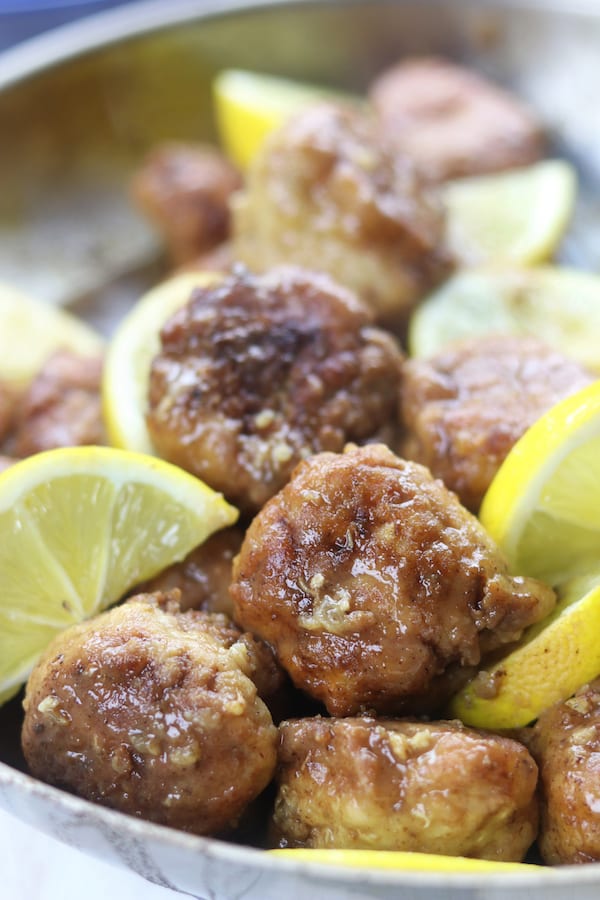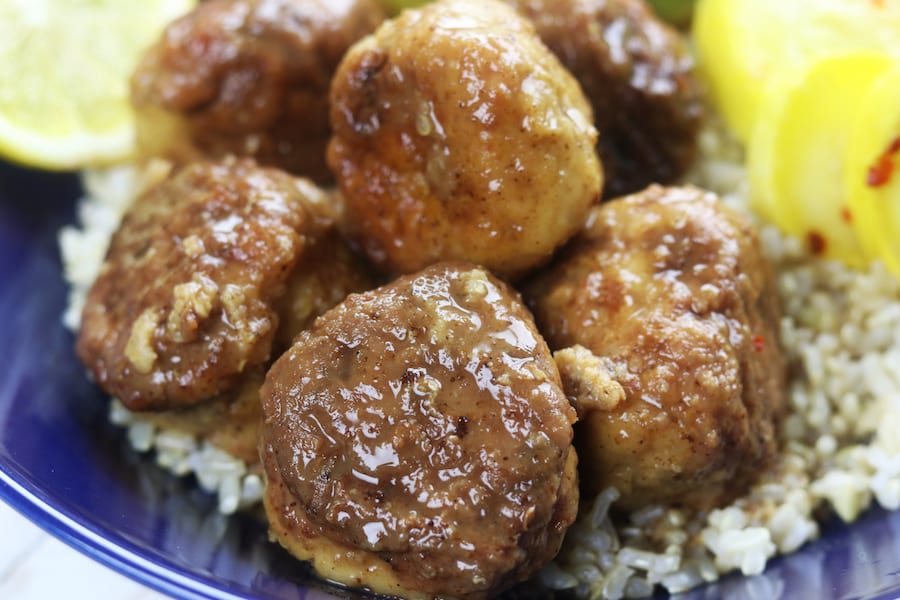 Tips for making meatballs with lemon zest and lemon sauce:
This Lemon Chicken Quinoa Meatballs recipe is an absolute dream come true for lemon lovers. However, one thing to keep in mind, not everyone feels as passionately in love with lemons as I do. If you have family members who are a little more sensitive to the tanginess of lemons then lower the lemon zest in the meatballs down to 1 tbsp and the lemon juice in the sauce down to 1/4 cup.
Gluten-free version of Lemon Chicken Quinoa Meatballs:
Have I shared with you how much I LOVE chickpea flour? I am not a gluten-free blogger but I am sensitive to the needs of those who need gluten-free. Plus, I love it when nutritionally dense ingredients can be swapped out for those that aren't as nutritional. A quick read of this article highlighting the benefits of chickpea flour and there is a good chance you'll be hooked on this flour too. To make this Lemon Chicken Quinoa Meatballs recipe gluten-free just substitute all-purpose flour for an equal amount of chickpea flour. The final product of this recipe will taste just as wonderful but you will notice that it will not have the glossy finish that you see pictured in this post. The gluten-free lemon sauce made with the chickpea flour will also be just a bit thiner than the all-purpose flour version. All in all though, it is an awesome way to go gluten-free. (affiliate)
Tips about Lemon Chicken Quinoa Meatballs:
Let the quinoa cool enough that is doesn't burn your hands, about 30 minutes. Better yet, making the quinoa the day before is a huge time saver.
When forming the meatballs roll them gently. Using ground chicken and quinoa makes these meatballs not as firm as your traditional meatball but the end product is juicy and tender.
As usual, if you are a garlic lover like me, than you may find 4-5 cloves of garlic is wonderful for this recipe.
I adore Bob's Red Mill Organic All-Purposse Flour when not doing a gluten-free versions of baking and cooking. Bob's Red Mill is a trusted brand with brilliant packaging that keeps the pesky little cupboard critters out of your flour. (affiliate)
If you are in love with lemons as much as I am than you need a quick and efficient lemon zester like this one. Not only does it make zesting lemons much faster but it also works beautifully on cheese, chocolate, ginger and garlic. (affiliate)
For an extra fast and easy dinner, Trader Joes has premade frozen brown rice that just takes a few minutes to heat up.
For a little bit of heat these Lemon Chicken Quinoa Meatballs taste great with 1 tsp of red chili pepper flakes added to the lemon juice and chicken broth before adding the meatballs to simmer. (affiliate)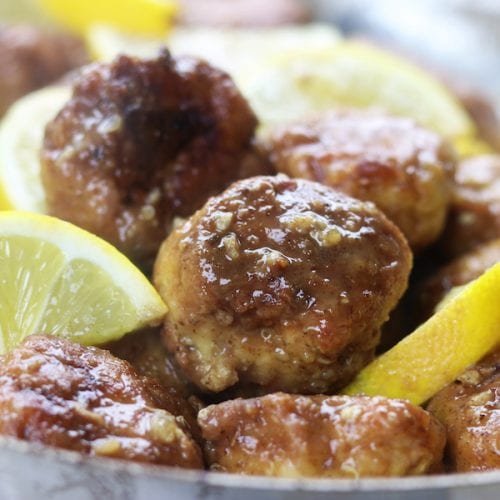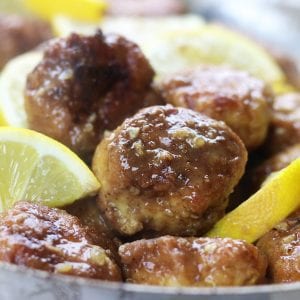 Lemon Chicken Quinoa Meatballs
Lemon Chicken Quinoa Meatballs has tender and juicy chicken in a luscious lemon sauce that is perfect over brown rice. Quick and healthy, this meal is crazy good and a favorite with lemon lovers.
Print
Pin
Rate
Ingredients
1/3

cup

quinoa

*rinsed

2/3

cup

chicken broth

*to cook quinoa

1

lb

ground chicken

2

tbsp

lemon zest

*zest of 2 lemons (see notes above in post)

3

cloves

garlic

*minced or crushed

1/4

cup

minced brown onion

*about 1/4 of med onion

1

tbsp

Worcestershire sauce

*gluten-free version to remain gluten free

1

large

egg

1/2

cup

all-purpose flour

*or 1/2 cup chickpea flour for gluten-free (see notes above in post)

1/2

tsp

sea salt

1/4

cup

high heat oil (I used avocado oil)

*plus 2 additional tbsp if needed

1/2

cup

lemon juice

*about 2 lemons (see notes above for lemon amount changes)

3/4

cup

chicken broth

*for lemon sauce
Instructions
In a small saucepan bring 2/3 cup chicken broth to a boil over high heat. Once boiling add rinsed quinoa. Cover and lower heat to lowest setting. Simmer for about 10 mins or until broth is absorbed and quinoa has a popped appearance. Take off heat and let cool enough so as to not burn your hands, about 20 mins (placing cooked quinoa in refrigerator or freezer for 10 mins will speed cooling up).

Meanwhile in a large mixing bowl combine ground chicken, lemon zest, garlic, onion, Worcestershire and egg. Add in quinoa once cool enough and mix meatball mixture thoroughly using a wooden spoon or clean hands.

Using a tablespoon gently form meatballs into about 1/2 inch balls. On a separate plate combine flour with salt. Roll each meatball in four mixture (roll meatballs in a second coating if needed).

Heat a frying pan over med/high heat. Add oil. Working in batches of 2, fry meatballs until golden brown, about 3-4 minutes per side.

Set fried meatballs aside on separate plate. Carefully wipe down frying pan with paper towel. Over same med/high heat add lemon juice and 3/4 cup chicken broth to frying pan. Bring to a simmer and add all meatballs to lemon juice mixture. Lower to a med/low heat and cover. Cook for 10-12 mins turning meatballs halfway. Serve over brown rice or quinoa.
Notes
*Please use as many organic ingredients as possible.* 
Nutrition
Calories:
434
kcal
|
Carbohydrates:
26
g
|
Protein:
26
g
|
Fat:
26
g
|
Saturated Fat:
4
g
|
Cholesterol:
150
mg
|
Sodium:
727
mg
|
Potassium:
849
mg
|
Fiber:
2
g
|
Sugar:
1
g
|
Vitamin A:
77
IU
|
Vitamin C:
23
mg
|
Calcium:
37
mg
|
Iron:
3
mg
Follow along on Facebook and Pinterest for more savory inspirations.
If you love lemon than check out these recipes: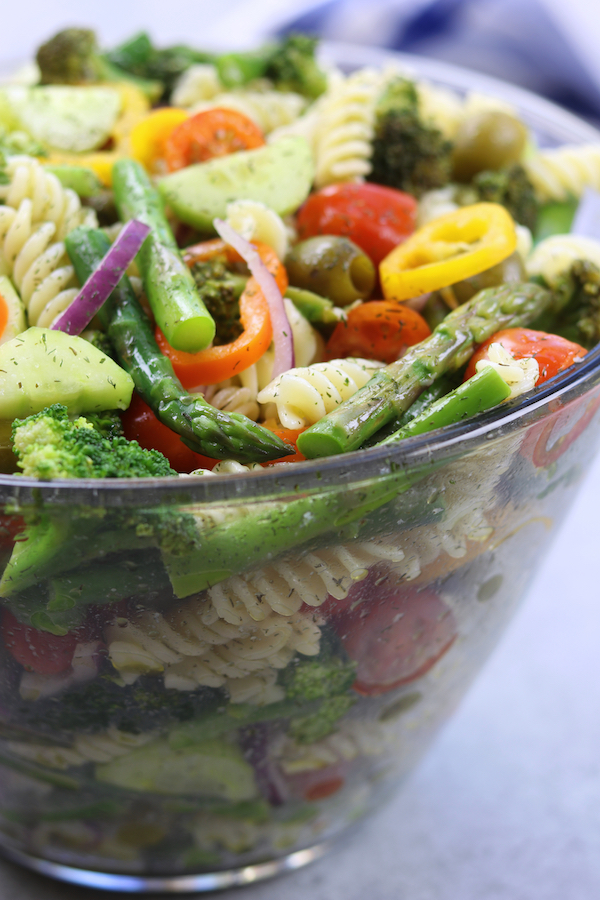 Springtime Pasta Salad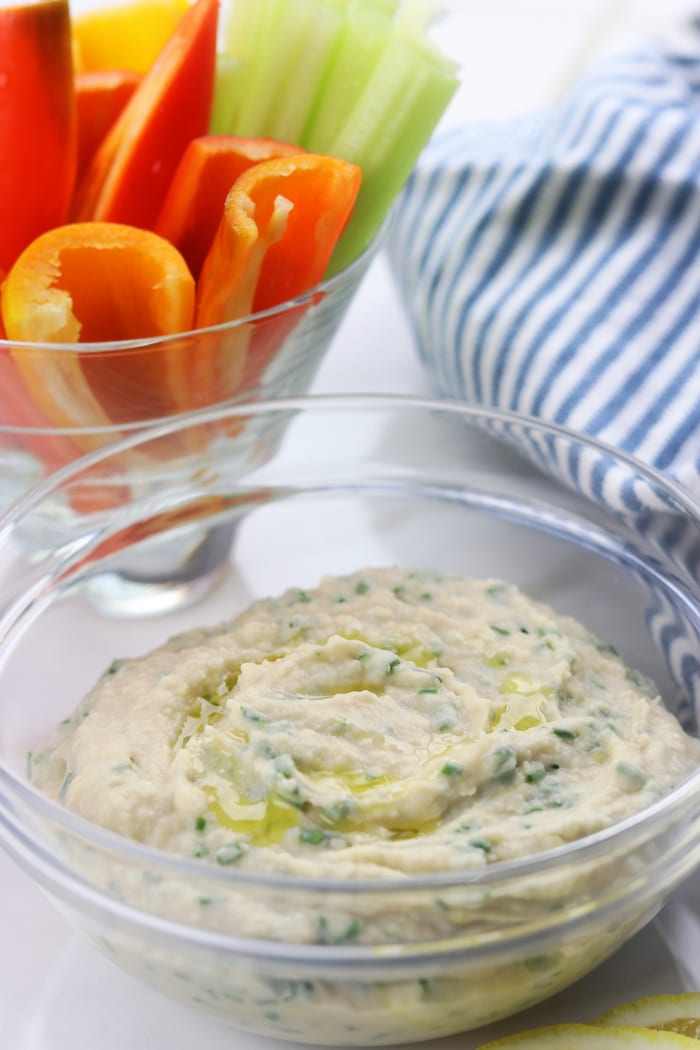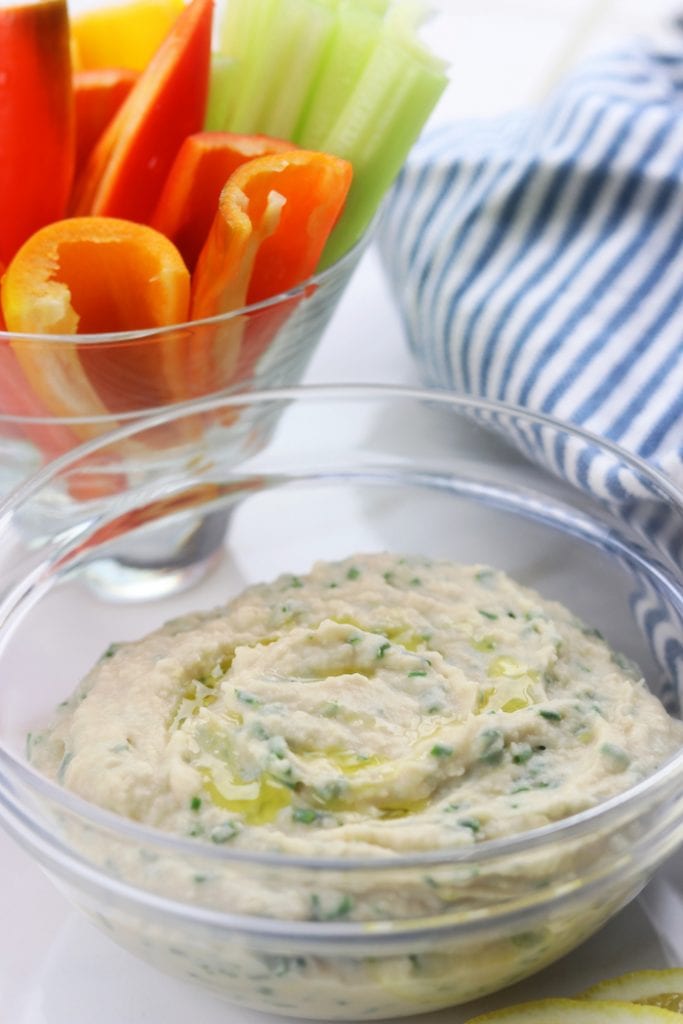 Simple White Bean Dip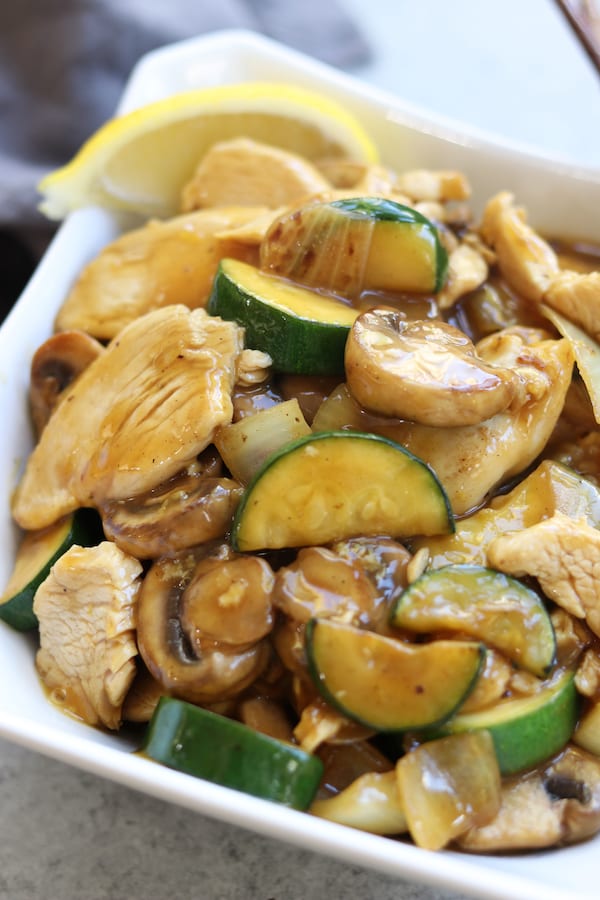 Lemon Chicken Stir Fry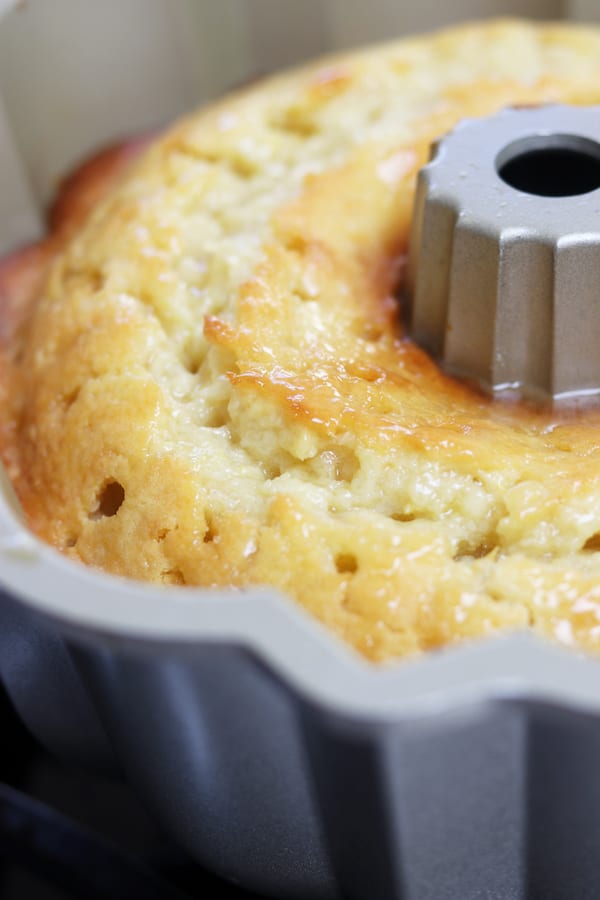 Mom's Lemon Butter Bundt Cake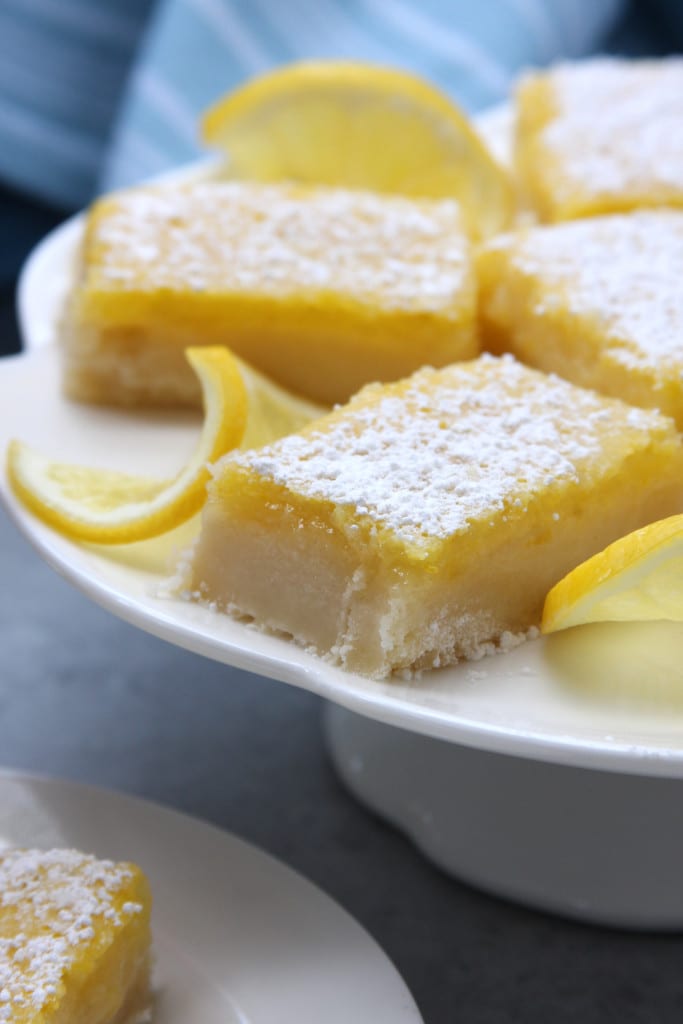 Lusciously Lemon Bars