Simple White Bean Dip is a quick and healthy recipe perfect as an appetizer for a party or a fast afternoon snack. This recipe is so delicious you may find yourself craving this as a feel good lunch also.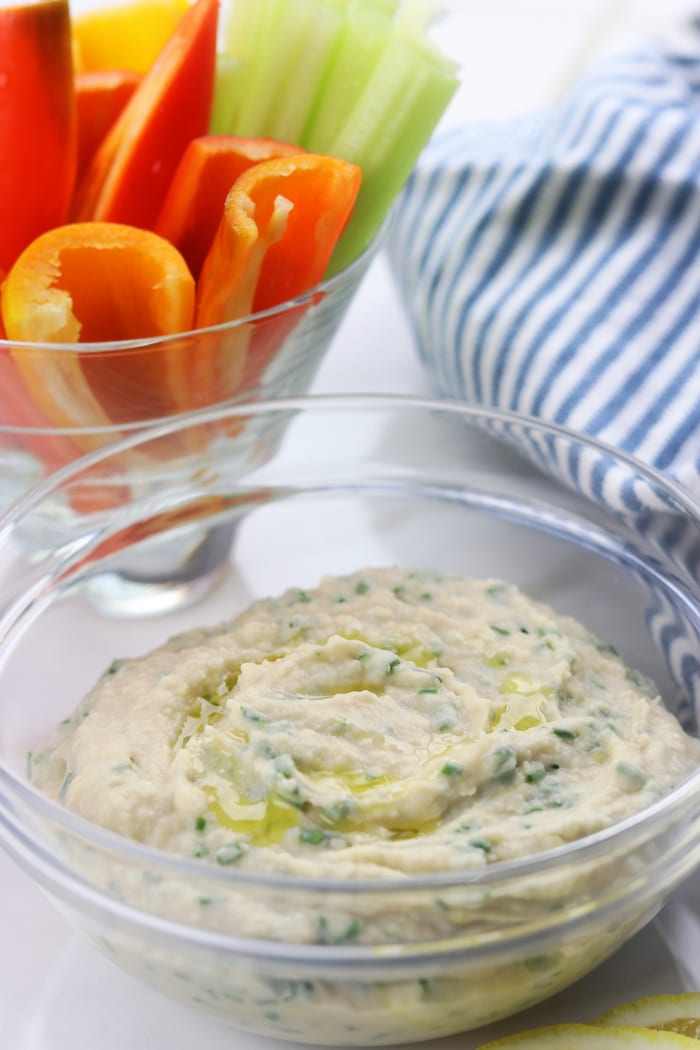 This post may contain affiliate links which I earn a small portion in sales if a purchase is made. Rest assured though, it is never at any additional cost to you.
Do you ever go to battle with yourself when you are hungry and want a snack?
You know you should be eating something healthy but that sorry old piece of fruit sitting on the counter just isn't going to cut it.
I have such a strong desire to eat nutritiously everyday but those tortillas chips are just so crunchy and yummy and satisfying…and …well…ummm…they are kind of screaming my name.
I open and shut the refrigerator and cupboards about 100 times hoping that there will be something savory and crunchy that won't send me on a snowball of guilty food decisions. But those darn chips win EVERY TIME!!!
I think I have done this everyday of my life since the day I was born. Well, maybe not everyday, but far too many than I care to admit to.
If you are anything like me you probably plan really well for the main meals but the snacks, that is a different story.
With it being the new year I am on a mission to create all kinds of quick, healthy and super delicious recipes and that includes snacks like this Simple White Bean Dip.
In my house we are huge cannellini bean lovers so it was a no brainer to create a dip with them and some of my favorite fresh ingredients.
Here is the thing about this Simple White Bean Dip, it is so good you may want it as a lunch instead.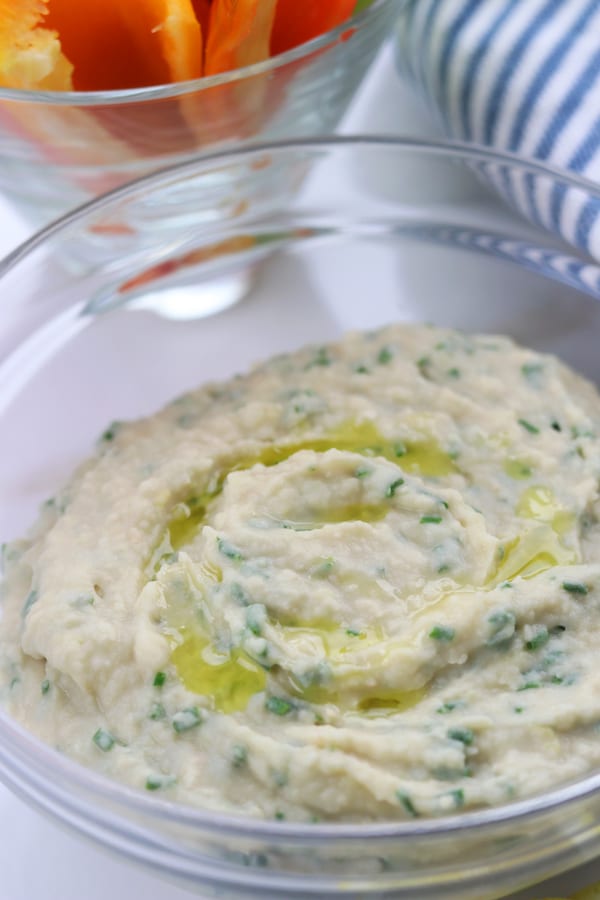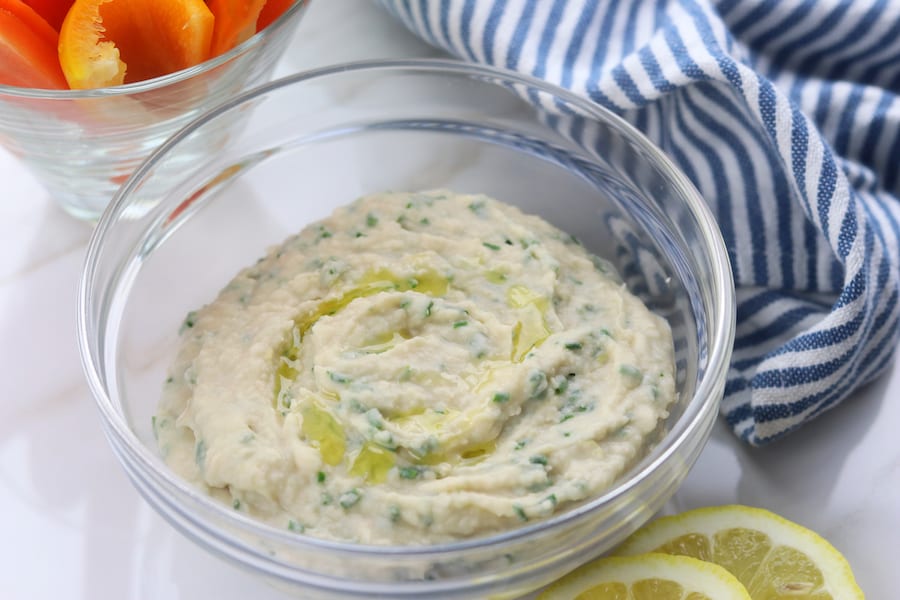 How to incorporate the health benefits of beans into your daily diet:
Most people know that beans are an incredibly healthy food. Just check out this article or this one and you will quickly be reinvigorated to start eating more beans daily. But how do we eat these little musical fruits without growing weary or having them wreak havoc on your digestive track, if you know what I mean? My biggest suggestion is to start slowly and eat beans in smaller doses. It allows your body time to adjust to and grow accustomed to the change in fiber. Eating this Simple White Bean Dip as a snack is a perfect place to start. Also beans work beautifully added into salads and soups. When you are ready The Black Bean Burrito or my Hearty Homemade Chili recipes are incredibly delicious and economic ways of eating these power houses of nutrition.
Tips about quick and healthy White Bean Dip:
Eden Organic Cannellini Beans are by far my favorite canned cannellini beans. I have found these beans are always cooked perfectly, taste great and Eden is definitely a company I trust. (affiliate)
If you prefer to cook your dry beans from scratch than you probably already know this: whether to soak your beans or not is highly controversial. Just do a quick Google search and you will see completely opposite view points on this subject. I grew up in a household where soaking the beans was an absolute must but as an adult I just don't do it and we have never had any issues. To me, cooking beans is incredibly simple. Rinse them in cold water and place them in a stockpot. Cover them with cold water a few inches above the bean line. Bring to a boil on high heat, stir and lower the heat to the lowest setting. Cook covered stirring occasionally until the beans are tender and then drain. I will usually cook a large pot of beans and then freeze individual portions to use throughout the month. Easy Peasy!!!
This Simple White Bean Dip goes great with all kinds of cut up veggies like carrots, cucumbers, celery, bell peppers, jicama, radishes and tomatoes for a super healthy afternoon snack. If you want a little more of a decadent treat then pair it with sweet potato or pita chips.
If you don't have a food processor to process the beans for this Simple White Bean Dip the just use a fork for the bean and a garlic press for the garlic cloves. (affiliate)
If you have a love affair with citrus like I do then you will love this lemon zester. (affiliate)
If you pack your lunch and are looking to move away from using plastic containers then these glass containers work great. (affiliate)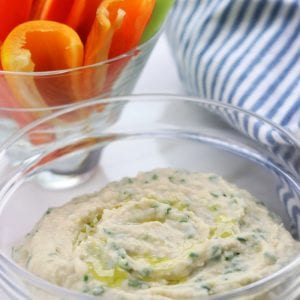 Simple White Bean Dip
Simple White Bean Dip is a quick and healthy recipe perfect as an appetizer for a party or a fast afternoon snack. This recipe is so delicious you may find yourself craving this as a feel good lunch also.
Print
Pin
Rate
Ingredients
15 oz

can

cannellini beans

*rinsed and drained

2

tbsp

Extra Virgin olive oil

1

tbsp

lemon juice

2

large

garlic cloves

1/2

tsp

salt

1/4

tsp

lemon zest

1/4

cup

fresh cut chives
Instructions
To a food processor add the beans, olive oil, garlic and salt. Process well (see notes above if not using food processor)

Place bean mixture into a medium sized bowl and stir in lemon zest and chives. Serve with favorite cut veggies or healthy chips.
Notes
*Please use as many organic ingredients as possible.*
Nutrition
Calories:
112
kcal
|
Carbohydrates:
13
g
|
Protein:
5
g
|
Fat:
5
g
|
Saturated Fat:
1
g
|
Cholesterol:
1
mg
|
Sodium:
176
mg
|
Potassium:
6
mg
|
Fiber:
3
g
|
Sugar:
1
g
|
Vitamin C:
1
mg
|
Calcium:
7
mg
|
Iron:
2
mg
Follow along on Facebook and Pinterest for more savory inspirations.
If you love bean recipes than check out these recipes: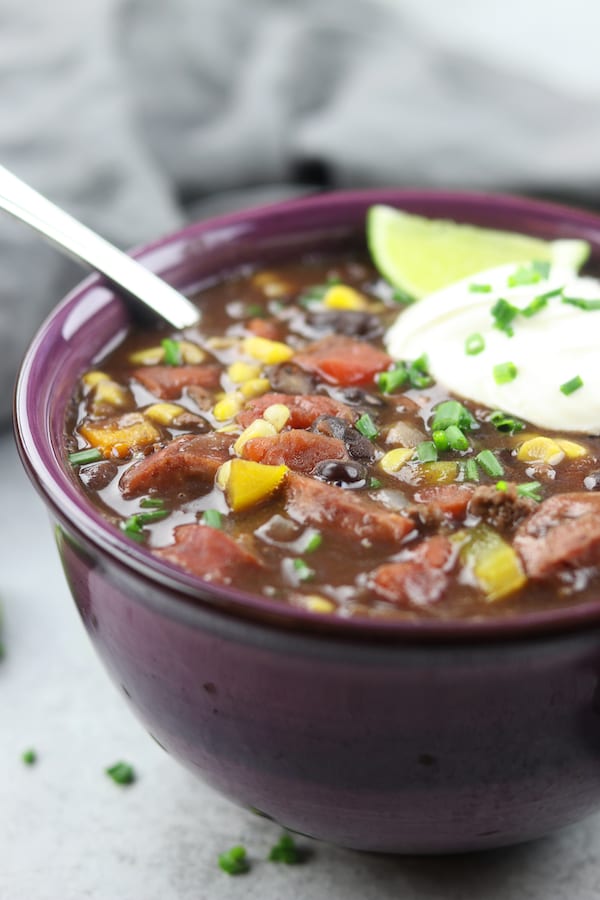 Black Bean Soup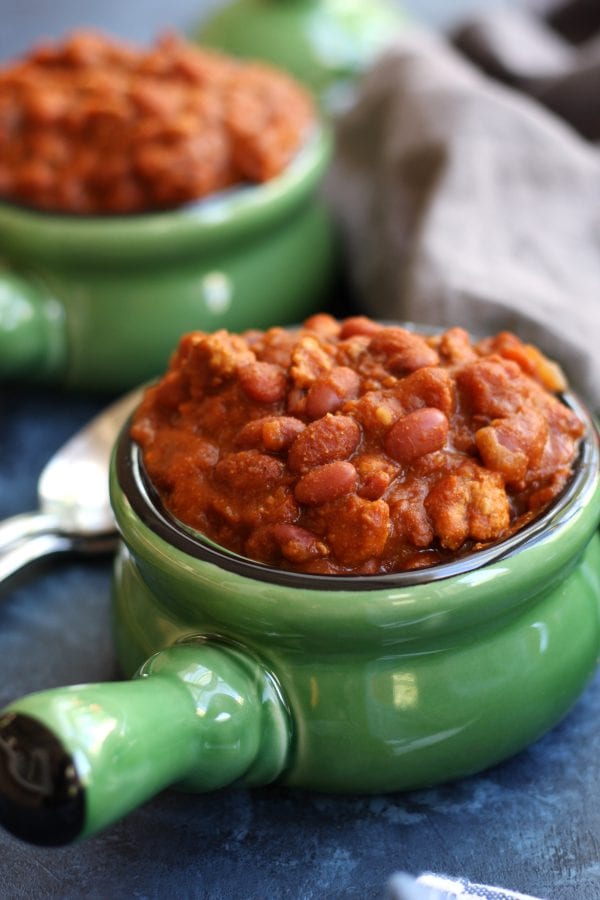 Hearty Homemade Chili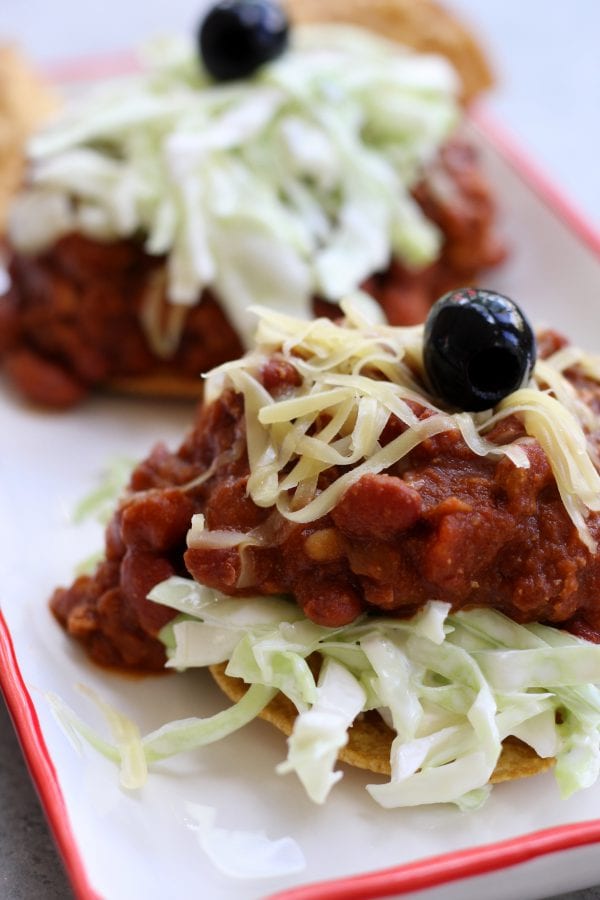 Tortilla and Beans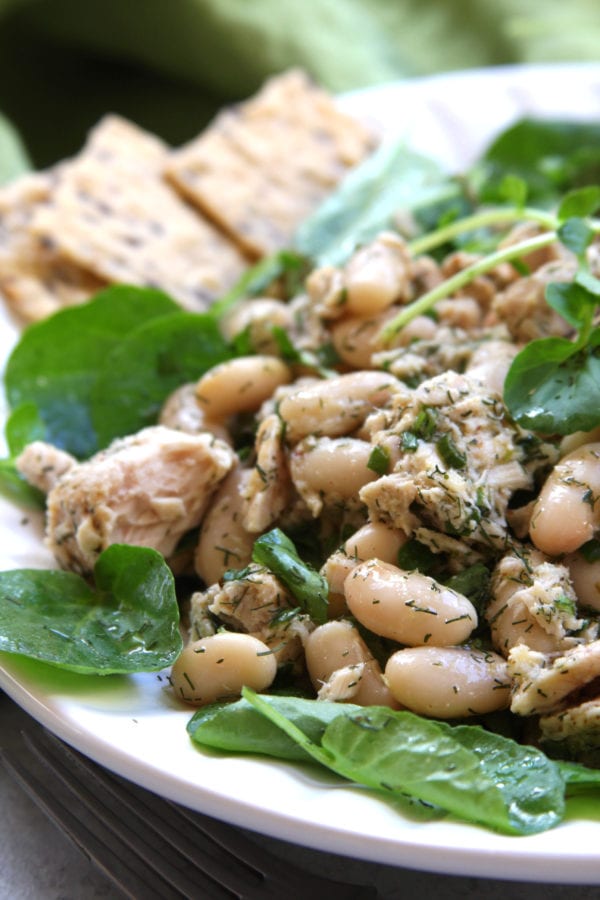 Mediterranean Tuna Salad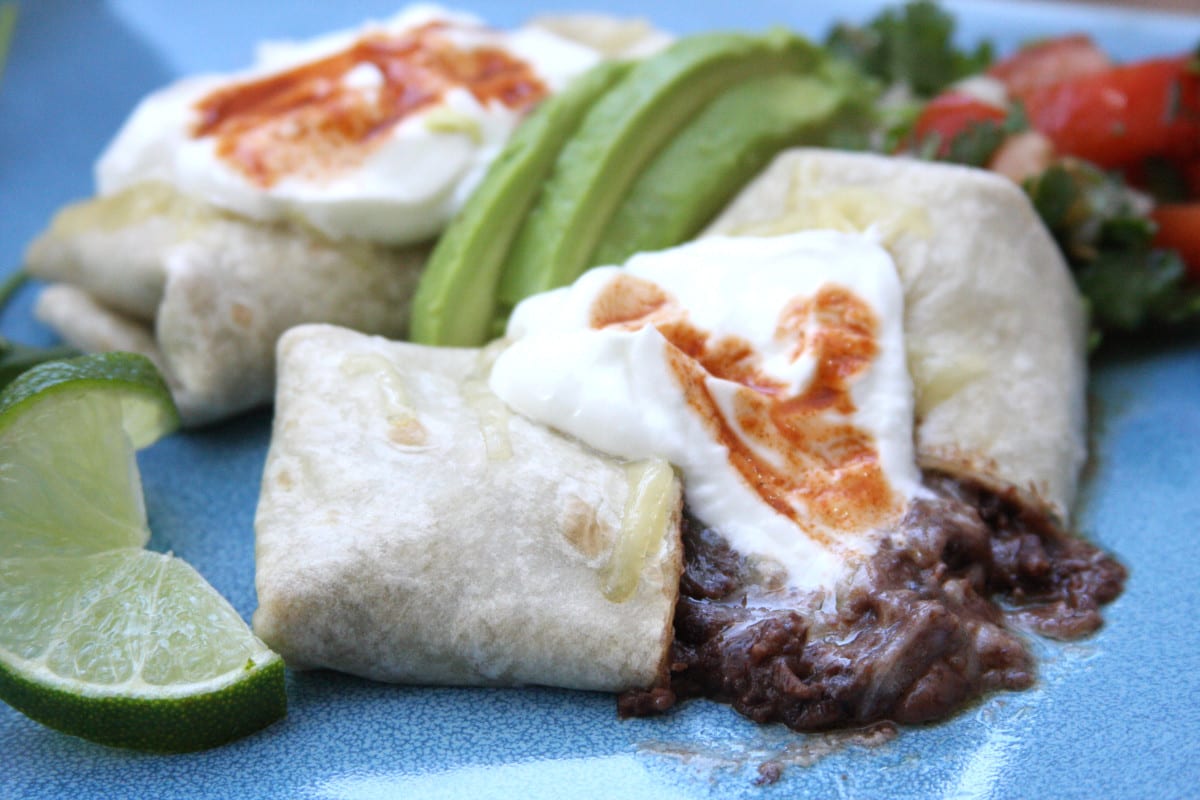 The Black Bean Burrito