Vodka Honey Lemonade is a refreshing homemade adult beverage kissed with honey and speckled with fresh mint.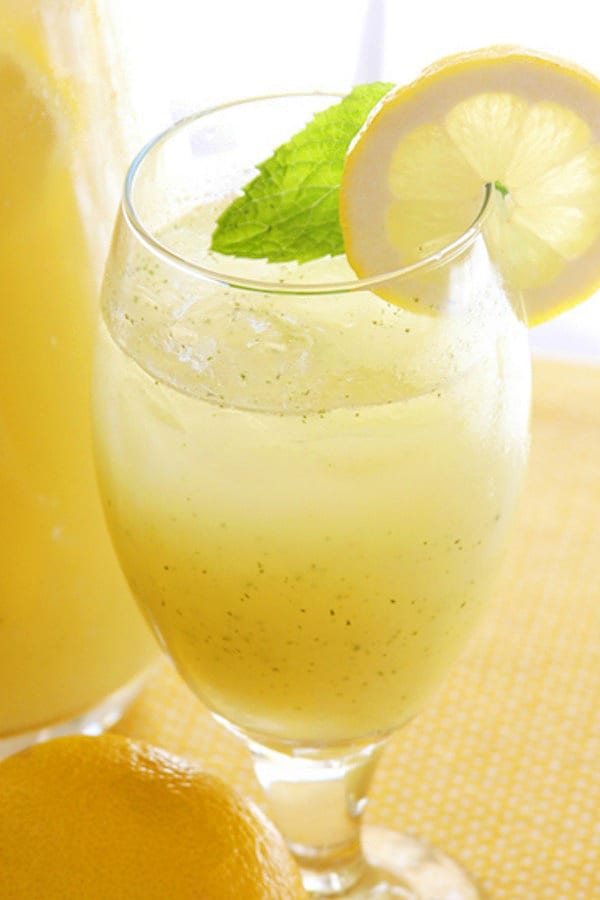 This post may contain affiliate links which I earn a small portion in sales if a purchase is made. Rest assured though, it is never at any additional cost to you.
"Hey, what is a Vodka Honey Lemonade doing on here?" I am sure you may be asking. "Isn't this supposed to be about health food? I mean shouldn't it be green and  slimy and taste like pond water?" Let me state for the record, that I reserve the right to be a Walking Oxymoron from time to time. That is right, I will have some decadent desserts on here and some yummy cocktails. Why you ask? Because there has to be a little fun in life. Right? I mean is has to be 5 o'clock somewhere.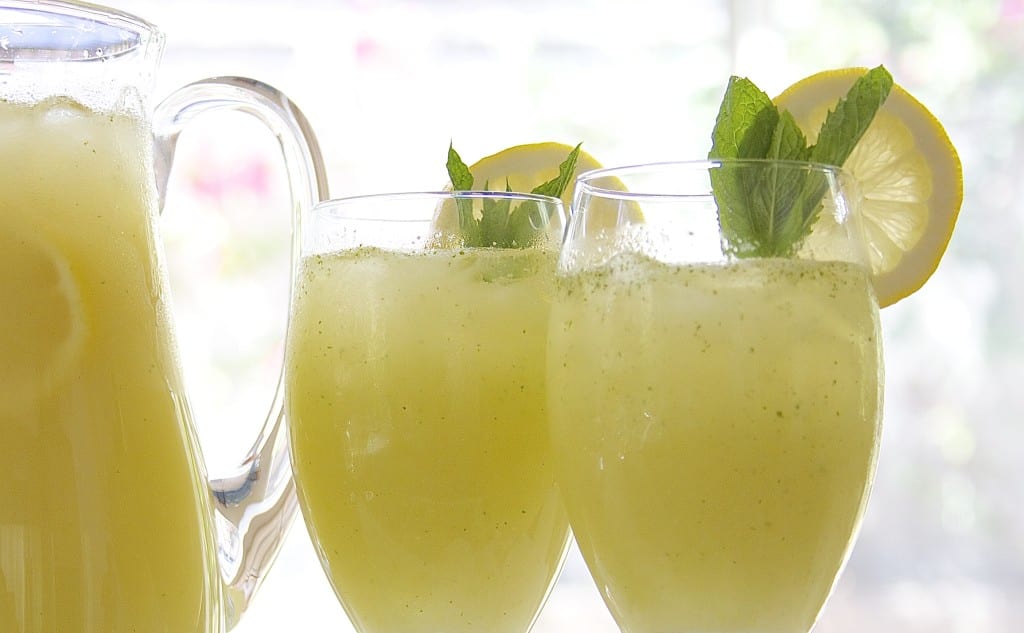 In all seriousness though, I will try to have a balance between the sinfully delicious and the nutritionally dense. I scratched my head for hours trying to figure out how to make a cocktail nutritionally dense and the bottom-line is, it isn't. I can however use ingredients that tend to be more pure. You know how I am with my organic and grass fed items.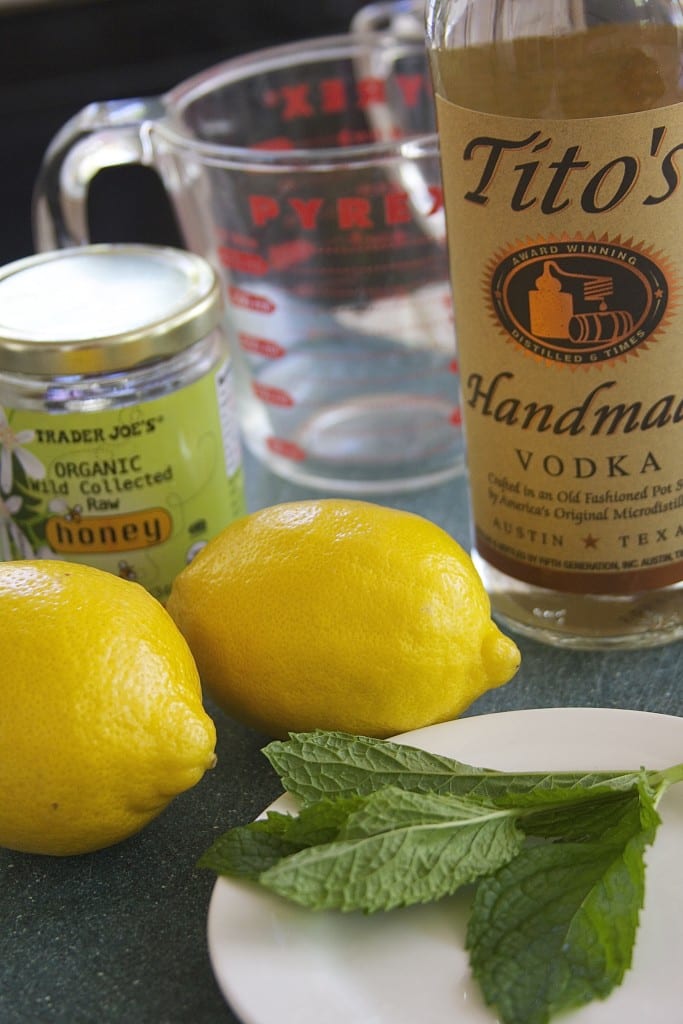 This particular Honey Vodka Lemonade uses organic lemons, mint and honey. I love the idea of using raw, organic honey for its anti-inflammatory effects, lemons for the vitamin C and fresh mint for its antioxidants.
The beauty of this cocktail is the prep is fairly simple. You make the simple syrup (see instructions below) and then cut the lemons into pieces.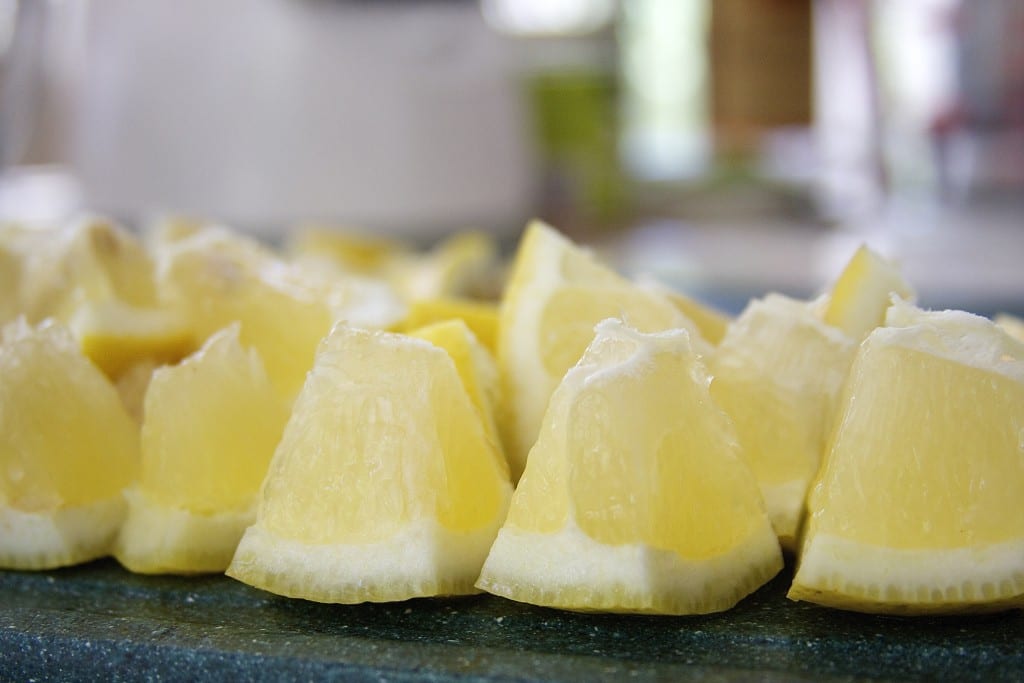 Next place the water, lemon slices and mint in a blender.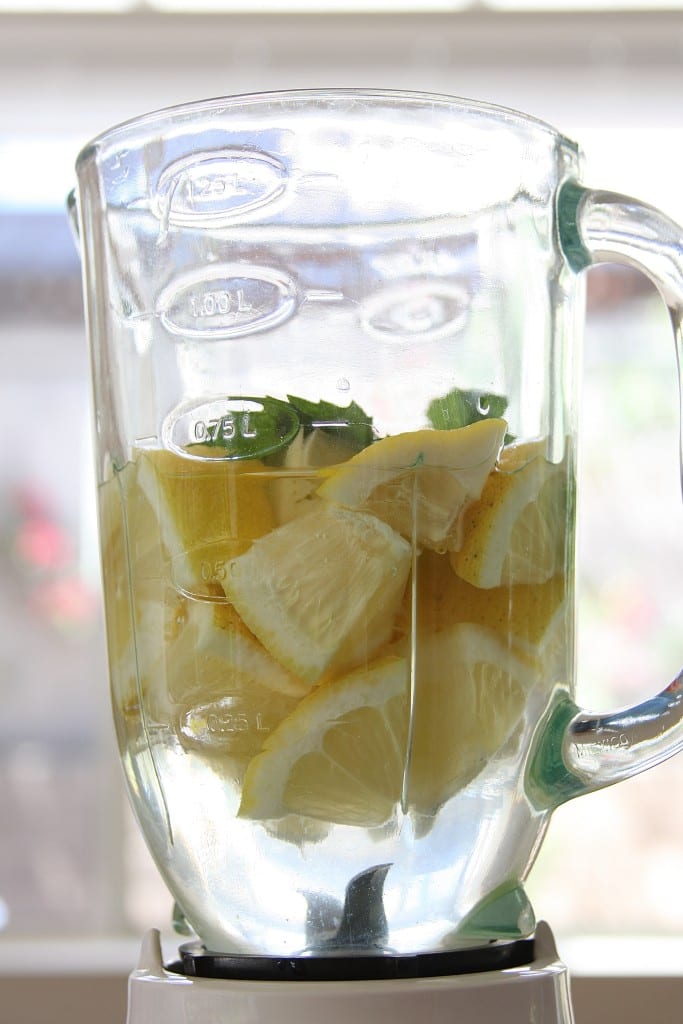 Blend away.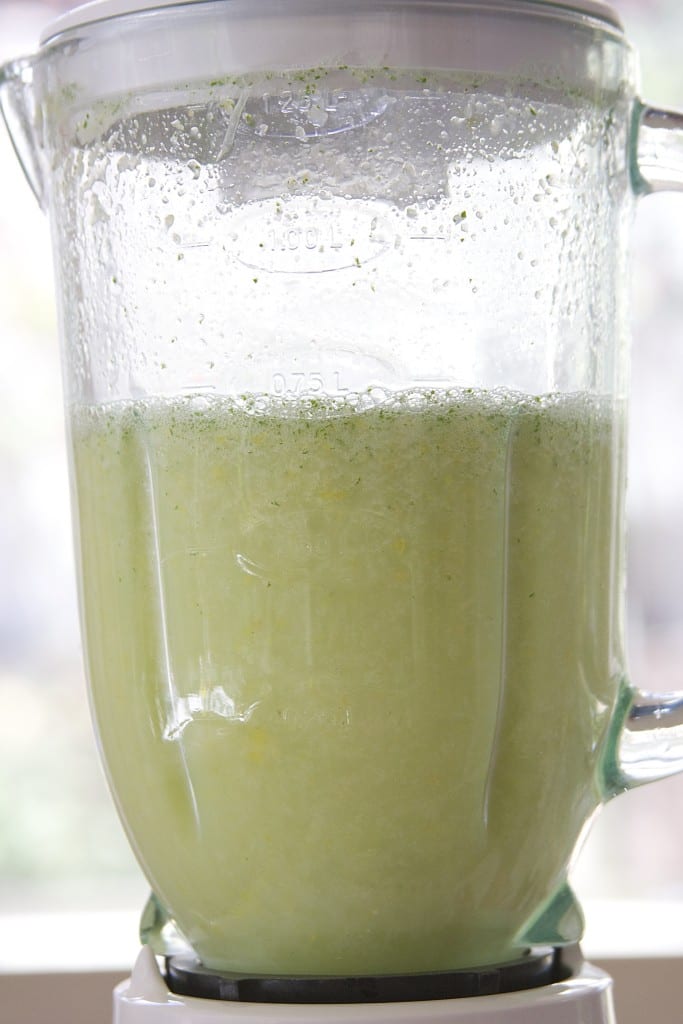 Strain the blended lemon mixture through a fine mesh colander.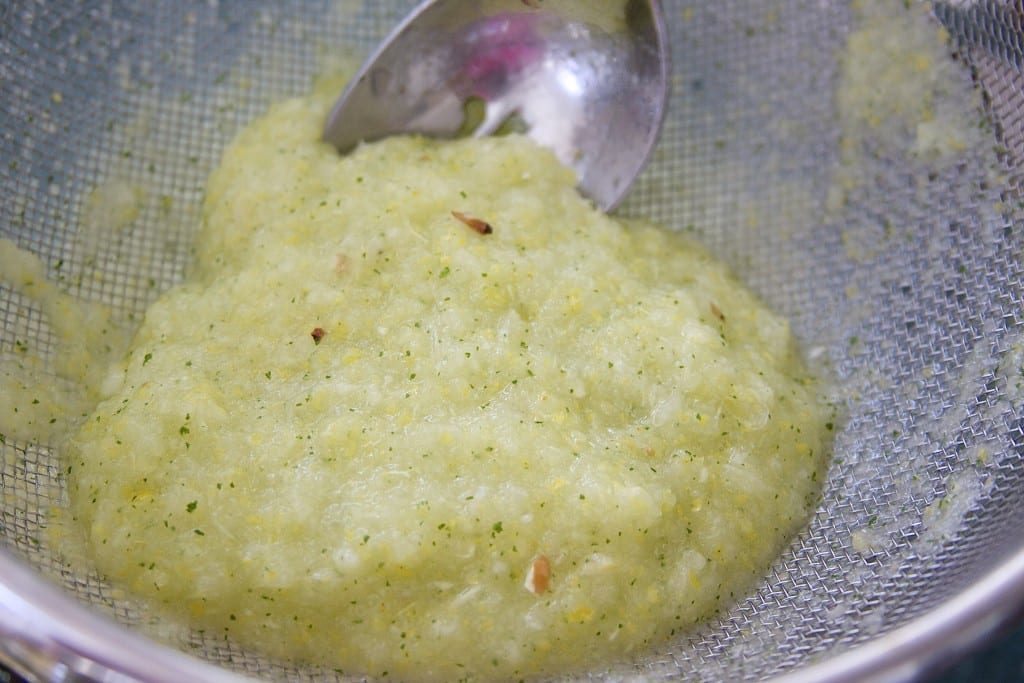 Mix the minty lemon juice with the honey simple syrup.  Add the Vodka and you will have a beautiful Vodka Honey Lemonade that is speckled with fresh mint.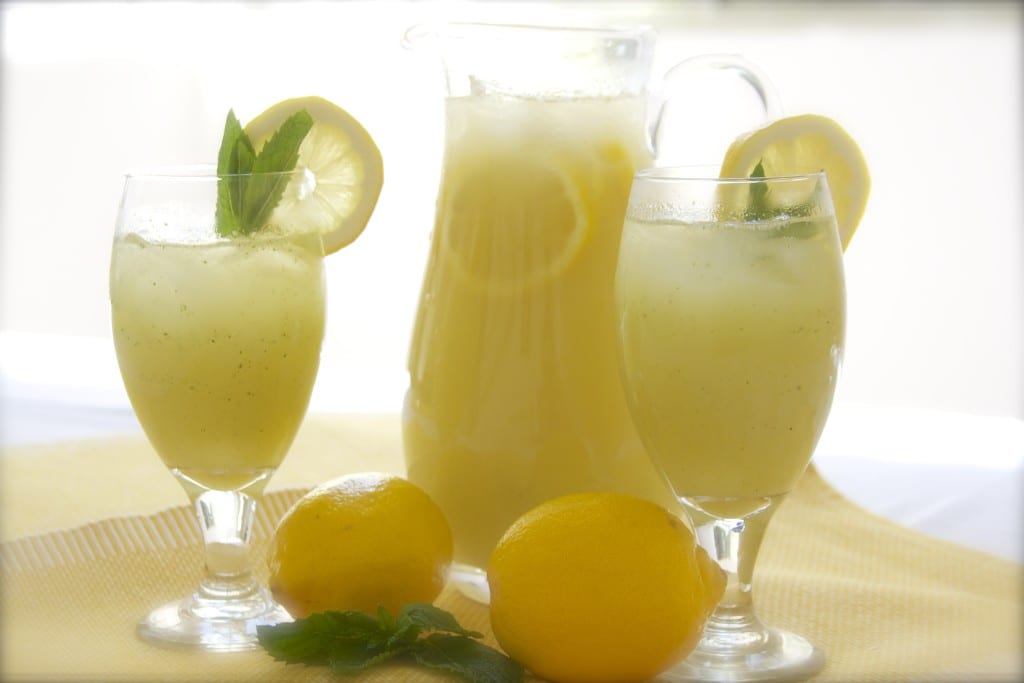 Cheers and enjoy!!!
Serving Suggestions
This versatile lemonade can be enjoyed year round. Here are some of my favorite ways to serve it:
As a summer BBQ cocktail over loads of ice

At girls' brunch with a rose lemonade version

Mixed with bubbly Prosecco for vodka lemonade spritzers

Poured into fun glassware for parties with crazy straws

As a refreshing afternoon sipper on the patio

In mason jars at outdoor concerts and events

Garnished with red, white, and blue berries for Fourth of July.

Infused with blood orange for a Halloween vampire lemonade.

Topped with cranberries and rosemary for holiday celebrations.

Poured into an icy punch bowl with orange slices and raspberries floating on top for bridal and baby showers.

Served in copper mugs with sprigs of rosemary to enjoy while relaxing in a hot tub or pool.

Topped with a swirl of blackberry vodka for a "dirty lemonade" cocktail at bachelorette parties.

Made with melon vodka and garnished with watermelon balls for a fruit-flavored summer treat.

Mixed with grapefruit juice and thyme for Sunday brunch cocktails like vodka grapefruit mimosas.

Frozen into lemonade ice pops with chunks of fruit and mint for boozy summertime snacks.

Infused with lime, tequila, and chili pepper slices for a spicy margarita style lemonade.

Made with ginger beer instead of water and served in small glasses with lime wheels for a Moscow Mule variation.

Topped with Prosecco and elderflower liqueur for an elegant vodka lemonade spritz at weddings or date nights.

Mixed with peach vodka and puree for a tasty bellini-inspired cocktail at garden parties or barbecues.
Variations
Berry Bliss Lemonade- Add a handful of fresh berries such as strawberries, blueberries, or raspberries to the blender along with the lemon and mint. Blend and strain as usual. This will give your lemonade a burst of fruity flavor and a lovely color.
Ginger Zest Lemonade- Add a few slices of fresh ginger to the blender along with the lemon and mint. Ginger adds a zesty and slightly spicy kick to the lemonade, creating a unique flavor profile.
Herbal Infusion Lemonade- Instead of using mint, experiment with other herbs like basil, thyme, or rosemary. Each herb will bring its own distinct flavor to the lemonade, allowing you to create a herbal-infused twist.
Coconut Lemonade- Replace some of the water with coconut water for a tropical twist. The natural sweetness of coconut water complements the tartness of the lemon, and it adds an extra layer of refreshment.
Elderflower Elegance Lemonade- Infuse the honey simple syrup with elderflower syrup or elderflower cordial before mixing it with the lemon juice and vodka. Elderflower adds a delicate floral aroma and flavor to the lemonade.
Spiced Honey Lemonade- Infuse the honey simple syrup with warming spices like cinnamon, cloves, or cardamom. These spices can add depth and warmth to the lemonade, perfect for cozy evenings.
Muddled Fruit Lemonade- Muddle fresh fruits like peaches, mangos, or watermelon in the pitcher before adding the other ingredients. This will infuse the lemonade with the natural sweetness and flavors of the fruits.
Lavender Lemonade- Replace the mint leaves with culinary lavender buds. Lavender imparts a fragrant and calming aroma to the lemonade, creating a unique and soothing drink.
Citrus Medley Lemonade- Use a mix of different citrus fruits, such as oranges, grapefruits, and lemons, to create a complex citrus flavor. Experiment with the ratios to find your preferred blend.
Sparkling Honey Lemonade- Instead of still water, use sparkling water to add a fizzy element to your lemonade. This can make your drink even more refreshing and celebratory.
Frequently Asked Questions
 

Can I use regular simple syrup instead of homemade?

 

Yes, you can use store-bought simple syrup. Use 1 cup of ready-made simple syrup in place of the homemade in the recipe.
What is the easiest way to juice the lemons?
Using a handheld citrus juicer is quickest and easiest. Just halve the lemons and squeeze the juice out over a bowl. You can also use a reamer tool or even just squeeze them by hand. 
What ratio of lemon juice, vodka and simple syrup should I use?
A good ratio is 1 cup lemon juice, 1 cup vodka, 1 cup simple syrup. But you can adjust to taste based on how sweet, strong or lemony you prefer.
How do I store the lemonade?
Properly stored, the lemonade will keep in the refrigerator for 5-7 days. To store:
Pour leftover lemonade into an airtight glass container or pitcher with a tight sealing lid.

Ensure lemonade is completely cooled before storing to maximize shelf life.

For longer storage, freeze strained lemonade in ice cube trays, then transfer to freezer bags.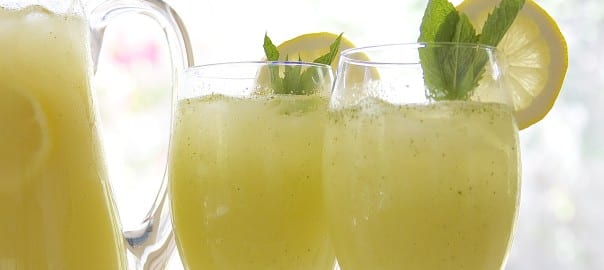 Vodka Honey Lemonade
A refreshing adult beverage, speckled with mint, perfect for summer parties.
Print
Pin
Rate
Ingredients
8

cups

filtered water

1

cup

raw organic honey

6

med

organic lemons

2

bunches

mint leaves

*approximately 10 med-lg leaves

1 1/2

cups

Vodka
Instructions
Simple Syrup

Measure 2 cups of water and set the rest aside. Place honey into small saucepan and slowly whisk the 2 cups water into honey until fully incorporated. Place over med high heat and bring to a slow boil, approximately 10-12 mins. Set aside

Minty Lemon Juice

Place half (3 cups) of water in blender with half of the cut up lemons and 5 mint leaves. Blend until liquified. Mixture will be somewhat thick. Strain through a fine mesh colander so that juice separates from pulp into a pitcher. Repeat with remaining lemons, mint and water.

Vodka Honey Lemonade

Mix honey simple syrup, lemon juice and measured vodka in a pitcher. Chill for at least 2 hours. Garnish with lemon slices, mint leaves and serve over ice.
Notes
*Please use as many organic ingredients as possible. 
Recipe Notes
Making a Honey Simple Syrup helps the honey become fully incorporated into the lemonade. Eliminating this step will shorten the preparation time, however the quality will not be as high.
Nutrition
Calories:
343
kcal
|
Carbohydrates:
57
g
|
Protein:
1
g
|
Fat:
1
g
|
Saturated Fat:
1
g
|
Sodium:
21
mg
|
Potassium:
186
mg
|
Fiber:
3
g
|
Sugar:
49
g
|
Vitamin A:
80
IU
|
Vitamin C:
58
mg
|
Calcium:
44
mg
|
Iron:
1
mg
If your looking for other delicious adult beverages than check out these recipes.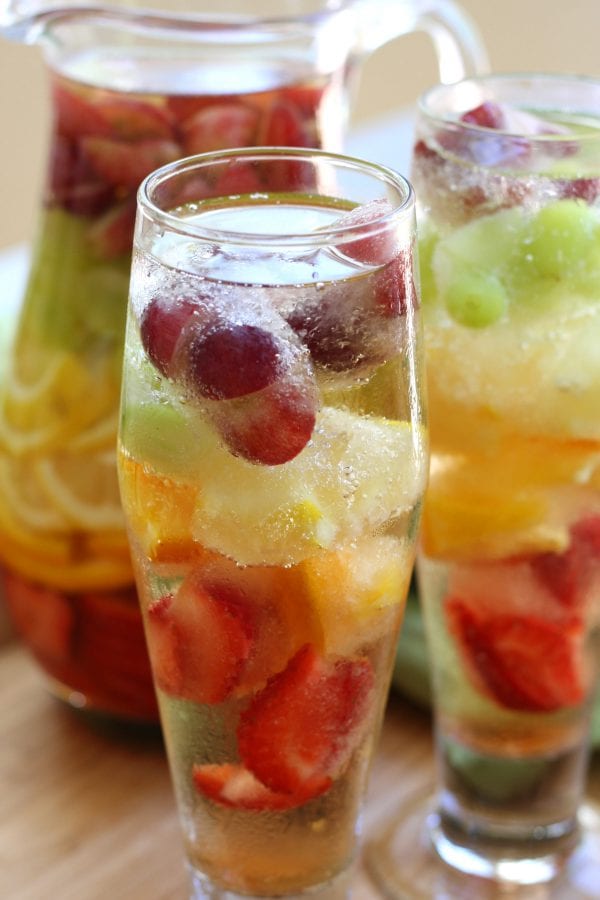 Rainbow Tequila Sangria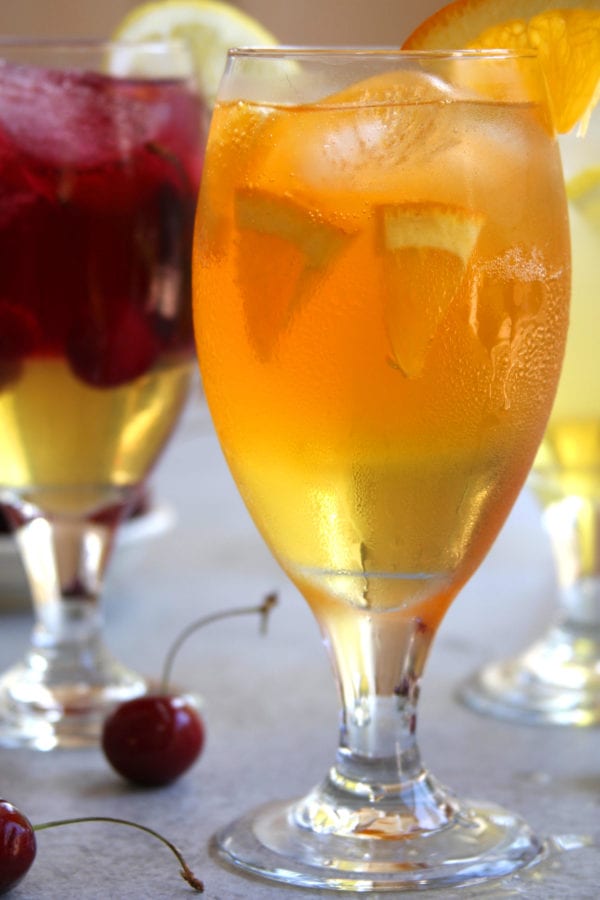 Skinny Limoncello Sparklers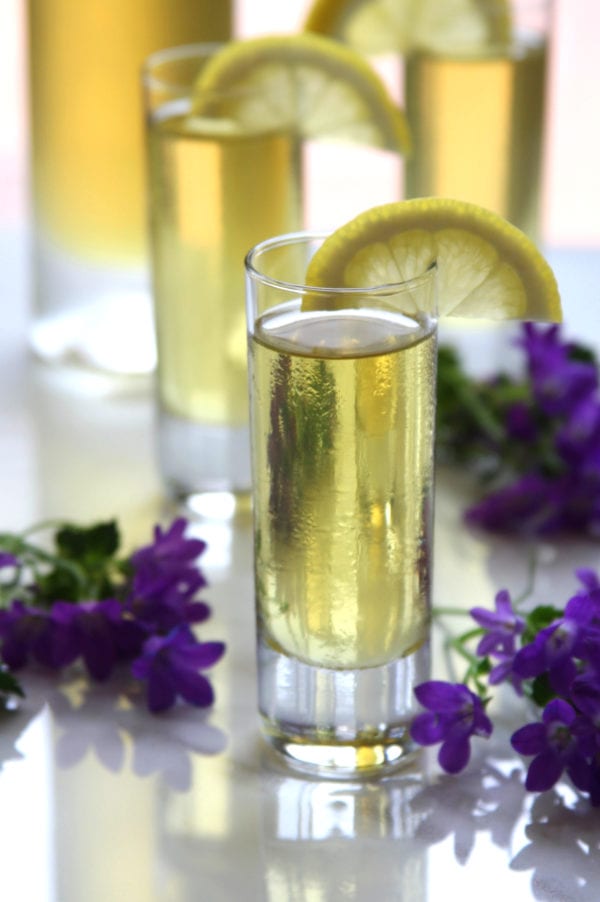 Homemade Limoncello