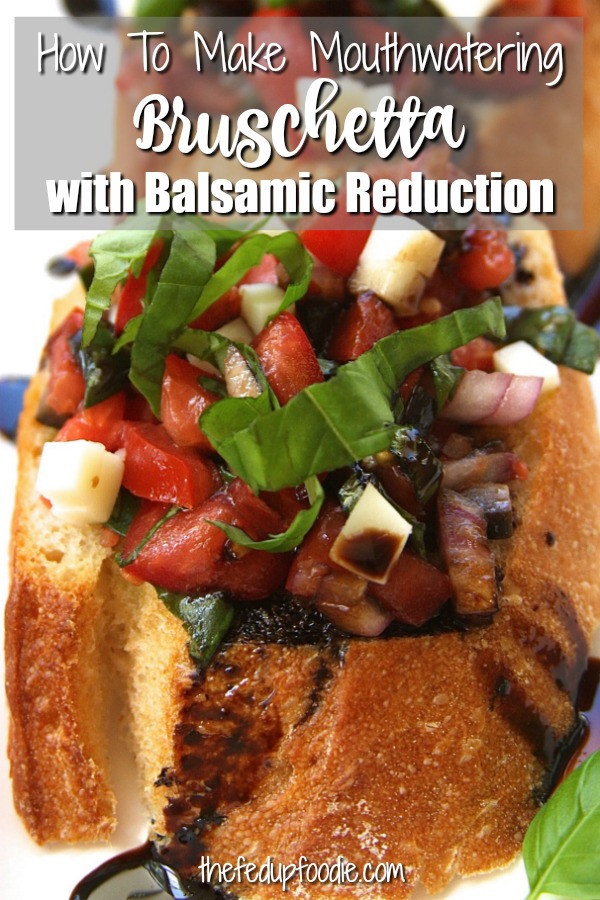 Imagine for a minute biting into the crispy bread. Hearing that perfect crackling noise as the tangy sweet balsamic reduction flows over your tongue AND ohhhh, the robust flavor of basil hits you. And ahhh, there it is, the sweetness of the tomato. Are you hungry yet for this Bruschetta with Balsamic Reduction?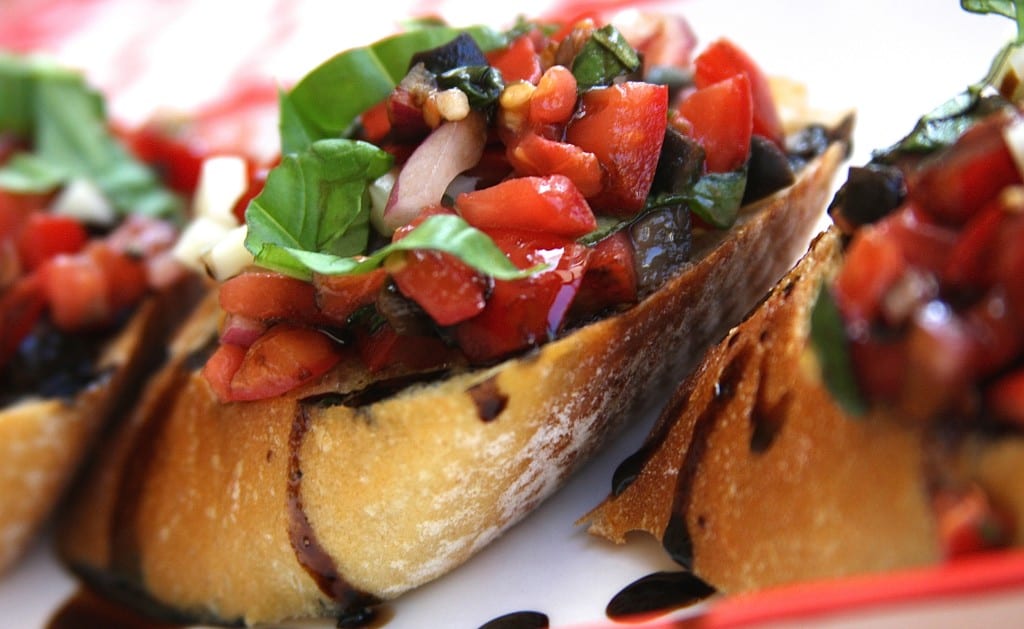 This post may contain affiliate links which I earn a small portion in sales if a purchase is made. Rest assured though, it is never at any additional cost to you.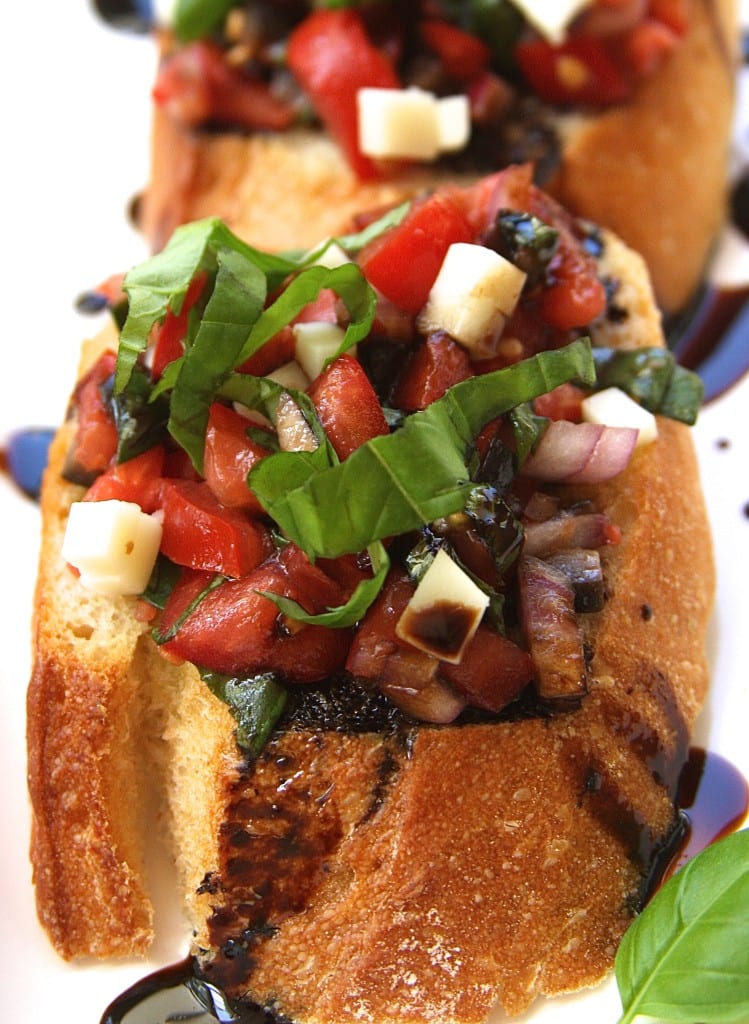 What is Bruschetta?
The term "bruschetta" refers to a classic Italian antipasto (appetizer) consisting of grilled or toasted bread that is rubbed with garlic and topped with olive oil, salt, pepper, tomatoes, and basil.The name "bruschetta" comes from the Italian word "bruscare" meaning to roast over coals. It originated in central Italy and was a way for people to make use of stale bread by reviving it via roasting/toasting and topping it with flavorful ingredients. Bruschetta refers to the basic concept of a garlic-rubbed, toasted bread topped with a fresh, flavorful tomato mixture – a simple but delicious Italian starter!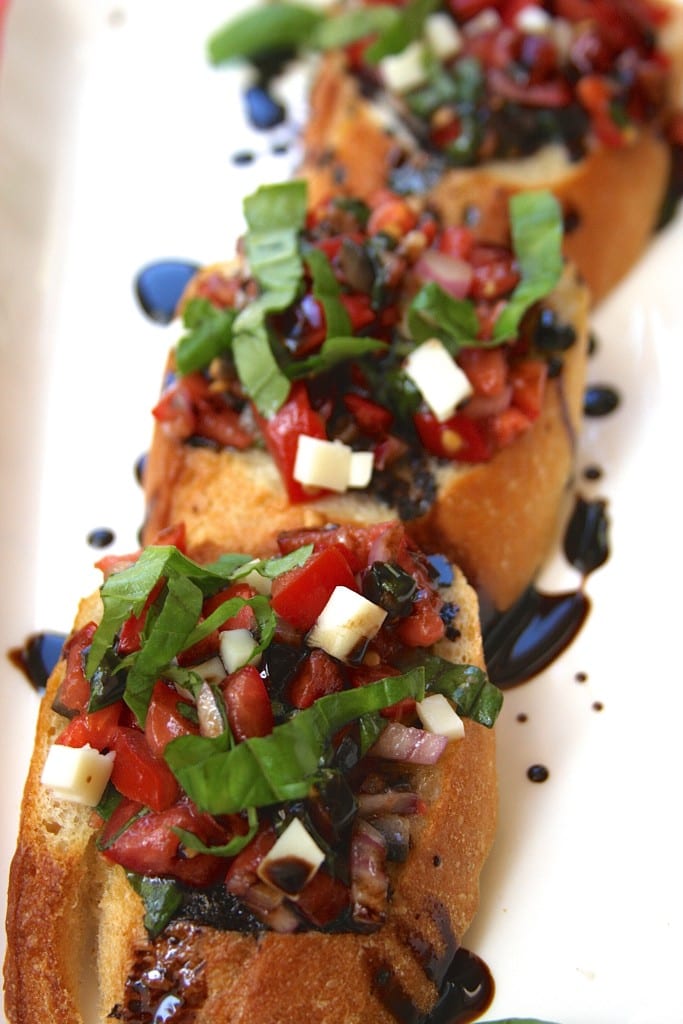 How about now? I feasted on this Bruschetta with Balsamic Reduction yesterday and my mouth is still watering. I keep starring at these photos as if it is my other half (sorry Paul, you are still my number one).
Ok, I will step away for a minute from my romance scene with the Bruschetta to give you the details of this knock your socks off recipe. I wasn't planning on making Bruschetta and then this happened.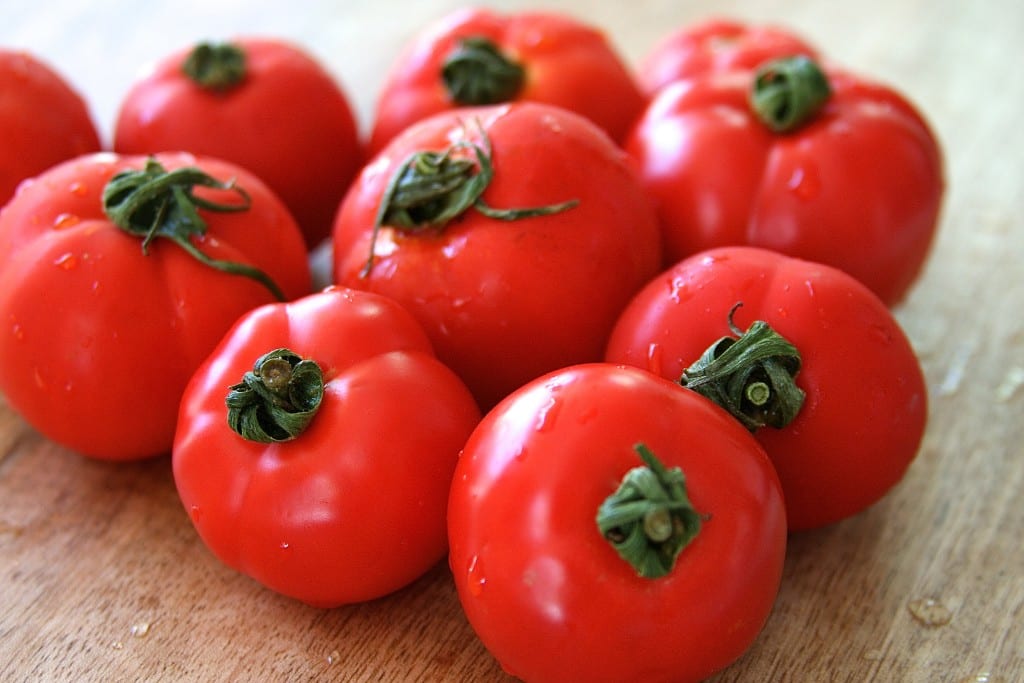 While shopping at Jimbos (a grocery chain here in San Diego that has the BEST organic produce) I came across a sign that said "Organic Dry Farmed Tomatoes". Sea Level Farm grows these beauties and is located in central coast of California. Because the weather is a perfect balance of sun and fog , there is no irrigation done. Believe it or not, they are grown in a soil that is rich with clay. After reading this I had to confirm with the extremely helpful produce manager. My curiosity over took me and I had to buy a bag full. I was not disappointed as they are sweet, firm and juicy. Apparently they only come out this time of year, so if you are near a Jimbos I highly recommend swinging by and grabbing a bag.
Once I tasted the Dry Farmed Tomatoes, the Bruschetta recipe basically created itself. I put a little less balsamic in the tomato mixture because the Balsamic Reduction is the icing on the cake.
For the bread, cut the baguette at an angle in 1 inch slices. When you bite into it, the crispy, crackling bread hits first and then the richness of the balsamic will surround you. For this recipe I added a tiny bit of cut up mozzarella for a hint of creaminess.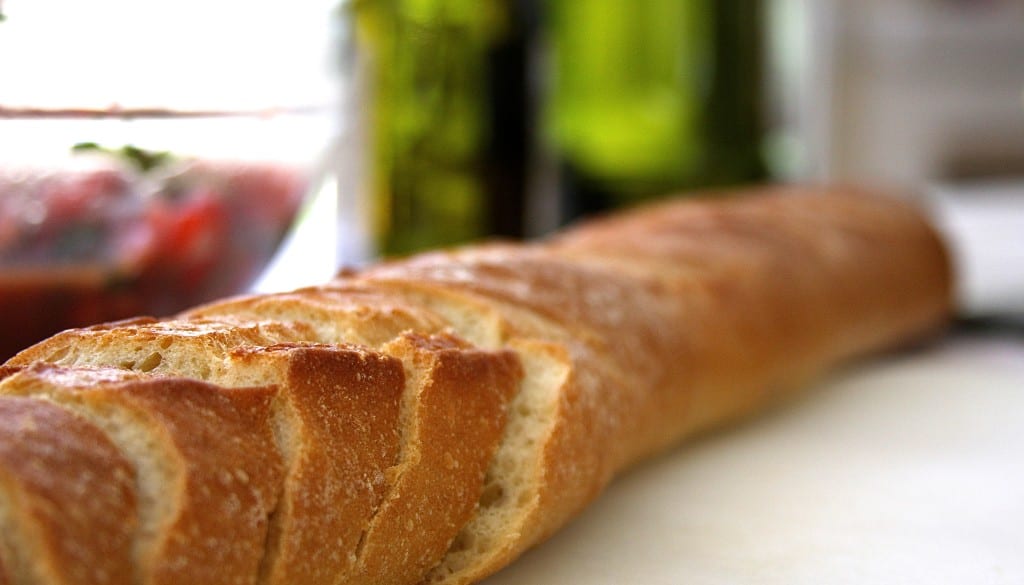 Bruschetta Tips
Choose a rustic, artisan-style bread with a crispy crust like ciabatta, Italian bread, or a good quality baguette. Avoid bread that's too dense.
Slice the bread on the bias into 1/2 to 1 inch thick slices for the ideal ratio of crispy to soft.
Rub one side of the hot toasted bread with a halved garlic clove for full garlic flavor.

Use ripe, in-season tomatoes for maximum flavor and natural sweetness. Dice them small for even distribution.
Add a pinch of salt and fresh cracked black pepper to the tomato mixture to balance the flavors.
Don't overfill the bruschetta with toppings. Keep it balanced with bread, tomato mixture and just a sprinkling of cheese.
Spoon tomato mixture on top right before serving to keep the bread crisp.

Serve bruschetta immediately while still warm for the best texture and flavor.
For cutting the basil, lay several leaves on top of each other. Roll the leaves into a tube like position and cut into strips.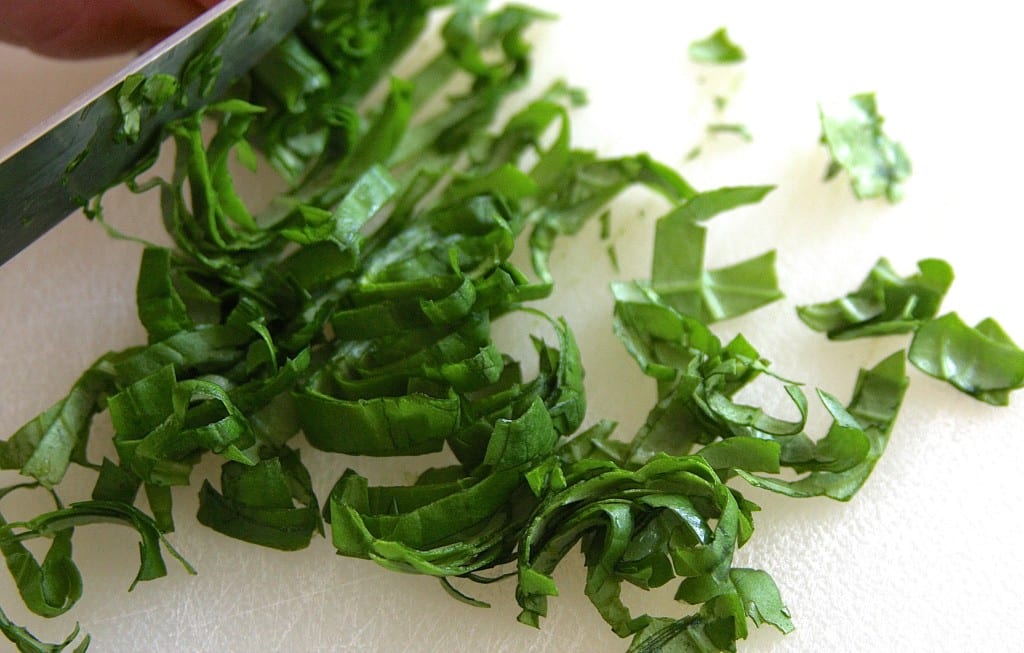 Variations of Bruschetta
Here are some potential variations on this bruschetta recipe:
Try Different Breads- Ciabatta, sourdough, wheat loaf, Italian loaf,

or focaccia would all work well.
Switch Up The Veggies- Try using red and yellow tomatoes for color, roasted red peppers, grilled zucchini or eggplant, artichoke hearts, or roasted beets
Vary The Cheese- Mozzarella, feta, goat cheese, parmesan, fresh mozzarella would all be delicious.
Change Up The Herbs- Substitute basil with cilantro, dill, oregano, or thyme.
Add Protein- Top it with prosciutto, salami, chicken, shrimp, or beans for a heartier bruschetta.
Make It Spicy- Add spice with red pepper flakes, cayenne, paprika or cajun seasoning in the tomato mixture.
Bruschetta Bites- Instead of full slices of bread, make with mini toasts or crostini.
What to Serve with Bruschetta
Here are some delicious options for sides that pair well with bruschetta:
Salad- A fresh green salad or caprese salad such as Burrata Caprese with tomatoes, mozzarella and basil is a classic pairing. The crisp greens balance the richness.
Wine- An Italian white wine like Pinot Grigio or a light, fruity red like Chianti classico are perfect pairings.
Antipasto platters- Marinated artichokes, roasted peppers, olives, etc. complement the flavors of bruschetta. Antipasta Skewers work beautifully, too.
Soup- Italian White Bean Soup

pairs nicely with this recipe.
Fruit- Fresh figs, melon or orange slices bring a sweet, refreshing contrast.
Roasted Vegetables- Eggplant, zucchini, and Roasted Asparagus

complement the tomatoes and basil.
Pasta salad- An Italian pasta salad with pesto or vegetables such, Mediterranean Risoni Salad (Lemon Orzo Pasta Salad), Pea Prosciutto Pasta Salad, Mediterranean Delight Pasta Salad

are all

hearty pairings.
Frequently Asked Questions
What type of bread is best to use?
A crusty Italian or French bread like ciabatta, baguette or sourdough works best. Avoid dense breads.
Can I use grape tomatoes instead of regular tomatoes?
Yes, grape or cherry tomatoes can be substituted. Just halve or quarter them first.
Can I use dried basil instead of fresh?
It's best to use fresh basil leaves to get the right flavor and texture. Dried basil won't be as flavorful.
How long will the bruschetta last once assembled?

It's best consumed right away but can last 8 hours refrigerated before getting soggy.
Can I substitute the cheese for a different kind?
Here are some other cheeses that would pair well in bruschetta besides mozzarella:
Fresh burrata- The creamy texture of fresh burrata cheese works beautifully with the tomatoes. It can be added in small pieces or dollops.
Ricotta- Fresh ricotta adds a nice milky, soft texture that pairs perfectly with the bruschetta tomatoes. Use dollops on top or mix some in with the tomato mixture.
Goat cheese- The tanginess of goat cheese contrasts nicely with the sweet tomatoes. Use crumbled on top.
Feta- Salty, crumbly feta cheese provides a nice accent flavor. Just don't overpower the tomatoes.
Parmesan- Freshly grated or shaved parmesan adds nuttiness and a salty kick. Sprinkle on top.
Provolone- Sliced or shredded provolone has a mild creamy flavor that melts over the warm bread.
Bocconcini- Small balls of fresh mozzarella called bocconcini add great bite-sized texture.

Blue cheese- The bold flavor of blue cheeses like gorgonzola or stilton work well but use sparingly.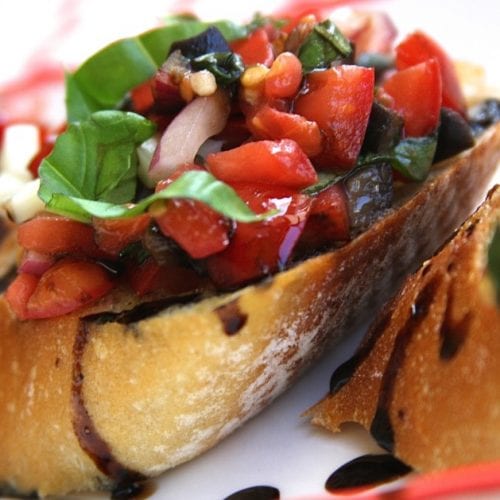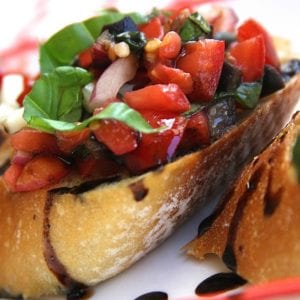 Bruschetta with Balsamic Reduction
Classic Bruschetta with a flavorful twist.
Print
Pin
Rate
Ingredients
6-7

med

tomatoes

3

lg

garlic cloves

16

oz can

extra large black olives

1/2

med

onion

26

med-lg

basil leaves

4

tbsp

extra virgin olive oil for tomato mixture

1/4

cup

extra virgin olive oil for toasting baguette

3

tbsp

balsamic vinegar

salt & pepper to taste

1

French baguette

2

oz.

mozzarella cheese
Instructions
While balsamic is cooking, wash and dice tomatoes into very small chunks. Add to a large glass mixing bowl. Peel and crush garlic. Dice olives into very small chunks. Add garlic and olives to tomatoes. Peel and dice onion into similar sized pieces as the tomatoes. Wash basil leaves and shake off excess water. Lay leaves on top of each other and roll into a tube. Cut into stripes, working in batches of about 7 leaves at a time. Add to tomato mixture.

In a smaller mixing bowl measure olive oil and rapidly whisk measured balsamic to oil until emulsified. Salt and pepper to taste. Pour over tomato mixture. Stir and place in refrigerator while finishing Balsamic Reduction, preparing bread and dicing cheese. Dice cheese into very small pieces, similar to veggie sizes. Place in refrigerator until needed.

Preheat oven to 350 degrees. Cut baguette in 1 inch pieces, cutting at an angle. Lay bread pieces on a cookie sheet and brush one side with oil. Bake for 10 mins or until lightly toasted. Let cool for about 10 mins.

While bread is cooling, use a slotted spoon and drain a lg. spoonful of tomato mixture to remove extra liquid. Place 1 tbsp of drained tomato mixture on bread slices. Sprinkle with cheese and drizzle with Balsamic Reduction.
Notes
*Please use as many organic ingredients as possible. 
Recipe Notes
You may want to buy two baguettes. The second loaf is perfect for soaking up the flavorful liquid.
Nutrition
Calories:
323
kcal
|
Carbohydrates:
21
g
|
Protein:
5
g
|
Fat:
25
g
|
Saturated Fat:
4
g
|
Cholesterol:
6
mg
|
Sodium:
1122
mg
|
Potassium:
145
mg
|
Fiber:
3
g
|
Sugar:
2
g
|
Vitamin A:
636
IU
|
Vitamin C:
4
mg
|
Calcium:
101
mg
|
Iron:
2
mg