Imagine for a minute biting into the crispy bread. Hearing that perfect crackling noise as the tangy sweet balsamic reduction flows over your tongue AND ohhhh, the robust flavor of basil hits you. And ahhh, there it is, the sweetness of the tomato. Are you hungry yet for this Bruschetta with Balsamic Reduction?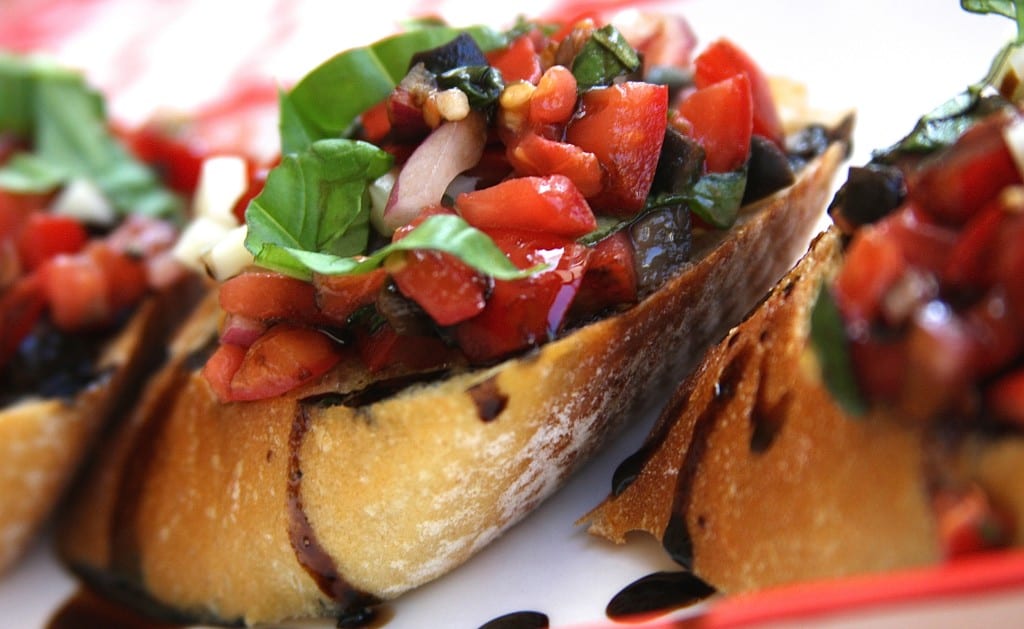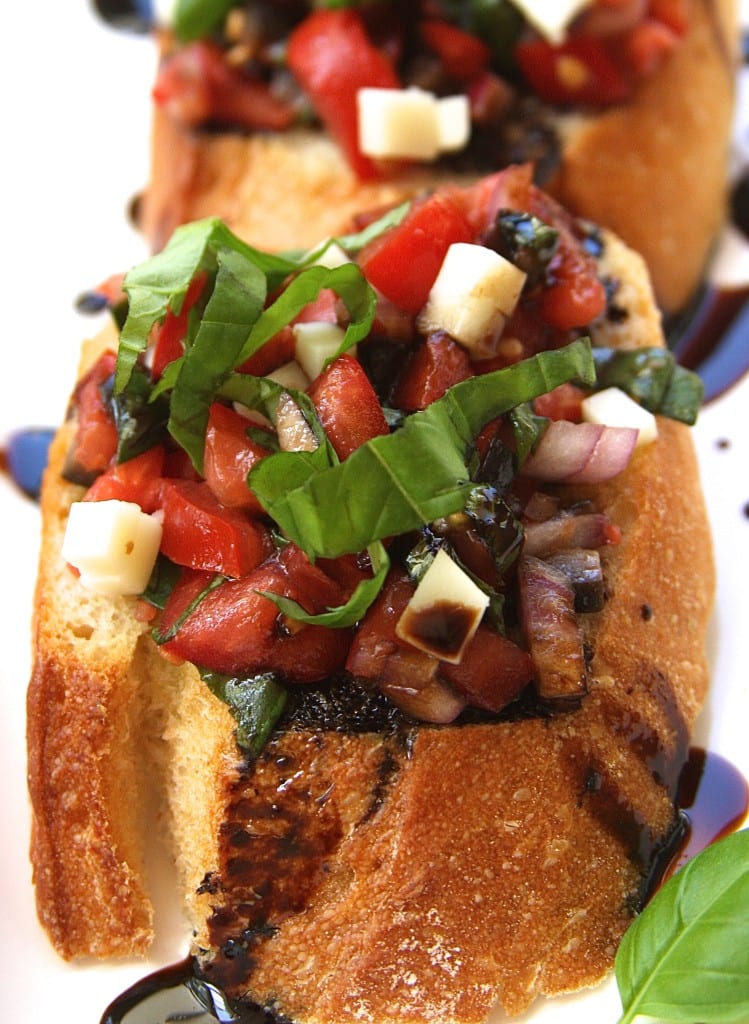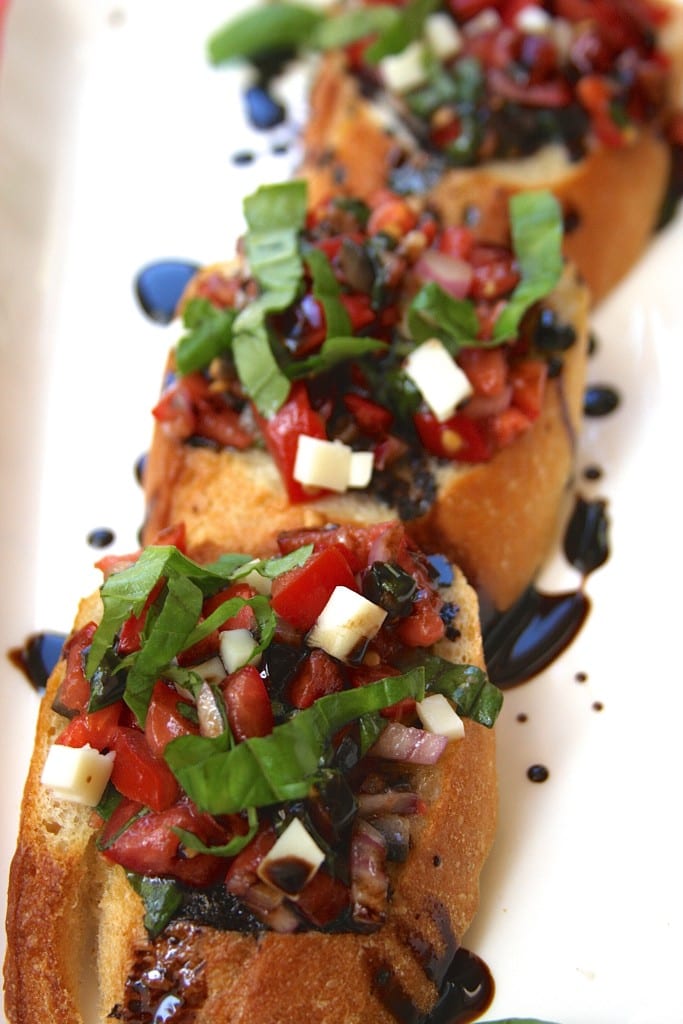 How about now? I feasted on this Bruschetta with Balsamic Reduction yesterday and my mouth is still watering. I keep starring at these photos as if it is my other half (sorry Paul, you are still my number one).
Ok, I will step away for a minute from my romance scene with the Bruschetta to give you the details of this knock your socks off recipe. I wasn't planning on making Bruschetta and then this happened.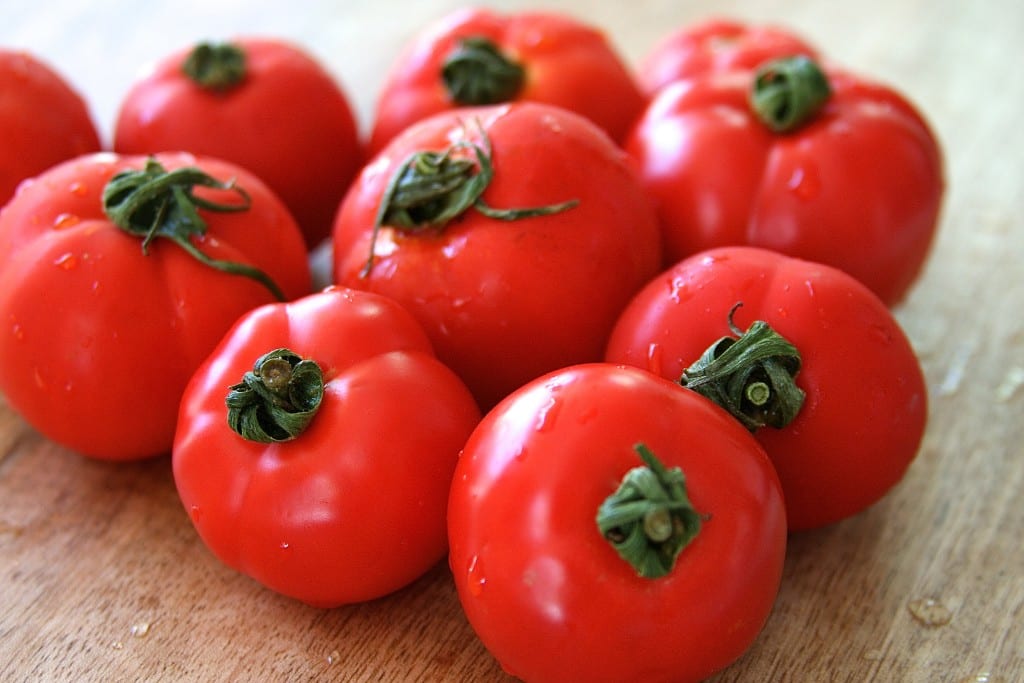 While shopping at Jimbos (a grocery chain here in San Diego that has the BEST organic produce) I came across a sign that said "Organic Dry Farmed Tomatoes". Sea Level Farm grows these beauties and is located in central coast of California. Because the weather is a perfect balance of sun and fog , there is no irrigation done. Believe it or not, they are grown in a soil that is rich with clay. After reading this I had to confirm with the extremely helpful produce manager. My curiosity over took me and I had to buy a bag full. I was not disappointed as they are sweet, firm and juicy. Apparently they only come out this time of year, so if you are near a Jimbos I highly recommend swinging by and grabbing a bag.
Once I tasted the Dry Farmed Tomatoes, the Bruschetta recipe basically created itself. I put a little less balsamic in the tomato mixture because the Balsamic Reduction is the icing on the cake.
For the bread, cut the baguette at an angle in 1 inch slices. When you bite into it, the crispy, crackling bread hits first and then the richness of the balsamic will surround you. For this recipe I added a tiny bit of cut up mozzarella for a hint of creaminess.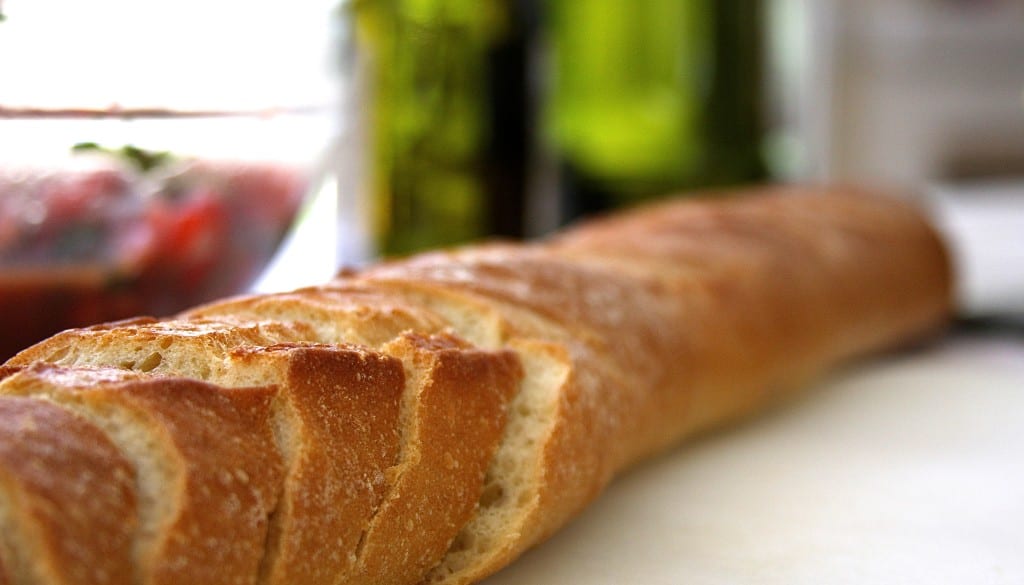 One last tip for cutting the basil, lay serval leaves on top of each other. Roll the leaves into a tube like position and cut into strips.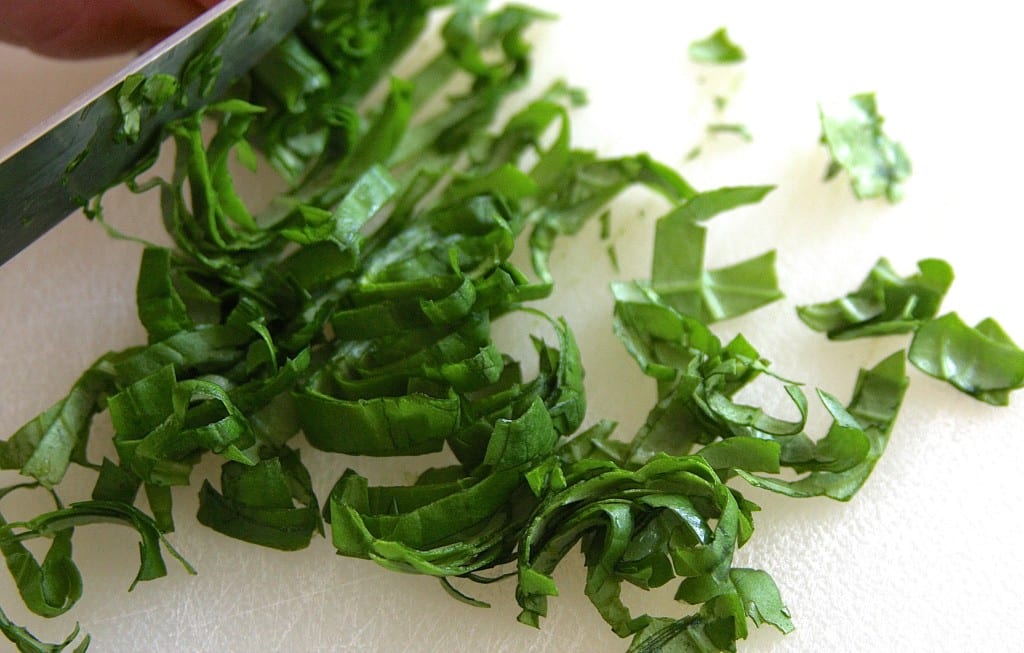 For other scrumptious appetizer recipes check out:
Enjoy this Bruschetta with Balsamic Reduction!!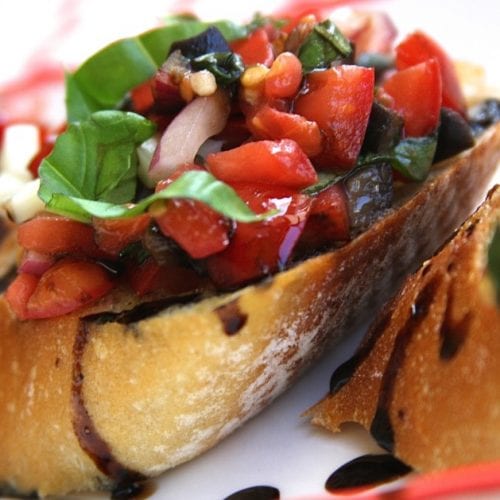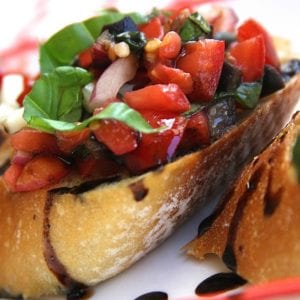 Bruschetta with Balsamic Reduction
Classic Bruschetta with a flavorful twist.
Print
Pin
Rate
Ingredients
6-7

med organic tomatoes

2-3

organic garlic cloves

16

extra large black olives

1/2

med organic onion

26

med-lg sized basil leaves

4

tbsp

organic olive oil for tomato mixture

1/4

cup

organic olive oil for toasting baguette

3

tbsp

organic balsamic vinegar or good quality Italian balsamic

salt & pepper to taste

1

French baguette *organic if possible

2

oz.

mozzarella cheese*organic if possible
Instructions
Start Balsamic Reduction. *see recipe below

While balsamic is cooking wash and dice tomatoes into very small chunks. Add to a large glass mixing bowl. Peel and crush garlic. Dice olives into very small chunks. Add garlic and olives to tomatoes. Peel and dice onion into similar sized pieces as the tomatoes. Wash basil leaves and shake off excess water. Lay leaves on top of each other and roll into a tube. Cut into stripes, working in batches of about 7 leaves at a time. Add to tomato mixture.

In a smaller mixing bowl measure olive oil and rapidly whisk measured balsamic to oil until emulsified. Salt and pepper to taste. Pour over tomato mixture. Stir and place in refrigerator while finishing Balsamic Reduction, preparing bread and dicing cheese. Dice cheese into very small pieces, similar to veggie sizes. Place in refrigerator until needed.

Preheat oven to 350 degrees. Cut baguette in 1 inch pieces, cutting at an angle. Lay bread pieces on a cookie sheet and brush one side with oil. Bake for 10 mins or until lightly toasted. Let cool for about 10 mins.

While bread is cooling, use a slotted spoon and drain a lg. spoonful of tomato mixture to remove extra liquid. Place 1 tbsp of drained tomato mixture on bread slices. Sprinkle with cheese and drizzle with Balsamic Reduction.

Enjoy!!
Notes
You may want to buy two baguettes. The second loaf is perfect for soaking up the flavorful liquid.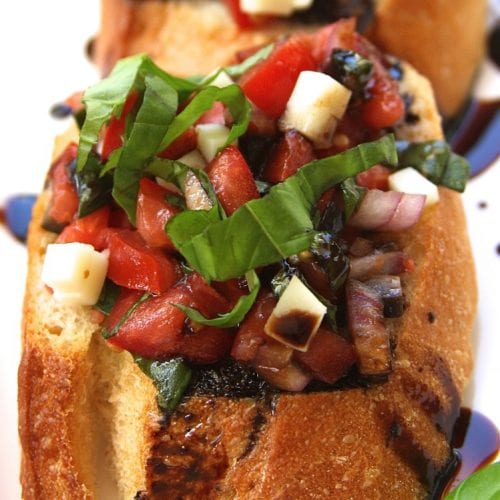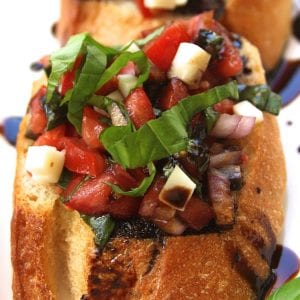 Balsamic Reduction
The perfect finishing touch for Bruschetta, fish, Caprese..the list goes on and on.
Print
Pin
Rate
Ingredients
1

cup

organic balsamic vinegar or high quality Italian balsamic

1

tbsp

organic brown sugar

packed *optional

2

tbsp

dry white wine *optional
Instructions
Measure vinegar and place into a small sauce pan. Bring to a slow simmer over medium heat whisking every so often. Once vinegar is brought to a simmer, lower the temperature to a med low - low heat. Whisk every so often and simmer until vinegar is reduced by half and flows off of spoon in a steady stream much like syrup.
Notes
-Balsamic reduction can be done at a higher heat which produces much faster results. I prefer simmering at a lower heat for this recipe as it is easy to burn while focusing on other cooking steps. Starting this as the first step will keep the preparation running smoothly.
-Adding brown sugar and wine will give the reduction a deeper flavor and add 10-15 mins extra cooking time.