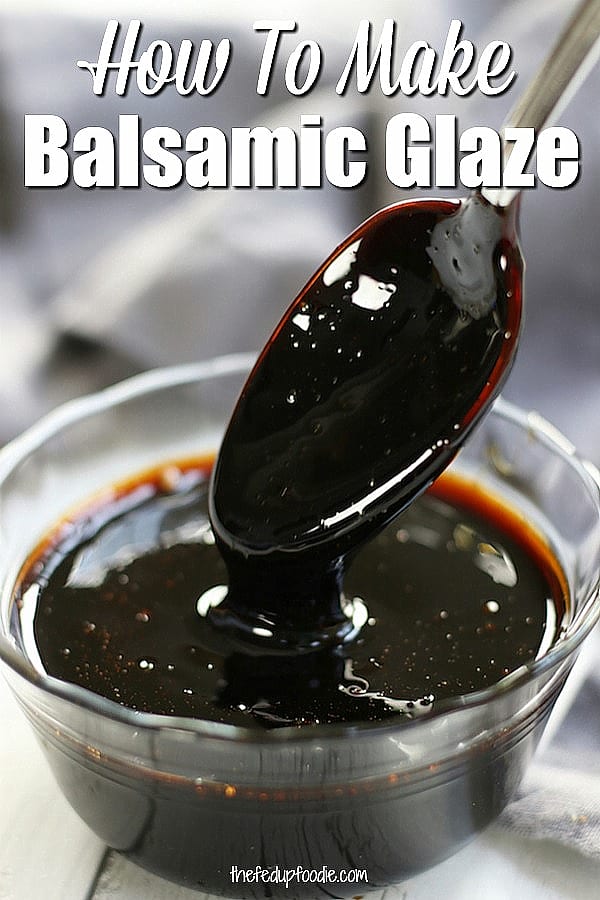 Learn how to make an easy and delicious Balsamic Glaze with just one ingredient. With its sweet tartness and syrup like consistency, this recipe accompanies all kinds of chicken, fish, beef, pork and veggies beautifully.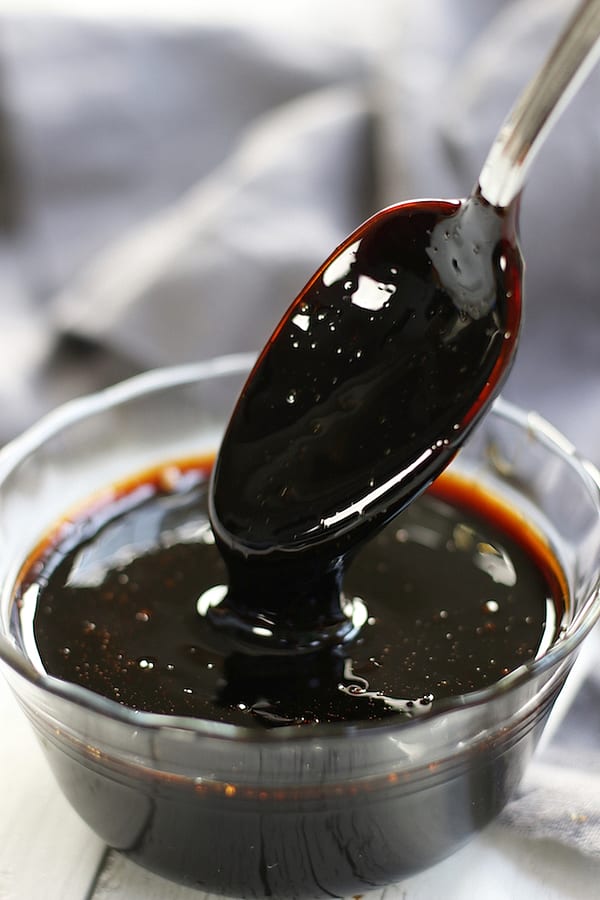 This post may contain affiliate links which I earn a small portion in sales if a purchase is made. Rest assured though, it is never at any additional cost to you.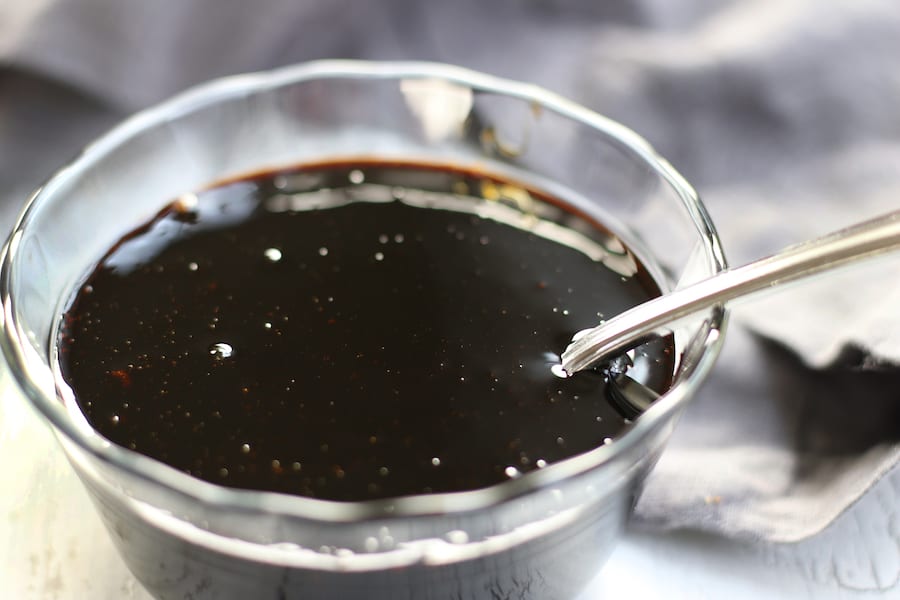 Details are important.
Sometimes I like to fool myself that spending too much time on details is not only a waste of time, but can also be pretentious.
Nobody is going to care that my purse matches my shoes, or that my hair isn't perfect.
Most of the time people are too preoccupied with their own life and challenges to notice those types of details.
The important details I am talking about are the more subtle ones.
The friend who is struggling and you would have never known had you not heard the tone in their voice and took the time to ask.
Details can be so powerful in a relationship too. A certain look, a smile and "I love you" from my husband can absolutely make my day.
Another significant area that can be dramatically impacted by details is cooking.
Taking the time to add spices or making a special sauce can take plain and ordinary dishes to extraordinarily delicious.
This Balsamic Glaze is the perfect example.
There are a multitude of recipes that are tasty in their own right but with a little drizzle of this glaze become completely addictive.
If ever there was a sauce to learn how to make, this is the one.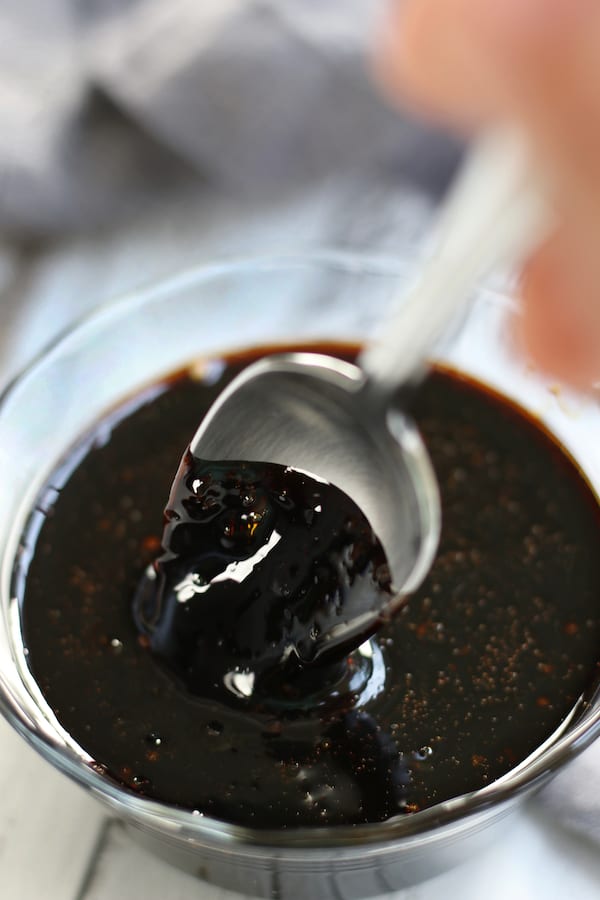 What is Balsamic Vinegar?
Real balsamic vinegar is a product of fermented grape must. Grape must is pressed whole grapes consisting of the skin, seeds and stems. There are varying degrees of real balsamic vinegar that can be extremely confusing to the consumer. Below I will include some of the more affordable high quality balsamic vinegars.
Making it even more confusing, imitation balsamic vinegars are very common in most grocery stores. The challenge with many of the imitation brands is that the quality can suffer because of inferior ingredients such as caramel color and sweetener. However, there are some imitation balsamic vinegars that are more acceptable in quality and price. I will include those below also.
Best Balsamic Vinegar
How To Make Balsamic Glaze
Bring vinegar to a simmer over medium heat.
Once simmering, lower the temperature too low.
Stirring occasionally, cook until vinegar has reduced by half and coats the back of a spoon, approximately 20 mins.
Secrets For Making The Best Balsamic Glaze
Start with good quality balsamic that doesn't have caramel coloring and sweeteners. Anyone of the above balsamic vinegars will make a delicious glaze. However, the higher in quality of vinegar you choose the more the depth of flavor you will experience.
Wine, brown sugar or honey are sometimes added for the lower end balsamic vinegars to achieve the depth of flavor.
Keep a watchful eye on the vinegar if cooking at higher temperature as it is extremely easy to burn. I personally prefer cooking this at a lower temperature and adding more time onto the cooking process.
How long does homemade balsamic glaze last?
If stored in the refrigerator in a clean, air-tight container it can safely last for a few months. I however feel most comfortable only keeping it for one month.
Is Balsamic Glaze gluten free?
If making this Balsamic Glaze with vinegar that does not contain caramel coloring it will be gluten free. Some caramel coloring does have gluten in it, so it best to cautiously read labels.
How many calories in a Balsamic Reduction?
This is such a great question because the thicker it is cooked to, the more calorie dense the balsamic reduction will be. Thiner balsamic glazes will be approximately 30 calories per tbsp.
How To Use Balsamic Glaze
A drizzle of Balsamic Glaze can add a luxuriously smooth, sweet and tangy finishing touch to many different recipes. Here are just a few ideas.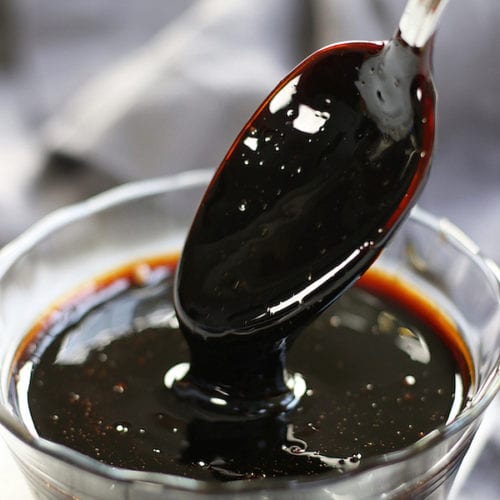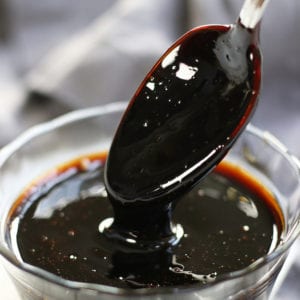 Balsamic Glaze
Drizzle on Balsamic Glaze to add a luxuriously smooth, sweet and tangy finishing touch to veggies, meats, cheese, breads, etc.
Print
Pin
Rate
Instructions
Add vinegar to a saucepan and bring to a simmer over medium heat, about 8 mins. Once simmering lower heat down to low. Stirring occasionaly, cook until glaze is reduced by half and coats the back of a spoon.

*Once simmering it will take approximately 20 mins for a thiner glaze and 40-50 mins for an extra thick glaze.

Let cool to room temperature and store in the refrigerator in an airtight container.
Nutrition
Calories:
28
kcal
|
Carbohydrates:
5
g
|
Protein:
1
g
|
Sodium:
7
mg
|
Potassium:
36
mg
|
Sugar:
5
g
|
Calcium:
9
mg
|
Iron:
1
mg