Grilled Veggie Sandwich is a guilt free, vegetarian way to enjoy the traditional sub. Grilling makes for deliciously smoky vegetables layered with zesty hummus and creamy goat cheese. A sandwich both vegetarians and non-vegetarians love.
This post may contain affiliate links which I earn a small portion in sales if a purchase is made. Rest assured though, it is never at any additional cost to you.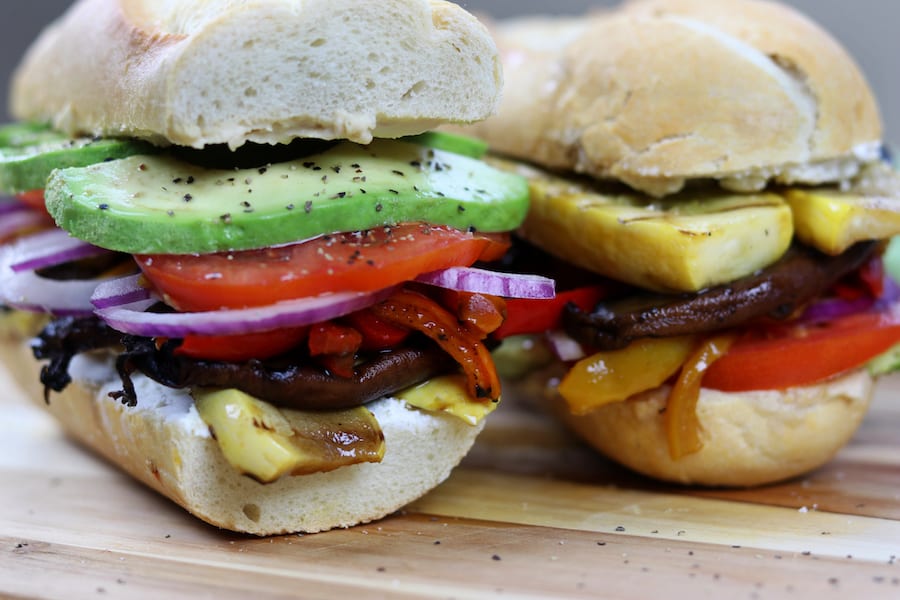 Everyone who is excited about football starting this week raise your hand (me jumping up and down with my hand in the air). Ok, so it's only preseason but when you have been waiting 6 months, that doesn't matter. Football season means that fall and pumpkins galore are right around the corner. It also means the season of junk food starts.
I will be the first to admit that I have nervously devoured a huge amount of chips and dip while watching my Chargers blow the game one too many times (still love my boys in blue and gold though). When you are trying to eat on the healthier side, game day can bring strong mixed emotions. On one hand, you just want to enjoy yourself and not worry about it, and on the other hand, you have been working so hard and this one day can send you spiraling out of control. The good news is this Grilled Veggie Sandwich recipe will allow you to feast on game day and be free and clear of guilt. The grilled veggies are what puts this sandwich in a class of its own with their smoky delightfulness and their high nutritional density.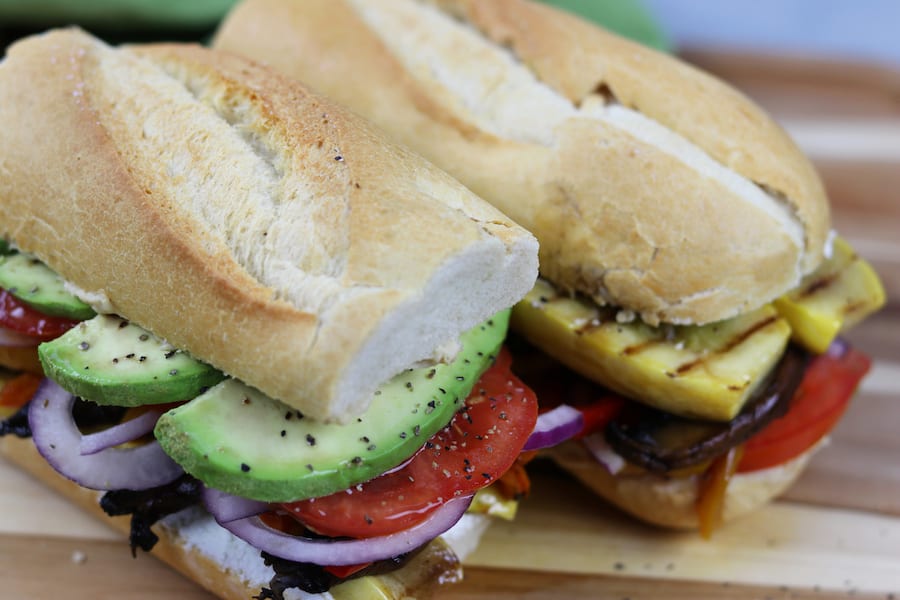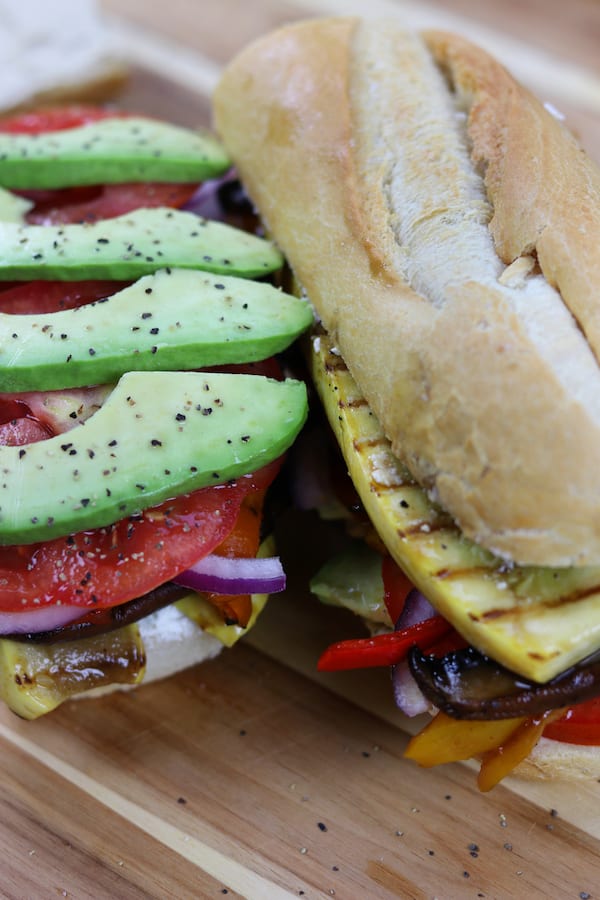 Tips about Grilled Veggie Sandwich:
Grilling is a kick back, have a beer, and enjoy yourself style of cooking so my biggest suggestion is to give yourself plenty of time before the game to finish.
Chosen Foods Avocado Oil is wonderful high heat oil perfect for grilling. Costco by far has the best price at $9.99 for the large bottle or you can purchase though the previous link. (affiliate)
The cutting of the yellow summer squash and onions will be extremely easy if done with a mandolin. If you don't have a mandolin, not to worry. Try to cut the yellow squash about 1/4 inch thickness so not to be too big in the sandwich and not so thin it disintegrates on the grill. (affiliate)
I absolutely love my cast iron indoor grill for those times when it is pouring rain outside. I use it for everything from pancakes, bacon, meat and veggies. Only advice is to turn on your exhaust fan and open a window when using it for meats and veggies. (affiliate)
Once the veggies are cooked, the assembly of the sandwich is extremely easy. If you decide to use goat cheese, a tip for easy application is to cut the bread in half and grill face down for a minute or two, or long enough to warm the bread. Apply the goat cheese while the bread it still warm and it will spread with ease. Or if you prefer your bread not grilled just pop the goat cheese in the microwave for 10 seconds on power level 5.
Spread the hummus on one side of the bread and the cheese on the other. Pack that sandwich with veggies and remember, you will need a napkin. Enjoy this Grilled Veggie Sandwich and GO CHARGERS!!!!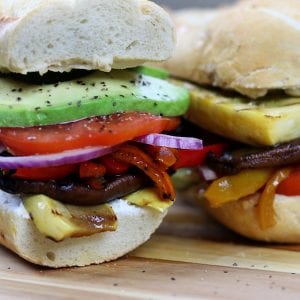 Grilled Veggie Sandwich
An extremely healthy sandwich for game day with an enticing smoky flavor.
Print
Pin
Ingredients
1

tbsp

avocado oil +extra for brushing on veggies

3-4

med

yellow summer squash

3

med

portobello mushrooms

3

bell peppers

*cut into strips

1

med

red onion

*cut into sandwich slices

1

med

tomato

*cut into sandwich slices

1

lg

avocado

*sliced

1/2

cup

hummus

small container goat cheese

1

baguette or French bread
Instructions
Preheat grill to a medium high heat.

In a medium sized frying pan over med/high heat add 1 tbs avocado oil and sauté cut bell peppers for 15 mins. Set aside.

Cut squash into 1/4 inch steak slices with a mandolin or by hand with a sharp knife. Cut mushrooms in 1/2 inch slices. Drizzle or brush oil. Work in batches grilling veggies to a tender consistency, achieving grill marks, approximately 6 minutes per side (depending on grill).

Slice baguette and grill face down for about 2 mins or until warmed. Spread hummus on one side of bread and goat cheese on the other side of the bread. Layer all veggies in order that is most appealing to you. Close sandwich and cut into pieces for serving. Enjoy!!
Notes
*Please use as many organic ingredients as possible.*
Recipe Notes
To add more spice, grill jalapeños or replace goat cheese with organic pepper jack cheese. If buying a sourdough baguette be prepared for a little more chewiness over a french baguette.
Nutrition
Calories:
339
kcal
|
Carbohydrates:
57
g
|
Protein:
14
g
|
Fat:
7
g
|
Saturated Fat:
1
g
|
Sodium:
509
mg
|
Potassium:
632
mg
|
Fiber:
6
g
|
Sugar:
8
g
|
Vitamin A:
2522
IU
|
Vitamin C:
112
mg
|
Calcium:
67
mg
|
Iron:
4
mg
If you love healthy decadent meals than check out these recipes: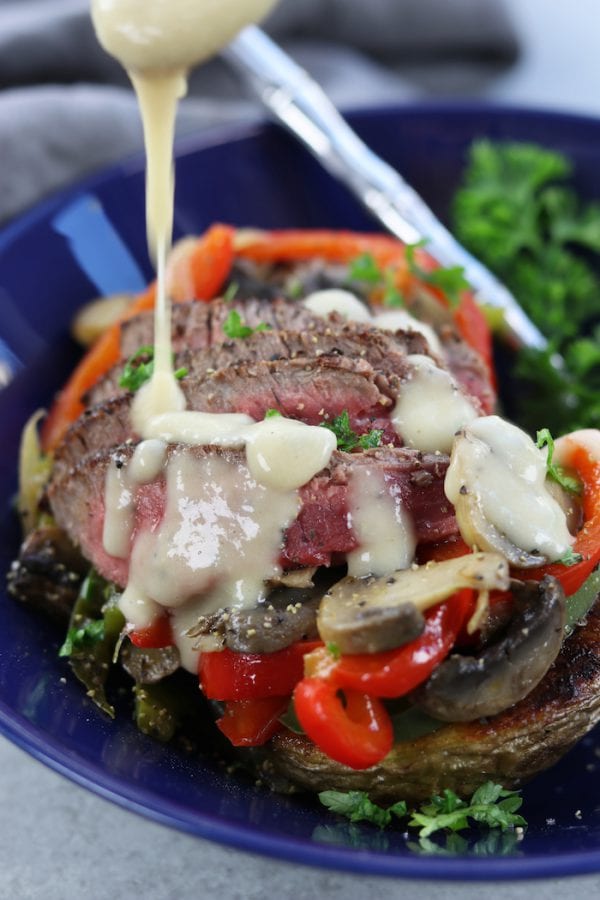 Veggie Cheesesteak Potatoes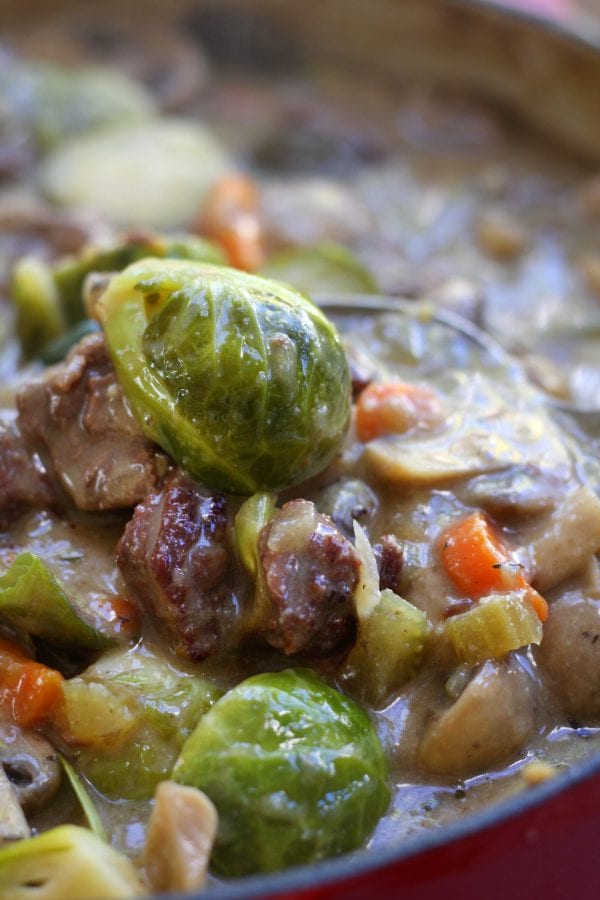 Beef and Brussels Sprouts Stew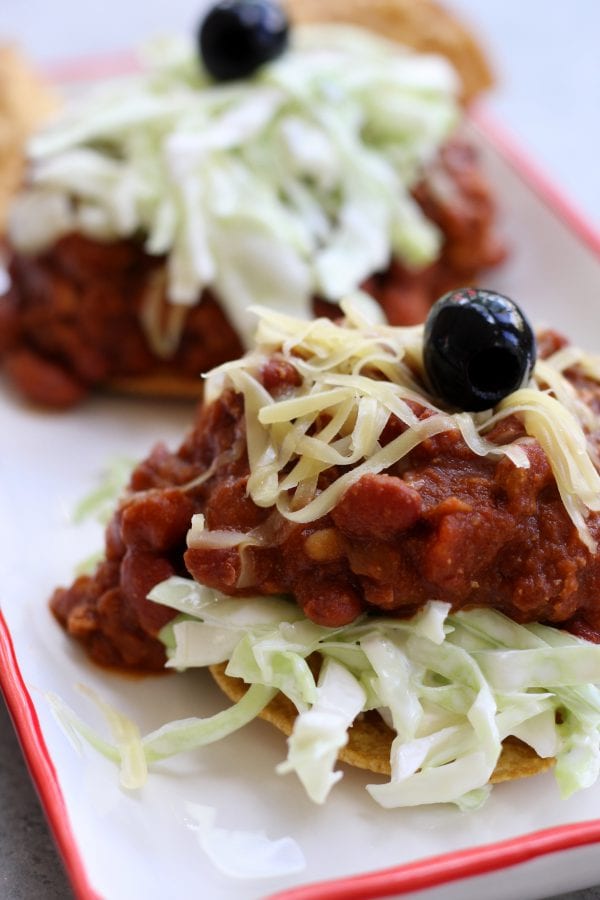 Tortilla and Beans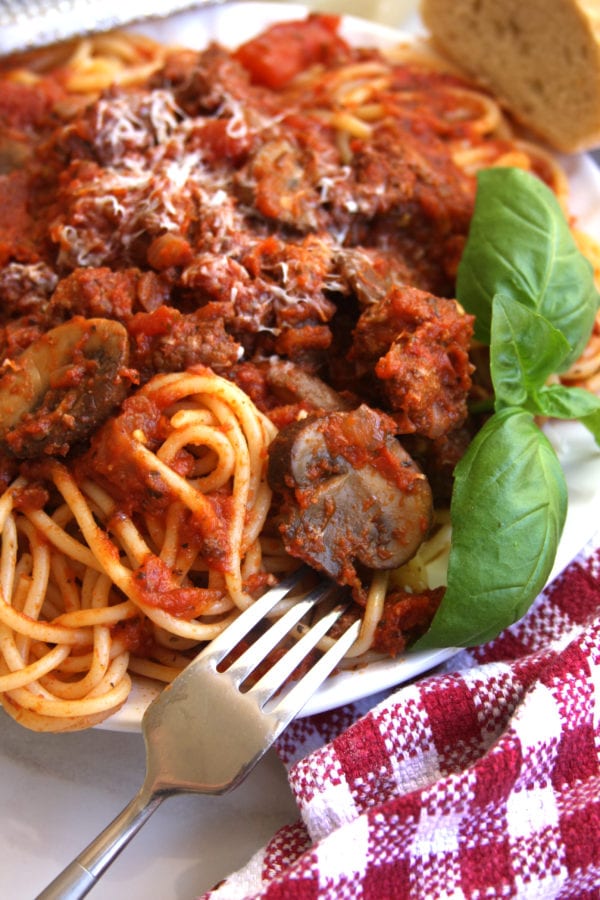 Classic Spaghetti Sauce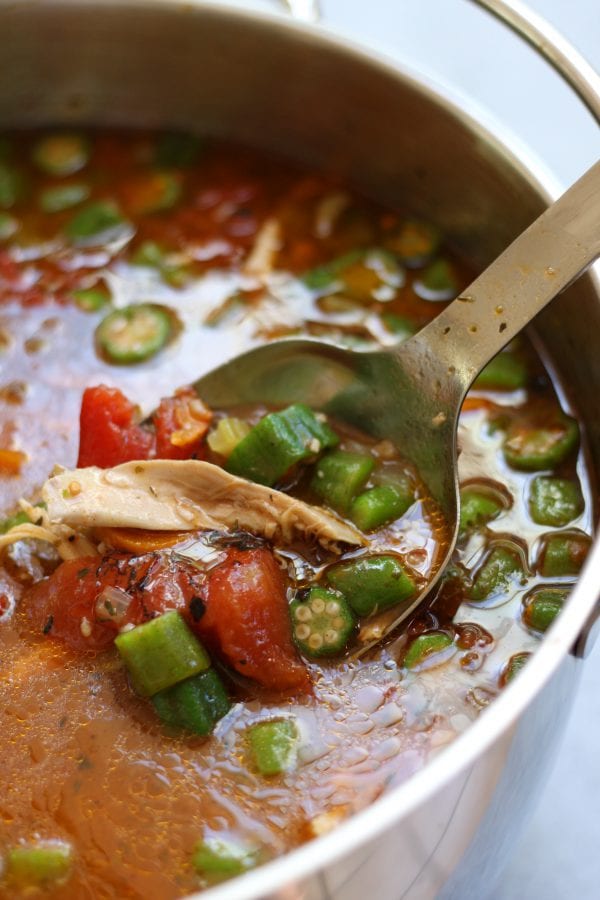 Mom's Chicken Gumbo Soup