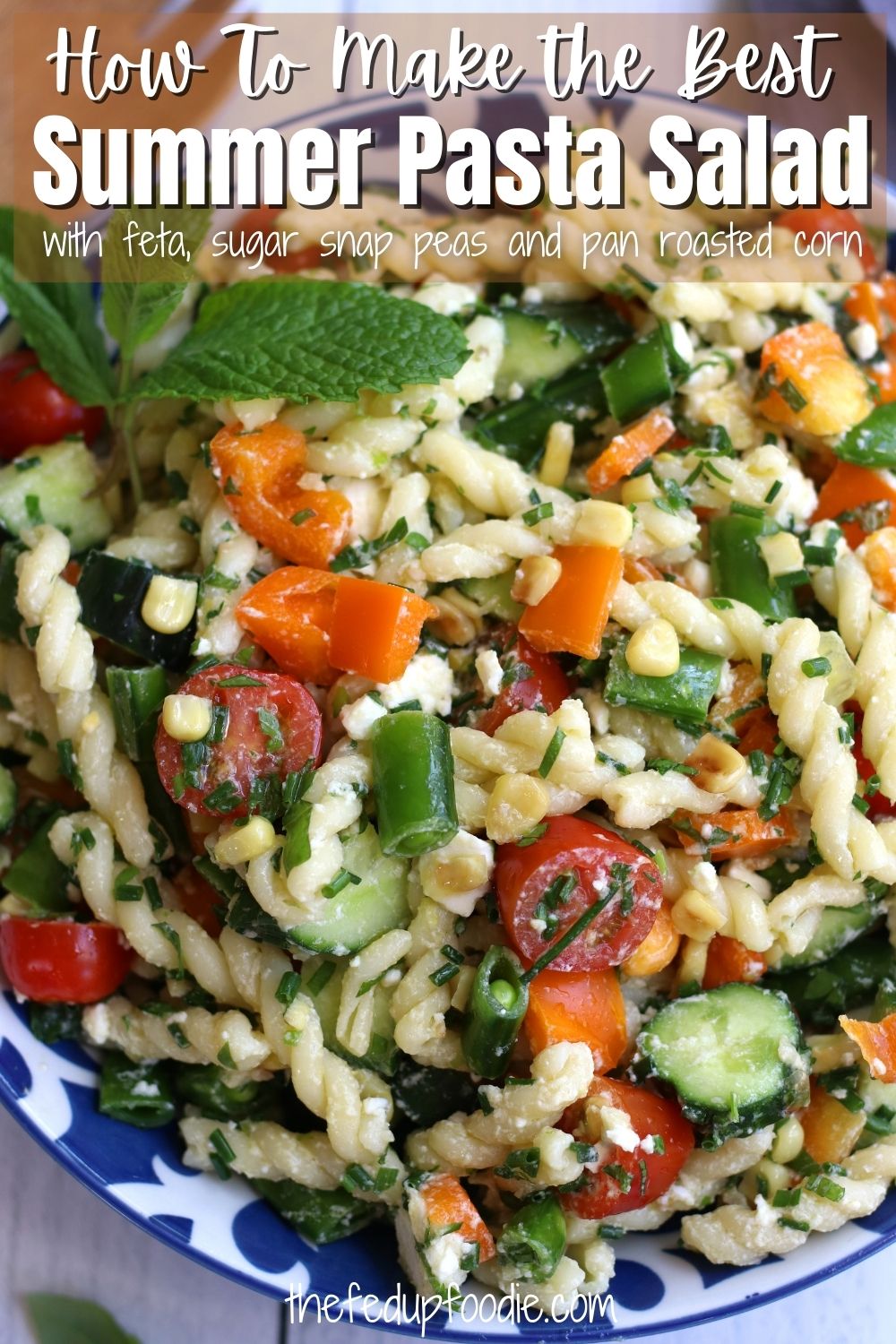 Irresistible Summer Pasta Salad has pan roasted corn, crisp sugar snap peas, savory feta and fresh herbs in a bright homemade lemon vinaigrette. A healthy summer side dish that is very easy to make and is always a hit.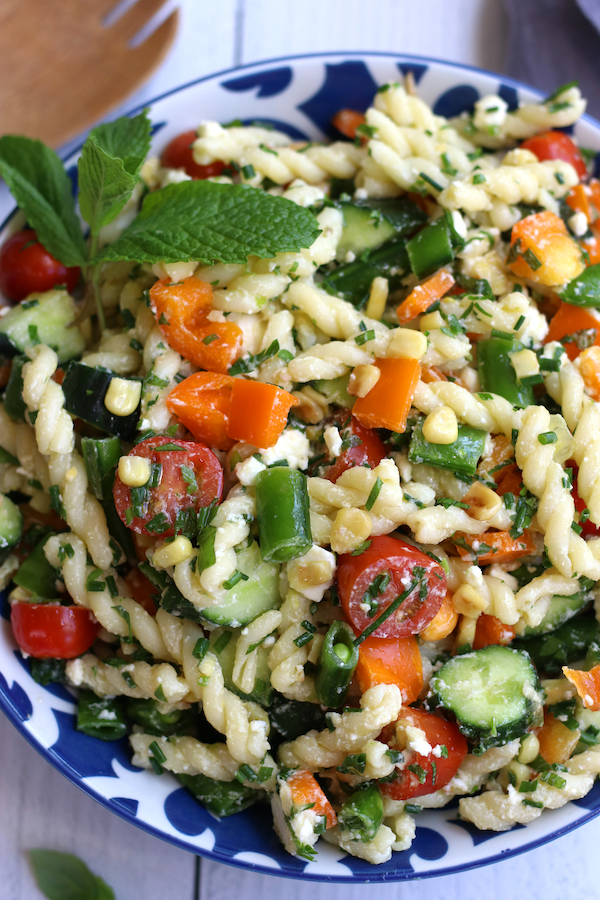 This post may contain affiliate links which I earn a small portion in sales if a purchase is made. Rest assured though, it is never at any additional cost to you.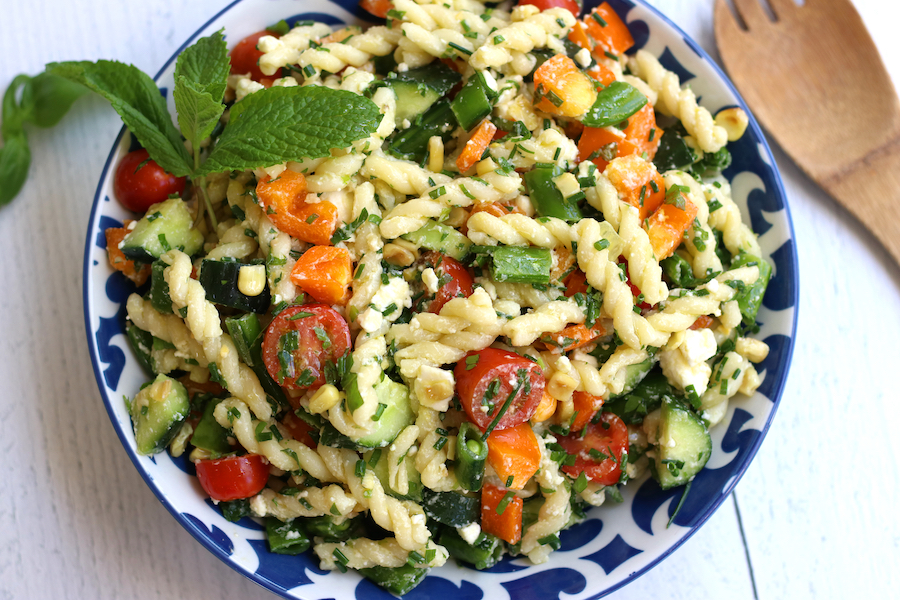 During the hot summer months one of my favorite go to meals is cold pasta salad. Not only is it incredibly cooling, it is a fast, easy and delicious way to eat plenty of veggies. There have been many times I have been know to eat recipes such as Springtime Pasta Salad, Zesty Chicken Pasta Salad and Mediterranean Delight Pasta Salad for breakfast, lunch and/or dinner. I adore the make once and eat many times with absolutely no preparation.
Additionally, pasta salads like this Summer Pasta Salad make a great companion for BBQ's, cookouts and potlucks.
Ingredients Needed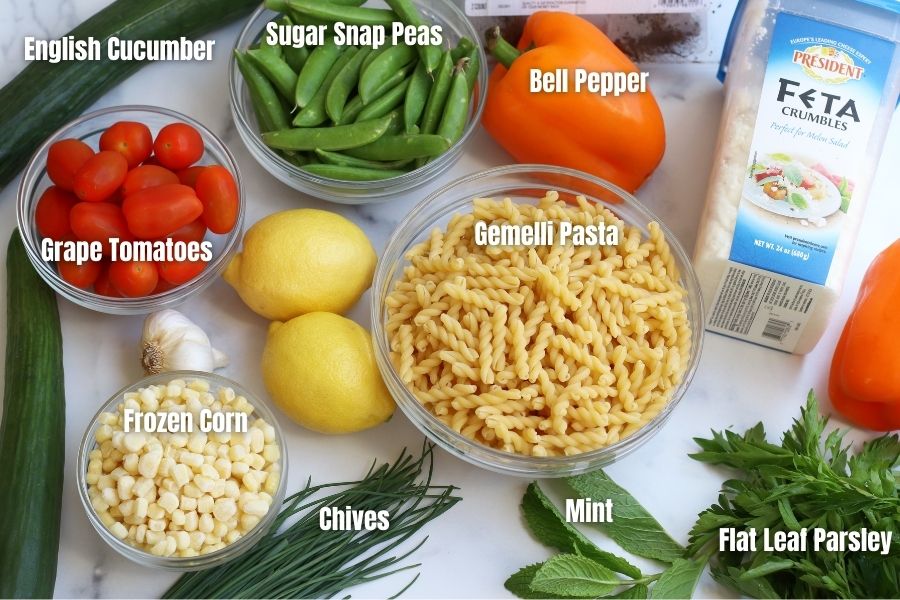 English Cucumbers– These cucumbers also are amazing when cut into coins and used as a chip replacement with Lemon Dill Hummus.
Grape Tomatoes– Also are work well in all kinds of different summer salads like Creamy Cucumber Tomato Salad.
Frozen Corn or Freshly Cut Corn off of the Cob– Here is a helpful video showing how to quickly and easily cut corn off of the cob.
Chives– Also works well as a garnish for recipes such as Sweet Potato Cakes and Crustless Spinach and Feta Quiche.
Mint– Use the leftover mint to make Honey Vodka Lemonade or add as the secret ingredient to salads.
Flat Leaf Parsley– Also know as Italian Parsley.
Basil– Have leftover basil? Make this super delicious Toasted Walnut Pesto.
Pasta
Feta Crumbles– Not only is feta tasty in salads and pasta salads, it also is super delicious in Lemon Artichoke Dip or as a garnish on Tomato Basil Soup.
Bell Pepper– Such an easy way to eat across the rainbow of colors and it adds vibrancy to salads
Sugar Snap Peas– Is supper tasty dipped into hummus or added to Lazy Day Chinese Chicken Salad.
Lemons– This is the best lemon zester and lemon juicer.
Garlic
Extra Virgin Olive Oil– Here is a very helpful and simple breakdown of how to pick the best quality olive oil.
Salt
How To Make Summer Pasta Salad From Scratch

Whisk together oil, lemon juice, lemon zest, garlic and salt.
Pan roast corn and cook pasta to al dente. Add both ingredients to vinaigrette. (Cool pasta to room temperature in refrigerator at this point.)
Prepare veggies on add to pasta bowl.
Chop herbs and add to pasta along with feta crumbles.
Toss well.
How To Make Pan Roasted Corn
The caramelized sweet roasted flavor of pan roasting corn is one of the secrets to making this pasta salad absolutely amazing. Here are the simple steps:
Heat a medium to larger sized frying pan over medium high heat.
Add oil and using a spatula gently coat bottom of pan.
Add corn and cook stirring frequently for 8-10 minutes. Corn kernels should become toasted and browned.
FAQ
What goes with cold pasta salad?
This pasta salad works very well as a side dish to Rib Eye Steaks, Broiled Pork Chops, Dry Rubbed Ribs and Grilled Wings.
Can you make pasta salad the night before?
Yes, this pasta salad tastes as amazing the next day as it does the first.
Should you rinse pasta when making pasta salad?
There are no black and white answer to this question as there are very mixed opinions as to the best way to cook pasta. I can only tell you what my Italian pasta loving heart prefers. I highly recommend not rinsing the pasta because cooking it in well salted water flavors the pasta. Unfortunately rinsing the pasta washes away that flavor.
What is the fastest and best way to cool pasta when making pasta salad?
I recommend adding the pasta and roasted corn to the vinaigrette and then placing it in the refrigerator to cool to room temperature. Also, stirring frequently will help the pasta to cool faster. This approach will take approximately 15 minutes for the pasta to come to room temperature.
How long does Summer Pasta Salad stay fresh?
Since there is no meat, this pasta salad will stay fresh for 3-4 days beautifully in the refrigerator.
If you enjoyed this Summer Pasta Salad please let me know by leaving a comment and review below. Doing so helps to encourage others to make the recipe also. Thank you!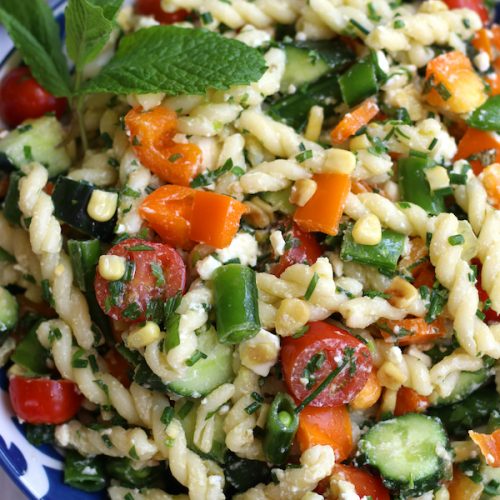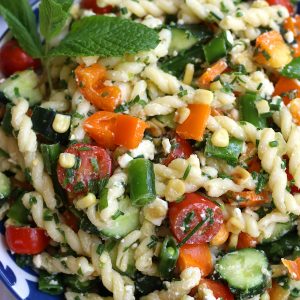 Summer Pasta Salad
Crisp and fresh, this Summer Pasta Salad is easy to make and so irresistable. Sweet pan roasted corn with a citrusy vinaigrette, creamy feta and flavorful fresh herbs makes this cooling dish absolutely fabulous! Double the batch and have plenty for days.
Print
Pin
Rate
Ingredients
8

oz

pasta of choice

*See Note #1 below

1/2

cup

extra virgin olive oil

*See Note #2 below (plus 2tbsp extra for roasting corn)

1/4

cup

lemon juice

*about 2 lemons

2

tsp

lemon zest

2

lg

garlic cloves (crushed)

*See Note #3 below

1/2

tsp

salt

10

lg

fresh basil leaves

*finely chopped

1/2

cup

finely chopped fresh chives

*about 1/2 bunch

1/4

cup

finely chopped fresh flat leaf parsley

6

lg

fresh mint leaves

*finely chopped

5

oz

sugar snap peas

*cut into bite sized pieces

1/2

lb

grape tomatoes

*cut in half

1

English cucumber

*peel on, cut into bite size pieces

1

lg

orange bell pepper

*cut into bite size pieces

2

cups

corn

*See Note #4 below

1

cup

feta crumbles
Instructions
Prepare the Vinaigrette
In a large mixing bowl whisk together oil, lemon juice, lemon zest, garlic and salt. Set aside.
Cook the Pasta
Bring 3 quarts of water to boil over high heat. Salt the water and cook the pasta according following package instructions to al dente. See Note #5 below.

Drain the pasta well (do not rinse) and add to vinaigrette. Stir well.
Roasting Corn
Heat a medium sized frying pan over medium/high heat. Add 2 tbsp of oil and the corn. Cook stirring frequently for 8- 10 mins or until kernels are toasted. Add to pasta bowl and stir well.
Pasta Salad
Prepare veggies and herbs. Cool Pasta to room temperature (See Note #6 below) and stir in veggies, herbs and feta. Cover and cool in the refrigerator until ready to serve. This salad can also be eaten immediately after being prepared.
Notes
*Please use as many organic ingredients as possible.
Recipe Notes
Note #1: Organic Gemelli pasta purchased from Costco was used for this recipe. For gluten free needs this is an excellent pasta. 
Note #2: One of the easiest ways to know a good quality olive oil is by the expiration date. If there is no expiration date chances are it is an inferior oil. 
Note #3: For garlic lovers like me, use 3-4 large cloves of garlic.
Note #4: Either use 2 cups fresh corn cut off the cob or frozen corn. Here is an incredibly helpful video showing how to quickly and easily cut corn off the cob. 
Note #5: Al dente means almost fully cooked. In other words, the pasta will have a slight bit of chew to it. 
Note #6: To cool the pasta to room temperature quickly, place in refrigerator once tossed with vinaigrette and make sure to stir frequently. It will take approximately 15 minutes to cool. 
Nutrition
Calories:
445
kcal
|
Carbohydrates:
47
g
|
Protein:
12
g
|
Fat:
25
g
|
Saturated Fat:
6
g
|
Cholesterol:
22
mg
|
Sodium:
288
mg
|
Potassium:
470
mg
|
Fiber:
4
g
|
Sugar:
8
g
|
Vitamin A:
1357
IU
|
Vitamin C:
35
mg
|
Calcium:
169
mg
|
Iron:
2
mg