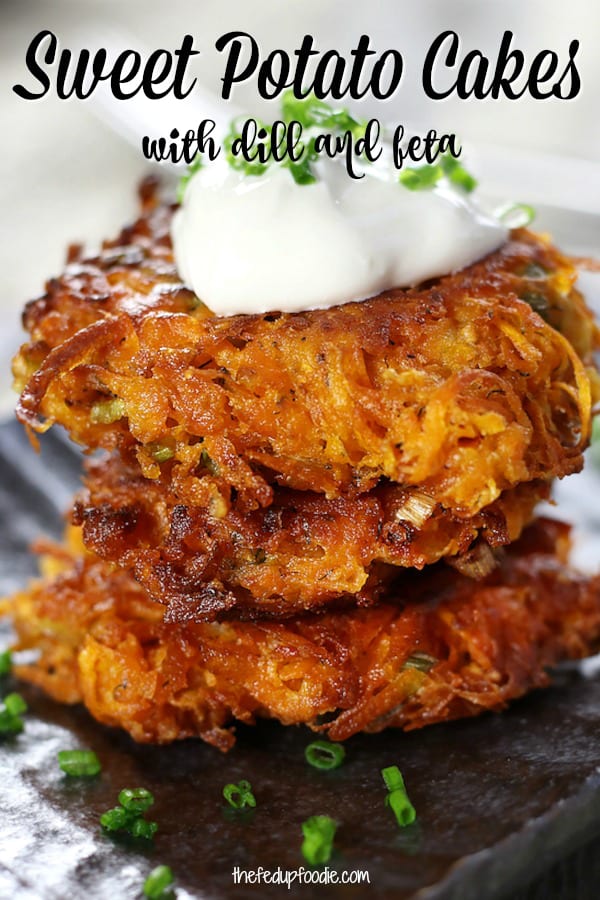 Sweet Potato Cakes recipe is a fun twist off of Sweet Potato Latkes. Made with feta, dill and smoked paprika, these are delicious for breakfast or dinner. Top with sour cream and chives for a delicious Fall treat.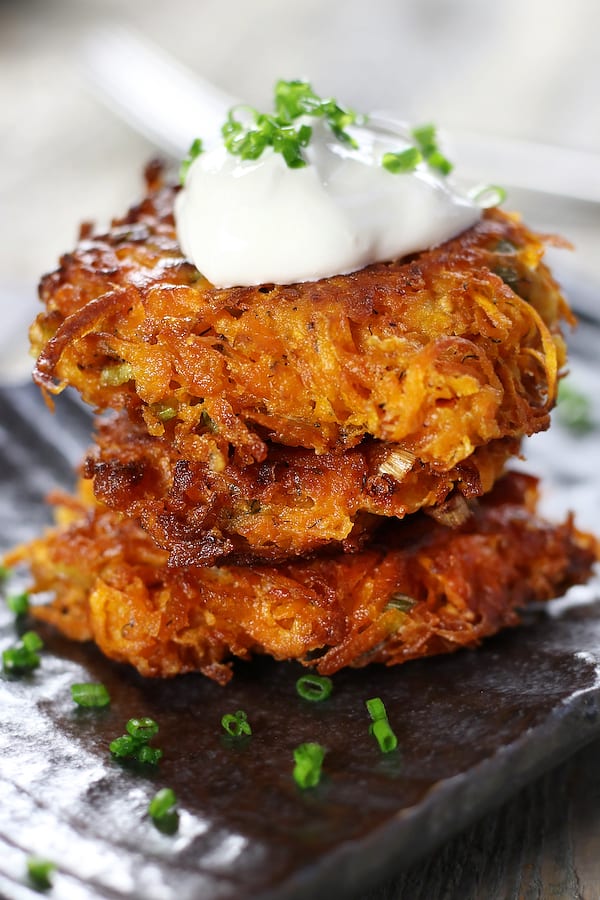 This post may contain affiliate links which I earn a small portion in sales if a purchase is made. Rest assured though, it is never at any additional cost to you.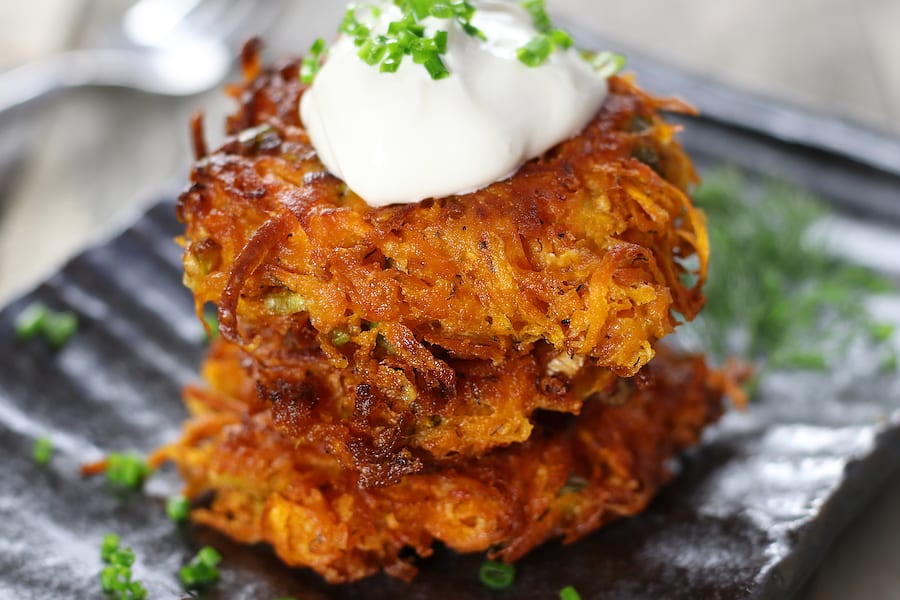 Harnessing Autumn's Essence: Sweet Potato Cakes
As the air starts to turn crisp after the summer heat, making wholesome comfort meals that utilize the fall crops is so wonderful. Sweet potato cakes are a comforting and seasonal treat that perfectly captures the essence of autumn. With the crispy exterior, soft and tender interior and loads of flavor, this side dish is a delicious way to celebrate the flavors of fall.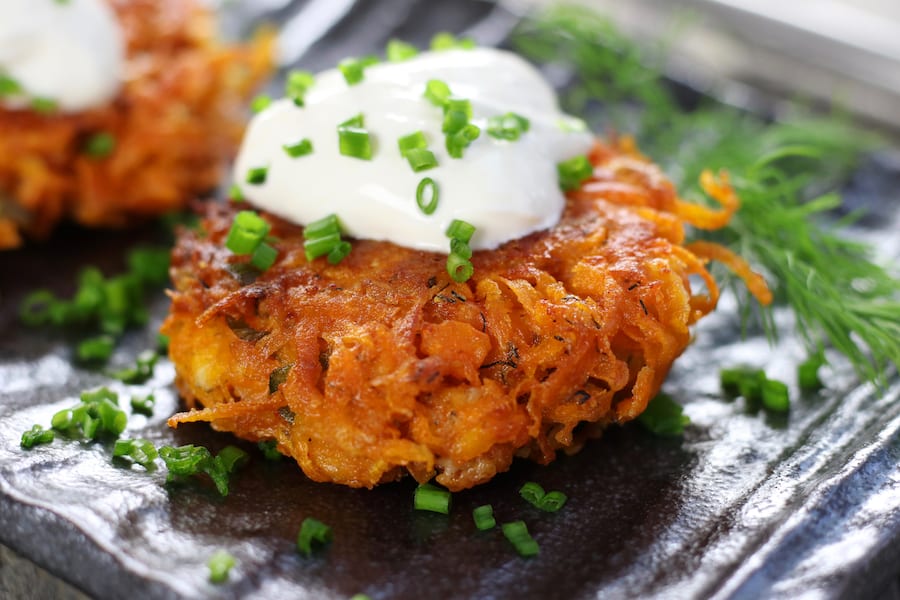 Difference Between Sweet Potatoes and Yams
Sweet potatoes and yams are often confused with each other, but they are actually two distinct root vegetables. Here are the key differences between sweet potatoes and yams:
Appearance- Sweet potatoes have a tapered, elongated shape with a smooth, thin skin. The skin color can range from pale yellow to orange, red, or purple. The flesh of sweet potatoes can be creamy white, yellow, orange, or deep purple, depending on the variety. Yams, on the other hand, have a cylindrical shape with a rough, scaly skin that is typically brown or black. The flesh of yams is usually white or yellow and has a starchier texture.
Origin- Sweet potatoes are native to the Americas and have been cultivated for thousands of years. Yams, on the other hand, originated in Africa and Asia and have been an important food staple in those regions for centuries.
Flavor and Texture- Sweet potatoes have a sweeter and moister taste compared to yams. The flesh of sweet potatoes is soft and creamy when cooked. Yams, on the other hand, have a starchier and drier texture and a less sweet flavor.
Nutritional Content- Sweet potatoes and yams have different nutritional profiles. Sweet potatoes are an excellent source of vitamins A and C, dietary fiber, and antioxidants. They also contain moderate amounts of potassium and vitamin B6. Yams, on the other hand, are a good source of complex carbohydrates, dietary fiber, and vitamin C. They are also higher in calories compared to sweet potatoes.
Sweet Potatoes or Yams: Which is best for this recipe?
The sweet potatoes commonly available are often labeled as "yams" in the United States, but they are actually sweet potatoes. Therefore, when making sweet potato cakes, it is recommended to use the variety of sweet potatoes found in your local market, which may be labeled as "yams."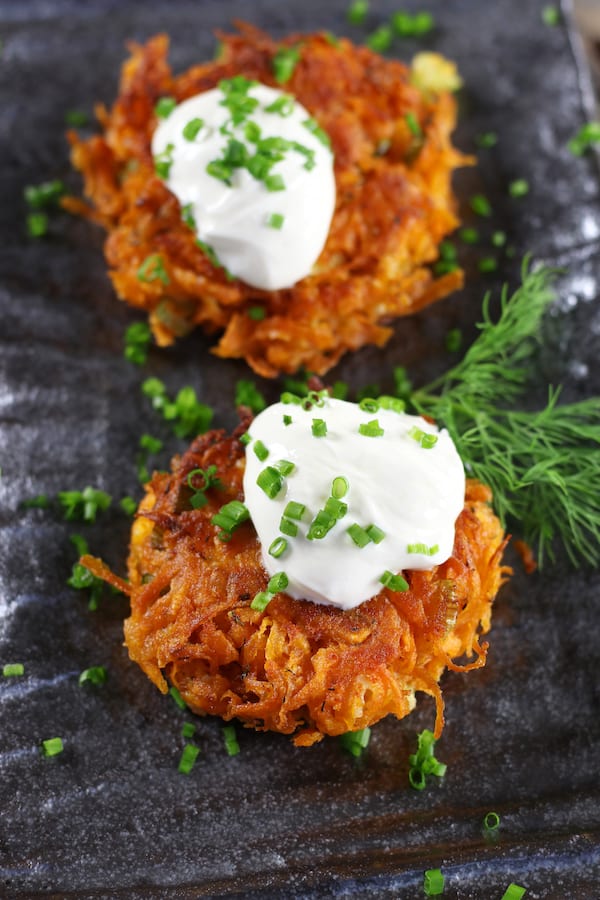 Ingredients for Sweet Potato Cakes
High Heat Oil- Oil with high smoke point, suitable for cooking with high temperatures. For this recipe I used avocado oil. Note: Costco has excellent prices on avocado oil.
Sweet Potatoes- Nutritious root vegetable with high fiber content and vitamins.
Sea Salt- For this recipe I used Maldon's Flakey Sea Salt that has a mild and clean taste.
Black Pepper- Spice that has a distinct and pungent flavor which enhances the overall taste.
Garlic Cloves- Adds a rich, bold, and savory flavor to the dish.
Green Onions– Give a refreshing and vibrant element with crisp texture and mild onion flavor.
Feta Cheese- Brings in a creamy and salty element.
Egg- Serves as a binding agent in this recipe, helping to hold the ingredients together and provide structure to the patty.
Dried Dill- Herb used to add tangy taste and visual appeal.
Smoked Paprika- Made from dried and smoked red peppers that gives a smoky and earthy flavor.
Flour- Provides structure, texture and thickness.
How To Make Easy Sweet Potato Cakes (aka Sweet Potato Patties)
Peel, grate and squeeze excess moisture from sweet potatoes.
Mix sweet potato gratings with egg, flour, feta, garlic, green onions and spices.
Form into patties using 1/4 cup measuring cup.
Heat oil in cast iron frying pan for 5 minutes over medium heat.
Fry Sweet Potato Patties for 2-3 minutes per side.
Variations
Spices- Experiment with different spices to give the sweet potato cakes a unique twist. Consider adding cumin, cinnamon, chili powder, or curry powder to the batter for a flavorful kick.
Fiery Hot- To make these on the spicy hot side add either cayenne pepper, diced jalapeño pepper with the seeds or just a touch of this Ghost Pepper Powder. The amounts of each will depend on the heat level desired.
Herbs- Apart from dried dill, try incorporating other herbs like parsley, basil, thyme, or rosemary to enhance the herbal notes in the cakes.
Additions- Consider adding extra ingredients to the batter for additional textures and flavors. Chopped cooked bacon, diced bell peppers, grated carrots, or corn kernels can provide interesting variations.
Gluten-Free- If you prefer a gluten-free option, substitute the all-purpose flour with gluten-free flour blends or almond flour for a different texture and dietary preference.
Shape and Size- Instead of making patties, you can experiment with different shapes and sizes. Create mini cakes for appetizers or larger, thicker cakes for a heartier meal.
Toppings- Get creative with toppings to add a burst of flavors and visual appeal. Serve the cakes with a dollop of sour cream, a sprinkle of chopped herbs, or a squeeze of lemon juice for brightness.
How To Store Sweet Potato Cakes
Allow the cakes to cool completely before storing to avoid condensation and sogginess.
Place the cakes in an airtight container or wrap them tightly in plastic wrap. Ensure that they are tightly sealed to prevent air and moisture from reaching the cakes.
Store the cakes in the refrigerator to maintain their freshness. They can typically be stored for up to 3-4 days.
If you plan to store the cakes for a longer period, you can freeze them. Individually wrap each cake with plastic wrap or place them in a freezer-safe container or bag. Frozen sweet potato cakes can be stored for up to 2-3 months.
When ready to eat, thaw the frozen cakes in the refrigerator overnight. Reheat them in a preheated oven or on a stovetop until warmed through. Note that reheating may affect the texture slightly, but they will still be delicious.
Helpful Tools
Sweet Potato Nutrition
Sweet potatoes are a root vegetable that not only taste amazing but are also packed with fiber, vitamins, minerals and antioxidants. In addition, they hold a myriad of health benefits such as enhancing brain function, enriching immunity, stabilizing blood sugar and supporting vision health.
What To Serve With Sweet Potato Cakes
Eggs cooked to your choosing. I personally love eating these with over easy eggs.
Frequently Asked Questions
What is high heat?
High heat oil refers to cooking oils that have a high smoke point, which means they can withstand high temperatures without breaking down or producing smoke. When cooking at high heat, such as frying or searing, it is important to use oils with a high smoke point to prevent them from burning or releasing harmful compounds.
Can I use a different oil?
I used avocado oil in this recipe, but canola oil is another high heat oil option.
Can I make the patties ahead of time and cook later?
Yes, after shaping the patties, place them on a baking sheet lined with parchment paper or on a plate. Cover with plastic wrap or place in an airtight container. Store in the refrigerator until you are ready to cook them. They can be refrigerated for up to 24 hours.
More Delicious Fall Recipes
Beef and Brussels Sprouts Stew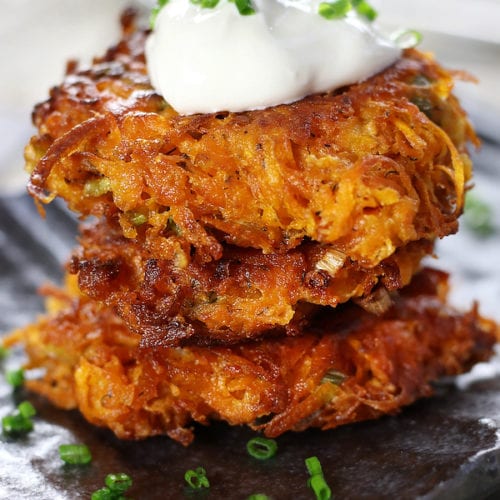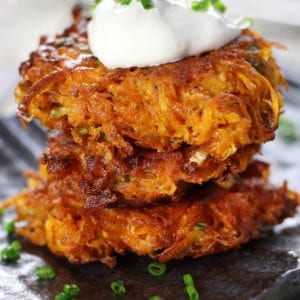 Sweet Potato Cakes
Crispy, sweet and savory, these Sweet Potato Cakes (aka Sweet Potato Patties or Sweet Potato Hash Browns) are a fun twist on Sweet Potato Latkes. They are delicious for breakfast or dinner with a dollop of sour cream and fresh cut chives.
Print
Pin
Rate
Ingredients
1/2

cup

high heat oil

*avocado oil was used for this recipe

2

lg

sweet potatos

*peeled and grated, about 6 cups

1/4

tsp

sea salt

1/4

tsp

black pepper

2

cloves

garlic

*crushed, about 2 tsp

2

stalks

green onions

*diced

4

oz

feta

*crumbled

1

lg

egg

1

tsp

dried dill

1

tsp

smoked paprika

2/3

cup

flour

sour cream and diced chives as a garnish
Instructions
Peel and grate sweet potatoes. Place grated sweet potatoes in a dish cloth and sqeeze as much excess moisture out as possible. Place sweet potato gratings into a medium sized mixing bowl.

Add all the ingredients with the exception of the oil to the sweet potatoes and mix well.

Add oil to cast iron frying pan and heat over medium heat for approximatley 5 minutes to achieve 350℉. See Note #1 below.

Using 1/4 cup measuring cup, measure sweet potato mixture into hands and form into patty. Add to heated frying pan and cook for 2-3 mins per side. See Note #2 below.

Place fried patties on a papper towel lined plate to absorb excess oil. Serve immediately and garnish with sour cream and freshly diced chives. See Note #3 below.
Notes
Recipe Notes
Note #1– Heating the frying pan with oil over medium heat for approximately 5 minutes will bring the pan to the ideal temperature of 350℉.
Note #2– Additional oil may be needed for frying the last of the patties.
Note #3– Greek yogurt may be substituted for sour cream. Also, various dipping sauces like Roasted Garlic Dip, garlic aioli, Roasted Red Pepper Dip, or tzatziki can complement the cakes and offer different flavor profiles.
Nutrition
Calories:
116
kcal
|
Carbohydrates:
5
g
|
Protein:
2
g
|
Fat:
10
g
|
Saturated Fat:
2
g
|
Cholesterol:
7
mg
|
Sodium:
133
mg
|
Potassium:
19
mg
|
Fiber:
1
g
|
Sugar:
1
g
|
Vitamin A:
146
IU
|
Vitamin C:
1
mg
|
Calcium:
44
mg
|
Iron:
1
mg