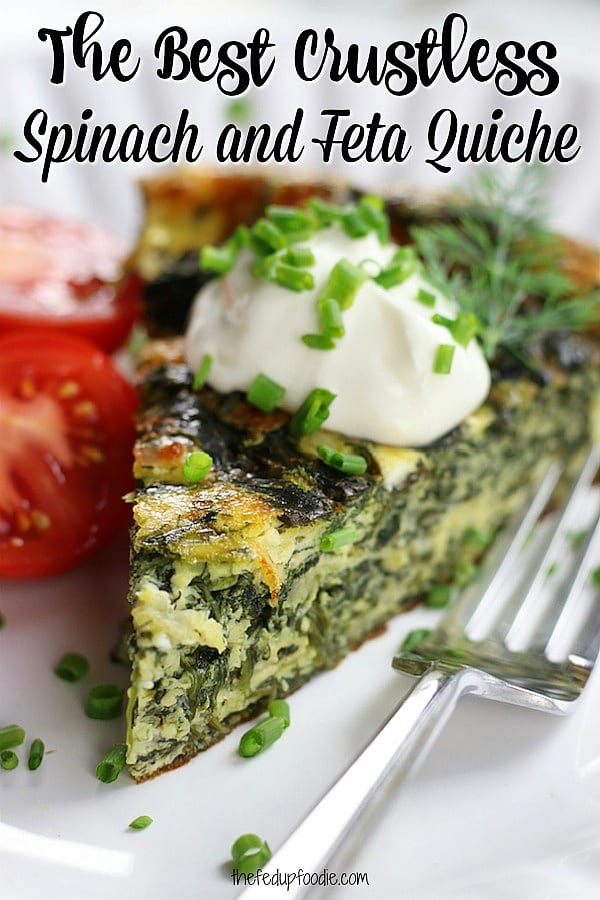 Great for potlucks or lazy mornings, this Crustless Spinach and Feta Quiche is an easy, creamy and bright tasting breakfast or brunch recipe. Tastes amazing hot or cold making it perfect for anytime of the year.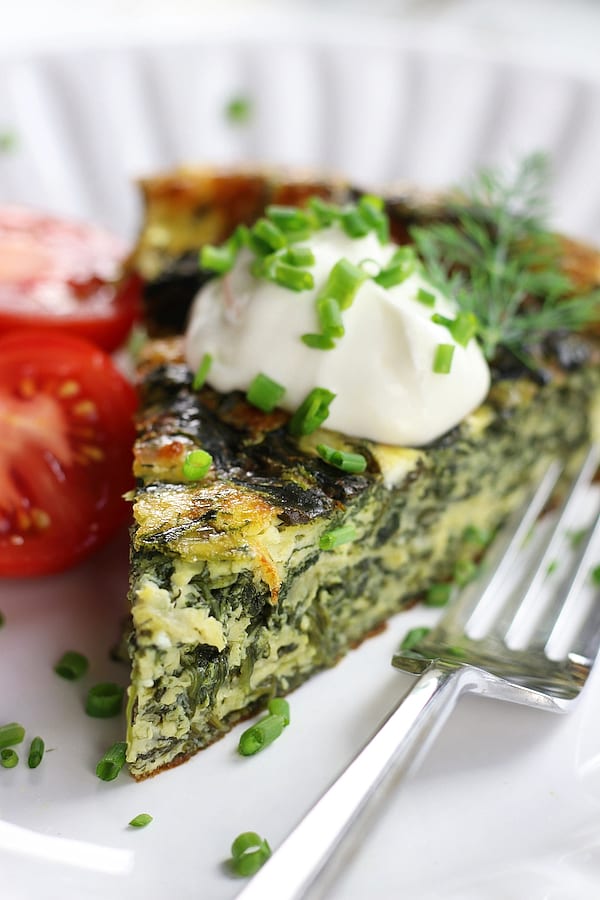 This post may contain affiliate links which I earn a small portion in sales if a purchase is made. Rest assured though, it is never at any additional cost to you.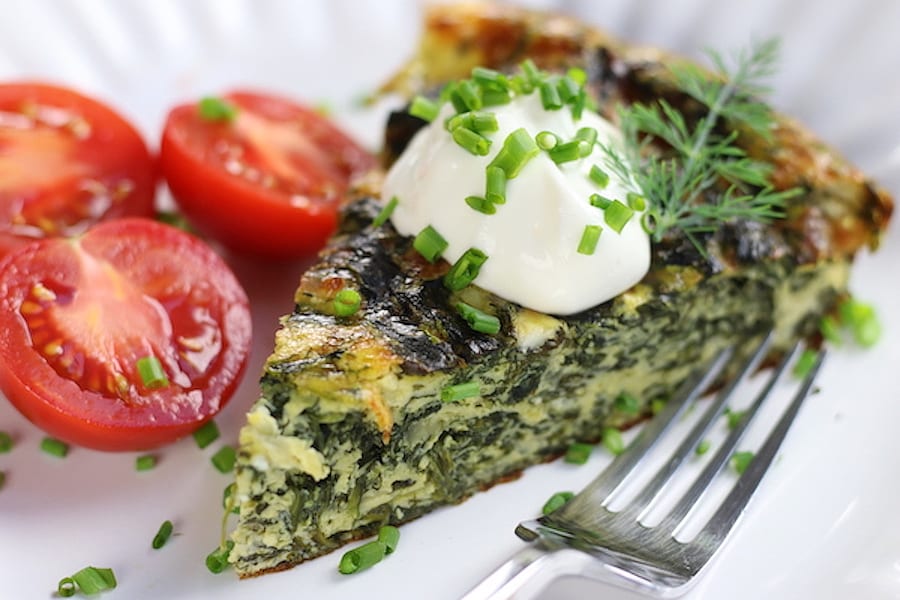 I truly believe that we all need recipes in our back pocket that are quick, healthy, taste kind of decadent and are special enough for company.
When you love to spoil family and friends with a homemade meal but are short on time, you will be so happy to have recipes to choose from that don't take a ton of planning.
Some of my favorites recipes that fit perfectly into this description are Penne Pomodoro with Burrata, Tomato Caper Pasta, Italian Tomato and Eggs and this Crustless Spinach and Feta Quiche.
Each one of these recipes taste amazing, come together with ease, are great for anytime of year and feel like total comfort food.
What makes this Quiche Dish even better though? It can be eaten hot or cold, making it the perfect make ahead breakfast or brunch.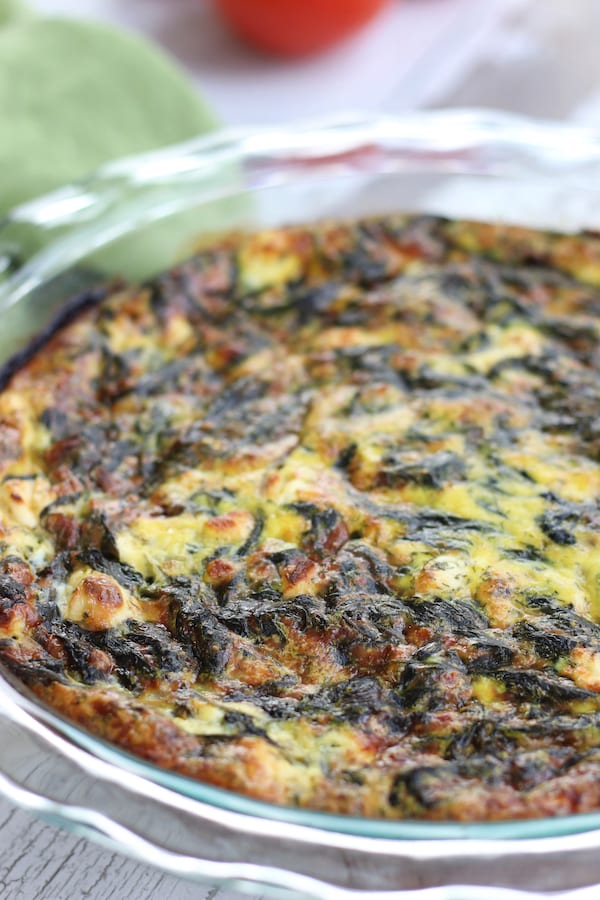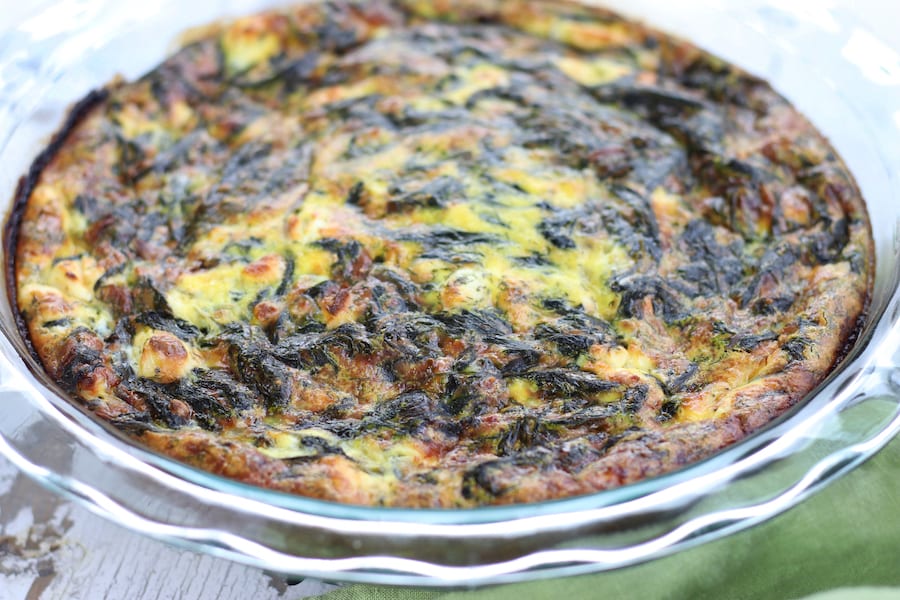 Difference Between Quiche and Frittata
Although very similar and wonderful for breakfast or brunch, there are some distinctive differences between a quiche and a frittata.
Quiche
Quiches are often made in a pre-baked pie crust, but not always as seen in this Crustless Spinach Quiche. One of the major differences between a quiche and a frittata is the higher ratio of dairy it is made with. Basically, a quiche is essentially a savory custard pie. The flavor combinations with add-ins are virtually endless making them appealing to a wide array of taste preferences.
Frittata
A frittata on the other hand, is like a large sized omelet that is cooked in the oven. They have less dairy, no crust and much like a quiche, can have endless add-ins. Follow these no-fail tips for an awesome frittata. However, this is still my favorite frittata.
How To Make a Crustless Quiche
What makes a Crustless Quiche so appealing is it's so much faster to make than a traditional crusted quiche and it perfect for the low-carb crowd. Here are the basic steps to making a Crustless Spinach Quiche.
Prepare spinach and then drain of excess moisture.
Preheat oven to 350℉ and grease a 9- 9 1/2 inch pie pan.
Beat eggs and then whisk in half and half.
Add in remaining ingredients and stir well.
Bake for 50- 65 mins or until center is no longer jiggly.
Fresh Spinach vs Frozen Spinach
The beauty of this Spinach Feta Quiche is that either fresh or frozen spinach can be used successfully. Below are the guidelines for both.
Fresh Spinach
Add 1 tbsp of oil to a large frying pan and place over med/high heat. Add diced onion and sauté until soft, about 3-4 mins. Stir in garlic and continue sautéing for an additional minute. Working in batches, add 3-4 handfuls of baby spinach and sauté until the spinach just starts to wilt. Continue with the next batch of spinach until the whole pound is wilted.
Once the spinach is cooked, take off heat. Place a fine mesh strainer over the top of a bowl and add cooked spinach to the strainer. Using a spoon, press the spinach against the side of the strainer to help remove excess moisture. The cooked spinach should release about 3/4 of a cup of moisture. The act of removing excess moisture allows the quiche to set up properly when baked.
Frozen Spinach
The equivalence of 1 lb of cooked spinach is a 10 oz frozen package. To use frozen spinach, defrost in the refrigerator overnight on a plate. Once defrosted, squeeze excess moisture out of spinach. Very similarly to the cooked spinach, there should be about 1/2- 3/4 cup of moisture released.
Place a frying pan over med/high heat. Add oil and sauté onion until soft, about 3-4 minutes. Add garlic and continue to sauté for an additional 1-2 minutes or until garlic is fragrant. Stir in strained spinach and take off of heat.
What Is Feta Cheese
Made in Greece and very popular in the United States, feta is a firm cheese that crumbles beautifully for salads and tastes phenomenal with eggs. Feta is made with a combination of sheep and goat milk, making it one of the more nutritionally dense cheeses. It is tangy and salty, adding a delicious layer of flavor.
Feta Cheese Calories
1 oz of feta cheese has 6 grams of fat and 74 calories. Most importantly, since this cheese is packed with flavor, often a smaller amount is highly satisfying. This alone makes it a helpful addition on a low calorie diet.
Additional Add-Ins
Generally speaking, the secret to adding in additional ingredients with success is to make sure they are fully cooked. Here are some delicious options for this Spinach Quiche.
Crumbled Bacon
Cooked Pancetta
Prosciutto Strips
Sun Dried Tomatoes
Sautéed Mushrooms
Diced Olives
Canned Artichoke Hearts
Cooked Asparagus
Smoked Salmon
What To Serve With Quiche
In conclusion, quiche is very popular because it can be served for breakfast, lunch, dinner or brunch and either hot or cold. This makes coming up with side dishes for Quiche extremely flexible. Here are a few of my favorite sides or companions.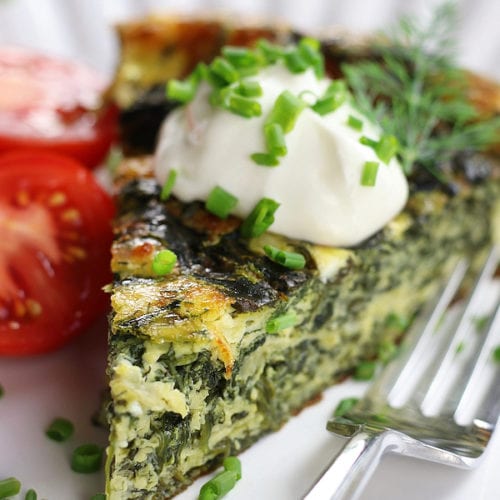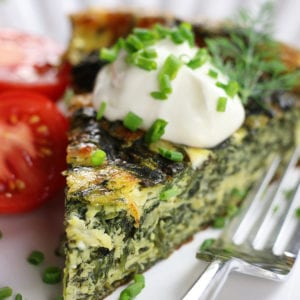 Crustless Spinach and Feta Quiche
Creamy and bright with the extra zippiness of feta, this Crustless Spinach and Feta Quiche is delicious either hot or cold. A favorite for either simple meals or brunches.
Print
Pin
Rate
Ingredients
1

tbsp

olive oil

1

cup

diced brown onion

*about 1 small onion

1/2

tbsp

crushed garlic

*about 2 cloves

1

lb

fresh baby spinach

6

lg

eggs

3/4

cup

half and half

7

oz

feta block

*crumbled, about 1 1/3 cups

1/2

tsp

dried dill

1/4

tsp

sea salt

1/8

tsp

black pepper
Instructions
In a large frying pan sauté onions in oil until soft over med/high heat, about 3-4 mins. Add in garlic and continue sautéing for an additional min or until garlic become fragrant.

Working in batches add 3-4 handfuls of spinach at a time and cook until wilted. Take off heat.

Place a fine mesh colander over a large bowl. Add spinach to colander and using the back of a spoon press against spinach to remove excess moisture. Spinach will release approximately 3/4 cup of moisture.

Preheat oven to 350℉ and grease a 9 1/2 inch pie pan.

Crack eggs into a large mixing bowl and beat. Whisk into egg mixture half and half, dill, salt and pepper. Stir in feta crumbles and spinach mixture.

Pour into prepared pie pan and bake for 50-65 mins or until center of quiche is no longer jiggly and an inserted knife comes out clean.

Serve either warm or chilled.
Notes
*Please use as many organic ingredients as possible. 
Cooking Tips
Because all ovens can vary in temperature, start checking your quiche at around the 45 minute marker. 
See above instructions for using frozen spinach. 
9 1/2 inch pie pan will ensure all ingredients fit without any overflow. 
Garnish with fresh cut chives, sour cream or Greek yogurt. 
Nutrition
Calories:
191
kcal
|
Carbohydrates:
7
g
|
Protein:
11
g
|
Fat:
14
g
|
Saturated Fat:
7
g
|
Cholesterol:
171
mg
|
Sodium:
451
mg
|
Potassium:
390
mg
|
Fiber:
2
g
|
Sugar:
3
g
|
Vitamin A:
5502
IU
|
Vitamin C:
18
mg
|
Calcium:
207
mg
|
Iron:
2
mg