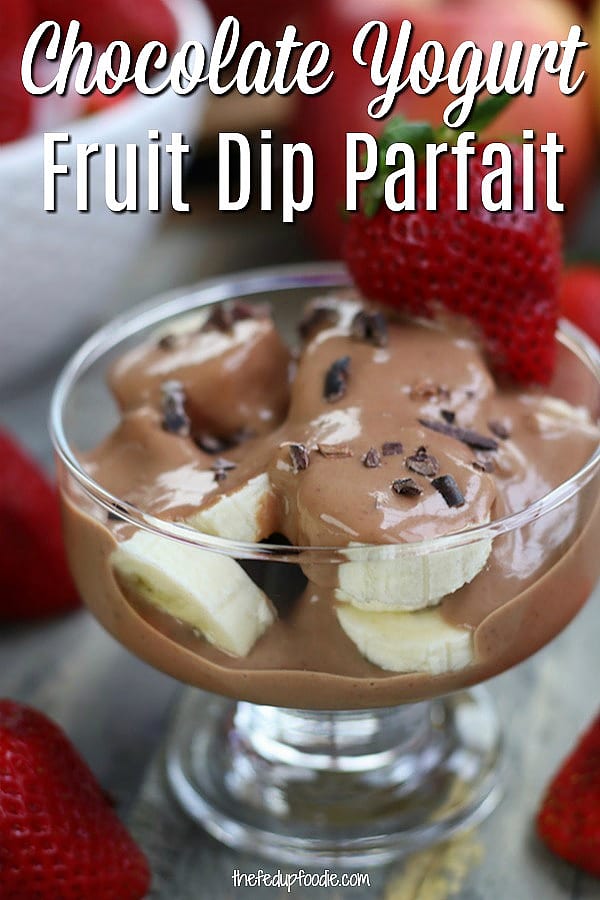 So incredibly delicious, you would never know that this Chocolate Yogurt Fruit Dip Parfait is both healthy and so easy to make. Great as a breakfast or dessert with a rich chocolatey, peanut butter taste.

This post may contain affiliate links which I earn a small portion in sales if a purchase is made. Rest assured though, it is never at any additional cost to you.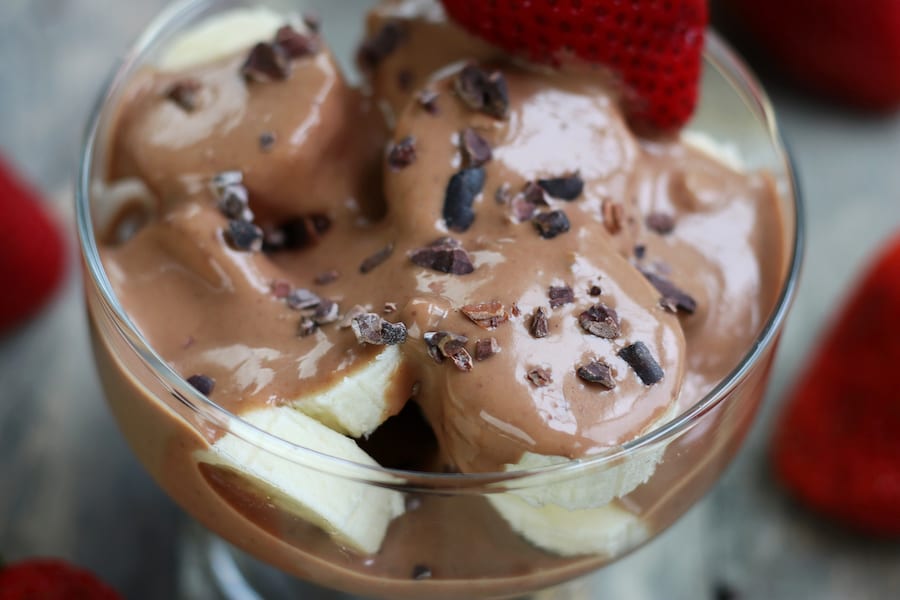 Have you ever found a recipe that you are 100% addicted to but your ok with that because it is super healthy for you?
This chocolatey, peanut buttery, creamy and oh so amazing tasting fruit dip is that for me.
I literally dream about eating this for breakfast and I get a little sad when the last bite is gone.
Yes, I know I sound crazy with my passion for this fruit dip/breakfast parfait.
All I can say, if you love chocolate, peanut butter, yogurt and fruit, you have got to give this recipe a try.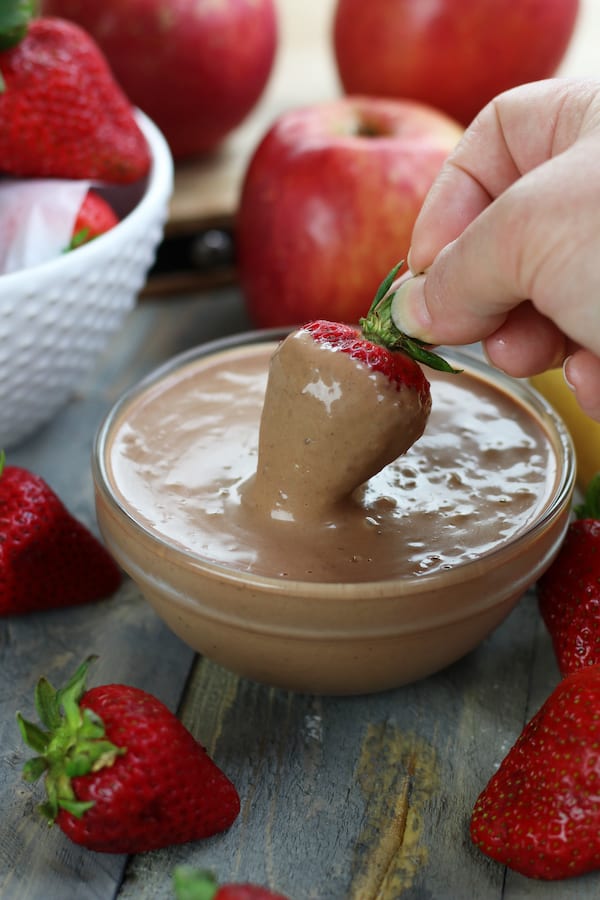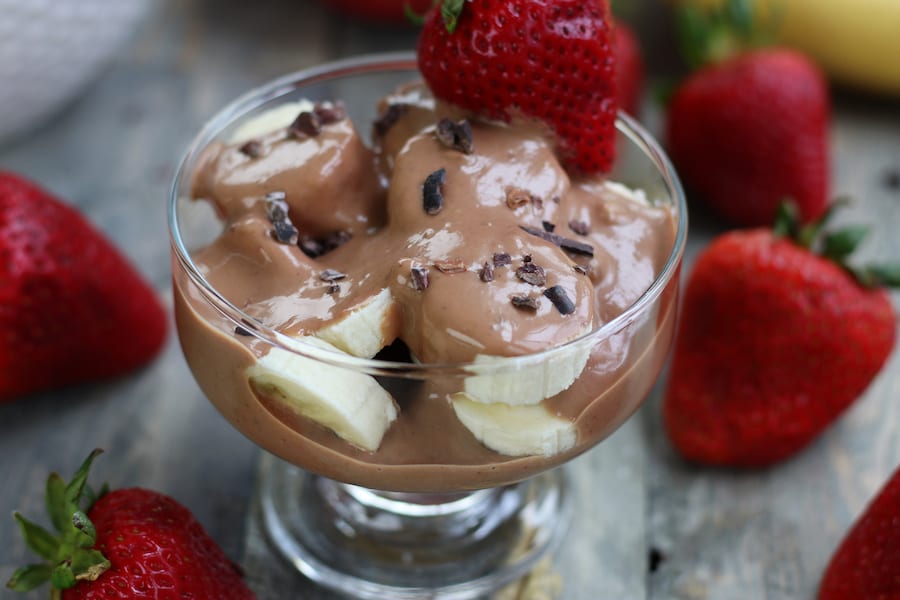 How To Make Chocolate Peanut Butter Yogurt Dip
Using a hand mixer, mix together peanut butter, honey, vanilla and cacao powder until well incorporated.
Add in yogurt and mix until incorporated.
Cut fruit of choice and dip into Yogurt Dip.
Best Honey To Use
Personally, local raw honey is my favorite honey to use. Raw honey is unprocessed and unpasteurized honey that is straight from the beehive. It has a slew of healthy benefits plus it tastes amazing. In addition, when raw honey is purchased locally, eating it can help ease seasonal allergy symptoms for allergy sufferers due to your body becoming less sensitive to the pesky pollen.
Plain Yogurt
Plain Yogurt is a dairy product that has been fermented with healthy bacteria. It also has no additional sweeteners or flavors added to it, thus the plain flavor. Going one step further, plain Greek yogurt is simply plain yogurt that has been strained of some of the whey (liquid part of yogurt and milk), giving it a thicker consistency.
Whether Greek or regular, plain yogurt is the base for many recipes such as Skinny Red Potato Salad, Grilled Chicken Tikka Masala and Tzatziki Sauce.
Best Fruit To Use For Fruit Dip
Strawberries
Mandarain oranges slices
Apple slices
Large grapes
Melon slices
Cherries
Best Fruit To Use in Yogurt Parfait
Strawberry slices
Banana slices
Blackberries
Blueberries
Pitted cherries
Apple chunks
Cut grapes
Cantaloupe chunks
Honeydew chunks
Pineapple chunks
Sugar Free Fruit Dip
To make this fruit dip recipe completely sugar free follow these steps:
Make sure your peanut butter has no additional sugar added to it.
Choose plain yogurt over flavored yogurt.
Replace the honey with 15-20 drops of this natural sweetener.
Cacao Nibs and Benefits of Eating Them
Very simply, Cacao Nibs are crushed cocoa beans. They are raw, crunchy and have a strong chocolate flavor. Since they are not sweet, it can take a little while to grow accustomed to their taste. However, I ADORE them!! They taste amazing sprinkled on top of yogurt or in recipes like this parfait recipe.
In addition to being highly flavorful, cacao nibs have an impressive profile of nutritional benefits. I absolutely adore that they are high in anti-inflammatory antioxidants that may fight against cancer, help to control blood sugar and help to reduce blood pressure and cholesterol. Not too shabby for an extra little chocolate treat.
Cacao Powder and Where to Buy
As the name implies, Cacao powder is ground, un-roasted cocoa beans. However, there does not seem to be a set industry standard definition of when to call it cacao powder vs cocoa powder. As in many cases these days, it is best to become familiar with the company and their standards for production. This is the brand I use that is also sold at Costco.
More Delicious and Healthy Breakfast Recipes
Blueberry Oatmeal Yogurt Muffins
Chocolate Almond Butter Muffins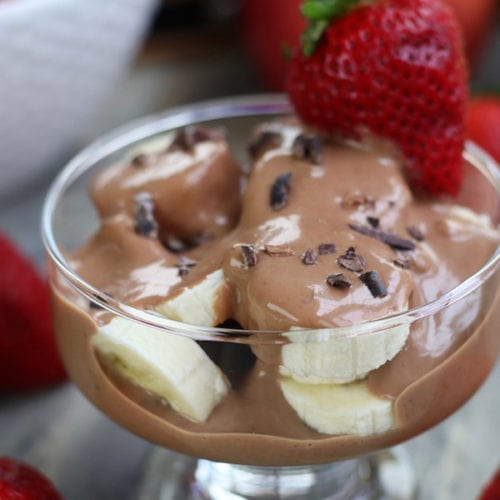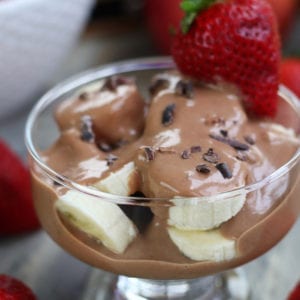 Chocolate Yogurt Fruit Dip Parfait
Both healthy and super easy to make, this Chocolate Yogurt Fruit Dip is works beautifully as both a fruit dip and as a breakfast parfait. Adding in cacao nibs takes this over the top with nutrition and deliciousness.
Print
Pin
Rate
Ingredients
1/4

cup

peanut butter

*or nut butter of choice

2

tbsp

honey

1

tsp

vanilla

2

tbsp

cacao powder

1

cup

plain yogurt

*fat % of choice (I used whole milk yogurt), Greek yogurt may be used also.

garnish with cacao nibs
Instructions
Place first 4 ingredients into a medium sized mixing bowl. Using a hand mixer (or by hand) mix until fully incorporated, about 2 mins.

Add in yogurt. Mix until yogurt in until fully incorporated into chocolate penut butter mixture. Refrigerate until needed.

Dip with your favorite fruit or create a parfait with layers of cut fruit, fruit dip and garnish with cacao nibs.
Notes
*Please use as many organic ingredients as possible. 
Nutrition
Calories:
230
kcal
|
Carbohydrates:
22
g
|
Protein:
9
g
|
Fat:
14
g
|
Saturated Fat:
4
g
|
Cholesterol:
11
mg
|
Sodium:
138
mg
|
Potassium:
317
mg
|
Fiber:
2
g
|
Sugar:
18
g
|
Vitamin A:
81
IU
|
Vitamin C:
1
mg
|
Calcium:
112
mg
|
Iron:
1
mg