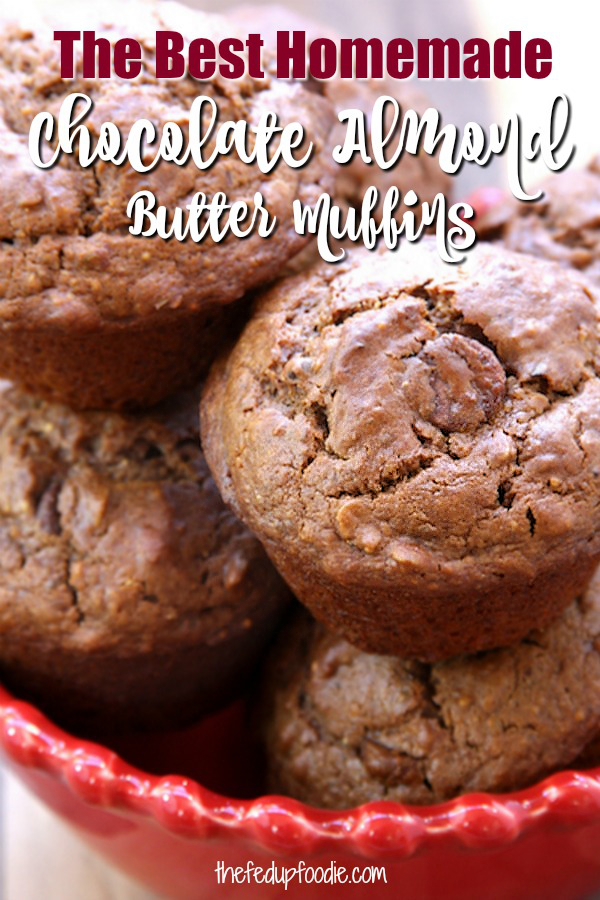 Chocolate Almond Butter Muffins are fluffy and chocolatey with hints of almond butter and creamy chocolate chips. Extra nutrition is packed in with oatmeal, flaxseed and wheat germ.
This post may contain affiliate links which I earn a small portion in sales if a purchase is made. Rest assured though, it is never at any additional cost to you.
We have been in a muffin phase over here at my house. It started with trying to figure out nutritious food my husband could bring with him on the road. Food that didn't need to be heated and was extremely easy. You see my husband is a truck driver, driving for trade shows. He needs simplicity and I need to know he is eating well. I came up with a pretty decent list and I had him circle what he felt would work best. Muffins definitely ranked towards the top for him.
I absolutely believe that there is a strong need out there for gluten free recipes for celiacs (people allergic to wheat, rye and barley) and people who are gluten sensitive. Sadly, with the awareness of this need, we have forgotten how nutritious elements of wheat can be, namely wheat germ. Wheat germ provides protein, fiber, folate, vitamin E, thiamine, manganese, selenium, B6, potassium and omega-3 fatty acids.
These beauties have become a staple in our house when we want a quick and easy breakfast or as a dessert when the chocolate cravings hit. Don't let the amount of baking powder scare you. It aids in creating beautifully fluffy muffins. Bake a batch and share with friends. They will love you for it.
Tips for Perfect Chocolate Almond Butter Muffins
Measuring Ingredients- When measuring flour, oats, or cocoa powder, spoon the ingredients into the measuring cups and level off the top with a flat edge. Avoid packing the ingredients into the cups, as this can lead to inaccurate measurements.
Almond Butter Texture- To ensure a smooth texture, gently mix the almond butter before incorporating it into the batter. This helps to evenly distribute the oils and ensures a creamy consistency.
Don't Overmix- When combining wet and dry ingredients, mix until just combined. Overmixing can result in dense and tough muffins.
Ways to Vary The Recipe
Drizzle- Top with a drizzle of melted chocolate or a powdered sugar glaze.
Peanut Butter Lovers- Use peanut butter instead of almond butter.
Nutty Twist- Add chopped almonds, pecans, or walnuts to the batter for an added crunch and nutty flavor.
Fruit Infusion- Incorporate dried fruits like chopped cherries, cranberries, or raisins for a burst of sweetness and texture.
Spice it Up- Add a dash of cinnamon or nutmeg for a hint of warm, comforting spice.
Frequently Asked Questions
How long do these keep?
Muffins will stay fresh covered at room temperature for 2-3 days. For longer storage, refrigerate for up to one week or freeze for up to 3 months.
Can I use all-purpose gluten free flour?
Yes, you can substitute an equal amount of all-purpose gluten free flour. The muffins may turn out slightly less fluffy.
What if I don't have buttermilk?
You can make a quick substitute by mixing 1 tablespoon lemon juice or white vinegar with enough milk to make 1 cup. Let sit for 5 minutes before using.
Can I make these vegan?
Yes! Substitute the eggs for 1 mashed banana or 1/4 cup applesauce and use dairy-free milk and vegan chocolate chips.
How do I store these muffins?
Store leftover muffins in an airtight container at room temperature for up to three days. For longer freshness, refrigerate for up to a week.
For other sweet inspirations follow along on Facebook and Pinterest.
\