Baja Chicken Tacos has mouthwatering marinated Baja Chicken with Cilantro Lime Coleslaw and fresh Pico de Gallo. Full of flavor and completely addictive, this meal is easy and yet feels like a celebration.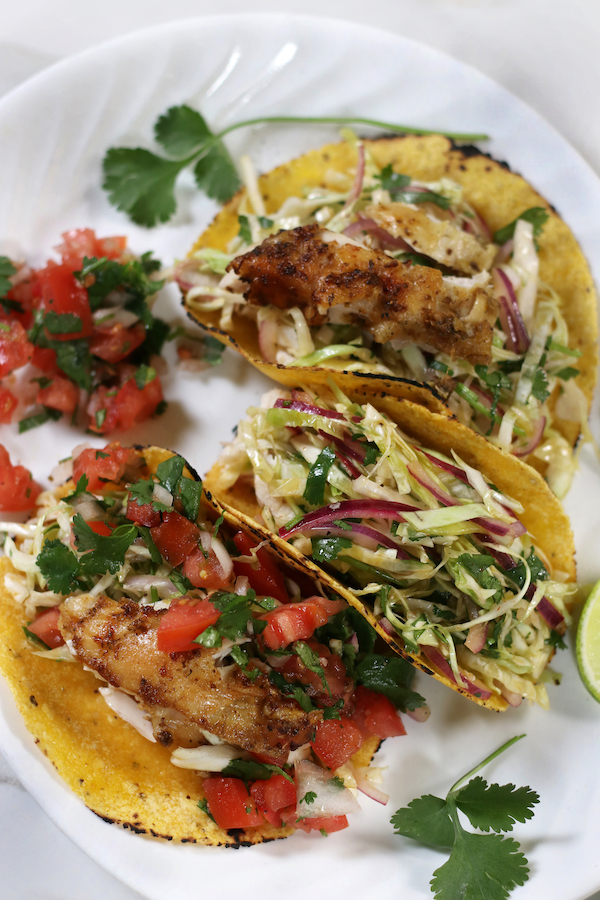 This post contains affiliate links which I earn a small portion in sales if a purchase is made. Rest assured though, it is never at any additional cost to you.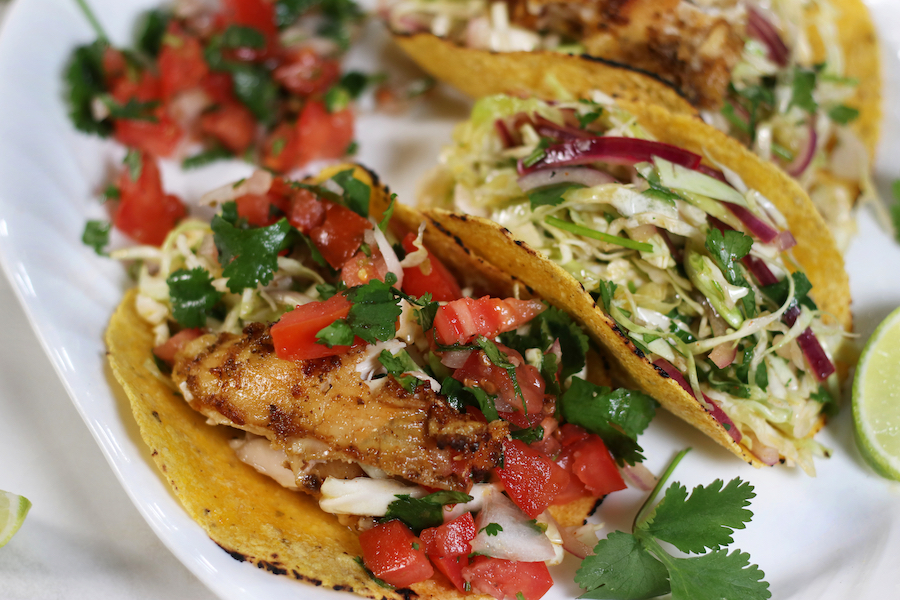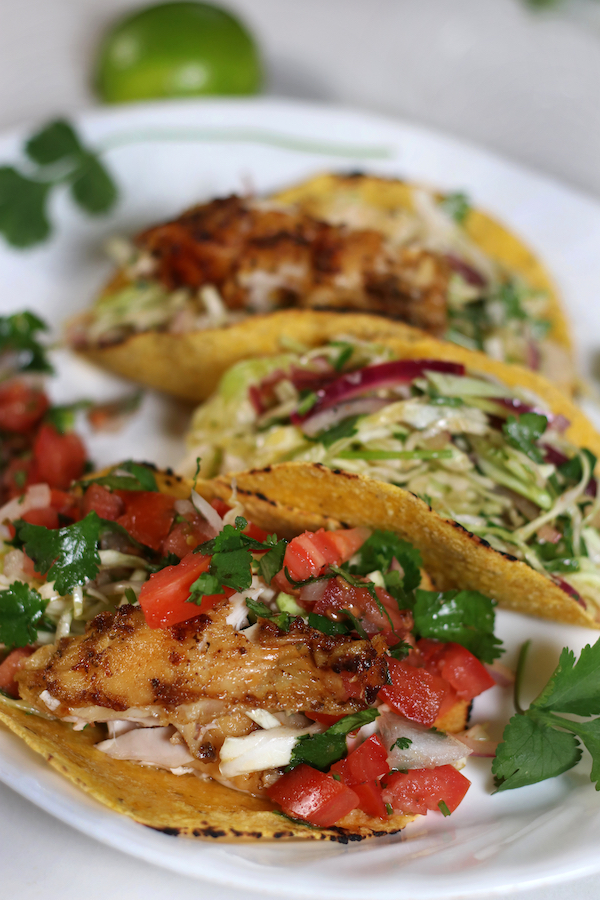 Baja Chicken Tacos
Baja Chicken Tacos can best be described as fresh, flavorful and very much part of the sophisticated and yet laid back cuisine of Baja California. In other words, with flavors of lime, orange, olive oil, cilantro and garlic, these Chicken Tacos literally taste like a vacation to San Diego.
Why Marinate The Chicken
One of the primary reasons to marinate chicken such as Cilantro Lime Mexican Roasted Chicken, Easy Greek Chicken and the Baja Chicken used for these tacos, is that it creates amazing flavor. The meat comes out juicy, tender and absolutely mouthwatering. Additionally, the carcinogens produced from high heat cooking (such as grilling or roasting) may be reduce as much as 92-99% just by using a citrus marinade.
Ingredient Options
Tacos are amazing because they are so easy to personalize. In addittion to the ingredients listed within the recipe, here are a few more delicious options.
Queso Fresco
Black Beans
Grilled Corn (cut off the cob)
Avocado Slices
Fresh Chopped Cilantro
Diced White onion
Sliced Radishes
Pinto Beans
How To Warm Corn Tortillas
Warming your corn tortillas makes forming and eating the tacos much easier. Additionally, the tacos will taste amazing and have a satisfying texture. Here are three options for warming your corn tortillas that are very popular here in Southern California.
Option #1- Use a Skillet Pan
Heat a skillet pan (great for heating multiple tortillas at one) over medium/high heat. Warm tortillas for 30-60 seconds per side or until they are hot and flexible. This tortilla warmer is perfect for keeping tortillas warm and soft when cooking for multiple people.
Option #2- Microwave
Place a pile of corn tortillas on a microwave safe plate and cover with a damp towel or cloth. Microwave on power level 8 for 60 seconds. If tortillas are not warm enough, continue heating in 15 second increments until desired heat is obtained.
Option #3- Direct Heat
This method is the one I use the most when cooking just for my husband and myself. Turn on the flame of your gas stovetop to medium heat. Using long handle tongs, heat an individual tortilla very carefully over the direct flame for 15-30 seconds per side. This method often creates charred edges that adds an incredible flavor. However, if you are uncomfortable working with an open flame, simply use option one or two.
More Family Friendly Mexican Recipes
If you enjoyed these Baja Chicken Tacos please let me know by leaving a comment and review below. Doing so helps to encourage others to make the recipe also. Thank you!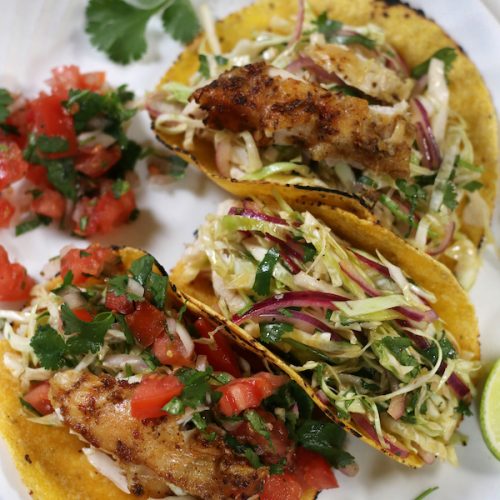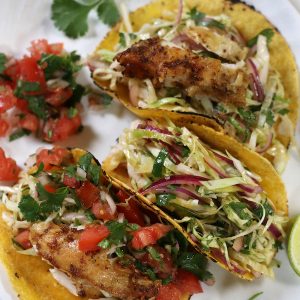 Baja Chicken Tacos
One bite and you will feel like you are on vaction in Sunny San Diego. With orange and lime marinated chicken, fresh Pico de Gallo and a bright Mexican Coleslaw. These tacos are dairy free, skinny and absolutely mouthwatering.
Print
Pin
Rate
Instructions
Prepare Baja Chicken following recipe directions. (Note that marinatation time is approximately 12 hours.)

Prepare coleslaw and Pico following recipe diections.

Preheat a skillet on medium/high heat. Once heated, warm tortillas for 30-60 seconds per side.

Serve each tortilla with 3-4 oz of chicken, a spoonful of coleslaw and a spoonful of Pico.
Notes
*Please use as many organic ingredients as possible.
Recipes Notes
Each of the recipes makes enough for approximately 12 tacos, give or take 2 tacos.
Baja Chicken recipe preparation time is approximately 15 mins, marination time 12 hours and cooking time 1 hour. The Mexican Coleslaw recipe preparation time is approximately 15 mins and the Pico de Gallo preparation time is approximately 10-15 mins. 
See recipe post for different options on how to heat corn tortillas. 
Nutrition
Calories:
238
kcal
|
Carbohydrates:
14
g
|
Protein:
16
g
|
Fat:
14
g
|
Saturated Fat:
3
g
|
Polyunsaturated Fat:
2
g
|
Monounsaturated Fat:
3
g
|
Cholesterol:
44
mg
|
Sodium:
155
mg
|
Potassium:
211
mg
|
Fiber:
2
g
|
Sugar:
1
g
|
Vitamin A:
65
IU
|
Vitamin C:
12
mg
|
Calcium:
51
mg
|
Iron:
2
mg