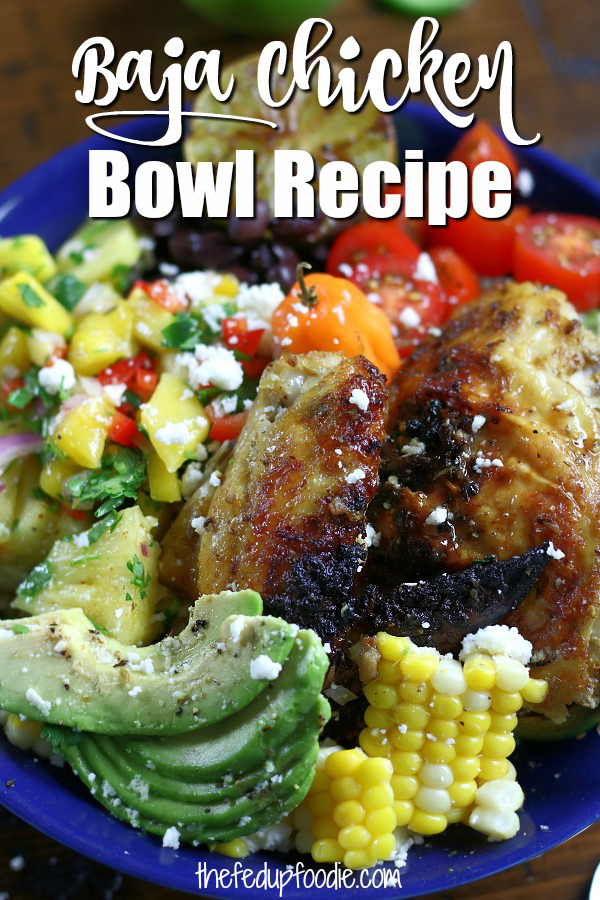 Baja Chicken Bowl recipe is made with mouthwatering Baja Chicken, Pineapple Mango Salsa, black beans and brown rice. A healthy dinner or lunch that is fresh, flavorful and fun to eat.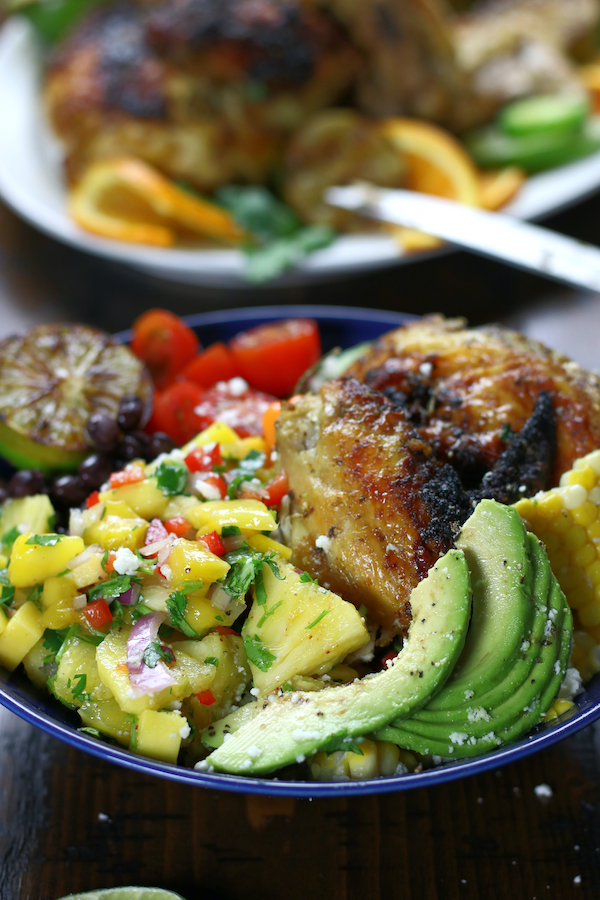 This post may contain affiliate links which I earn a small portion in sales if a purchase is made. Rest assured though, it is never at any additional cost to you.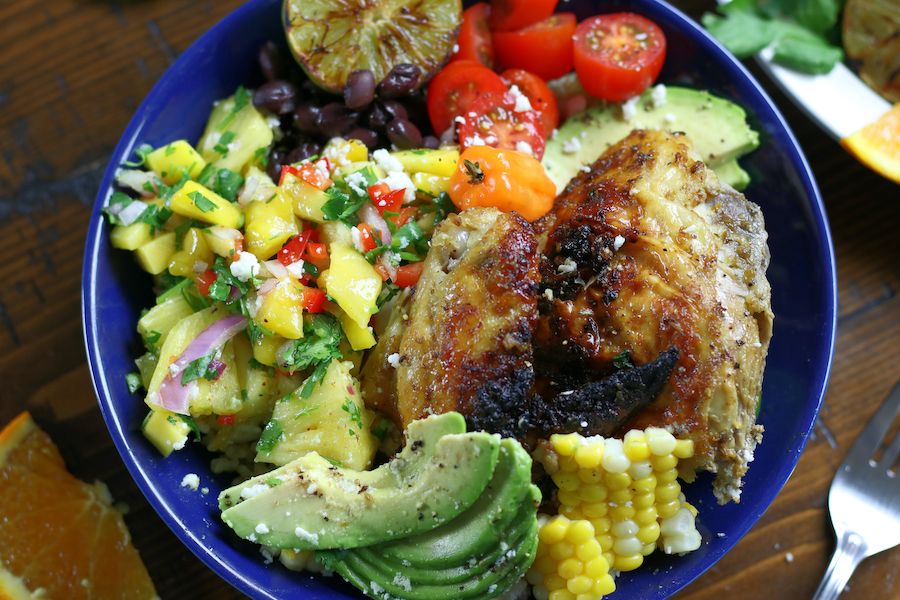 Have you ever had a love hate relationship with your work?
I know…what an absolutely silly question. I don't think there is a person alive who hasn't felt that way at one time or another. Even when you love what you do there are always going to be those moments where you hate elements of your job.
Well my friends, this is how I feel about my YouTube channel.
I am so passionate about bringing wholesome meals using real food ingredients that are just fun to eat.
However, getting in front of a camera for the first time was, how should I put it, a huge cluster of chaos. Between the sound quality, the lighting, remembering to talk into the camera and not look at myself on the screen while I talk and the big one…remembering what I was there to say.
So my friends, this first video I present to you was not an easy task. The good news, it reminded me that hating elements of my job builds my compassion, perseverance and patience. ( And yes, my inner teenage self is rolling her eyes and doing the gagging gesture. Darn life lessons.)
By the way, this Baja Chicken video is the foundation for this Baja Chicken Bowl and my mouth is still watering thinking of it. Oh and, hang in there for the bloopers at the end. Outside of the chicken, that's my favorite part.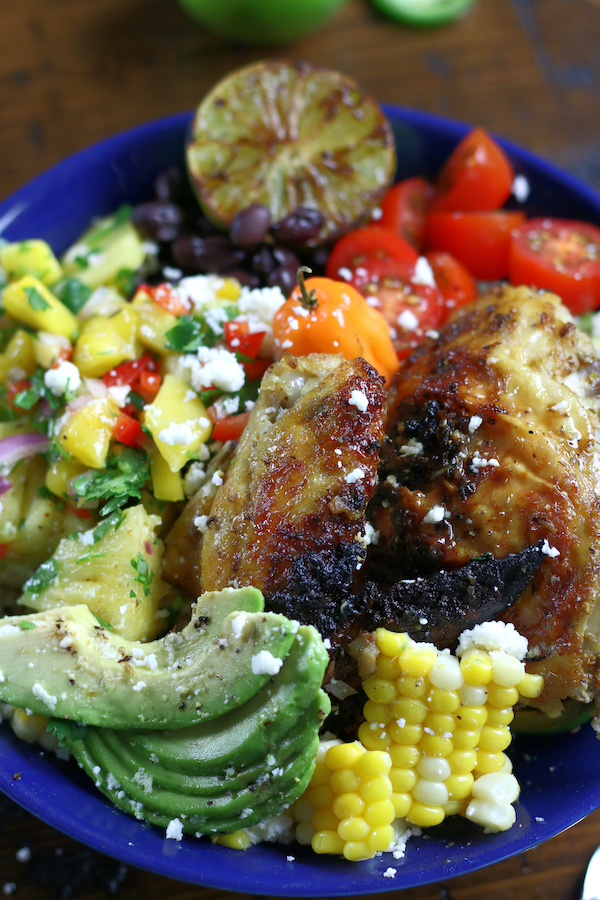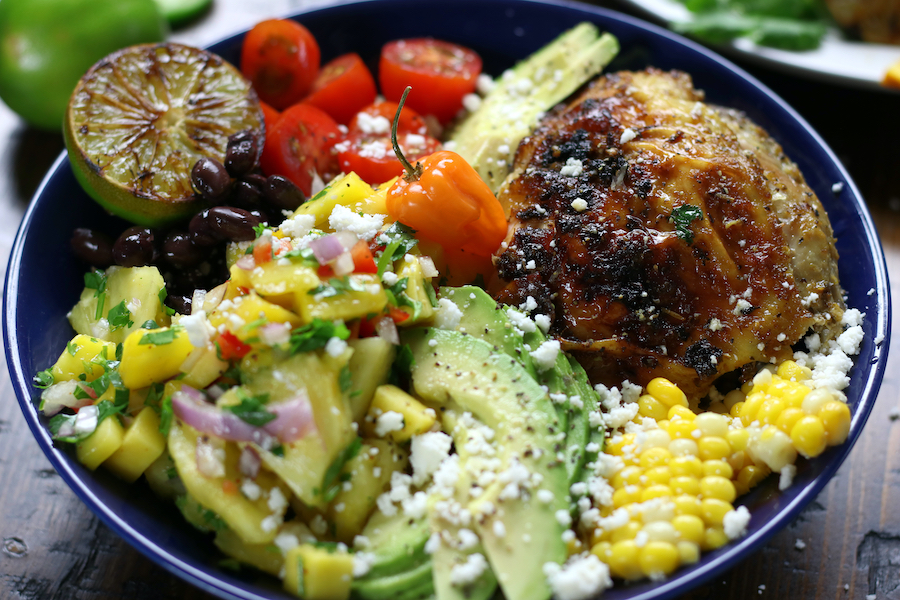 What is a Baja Bowl?
Baja bowls are a healthy and hearty one-dish meal that has a ton of flavor that is associated with Baja Cuisine. Going even deeper, Baja Cuisine is heavily influenced by authentic Mexican Cuisine but also has a touch of Asian and Mediterranean influence. This Baja Bowl has the following ingredients:
Black Beans
Byron Tomatoes (or cherry tomatoes)
Sliced Avocado
Cojita Cheese
Garnish with fresh squeezed lime.
Other Types Of Baja Bowls
The beauty of this meal is that you can personalize your Baja Bowl to your own individual taste preferences. Here are a few protein swap ideas:
How To Make Baja Chicken Bowl Freezer Friendly
I have learned one of the best ways to make home-cooking easier is to make larger portions of freezer friendly meals for the days when energy levels are low. This Baja Chicken Bowl recipe is absolutely perfect for this. The best way to freeze this recipe for a later date is to divide the chicken, beans, rice and corn into containers like this and then freeze. When you're ready to eat simply heat the container without the lid for 6 mins in the microwave (give or take a minute or two) on power level 8. Top with the cheese, salsa, avocado and tomatoes.
Glass Serving Bowls for Baja Chicken Bowls
As far as what to serve the Baja Chicken Bowls in, this is my all time favorite bowl and what is pictured. However, these are a little more affordable and just as beautiful.
More Bowl Meal Recipes
If you enjoyed this Baja Chicken Bowl recipe please let me know by leaving a comment and review below. Doing so helps to encourage others to make the recipe also. Thank you!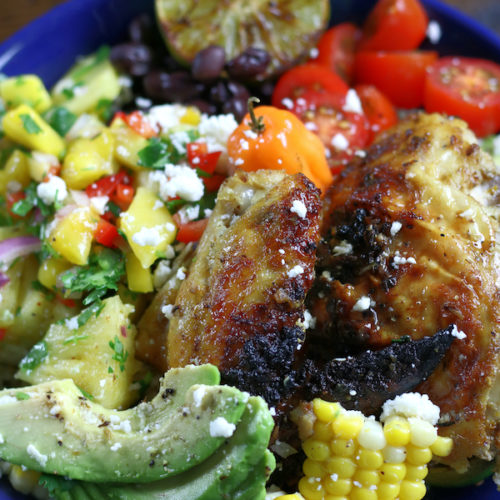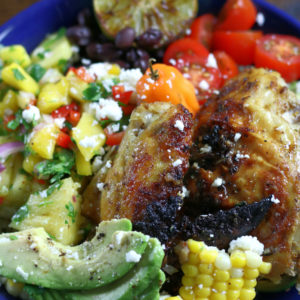 Ingredients
1

15 oz can

black beans

2

cobs

corn

1

pint

Byron or cherry tomatoes

*cut in half

2

ripe

avocados

*peeled, desseded and sliced

Cojita cheese

*as a garnish

2

limes

*use juice as a garnish
Instructions
Prepare Baja Chicken following directions on recipe card. Chicken will marinate for 12-18 hours before roasting.

Preheat oven for chicken and start brown rice (following recipe card).

Once chicken is baking and rice is cooking assemble Mango Pineapple Salsa following recipe card. Refrigerate until needed.

Shuck and clean corn on the cob. Bring a pot of water to a boil. Once boiling add cleaned corn and boil for approximatley 6 mins. Using long handled tongs remove corn from water and place onto a plate to cool. Once cooled carefully cut corn off of the cob.

Heat black beans in a small sauce pan over medium heat until warmed, approximatley 10 mins.

Once chicken and rice are cooked, place a large spoonful of rice in a serving bowl. Top with either a chicken piece or cut chicken, a small spoonful of beans, a large spoonful of salsa, tomatoes, avocado, corn, cheese and a squeeze of lime juice.
Notes
*Please use as many organic ingredients as possible. 
Recipe Notes
For quicker cooling of the corn, removed from boiling water and place directly into an ice bath. This will immediately stop the cooking process and make it easier to cut the corm off of the cob sooner rather than cooling on a plate. 
When heating the black beans, many people will strain and then rinse before heating to remove excess sodium. If taking this approach make sure to add 1 cup of fresh water to beans before heating on stovetop. 
Nutrition
Calories:
645
kcal
|
Carbohydrates:
73
g
|
Protein:
21
g
|
Fat:
25
g
|
Saturated Fat:
11
g
|
Cholesterol:
185
mg
|
Sodium:
807
mg
|
Potassium:
495
mg
|
Fiber:
6
g
|
Sugar:
6
g
|
Vitamin A:
1659
IU
|
Vitamin C:
106
mg
|
Calcium:
348
mg
|
Iron:
3
mg