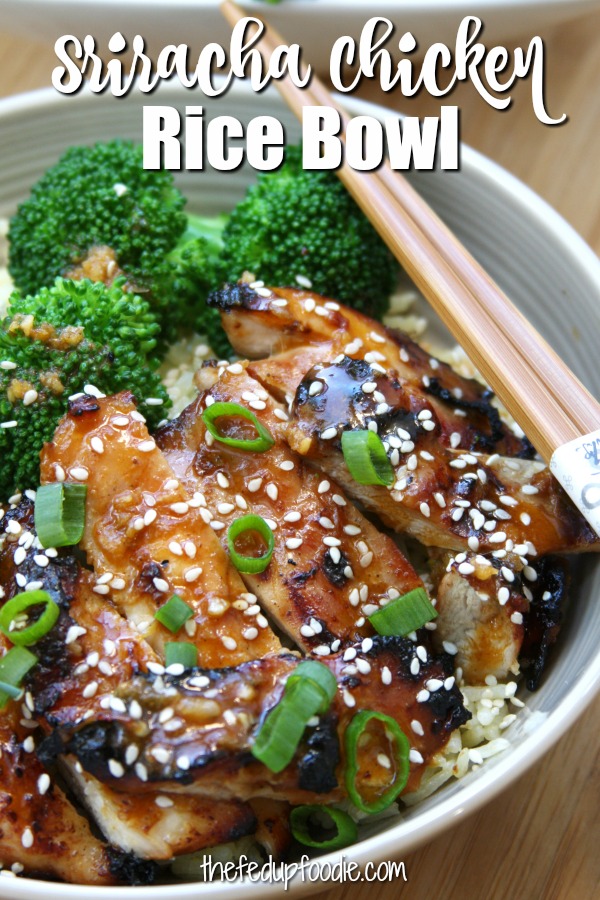 Asian Chicken Sriracha Bowl has the flavors of the Orient, with sesame, garlic, ginger and spices. Juicy grilled chicken and blanched broccoli makes it a no guilt dinner with a ton of flavor.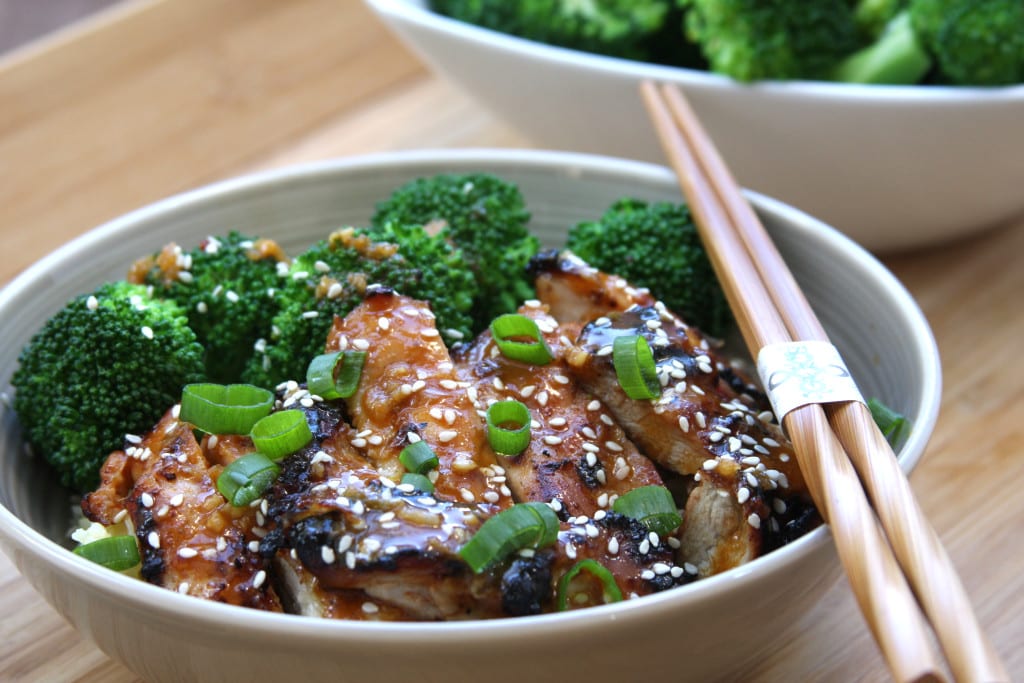 This post may contain affiliate links which I earn a small portion in sales if a purchase is made. Rest assured though, it is never at any additional cost to you.
My husband's two favorite types of cuisines are Asian and Mexican. He could literally eat anything Asian or anything Mexican, 3 meals a day, 7 days a week and not grow tired of them. Since he will be hitting the road for work for an extended amount of time and because I am such a wonderful wife (insert facetious tone), I am trying to spoil him with with as many of his favorites as time allows. The first up on deck this week was this Asian Chicken Bowl. I knew I did well because he gave me a thumbs up two bites into his dinner. When my husband responds this quickly, I have a home run. When he takes 5 minutes to respond to my question of "how do you like it", you know his wheels are turning of how not to hurt my feelings and I better rethink my creation.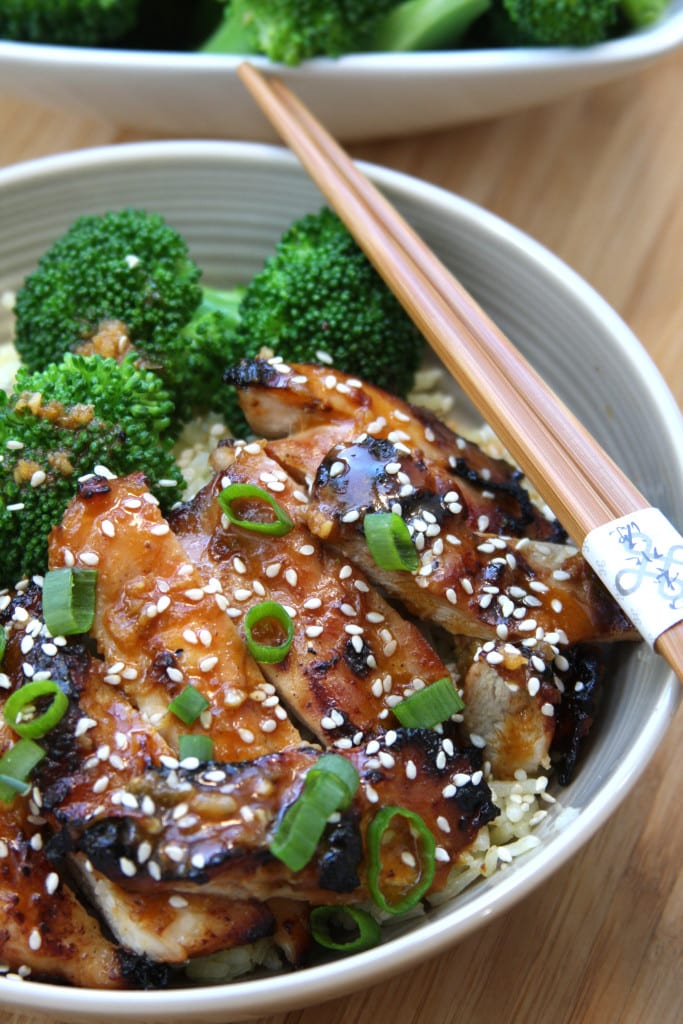 What gave this Asian Chicken Sriracha Bowl the YUM factor was definitely the juicy grilled chicken thighs. Before I marinated the thighs, I placed them between two pieces of wax paper and then gave the thicker parts a good pounding. It was better than a punching bag for stess relief.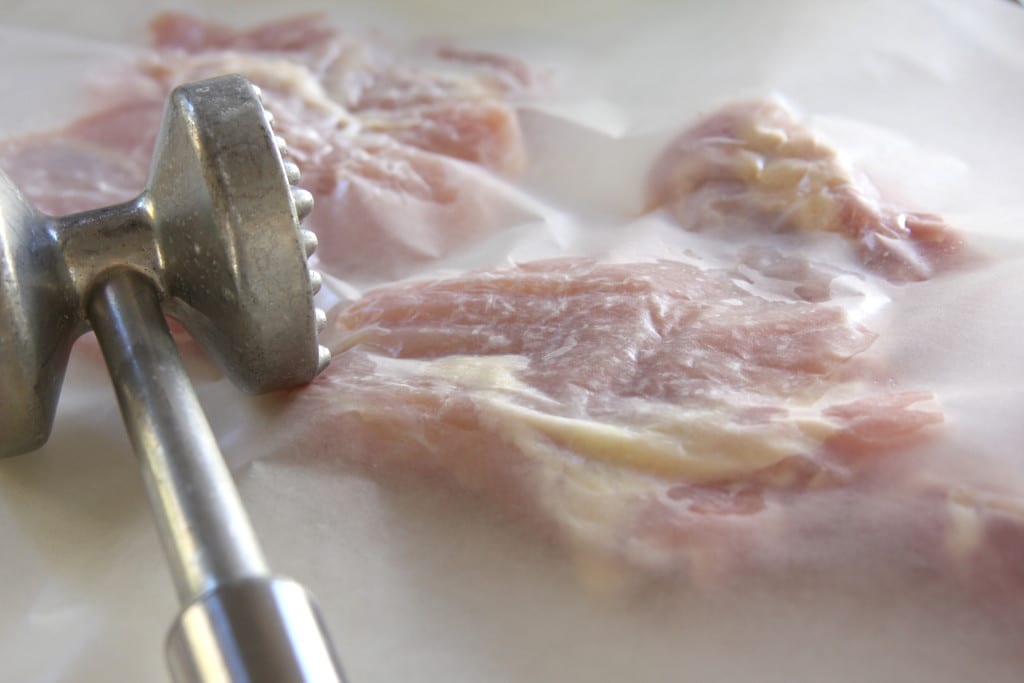 Once the chicken thighs were properly pounded, I placed them is a large glass casserole dish and poured all those wonderful Asian flavors over them.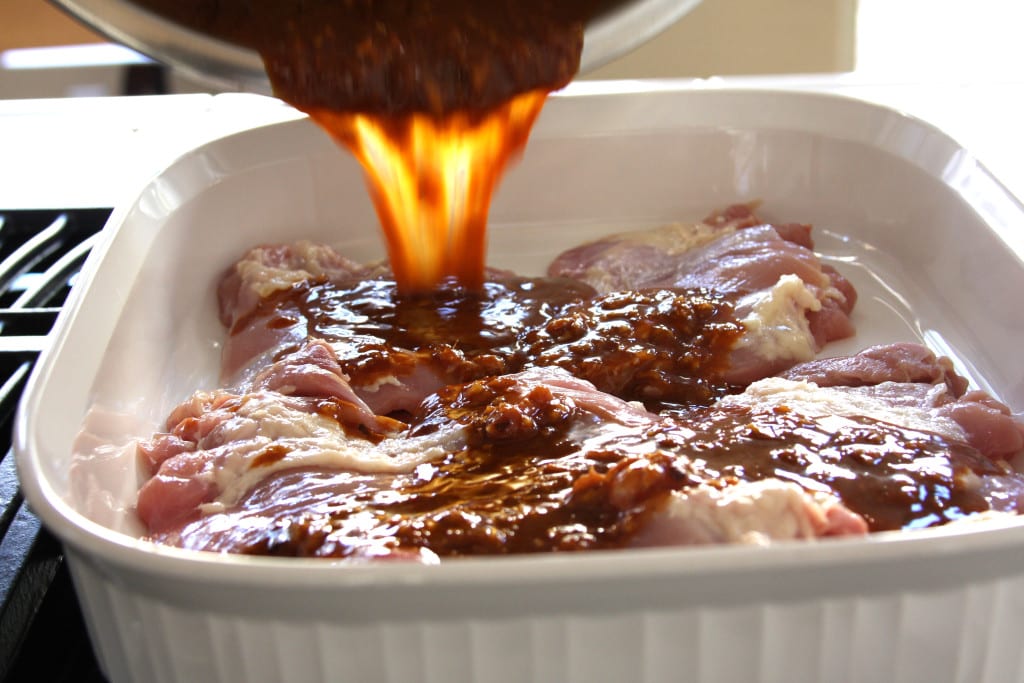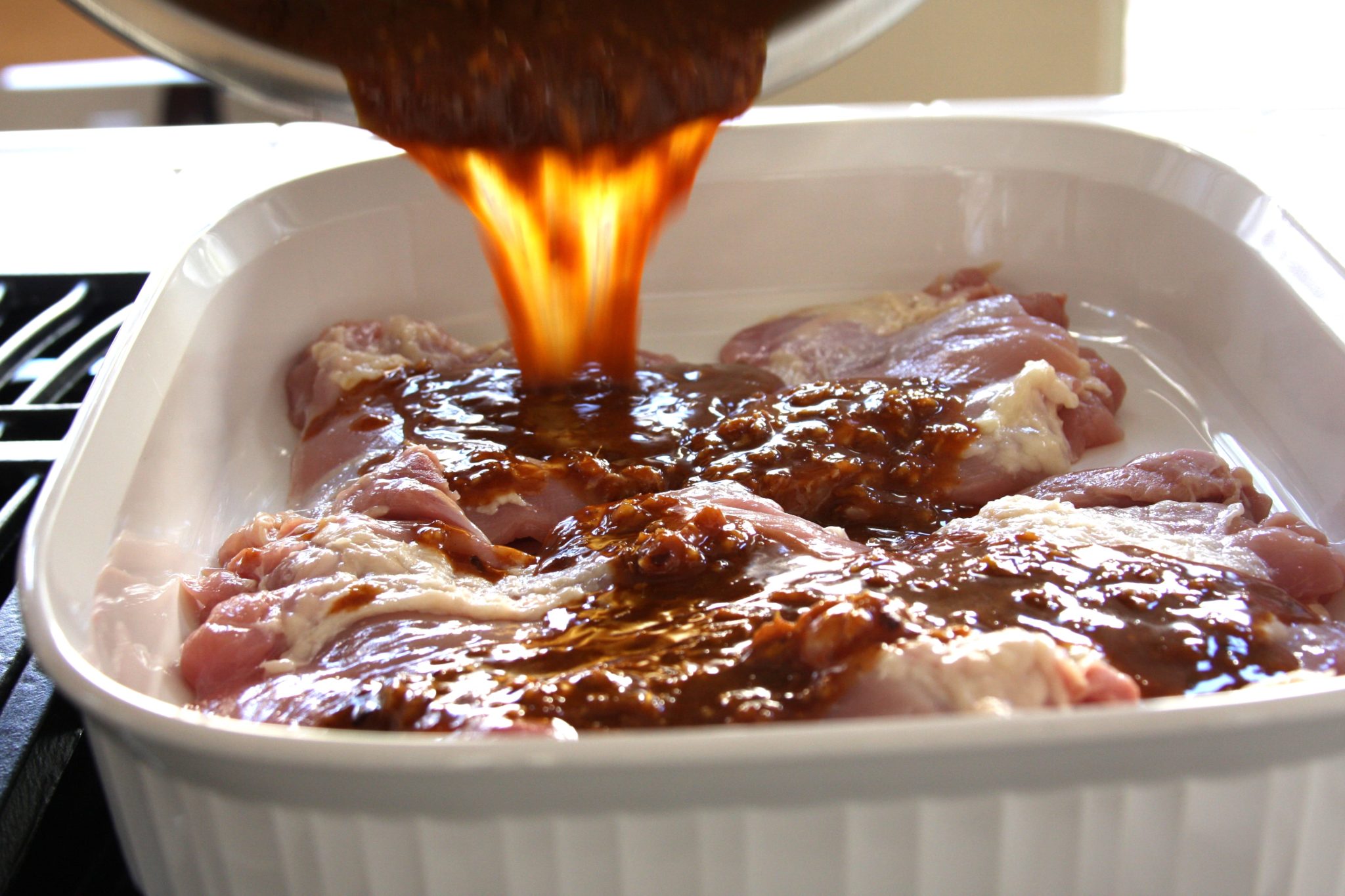 Make sure to marinade the chicken in the refrigerator for at least an hour, but no more than 2 hours. As a side note, pounding the chicken is optional and if you skip this step then make sure to marinade for the full 2 hours. Once the thighs have soaked up all the flavors of the Orient, grill for 10-12 minutes per side or until the meat is slightly charred.
Serve over rice or quinoa, add broccoli and garnish with sesame seeds and green onions. This Asian Chicken Sriracha Bowl has won my husband over and has become one of my favorite go to meals. Enjoy!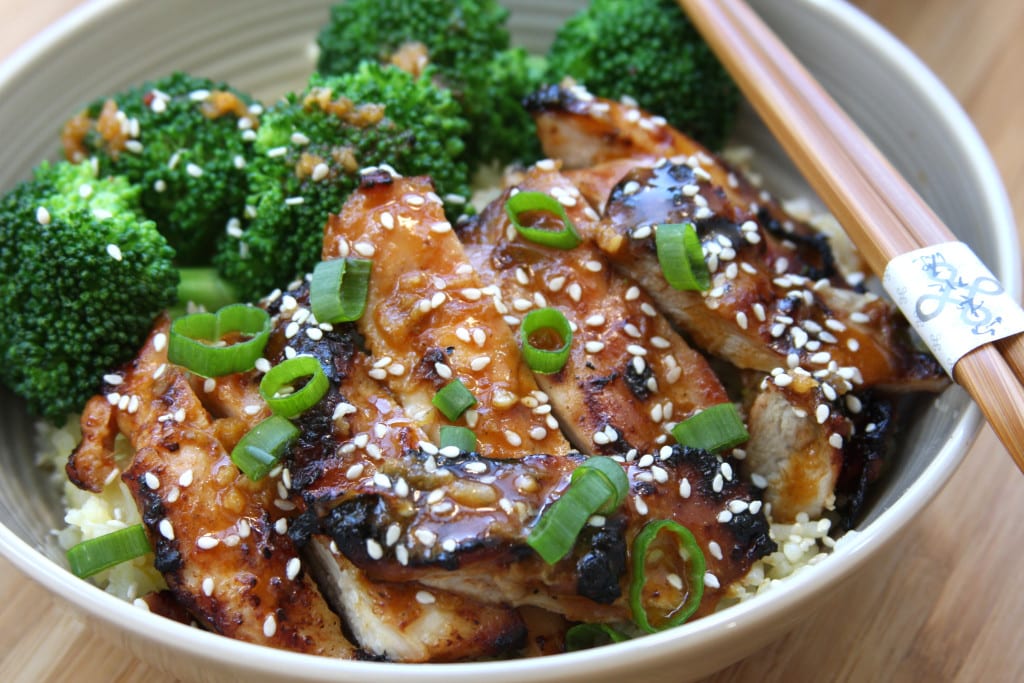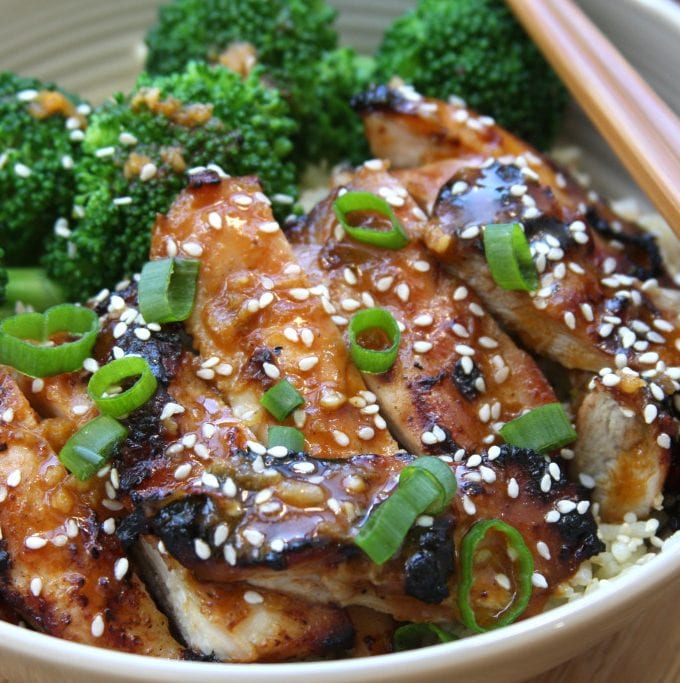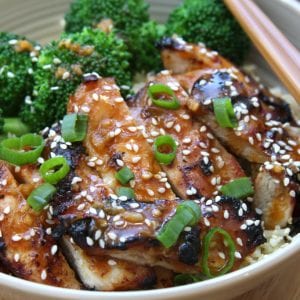 Ingredients
6

tbsp

peanut oil

*or olive oil

4

tbsp

sesame oil

4 1/2

tbsp

Sriracha

6

tbsp

soy sauce

*use Tamari for gluten free

3

tbsp

honey

1/2

tsp

red chilli flakes

*1-1 1/2 tsp for hotter

3

inches

ginger

*peeled & grated

8-9

med

cloves garlic

*minced or crushed

1/2

tsp

Chinese five-spice

*optional

2 1/2-3

lbs

chicken thighs

1/2

cup

chicken broth

3-4

cups

broccoli florets

*blanched

diced green onions & sesame seeds as garnish

*optional
Instructions
Chicken
Place chicken thighs between two pieces of wax paper. With a meat mallet, pound thicker areas of thigh meat to an approximately 1/2 inch thickness or so meat is all the same thickness. (This is an optional step. By doing so marinating and cooking time will be less.)

Lay pounded thighs in a large glass casserole dish and set aside.

In a medium size bowl whisk together oils, soy sauce, honey, Sriracha, ginger, garlic, chili pepper flakes and Chinese five-spice.

Pour marinade over chicken thighs and place in refrigerator to marinate for 1 hour for pounded thighs and 2 hours for regular thighs. Note: For extra flavorful chicken marinate overnight or up to 24 hours.

Once thighs are marinated, heat grill on medium-high heat. Grill chicken 10-12 mins per side or slightly charred and cooked through. Do not discard marinade.
Sauce
While meat is grilling, bring a large pot of water, filled halfway, to a boil. In a separate smaller saucepan add marinade and chicken broth. Bring to a rolling boil for 2 mins stirring consistently. Set aside.
Broccoli
Clean and cut broccoli into florets. Once water is boiling, drop florets in and cook just until broccoli turns bright green- approximately 1-1 1/2 minutes. Drain in a colander.
Bowls
Once chicken is cooked through, set on plate and let rest for 5 minutes. After resting cut into strips.

Serve chicken strips over cooked rice along side broccoli. Top with cooked marinade. Garnish with diced green onions and sesame seeds.
Notes
*Please use as many organic products as possible.*
Chicken can also be baked in the oven at 400℉ for 20-30 minutes or until it reaches an internal temperature of 165℉.
Nutrition
Calories:
493
kcal
|
Carbohydrates:
11
g
|
Protein:
26
g
|
Fat:
41
g
|
Saturated Fat:
9
g
|
Cholesterol:
139
mg
|
Sodium:
1124
mg
|
Potassium:
460
mg
|
Fiber:
1
g
|
Sugar:
7
g
|
Vitamin A:
372
IU
|
Vitamin C:
37
mg
|
Calcium:
34
mg
|
Iron:
2
mg
Find this and other wonderful savory dishes on Facebook and Pinterest.
If you love flavorful Asian cuisine then check out these recipes: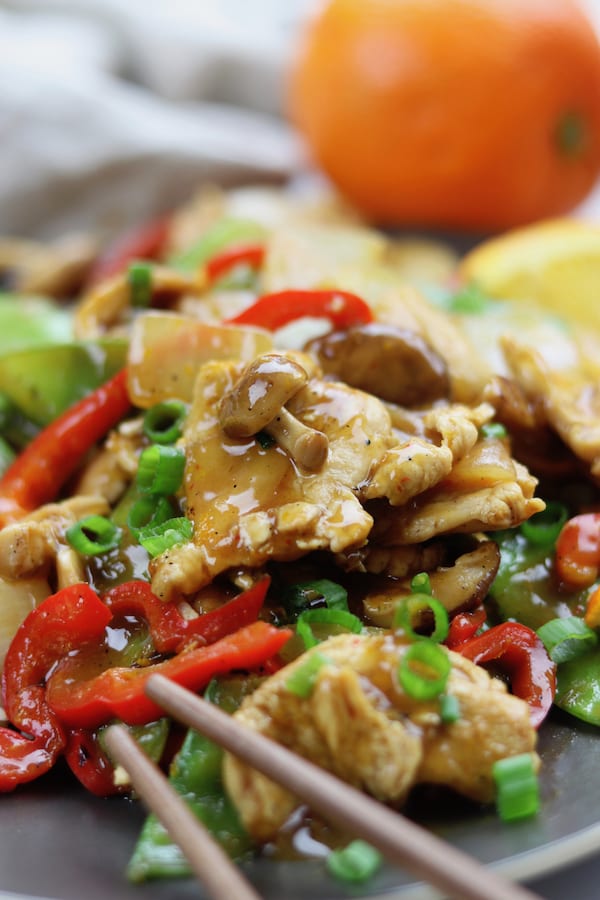 Citrus Chicken Stir Fry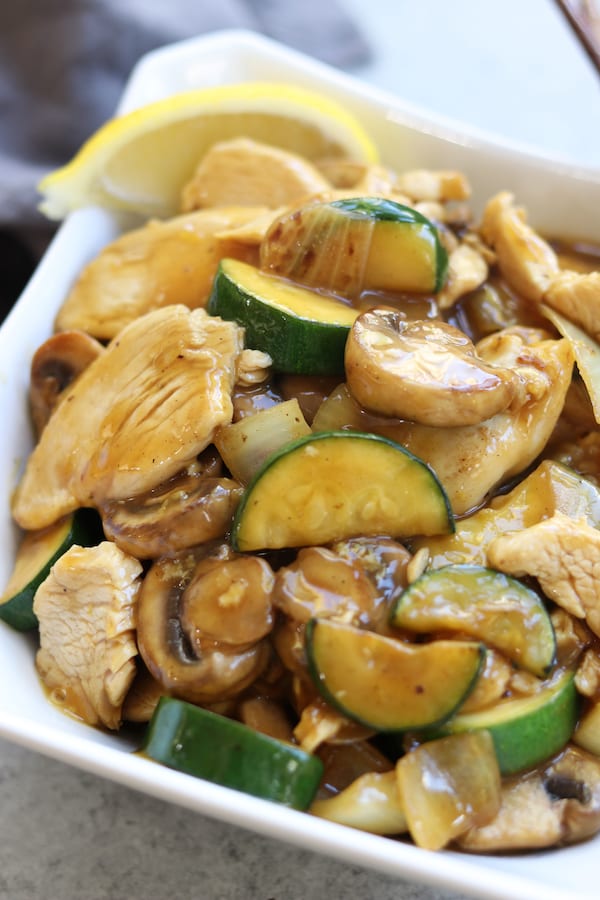 Lemon Chicken Stir Fry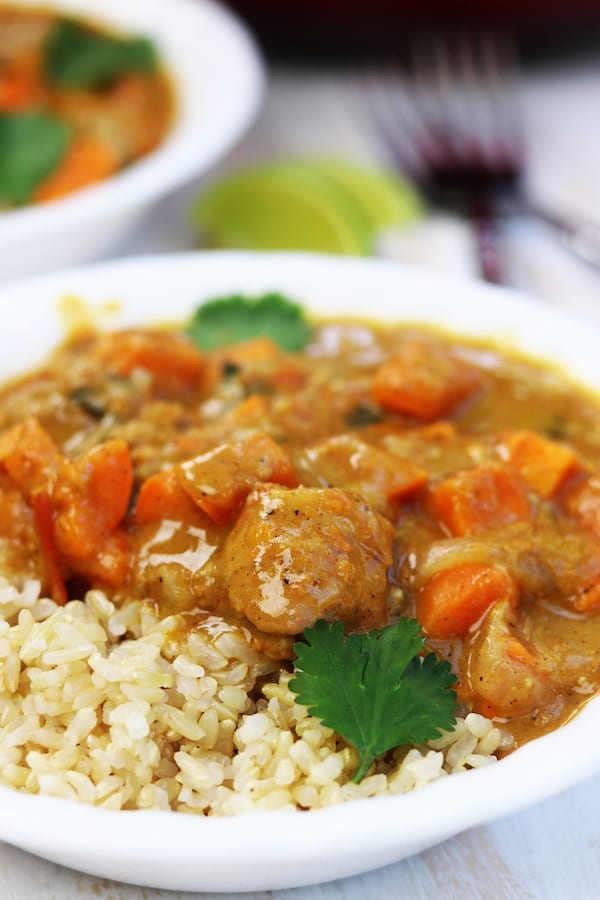 Chicken Sweet Potato Curry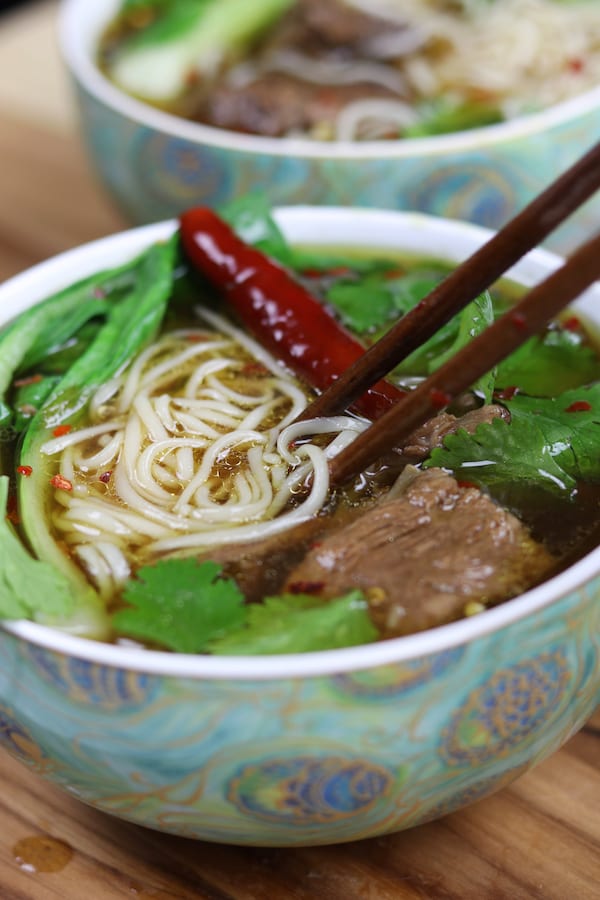 Beef Asian Noodle Soup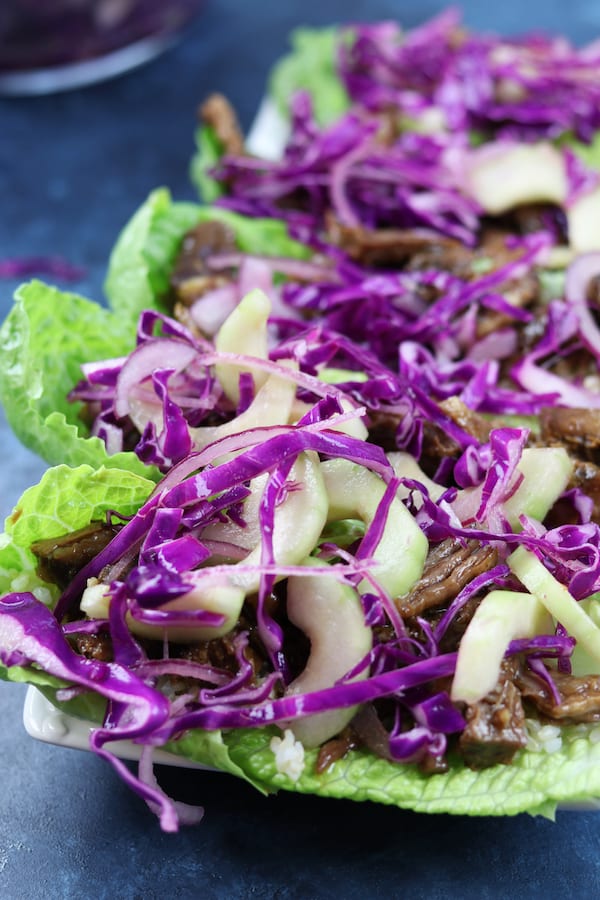 Crockpot Beef Asian Lettuce Wraps