Roasted Butternut Squash with rosemary is a healthy, tasty and easy recipe that is special enough for holiday celebrations and yet simple enough for weekday dinners. Use this as a base for soups and salads or enjoy as a delicious side dish.

Serve this as a simple side dish with Easy Broiled Pork Chops, Rosemary Lemon Garlic Chicken or Meatloaf as a delicious fall feast. Also, this is a great recipe to serve with a Brined Thanksgiving Turkey, Red Skin Mashed Potatoes and Festive Orange Spinach Salad.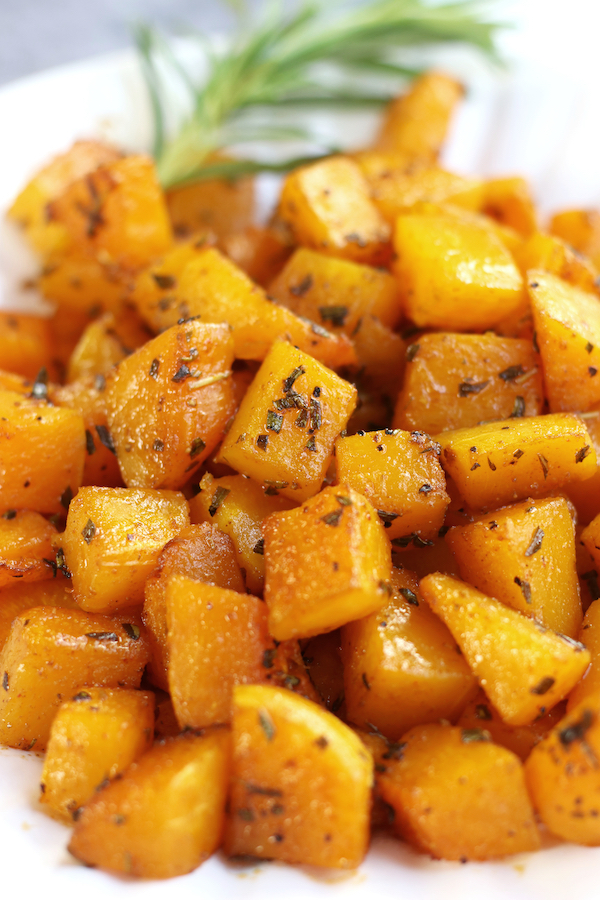 This post may contain affiliate links which I earn a small portion in sales if a purchase is made. Rest assured though, it is never at any additional cost to you.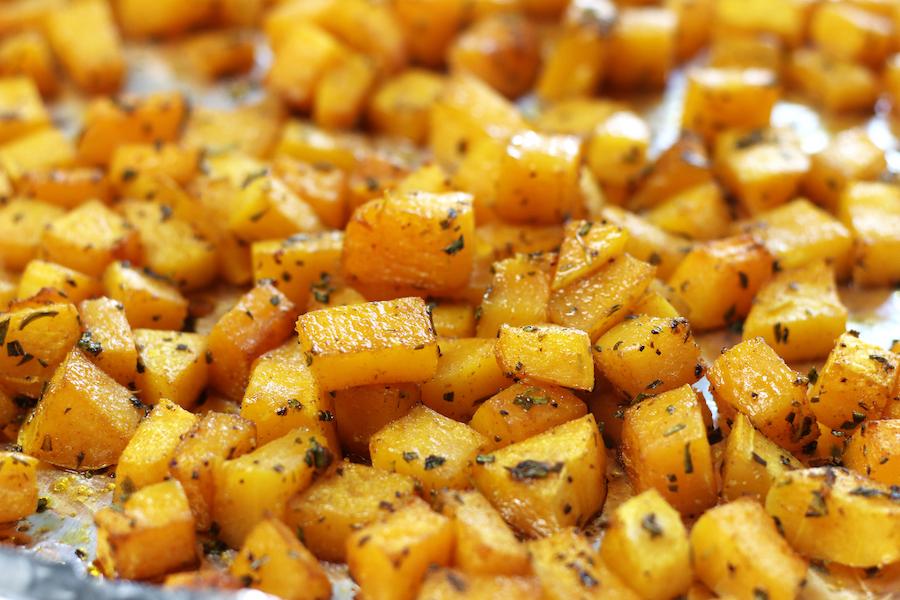 Why Roast Butternut Squash
Roasting cubed butternut squash creates tender caramelized bite sized vegetable pieces that are loaded with flavor. It's a perfect side dish for the holidays or many main meals. Also, it can be used as a flavorful base for meals such as Butternut Squash Mac and Cheese or Creamy Butternut Tortellini Soup. Basically, this recipe is worth its weight in gold.
How to Cut, Peel and Cube Butternut Squash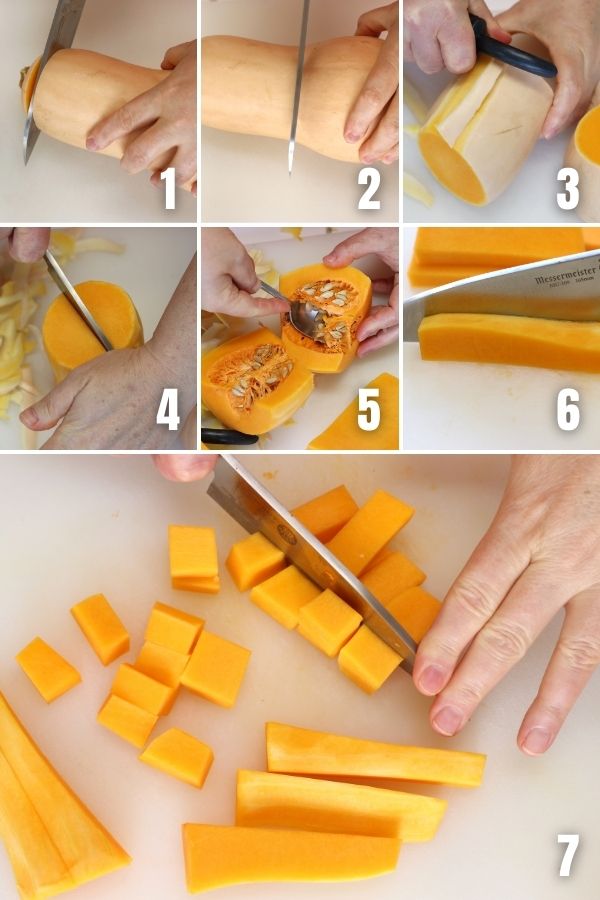 Start by using a quality chefs knife and a sturdy cutting board. Carefully cut off both ends of the squash. Note: Make sure to use a sharp knife when cutting butternut squash. Taking a few minutes to sharpen it before starting will save a world of hassle.
Cut the squash in half at the point where it curves.
Using a comfortable vegetable peeler, peel off the skin.
Cut each half in half again.
With a spoon remove the seeds and the stringy inner core.
Cut sections into strips by placing them facing down and then cutting.
Cut the strips into 3/4- 1-inch cubes.
Ingredients Needed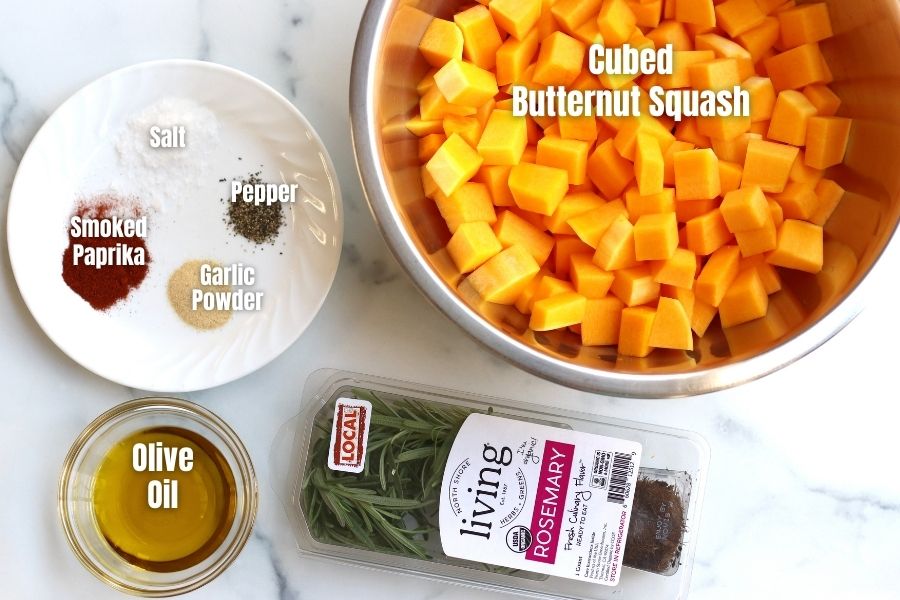 Butternut Squash– Choose a butternut squash that is medium to medium-large in size. Here is a helpful guide to pick the best butternut squash.
Olive Oil– A good quality olive oil makes a huge difference in achieving delicious results. Look for olive oil that have an estate or mill name on the bottle along with a harvest date. This is because real olive oil has a short life span.
Salt– I originally started using this gourmet salt because of its low iodine levels. However, I fell in love with the flavor and now use it as both a finishing salt and for cooking.
Smoked Paprika– Adds sweet and smokey undertones to the butternut squash.
Black Pepper
Garlic Powder– Unfortunately, fresh garlic when heated sometimes turns either blue or green. It is still fine to eat when it does turn colors but is can be unappealing. The easiest solution to prevent this is to use garlic powder.
Step by Step Instructions
Freshly chopped rosemary is not only incredibly tasty , it also has an amazing aroma. Watch my step-by-step tutorial on how to quickly chop fresh rosemary.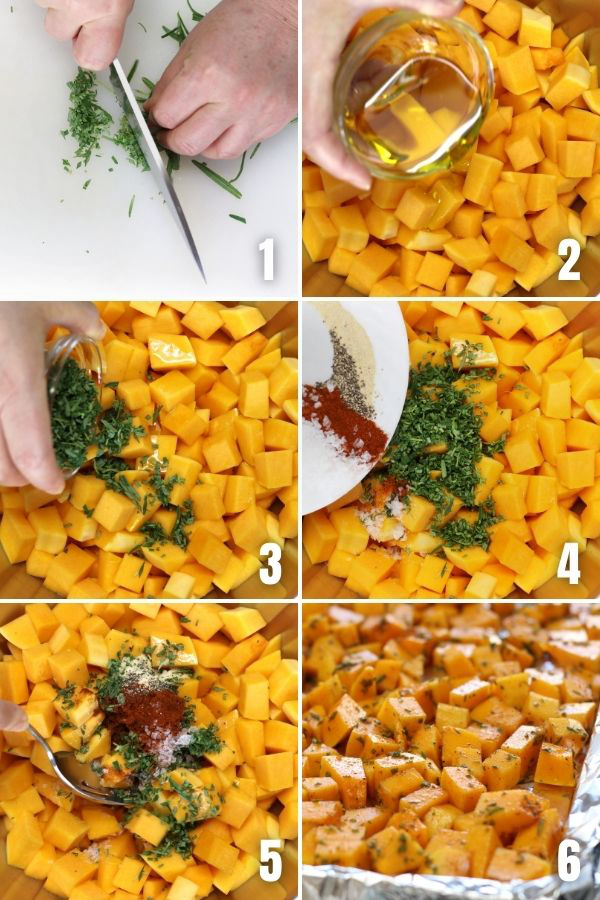 Preheat oven to 400℉. Wash and chop rosemary.
Add cubed butternut squash to a large bowl. Drizzle with olive oil. (The easiest way to make this side dish is with pre-cut butternut squash. See "How to cut, peel and cube" section above.)
Add rosemary and…
spices to the squash.
Stir well.
Line a sided cookie sheet pan with foil. Transfer the cubed squash to the cookie sheet in a single layer. Bake for 40-50 minutes or until fork tender and golden brown on the edges.
Served garnished with red pepper flakes, pepitas, feta, cranberries or just on its own.
Note: Parchment paper may be used in place of foil.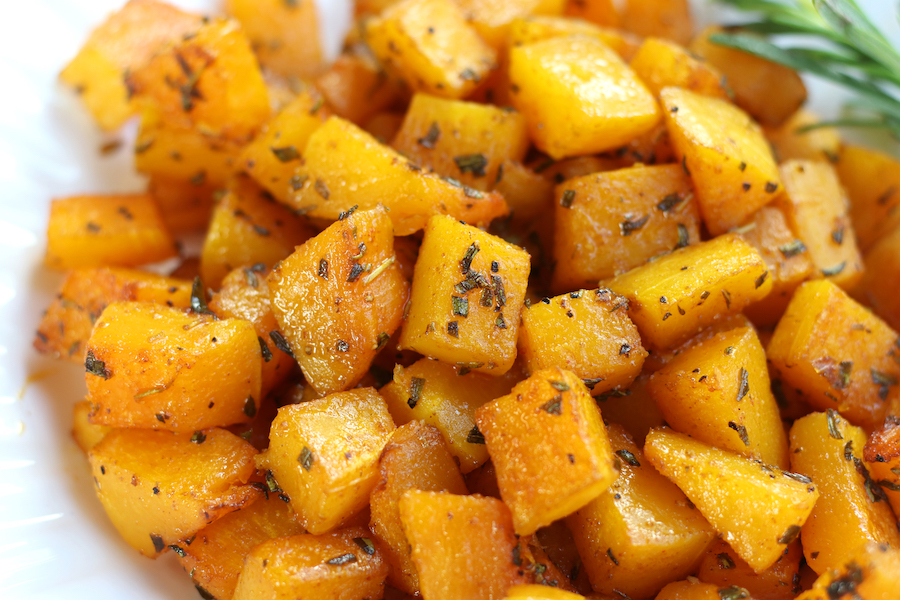 Variations For This Roasted Butternut Squash Recipe
The secret to incredible recipes is to personalize them to your taste preferences. Changing up herbs and spices is one of the easiest ways to do this. Here are a few ideas to personalize this Roasted Butternut Squash for your dinner table.
Spicy Roasted Butternut Squash
Instead of using smoked paprika try using 1/2-1 teaspoon of either chipotle powder, cayenne pepper or real chili powder. Additionally, cumin would be a tasty replacement for the rosemary when raising the heat.
Sweet Roasted Butternut Squash
Replace the smoked paprika with cinnamon and add in a few tablespoons of maple syrup or brown sugar for a sweet alternative.
More Herb Options
Ground sage, rosemary (dried and ground rather than fresh) and dried or fresh thyme, marjoram and oregano would all be delicious with butternut squash. Additionally, it is important to use less of the dried ground herbs since they are much more potent than fresh. Because of this, use no more than 3 teaspoons of dried in total. You can use either a single herb or combination of herbs.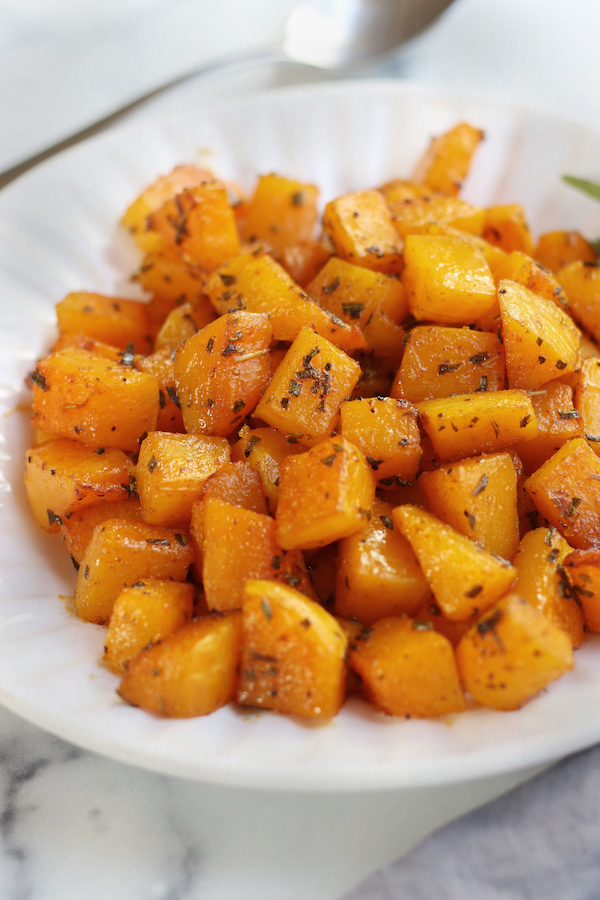 Frequently Asked Questions
Can you eat butternut squash seeds?
Yes and they are delicious. Check out this recipe for all the tips and tricks.
How do I freeze Roasted Butternut Squash?
There are two main ways to freeze butternut squash. The first option is to freeze it as a side dish in a freezer container next to the main dish. This option will be more like mashed butternut squash when reheated.
The second option is to let the cubes cool to room temperature on the cookie sheet after roasting. Once cooled, place the cookie sheet in the freezer for about an hour to freeze the cubes individually. Once frozen, transfer to either a freezer container or bag. When using this option, the cubes will retain their shape but will be on the softer side.
What is the best way to store this side dish?
Store in an airtight container in the refrigerator for up to 4 days.
Does butternut squash have to cut before cooking?
No, butternut squash can be baked whole. However, for this recipe it advised to take the time to peel, deseed and cube the squash.
Can I use pre-cut butternut squash for this recipe?
Absolutely! This can be a huge time saving approach when making this recipe. You will need approximately 2- 2 1/2 pounds to replace the medium sized butternut squash.
Is butternut squash peel edible?
Butternut squash peel is edible or in other words, it won't kill you if you eat it. However, it is horrible tasting and highly recommended that you do not eat it.
Why is my butternut squash stringy?
Chances are that undesirable textured butternut squash is either because the squash was not fully ripened before being picked or it is way past its prime. Here is a very helpful list of guidelines in choosing the best quality butternut squash.
More Popular Fall Recipes
Mom's Old Fashioned Corn Bread
Country Style Pork Spare Ribs and Sauerkraut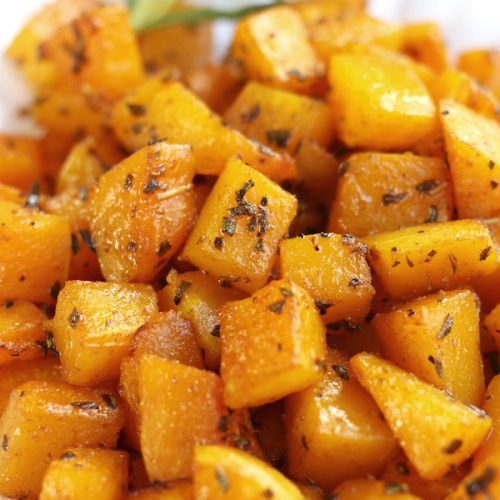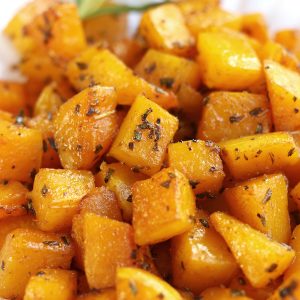 Roasted Butternut Squash
Roasted Butternut Squash with rosemary is a healthy, tasty and easy recipe that is special enough for holiday celebrations and yet simple enough for weekday dinners. Use this as a base for soups and salads or enjoy as a delicious side dish.
Print
Pin
Rate
Ingredients
1

medium

butternut squash

*approximately 2- 2 1/2 pounds peeled, deseed and cubed

3

tablespoons

olive oil

3

tablespoons

fresh chopped rosemary

*See Note #1 Below

1

teaspoon

salt

1/4

teaspoon

black pepper

1/2

teaspoon

garlic powder

1

teaspoon

smoked paprika
Instructions
Peel, deseed and cube butternut squash into 3/4 of an inch pieces. Add to a large mixing bowl.

Chop fresh rosemary and add to cubed squash along with remaining ingredients. Stir well.

Line a sided cookie sheet with foil. Transfer squash onto cookie sheet in a single layer.

Bake for 40-50 minutes making sure to stir halfway. The squash will be done when it is fork tender and golden brown on the edges.
Notes
Recipe Notes Note #1- I used 1 Living Rosemary container that equaled 3 tablespoons when chopped. Note #2- See above in post for helpful tips and resources with roasting butternut squash. 
Nutrition
Calories:
182
kcal
|
Carbohydrates:
23
g
|
Protein:
2
g
|
Fat:
11
g
|
Saturated Fat:
2
g
|
Polyunsaturated Fat:
1
g
|
Monounsaturated Fat:
8
g
|
Sodium:
590
mg
|
Potassium:
688
mg
|
Fiber:
4
g
|
Sugar:
4
g
|
Vitamin A:
20222
IU
|
Vitamin C:
40
mg
|
Calcium:
97
mg
|
Iron:
2
mg