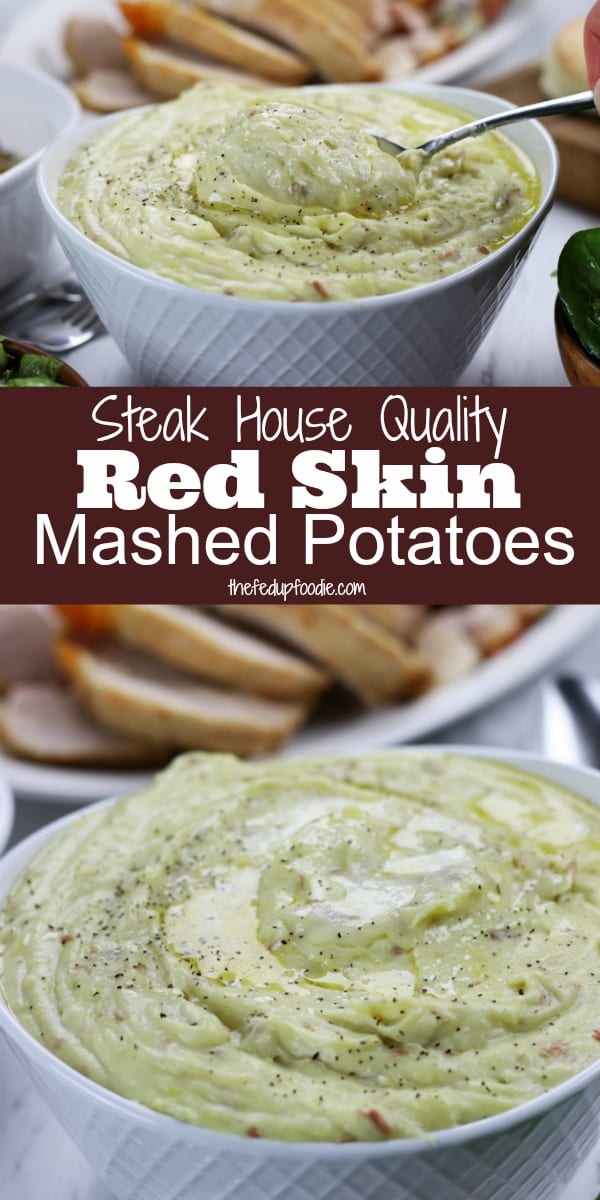 Red Skin Mashed Potatoes recipe creates ultra flavorful and creamy Thanksgiving style mashed potatoes. This recipe has turned potato haters into potato lovers. It's so easy to make and tastes so gourmet.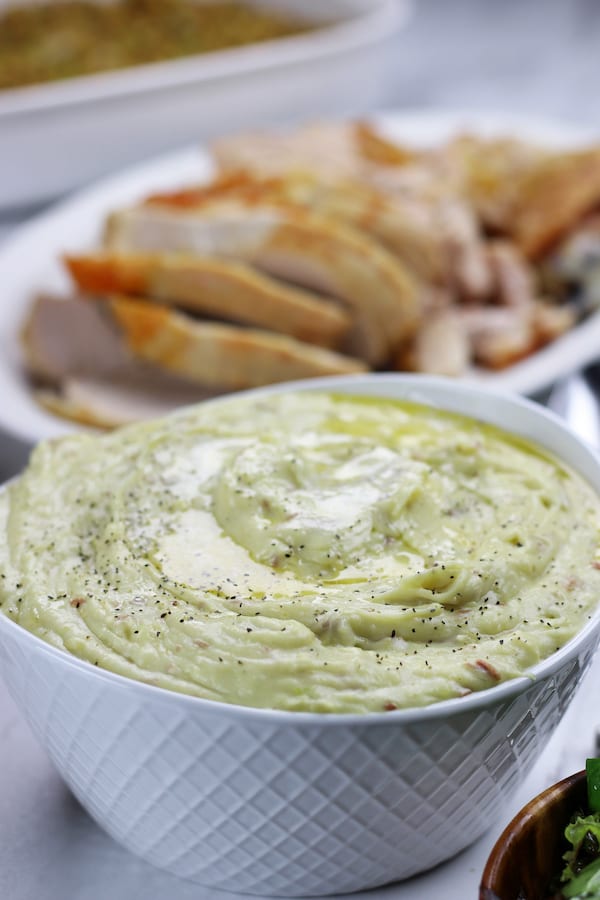 This post may contain affiliate links which I earn a small portion in sales if a purchase is made. Rest assured though, it is never at any additional cost to you.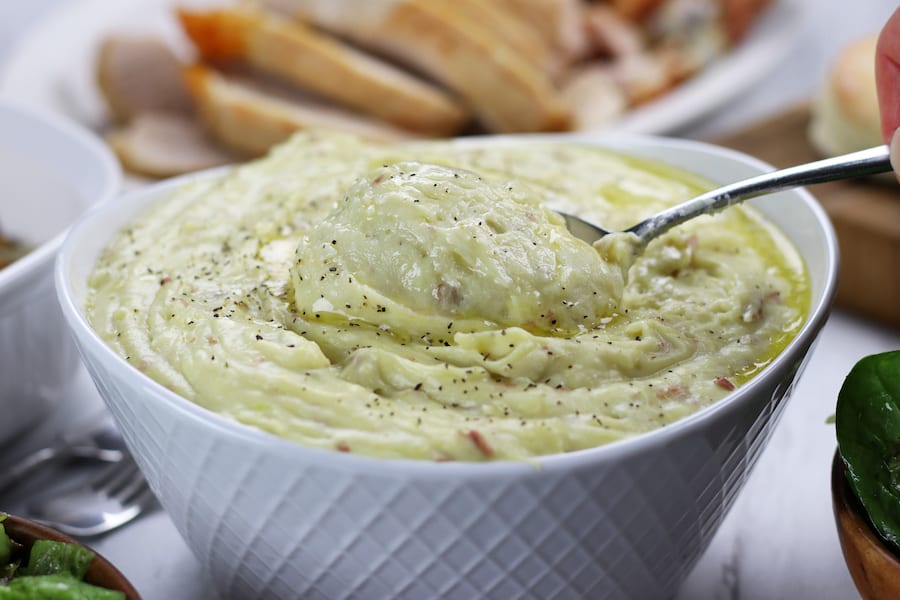 I have a confession to make.
For the longest time Mashed potatoes have just been ehh to me.
I always enjoyed my parents mashed potatoes and gravy at Thanksgiving, but never enough to eat it multiple days in a row.
Even as a child I remember the texture of mashed potatoes really bothering me.
Well, all my feelings completely changed with the creation of this Red Skin Mashed Potatoes recipe.
Not only does this recipe create incredibly creamy textured mashed red potatoes but the flavor is out of this world.
This recipe really is a fusion of my parents mashed potato recipe, Bon Appétit Ultra Creamy Mashed Potatoes recipe and my love of red potatoes.
Here's the kicker, I now crave these potatoes and could literally eat them several days in a row. That's a BIG deal!!
If you are looking for the secrets in creating a super flavorful and creamy restaurant quality mashed potatoes, you have come to the right place.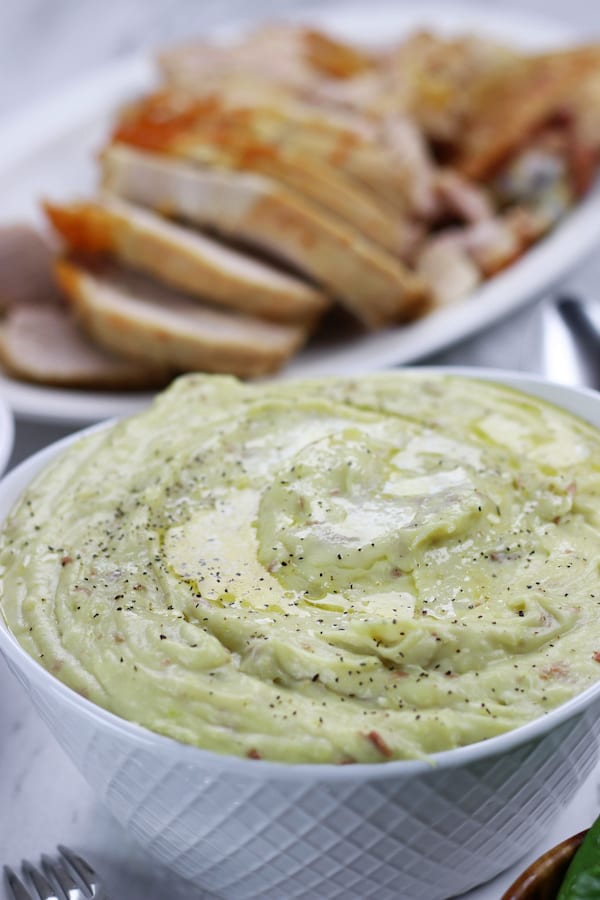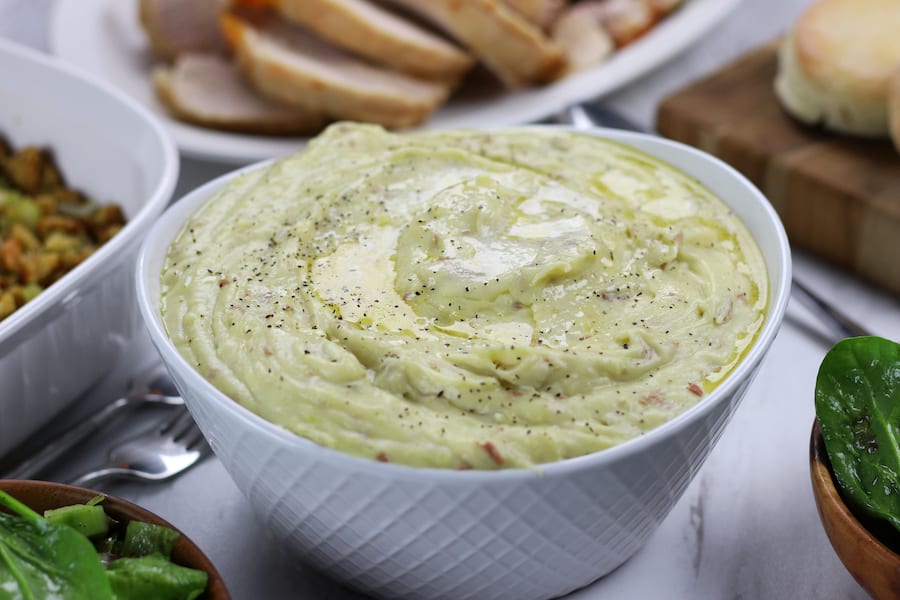 Commonly Asked Questions On How To Make The Best Red Skin Mashed Potatoes
I always thought mashed potatoes were made from russet potatoes. Can I use red potatoes for mashing?
This is such a great question because even though russet potatoes are most commonly used for mashed potatoes, red skin potatoes help to create an amazingly smooth texture. The other potato I love for its smooth texture is Yukon gold potatoes.
If you love steak house quality mashed potatoes, using red potatoes is one of the tricks that helps achieve this.
Do I need to peel red potatoes for mashed potatoes?
You definitely can peel the potatoes before cooking but just know that it is not necessary. The skins of red potatoes are very thin, easily mash and add a beautiful pop of color to this side dish.
What is the best way to make red mashed potatoes?
Personally I feel cutting the potatoes into 1/4's (or 1/8's for larger potatoes), boiling and then using an immersion blender is the easiest and least time consuming way to create these mashed potatoes.
What is an immersion blender?
Immersion blender is a hand held blending tool that does a phenomenal job of blending hot soups, making the mashed potatoes, salad dressings, smoothies, whipping cream, etc. There are just so many things it can do but what I love it most for is blending hot ingredients. Plugging in the immersion blender, submerging it and turning it on is all there is to it. So easy. It's how I make the beans for my freezer burritos, Caesar Salad Dressing and how I grind oat flour for Pumpkin Oatmeal Squares.
Click Photo for Product

What should I add to mashed potatoes for flavor?
So here is the good news, these potatoes are crazy flavorful and delicious as is. If you really want to amp up the flavor profile then any of these would be delicious:
Roasted garlic
Crumbled bacon
Chives
Shredded sharp cheddar cheese
How do I make dairy free Red Skin Mashed Potatoes?
Replace the half and half with a full fat plain almond or cashew milk and butter with extra virgin olive oil.
What can I serve this Mashed Red Potatoes recipe with?
How To Make Garlic Red Skin Mashed Potatoes
Let me just be a complete dork and say again, this recipe is absolutley deliciously flavorful on its own. However, if you are a garlic lover like me, then you may want a little extra of a garlic boost. One of the best ways to accomplish this is by making Roasted Garlic prior to boiling the potatoes and add the cloves at the same time as the grated onion. The immersion blender will disperse the gorgeous caramelized garlic flavor into these Red Skin Mashed Potatoes.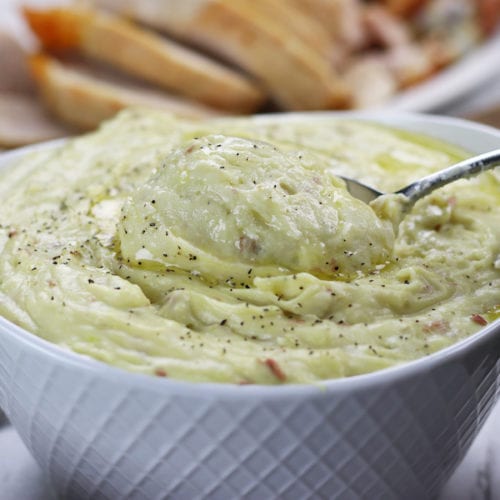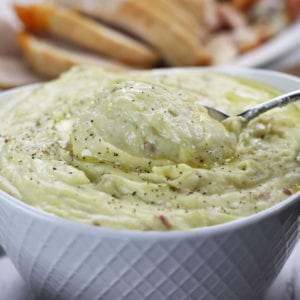 Red Skin Mashed Potatoes
Ultra creamy and flavorful, this Red Skin Mashed Potatoes recipe is so good it can turn a potato hater into a potato lover. Makes steak house quality mashed potatoes that you will want to make again and again. Serves 6-10.
Print
Pin
Rate
Ingredients
3

lbs

red potatoes

2

tbsp

sea salt

1 1/4

cups

half and half

1

head

garlic

*left in skin but cut in half crosswise

1

lg sprig

rosemary

*equivalent of 3 smaller sprigs

1/4

lg

brown onion

*grated, about heaping 1/4 cup

1

stick (1/2 cup)

butter

*room temperature

salt & pepper to taste
Instructions
Cut potatoes into 1/4's (or 1/8's for larger potatoes) and add to a 5-6 qt stock pot. Cover by and inch with cold water. Stir in salt and bring to a boil over high heat.

Once boiling lower to medium low and cook until potatoes are fork tender but not falling apart, about 8-10 mins.

Drain and add back to boiling pan, off heat. Add butter and grated onion.

To a small sauce pan add half and half, rosemary and garlic. Warm over low heat until fragrant, just before simmering about 7 mins. Do not boil. If half and half mixture is done before potatoes take off heat and set aside.


Strain half and half of garlic and rosemary and add half to potatoes. Using an immersion blender or potato masher smash potatoes. Repeat process until potatoes are smooth and creamy making sure to salt and pepper before final mashing.
Notes
*Please use as many organic ingredients as possible. See notes above for commonly asked questions. 
Nutrition
Calories:
175
kcal
|
Carbohydrates:
30
g
|
Protein:
5
g
|
Fat:
5
g
|
Saturated Fat:
3
g
|
Cholesterol:
14
mg
|
Sodium:
1792
mg
|
Potassium:
837
mg
|
Fiber:
3
g
|
Sugar:
2
g
|
Vitamin A:
146
IU
|
Vitamin C:
16
mg
|
Calcium:
65
mg
|
Iron:
1
mg