Pumpkin season is in full swing and what a fun way to celebrate it with a Frosted Pumpkin Oatmeal Square. These squares are perfect treat to finish the day or can be adjusted for breakfast. Frosted Pumpkin Oatmeal Squares will put a smile on your face.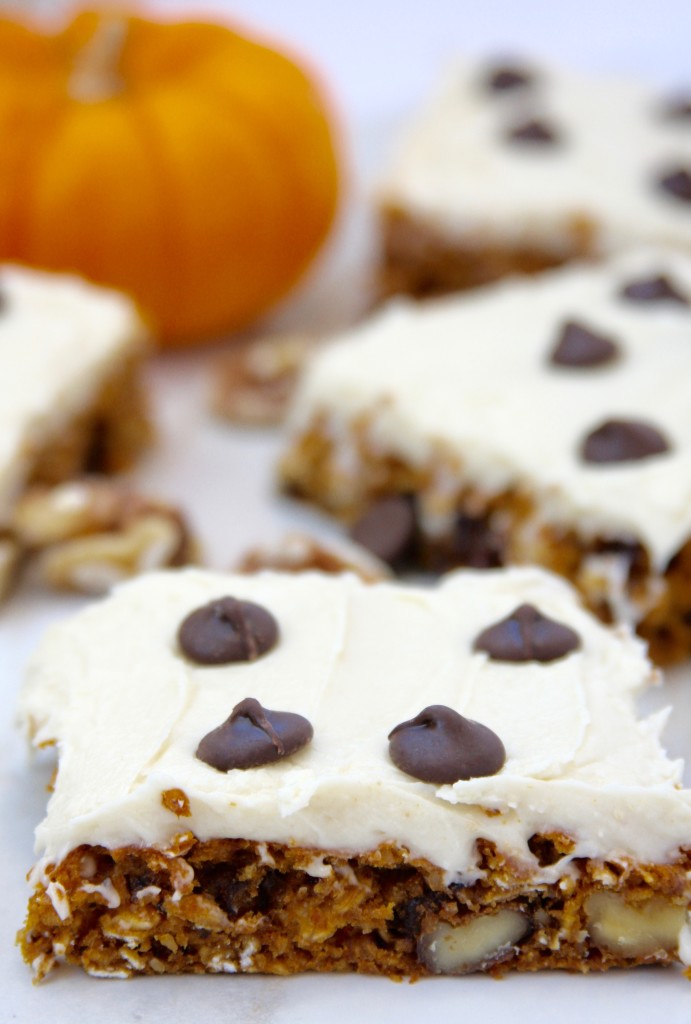 This post may contain affiliate links which I earn a small portion in sales if a purchase is made. Rest assured though, it is never at any additional cost to you.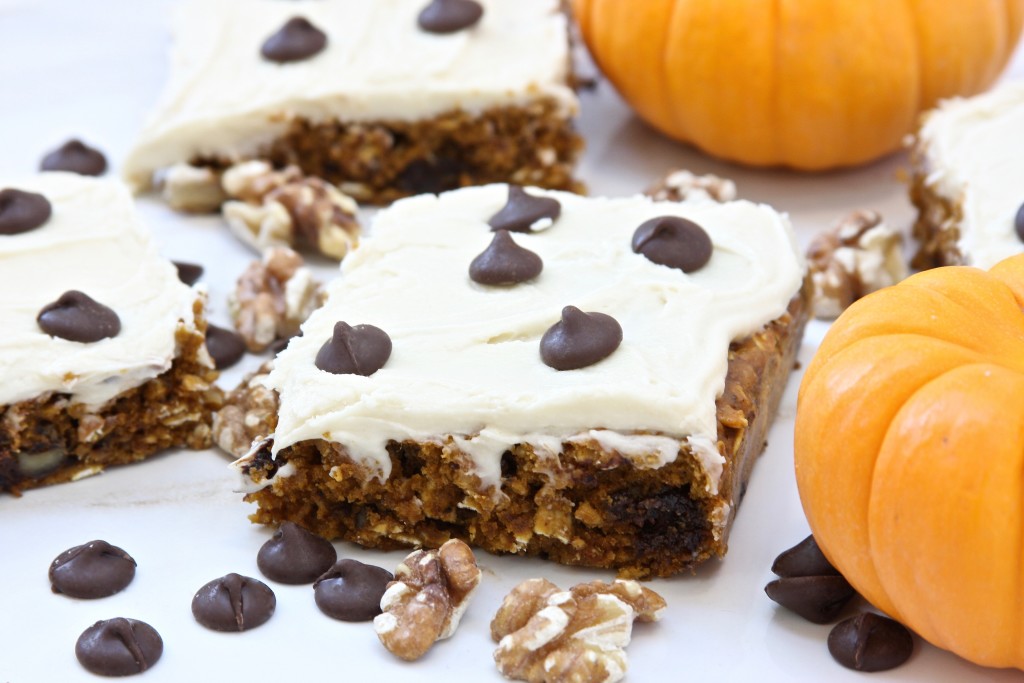 These beautiful little squares are another decadent treat that my baby brother Tommy came up with, although I am responsible for that luscious layer of cream cheese icing. ? He was a little bit bummed when he saw how thick I frosted them. What can I say, frosting is my weakness. I let his little one lick the paddle and I think I created a younger generation frosting lover. But shhhh, don't tell him.
My very sensible side will tell you to follow the recipe as written, as I wrote it for a moderate amount of cream cheese icing. My rebellious childlike, cream cheese loving side will tell you, "go ahead and double the frosting recipe ?" insert evil laugh. The beauty of these oatmeal squares is that you can even do just a drizzle of glaze and it becomes a breakfast pastry. That is how we prepared them when we did the practice runs and I will admit, they were quite satisfying. To make the glaze it would be approximately 1 cup of powdered sugar, 2 to 3 tbsp milk and 1 tsp vanilla, mixed well and then drizzled over the top instead of the frosting.
As I was making these Frosted Pumpkin Oatmeal Squares, memories of my Mom surrounded me. My mom was a woman who wanted her frosting to be completely even on her baked goods. In fact, it was that way with any recipe that required some form of spreading or sprinkling. In her later years she was confined to a wheelchair. When we cooked together she would often sit beside me while I either sprinkled cheese on a casserole or frosted a cake, etc. Inevitably she would ALWAYS say "You missed a spot" as she pointed to a tiny, itty bitty corner that was naked. It would drive me crazy and crack me up all at the same time. Since her passing every single time I frost a cake or sprinkle cheese, etc., I hear her voice telling me "you missed a spot:". Now it just makes me laugh while huge alligator tears form in my eyes. Mom's have a way of sticking with you even when they have passed on. Excuse me as I go dry my eyes.
Ok, I am good now.
The recipe for these Frosted Pumpkin Oatmeal Squares is unique in that it calls for ground oats and ground walnuts. I absolutely love my food processor but there are times when I need just a small amount of something ground and during those times I hate the idea of pulling out my large food processor and the clean up it involves. That is when I love using my Kitchen Aid Immersion Blender. It was so fast and clean up was so simple. For another fun recipe where my immersion blender saved the day, check out my Fall Fiesta Sweet Potato Soup.
If you are looking for a Halloween treat for you and your family with a somewhat healthy twist, than this Frosted Pumpkin Oatmeal Squares recipe may just fit the bill. I look forward to creating a similar recipe in the future that is low on sugar, but in the meantime, these are oh so yummy.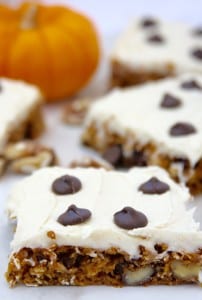 Frosted Pumpkin Oatmeal Squares
A Fall treat with the perfect amount of pumpkin, spice and chocolate.
Print
Pin
Rate
Ingredients
Dry Ingredients
2

cups

rolled oats

1/2

cup

ground oats

*I ground with attachment from the immersion blender

1/2

cup

ground walnuts

*I ground with attachment from the immersion blender

1

cup

all-purpose flour

1/2

cup

brown sugar (packed)

light or dark

2

tsp

baking soda

1/2

tsp

baking powder

1/2

tsp

salt

1

tsp

cinnamon

1/2

tsp

ginger

1/2

tsp

nutmeg

1/2

tsp

cloves

3/4

cup

chopped walnuts

3/4

cup

chocolate chips
Wet Ingredients
2

cups

canned pumpkin

2

tbsp

either coconut oil or macadamia nut oil

3/4

cup

sweetened condensed milk

3

tsp

vanilla
Frosting
2

tbsp

butter

*softened

4

oz

cream cheese

*softened

1

tsp

vanilla

2 1/4- 2 1/2

cups

powdered sugar
Instructions
Squares
Measure and combine dry ingredients in a large bow with the exception of chocolate chips and walnuts. Set Aside.

In a stand mixture measure and combine all wet ingredients. Mix well.

Slowly add dry ingredients to wet. Scrap down sides of mixer bowl and mix again.

Add walnuts and chocolate chips. Stir just until blended in.

Line a large 4 sided cookie sheet with parchment paper and pour batter over paper making sure to spread evenly.

Bake at 325℉ for 30-35 minutes or until golden brown. Let cool almost completely. Using sides of parchment paper carefully move bake batter onto cutting board.

Let cool completely before frosting.
Frosting
In a stand mixer, cream butter and cream cheese. Add powered sugar 1 cup at a time mixing thoroughly before adding next cup. Halfway through creaming process add vanilla. If frosting becomes to thick, add milk 1 tsp at a time until correct consistency.
Assembly
Frost oatmeal squares. Cut into squares using pizza cutter or knife, in desired size. Garnish with chocolate chips.
Notes
*Please use as many organic ingredients as possible.* Do you love frosting? If yes, then you will probably want to double the frosting recipe.
Find more sweet inspirations on Facebook and Pinterest.