Green Apple Crisp recipe uses fresh tart green apples, organic pasture raised butter to create and rolled oats to create an easy and healthy family friendly dessert.
This post may contain affiliate links which I earn a small portion in sales if a purchase is made. Rest assured though, it is never at any additional cost to you.
For some time now I have been driving people crazy in my life about grass fed this and organic that. You can often hear me pestering my husband asking him if he has taken his vitamins yet and my Facebook friends are probably ready to divorce me over my passionate ploy. I have to say though that pretty much everybody in my life as been very patient with my "Nutrition Matters" crusade. You can only imagine how proud I was of my baby brother for creating this Fall recipe of Green Apple Crisp
using grass fed butter and organic ingredients. Now granted my baby brother Tommy is in his 30's. He will always be my baby bro and I was the first to change his diaper when he came home from the hospital (proud sister moment). Being his sous chef and watching him use his creativity while writing this recipe made my heart overjoyed.
The apples we used were absolutely gorgeous and made me realize Fall is right around the corner. We may still be 90 degrees here in parts of San Diego but in my kitchen the leaves were changing colors, pumpkins were out and the Fall crisp was in the air.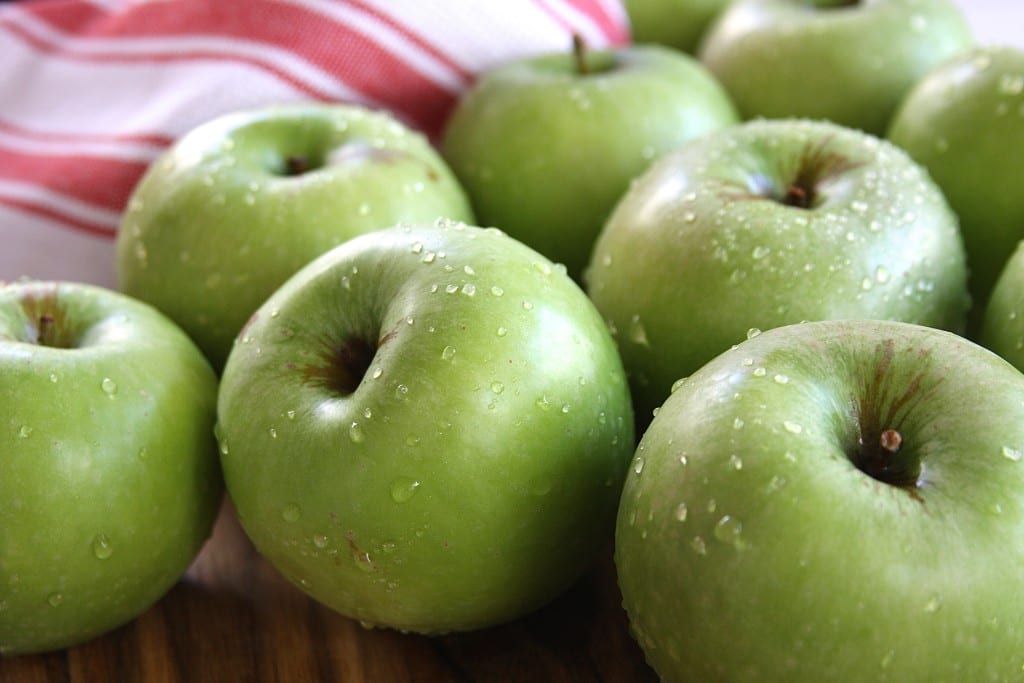 A great time saving tip Tommy came up with is to peel the apple first and then cut it with a hand held apple slicer. With this tip it took us 30 minutes to peel and cut the apples. Just make sure to cut the apples to about 1/4 inch thickness with a pairing knife and that all the peel is removed.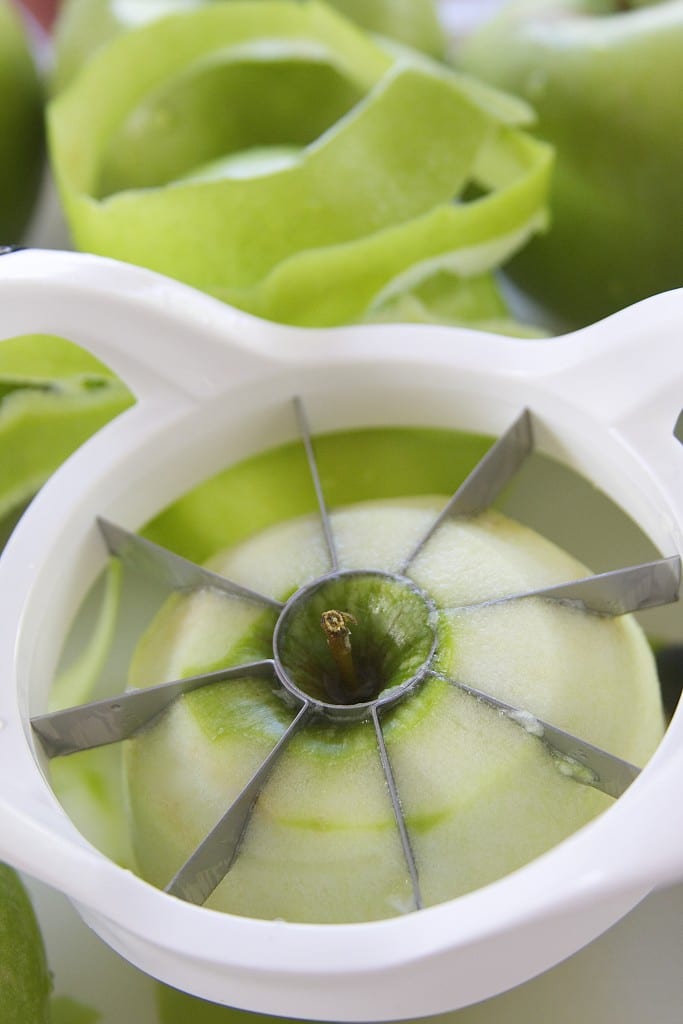 There are a few elements that set this Green Apple Crisp recipe apart and the spices used are definitely one of them. The cinnamon, nutmeg, all-spice, and ginger do a perfect dance of joy together that will make your mouth sing with pleasure.
The second element that sets this yummy recipe apart is the grass fed butter.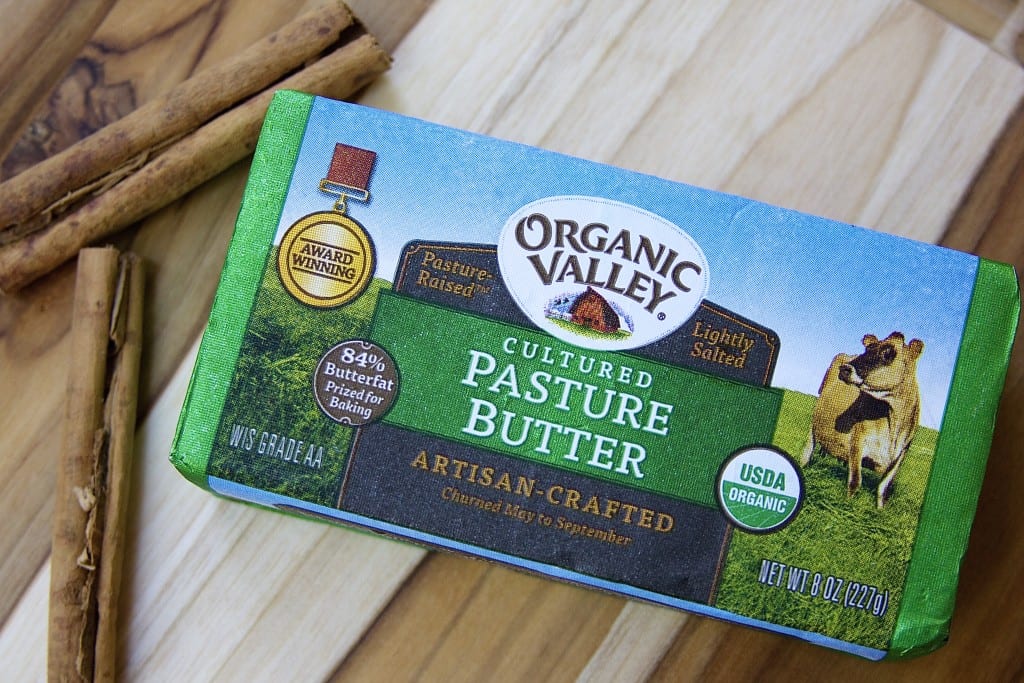 Anyone who has spent time around me in the last few years knows about my love of the pasture or grass fed butter. The cows that produce this butter feed on organic grasses which creates a rich serving of omega-3 fatty acids. The whole use of butter tends to be a little controversial still because of the saturated fat element. I personally lean towards the side of using it because it provides high nutritional density.
If you do decide to use pasture or grass fed butter there is a trick. Pasture butter tends to be very soft. Some of the brands you can literally take out of the refrigerator and spread on toast with no problem. This softness can lend to challenges with the topping. To prevent this, measure all the dry ingredients for the topping first and have your prepared apples ready to go in the pan. Leave the butter in the refrigerator up until the minute you need it for the topping and then it cut into small chunks. Work the chunks into the dry ingredients with a pastry cutter. Midway through incorporating the butter with the dry ingredients place back into the refrigerator to let the butter firm up. You may need to do this a few times while working the topping. I highly recommend using the Organic Valley brand over the Kerrygold Irish Butter version. Organic Valley worked extremely well for us where as the Kerrygold was so soft that the batter looked like cookie dough. A cookie dough batter will equate to floating butter in the fruit and a not so crisp topping.
PRO TIP: If using grass-fed butter, leave butter refrigerated while preparing apples and dry ingredients. Cut into small chunks, work into dry ingredients with a pastry cutter and refrigerate halfway through. Butter should remain cold the entire time and may need to be refrigerated one additional time.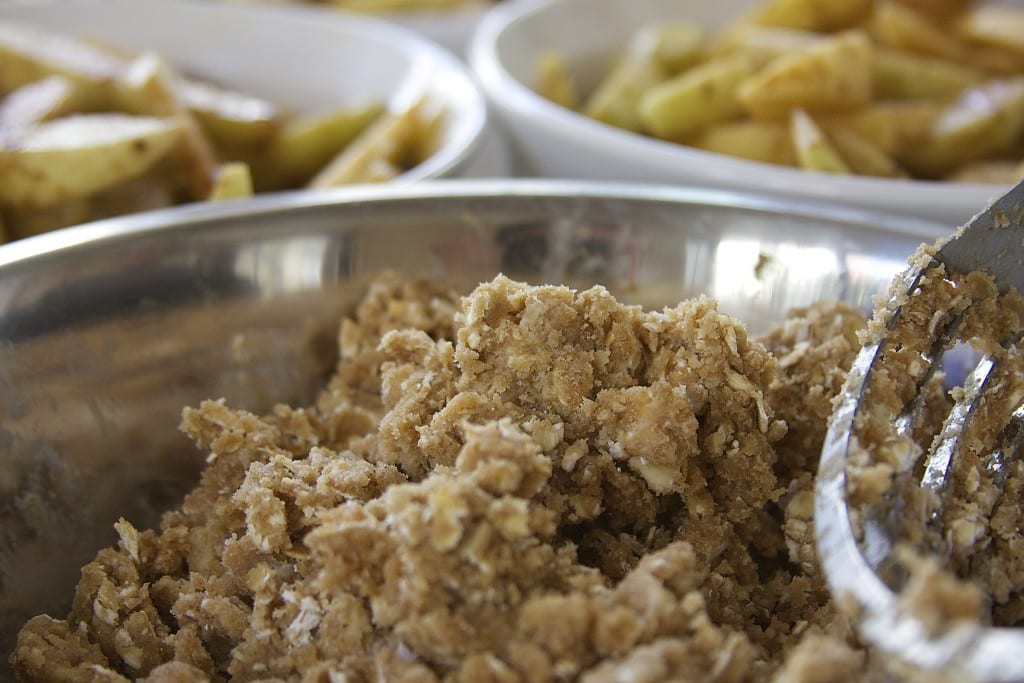 The topping will be chunky with bits of cold butter. Once baked you will have a golden brown piece of heaven that will almost have a caramel like taste to it.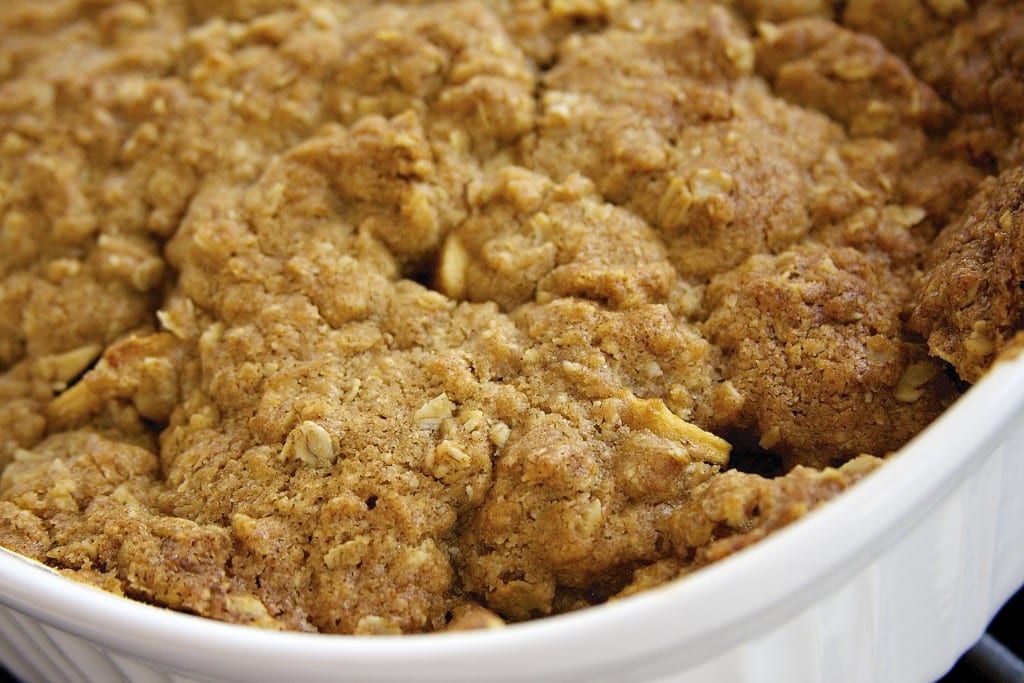 Enjoy with whipped cream or ice cream.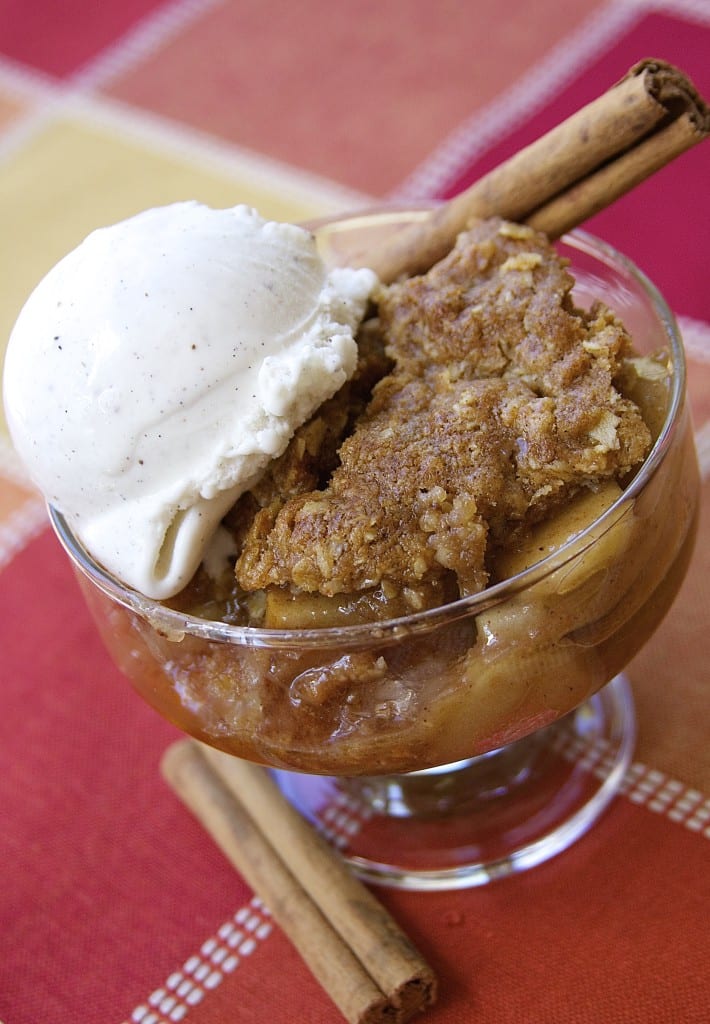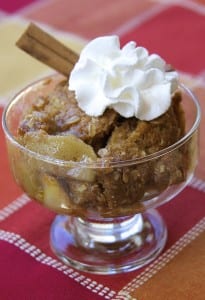 Green Apple Crisp
A crispy, crunching topped apple treat.
Print
Pin
Rate
Ingredients
Topping
2/3

cup

butter

*cold & cubed

1/3

cup

all-purpose flour

1/3

cup

brown sugar

*packed

1/3

cup

rolled oats

1/2

tsp

cinnamon

1/2

tsp

baking powder

1/8

tsp

salt
Filling
8

med Granny Smith Apples

2

tbsp

all-purpose flour

1/3

cup

brown sugar

1

tsp

cinnamon

1/4

tsp

nutmeg

1/4

tsp

all-spice

1/8

tsp

ginger
Instructions
Peel, core and cut apples into 1/4 inch slices.

Combine apple slices and all other filling ingredients in large mixing bowl and mix well. Apples will naturally weep. This is good!

Preheat oven to 325 degrees.

For topping mix all dry ingredients in a separate bowl. Cut butter into cubes and incorporate into dry ingredients with a pastry cutter. Stop and refrigerator for 10 mins halfway through to ensure butter stays cold. May need to be placed in refrigerator more than once during warmer months to maintain firmness.

Place filling into a 8 x 11 inch or 2.5 quart baking dish.

Spoon topping evenly over crust. Doesn't have to be perfect.

Bake in a 325 degree oven for 60-65 minutes or until top is golden brown and filling is bubbling.

Let cool at room temperature for 15-20 min. Serve with whipped cream or ice cream.

Enjoy!
Notes
*Please use as many organic ingredients as possible.*
Nutrition
Calories:
227
kcal
|
Carbohydrates:
34
g
|
Protein:
1
g
|
Fat:
11
g
|
Saturated Fat:
7
g
|
Cholesterol:
27
mg
|
Sodium:
119
mg
|
Potassium:
161
mg
|
Fiber:
3
g
|
Sugar:
25
g
|
Vitamin A:
381
IU
|
Vitamin C:
6
mg
|
Calcium:
36
mg
|
Iron:
1
mg
This recipe is part of Meal Plan Monday.