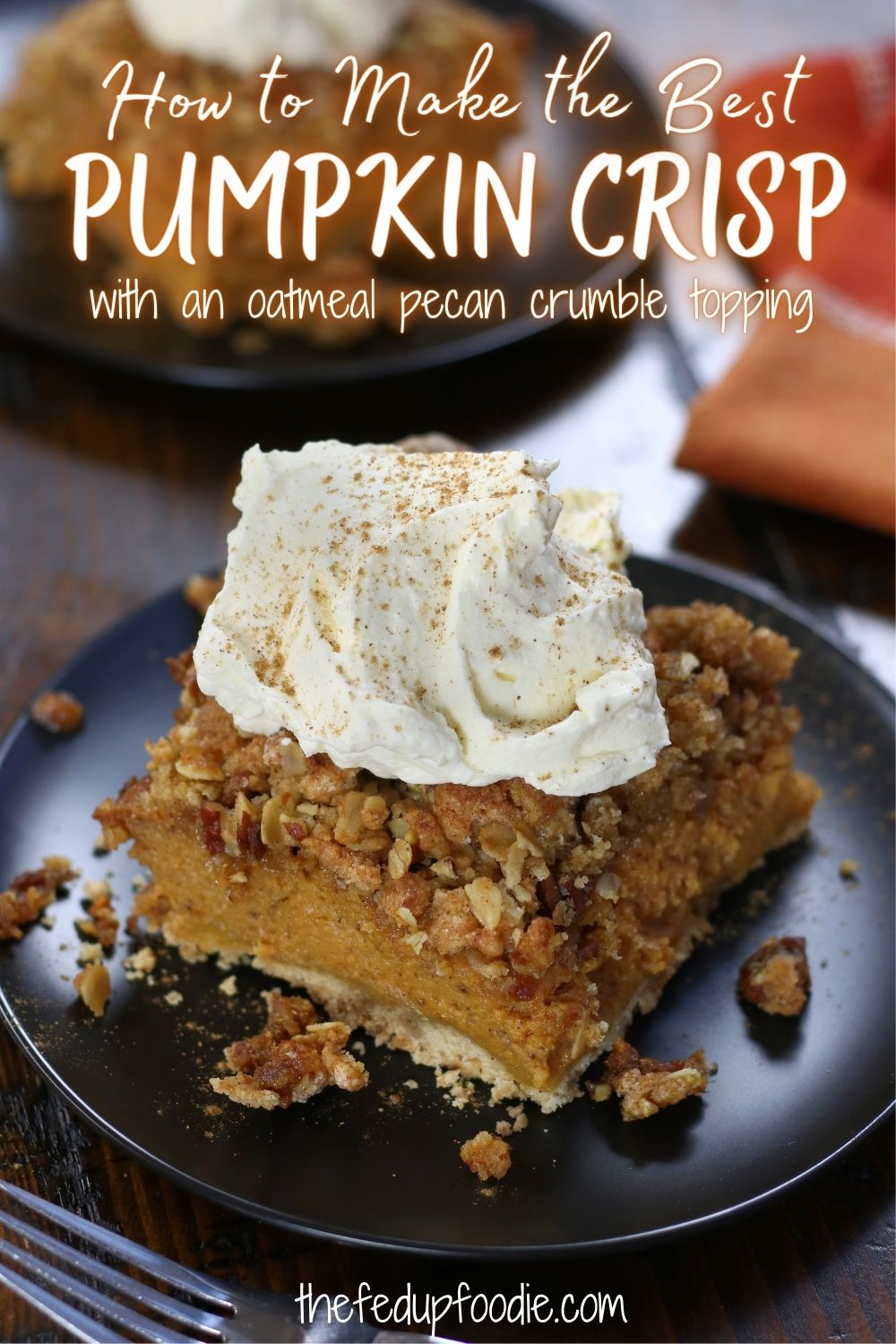 One of the easiest homemade Thanksgiving desserts, this Pumpkin Crisp is a must make. A ginger shortbread layer is topped with a creamy pumpkin pie filling and then an oatmeal pecan crumble topping. An absolutely delicious fall dessert.

A festive and satisfying Thanksgiving dinner starts with an amazing Brined Turkey. Complete the meal with extra Creamy Mashed Potatoes and an Orange Spinach Salad. Of course what would Thanksgiving be without an irresistible Fall Punch.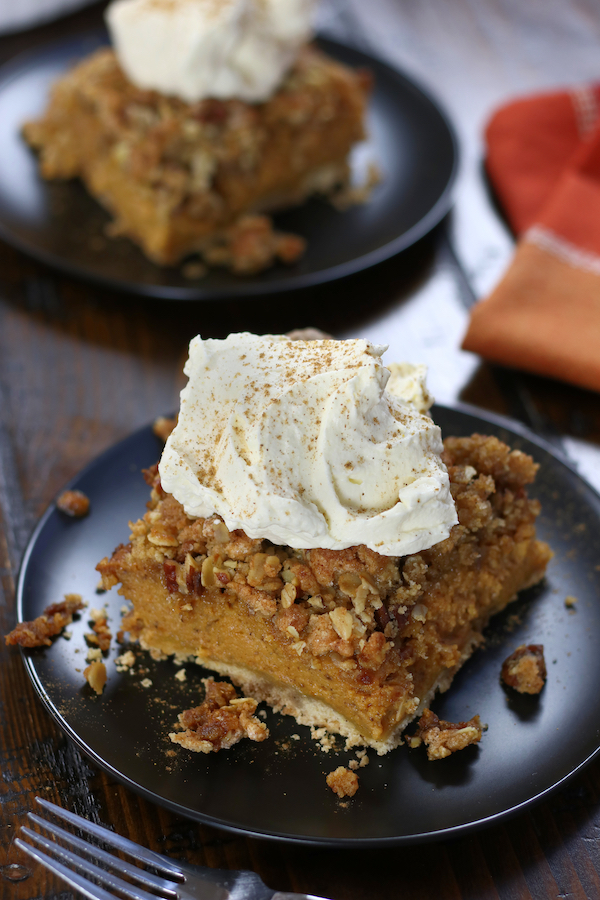 This post may contain affiliate links which I earn a small portion in sales if a purchase is made. Rest assured though, it is never at any additional cost to you.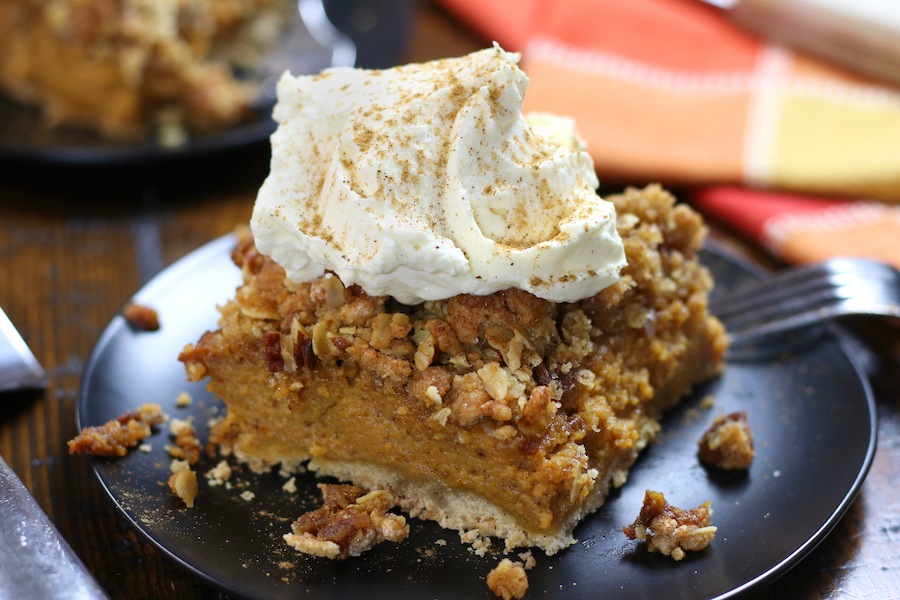 Pumpkin Crisp vs Pumpkin Crumble
Basically, Pumpkin Crisp and Pumpkin Crumble are one and the same dessert. This is because in recent years both terms have been used interchangeably.
However, if we dig a little deeper the main difference between the two, a Crisp has a crumbly topping with oats and a Crumble has a crumbly topping with no oats and sometimes nuts. Additionally, since this Pumpkin Crisp has both oats and nuts it falls under both names.
Tools Needed
Ingredients Needed
All Purpose Flour (2 1/2 cups)
Granulated Sugar (1 3/4 cups)
Unsalted Butter (14 tbsp or almost 1 full cup)
Ground Ginger (3 teaspoons)
Cinnamon Powder (4 teaspoons)
Ground Cloves (1/2 teaspoon)
Salt (1 teaspoon)
Pumpkin Puree (2 15 ounce cans. Make sure it is pure pumpkin and not pumpkin pie filling)
Large Eggs (5 eggs total)
Sweetened Condensed Milk (2 14 ounce cans)
Brown Sugar (1/2 cup)
Rolled Oats (1/2 cup)
Baking Powder (1 teaspoon)
Vanilla Extract (1 teaspoon)
Chopped Pecans (1/2 cup)
How To Make Pumpkin Crisp
Shortbread Crust
Mix together the dry ingredients for the crust.
Cut in cold butter cubes until mixture resembles coarse crumbs.
Press into a 13×9 inch baking pan and set aside.
Pumpkin Layer
Preheat oven to 425℉.
In a small bowl mix together sugar, spices and salt.
In a separate large bowl beat together pumpkin and eggs. Add sugar mixture and beat well.
Gradually beat in sweetened condensed milk (make sure to scrape down sides of bowl).
Pour pumpkin filling over crust and bake for 15 minutes at the higher temperature and then bake for 30-35 minutes at 350℉ or until pumpkin is mostly set.
Crisp Topping
In a medium sized mixing bowl stir together dry ingredients for the crisp topping.
Add in vanilla and whisked egg. Stir until the moisture from the egg and vanilla is evenly distributed and mixture becomes crumbly (see video).
Raise temperature of oven to 400℉ and sprinkle crumble topping evenly over pumpkin.
Drizzle crumble topping with melted butter.
Bake until topping is golden brown and cake tester inserted into center of the crisp comes out clean.
Let cool at room temperature and then top with a scoop of ice cream or dollop of homemade whipped cream.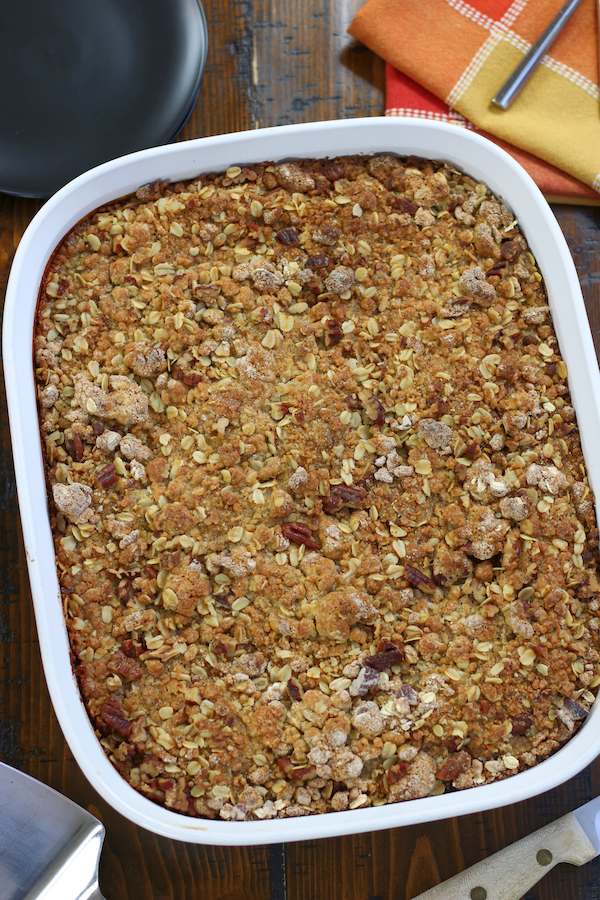 Using Fresh Pumpkins
The easiest way to make this Pumpkin Crisp is with canned pumpkin puree. However, fresh pumpkin may be used also. It is important though to follow these specific guidelines if using fresh pumpkin.
Do not use large carving pumpkins for baking. Although edible, the pumpkin flesh is extremely watery and stringy when baked. Instead, use the smaller "sugar pumpkin" or "pie pumpkin" variety.
Follow one of these two methods for roasting the pumpkin to make puree.
Once roasted and made into a puree, use either a scale to measure out 30 ounces of pumpkin puree or measure out 4 cups of puree and remove 2 tablespoons. Either method will give the amount of puree needed for this Pumpkin Crisp.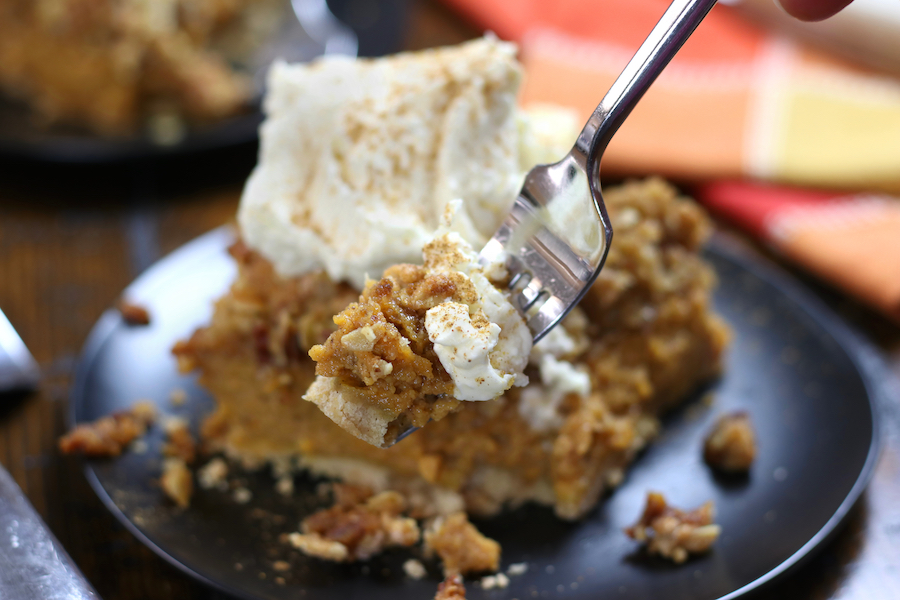 FAQ's
Can this dessert be made by a beginning baker?
Yes. However if you are brand new to baking, make sure to follow these tips:
Read recipe before you begin and then reread the directions for each layer before starting on the layers.
Set up and make sure you have all tools and ingredients needed before starting.
Cube the cold butter and then place back in the refrigerator while measuring other ingredients for the shortbread crust.
Spoon flour into measuring cups and then level with a butter knife.
Follow the directions closely for baking as this Pumpkin Crisp uses 3 different temperatures.
Can the shortbread layer be made in a food processor rather than using a pastry cutter?
Yes. Use the metal S shaped blade to process the cold cubed butter with the sugar, flour, ginger and cinnamon until you have a coarse sandy consistency.
Is there another nut I can use besides pecans?
Chopped walnuts, pistachios, cashews, almonds and macadamia nuts are all fun alternatives to pecans. However, each nut may change the taste and texture a bit. Just make sure to use your favorite nut for this crunchy topping.
Can pumpkin pie spice replace the spices in this recipe?
Yes, however it will change the taste of the crisp. I do recommend sticking to the recipe as written.
To use pre-made pumpkin pie spice eliminate all the spices in the first two layers and replace with 2 teaspoons of pumpkin pie spice for the crust and 1 1/2 tablespoons for the pumpkin filling. Follow the crisp topping instructions as written.
How will I know when it's is done baking?
This Pumpkin Crisp is done baking when both a cake tester inserted into the center comes out clean and the crumble topping is golden brown.
Should this dessert be served warm or cold?
I personally love this Crisp cold and my husband enjoys it still warm, room temperature or cold. How you serve it boils down to your taste preference.
How long can this Pumpkin Crisp sit out unrefrigerated?
Once the Pumpkin Crisp is done baking, let it sit at room temperature until completely cooled. Cover and then refrigerate.
If in the preparation for Thanksgiving dinner you run out of room in the refrigerator it is not a huge issue if the crisp is left out overnight. Just make sure to cover with plastic wrap and then refrigerate the next day or as soon as possible. It will last up to three days covered in the refrigerator.
More Delicious Fall Desserts
Mom's Old Fashioned Swedish Apple Cake
Old Fashioned Cream Cheese Pie
If you enjoyed this Pumpkin Crisp please let me know by leaving a comment and review below. Doing so helps to encourage others to make the recipe also. Thank you!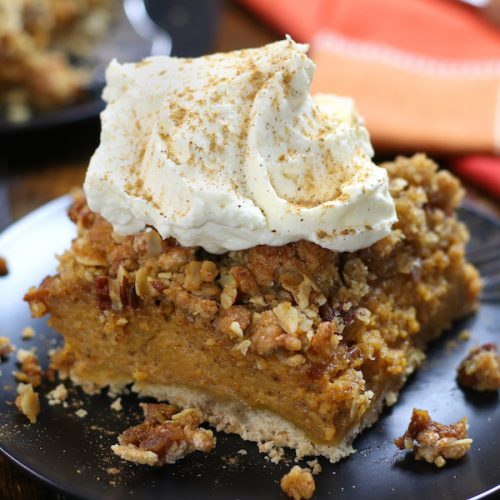 Pumpkin Crisp
Pumpkin Crisp has a cinnamon ginger shortbread crust, a rich pumpkin center and an oatmeal pecan crumble topping. Easy to make and so delicious that it will make a pumpkin lover out of anyone. Top with homemade whipped cream for a heavenly pumpkin dessert.
Print
Pin
Rate
Ingredients
Shortbread Crust
1 1/2

cups

all purpose flour

1/4

cup

granulated sugar

1

teaspoon

ground cinnamon

2

teaspoons

ground ginger

1/2

cup

cold butter

*cubed
Pumpkin Layer
1

cup

granulated sugar

2

teaspoons

cinnamon

1

teaspoon

ground ginger

1/2

teaspoon

ground cloves

1

teaspoon

salt *See Note #1 below

2

15 ounce cans

pumpkin puree

4

large

eggs

2

14 ounce cans

sweetened condensed milk
Crumble Topping
1

cup

all purpose flour

1/2

cup

granulated sugar

1/2

cup

packed brown sugar

*either light or dark

1

teaspoon

cinnamon

1/2

cup

rolled oats

1

teaspoon

baking powder

1/2

cup

chopped pecans

1

teaspoon

vanilla extract

1

large

egg

*whisked

6

tablespoons

butter

*melted, See Note #2 below
Instructions
Shortbread Crust
In a medium sized mixing bowl combine flour, sugar, cinnamon and ginger. Mix well.

Using a pastry cutter cut in butter until mixture resembles coarse crumbs.

Press into an ungreased 13x9 inch baking pan. Set aside. See Note #3 below.
Pumpkin Layer
Mix together the sugar, cinnamon, ginger, cloves and salt in a small bowl.

In a separate bowl whisk eggs.

In a large mixing bowl using a hand mixer (or stand mixer), beat pumpkin with eggs. Add sugar and beat well making sure to scrape down sides of bowl.

Gradually beat in sweetened condensed milk scraping down sides of bowl often.

Pour pumpkin mixture over shortbread crust. Bake at 425℉ for 15 mins.

Lower temperature of oven to 350℉ and continue baking for 30-35 minutes or until pumpkin is mostly set. See Note #4 below.
Crumble Topping
In a medium sized mixing bowl add flour, sugars, cinnamon, baking powder, rolled oats and pecans. Stir well.

To the bowl add vanilla and egg. Stir until the moisture of the egg and vanilla are evenly distributed and the mixture becomes crumbly.

Raise temperature of oven to 400℉. Sprinkle crumble mixture evenly over the top of the pumpkin and drizzle with melted butter.

Bake for 20 mins or until crumble topping is golden brown and cake tester comes out clean when inserted into the center of the crisp.

Let cool completely at room temperature. Top with ice cream or freshly made whipped cream. Store leftovers covered in the refrigerator.
Notes
*Please use as many organic ingredients as possible. 
Recipe Notes
Note #1- If using Maldon's Sea Salt Flakes, crush the flakes using the back of a soup spoon or a mortar and pestle before adding. Regular salt does not need to be crushed. 
Note #2- To melt butter, remove from wrapper and place the butter in a small saucepan. Melt over low heat. Another option is to remove from wrapper, cut butter into cubes and place in a microwave safe bowl. Microwave on power level 4 in 30 second increments until butter is fully melted. 
Note #3- If making well ahead of pumpkin layer, place in refrigerator until needed.
Note #4- Baking times and temperatures:
Bake pumpkin and shortbread crust at 425℉ for 15 mins.
Lower temperature of crust and pumpkin to 350℉ for 35 mins.
Add crumble topping and bake at 400℉ for 20 mins or until golden brown.
Nutrition
Calories:
352
kcal
|
Carbohydrates:
50
g
|
Protein:
5
g
|
Fat:
15
g
|
Saturated Fat:
8
g
|
Polyunsaturated Fat:
2
g
|
Monounsaturated Fat:
5
g
|
Trans Fat:
1
g
|
Cholesterol:
90
mg
|
Sodium:
304
mg
|
Potassium:
93
mg
|
Fiber:
2
g
|
Sugar:
31
g
|
Vitamin A:
444
IU
|
Vitamin C:
1
mg
|
Calcium:
48
mg
|
Iron:
2
mg