Moist and rich with the best buttery crumble topping, this Pumpkin Pie Coffee Cake recipe is a cross between two classics. Add in the cream cheese layer and this becomes a favorite fall dessert!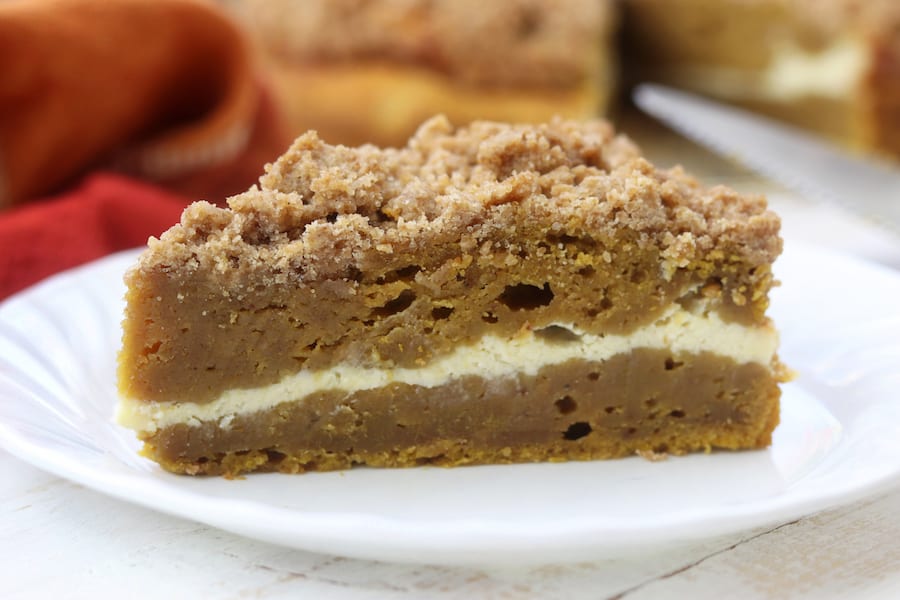 Pumpkin Pie Coffee Cake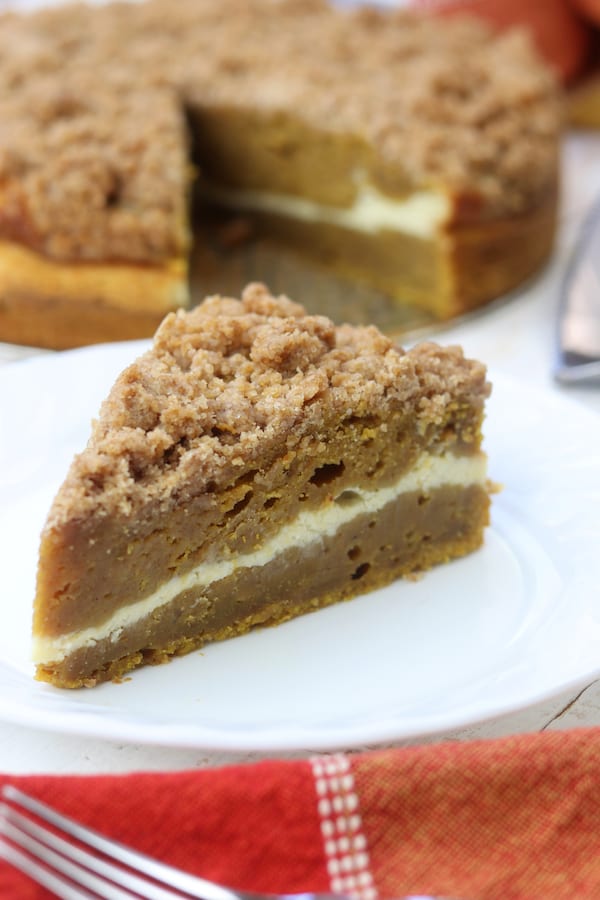 Prior to starting The Fed Up Foodie blog, I kind of dreaded pumpkin season.
I was never a huge pumpkin lover. To me pumpkin pie was just ehhh and I never flipped a lid about pumpkin lattes.
Last year that started to change though when my cousin and I made this Layered Pumpkin Cheesecake.
It dawned on me that I don't have to suffer through pumpkin desserts I don't like.
I own this blog gosh darn it and I can make pumpkin desserts I actually like…
This year I was determined to come up with a pumpkin dessert that I would look forward to for Thanksgiving.
Since I love coffee cake and cream cheese pie, it was kind of a no brainer from that point on to create this Pumpkin Pie Coffee Cake.
I took a basic quick bread recipe, added pumpkin, a cheesecake layer and the crumb topping from my Apple Spice Crumb Muffins to create a dessert that I am head over heals for.
Want to know the funniest part? My husband who LOVES pumpkin pie and doesn't really like cheesecake literally said to me, "I will not got back to eating pumpkin pie after having this!"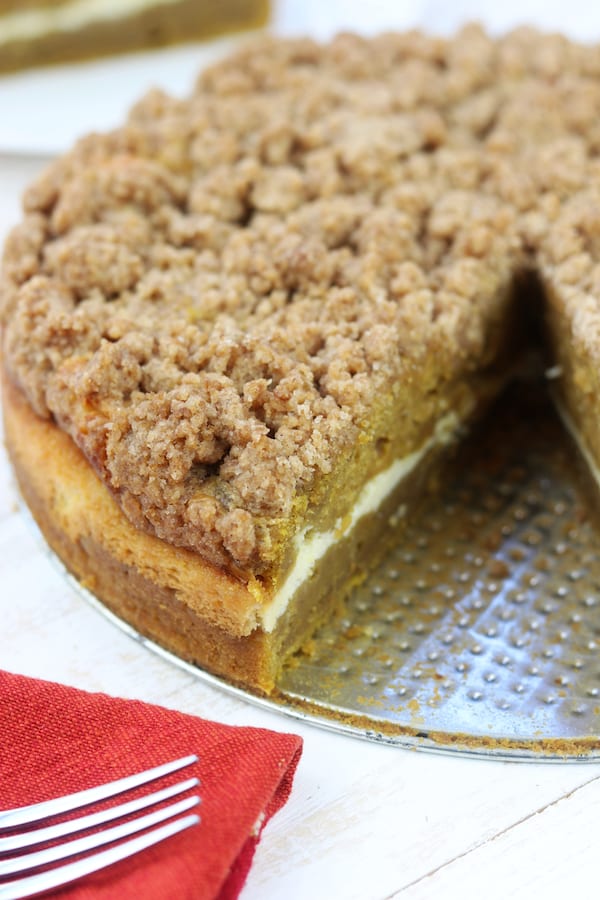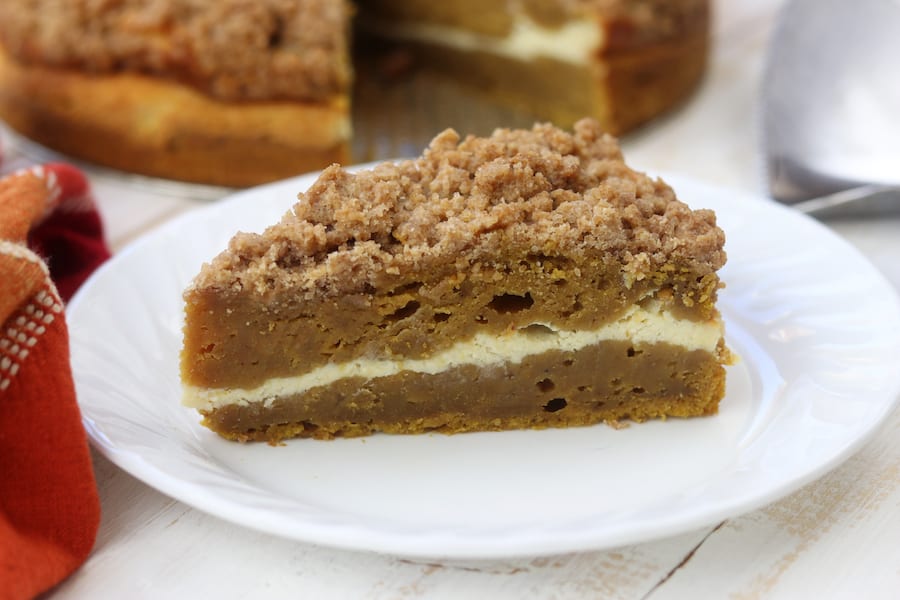 Tips about Pumpkin Pie Coffee Cake:
If you are anything like me and hate using nonstick baking and cookware because of the possible health risks, then you probably have searched high and low for stainless steel bakeware also. These stainless steel springform pans are on the lighter side but they do their job and I love not worrying about the possible health risks. (affiliate)
Here is one of my favorite nonstick sprays to prevent sticking. (affiliate)
Either a 8″ or 9″ springform pan works beautifully for this Pumpkin Pie Coffee Cake recipe.
The secrets to a smooth cream cheese filling is 1) work with room temperature cream cheese and 2) whip the cream cheese before adding the sugar, vanilla and egg. You will notice in the video, I did not do that because basically I forgot. It is not a huge deal if you do forget to whip the cream cheese first. It will just need to be whipped longer.
This is my favorite baking and high heat oil. (affiliate)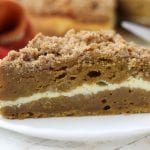 Pumpkin Pie Coffee Cake
Total Time
1
hour
15
minutes
Ingredients
For the Cake

1 1/2

cups

all-purpose flour *sifted

1

tsp

baking powder

1/2

tsp

salt

2

large eggs

15

oz

can pumpkin

1/4

cup

oil

1

cup

granulated sugar

1

tsp

ground cinnamon

1/2

tsp

ground cloves

1/8

tsp

ground nutmeg

For the Cream Cheese Filling

8

oz

cream cheese *room temp

1/4

cup

granulated sugar

1

lg egg

1

tsp

vanilla extract

For the Crumble Topping

3

tbsp

granulated sugar

3

tbsp

brown sugar *either light or dark

1/2

cup

+ 3 tbsp flour

5

tbsp

butter *melted

1

tsp

ground cinnamon
Instructions
Preheat oven to 350℉ and spray a 8" or 9" springform pan with nonstick spray.

Sift together dry ingredients for the cake. Set aside. In a separate bowl mix together pumpkin, eggs, oil, spices and sugar. Set aside

In a medium sized bowl beat cream cheese. Add in egg, sugar and vanilla and beat well until there are no lumps. Set aside.

In a small bowl measure ingredients except butter for crumble topping. In a separate small bowl melt butter for crumble topping in microwave. Pour butter over dry crumble topping ingredients and mix with a fork or spoon just long enough until both large and small crumbles form. Be careful to not over mix. Set aside.

Once cream cheese and crumble topping layers are made then mix dry ingredients for cake into wet ingredients. Make sure to not over mix.

Pour half of cake batter into springform pan. Smooth evenly with a spatula. Add cream cheese layer and carefully smooth. Spread in last of cake layer making sure to not overwork batter so layers stay mostly separated. Gently spread crumble topping evenly on top of cake making sure to not press crumbles into cake.

Bake in center of oven for approximately 55-65 minutes or until cake is no longer jiggly.

Let cool to room temperature and then refrigerate. Tastes best cold.
Recipe Notes
*Please use as many organic ingredients as possible.*
For other deliciously decadent Holiday desserts check out these recipes: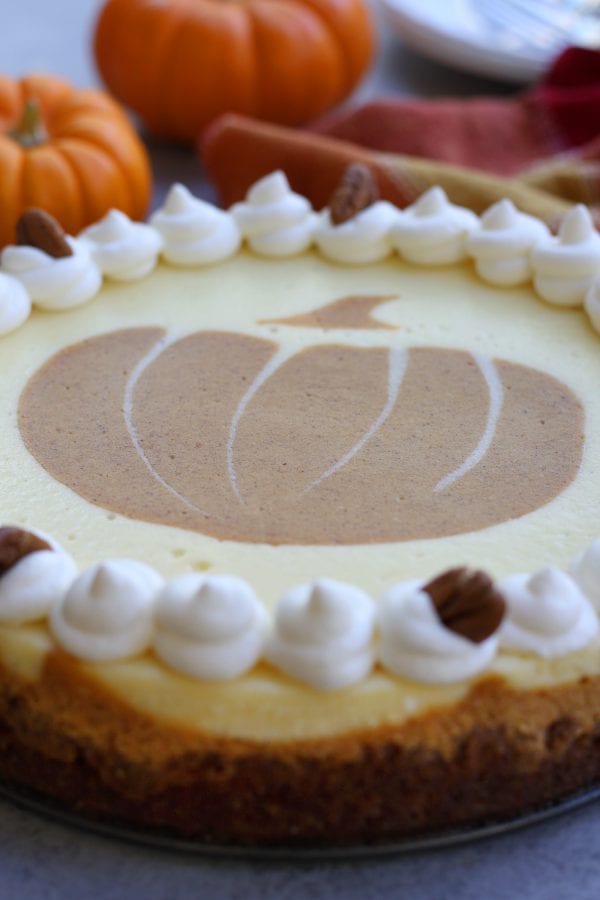 Layered Pumpkin Cheesecake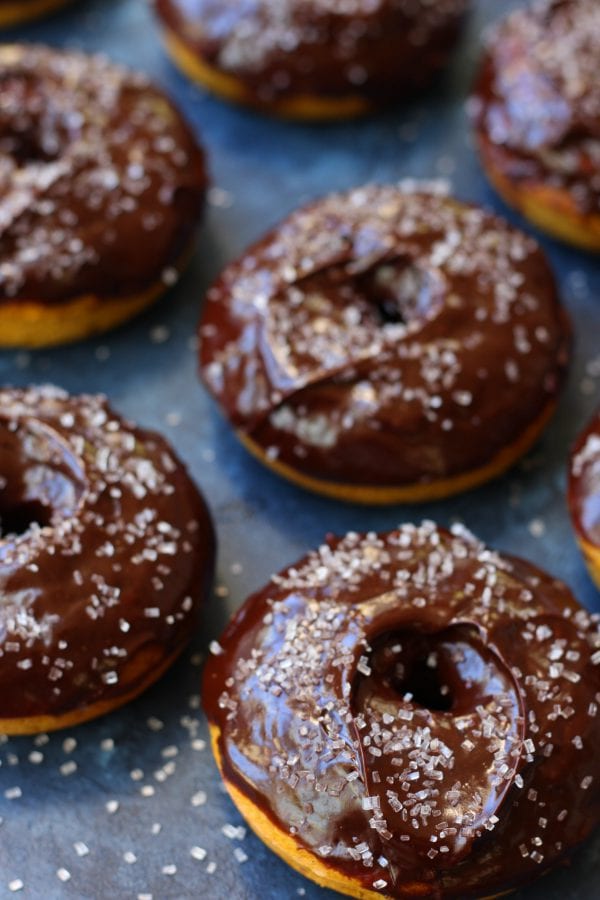 Spiced Pumpkin Donuts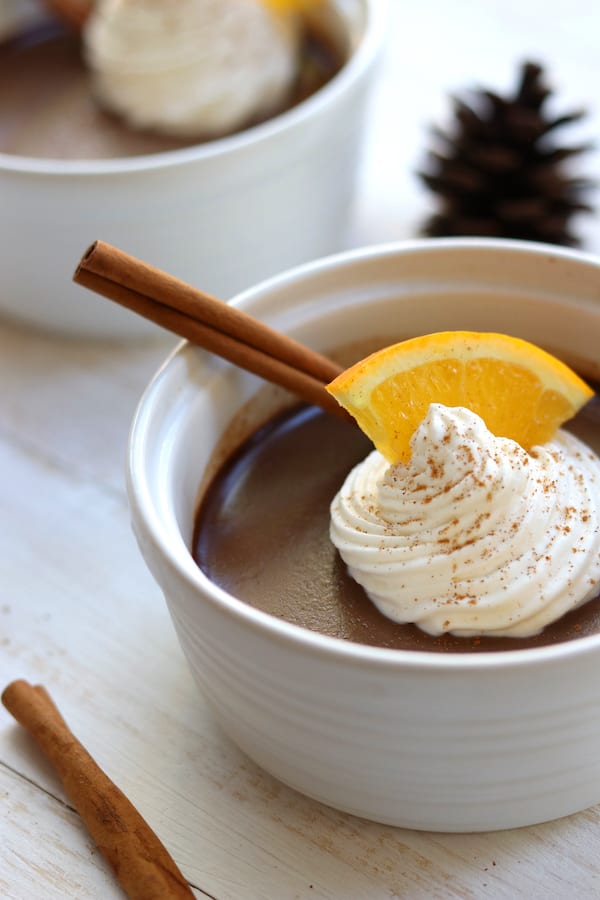 Chocolate Orange Cinnamon Pots de Creme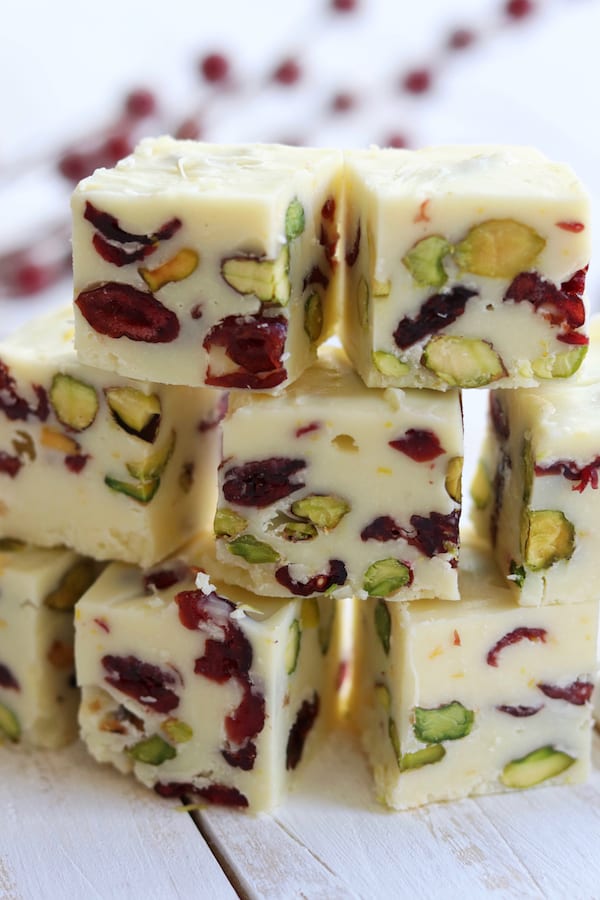 Simple Orange Cranberry Pistachio Fudge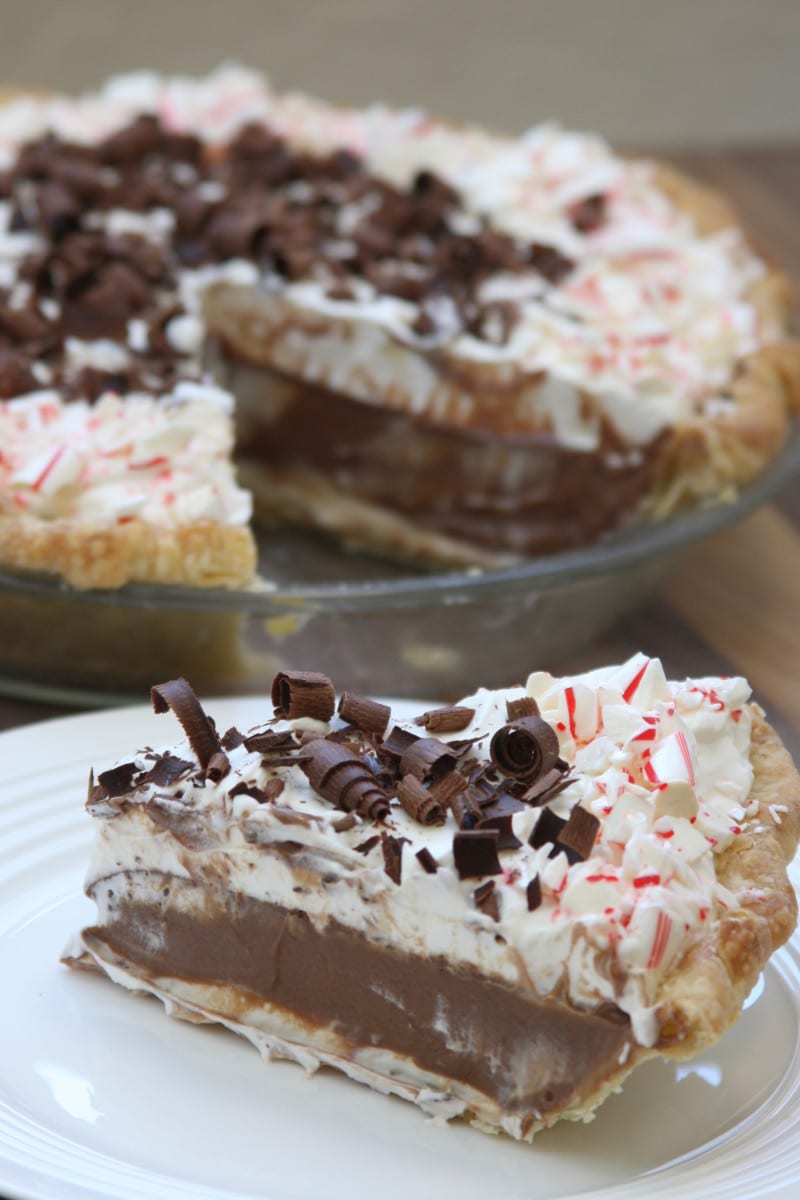 Scrumptious Chocolate Peppermint Pie